While organizations have offered remote work options even before the COVID-19, the role of the pandemic in accelerating the shift to a completely remote or at least a hybrid model of work cannot be overstated. In fact, in a 2022 survey about remote work, the majority of the respondents said that they can build a strong company culture even if employees are in the office only 3 days a week.
This trend is further backed up by another survey with participants from the United States, where 83% of employers stated that their shift to remote work has been a success. With this "new normal", digital workplace technology stacks are becoming more and more important.
For that reason – and at the risk of falling short –, we did the exercise of mapping the digital workplace technology landscape. This new and rising ecosystem will probably increase its size exponentially (similarly to what happened with the martech ecosystem in the last 5 years), but this reflects the situation so far.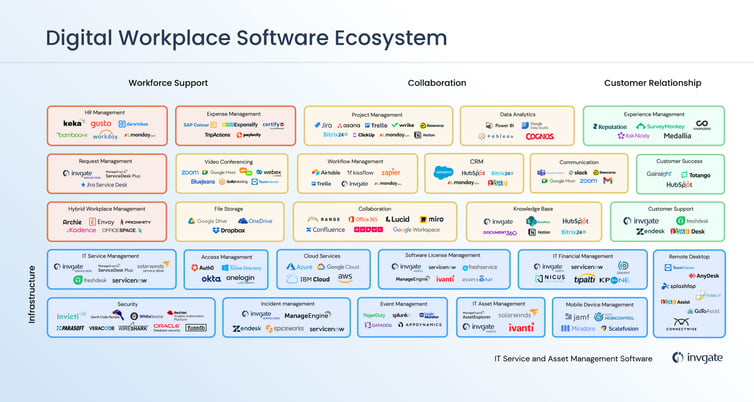 Digital workplace technology landscape: an overview
As businesses continue to embrace the digital workplace, new technologies have been adopted as part of the daily life of organizations, triggering new digital workplace trends and workplace innovations.
In a digital workplace environment, technologies are required to support the collaboration of peers, workforce management and the relationship with clients. For example, cloud-based project management tools are becoming increasingly important for distributed teams, while video conferencing and chatbots are essential for maintaining communication and delivering customer service. The digital workplace is here to stay, and businesses must adapt their technologies to keep up with the times.
One thing to remember, while the digital workplace presents a lot of benefits to a company, it also presents a lot of risks and challenges for organizations around the world. This represented a new challenge for leaders who had to rethink how to secure the digital workplace, with new technologies adding to the tech stack of cybersecurity teams.


---


Workforce Support
Probably one of the most disrupted departments with the digital workplace, HR required to be digitalized from the ground up. From changing the way to manage internal communications to processes like employee onboarding, vacation requests, employee engagement, expense reports, and office space management.
Self-service portals helped organizations to create a centralized point of contact between staff and service departments like HR and IT, streamlining the management of requests.
HR Management tools
From payroll, benefits, recruiting, and employee information management, HRMS and Human Capital Systems (HMS) are here to stay. Vendors include: Keka, Gusto, DarwinBox, BambooHR, and Workday.
Request Management
A request management system helps organizations centralize requests of all kinds, routing them to the right individuals. Self-service portals create a one-stop-shop for staff to make requests, from vacations to login resets. Vendors include: InvGate Service Desk, ManageEngine, and Atlassian Jira.
Hybrid Workplace Management
As some organizations embrace a hybrid approach, fixed desks are being replaced by hot desks. New software categories to manage office space and conference rooms are being adopted by organizations of all kinds. Vendors include: Archie, Envoy, Proximity, Kadence, and Office Space.
Expense Management
Corporate cards, reimbursements and receipt management is not limited to sales executives anymore . Vendors include: SAP Concur, Expensify, Certify, TripActions, Paylocity.


---


Communications and Collaboration
Organizations are embracing technology to foster individual and team productivity, collaboration, and the employee experience at large. What once was a set of tools owned specifically by technical savvy staff, like dev or IT teams, now is the engine behind many organizations to communicate with employees and clients.
Communication tools
Conference rooms and the watercooler have now migrated to Zoom calls and Slack channels. Communication software helps to recreate an office experience, contributing to solve urgent matters, ideas, and suggestions. Vendors include: Microsoft Teams, Slack, Basecamp, Google Meet, Zoom, Gmail.
Project Management tools
As many team leaders had to take a fast course in project management from their IT peers, the kanban board has become the most used management tool across the organization. Vendors include: Jira, Asana, Trello, Wrike, Basecamp, Bitrix24, ClickUp, Monday, Notion.
Video Conferencing
Video conferencing software has a positive impact not only on collaboration among peers and teams, but also on training and organizational culture. Vendors include: Zoom, Google Meet, Join Me, Webex, Blue Jeans, GoToMeeting, Team Viewer.
Collaboration tools
Though this whole category revolves around collaboration, this specific subcategory focuses on tools that facilitate designing, brainstorming, and matters that require visual support. Vendors include: Range, Office 365, Lucid, Miro, Confluence, Mural, Google Workspace.
File Storage
Cloud services allow team organization and collaboration. With shared documents and folders, files are accessible from anywhere at any time, making asynchronous work possible. Vendors include: Google Drive, One Drive, Dropbox.
Workflow Management
With so many tasks and processes being digitalized, and existence of this ecosystem tools, the opportunity of creating automations that can save time, money and avoid mistakes has increase exponentially., Vendors include: Airtable, Kissflow, Zapier, Trello, InvGate, Monday.
Knowledge Base
If the organization's workforce has migrated online, its knowledge too. Knowledge bases save up a lot of time by creating a repository of detailed answers to frequent questions, allowing people to solve problems by themselves. Vendors include: InvGate, SharePoint, HubSpot, Document 360, Notion, Bitrix 24.
Data Analytics
Reporting tools that present metrics in a visual make the decision making process much easier and clearer. Vendors include: Power BI, Google Data Studio, Tableau, Cognos.


---


Customer Relationship
According to a recent study by Fullstory, 65% of respondents say they trust a business less when they experience a problem using a website or mobile app, ultimately splintering customer relationships and loyalty.
As people rely on an organization's digital presence to interact with it, the need of technology to manage, support, and measure customer experience is crucial.
Customer Support
Tools that provide customer support help organizations interact with their customers. This can include everything from live chat to ticketing systems. Vendors include: Zendesk, Freshdesk, Helpshift, and Intercom.
Experience Management
Experience management tools help organizations track and manage the customer experience. This can include everything from customer surveys to sentiment analysis. Vendors include: Qualtrics, SurveyMonkey, GetFeedback, and UserTesting.
Customer Success
Tools that help with customer success help organizations track and manage customer relationships. This can include everything from customer health scores to churn analysis. Vendors include: Gainsight, Totango, and Amity.


---
Infrastructure
From assuring that employees have the devices needed to do their job to assuring cybersecurity best practices, IT teams count with several software technologies to support the organization.
IT Service Management tools
The backbone of IT teams, ITSM tools helps with tasks such as ticketing, asset management, and incident management. Configuration Management Databases (CMDBs) track all the changes made to an organization's IT infrastructure, including both hardware and software changes. Vendors include: InvGate, ManageEngine, SolarWinds, Freshdesk and Servicenow.
Access Management
Identity and Access Management (IAM) tools help organizations control who has access to which resources. This can include both physical and digital resources. IAM tools typically work in conjunction with an organization's identity management system. Vendors include: Microsoft, Okta, OneLogin, and Ping Identity.
Cloud Services
Organizations are increasingly turning to cloud-based solutions to power their digital workplaces. Cloud services can include everything from storage and backup to processing. Vendors include: Azure, Google Cloud, IBM Cloud, and Amazon AWS.
IT Security
IT security tools help organizations secure their networks and data. This can include everything from firewalls to anti-virus software. Vendors include: Symantec, McAfee, Trend Micro, and Sophos.
Event Management
Event management tools help organizations track and manage events. This can include everything from scheduled maintenance to security breaches. Vendors include: PagerDuty, Splunk, LogicMonitor, DataDog, and AppDynamics.
IT Asset Management
IT asset management tools help organizations track and manage their IT estate. This includes not only physical devices but also software licenses and contracts. Vendors include: InvGate Insight, ManageEngine, Solarwinds, and Ivanti.
Remote Desktop
Remote desktop services (RDS) tools help organizations provide remote access to desktops and applications. This can include everything from virtual private servers (VPS) to terminal services. Vendors include: TeamViewer, AnyDesk, Splashtop, Fixme, GotoAssist, and ConnectWise.
IT Financial Management
IT financial management tools help organizations track and manage their IT spending. This includes both operational and capital expenses. Vendors include: InvGate Insight, Servicenow, Cockpit, Nicus, Tipalti, and Kpone.
Mobile Device Management
Mobile device management (MDM) tools help organizations manage and secure mobile devices. This can include anything from smartphones to laptops. Vendors include: Jamf, Soti, Miradore, and Scalefusion.