Have you ever stated that you run your IT department "like a business"? If you have, then you're not alone. Especially after the 2008 financial crisis when most IT departments were tasked with "doing more with less" and cost-cutting and improved efficiency became the order of the day. But, jumping back to this blog's opening sentence, if you've previously stated that your IT department is "run like a business," do you really have fit-for-purpose IT financial management capabilities? For example, perhaps knowing how much individual IT services costs and how they deliver value to the organization.
This blog looks at what IT financial management is and why it's important.
An IT financial management 101
IT financial management is nothing new, although if you're a user of ITIL best practice guidance, then you'll have noticed that its name has changed through the different versions. More on this in a moment.
So, what is IT financial management?
As with many (IT) management terms, there are a variety of definitions for IT financial management that likely include phrases such as:
"… procuring at the most effective cost price"
"Calculating the cost of providing …"
"… charging the customer of the service"
However, IT financial management is not just about "cost" and the ITIL 4-espoused capabilities of accounting, budgeting, and chargeback (more on this in a moment too). IT financial management needs to be more than this – it also needs to encompass additional aspects such as control, efficiency, and value.
ITIL 4 and IT financial management
In the new(ish) ITIL 4 best practice framework, the financially focused management practice is now called "service financial management" and its purpose is described as:
"…to support the organization's strategies and plans for service management by ensuring that the organization's financial resources and investments are being used effectively."
Source: AXELOS, "ITIL Foundation: ITIL 4 Edition" (2019)
With the new management practice still focused, in the ITIL 4 Foundation publication, on the same triumvirate as earlier ITIL versions:
Budgeting/costing
Accounting
Charging.
What is interesting, however, is that – even in this "entry-level"sharing of ITIL guidance – the Foundation publication calls out the impact of new technologies and funding models, stating that:
"This has led to a major change in how IT services are obtained, funded, and paid for by organizations."
And that:
"Flexible IT budgets are required to meet the costs of scaling cloud-based services in an Agile and on-demand way. Fixed IT budgets, often forecast months in advance, struggle to account for the scaling of IT resources in this way."
Plus, given the focus ITIL 4 has on value creation (or co-creation), I'd be surprised if the higher-level publications and exams don't link service financial management into value.
However, not enough IT departments sufficiently invest in IT financial management capabilities
You'd have thought that "running IT like a business" would necessitate that IT financial management, or service financial management for ITIL adopters, being a must-have IT service management (ITSM) capability.
However, it's not the case – with ITSM industry surveys usually finding that IT financialmanagement is one of the least adopted ITSM capabilities, at least formally and beyond a "just enough" approach to budgeting and accounting. For example, the 2018 HDI "Technical Support Practices & Salary Report" had financial management for IT (the ITI 2011 naming) at circa 10% adoption – with this indicative of other industry surveys.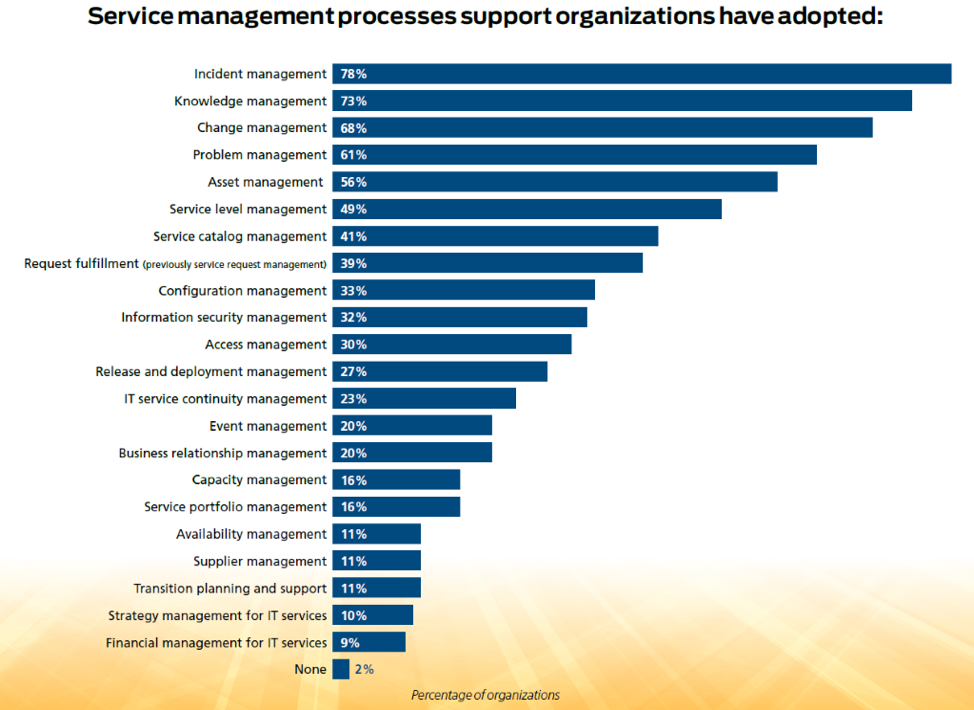 Source: HDI, "Technical Support Practices & Salary Report", (2018)
As to why this is, there are a variety of potential causes, from not needing to do it (i.e. the organization is happy to see a lack of effective financial stewardship, and likely wastage, in IT), through not seeing it as an IT role (it's for the corporate bean counters), to not really understanding the concepts of finance and potentially not caring about the potential for IT wastage.
Why IT financial management is important
The decade-old IT mantra of "needing to do more with less" should have been sufficient enough a driver to help bring more organizations to the realization that IT financial management is an important ITSM (and IT management) capability. And, while it's still important, there's also an additional challenge for IT departments to address – that of value demonstration.
In many ways, this is yet another reason for IT departments to be invested in IT financial management because if they don't understand the cost of IT services, then how can they truly understand their business value? Here's a simple "cost and value example"from two perspectives:
The uninformed perspective:
CIO: "We want to help you more, what's your most valuable IT service?"
CXO: "I want to say application X, but I guess it depends on what it costs to run. What does it cost by the way?"
CIO: "Um, we don't know."
CXO: "Well, how can I truly understand its value then?"
The informed perspective:
CIO: "We want to help you more, what's your most valuable IT service?"
CXO: "I want to say application X, but I guess it depends on what it costs to run. What does it cost by the way?"
CIO: "$800 per user per month"
CXO: "Holy cow! That's way too much based on what we get from it. What can we do to bring that cost down?"
While this is a simple example, your average IT department, even if it knows the IT services it offers and delivers (service catalog initiatives have definitely helped with this), commonly doesn't know what each of its IT services costs to deliver at both a consolidated and consumption-unit level. And without this there's little chance of them understanding the value the IT services deliver relative to those costs.
The adverse impact of not understanding costs and value
This is again best explained through a simple example. Consider the not-unusual request for an IT department to reduce costs (or to accept budget cuts) midway through the year. Will the IT department:
Kill IT services that, while only delivered to a small volume of employees/customers

,

actually deliver significant business

value?

Continue with IT services where the running costs

are disproportionately high relative to the business's perceived value of them

?
Cost per hour: Bringing IT Financial Management to reality with InvGate Service Desk
As stated above, there are many reasons why your organization should be taking advantage of IT Financial Management capabilities, but how to start? If you're an InvGate customer, it'll be easy.
You probably know that our Time Tracking feature enables you to track the amount of hours spent on a request, so you get insights on who did what, when, and how long it took.
What you probably didn't know is that you can associate costs to those hours tracked in an issue. Here's how it works: you set up a cost per hour to each service category in your catalog - for example, $100 an hour for IT Support Level 1, and $200 an hour for IT Support Level 2.
You can do this via Setup > Requests > Time Tracking. Once you enable the checkbox for "Categories", which allows you to define types of time that can be logged, you'll get the possibility to also enable "Cost per hour" for each category. Then, right below, you'll have to create the cost categories you want to track.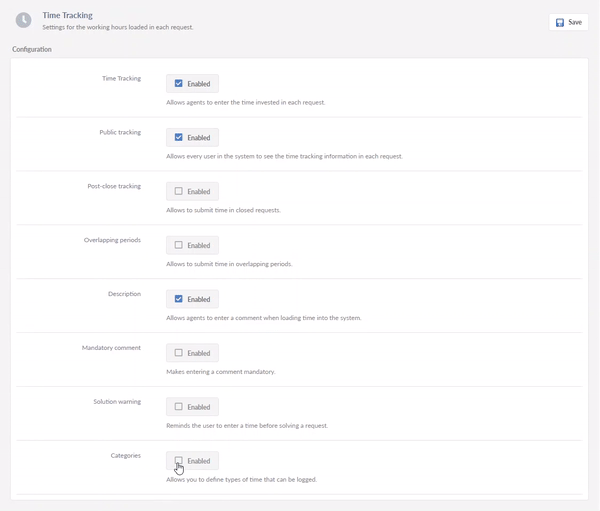 So, when an agent tracks their working hours within a request from those categories, they'll be able to select the type of those working hours: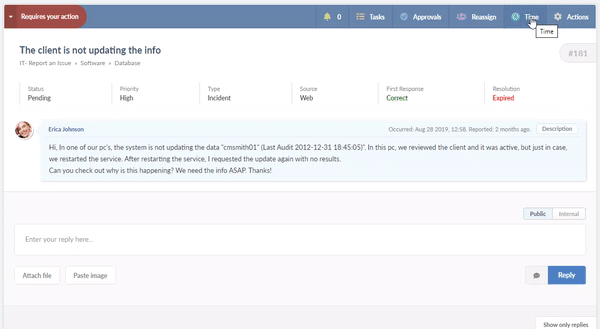 Therefore, the request log will show the cost of those hours:

And here comes the most useful part: reports. In the Time Tracking cube at Reports, you'll have a measure for "cost incurred", which will show you metrics on total cost of solving requests sorted by agent, help desk, category, priority, and any other data you're interested in.
Let's take a look at an example of a report using dimensions for years, months, and categories in the columns, and customers in the rows: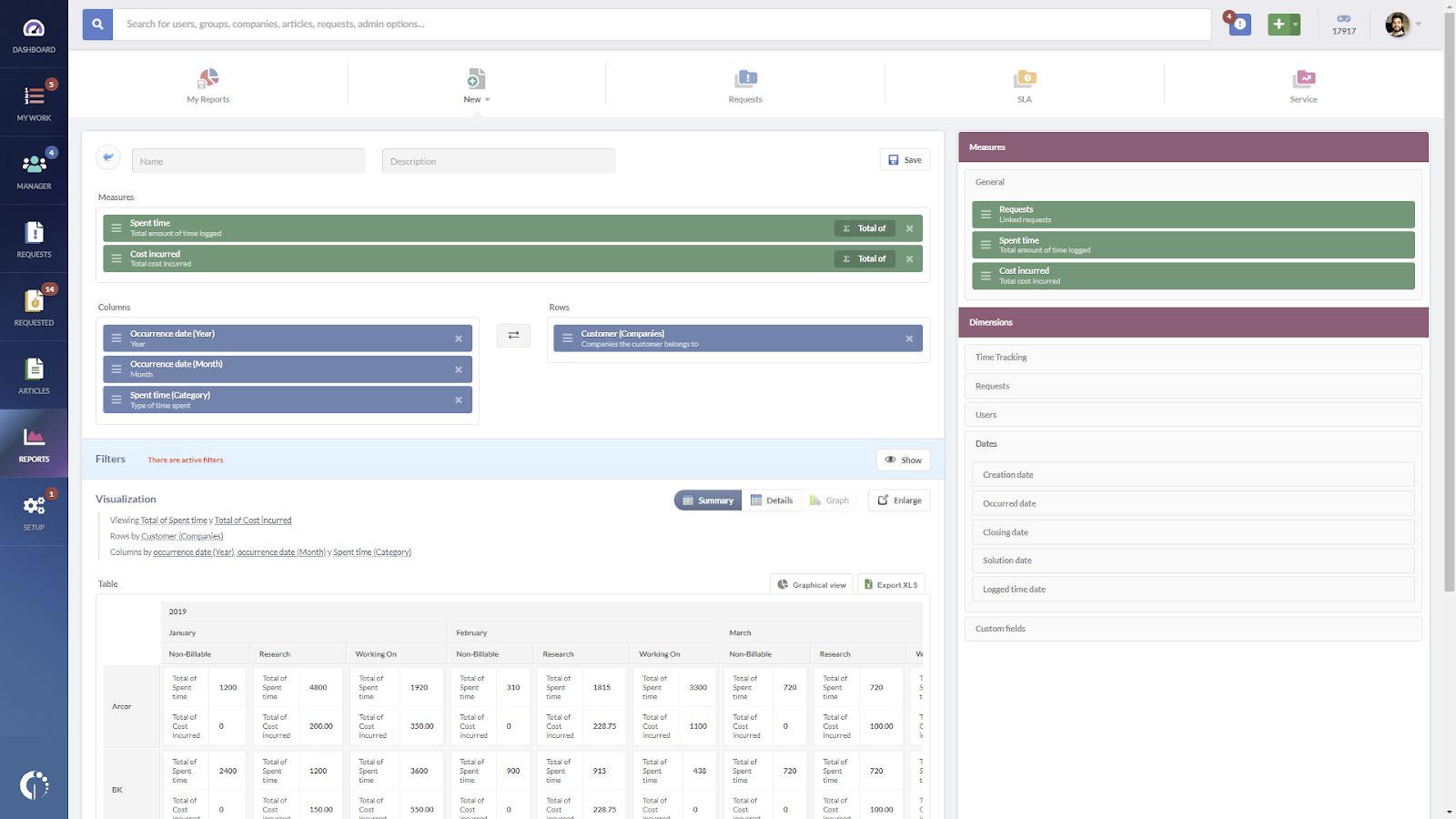 Thus, InvGate Service Desk will build a report showing the hours invested and the monthly cost of solutions for each customer. As always, you can save your custom reports for future use and even schedule them for periodic sendings.
Ultimately, without a detailed understanding of what different IT services cost it's nigh on impossible to have conversations about the business value they deliver, such that your IT department can make optimal decisions about which IT services to focus attention and budgets on.
Can your IT department truly say that it's acting in your organization's best interest if it doesn't understand what it costs to deliver different IT services? IT financial management is an important capability that is becoming even more so.