Are you in search of a robust Lansweeper alternative? Look no further! Here you'll find an IT Asset Management (ITAM) solution that offers a wide range of features, exceptional customizability, and high-performance capabilities.
As organizations strive to optimize their processes, it is essential to evaluate ITAM software alternatives that can meet their specific needs and provide a seamless user experience. In this blog post, we'll delve into InvGate Insight, a solution that can revolutionize your asset tracking and management, enhance your IT operations, and drive productivity across your organization.
Let's explore the power-packed features, flexibility, and performance of this Lansweeper alternative, ensuring that you make an informed decision to meet your ITAM requirements effectively.
What is Lansweeper?
Lansweeper is an ITAM and network discovery solution that provides organizations with comprehensive insights into their IT infrastructure. It can be deployed as a cloud service or as an on-premise installation.
Lansweeper offers a wide range of features and functionalities to help businesses effectively manage and optimize their IT assets, improve network visibility, and streamline IT operations. Its functionalities include:
Since its launch in 2004, Lansweeper has established itself as a reliable solution for organizations seeking to gain an in-depth understanding and control over their IT infrastructure.
InvGate Insight as a Lansweeper alternative
InvGate Insight is an IT Asset Management solution developed by InvGate, available both as a cloud service and as an on-premise installation. It provides organizations with the tools to create a unified inventory of all network-connected IT assets on the same platform, including physical, virtual, and cloud.
InvGate Insight offers a range of features and functionalities to assist in IT Asset Discovery, Inventory Management, and Software License Management. Some of them are:
Network scanning capabilities.
A

CMDB

builder.

Asset Lifecycle Management.

Automated alerts and processes.
IT security and compliance.
Native service desk and remote desktop integrations.
Customized reports and analytics.
InvGate Insight enables organizations to gain better control and visibility over the IT ecosystem, streamline processes, and make informed decisions.
Usability
InvGate Insight offers a range of benefits related to usability:
Easy to use - InvGate Insight provides an interface that is easy to use, making it simple for users to navigate and interact with the platform.
Friendly graphical interface - The platform features a friendly Graphical User Interface (GUI), which enhances the user experience and promotes ease of use.
Easy to customize - InvGate Insight can be easily customized to suit users' and organizations' specific needs and preferences.
Simple to implement - The implementation process for InvGate Insight is straightforward, ensuring a smooth transition for users.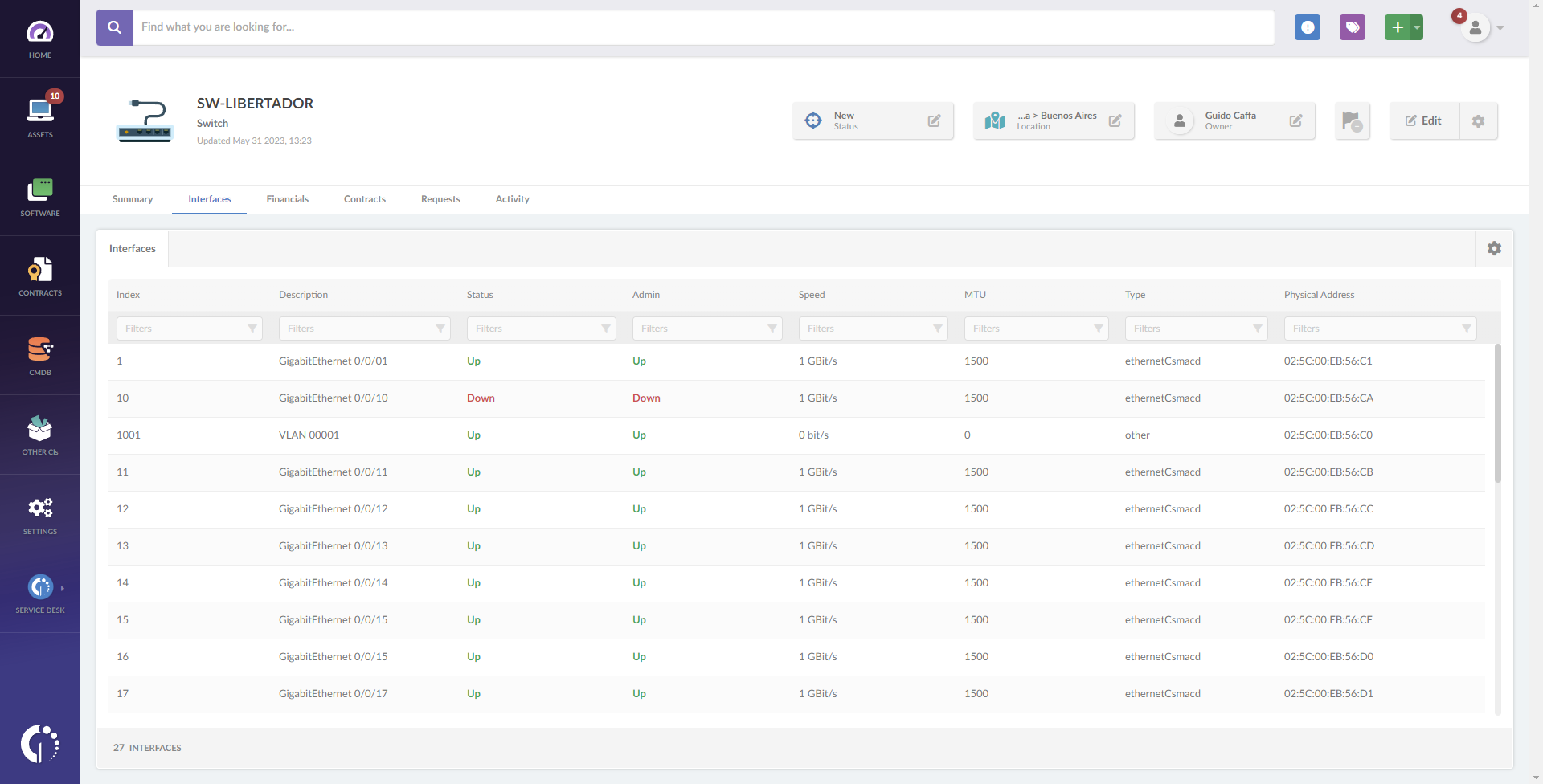 In contrast, according to some users, Lansweeper's GUI has been criticized for appearing cluttered with too many visible options, suggesting a need for better organization and a more streamlined interface.
Asset tracking and management
InvGate Insight offers robust features and capabilities for asset tracking and management, such as:
Quick view of all software installations - InvGate Insight provides a convenient and efficient overview of all software installations within the organization.
Fast and reliable asset tracking - The platform offers reliable asset tracking capabilities like

QR codes

, ensuring accurate and up-to-date

asset location

, status information, and

IT asset inventory

control.
Automation of CI (Configuration Item) info - InvGate Insight automates the collection and management of CI information, streamlining asset-tracking processes.
On the other hand, Lansweeper only provides a point-in-time view of software and lacks historical software data, which limits its ability to comprehensively track asset-related items and changes over time.
Support
InvGate Insight users can rely on the brand's support services, known for their responsiveness and effectiveness. In contrast, Lansweeper may face limitations regarding local support or services in certain regions, such as Argentina. This could potentially impact the availability of local support, which may be a consideration for organizations operating in those areas.
Customizability
InvGate Insight provides extensive customization capabilities, including:
Grouping items by location - InvGate Insight allows users to organize and categorize items based on their location and then apply additional filters using tags. This feature provides a flexible and customizable way to view and manage assets.
Views customization - Users can customize the views in InvGate Insight, allowing them to personalize the platform to match their preferences and requirements. This flexibility lets users focus on relevant information and optimize their workflow.
Flexibility and compatibility across operating systems - InvGate Insight is designed to be compatible with various types of operating systems, ensuring that users can install and utilize the platform on the operating system that best suits their environment. This flexibility accommodates different IT infrastructures and user preferences.
On the other hand, Lansweeper may have some limitations regarding customizability. Users may find creating complex custom queries in Lansweeper challenging, indicating a potential lack of flexibility in reporting and tracking capabilities.
Additionally, the new licensing system implemented by Lansweeper, which requires organizations to pay for more assets than they need, may be perceived as a drawback, highlighting the need for customizability to suit different organization sizes.
Performance
InvGate Insight offers the following performance-related advantages:
Fast data upload to the server - InvGate Insight offers fast data upload capabilities, allowing users to incorporate new data to the server swiftly. This feature enhances efficiency and ensures that the latest information is readily available for analysis and management.
Speed and reliable data - Users of InvGate Insight can expect efficient performance, as the platform is designed to provide speedy access to data.
Proactive cost management - InvGate Insight enables users to proactively manage operation costs, providing insights and tools to optimize resource allocation and minimize unnecessary expenses.
On the other hand, Lansweeper may face challenges in terms of providing up-to-date information. Scans performed by Lansweeper may not always result in real-time data updates, potentially leading to outdated information. This can require additional manual effort to ensure accuracy and may impact the overall performance of Asset Management processes.
In conclusion
When finding the ideal Lansweeper alternative, it's essential to consider ceratain factors such as features, customizability, and performance.
InvGate Insight excels in these areas, providing a comprehensive Asset Management and tracking solution for businesses. What are you waiting for? Explore our live demo or schedule a meeting with our experts if you have any questions or need additional guidance in the decision-making process!