Hardware Asset Management (HAM) is an essential component of IT Asset Management. Done well, it can reduce costs and ensure the correct equipment is available at the right time for the right stakeholders, and that IT hardware assets are always tracked.
In this article we will introduce HAM, describe some of its main benefits, and look into the stages of the HAM lifecycle. Plus, we will explore some of the best ways to get started.
Ready to get excited about HAM? Let's get started!
What is Hardware Asset Management?
HAM is the practice that looks after hardware assets of your IT Assets Inventory. Simply put, the practice keeps an eye on the physical components that make up your live environment, including desktops, laptops, servers, and network equipment throughout their whole lifecycle – from procurement to retirement and recycling.
HAM is part of the overall ITAM practice and must be carefully integrated with the service desk and finance functions to ensure that it fully supports your IT department.
When combining ITSM and ITAM software, HAM can reduce the cost of equipment and, at the same time, help solve incidents and service requests. By doing it properly, you will always have a definitive set of hardware in stock to distribute smartly across your organization and according to the requests arriving through your service desk. This can save time and prevent inconveniences for the end-users.
HAM vs. SAM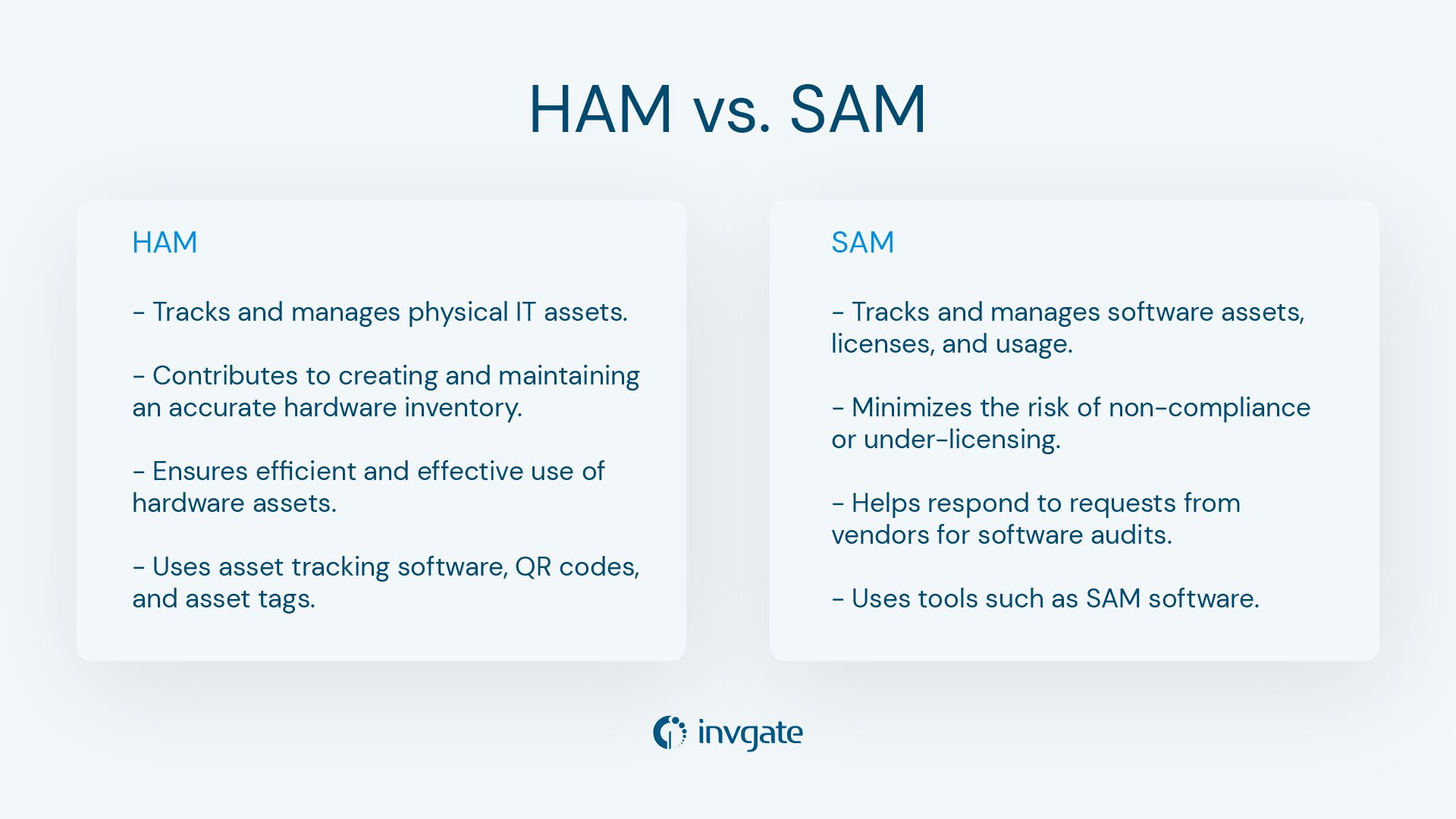 So, what are the differences between HAM and SAM? As we mentioned, HAM focuses on ensuring the correct practices and processes are in place to manage, control, and protect the IT hardware estate. On the other hand, Software Asset Management or SAM looks after IT software assets. But let's take a minute to examine both practices in detail.
| | |
| --- | --- |
| Hardware Asset Management | Software Asset Management |
| Refers to tracking and managing physical IT assets, such as computers, servers, printers, and networking devices. | Refers to tracking and managing software assets, licenses, and usage within an organization. |
| It involves monitoring the entire lifecycle of hardware assets, from procurement to disposal, to maximize their value and minimize risk. | It ensures that software licenses are correctly acquired, used, managed and reported on following end-user license agreements (EULAs) and regulations. |
| It helps organizations create and maintain an accurate inventory of their hardware assets, and ensures that they are used efficiently and effectively. | It helps organizations optimize their software usage and minimize the risk of non-compliance or under-licensing. |
| Typically involves using tools such as asset tracking software, QR codes, barcodes, and asset tags to track hardware assets physically. | Typically involves using tools such as Software Asset Management (SAM) software to track software usage and manage licenses. |
| | Helps organizations respond to requests from vendors for software audits to ensure the appropriate licenses are in place. |
IT Hardware Asset Management benefits
Implementing a HAM strategy has multiple benefits, as you can imagine. Overall, it can help organizations optimize their hardware assets providing a better balance between supply and demand.
In IT, hardware is much more than boxes and bits of wire and tin, but we need to articulate that with the rest of the business.
Cost savings - Helps organizations avoid unnecessary hardware purchases and reduces asset maintenance and support costs.


Better Asset Lifecycle Management - Helps manage the entire lifecycle of hardware assets, from procurement to disposal, in a structured and efficient way so that nothing gets lost, ignored, or forgotten about. We've all heard horror stories about zombie servers, servers in place taking up valuable time and resources because no one knows what they're being used for. Solid lifecycle management means that anything not being actively used is flagged and dealt with appropriately.



Improved business agility

- E

nsures that hardware assets are being used efficiently and effectively, which can increase productivity and reduce downtime.


Better security and loss prevention - Gives organizations control over their hardware assets, reducing the risk of misplaced or lost hardware assets.


Improved compliance - Can help ensure that their hardware assets are being used in compliance with legal and regulatory requirements.


Better decision-making - Provides organizations with accurate information about their hardware assets, which can help them make informed decisions about future investments and procurement activity.
The 9 stages of the Hardware Asset Management lifecycle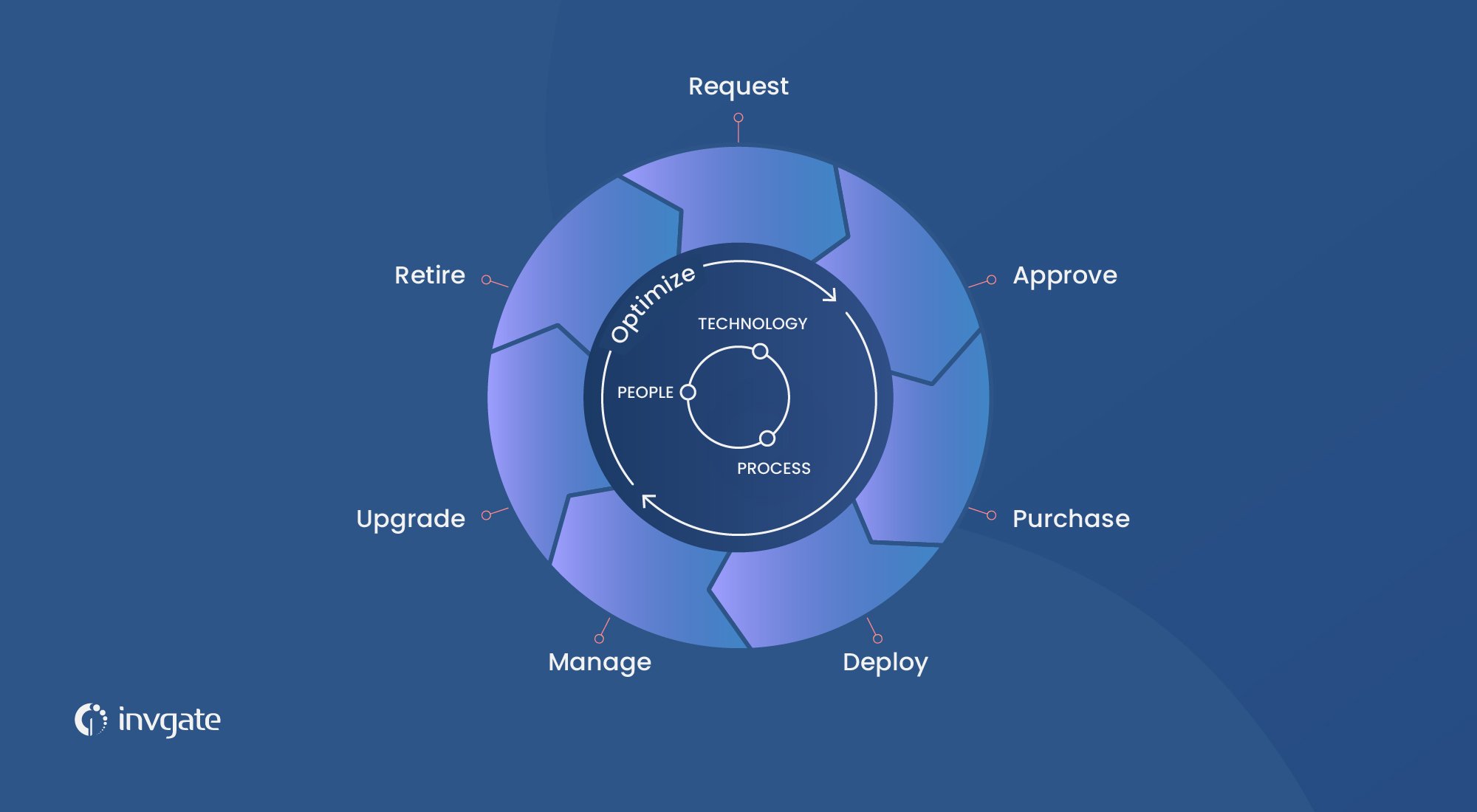 The main stages of a hardware assets lifecycle are:
Hardware Request: the hardware is requested by an employee. Typically, this is done by submitting a request via the service desk.
Acquisition: this stage involves procuring hardware assets through purchase, lease, or tech funds.
Goods in: the hardware has been delivered to the IT department, checked, and labeled/asset tagged.
Quality assurance: this stage ensures that hardware is fit for purpose and meets the utility and warranty requirements of the organization.
Deployment: once the hardware has been tested, hardware assets are deployed and installed in the appropriate location or department within the organization.

BAU support:

the hardware is supported via the standard Incident Management practice.
Maintenance: servicing of hardware assets to ensure optimal performance and longevity. This includes both proactive and reactive maintenance.
Retirement: the hardware is approaching the end of its life and needs to be transitioned out of service in a controlled way.
Disposal: hardware assets are either recycled or disposed of at the end of their useful life.
ITIL Hardware Asset Management best practices
Hardware Asset Management needs a structured approach to effectively track, monitor, and manage all IT hardware assets within an organization. When implementing HAM, here are some things to consider.
1. Keep it simple (and practical)
I've borrowed a guiding principle from ITIL here. Remember to keep it simple when spinning up your HAM practice.
So many implementations fail because they are overly complicated and become too clunky to run effectively. When creating your HAM practice, remember that your process must be user-friendly, because if your customers think that using it is too complicated, for example, when requesting equipment, this will result in lots of red tape and they will circumvent it, causing you problems down the line.
2. Know your supporting players
Or, to borrow another ITIL principle, work collaboratively and holistically. Look at what is in place at the moment and look at what can be used for HAM. We're not looking to reinvent the wheel here, so work smart, not hard.
Do all hardware requests go through the service desk? Is there a Request Fulfillment process you can link into? Is the procurement process centralized? Can new hardware be deployed as part of release management?
3. Identify and document all hardware assets
I know, I know. This part will take a lot of time and hard work. They're the breaks if you want to do HAM properly. The first step is to identify and document all hardware assets within the organization. This includes computers, servers, printers, and other peripherals. It is essential to maintain accurate records of all hardware assets, including their location, serial number, purchase date, warranty information, and maintenance history.
You can make this less painful by using InvGate Insight's Agent – it will report every asset connected to your organization's network automatically, helping you have a complete and unified inventory in just 24 hours. Plus, the information you already have in place if you have related SAM or Configuration Management processes can be of help. No matter how you decide to do it, remember that this stage is foundational to your whole practice, so it's imperative to get it right.
4. Use asset tracking software
Use asset tracking software to manage all hardware assets. The software should provide real-time updates on each asset's location, status, and maintenance history.
In this sense, InvGate Insight will not only provide you with asset tracking features but also Software Asset Management capabilities – and did we mentioned that it's natively integrated with InvGate Service Desk to make the whole IT support team's activities run a lot smoother?
5. Conduct regular audits
Conduct regular audits of hardware assets to ensure accurate records and identify any missing or unaccounted-for assets. This will ensure the data you hold in your asset databases matches what is present in your IT environment.
If you have InvGate Insight, you can also automate ITAM reports to receive periodic updates on your hardware assets' health, status, license usage, and more.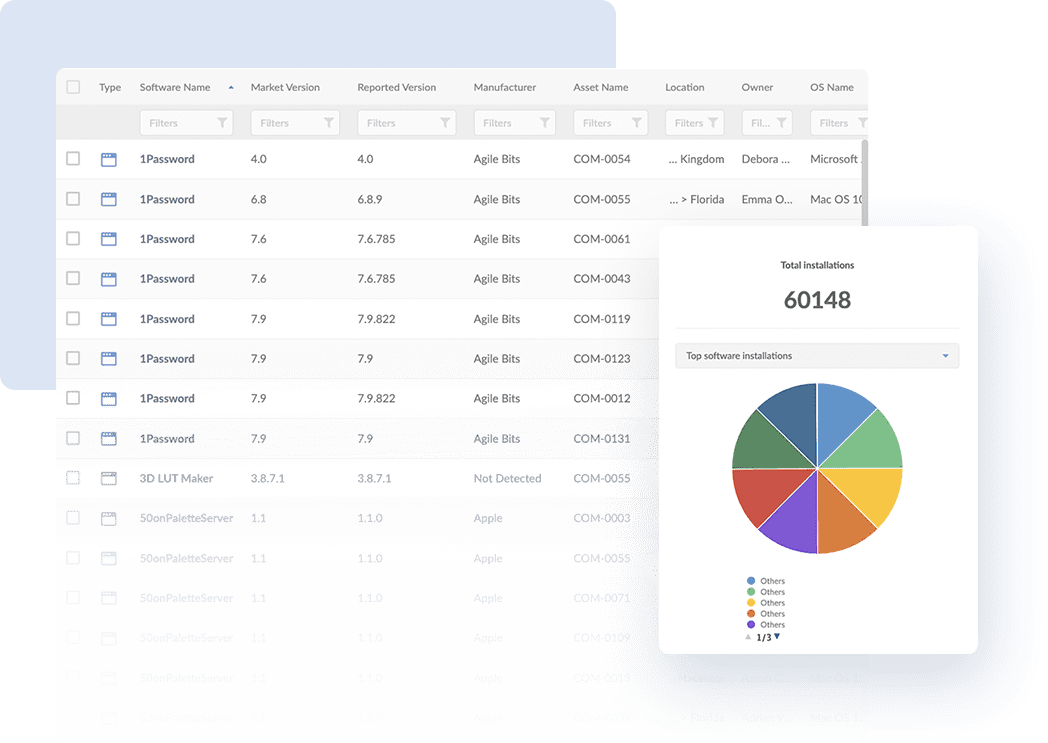 Hardware Asset Management KPIs
As everything on the IT world, it's not only crucial to have processes in place but also to monitor them constantly. Thus, here are some ITAM key performance indicators or KPIs to help you manage your new HAM practice:
Hardware utilization: measures the percentage of time that hardware assets are in use. This metric helps to identify underused hardware assets that can be redeployed or retired.


Total cost of ownership (TCO): measures the total cost of owning and maintaining hardware assets. It includes metrics such as purchase price, support and maintenance, and disposal costs.


Asset lifecycle: tracks the lifespan of hardware assets from the request stage to disposal. It helps to track assets that require upgrading, replacement, or retirement.



Mean time between failure (MTBF)

: measures the average time between hardware asset failures. It helps to determine potential maintenance issues or recurring faults that are candidates for further investigation, via the Problem Management practice.


Asset maintenance: measures the percentage of hardware assets that are serviced and maintained according to their schedule or support contracts. It helps to identify potential maintenance issues and improve the longevity of hardware assets.


Asset accuracy: measures the accuracy of the hardware asset database. It helps to identify missing, lost, or stolen assets.


Security compliance: measures the compliance of hardware assets with security policies and regulations. It helps to find potential security breaches and improve the security of hardware assets.


Process cohesiveness: measures how the individual processes aligning with HAM support each other effectively. The processes include incident, request and financial management, change enablement, release management, and information security management.
Final thoughts
Hardware Asset Management is part of the overall ITAM practice and it can help you manage, control, track and protect the hardware assets in your IT estate. In order to manage your IT assets effectively, you need both SAM and HAM to be working together. Remember when implementing HAM:
It needs to be able to manage assets throughout their entire lifecycle.
It's essential to have a structured plan in place so that nothing is missed or forgotten about.
The right KPIs and performance metrics will help keep your HAM practice stay on track.
Lastly, HAM software is your best shot at succeeding in implementing a plan. Want to know everything InvGate Insight can do for you to effectively manage your IT assets? Check out the live demo or request a 30-day free trial!
Frequently Asked Questions
Why is Hardware Asset Management important?
HAM is essential to manage your IT hardware assets effectively and efficiently.
What is the objective of Hardware Asset Management?
HAM aims to track assets while reducing costs and risks.
What is the value of Hardware Asset Management?
HAM can help you save time, money, and compliance risks.
What are the different types of hardware assets?
PCs, laptops, servers and network equipment, to name a few!