When we talk about IT Asset Management (ITAM), the first thing that comes to mind is hardware devices, like computers and peripherals. But ITAM also covers software assets, which are equally important and need to be managed appropriately. This is where software metering becomes an essential feature for IT agents and managers.
The thing about software is that you not only need to know its license status but also its state in relationship with other assets. In order to efficiently manage them, you must know things like license availability, owners, usage, designated device, etc.
And to be aware of all that, you need InvGate Insight on your side. ITAM software will allow you to efficiently handle all your IT estate and make better decisions when it comes to software management.
Now, let's see how software metering can help you with this.
What is software metering?
Software metering is a powerful tool that allows IT teams to detect and analyze how software is being utilized across their organization and users. It enables IT agents to manage the need for software licenses better while ensuring corporate policies are followed, and system compliance is maintained.
It also offers an extra layer of control over licensing costs by providing metrics on usage that can inform decisions on whether existing subscriptions should be maintained or if new ones should be purchased.
By using software metering, IT staff has the visibility required to ensure only relevant licenses are purchased and applied when needed, thus avoiding unnecessary wastage of money. Ultimately, these efforts translate into considerable savings for organizations deploying an effective ITAM strategy.
How software metering works
Software metering tools are handy for any kind of business, as they provide insight into the usage and deployment of applications. These tools work by gathering data about the software applications in your organization, including how frequently individual programs are being used, when they are accessed, where they have been downloaded, and which users have utilized them.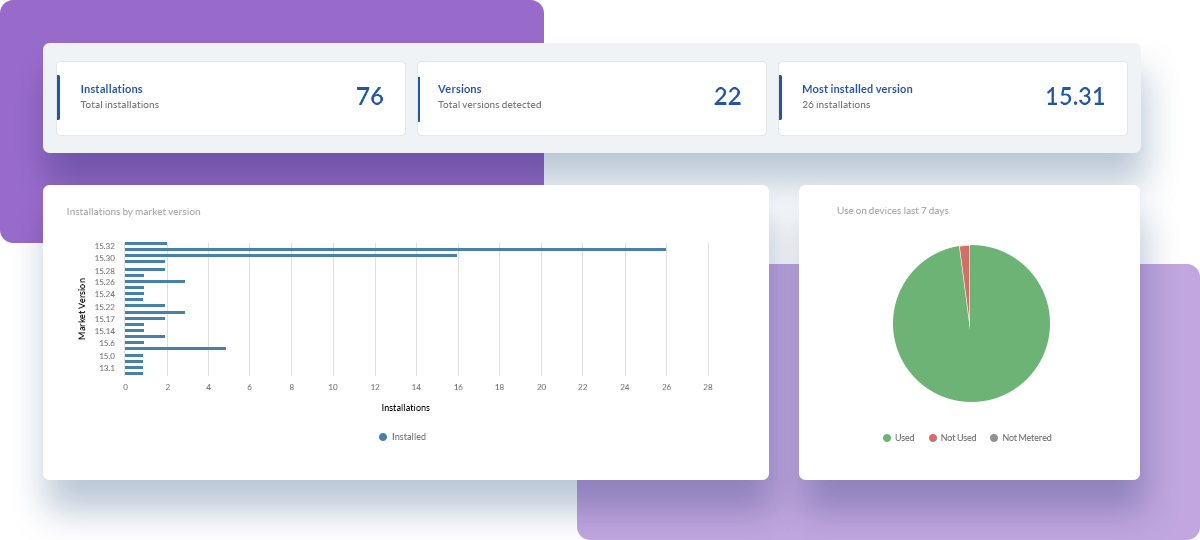 All this information is collected in real-time and regularly analyzed to create reports that help organizations understand their software usage and make strategic decisions. With this feature, your organization can quickly identify potential issues related to software licensing or discover opportunities for improved efficiency in application maintenance. Ultimately, its goal is to make sure that your applications stay up-to-date and run optimally.
5 benefits of software metering
The development of software metering has come a long way, and organizations are finding it to be an invaluable asset in the management of their IT assets. Let's see the top five benefits it can offer you:
Compliance – Companies must adhere to different regulations, such as GDPR, HIPAA, and SOX. Software metering helps in ensuring that organizations are compliant by monitoring software usage across their network. It can also be used to create reports for auditing processes.


Cost savings – By conducting a software usage audit, organizations can identify any unnecessary or redundant licenses and subscriptions and adjust their spending accordingly.


Increased visibility – Software metering can provide a comprehensive view of the software being used in an organization, allowing IT staff to see which applications are being used and where they are installed. This helps them identify potential security threats or potential software breaches that could lead to costly fines.


Improved productivity – It can also help IT staff identify applications that are being used inefficiently or not at all, optimize them, and improve employee productivity by making sure they have access to the right tools for the job.


Enhanced user experience – By ensuring users have access to only the applications needed for their jobs, companies can improve employee experience and help them to be more productive.
Software metering tools: measuring software license usage with InvGate Insight
Now that you know why you need to start using a software metering tool, let's see what InvGate Insight can do for you. To begin, let's remember that we're talking about ITAM software. Thus, it will provide you with a complete view of all your IT asset inventory, including:
With this in mind, you can build relationships between software and other CIs like users, contracts, and computers. And the best part is that you don't need to enter all this information manually. InvGate Insight's Agent will populate your IT inventory, monitor and periodically report on your network's devices, and provide you with the necessary information on software metering.
So, building your IT inventory and installing the agent in your organization's computers are the two key steps to making things work. Once you've done that, the software metering tool will start analyzing and reporting the usage time of the applications executed on each company device. With this information, you will be able to make decisions to optimize the distribution of paid software licenses.
InvGate Insight also offers you the possibility to create, export, and share reports to analyze software usage. You can build them by grouping categories and using as many filters and conditionals as you need.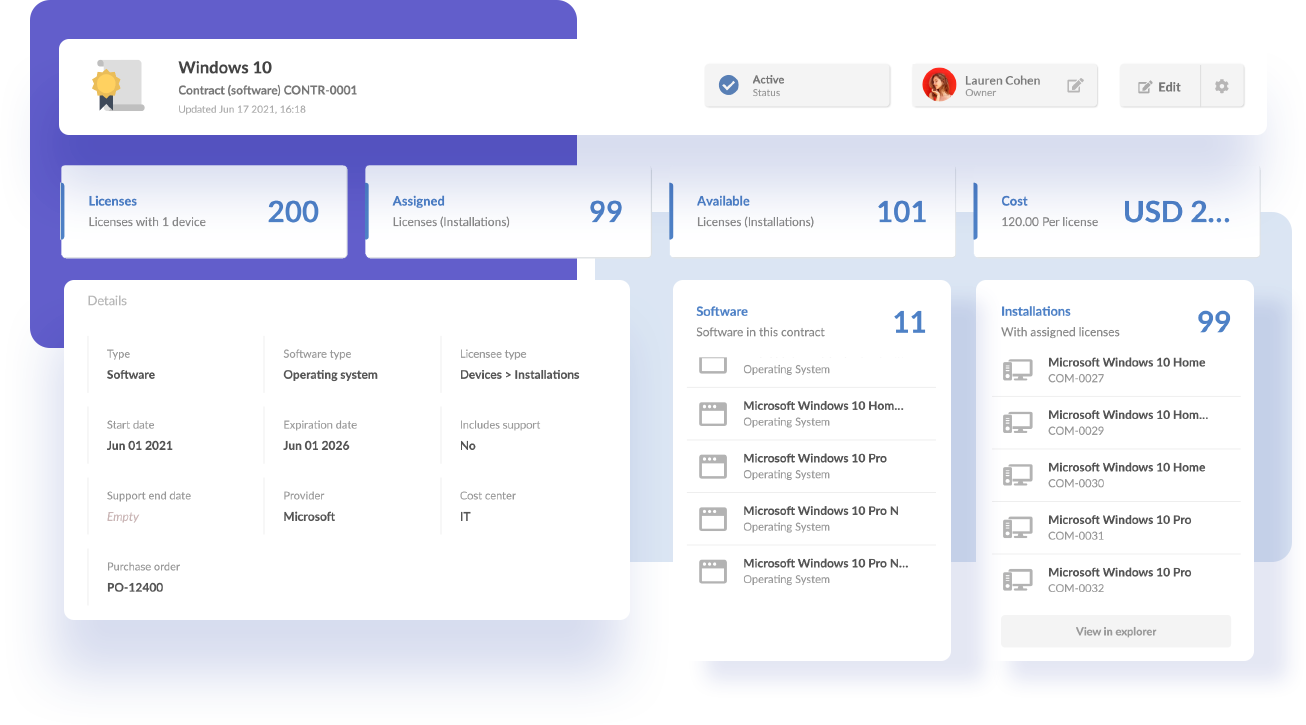 But that's not it. If you go to the software profile, you'll see information about that specific software in a graphic and easy-to-read way. Thanks to its friendly UI, you can navigate the assets' profiles to get a deeper understanding of the subject.
Final thoughts
Software metering is essential for organizations looking to optimize their IT Asset Management and avoid overspending on unnecessary software licenses. With an up-to-date and accurate view of their software usage, you can identify any redundant licenses and subscriptions and adjust your company spending accordingly.
To implement it, you can either choose software metering software that only fulfills that purpose, or you can opt for IT Asset Management software that can do that and so much more.
In this sense, InvGate Insight gives you the right tools to do software metering and also to keep an updated IT inventory, organize your CMDBs, manage contracts, do proactive Asset Management, track and monitor your assets' health status, and more.
If any of this caught your attention, ask for a 30-day free trial and start optimizing the management of your organization's software licenses with InvGate Insight today!
Frequently Asked Questions
What does software metering do?
Software metering is a critical ITAM tool that helps organizations measure, track and analyze the usage of software across their network. It can help identify security threats, reduce costs, and improve overall productivity by providing an up-to-date view of all software users.
What is application metering?
Application metering is the process of measuring and tracking the usage of specific applications in an organization's network. It can help identify how often a particular application is used, which users are accessing it, and at what time. This data can be employed to determine if an organization has too many or too few licenses for that application and can help to make informed decisions about purchasing new licenses or reducing existing ones.