Efficient Warranty Management is a critical aspect of ensuring smooth IT operations and maximizing the lifespan of assets. Handling warranties for various sets of equipment or devices demands for a systematic and well-organized approach to make sure nothing is missed or forgotten.
But don't worry, implementing InvGate Insight as your IT Asset Management tool can help you to seamlessly track and manage warranties, alerting you well in advance of expiration dates, and automating critical tasks.
So, join us as we uncover the best practices, tips, and insights to transform your Warranty Management process!
What is Warranty Management?
When IT assets are purchased, they often come with warranties provided by the manufacturer or vendor. These documents typically run for a specified period during which the vendor agrees to repair or replace the asset if it malfunctions due to defects or failures.
Therefore, Warranty Management refers to the systematic administration of warranties and maintenance contracts for the hardware and software assets used within an organization.
It is a crucial component of Asset Lifecycle Management, ensuring that IT equipment remains functional, reliable, and cost-effective throughout its warranty period.
Managing warranties effectively also ensures that IT assets operate within expected service levels, which is crucial for the functioning of business operations and the satisfaction of end-users within the organization.
Why is Warranty Management important?
There are numerous ways that Warranty Management can impact operational efficiency, financial savings, and overall IT Asset Management (ITAM). For starters, this practice provides valuable information to decide whether to repair, return, or recycle equipment. This way, you can make informed decisions on the most cost-effective actions to take when assets encounter issues or reach the end of their useful life.
As a result of having all this data available, you can reduce the cost of maintenance for IT assets by contacting the vendor instead of fixing the device yourself, and thus avoiding paying for unnecessary servicing. This cost optimization contributes to better budget and resource utilization.
Benefits and challenges of managing warranties
We've hinted it here and there, but these are the main benefits of managing warranties proactively:
Facilitating warranty tracking - Warranty Management systems typically involve entering warranty information into a centralized database, like an ITAM solution. This ensures that no warranties are overlooked or forgotten, reducing the risk of missing out on potential warranty-covered repairs. Companies with an automated Warranty Management system can

reduce their warranty costs approximately from 10 to 25%

.


Unifying and sharing asset data - Effective Warranty Management extends beyond IT, it can involve Financials, Infrastructure, and others. Having a unified and shared database can streamline complexity when applied across the organization.


Optimizing Asset Maintenance - Monitoring warranties allows you to address asset issues before they escalate. Timely repairs or replacements under warranty prevent minor problems from becoming major disruptions, maximizing their performance and lifespan and saving significant time and money.
Nevertheless, this practice also comes with associated challenges (especially if you are not supported by a tool to carry the weight):
Managing the volume of warranties - Tracking and maintaining a large number of warranties can quickly become overwhelming without a well-defined process. After all, pretty much every asset you purchase comes with it. Having a pre-defined process and automating some tasks and reminders can make it easier.


Handling the complexity and variability - Warranties come with varying terms, conditions, and coverage periods. So, keeping track of all this information and ensuring they are correctly applied can be complex and prone to errors, particularly if you are doing it manually.


Coordinating with vendors - Coordinating with various vendors and authorized repair shops can also be challenging, as they all have their own protocols, rules, and agenda. However, you can include all that data in your Asset Management tool.
Using InvGate Insight as your Warranty Management software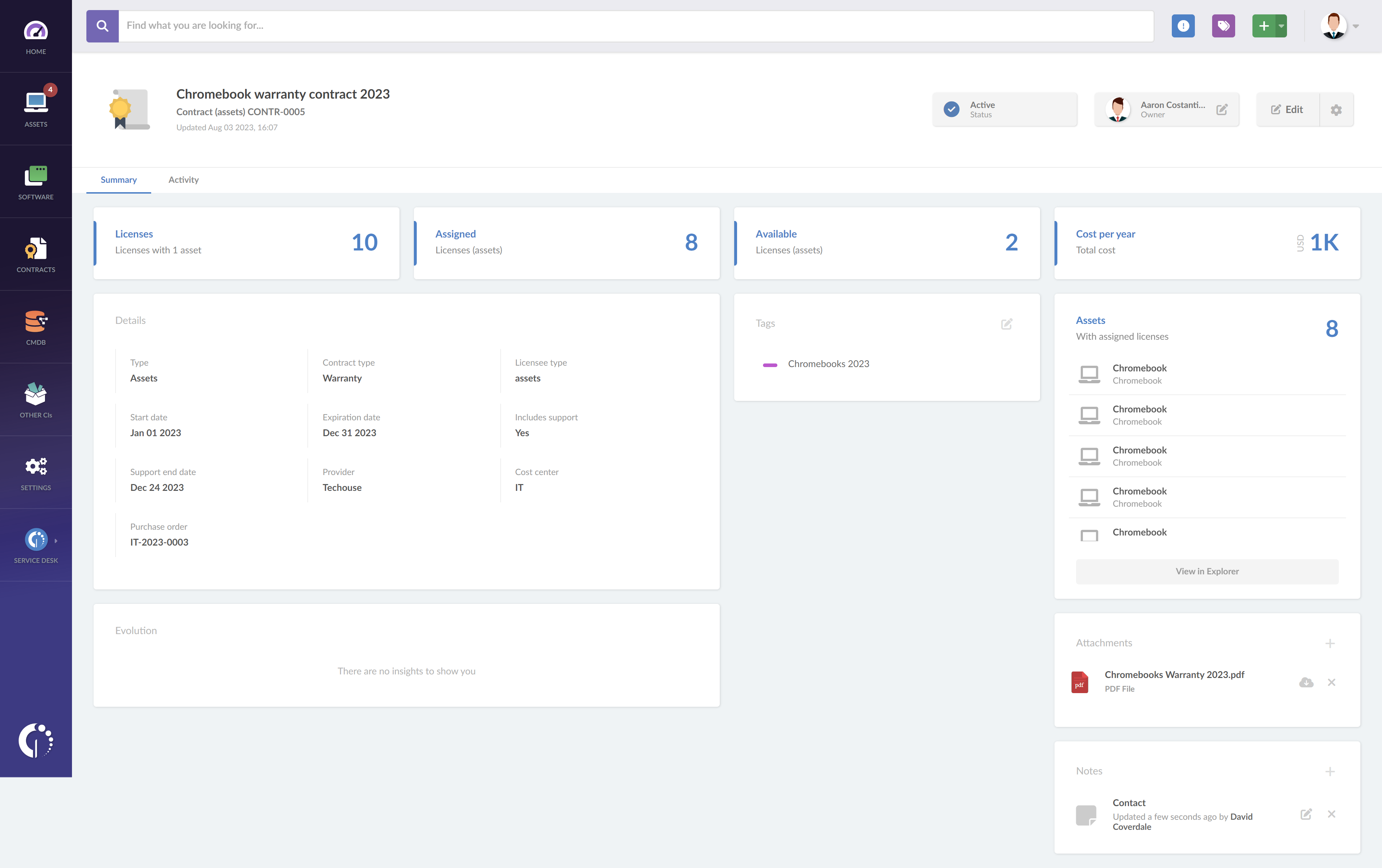 We've already made it quite clear that an efficient ITAM tool is key to streamline Warranty Management practices and keep everything under control. Let's see how you can do it on InvGate Insight.
The tool offers a special Configuration Item (CI) category for contracts. There, you can register the incorporation of warranties and assign them to assets to facilitate its control and administer them according to your organization's needs.
The process can be divided into three stages. First you have to add them to your centralized inventory. Then, categorize those CIs. And finally, automate the management process. Here's a practical example on how to check warranty For Dell, HP, Lenovo, Asus, Toshiba, and Fujitsu devices.
Before you begin, remember to outline the general process so that you establish how to handle warranty claims and renewals, as well as how to update warranty information regularly. By doing so, you'll know what to track and automate.
Stage 1: Capturing warranty details in your inventory
After adding a new asset to your IT inventory, the first thing to do is to capture the warranty details associated with it. This includes warranty duration, cost, support inclusions, the provider, and any other financial aspects related to the document.
To incorporate them into the system, log into your InvGate Insight instance, click on the "Create CIs" button, select "Contract." and choose the category "Assets." Then, fill in all the details mentioned above.
Now that you have the contract, the next step is to link it to the asset that possesses the warranty. There are two ways to relate the two. You can either do it manually or automatically assign contracts to assets that share the same tag.
For the second alternative, you can create a smart tag for all the computers that share the same date of acquisition and vendor, or any other condition they share. This streamlines the process and ensures that assets are properly associated with their respective warranties.
Once you are done, just save the changes and the warranties will appear in your inventory!
Step 2: Creating tags to classify your warranties
By now, you should have your active warranties associated with their respective assets. However, the searching and reporting process is not yet solved.
To simplify them, you can assign tags to contracts to categorize them based on specific criteria. For example, you might use a tag to group assets from the same vendor or with similar warranty terms.
There are two ways to do this on InvGate Insight:
Assigning the tags while creating the Contract (explained in Step 1).
Configuring a smart tag afterwards - Go to "Settings >> General >> Tags" and click on "Add."Assign a name, description, and color for easy identification. Add rules and filters to convert them to smart tags, so that they're automatically assigned to the CIs that meet the conditions.
Stage 3: Automating the warranty management process
Once you have all the relevant information uploaded to the system, automation is key to stay on top of contract details, avoiding having to rely on memory or manual checks. On InvGate Insight, you can trigger and customize actions or notifications based on different warranty-related factors.
To do so, create the automation under Settings >> Assets >> Automations. There, fill in the details (including name and description) and choose the kind of event (type of contract, end dates, providers, or status).
Then, it is just a matter of implementing the regular "If this, then that" rule to trigger different actions based on the condition you have set, such as notifying staff when a warranty is about to expire, or renewing a contract in your database.
Warranty Management tips and best practices
As you can see, managing warranties with an appropriate tool can systematically help you streamline your Asset Management. Here are some extra tips and tricks that you can apply to make the most of this practice.
Keep an inventory of your assets and equipment - This is the foundation of successful Warranty Management (and all Asset Management). Your inventory must be complete and updated, and include detailed information about each asset, such as the make, model, serial number, purchase date, and warranty coverage.


Implement a predefined process - This process should cover how to register warranties, track expiration dates, initiate warranty claims, and follow through with warranty-covered repairs or replacements. A standardized approach reduces confusion and ensures consistency across the organization.


Track the expiration date and details - Clearly register the scope of coverage, any exclusions, and the process for making warranty claims. Having this information readily available helps in making informed decisions about asset maintenance and repairs.


Use automation to highlight upcoming expirations - This is key to avoid missing deadlines. The best way to achieve this is by incorporating the automation capabilities that InvGate Insight has to offer.


Make warranty data available to all staff - Ensure that warranty expiration dates and relevant details are accessible to all stakeholders involved in Asset Management, maintenance, and procurement. Centralizing this data allows for better collaboration and informed decision-making. With InvGate Insight, you can adjust visibility permissions for all your technicians, and share reports and dashboards with external users.
To sum up
Warranty Management allows you to get the most out of your assets. But for it to be effective, you must coordinate and organize a large amount of data – including contracts, vendors, and associated assets – plus managing through its whole lifecycle.
However, with a well-defined process, trained staff, and a competent tool to streamline key operations, you can effectively harness the benefits of this practice, avoiding unnecessary costs and making better informed decisions for your ITAM practices.
Implement InvGate Insight as your ITAM software and transform the way your organization handles warranties. Ask for a 30-day free trial to start right now!