Managing multiple help desks across different departments and functions is a challenge. If, on top of that, you're dealing simultaneously with multiple tools or platforms, you are likely subject to extra inefficiencies and increased costs.
The best way to address this is to integrate your multiple help desks into a centralized IT Service Management (ITSM) solution. We know it's not an easy or quick process and you might feel it's never the right time to put in the needed effort. But this strategic initiative will streamline all your support processes and at the same time improve your employee experience (all while saving you some money!).
To help you take the leap towards integrating your multiple help desks into one tool, here we will explore the best practices and key considerations to successfully do so. By following them you can ensure a seamless and timely transition to InvGate Service Desk.
Keep reading to learn all about this process!
Why is it crucial to consolidate the support offering in an organization?
All areas in an organization provide service at some point. And in many cases, they also need to collaborate with each other to solve an issue. This is why unifying the service experience (which is known in the IT world as Enterprise Service Management or ESM) is more than reasonable.
A single point of contact enhances the collaboration among teams and normalizes processes, leading to better response times and user experience. It also encourages knowledge-sharing across multiple departments, contributing to minimizing silos. Plus, it allows you to have unified metrics and data to spot common trends or challenges.
There are several disadvantages of working with multiple multiple help desk tools, but to summarize: it's complex, inefficient, and expensive. Integrating them into one ITSM solution will maximize the Return on Investment (ROI) of your tool, as you will have just one supplier, one support team, and a unified training process.
But don't take our word for it. That's exactly what Peoples Bank saw when they centralized the support of 24 different departments into InvGate Service Desk. They particularly highlighted the importance of having a well-functioning and easy-to-access self-service portal which simplified navigation, while also unifying the different levels of support.
6 benefits of having a centralized ITSM solution
We've hinted some benefits above, but this integration is so good that we need to be more emphatic about it. By joining support efforts into one ITSM solution, you'll:
Save costs and increase the tool's ROI by eliminating the need for multiple licensing, support staff, and training costs associated with maintaining separate help desk systems.


Standardize and streamline processes across teams and departments for consistent service delivery, since employees and customers no longer need to navigate through multiple systems.


Centralize metrics and reporting to have a comprehensive overview of your service performance, spot areas of improvement, and make decisions based on accurate and complete information.


Simplify customer experience by avoiding that hesitation of not knowing which team users need to contact to solve an issue; the self-service portal takes care of that!


Implement standardized workflows and automation that include several areas, reducing manual effort, consolidating processes, and ensuring faster response times to incidents and service requests.


Encourage employees from different departments to work together, share knowledge, and resolve issues collaboratively, leading to quicker problem resolution and increased efficiency across the organization.
How to integrate multiple help desks into InvGate Service Desk
InvGate Service Desk is IT Service Management software specifically designed to integrate multiple help desks in one solution. Thanks to its simple interface and fast implementation, agents from multiple departments can easily handle different types of issues.
Let's see how it's done.
1. Plan out your structure
Before you start building your integrated instance, it is important to plan out your help desk's structure.
To do so, you should set out the following things:
How are requests received (self-service,

email

,

Microsoft Teams

, or other)?
How is work routed, including which teams solve what?
What data is gathered and what do the forms look like?
How are subtasks managed?
What communications are sent during the service transaction?
Once you thoroughly understand the structure you want to build, it's time for action.
2. Create your users and assign them roles
In the Settings menu, you will find all the different aspects you can configure and customize to build your instance. The first step is to create the users who will have access. The simplest way to do this is by integrating it with Active Directory or any other directory services your organization might be already using. You can also upload a .csv template or just create it manually.
Then, it is time to assign specific roles and permissions to agents and managers. Keep in mind that they can be a part of multiple help desks at the same time. You can also build multiple groups and assign different permissions to each one.
3. Create the help desks
InvGate Service Desk allows you to build your help desk with a tree structure with different levels of support, so you can easily visualize and manage them. You can customize each one with different categories:
Name
Parent hierarchy
Managers
Agents
Observers
Assignment rules
Escalations
Working hours
Our tool offers you some extra features that will make this process simpler, like the possibility to duplicate a help desk and then edit it, or to create a bulk update.
4. Build and automate the service catalog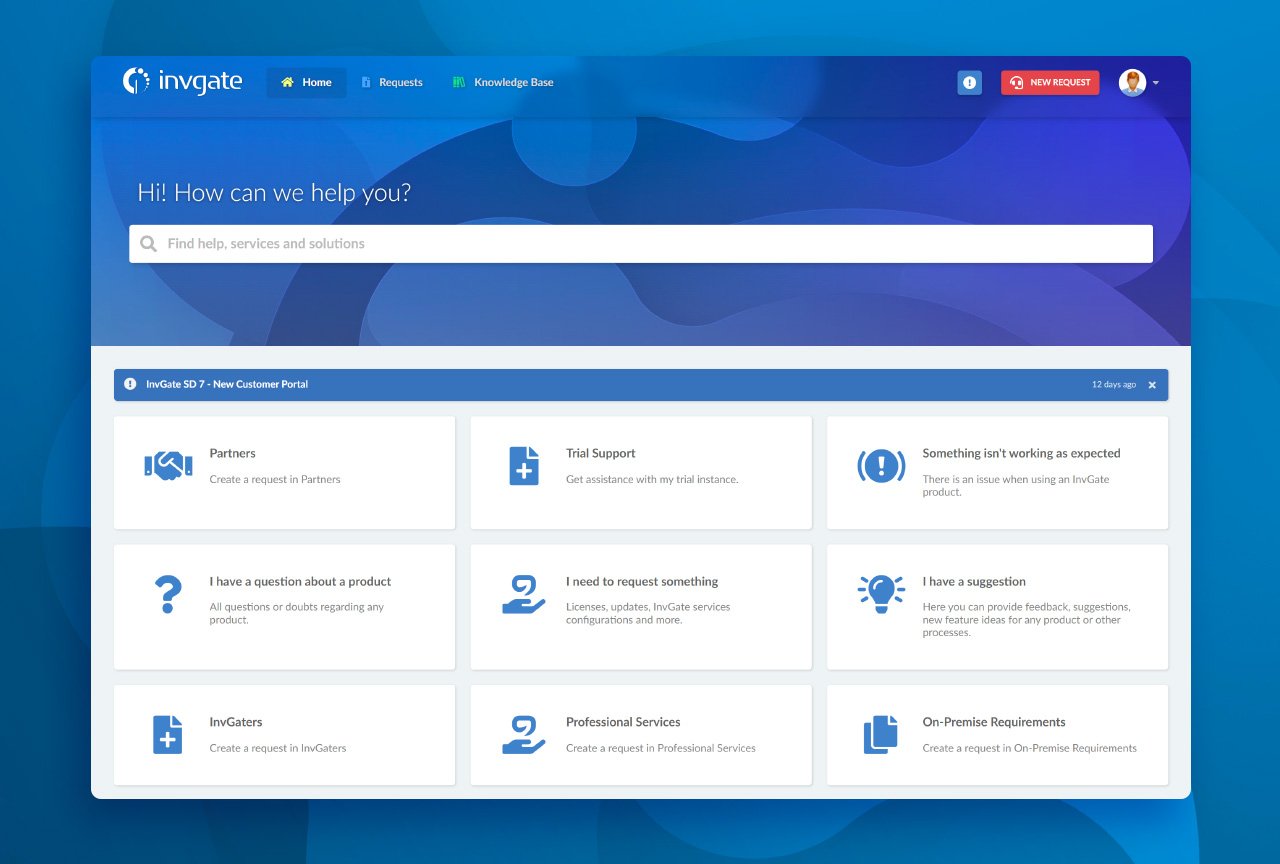 Your service catalog displays the categories assigned to the different services provided by the organization. It is also organized in a tree structure, and you can create a specific template with custom fields that meet the needs of each request.
Harmony Public Schools expanded its service catalog from 56 to 174 services to include Finance, Human Resources, Operations, the Superintendent Office, IT, and Academics.
Here, you'll be able to configure the ticket routing system to determine which help desk will be in charge of the submitted request. For complex scenarios that involve many areas, workflows are the best way to determine the routing and the tasks of a requests type. For instance, you can apply them to the onboarding and offboarding processes.
You can set different communication channels through which employees can create the requests form. The self-service portal is a must in almost all cases, but you can also set the incoming emails, Microsoft Teams integration, or third-party integrations via Zapier.
5. Build a knowledge base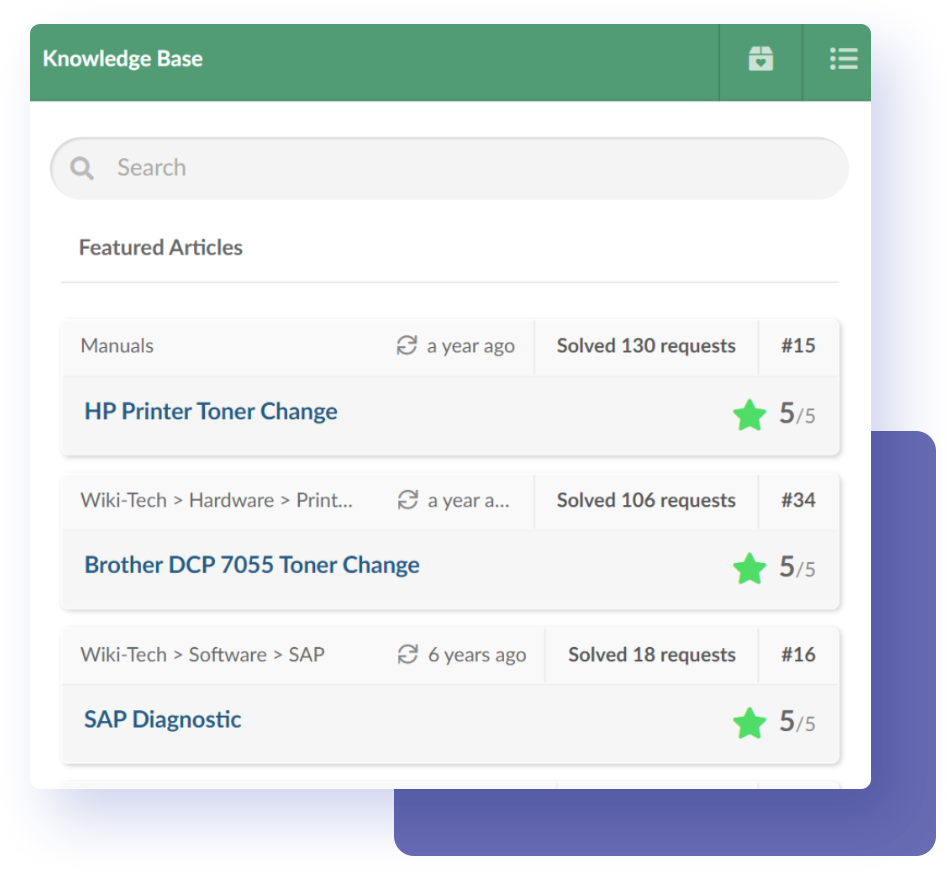 It's key to provide relevant knowledge to customers and agents to help them solve common requests. InvGate Service Desk allows you to create knowledge base articles, organize them in different folders, set who can access them, and attach them to related request categories.
8 best practices for organizing the support structure across your organization
When integrating multiple help desks into one ITSM solution, it is crucial to have a well-organized support structure that aligns with the needs of both customers and employees.
Here are eight best practices to succeed in unifying multiple help desks.
1. Conduct research and gather feedback
Before implementing changes, engage with customers and employees. You can conduct surveys, interviews, or focus groups. Incorporating their feedback and preferences into the design of the unified support structure will ensure it is customer-centric and employee-friendly.
Once the process is ongoing, embrace a mindset of continuous learning and adaptation so the structure evolves and remains effective over time. InvGate Service Desk allows end-users to give feedback on closed requests and knowledge articles.
2. Assess the help desk landscape
Take stock of the existing help desks within your organization. Map out all the areas that manage external requests and identify those that could be integrated as part of InvGate Service Desk. Evaluate their functions, capabilities, and resources, and organize the catalog's structure to align with the different types of support services offered.
3. Establish a unified ITSM strategy
Develop a comprehensive ITSM strategy that encompasses the integration of help desks. Embrace a holistic approach to service delivery, fostering collaboration and alignment across the organization. Remember to document it accordingly (an ITSM implementation checklist can be great to do so!) and make it available to all teams.
"True Enterprise Service Management means that everybody offers the same experience. When you use that portal – regardless of whether it's HR, IT, Facilities, or a print room – you should get the same level of experience from all of them."

Phyllis Drucker
Author, keynote speaker, and ESM guru
Episode 31 of Ticket Volume
4. Standardize processes and workflows
As you probably know by now, automation is pivotal to efficient IT support. Identify common tasks and processes across departments that can be standardized in workflows. Use InvGate Service Desk's automation tools to streamline cross-departmental workflows, such as onboarding new employees or handling common requests, to ensure consistency and efficiency.
Darren Rose, Service Management Consultant, came onto Ticket Volume to talk about the importance of automation in cross-department service delivery: "There's no point in having a great user experience if your employees are manually doing every task in the background. [...] All the ITIL processes and stuff are your framework, but with service design, the service touchpoints and every interaction are the things that will make a service satisfying to use or not satisfying to us."
5. Establish a Knowledge Management strategy
Develop a robust Knowledge Management strategy to facilitate information sharing and problem-solving. Create knowledge base articles for each area's most frequently asked questions and common issues. Encourage employees to contribute to internal knowledge sharing by creating internal articles. With InvGate Service Desk, you can assign permissions to certain agents to manage the knowledge articles.
6. Data migration and integration
Ensure a smooth transition by carefully planning and executing data migration from the existing help desks to the centralized ITSM solution. Merge and normalize data from different sources to provide a unified view of customer interactions and support activities.
In addition, Integrating InvGate Service Desk with Insight will allow you to have quick access to assets related to the request. It also offers you the possibility to create third-party automation via Zapier, or use its free API to integrate with your chosen software. You can also create web service calls within your workflows to automate processes that involve many tools.
7. User training and Change Management strategy
Invest in comprehensive user training programs to familiarize employees with the new ITSM solution and its capabilities. Offer training sessions, workshops, and documentation to ensure users understand the unified support structure and can efficiently navigate the system. Explaining how it will benefit their work and getting them effectively on board is crucial for the process to be successful
Implementing a customized Change Management strategy with InvGate Service Desk helps to address any resistance to change and communicate the benefits of the centralized solution to gain user buy-in.
8. Define KPIs and implement regular reporting
Establish help desk Key Performance Indicators (KPIs) that align with your organization's goals and objectives. To do this, automate regular reporting, and customize your dashboard in InvGate Service Desk. This will help you to track KPIs, monitor performance, and identify areas for improvement.
Final thoughts
By coordinating support processes and resources throughout different departments on a centralized ITSM solution, your organization will optimize its investments and enhance the overall support experience for both customers and employees.
But, as you embrace this task, it is crucial to approach the whole process with a customer-centric and a culture of continuous improvement mindset, prioritizing the delivery of exceptional support experiences over everything else. Having satisfied users on both ends is at the heart of a well-rounded successful company.
To integrate your multiple help desks into one ITSM solution, ask for InvGate Service Desk's 30-day free trial!