Organizing IT support can be challenging, especially if you rely on email as your primary means of communication. It doesn't matter how many tags you create or how detailed your guidelines are; the tool is not meant for that, and thus your order is unsustainable. Luckily, an email ticketing system can fix most problems.
We've seen clients all over the world who cannot properly track their agents' performance, missing requests and wasting valuable time in an effort to make email do something it was not meant to. But there's hope because a ticket system like InvGate Service Desk can help you keep track of support requests and ensure that each one is addressed on time.
It's a lifesaver if you're struggling to stay on top of customer support requests. By organizing and automating your email communications, you will manage customer inquiries more efficiently and improve your overall support process.
And, in case you were wondering, we'll tell you exactly how in this article. Dive with us into the world of email ticketing systems, their benefits, key features, and providers.
What is an email ticketing system?
An email ticketing system is a software application that helps businesses manage customer support requests. It allows customers to submit help requests via email and then tracks and organizes those requests in a central place. This makes it easier for support staff to resolve incidents and problems promptly.
As you can see, the beauty of a ticketing system is that the only part of the company aware of the change is the IT department, meaning that you won't have to change the organizational culture to adopt the new tool.
5 benefits of an email ticketing system
There are several benefits to using an email ticketing system for customer support.
It can help you keep track of all customer inquiries in one place,

minimizing human error

and improving first-response times.


Email ticketing systems often include features like auto-responders and email notifications, which improve the efficiency of your support process.


Many email ticketing systems offer reporting tools to help you track customer support ticket trends. This information will help you to make decisions about how to improve your customer service process. They can also guide you on how your team is performing.


End-users don't need to use the platform to contact IT support, making this a low-friction change impacting only your IT team.



Self-service options

can help to reduce the number of calls made to the support team, freeing up time to deal with other issues.
Overall, a tool like InvGate Service Desk can help improve the efficiency and effectiveness of your customer support process. If you want to streamline your customer service, an email ticketing system may be the right solution.
Problems with traditional emailing for IT support
Email support requests can quickly become overwhelming, especially for busy IT departments. Without a system in place to manage and prioritize these requests, they can easily fall through the cracks. In some cases, it can actually prolong the problem-solving process.
This was the case of one of our clients, Harmony Public Schools. His Service Desk Manager observed the following, after InvGate Service Desk's implementation:
"We went from having unread emails with pending requests for three months to requests resolved within a week."

Martin Nuñez
Service Desk Manager at Harmony Public Schools

If you're still not sure if switching to a customer support ticketing system is worth it, some of our clients' problems before making the switch might resonate with your current system:
Email requests can get lost in the shuffle. Without a dedicated system for tracking and managing support requests, it can be easy for them to slip through the cracks. This is especially true if multiple people are CC'ed on the email chain, or if there's only one support email inbox for the whole team.


Email is not always the most efficient way to resolve technical issues. In some cases, it might actually prolong the problem-solving process. For example, if a complex issue requires troubleshooting or back-and-forth communication, it might be better to pick up the phone or jump on a video call instead.


Email support can create a backlog of requests. If your IT team is already dealing with a high volume of email requests, it can be tough to keep up. This can lead to a backlog of requests, which can be frustrating for both customers and support agents.


Email support can be hard to scale. As your business grows, you might find that email is no longer the most efficient way to handle support. At this point, you might need to consider investing in a dedicated ticketing system or

help desk software

.
But how does a ticket management system perform against these pain points? Here's a quick overview.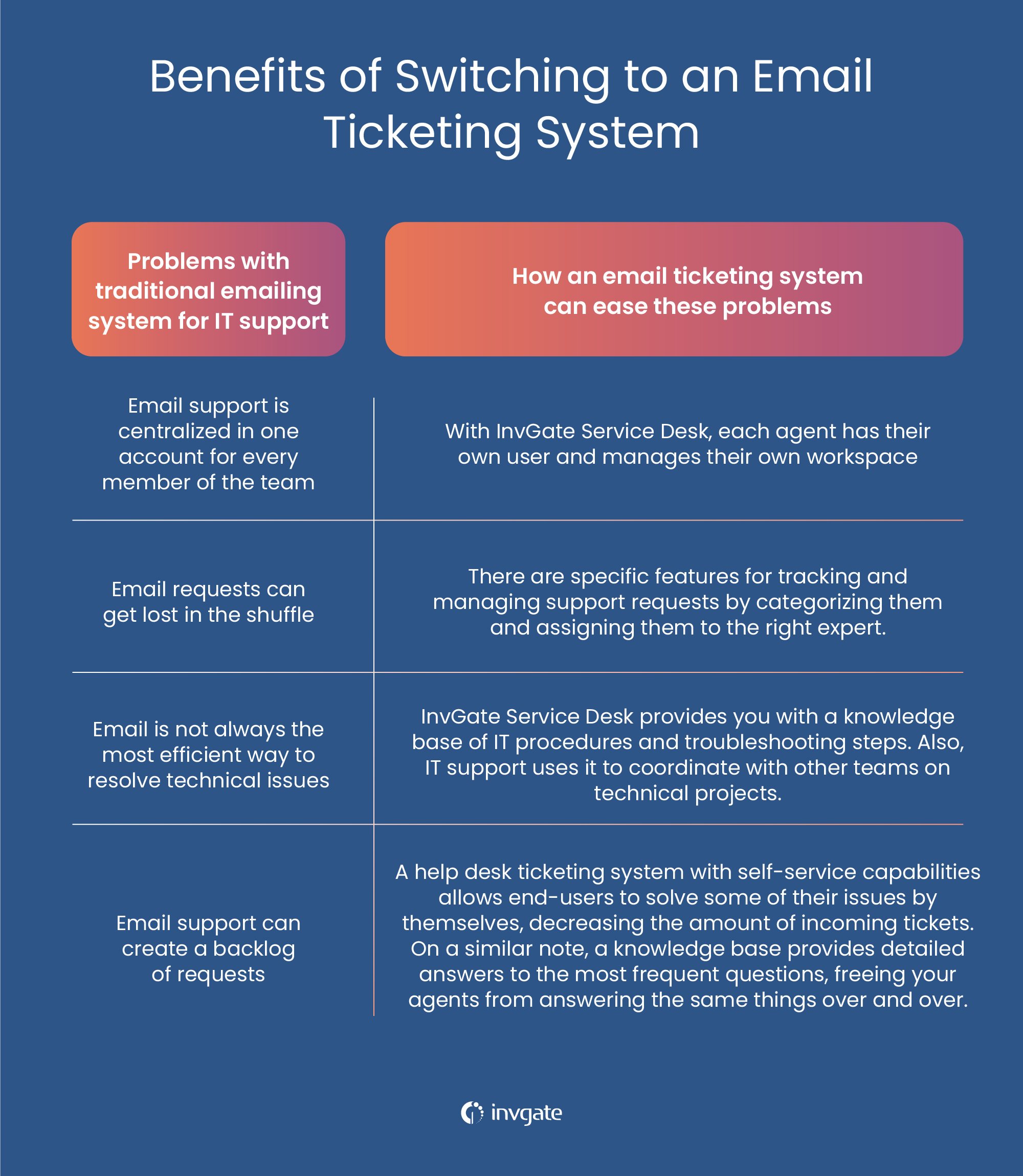 How InvGate's email support ticketing system works
As we mentioned above, InvGate Service Desk has great features for teams that want to use an email support ticketing system, and if you checked the video at the beginning, they're easy to set up.
Let's recap.
To configure your email ticketing system, first, you need to go to "Settings" (1) and select "Email" (2) – don't forget that you can try this out in our 30-day free trial!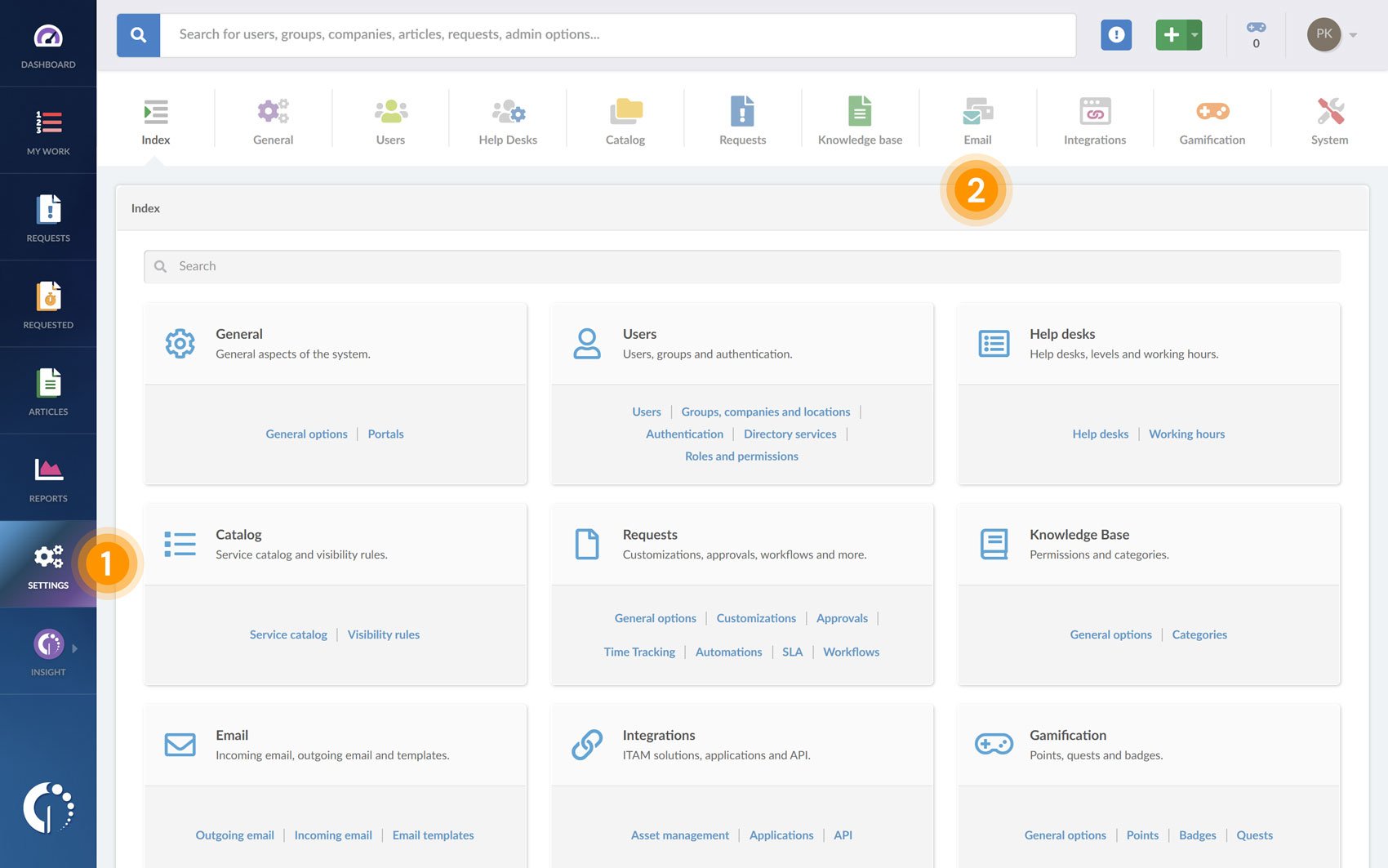 Are you there? Great! Now, click on "Incoming Email" (3). Here, you will be able to configure your "Incoming Email Server" (4), including categories like name, email, and other advanced configurations.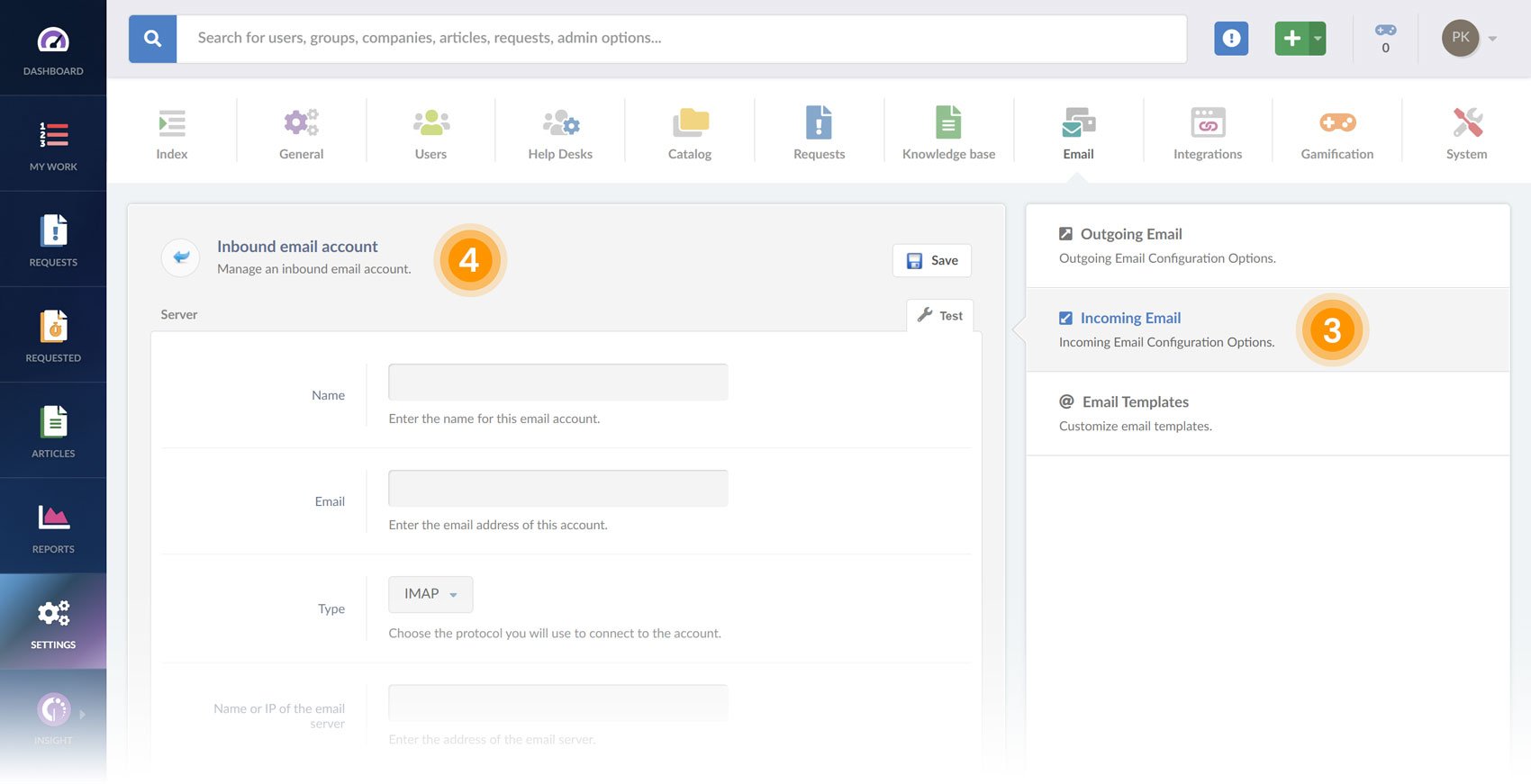 If you scroll down, you will also be able to set the categories of incoming requests and their priority (5). However, don't forget that, depending on the category you choose, these requests will go to the agent you have previously assigned to that category.
Lastly, if you go to "Options" (6), you can configure new requests from non-registered users, and allow them to be added as observers.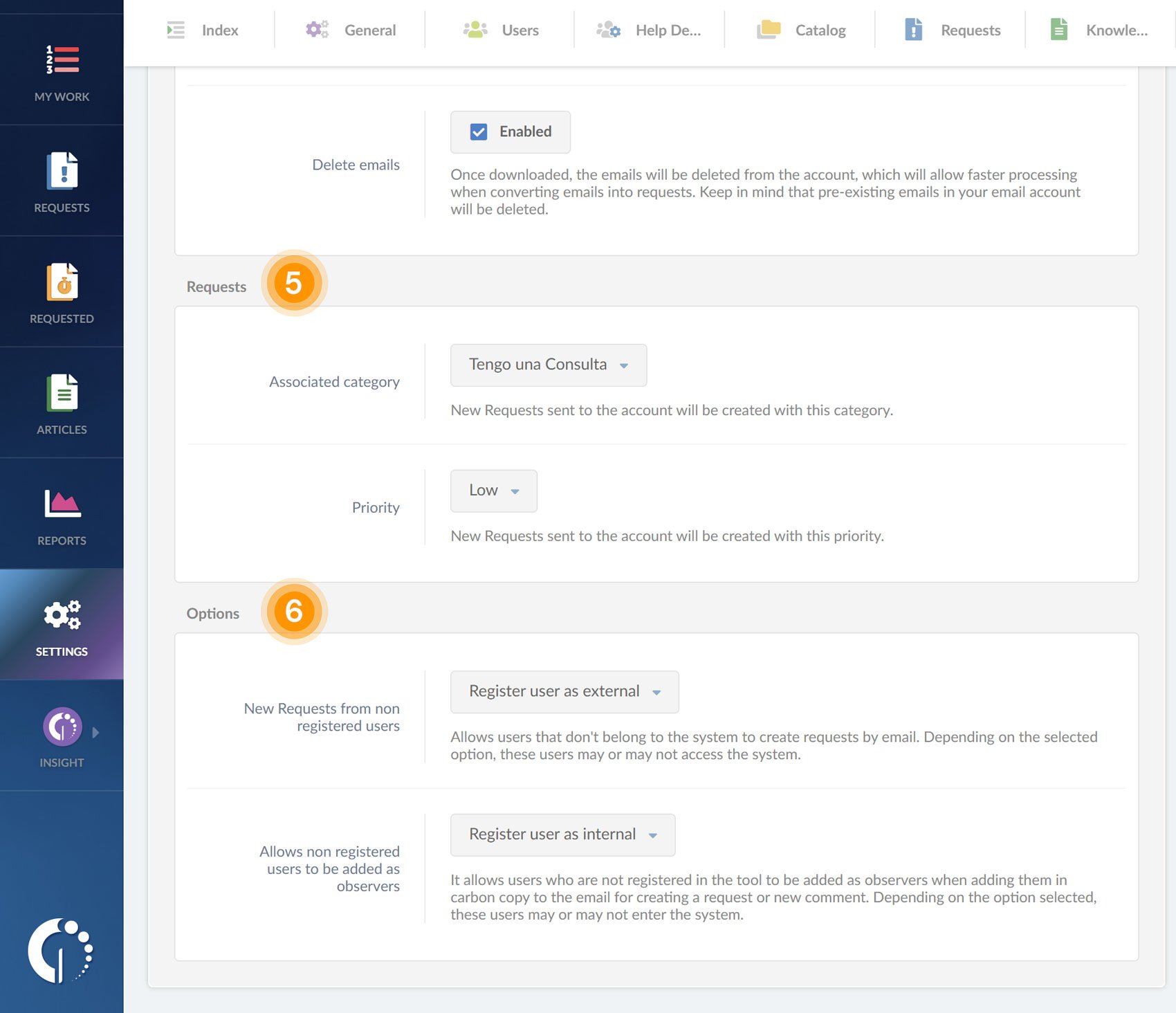 If you're just getting started using a help desk to handle your email support system, you might want to check out the three basic things to have InvGate Service Desk up and running in just a day, and also a quick tutorial on how to define a clear help desk ticketing process flow.
7 features any email ticketing system must have
Every ticketing system needs certain features to be effective. These features include converting tickets, automatically assigning tickets, providing a self-service knowledge base, offering real-time reporting, and creating workflows.
1. Ticket conversion
One of the essential features of a ticketing system is the ability to convert tickets. This feature allows you to take a customer email and convert it into a ticket. This is essential because it helps to organize your support and ensures that each customer request is handled promptly.
2. User experience
A great email ticketing system must have a great user experience. This means that it should be easy to use and have all the features that your agents need, such as clear dashboards and a complete request view of each incoming ticket.
Plus, on the admins' side, an optimized user experience should also include reports and metrics – so they can understand what's going on with their team at a glance – and features that ease the day-to-day job. On this topic, InvGate Service Desk provides them with perks like a view of only active agents and drag-and-drop tools to quickly assign work.
Lastly, if you one day decide to implement the help desk software as a platform for the rest of the company (and move away from emails), you need to ensure that the tool your agents are already using has also a great customer experience for a smooth adoption, especially for users who are not tech-savvy.
That was actually the problem of another client of ours, EfectivoSí. This Argentine financial services company had two failed attempts at implementing a help desk tool before choosing InvGate Service Desk.
But once they did it, they were able to left behind emails and phone calls as support channels. Now, more than 99% of requests are submitted via self-service, and since other teams didn't take long to see the value of our tool, they have built 22 different help desks so far to expand the platform to other areas of the company.
3. Follow-up conversations
As anyone who has ever dealt with customer service can attest, one of the most important features of an email ticketing system is the ability to have a conversation with the customer. This means that when an email comes in, an agent can respond, and their next response updates the ticket. It is essential for keeping track of the conversation and ensuring that nothing falls through the cracks.
It also helps to create a more personal connection with the customer, which can help diffuse tense situations.
4. Automatic ticket assignment
Another key feature of a ticketing system is the ability to assign tickets automatically. Though you might want to start assigning tickets manually until everyone is comfortable with the tool, once you get the hang of it, you'll want to start automating things. And this is one of the easiest ones to start with.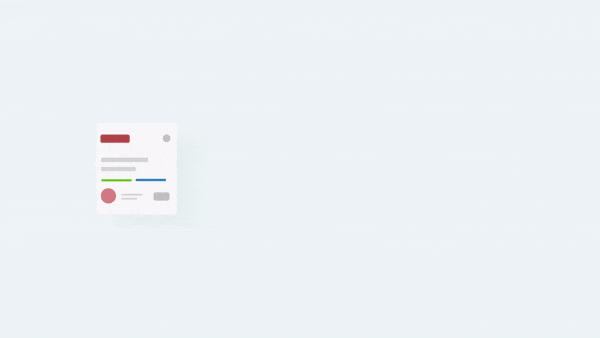 InvGate Service Desk allows you to choose among three different rules to auto-assign tickets, so they are routed to the appropriate team or individual based on predefined criteria, such as the type of inquiry, the customer's location, or the product they are using. This can help ensure that tickets are handled promptly and efficiently, reducing response times by eliminating the need for manual routing of tickets.
5. Real-time reporting
This allows you to see how your support is performing and identify areas that require improvement. This is valuable when you need to track response times or identify patterns in customer inquiries.
6. Self-service knowledge base
Following the spirit of getting used to the tool, you'd want to have a self-service knowledge base on your side. Once your new procedures are in place, your agents will be able to start creating articles to let customers find answers to questions without having to contact support. This can reduce the number of support email requests, save time and money, and increase customer satisfaction. With a self-service knowledge base, customers can find answers to questions quickly and easily.
With a knowledge base, you can quickly resolve support issues without relying on email back and forth.
7. Workflows
Workflows allow you to automate your support process and make sure that each ticket is handled consistently. They are a great way to keep your support organized. By creating different workflows for different requests, you can ensure that each request is routed to the right person or team.
For example, you might have a workflow for bug reports, another for feature requests, and another for general questions. Each workflow can have its own rules, so requests are automatically sorted and assigned as they come in.
Sounds fancy? That's because it is! But don't worry, it doesn't require a lot of hard work. Plus, you only have to configure it once, and once workflows are up and running, they can help take some guesswork out of support. By routing requests efficiently, you can resolve them more quickly and improve the overall quality of your support.
But since it's easier said than done, we have a quick video to show you how to do it in our very own InvGate Service Desk. With InvGate, you'll start by creating tickets from email messages with just a few clicks, but that's so simple that you'll be quickly looking for what else to improve. And you're in luck because it has some other cool features to streamline your support operations.
Why should you invest in a ticketing system?
Businesses should invest in an email ticketing system to improve customer service and business operations. This will help them prioritize their support tickets and track communication with customers better than ever before. We can give further details:
It's easier than you think: a ticketing system is easy to implement and use, allowing you to immediately start providing better customer support.


You will increase customer satisfaction: with a ticket system, your customers can get the help they need, when they need it. Actually, a 2021 report from HappySignals pointed out that

employees are losing less time per ticket when using service portals

than email as a channel for IT support services.


Because there is never enough feedback: help desk software helps you collect customer feedback. By tracking the types of inquiries you receive, you can identify areas where your product or service could be improved. This feedback can be invaluable in making your business more successful.


Trustworthy metrics: an email ticket system is also a significant investment if you need to keep track of customer support requests. Using such a system lets you see how many requests are coming in, the status of each request, and who is working on it. The system can also help you track metrics like response time and resolution time — useful for measuring your customer support team's effectiveness.


You can improve productivity and teamwork: if you're looking for a way to increase efficiency and collaboration within your team, an email ticketing system may be the answer. A ticketing system can help you keep track of support requests, bugs, and other issues by organizing them into manageable tickets. This can make it easier for you to prioritize and resolve issues. Additionally, having all of your team's support requests in one place can help you spot patterns and identify areas that need improvement.


Because time is also money: by automating email responses and keeping track of customer interactions. What is equal to money? With this, businesses can save a lot of time, reduce employee burnout, and implement gamification features.
5 things to consider before purchasing an email-based ticketing system
How it can help amortize the investment
If your tool is set up correctly, it can actually help you amortize the investment, by reducing the overall cost of customer support. If you automate email handling and routing, you'll also decrease the number of support agents required, plus you'll be able to track and resolve customer issues more efficiently, leading to shorter resolution times. Consequently, with an email ticketing system, you will see a quick return on investment.
How different teams can benefit from the solution
An email ticketing system, where each customer support issue is assigned a unique email address, can help team members coordinate their efforts, improve client response times, and keep track of conversations. It is a great way to optimize your customer support process by helping different teams work together and ensuring every customer inquiry is dealt with promptly.
For example, a customer service team may use it to keep track of customer queries and complaints, while a technical support team may use it to manage and resolve technical issues.
The right time to make the switch to a ticket management system
Many ticketing systems are on the market today, each with its own features and benefits. But how do you know when it's the right time to switch to an email ticketing system? Here are some questions to ask yourself:
What are the

switching costs

of

changing providers

?
How many support requests do you receive via email?
How many email inboxes do you have for support requests?
Are you using a shared inbox for support requests?
How well do your current email management tools work for you?
So, the right time is when you find a provider that can answer these questions and keep you interested.
How an email ticketing system can help streamline support operations
At this point, this one is no secret: this type of tool can be a great way to streamline support operations! By automating emailing tickets to customers, you can save time and make it easier for customers to get the information they need. Here are a few things to consider before purchasing this kind of tool:
How many agents will be using the system?
What type of support do you need?
How much customization do you require?
What is your budget?
The benefits of using an email ticketing system over other support options
Like most businesses, you rely heavily on email to communicate with customers and clients. So it only makes sense to use an email ticketing system to help manage customer support inquiries. Here are some of the benefits of using an email ticketing system over other support options:
You can keep all customer support inquiries organized in one place.
You can CC relevant team members on support requests, so everyone is aware of and can provide input on the issue (in InvGate Service Desk, they'll be automatically added to the ticket as collaborators).
You can track the progress of support requests and ensure that they are resolved on time.
Ticket management systems often have robust search features, so you can quickly find relevant information when needed.
By considering these factors, you can narrow down your options and find the email ticketing system that best fits your needs. With the right email ticketing system in place, you can provide better customer service and make it easier for your team to stay organized.
Top 5 best email ticketing systems
There are many email ticketing systems on the market, so choosing one that's right for your business is essential. To help you decide, we've compiled a list of the top five email ticketing systems.
InvGate Service Desk has an email ticketing system that helps businesses keep track of customer service requests and queries. With it, businesses create and manage email tickets, which are assigned to specific staff members. It ensures customer queries are dealt with in a timely and efficient manner.
Our system also allows businesses to track the progress of each ticket, so they can see how many have been resolved and how many are still outstanding. In addition, it provides a range of reports to identify areas where they need to improve their customer service. Overall, the InvGate Service Desk email ticketing system is an extremely useful tool for businesses of all sizes.
Zendesk is one of the most popular email ticketing systems on the market. Zendesk offers many features, including a knowledge base, community forums, and multilingual support. Additionally, Zendesk integrates with Salesforce and Twitter, for example.
Freshdesk is another popular email ticketing system. It offers many of the same features as Zendesk, including a knowledge base, community forums, and multilingual support. However, Freshdesk also provides game-based learning and integration with social media platforms.
Help Scout is an email ticketing system that's growing in popularity. It offers a simple interface that's easy to use. Additionally, it integrates with several popular applications, such as Zendesk and Salesforce.
Zoho Desk is a cloud-based email ticketing system that helps businesses streamline their customer support operations. It offers a host of features such as email integration, automation, report generation, and more.
Choosing the right email ticketing system is important for any business. By taking the time to pick the right one for your business, you can ensure that your support requests are properly logged and tracked. Additionally, it can help you manage your support workload.
Key takeaways
The impact of exceptional customer service on a company's growth and success is significant.
That's where an email ticketing solution can be helpful. It's a cost-effective and robust method for offering outstanding customer service while being sustainable and scalable.
Even if you start by integrating your email provider with it, later on, you can take the time to look into some other features that might not be your priority today, but that will make a difference in the support your team provides.
So, when you search for an email ticketing software, make sure it has:
An intuitive UX to avoid long training sessions.
A short implementation time, so you can have it up and running as soon as possible.
A provider with ongoing customer support, so you can get in touch at any point.
Extra features like a self-service portal, automatic ticket assignment, and workflow automation ensure you avoid a migration when your company grows.
Implementing an email ticketing system is a one-way trip; there's no looking back. And the best thing is that you can try it yourself for free. Yes, you read it right. You can request our 30-day free trial, integrate it with your email provider by following the above video, and see it in action.
You can even set aside one or two members of your team and see how they feel about this new way of doing things. Are you there yet? Yeah, we thought so.