Picture this: a new security patch is released and needs to be installed on every one of your company's devices. For some, this is an automatic process; for others, perhaps with older hardware, it requires the help of the IT team. Your workforce is decentralized, scattered across various locations; gone are the days when users could flag down a member of the IT team to "come help out."

So what do users do? They turn to email (or, worse yet, phone calls). The IT staff is suddenly overwhelmed with a flurry of requests made through inefficient methods of communication, forcing them to manually document each request, attempt to follow up on each one manually, and try to catch up with the ever-mounting pile of to-do's that come from this. Users are frustrated, IT staff is overwhelmed, and productivity stalls.

And you don't need a company-wide software patch to trigger a scenario like this. The same could happen with something as simple as the onboarding process, requests for new devices, or scheduling a training session. A self-service portal isn't just a tool for users to find solutions; it is a solution in and of itself.
Benefits of a Self-Service Portal
"Let users help themselves."

A self-service portal is a tremendous boost to digital user experiences, empowering users to take ownership of their own request, be able to quickly follow up on them, and easily connect with members of the IT team. Not only does this help morale and efficiency, it also decreases cost-to-serve.
Here are a few quick benefits to implementing a self-service customer portal as part of your customer engagement strategy:
Decrease in response time. No longer playing catch-up with antiquated and inefficient communication methods, IT teams can expeditiously respond to requests in a timely manner.
Decrease in the amount of calls. With a self-service portal, and access to a searchable knowledge base, users will be able to find answers and solutions for themselves.
Increase in user satisfaction. A more efficient experience for everybody means a lower overall workload and better morale.
Increase in overall support. More users will feel empowered to seek out support now that they know they can easily do so through the portal.
Self-Service Portal Design Examples
If you are using help desk software with self-service capabilities, you might be looking for some self-service portal design ideas. Here are a few sleek, effective self-service portals to get you thinking.
Quick tip: make sure to pay special attention to the features present in the dashboard, as well as the design. To customize backgrounds you can always check out stock photo websites such as Freepik, Pexels, or Shutterstock.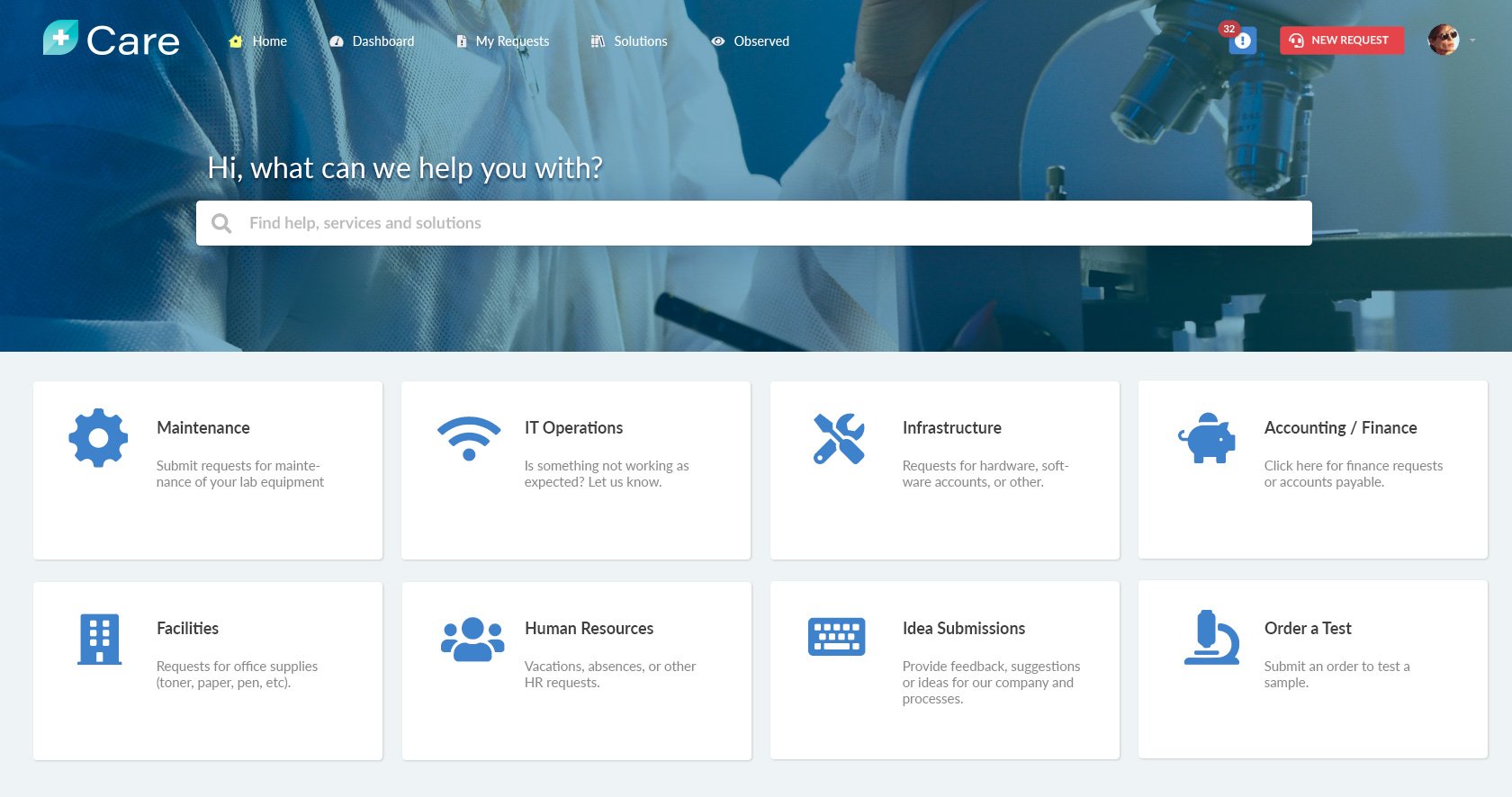 Self-service portal for a biomedical facility. With a prominent and responsive search bar, users will be able to easily navigate the company's knowledge base and find what they're looking for without a problem.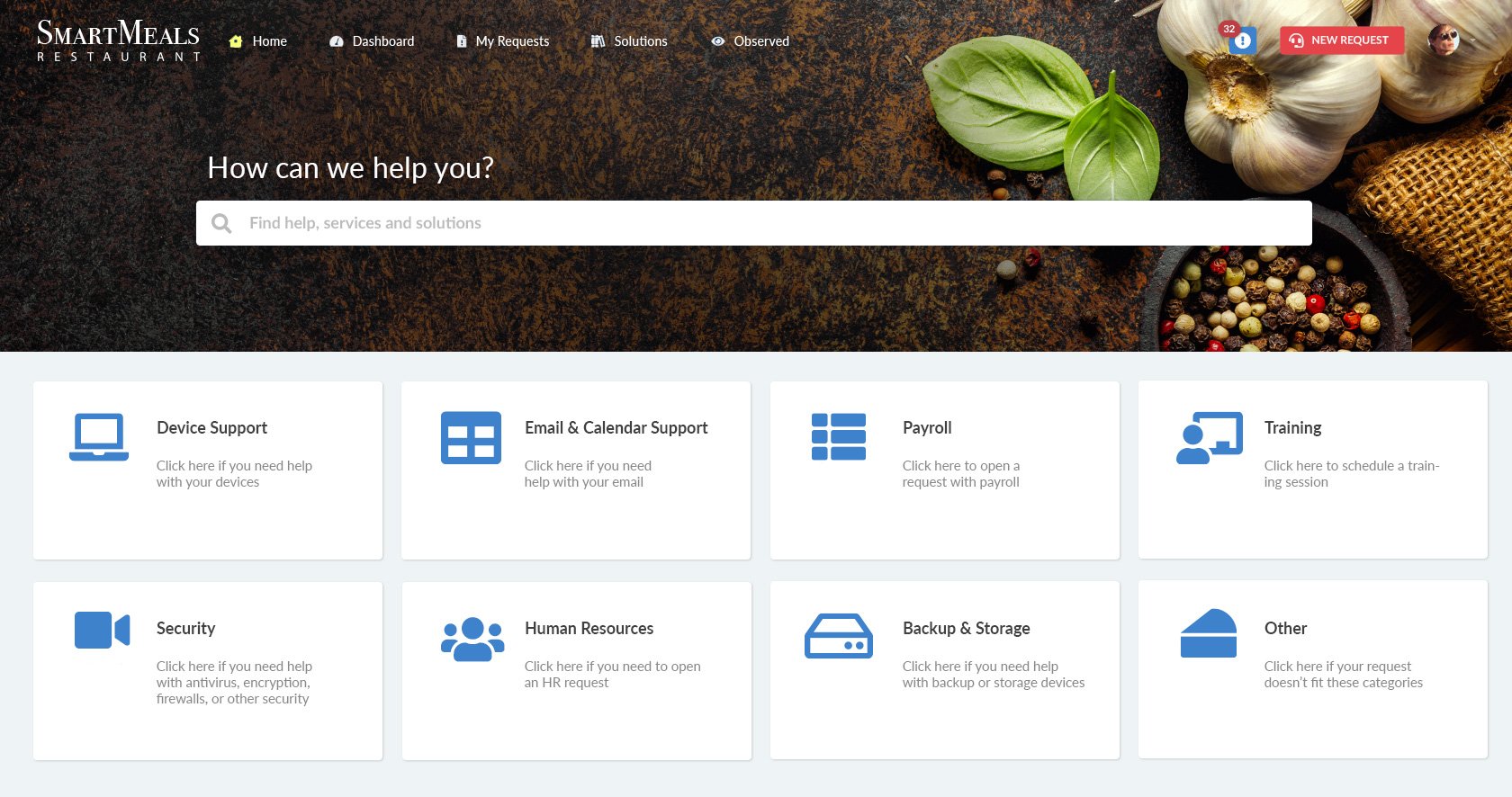 Self-service portal for a restaurant. The large icons and easy-to-understand category descriptions make this tool extremely easy to use for users with any level of technical proficiency.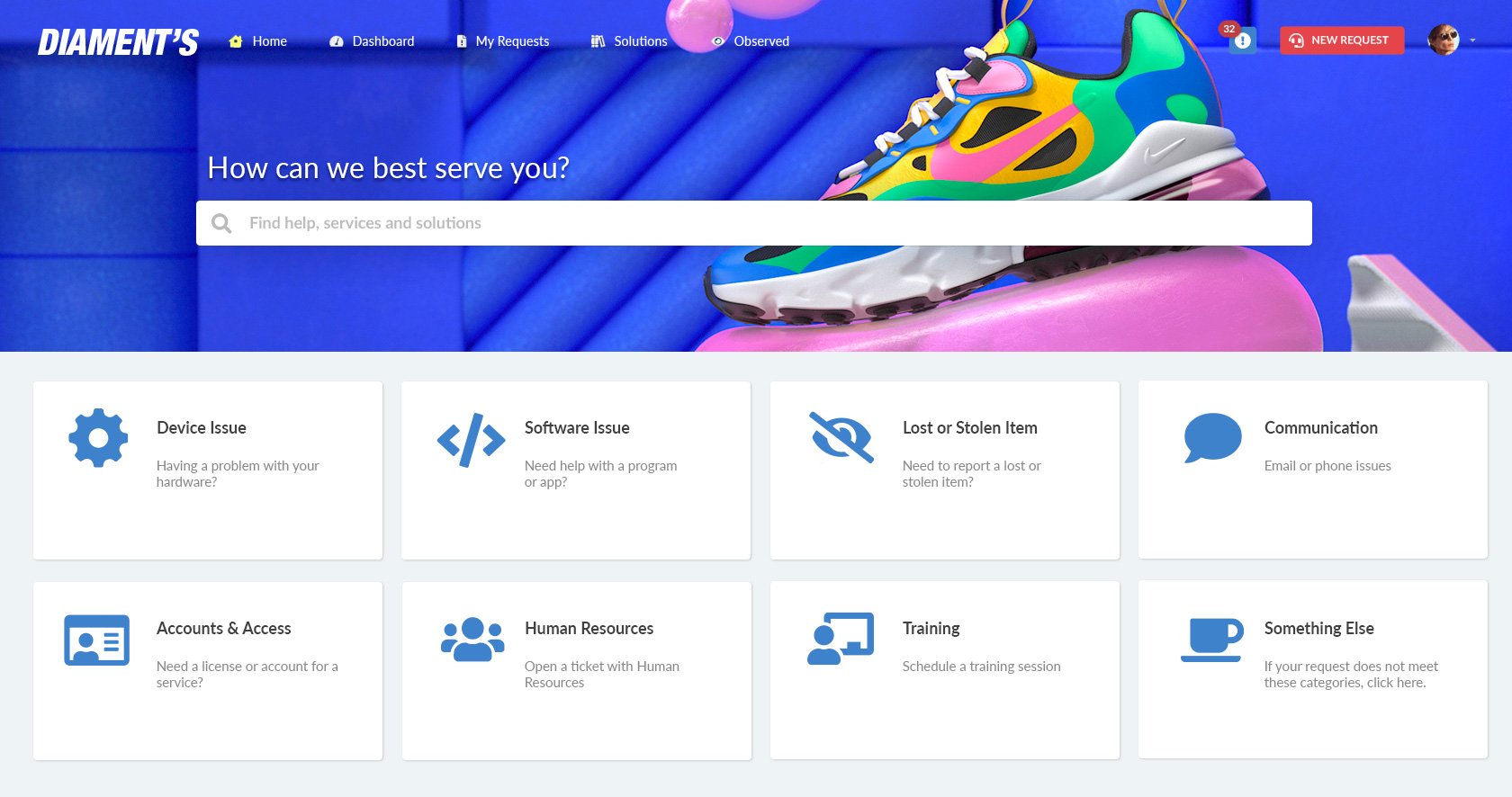 Self-service portal for a retailer. Branding is important when it comes to a self-service portal -- you want it to feel very much like part of your company, reinforcing the overall company identity.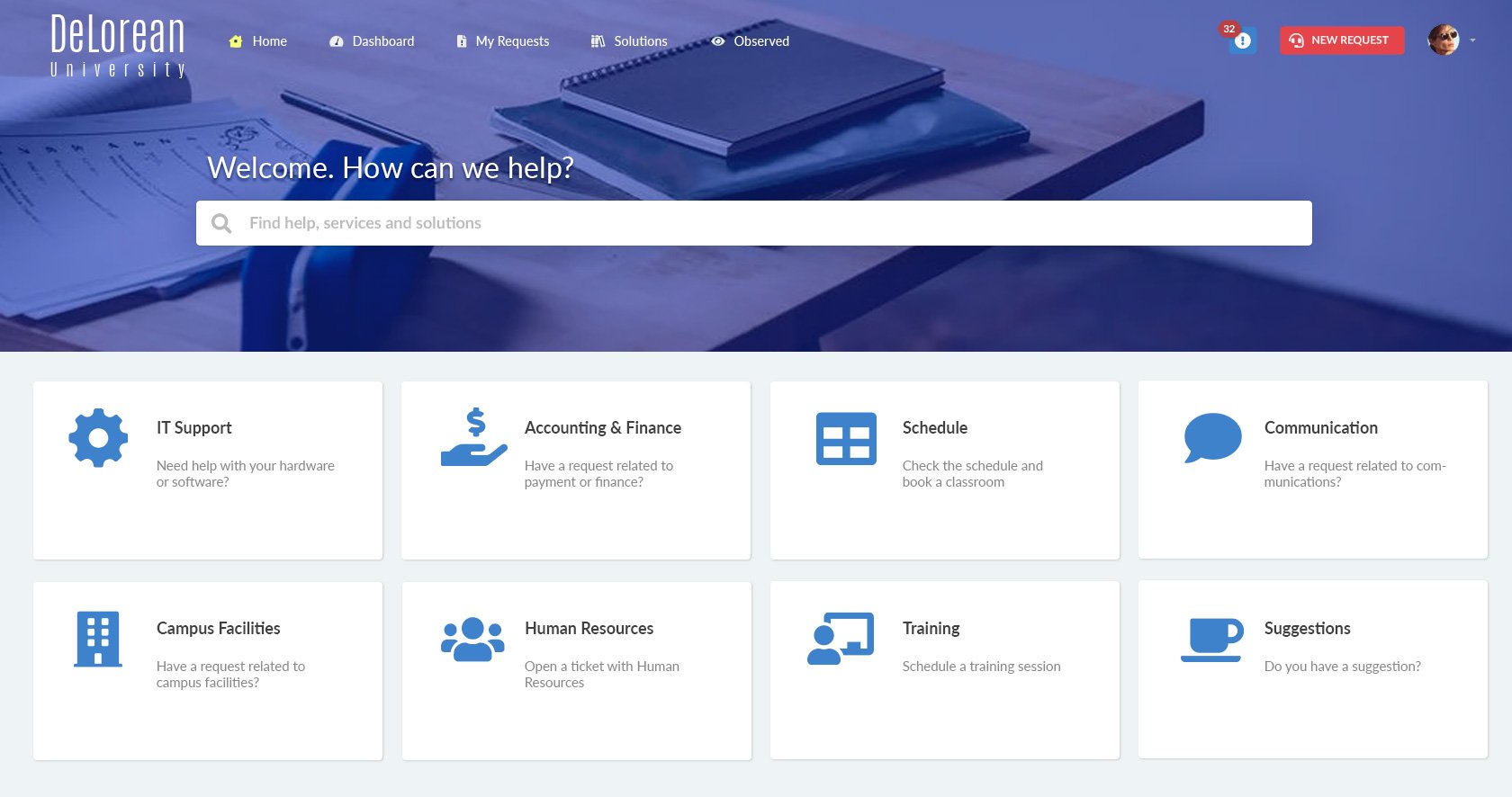 Self-service portal for a university. Having a clear, easy-to-understand service catalog is extremely important for a self-service portal (here are some tips on how to create a great one).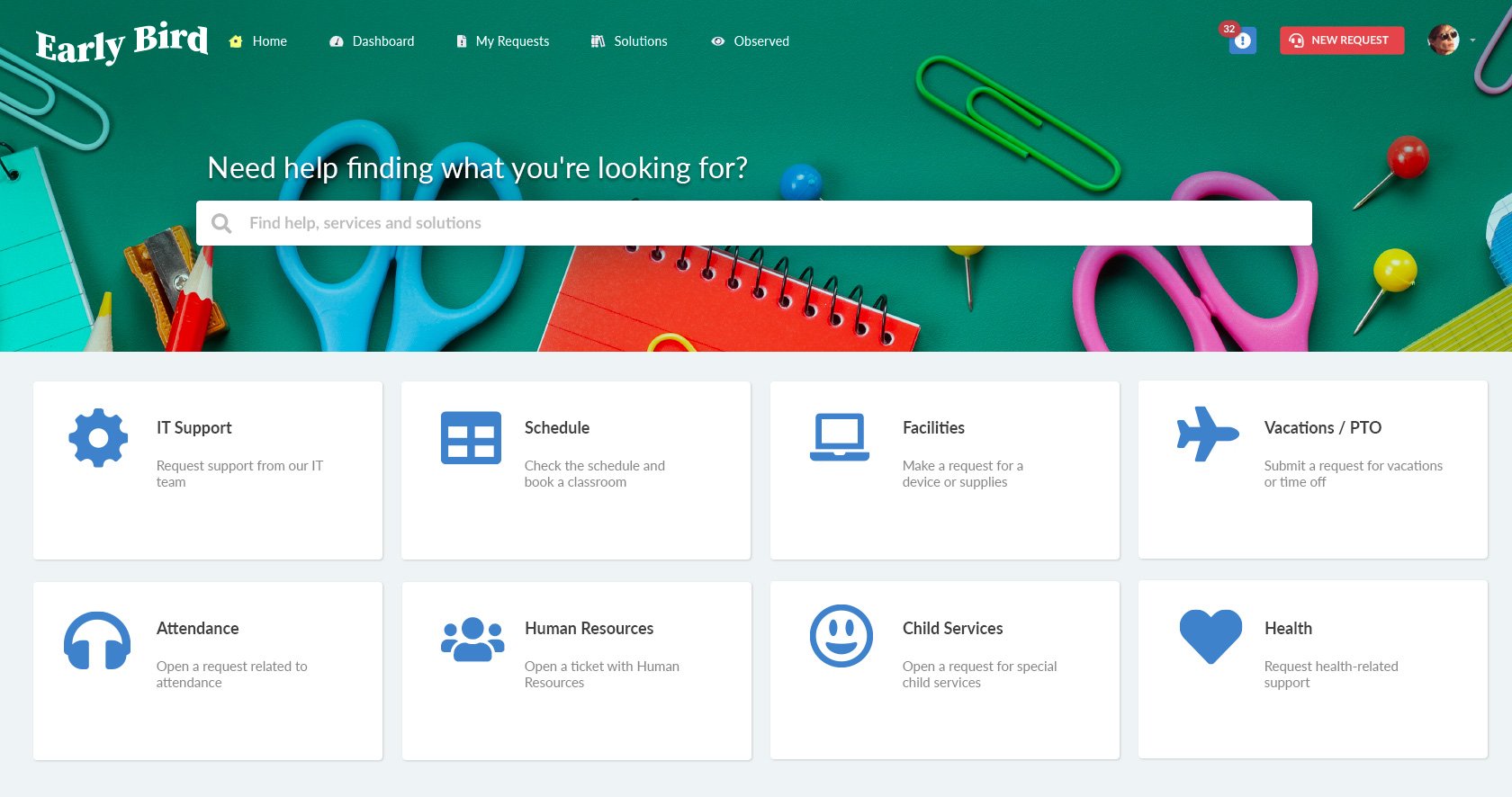 Self-service portal for K-12 / early education. A user-friendly design is important across any industry. You need a tool that will let you customize your service portal to your needs and your overall company identity.
Those are some examples of self-service portal designs from various industries. Keep an eye out for more tips and tricks related to self-service and improving customer experiences.