Self-service portals have become a staple in many businesses, as they provide a way for users to resolve common issues without contacting support. However, designing a self-service portal is crucial for its adoption.
In a nutshell, portals allow users to manage their accounts without interacting with a customer service representative and solve tasks such as resetting passwords, changing account settings, and more. However, none of this will be possible if it's designed poorly.
To help you out, we're about to see how you can leverage InvGate Service Desk's customization options to engage your users and improve their experience.
Keep reading to discover tips, a quick tutorial, and 5 self-service portal examples and ideas to build your own!
What makes a good self-service portal?
Before you start the building process, you need a plan. And its foundation should include all the elements that make a good self-service portal. There are a few things you need to consider:
Ease of use – Having an intuitive UI will make people want to use the portal. The first impression will establish if employees will want to use it in the future. So, make sure to launch it after it's entirely built.


Powerful search engine – The search bar is the first place where people will look for whatever they need. Take advantage of InvGate Service Desk's powerful search engine, and make sure to write all the service portal's content in natural language to facilitate the search.


Design – Any good design is made with users in mind. So think about your help desk's most common requests and include shortcuts to them on the homepage. Remember to think about the users and their needs and issues throughout the process.

Helpful content – A complete knowledge base will provide users with all the data they need to solve their problems on their own. Make sure to cover the most common tickets and write articles targeting end-users.


Well-built service catalog – Any service catalog should have an intuitive layout. A brunch-tree structure will guide users until they get to the correct category.
5 musts to create a self-service portal
Building a self-service portal isn't just about creating the platform. There are a few things you need to take into consideration to apply in the process of building it. Here are 5 must to create a self-service portal:
Know your people

- The first thing you have to do is analyze who your customers are, their needs, and the most common issues. You want to build a useful and attractive portal that enhances your customer engagement strategy.



Build an intuitive service catalog

- End-users are not the only ones who need it; service desk agents will also need to help people navigate it over the phone, so make it as intuitive as possible to ensure anyone can spot the categories quickly.



Create

knowledge base articles

- The first step to self-service is to provide the tools for users to solve things on their own.


Launch it only if it's ready - First impressions are essential. If someone can't find what they need the first time they enter the portal, they will probably be resentful to keep using it. So, make sure to launch it after it's entirely built.


Keep it updated - Things are constantly changing. You might be changing devices, protocols, or structures. So, don't forget to update the self-service portal content when needed.
Designing a self-service portal in 5 steps
To build a self-service portal, it is key to use a platform that offers all the capabilities you need to do it. InvGate Service Desk's completely customizable templates allow you to adapt them to the needs of your users.
Here's a quick 5-step tutorial to create a self-service portal.
1. Get to know the users
As we said before, you can't properly build a portal without really knowing who the users are. Do the research, and analyze metrics and customer feedback to get to know what they struggle with. This will help you plan the structure, help them solve their daily tasks, and provide them with a good overall experience. At the end of the day, you want them to help themselves through the portal instead of submitting a ticket.
2. Create your service catalog
This is the first thing they are going to see when entering the portal. Make sure it's intuitive so they can find what they need in no time. Create an easy brunch-tree structure to guide them through the categories and subcategories until they get to their destination. It is essential that users are able to guide themselves intuitively through the catalog. Otherwise, their engagement will decrease.
4. Build a complete knowledge base
Think about those issues that are often and simple to solve, that's where you have to start. Write knowledge base articles targeted to end-users, avoid complex explanations, and get to the point fast. Use natural language and keywords so users can find what they need – these tips from marketers to write knowledge base articles might be of help. And one more thing: remember to keep it updated.
5. Develop and customize your self-service portal
Once you have the bases, it's time to build the self-service portal structure. On InvGate Service Desk, you can customize it to match your brand (including your company logo, brand colors, and a welcome message), link the most used categories to the main menu, and connect knowledge base articles to their related categories.
The key to this step is remembering the first one: know your users. Your decisions should be guided by their habits, the vocabulary they use, their expertise level, and their daily needs.
5 self-service portal examples and ideas
To make the most out of InvGate Service Desk's self-service capabilities, here are some design ideas and examples to inspire your portal, depending on the industry you're in.
But before we begin, here's a pro tip that applies to all the categories: to customize backgrounds, you can always check out stock photo websites such as Envato Elements, Freepik, Pexels, or Shutterstock.
1. Self-service portal for a biomedical facility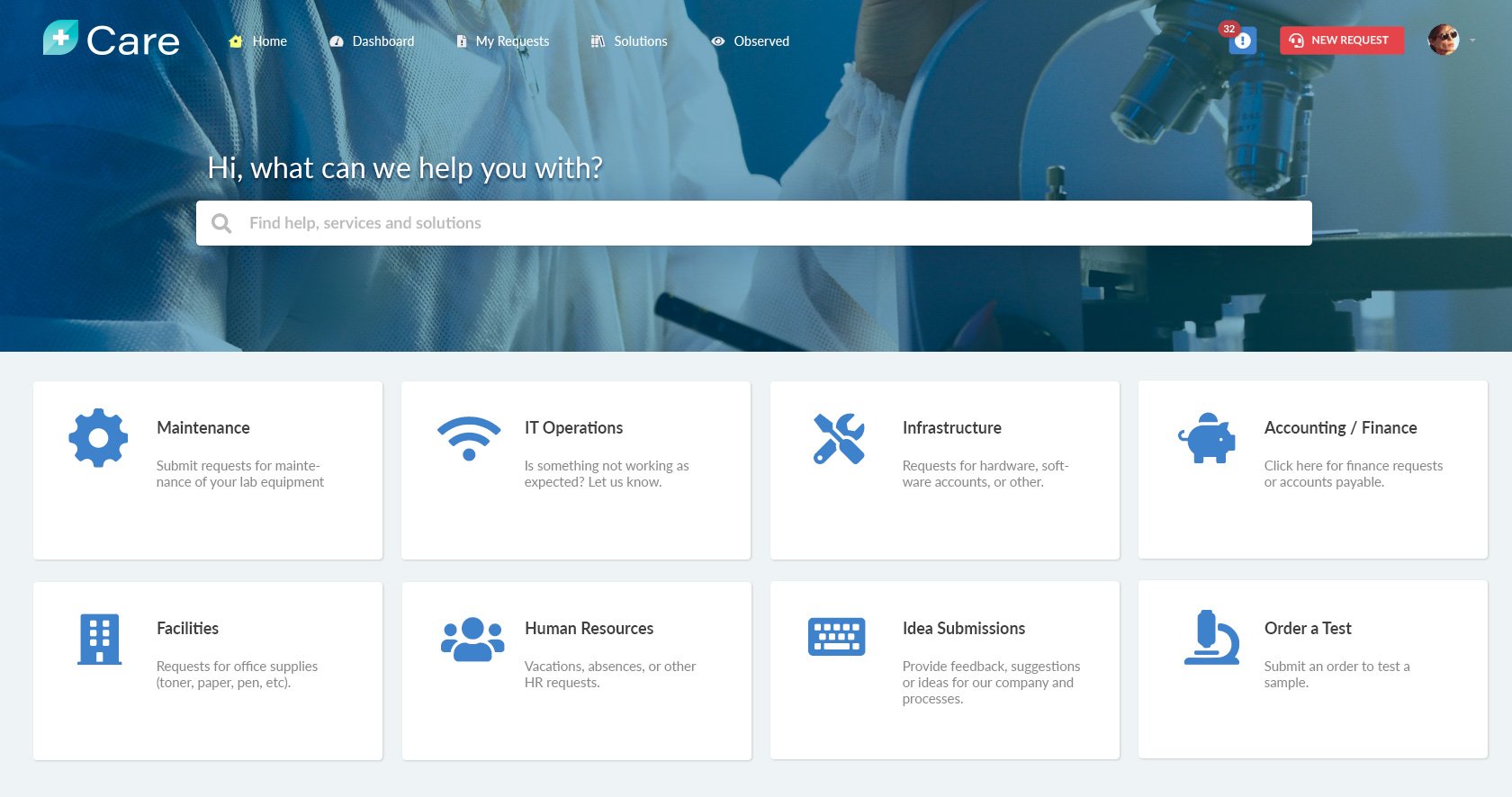 When it comes to a biomedical facility, there's no room for mistakes. Thus, make sure to build a knowledge base with anything that users can need in their daily jobs, including protocols, technology, and basic information. Remember to keep it constantly updated.
Besides, using accurate language in every part of the portal and normalizing the use of some vocabulary will avoid future problems and mistakes.
2. Self-service portal for the food industry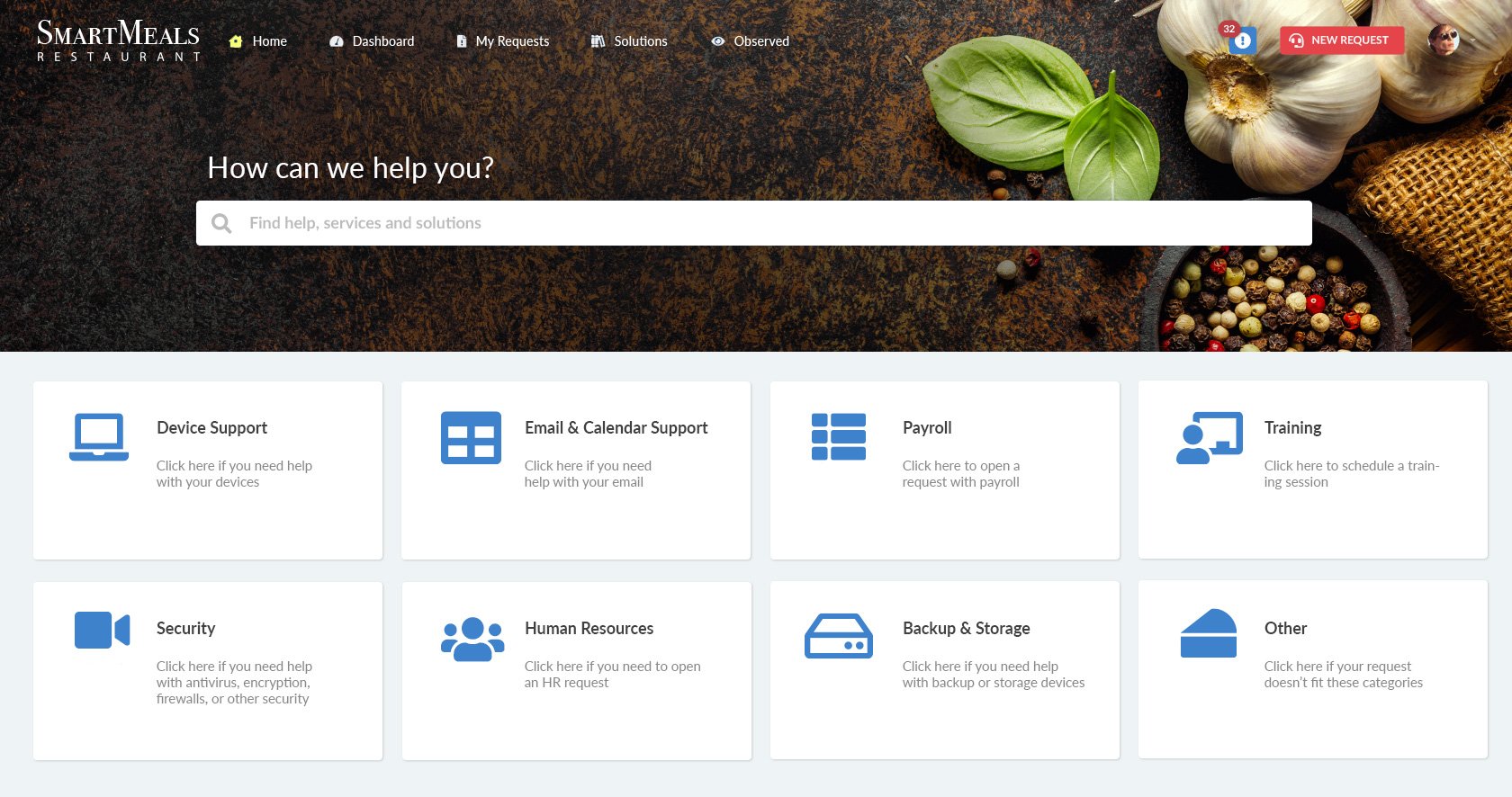 Another service portal example to consider is the one oriented to the food industry. As with any other area, it has its own vocabulary to name things, so the first tip when building it is to make sure to include the specific wording your employees use, so they can find the information quickly.
In addition, as working shifts are a big issue and one of the most common requests in this industry, you can attach a related category as a shortcut into the main menu for easy access — and don't forget to try InvGate Service Desk's icons to personalize the categories!
3. Self-service portal for a retailer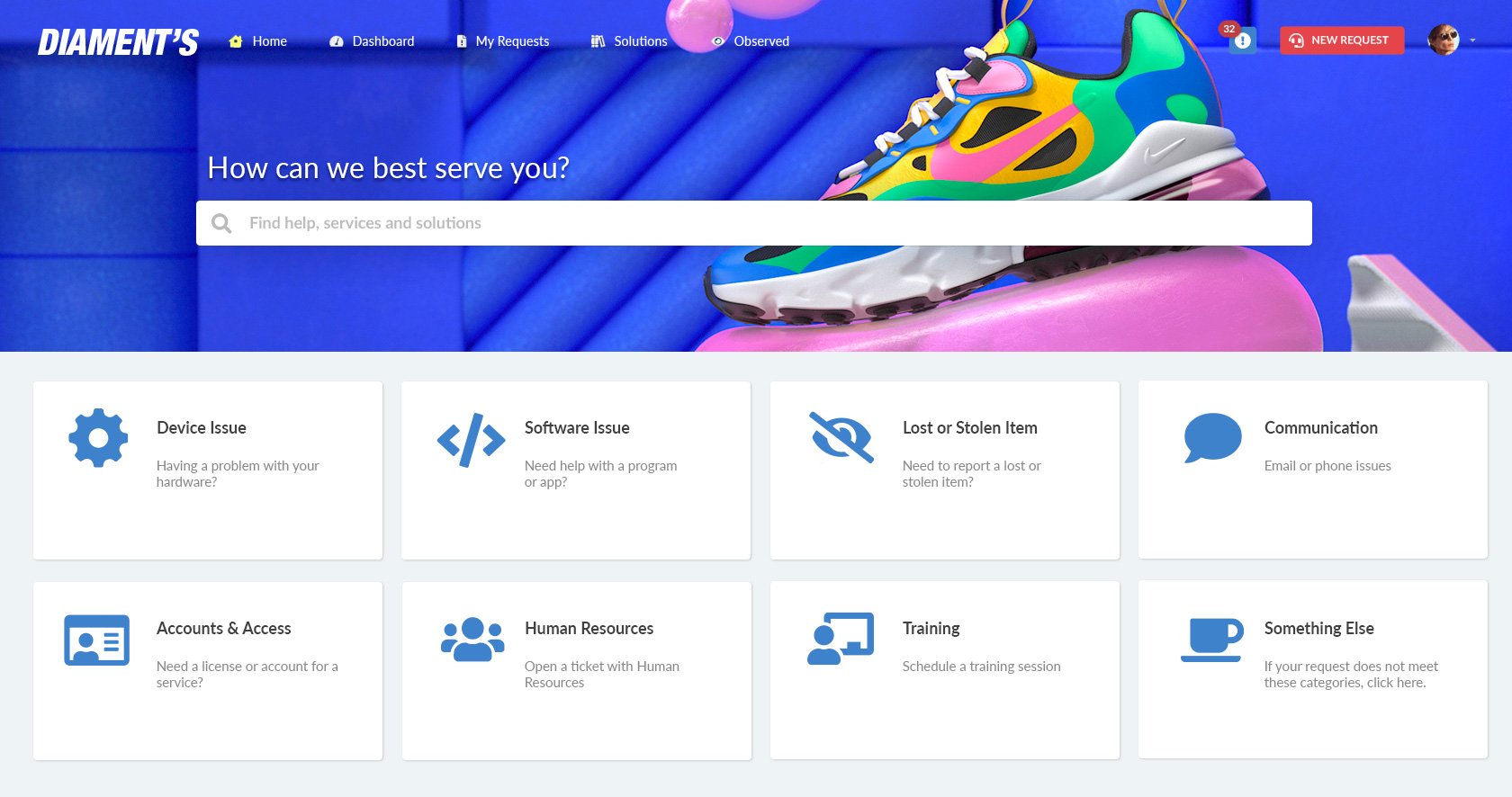 Retail companies often have more than just one branch and office location, each with different characteristics, problems, and infrastructure. So, one of the main things to consider when designing a self-service portal is to assign users to a service catalog that covers their needs. If they see too much extra information, they'll probably get lost and avoid using the portal in the future.
4. Self-service portal for a university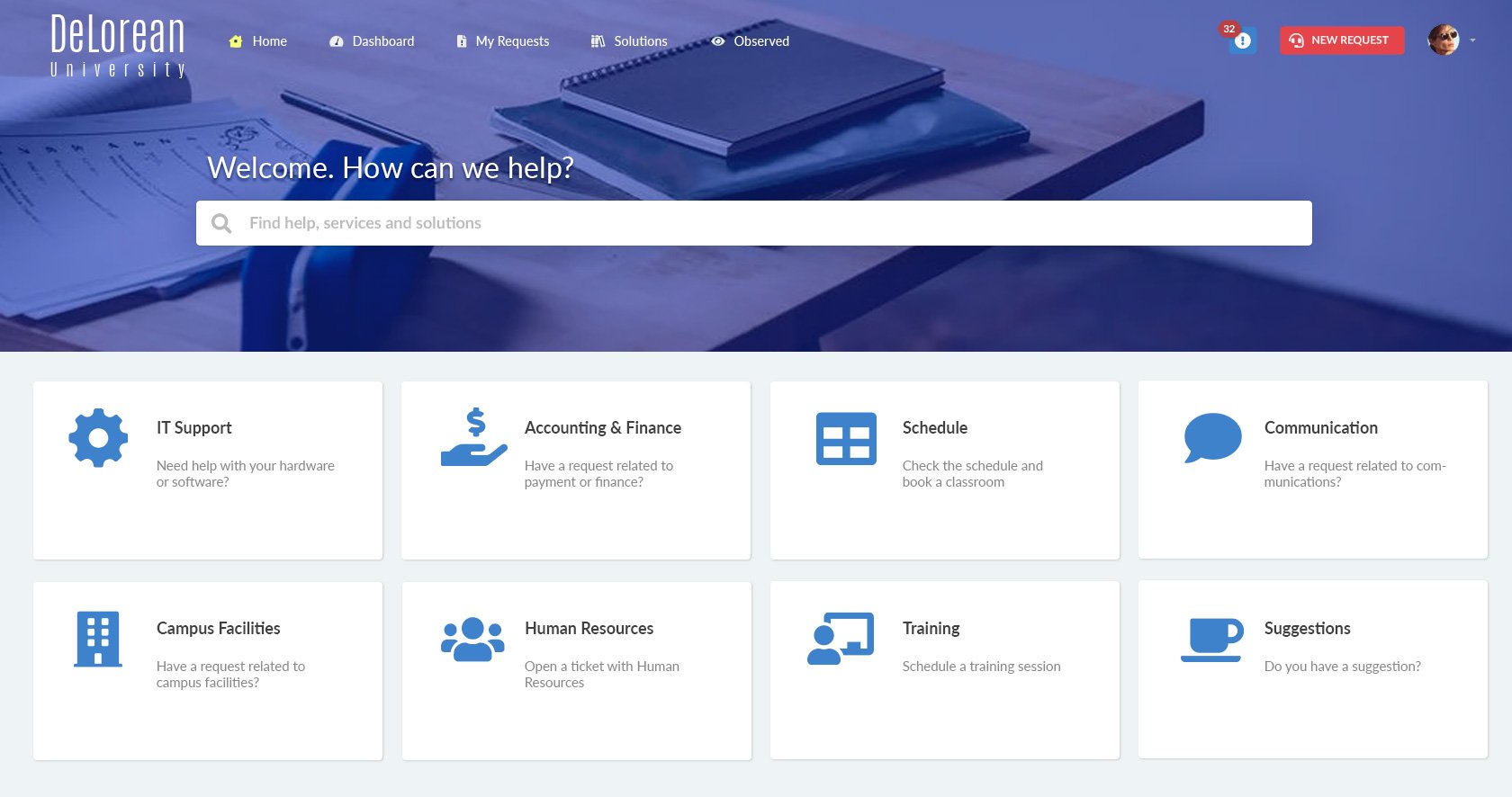 Professors and university students have one thing in common: a lack of time. They need a portal as fast and easy to use as possible. The shortcuts on the main page are extremely handy for this; choose them right. Besides, remember to avoid unnecessary steps when building the service catalog — you don't want to get them frustrated.
5. Self-service portal for K-12/elementary education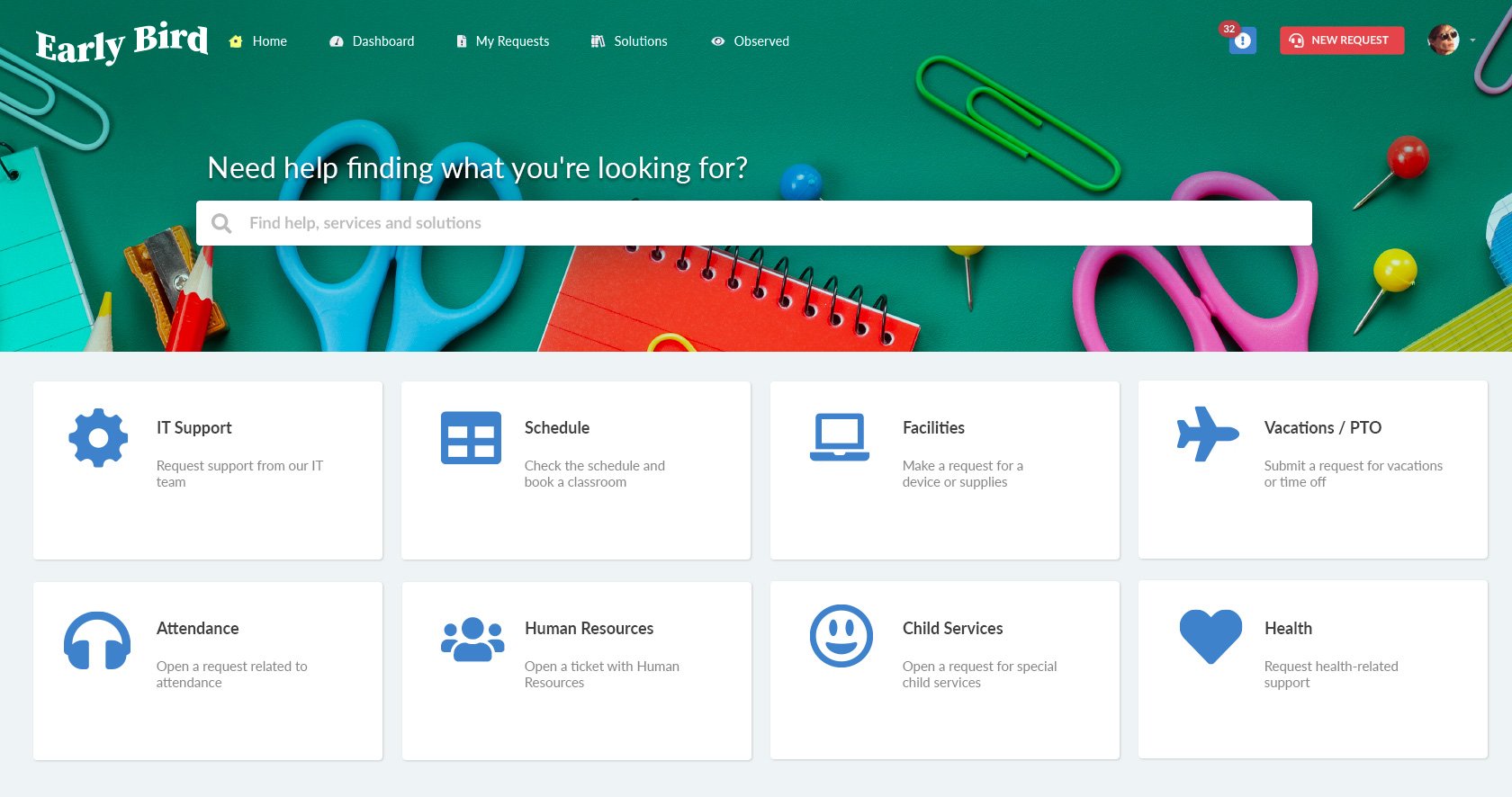 In K-12 or elementary education, you'll probably have 4 types of users: teachers, administrative staff, parents, and perhaps older students, each with different needs and expertise levels. To build an effective self-service portal for education, it's crucial to keep in mind the first step we mentioned above: know your user.
This means making it as intuitive as possible, using plain language to create knowledge base articles and naming categories, and making it visually attractive and easy to use to encourage adoption.
The bottom line
A self-service portal can help you empower your users and transform them into independent agents. It should be intuitive, branded, and able to adapt to the user's needs. InvGate Service Desk provides you with a completely customizable platform so you can build the service portal of your dreams in just a few steps.
But before you start, don't forget to get to know your users and their needs, create an intuitive service catalog, design a complete knowledge base, and customize your portal. And if you need some inspiration, make sure to bookmark this article to look at the examples at any time!
By following these steps, you'll be able to develop a successful service portal that will empower your end-users and make your IT support team's job easier.
So what are you waiting for? Ask for a 30-day free trial to start creating your self-service portal today!