Human Resources is responsible for a variety of functions within an organization, from hiring and onboarding to benefits and payroll. And, as also happens with IT, there are several repetitive tasks within those responsibilities. That's why companies are leaning more and more into HR automation to put their teams' time to better use.
This is nothing more than to use technology to streamline HR processes and improve efficiency. To do so, there is multiple HR automation software out there. However, in this article, we'll focus on a solution that we bet is already on your company: the service desk.
That's right. Thanks to an ESM approach, with InvGate Service Desk, you can automate most HR tasks, and it's a great alternative since both the IT and HR department can take advantage of it! Furthermore, since you might be using existing software, you won't need to convince your manager to purchase yet another tool.
Keep reading to see how this works!
Why is automation important in HR?
The importance of Human Resources automation relies on several aspects. For once, it can help companies save time and money by eliminating manual processes and enhancing efficiency.
If we take into account that 73% of HR's time is spent on administrative tasks, we can easily see the benefit of it. Imagine how much better your HR teams' work can be if those responsibilities are removed by automation.
"HR is now in a spot where IT was 15, 20 years ago, where they're realizing they can't keep expanding the level of support they provide. It's not scalable doing it on a person-by-person basis. (...)

So, they want the advantage of the ticketing system [and] the portal. And even more so, they want to take some of their more complex processes — like onboarding — and make it easier for the new hire, the manager, and everybody involved in the process."

Phyllis Drucker
ITSM thought leader and ESM guru on Episode 31 of Ticket Volume
Among HR automation benefits, we can list the following:
Reduction of your team's workload by automating mechanical tasks.
Improvement in employee experience by increasing response times to requests.
Reduction of the amount of paperwork and physical documents.
Reduction of the room for human error.
Enhancement of communication between the members of your team and other areas of the company.
Adoption of data-driven and cost-efficient processes.
However, all that glitters is not gold. If you're considering implementing HR automation in your organization, you also need to take into account its difficulties.
HR automation challenges
Though it has been increasingly adopted by HR departments in recent years, there are four common challenges when it comes to HR automation:
Lack of resources
Staff reduction
Data governance
Change management
Let's take a closer look at each one.
1. Lack of resources
Lacking resources must be the most common argument for almost every company, and the roadblock to numerous improvements. Depending on the HR automation software you choose, the investment can be pretty costly.
However, we have some compelling arguments for this issue. By using InvGate Service Desk for IT and HR, you'll be increasing its ROI – and if your organization already uses our software, you'll be on an even better position since there's no need to convince C-levels of any purchase.
2. Staff reduction
Another challenge of HR automation is the fear that people might get replaced. But unless your HR department is far bigger than your company needs, there's no solid argument behind this fear.
By automating tasks, you won't have idle employees. You'll have better and more efficient ones, with enough time to focus on strategic activities where humans can actually make a difference. So, instead of writing emails to have everything ready to onboard a new hire, they can trigger a workflow and automatically notify the involved parties of the actions needed.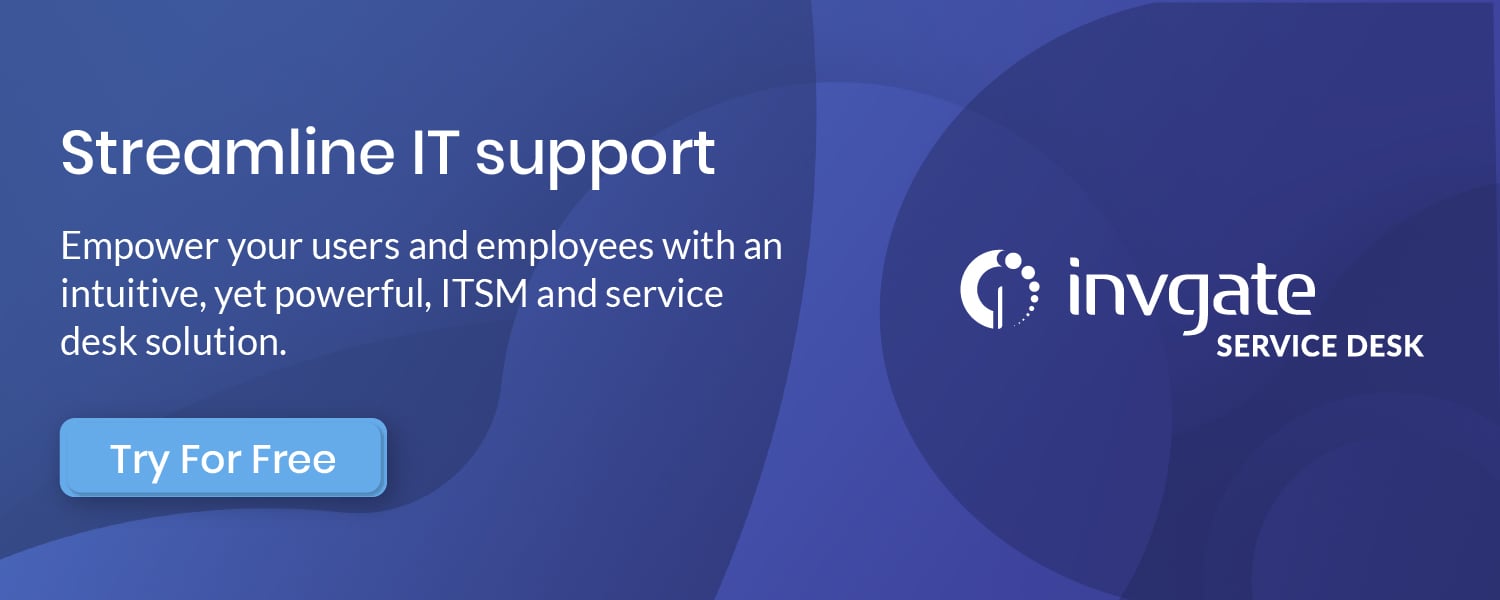 3. Data governance
HR departments work with sensible information on a daily basis, so it's crucial to have the proper security to safeguard it. In general terms, your company should have a vulnerability management strategy in place. But as far as it might concern you, the HR automation tool you choose should be compliant with IT security regulations.
In this area, InvGate Service Desk provides you with cloud and on-premise solutions in case your organization wants to protect data by storing it on company servers.
4. Change management
Last but not least is change management. When implementing HR automation, you'll have to manage the transition period effectively, in order to minimize disruption to the business and employees. Not only your team will need to adapt to a new way of working, but also your employees will need some time to get used to the fact that there's a portal now to look for information and request things.
Once more, InvGate Service Desk will help you decrease the amount of friction change might bring. Its user-friendly UX makes the process smoother, and if your IT team is already using it, there'll be few change barriers.
HR automation best practices
To make sure your HR automation process is successful, here are some best practices you should keep in mind:
Start small and scale up - Don't go too big right from the start. Select a pool of initial tasks to automate, and build your way to the top. But don't forget: the goal is to automate as many processes as possible without overcomplicating them.


Have a backup plan for every automated process - If something doesn't work properly, you need to be able to act quickly.


Plan the transition period carefully - Give your employees time to get used to the new system, and keep an open communication channel with them to explain and assist them with anything they might need during the transition.


Have a secure system in place - Compliance and data governance are essential to your employee's protection.


Keep track of employee feedback - Monitor how they're responding to the new processes and look for ways to improve it over time.
HR process automation examples
Now that we've established its relevance, challenges, and best practices, it's time to take a look at what you can actually automate in the HR department.
Here are three process automation examples you can easily implement with InvGate Service Desk:
Onboarding process - Employee onboarding automation is a clever way to speed up the process and improve employee experience while using fewer resources in the meantime.


Offboarding process - Saying goodbye to employees is always hard, but it's better to rip the band-aid off. Automate your offboarding process to know exactly what needs to be done as soon as an employee resigns or is sacked.


HR Workflows - Lastly, you can automate requests and processes associated with PTO, sick leaves, and employee transfers.
Key takeaways
Implementing HR automation is a great way to reduce and equally assign workload among your team, improve employee experience, minimize human error, base decision-making on data, and be more cost-efficient.
Though some HR processes are better suited to automation than others, when done thoughtfully and with the right tools in place, HR automation can be a valuable asset for any organization.
And since you might encounter several challenges when approaching your managers, we came up with the solution: using InvGate Service Desk as a centralized platform for both IT and HR. Why? Because it:
Encourages software adoption by employees (they might already be familiarized with our software if the IT department uses it).
Is easy to implement (you can have it up and running in just a day, and if your IT team uses InvGate, they can be of help to train your agents).
Is packed with drag-and-drop features to start with workflow automation.
Is cost-efficient since you'll be expanding the tool's ROI.
If you want to see how it performs, you can request our 30-day free trial and test it on your organization – no strings attached! If later on, you find it useful, we can turn that into your official instance, so there's no data loss.
Frequently Asked Questions
What is HR automation?
HR automation is the process of using technology to automate part or all of an organization's HR processes. This can include anything from onboarding employees, tracking time and attendance, and managing employee information and payroll, to recruiting new talent.
What is an HR help desk?
An HR help desk is a platform that helps HR teams streamline their workflow, manage employee requests more efficiently, and provide better customer service. It also simplifies communication between the HR team and other departments within an organization.