Human Resources automation takes various forms, and one of them is automated employee onboarding. It makes sense: the onboarding process is a key element in the lifecycle of any employee, and in fact, 93% of new hires assure that their onboarding process would determine whether they would stay at the company.
The onboarding process is the first time a new employee gets a feel for your organization, brand, and work culture. So, it's something that companies should not take lightly.
In this sense, employee onboarding automation is a clever way to speed up the process and improve employee experience while using fewer resources in the meantime.
And the best part is that you'll be able to automate the whole thing using InvGate Service Desk! That's right. You won't need to purchase a new tool; your company's service desk can do this for you.
Here, we'll cover the basics, benefits, best practices, and processes. Let's start!
What is employee onboarding?
Employee onboarding is the process of getting a new employee ready to work for your business. It's really important because this is when a new employee learns about your organization, your work culture, and what is expected from them.
A great onboarding experience can improve employee retention rates by 82% and incentivize around 69% of employees to stay for at least three years. As opposed, a negative experience increases the chance of employees looking for a new opportunity by 200%.
As you can see, the onboarding process plays a huge role in improving employee retention rates. Even more so if we take into account that only 12% of employees believe their organization does a great job at onboarding new hires.
But these numbers don't necessarily have to be bad. They only mean that there's room for improvement. And that's exactly what we're going to do.
Employee onboarding benefits
The major benefit of employee onboarding would be making the best first impression. As we said, it'll set the tone of the relationship and increase employee retention. But apart from that, these are the most relevant pros of a formal onboarding process:
It improves the company's revenue by 60% year-on-year.

77% of employees with a formal onboarding process hit their performance goals.

62% of companies with onboarding programs have higher time-to-productivity ratios.

54% of organizations report higher employee engagement.

Employee discretionary effort jumps 20% when onboarded effectively.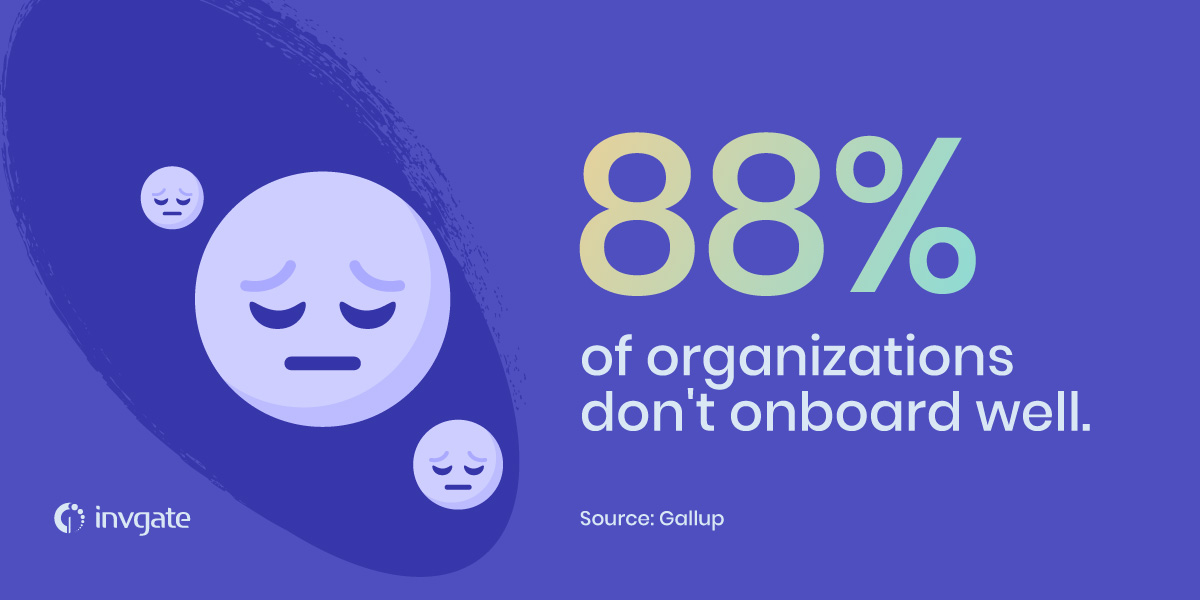 How to automate employee onboarding?
We've successfully established that onboarding is crucial, and now it's time to talk about automation. Why bother to take that extra step and include software in the process? And we'll answer that with just one statistic: 73% of HR's time is spent on administrative tasks.
If almost three-quarters of the Human Resources team's day is dedicated to administrative tasks, then the onboarding process is not scalable. They can probably onboard a couple of hires simultaneously, but that's not enough for a fast-growing company.
According to Leena's 2022 State of Employee Onboarding report, 41% of the respondents anticipate that they will adopt an automated onboarding process within the next 6-12 months.
Onboarding processes are mostly paperwork, so it's only logical that they will consume the time and efforts of Human Resources, as well as be unsatisfactory for new hires.
That's what InvGate Service Desk will remove. By creating a series of simple HR workflows, you'll be able to completely automate every step from the moment an employee is hired and for all hires. Thus, every time a new employee joins your organization, you'll be ready to onboard them with just a few clicks. And the best part is that you don't need to convince managers to purchase software; you can take advantage of InvGate Service Desk.
Furthermore, you'll also benefit from employee onboarding automation in the following ways:
Reduce the time the new hire spends on simple things like signing documents or setting up the workspace.

Cut costs by reducing training time and improving productivity.

Reduce employee churn (if employee retention is up by 50% in organizations with a standard onboarding process, it can increase by up to 16% with an automatic onboarding system).

Make sure the whole process is completed and on time.
3 employee onboarding automation best practices
With the evolution of digital workplaces and the increased popularity of remote work, the nature of employee onboarding processes has changed drastically. The shift to automated onboarding has helped organizations cope with large-scale hiring processes and the changing workplace dynamics. Here are a couple of best practices to get the best out of your automated employee onboarding systems.
1. Automate but don't forget the human touch
Workflow automation simplifies and streamlines the onboarding process but to get the best results you cannot eliminate the human factor.
This is particularly important in remote work situations. New hires will be hesitant to reach out or connect with their colleagues initially and may sometimes need a gentle nudge. At the end of the day, talk to them, and keep an open line of communication. The first few days are when an employee is most likely to leave the organization, so it's important to make them feel appreciated and valued.
Now, though workflow automation might seem a bit intimidating, InvGate Service Desk makes it simple. With its Low-Code/No-Code capabilities, you don't need to be an IT expert to create a workflow. The HR team can put it together in no time thanks to its drag-and-drop features and customizable forms.
2. Track the progress and tailor it
Not every new hire has the same learning curve, and a one-size-fits-all approach doesn't always work. Keep track of the progress of the new hires using InvGate Service Desk and give them the assistance they may need. Make sure they're not facing any hurdles, and even more importantly, that they're not facing too much pressure.
Aside from the analysis during every onboarding process, measure the overall efficiency of your employee onboarding program. Maybe your new hires are finishing the onboarding process very well but later struggle to hit their milestones. Or your organization may be facing low retention rates. The data will help you figure out the root cause and adjust your onboarding program accordingly.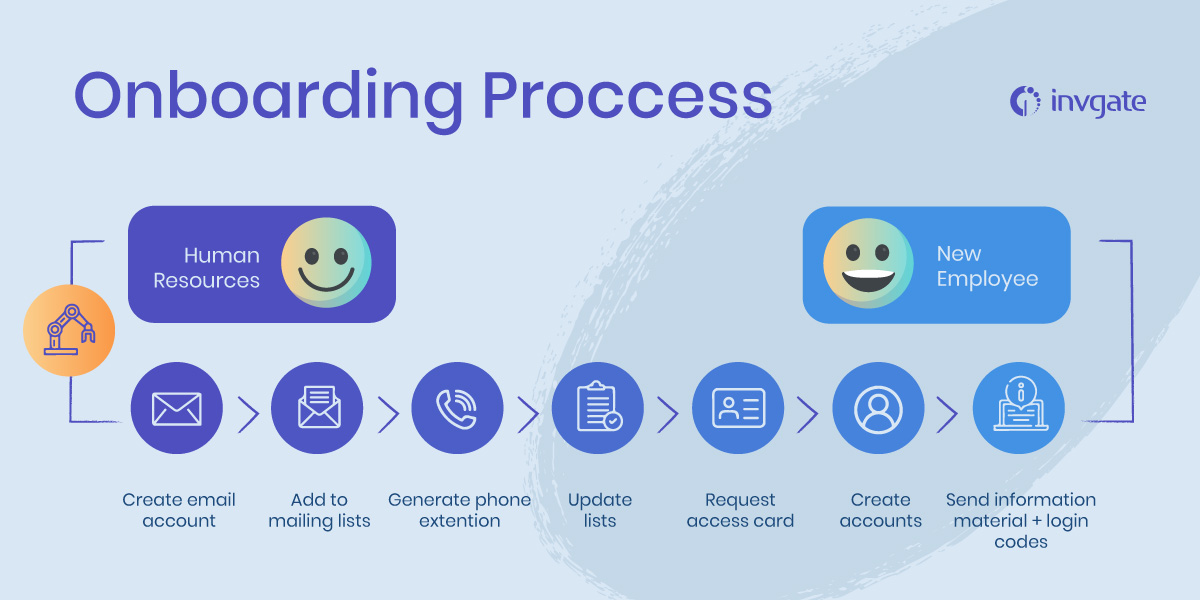 3. Integrate your automatic onboarding software with your existing systems
Make sure InvGate Service Desk is not separated from the rest of your tools. Integrating your onboarding software with the organization's tech stack will help the new hire get started soon.
For instance, by integrating InvGate Service Desk with collaboration tools like Microsoft Teams, or digital workplace solutions like Google Calendar, your new hires will get a feel for how things are done in your organization. Plus, they won't have to keep jumping between multiple software in a day.
Furthermore, by using InvGate Service Desk, you'll be able to leverage the knowledge base and self-service portal so that your new hires have a centralized place to get the information they need. So, make sure to create knowledge base articles for the most frequently asked questions!
Automated employee onboarding process with InvGate Service Desk
We already mentioned a few things here and there, but you can automate employee onboarding seamlessly with InvGate Service Desk. Thanks to its flexibility and ease of use, it's the perfect tool to take beyond the IT department and conduct a digital transformation in other areas of your organization (or implement an Enterprise Service Management approach).
Though HR usually conducts the onboarding process, it typically needs input from other areas. And that could mean a lot of emails going back and forth until everything is ready for the new hire. But if you automate this HR process with InvGate Service Desk, you can solve this right from the platform by assigning tasks to other teams and creating requests as needed. Plus, you'll be able to see in real-time their status.
In particular, InvGate Service Desk will be your ally to:
Create automated notifications to IT agents with forms and task lists with every requirement for the new hire.

Create workflows to make sure you don't miss any steps.

Monitor the process to ensure that it's completed in time.

Save the workflow and apply it to every new hire, avoiding the need to create a process from scratch every time there's a new member.
Plus, your IT team's work will also be simplified since they'll have at hand all the required information on the new hire's workspace thanks to our native integration with InvGate Insight. With just a few clicks, they'll know if your company has notebooks and other hardware in stock, where to fetch it, and if there are enough software licenses to provide the new employee with the right access.
Employee onboarding checklist
While experts recommend year-long activities, the automated employee onboarding process usually goes anywhere from a single day to a couple of months. Either way, day one of an employee is an important step in the onboarding process.
The new hire will understandably be a bit nervous as well as excited, so make sure to not overwhelm them. Even for industry veterans, a new company and an environment will create a lot of pressure. Try not to plan too many things for the first day and allocate enough time for everything.
Ahead of their first day, let the new hires know what you've planned for them, and give a small brief about them to their team and colleagues. If you're planning a buddy for their onboarding, prepare them for their duties. Make sure the necessary hardware, IT credentials, and workspace is set up before the first day.
With this in mind, here's a new employee onboarding checklist for a new hire's first day.
1. Finish the paperwork
Let's face it, nobody likes sitting around signing paperwork all day long, but it has to be done. But with InvGate Service Desk, this task is so much easier since Human Resources teams can automate the process to deliver all the documentation to be signed, receive notifications once it's done, and build forms and task lists for all the company members involved in the process.
2. Set up their hardware and workspace
Make sure their workstation and devices are all set up. In the case of remote workplaces, or BYOD cultures, you can use InvGate Insight's remote desk integrations to set up their systems, install software, and hand over the credentials securely.
Now, since this is commonly executed by IT agents, the HR team can create an automatic request in InvGate Service Desk to ask IT support and the facilities team to take care of setting up hardware, software, and supplies that the new employee will need.
And by integrating it with InvGate Insight, agents can quickly validate if there are hardware stock and software licenses available and where the physical assets and supplies are located. Plus, they can assign the IT assets to the new hire's profile to accelerate any technical issues they might have in the future, monitor the company's budget, and speed up an offboarding process if needed.
3. A tour of the office
Either someone from the HR department or their new team could show them around the office. This will help them get used to their new work environment quickly and gives them a chance to mingle with other employees.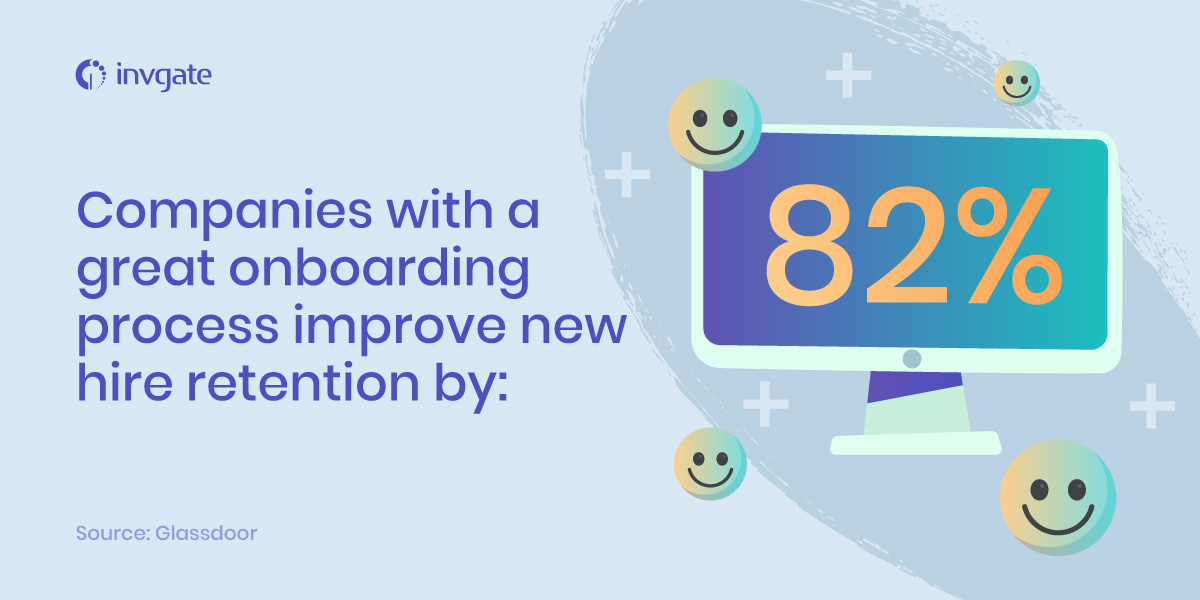 4. Meet the team and their manager
Meeting the team for the first time may be a bit nerve-racking, so you can plan a couple of ice-breakers to make sure the new employee feels welcome and gets along well with their team. For instance, instead of introducing them to the complete team at once, you can lighten things up a bit and schedule several meetings with the team leader and their direct co-workers first.
And it's probably a good idea to set those meetings in advance. If you integrate InvGate Service Desk with your preferred calendar application, you can schedule them automatically and make sure everyone sets aside a time slot to welcome the new team member.
5. Give them an overview of an average day of work
Inform the new hires about company policies, clock-in, clock-out, who to report to, dress code, and all the other nitty-gritty details.
At the end of the day, ensure that the employee gets a good feeling about your company, their work environment and work culture, their team, and their manager. Make them feel welcome and comfortable, and be open to their questions and doubts.
In conclusion
Onboarding a new hire is an absolute must for every company - and a fundamental part of HR automation. It impacts employee experience, performance, and retention, and it's also a great way to introduce a person to your company's goals, values, and culture. And employee onboarding automation is simply the best and most efficient way to ensure it.
With an automated employee onboarding process, your company can ensure that new members are properly greeted, have the right setup to start with their tasks right from the beginning, and there aren't any discrepancies between new hires. Everyone will have the same onboarding experience - though you might want to tailor it a bit to match the profile's needs. In addition, it makes your HR team's work so much easier, removing from their plates repetitive tasks that are time-consuming and unproductive.
And lastly, don't forget that there's no need for you to print this article and show it to your manager to convince them to purchase new onboarding software. You can take advantage of InvGate Service Desk! Thanks to its adaptability, it can be used both for the IT department and other areas of the organization. With it on your side, you'll be able to:
Automate workflows.

Contact all involved departments and assign them tasks according to your needs.

Monitor the progress of the onboarding process.

Get statistics and create reports to evaluate the process as a whole.
Want to check how it works? You can request a 30-day free trial (with no strings attached), or schedule a call with our team so they can walk you through the process!