Does your organization operate multiple IT service desk tools? Perhaps as a result of merger and acquisition activity. Perhaps because different IT teams have made their own decisions about what best suits their needs. It's still a common situation and one that needs addressing, especially in light of the impact of the global pandemic where the increased focus on costs and the need for accelerated digital transformation that potentially includes enterprise-wide digital enablement through the corporate IT service management (ITSM) or IT service desk tool.
To help your thinking around the need for ITSM tool consolidation, we've created the following list of the common issues that organizations experience when operating multiple IT service desk tools.
The total cost of ownership is higher than it could be
While it's easy to jump on the licensing implications of operating multiple IT service desk tools, there are other issues too. So not only are volume discounts missed the day-to-day operational costs also likely miss out from an economies-of-scale perspective. There are also likely additional costs and potential opportunity costs because ITSM operations aren't optimized across all teams.
If the original implementation costs are discounted as "sunk" costs, there are still additional costs related to the fact that multiple IT service desk tools are being employed. For example, the costs and efforts required for upgrades and to bring in new features (perhaps when only available across all tools). Or the ongoing costs and complexity of the integrations with other tools and the other desks, including with upgrades.
IT operations and outcomes will likely differ across tools and teams
Using different IT service desk tools will mean that not only are there different capabilities possible – for example, one tool might offer IT asset management (ITAM) capabilities while another does not – there will also be different ways of working base on how the tool has been designed to be used (sadly some tools still dictate the ways of working rather than the other way round). It's an absolute consistency killer, including in terms of the quality of IT support provided, and it also makes it difficult to measure relative performance across teams. This not only applies to the traditional telephone and email channels but also in terms of newer channels such as self-service and chat.
Additional tooling needs (and costs)
If there are significant differences between the different IT service desk tools employed, when a "must-have" capability is needed it might mean that a third-party tool is needed to provide both the missing capabilities and potentially when consistency. Ultimately meaning even more costs and integration complexity.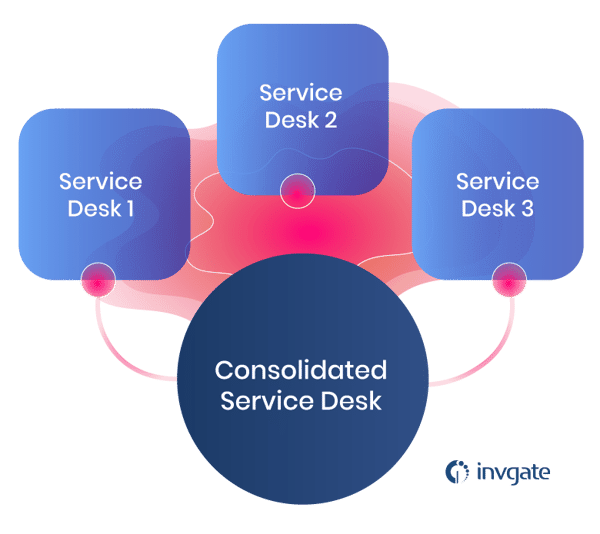 Supplier relationship complexity
It's not rocket science – the more tools there are, the more supplier relationships there are to manage. Some relationships will likely be better than others and this extends to the different help channels for each vendor/tool.
Additional skills are needed
Different tools mean that different skill sets are needed – both to use and manage the different tools. It also makes it difficult for analysts, administrators, and developers to work outside the scope of their respective tool knowledge and experience.
Knowledge management is harder
While this is covered by the above-mentioned issue related to different ways of working, it's also something that affects knowledge management and knowledge sharing across teams. Making knowledge exploitation siloed at best, which is something that ultimately affects operations and outcomes.
Intra-team working is problematic
Thanks to the different tools and the potentially different ways of working, working across teams is harder than it needs to be. This manifests in two common scenarios. First, when handovers between teams are needed – either for follow-the-sun operations or to access particular specialisms. Second, when staffing flexibility is needed to meet increased demand, with the need to move staff between desks (and tools).
Performance management is siloed
The different tools will have different reporting capabilities but, even more importantly than this, the different ways of working will make it harder to both consolidate metrics across teams and to compare their performance across key metrics. This issue extends beyond such "rearview mirror" needs to also affect the ability to identify improvement opportunities and then enact them.
Enterprise service management and digital transformation ambitions are stifled
Enterprise service management – the use of ITSM capabilities by other business functions to improve their operations, services, experiences, and outcomes – commonly requires the sharing of the corporate ITSM tool as a digital enablement platform. But what happens when there's more than one tool? Sharing one of many will mean that the other business functions will use the common platform and similar practices, but the IT organization doesn't.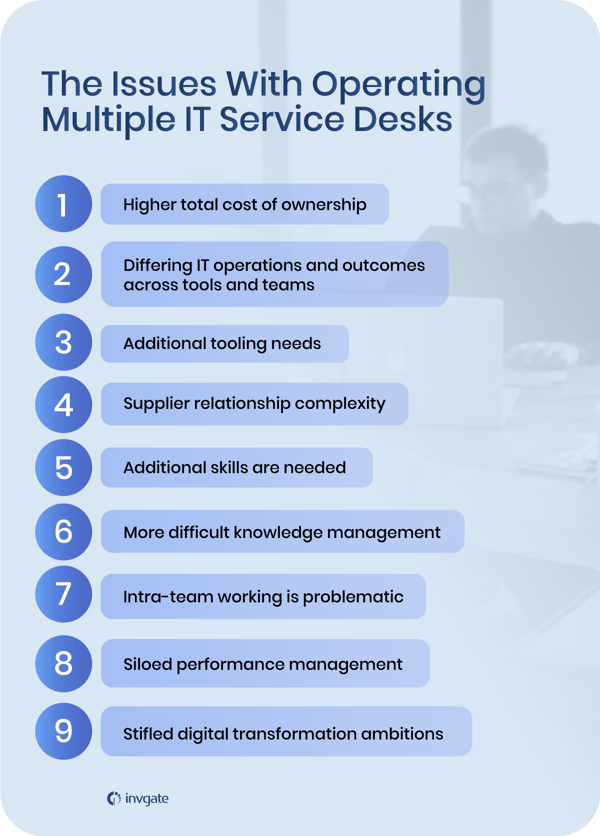 Want to learn more about the why and how of IT service desk tool consolidation? Read this article about how McDonald's streamlined their efforts by consolidating all its service desks within a single platfom, leading to a rise in productivity and efficiency.