Implementing a new service desk, however beneficial it may be, is fraught with challenges. In fact, if you google "Reasons why ITSM implementations fail," there's no dearth of articles and peer-reviewed research papers. But the truth is that the process is easier than it looks like – particularly if you have an ITSM implementation roadmap and this helpful ITSM implementation checklist we're about to provide you with.
Difficulties are not exclusive to IT Service Management, though. A common ground of research (endorsed by organizations like Mckinsey) state that almost 70% of all digital transformation initiatives fail. With this in mind, if we switch back to the service desk implementation, there are many variables that determine its success – several of which we have no control over.
However, in our experience assisting clients throughout the world in their
implementation, we know for a fact that there are also a couple of things that need to be checked off for it to be successful. Thus, we sat down with our implementation experts to put together this ITSM implementation template so that you can start working with much more confidence.
But before we start, don't forget that the actual tasks included in the checklist will depend on your company's needs and complexity, the team you work with, and (of course) the service desk software you choose – some are so hard that they can take months to be fully implemented, and others like InvGate Service Desk only take a day to be operative.
Now that the disclaimers have been made, let's begin!
ITSM implementation checklist
In order to be ready to embark on this task, the first thing you need to do is create an ITSM implementation strategy. It will consist of the following steps:
Define your goals and objectives - What do you want to achieve with ITSM?
Assess your current state - Where are you starting from?
Develop a plan - How will you get from your current state to your desired state?
Implement your ITSM solution - Put your plan into action!
Evaluate and adjust - Take stock of your progress and make changes as needed.
We broke down these five items into 18 tasks, along with the corresponding subtasks and deliverables, and we also added a space for you to assign a person responsible and a deadline for each one of them.
The goal of this document is to help your organization transition from its current scenario to its desired future state. And this can be accomplished through the use of ITSM tools, processes, and best practices.
If you need more guidance, make sure to keep reading for a complete walk-through of what you should achieve at each stage.
ITSM implementation strategy stages
Stage 1: Planning
Planning is the first and arguably most important step in an ITSM Implementation. Without a well-thought-out plan, organizations can easily get bogged down in the details and miss the big picture. The goal of planning is to develop a clear understanding of the current state of the company, identify the desired future state, and create a roadmap for how to get there.
Auditing the existing system, finding the gaps
List the features and functionalities of the current systems (if any), explore the existing workflow, and find out what's working and what's not. Prepare a detailed audit of the workflows and processes in place, the stakeholders involved, and any unnecessary redundancies, and inefficiencies. This will help you understand what else you need, and convince stakeholders about the necessity of a new tool.
Collecting input from the department heads, managers, and other stakeholders
First, you should conduct user research and measure the organizational change impact to get an overview of your situation. Also, during these first stages, it's important to get the stakeholders and department representatives involved for a high adoption rate of an ITSM tool. Their inputs will help you understand the individual departments' pain points and build a solution that works for all.
Another key factor for success is getting sponsors for the initiative. An active and visible executive sponsor that passes the message to their team and the organization plays a huge role in the success of the new tool. They can improve the adoption rate and clear roadblocks without any delays.
Defining goals, metrics, and KPIs
Establish the new system's goals, as well as how it is going to help the organization achieve its objectives. You can make a list of goals, metrics, KPIs, along with their detailed definitions. But beware: typically, when we do this, we opt for vanity metrics, or metrics that always seem to be up high, but don't actually reflect with the business performance. Make sure that the KPIs showcase the actual performance of the tool as well as the team's, and that it aligns with the business goals.
Planning the budget
Work with the stakeholders and executive sponsors to build a budget or a financial model for the initiative. Showcase how the new system will produce returns; if it generates revenue directly, don't forget to mention it. A budget that shows how the ITSM solution will decrease expenditure, improve productivity, or avoid waste will help gain support from the stakeholders.
Developing contracts with vendors
This may not apply if you're building it with your own team, but it still helps define what's included and what's not. When working with third-party vendors, make sure you cover the NDAs, SLAs, hardware maintenance agreements (if any), terms of service, and documents related to compliance (which may vary according to the industry). Furthermore, assess their SOPs, business continuity and disaster recovery plans, and security risk management, and make sure it aligns with your requirements.

Stage 2: Building
Building is the second step in the ITSM implementation checklist. This is where the actual work of implementing the service desk and its processes takes place. At this stage, you'll need to use all the information gathered on Step 1 to design the service desk system. Thus, it's crucial that you create a solid foundation from the start.
Defining the features
It's time to set all the features and functionalities that you need. Don't underestimate the power of a flexible design when configuring your system, as well as the customization options the service desk provides.
In this sense, it's best to prioritize the features into must-haves and good-to-haves. This will help you keep the project moving and the roll-out on track, even if you hit a couple of unexpected roadblocks. Regarding your stakeholders' feedback, gather it after you defined the features, but prioritize and decide what you need to go live, and what can wait until the next iteration.
Designing the workflow and developing the solution
If you're building a new service desk for an existing team, make sure the new solution smoothly augments their existing flow. And if you're attempting to consolidate your current ITSM tool or building a new team instead, make sure the software is highly flexible and customizable.
At this stage, you should also consider every integration you might need, such as asset management software, Zapier, integrations with other tools of your company (like Microsoft Teams), etc. The ultimate goal is to automate as much as possible – the workflows, reporting, analytics, documentation, everything. Aim to reduce the workload and required resources as much as possible.
If you have scarce resources, follow our advice and prioritize only your must-have features to develop an MVP. There's plenty of time, later on, to add the other features as per the resources available.
Updating the service catalog
Build or update the service catalog to reflect the new capabilities. In particular, update the tutorials on how users can request the new services, and document how the service desk team will handle the different requests. Align your new workflows with the service catalog.
Updating the SLAs
Register or update the SLAs to reflect the new scope of the service desk. Add the new metrics and the performance goals.
Training the agents
This is a very important detail that affects the adoption rate. If your service desk agents are not well-trained, they'll find it difficult to use the system, creating delays, lowering the quality of services, and even switching back to legacy systems.
Of course, you can save most of the trouble if you get an intuitive ITSM solution like
. But even though, it might be a good idea to create training material detailing every process, as well as a plan to train your team to use the system effectively.
And don't forget to measure the performance of the agents, collect feedback, and ensure your team gets continuous training. Instead of setting aside a specific time or period for conducting the training, it's better to offer training continuously over a period, introducing features step by step.
You can even look into LMS systems with which agents can learn to use the new solution at their own pace. Gamification is another option that can improve adoption rates and raise employee morale as they learn to use a new tool. The important thing is that with training, you empower your team to change, creating an environment that ensures high adoption rates.
Stage 3: Before rolling out
Before rolling out, your organization needs to take some time to prepare for the changes that the ITSM implementation will bring. This includes ensuring that all stakeholders are onboard, training staff on new ITSM processes and tools, and testing the new system to ensure it meets all requirements.
Developing Incident Management plans
You need to make sure that you have a disaster recovery and business continuity plan if the system goes down – don't forget that downtime is costly. Prioritize what needs to be recovered and the minimum needed to get the business back to normalcy quickly and efficiently. Identify the risks, and how they will affect the system, implement risk management, and make sure there are robust protocols in place.

Checking if the must-have-features are developed and tested
Launching a new service desk without your must-have features working properly (or without them at all) will create confusion among the users and take a hit on adoption rates in the long run. In fact, implementing changes gradually is the smart thing to do to minimize human error.
So, consider the following steps:
Compare with the list of features prepared earlier to make sure that the system covers the entire scope of the SLAs.

Test the entire system for any known

vulnerabilities

and prioritize those

patches

.

Document other known issues, as well as workarounds.

Train your team to handle the documented issues until a fix is rolled out.

Audit the system and ensure it passes all regulatory compliances and document them.

Approaching the clients
Present the new system to your existing clients, in order to explain the new changes and ensure a smooth adoption. You can carry out different types of customer activities to do so, such as launch parties, meets and greets, brown bags and trainings.
Also, collect and analyze the feedback from the customers and the user agents. Short surveys at the end of user interactions can automatically collect feedback. If your organization has a relevant social media presence, users may use it to share feedback. So, don't forget to check it out as well.

Rolling out
Populate the knowledge base with essential articles about the new systems – detailing what they can do and how they work. At least the bare essentials should be available for the roll-out. Later, keep adding more information according to the resources available and the feedback you gather.

Set up basic automation processes and integrations, in order to get the system started. Add the agent information, and set up their access levels and roles. Make sure they have the right tools and information for their roles. It might be worth it to set up an automated onboarding process to add new users to the system.

Don't confuse the users, aim for a smooth transition. Move the customer-facing interfaces to the new system, but ensure the legacy systems are not made unavailable all of a sudden. Roll out the changes gradually.
For example, if you're changing the customer helpline number, either redirect the previous number to the new one or leave a message asking the customers to contact the new one, at least for the short term. Don't confuse the users, aim for a smooth transition.
Stage 4: After rolling out
After rolling out, it's essential to monitor the ITSM implementation process to ensure it is proceeding as planned. This includes tracking metrics, addressing any issues that arise, and making adjustments as necessary. After all, the goal is to ensure a smooth transition to the new ITSM system.

Completing the knowledge base
Don't forget to continually improve and update the articles of your knowledge base, as well as to create new ones. New information and knowledge must always be available to the system, in order for it to operate properly.
Completing automation and integrations
Automate the ticket assignment, ticket process flow, escalation, and feedback collection. Moreover, set up automatic updates about the ticket status to the user and data pipelines for the analytics. At this stage, you should also oversee that the ITSM tool is integrated with other necessary hardware and software.
Measuring the performance
Compare the performance of the system with the metrics you selected. Naturally, there will be some performance losses after introducing a system, but you should solve them before they become unmanageable.
Along with the defined metrics, make sure the solution is functioning as specified in the SLAs and is producing the desired results.
Implementing a continuous improvement cycle
Keep launching new features based on the development plan, customer feedback, and analytics data. Update the knowledge base based on common queries relating to the new system.
After the initial release, you should keep working on progressive updates until the system is fully available (and adopted) to the organization. These actions will include adjusting the employee onboarding process to include the new system and raising awareness within the organization.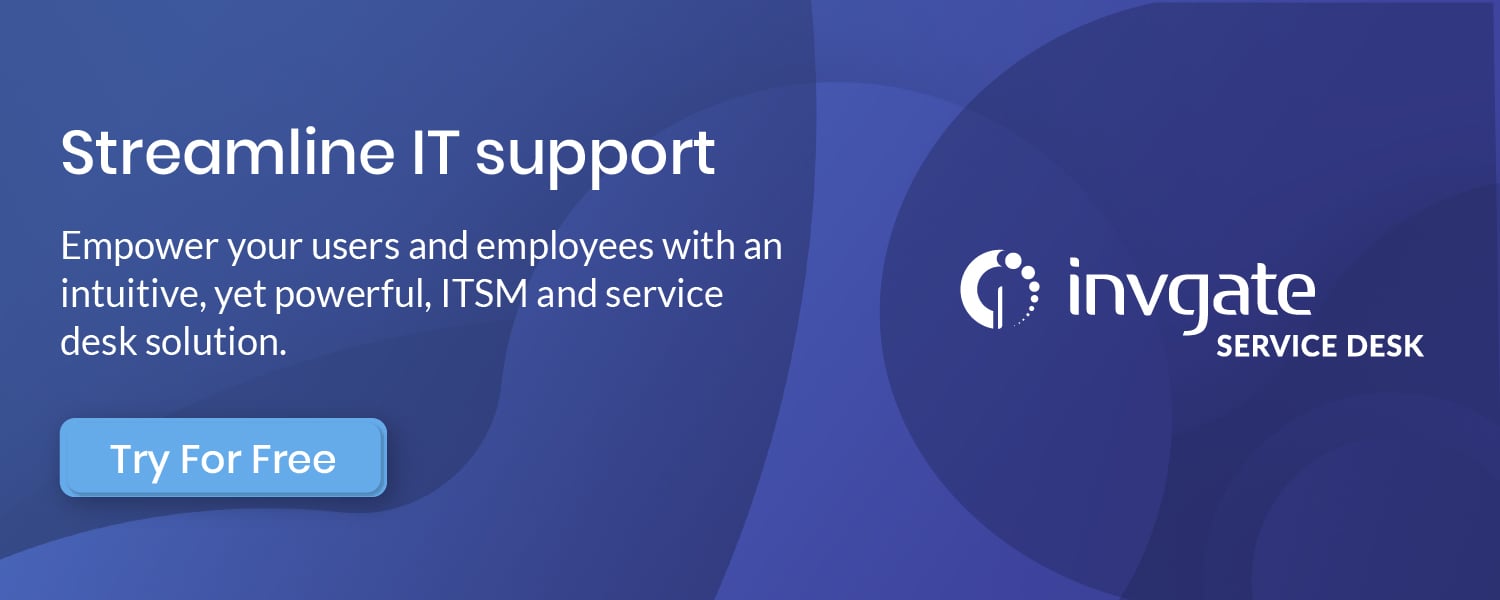 Bottom line
Our ITSM implementation strategy is simple: we take a step-by-step approach that starts with understanding your current state, continues with a thorough ITSM implementation checklist and ends with you achieving your desired state.
And as if that weren't enough, we walked you through each step of the process so that you have more information about what's expected and what you should achieve – without needing an external ITSM consultant.
We promised that the service desk implementation process didn't necessarily have to be a headache – or take forever. In order for you to succeed, you need to start on the right foot, and that means setting up a realistic assessment and choosing the right ITSM tool.
We know for a fact that these two items are unnegotiable. And that's why we provide not only an easy-to-implement service desk but also a Support Team ready to walk you through the implementation path. Want to see it for yourself? You can
now; you won't regret it.