As the IT Asset Management (ITAM) landscape unfolds before you, the choice between SummitAI Asset Management vs. Snow License Manager takes center stage. Choosing the right ITAM solution can have a transformative impact on your organization's efficiency and overall prosperity.
In this blog post, we'll explore these two prominent tools in-depth, engaging in a comprehensive ITAM software comparison. By scrutinizing their features, advantages, and limitations, we aim to guide you toward an informed decision.
Yet, the journey doesn't end here. We'll introduce InvGate Insight, a compelling ITAM space contender renowned for its unique functionalities and capabilities.
Your path to optimized ITAM starts here. Keep reading to learn more!
Most looked-at features by buyers
During the evaluation of solutions for IT Asset Management, potential buyers take into account a range of essential capabilities to determine the most suitable option that meets their specific requirements and business needs.
Here are some key factors that purchasers consider when picking a customized ITAM solution for their company.
Comprehensive infrastructure insights - The platform should provide complete visibility into the condition, performance, and usage of IT assets, empowering users to make informed decisions and optimize their infrastructure. It should also include robust reporting and analytics capabilities.


Software Management optimization - This functionality enables users to track software installations, ensure proper

Software License Management

, and identify instances of over or underutilization.


Proactive cost management and financial optimization - The solution should incorporate financial data,

contract lifecycle management

, licenses, and other relevant information to gain a comprehensive understanding of operational expenses.


Improved cybersecurity compliance - Buyers are looking for a tool that monitors asset security status to identify and proactively address security vulnerabilities.


Remote Management with integrated tools - Integration with popular remote desktop tools empowers IT teams to diagnose problems, apply patches, carry out software installations, and perform system updates remotely, eliminating the need for physical presence.


Unified control of IT Assets and Inventory - Users can effectively oversee and manage their

IT asset inventory

through a single interface. The solution needs to automate the detection of assets and the recording of crucial details such as hardware specifications, software versions, and ownership information.


Integration with help desk - Incorporating

help desk software

integration enables seamless sharing of information between Asset Management and

IT Service Management

processes. This integration enhances communication and streamlines workflows and overall service delivery.


Automation and proactive alerts - The solution should enable automated workflows for routine tasks like software updates, patch deployments, and system maintenance. This ensures smooth operations and quick responses to critical events through automated processes and timely proactive alerts.


Construction of

CMDB

maps - Users can define and document connections between different components, including hardware devices, software applications, network links, and interdependencies. Visualizing these connections helps organizations understand the consequences of changes, evaluate potential risks, and plan for efficient

Incident

and

Change Management

.


Flexible deployment options - Users prefer a platform that offers flexibility in selecting deployment methods, including cloud-based, on-premises, or hybrid solutions.
What is SummitAI Asset Management?
SummitAI IT Asset Management utilizes artificial intelligence to effectively oversee assets, ensuring optimal utilization and adherence to regulations. This AI-driven solution integrates with IT Service Management, aligning smoothly with established industry standards such as ITIL and IMAC. Its main functionalities include:
The company behind SummitAI IT Asset Management is SymphonyAI Summit, a specialized provider of AI-powered solutions for IT management. Their product range covers both IT Service Management and IT Asset Management platforms. Established in 2015 and headquartered in Pune, India, SymphonyAI Summit serves a diverse global customer base, with over 100 satisfied organizations as clients.
What users like from SummitAI Asset Management
SummitAI Asset Management has gained considerable acclaim and favorable feedback from reputable sources such as Gartner. Users have highlighted several advantages, as outlined below.
User-friendly interface - The platform provides a transparent and efficient dashboard, granting easy access to crucial information and presenting critical data accurately. The intuitive layout and user-friendly interface simplify navigation for both newcomers and experienced users.
Software inventory, normalization, and compliance reports - These functionalities receive high praise for their effectiveness and value.
Software usage tracking and non-compliance awareness - The software metering feature empowers users to monitor software usage, optimizing licenses and reducing costs. The non-compliance awareness function assists organizations in adhering to software licensing agreements and mitigating potential legal and financial risks.
Added features - Users appreciate the range of reporting options that enable customized reports tailored to their requirements. The comprehensive platform caters to diverse needs, covering both Service Management and IT Asset Management, thereby streamlining operations.
Enhanced operations - Users experience increased productivity and improved collaboration. The tool's faster operational speed leads to time savings. Visual inspection capabilities assist users in comprehending asset status and condition, while remote asset monitoring offers convenience and adaptability.
Improved user experience - SummitAI ensures a positive user experience through its intuitive interface, facilitating smooth interactions and swift task execution. The inclusion of the CINDE chatbot enhances user support by promptly addressing common queries.
Proactive maintenance - This feature allows proactive planning and minimizes asset downtime.
Application control and asset integration - Integrating application control and seamless asset integration significantly streamlines users' workflows.
Cost-effectiveness - SummitAI offers an extensive array of features at a competitive cost, positioning it as a cost-efficient alternative compared to other solutions.
Discovery tool - SummitAI's discovery tool captures comprehensive details about hardware and software assets.
What users don't like from SummitAI Asset Management
While SummitAI Asset Management has numerous strengths and positive qualities, it is not exempt from receiving customer concerns and criticisms.
The subsequent points outline several common issues raised by users in reviews from respected sources like Gartner.
Pricing - Users compare SummitAI's pricing with other tools and have raised questions about the overall pricing considerations, even though they acknowledge the favorable features provided in exchange for the cost.
Customization and compatibility - Users seek improved support for customizing the tool to align with their requirements. The limited compatibility of the discovery tool with Microsoft OS might impede its effectiveness in diverse environments. Some customizations necessitate assistance from the support team, which could potentially result in delays.
Reporting and security - Users desire quicker reporting capabilities to expedite decision-making. Certain individuals have expressed concerns about security-related aspects concerning the existing data.
Usability and accessibility - Some users find certain functions that demand multiple clicks to be cumbersome. The inability to use the tool simultaneously across various devices presents limitations. Navigating the platform and performing maintenance tasks can pose challenges. Users have reported problems with agent synchronization, impacting data accuracy and reliability. Moreover, reservations persist regarding improving the user interface and experience, with certain individuals expressing dissatisfaction with the login procedure.
Specific features - Users have encountered challenges in displaying the count of resolved tickets per analyst, which carries implications for reporting and analytics.
What's SummitAI Asset Management's argument over Snow License Manager?
In the IT Asset Management space, SummitAI Asset Management makes a compelling case against Snow License Manager. Here's why SummitAI stands out.
User experience - SummitAI has an intuitive interface and user-centric design, ensuring a smoother learning curve and efficient task execution.


Operational efficiency - With SummitAI, operational speed is accelerated, leading to increased productivity and quicker responses.


Comprehensive reporting - SummitAI offers an array of reporting options tailored to various needs, covering both Service and IT Asset Management.


Cost-effectiveness - SummitAI provides a robust feature set at a competitive price point, making it an economical choice.


Integrated chatbot - SummitAI's CINDE chatbot enhances user support and query resolution, giving it an edge in user assistance.


Proactive maintenance - SummitAI's proactive planning and asset downtime reduction feature supports better operational continuity.


Application control and integration - SummitAI's integration of application control streamlines workflows.


Flexibility - SummitAI's flexible deployment options cater to diverse organizational needs.


Software usage tracking - SummitAI's software metering feature optimizes license usage and costs.


Discovery tool - SummitAI's detailed discovery tool captures comprehensive asset information.
What is Snow License Manager?
Snow License Manager, developed by Snow Software, a tool designed for Software Asset Management. Its purpose is to aid businesses in effectively handling their software licenses, optimizing software utilization, and ensuring compliance with licensing agreements.
The tool incorporates a variety of features and capabilities that empower organizations to comprehend their software assets. This understanding, in turn, enables informed decision-making regarding software procurement, usage, and cost-efficiency.
Snow Software is an internationally recognized provider specializing in technology intelligence solutions for Software Asset Management, IT Service Management, and Enterprise Mobility Management. With its headquarters situated in Stockholm, Sweden, the company has a robust global presence, maintaining regional offices throughout the United States, Europe, and Asia.
Having been established in 1997, Snow Software has consistently held a leadership position in delivering an extensive array of products and services. These offerings are geared towards assisting organizations in optimizing their technology investments and extracting maximum value.
In addition to Snow License Manager, the company's product lineup encompasses Snow Device Manager, Snow Inventory, and Snow Automation Platform.
What users like from Snow License Manager
Snow License Manager's reputation and favorable customer feedback have been endorsed by reputable sources such as Gartner. Here are some notable advantages highlighted.
High performance - Snow License Manager excels in consolidating information and adopts an approach that prepares organizations for audits. This facilitates the maintenance of a comprehensive inventory of software assets.
User-friendly interface - The platform has an intuitive user interface that prioritizes user-friendliness. Its design facilitates easy navigation and interaction throughout various processes, ensuring users can engage with the tool efficiently.
Comprehensive Software Recognition Service (SRS) - The tool offers an extensive and meticulous SRS. Regular updates are performed to ensure accurate identification of software assets. The service employs stable agents that yield reliable results.
Insightful reporting - Snow License Manager provides a diverse selection of valuable standard reports that offer insights into software usage and hardware information collected by agents. Users can easily generate customized reports that align with their specific requirements.
Seamless integration - The software exhibits strong integration capabilities with SAP environments, streamlining workflows and enhancing compatibility. The utilization of lightweight agents ensures efficient operations.
Excellent support - Users have expressed high satisfaction with the quality of communication provided by the support team. This effective interaction assists users in addressing their concerns. Moreover, the opportunity to participate in the beta program enables users to access new features and contribute feedback. Additionally, the presence of dedicated customer success managers contributes to achieving successful outcomes.
Cost efficiency - By providing insights into installations and compliance, the platform aids organizations in reducing costs during audits by maintaining license compliance.
Simplified licensing - The tool simplifies the monitoring and visualization of software licenses and compliance matters. It equips organizations with straightforward tools for effective license management, thereby assisting in maintaining adherence to licensing agreements.
Continuous maintenance - The software remains consistently updated, ensuring it remains current with the latest features and security enhancements. It is regarded as a mature product with a proven track record of reliability.
What users don't like from Snow License Manager
While Snow License Manager has several strengths and positive attributes, it's not immune to the concerns and criticisms raised by its customers. Reviews from reputable sources like Gartner have brought to light various issues that users commonly encounter.
Performance - Snow License Manager's performance can be hindered by large volumes of data. In situations where organizations possess extensive software inventories or complex IT environments, the system may encounter performance issues like slower response times or delays in report generation. Users have also reported encountering software bugs or limitations that restrict certain functionalities, hampering optimal software utilization.
User interface - The setup process can be intricate and not always straightforward. Users might face challenges when trying to personalize the interface to align with their specific needs, potentially leading to a less-than-optimal user experience.
Software Recognition Service (SRS) - The platform encounters difficulties with accurately identifying certain software assets. This can result in incomplete or inaccurate reporting of software inventory. Furthermore, challenges related to cross-platform rights may limit the system's ability to recognize and manage software assets across different platforms or operating systems.
Reporting - While the tool offers a variety of useful standard reports, some users have suggested room for improvement in the reporting functionality. Generating specific or customized reports might come with limitations, and the process of creating intricate or tailored reports can be time-consuming and demand additional effort.
Integration - Some users have encountered challenges during the integration and implementation of the software. Integrating the software with existing systems or configuring the necessary agents for seamless operation can prove to be nontrivial. The agent configuration process might lack user-friendliness, demanding additional effort and expertise to ensure successful integration.
Support - Users have reported instances of delayed response times from the support team, causing delays in issue resolution. Additionally, there have been cases where the support team's problem-solving capabilities have been insufficient, resulting in prolonged troubleshooting efforts. Inconsistencies in the quality and effectiveness of support experiences have also been expressed, adding to user dissatisfaction.
Cost - One drawback of the tool is its high cost. Organizations might find the platform's initial acquisition and ongoing maintenance expenses to be substantial. Additional costs related to technical support services could further contribute to the overall financial burden.
Licensing - Users have expressed concerns regarding the absence of notifications when a synchronization fails during the licensing process. This could lead to compliance issues as users might not receive immediate alerts about synchronization problems between Snow License Manager and software license databases. Additionally, producing a comprehensive software license position might be time-consuming, requiring manual work to gather and consolidate accurate license information.
Maintenance - The tool incurs substantial maintenance costs, which organizations need to account for in their software budgeting. Some users have reported that product upgrades can lead to issues or disruptions in the system's functionality. Organizations might need to allocate extra resources and plan for potential disruptions during the upgrade process to mitigate any negative impacts on their operations.
What's Snow License Manager's argument over SummitAI Asset Management?
Here's how Snow License Manager's strengths stack up against SummitAI Asset Management.
High Performance and audit preparedness - Snow License Manager excels in consolidating critical information and adopts an approach that readies organizations for audits. This strategic approach ensures that businesses maintain a comprehensive inventory of their software assets.

User-Friendly interface - Snow License Manager has an intuitive user interface that emphasizes user-friendliness. Its thoughtful design streamlines navigation and interaction across various processes, enabling users to engage with the tool seamlessly.


Comprehensive Software Recognition Service (SRS) - Snow License Manager offers a robust SRS that is both extensive and meticulous. The regular updates it undergoes ensure the accurate identification of software assets, bolstering organizations' confidence in their asset inventory.


Insightful reporting - Snow License Manager provides a wide array of valuable standard reports that offer insights into software usage and hardware information. Users have the flexibility to generate customized reports that align with their specific needs.


Seamless integration - Snow License Manager has strong integration capabilities, particularly with SAP environments. This enhances workflow efficiency and compatibility, facilitated by the use of lightweight agents.


Excellent support and customer interaction - Snow License Manager stands out with its effective support, highlighted by users' high satisfaction with the quality of communication from the support team. Additionally, the opportunity for users to participate in the beta program and engage in continuous feedback contributes to the platform's evolution.


Cost efficiency and license compliance - Snow License Manager aids organizations in reducing costs during audits by providing insights into installations and compliance. The tool's streamlined license management tools ensure compliance with licensing agreements.


Continuous maintenance and reliability - Snow License Manager's consistent updates keep it current with the latest features and security enhancements.
Considering InvGate Insight as an ITAM solution alternative
For organizations in search of tailored alternatives for IT Asset Management that align with their specific needs and requirements, considering InvGate Insight is a recommended course of action.
As a robust ITAM solution, InvGate Insight offers a diverse range of features and functionalities that position it as a viable choice for streamlining Asset Management processes. Let's delve into its core attributes.
Efficiency through CMDB map builder for streamlined operations
InvGate Insight's tool for constructing CMDB maps offers a lucid and comprehensive overview of the IT ecosystem. Visualizing relationships between components aids in identifying potential impacts on operational continuity, allowing for proactive risk mitigation. This heightened visibility reduces service times, enhances operational efficiency, and ensures smoother IT operations.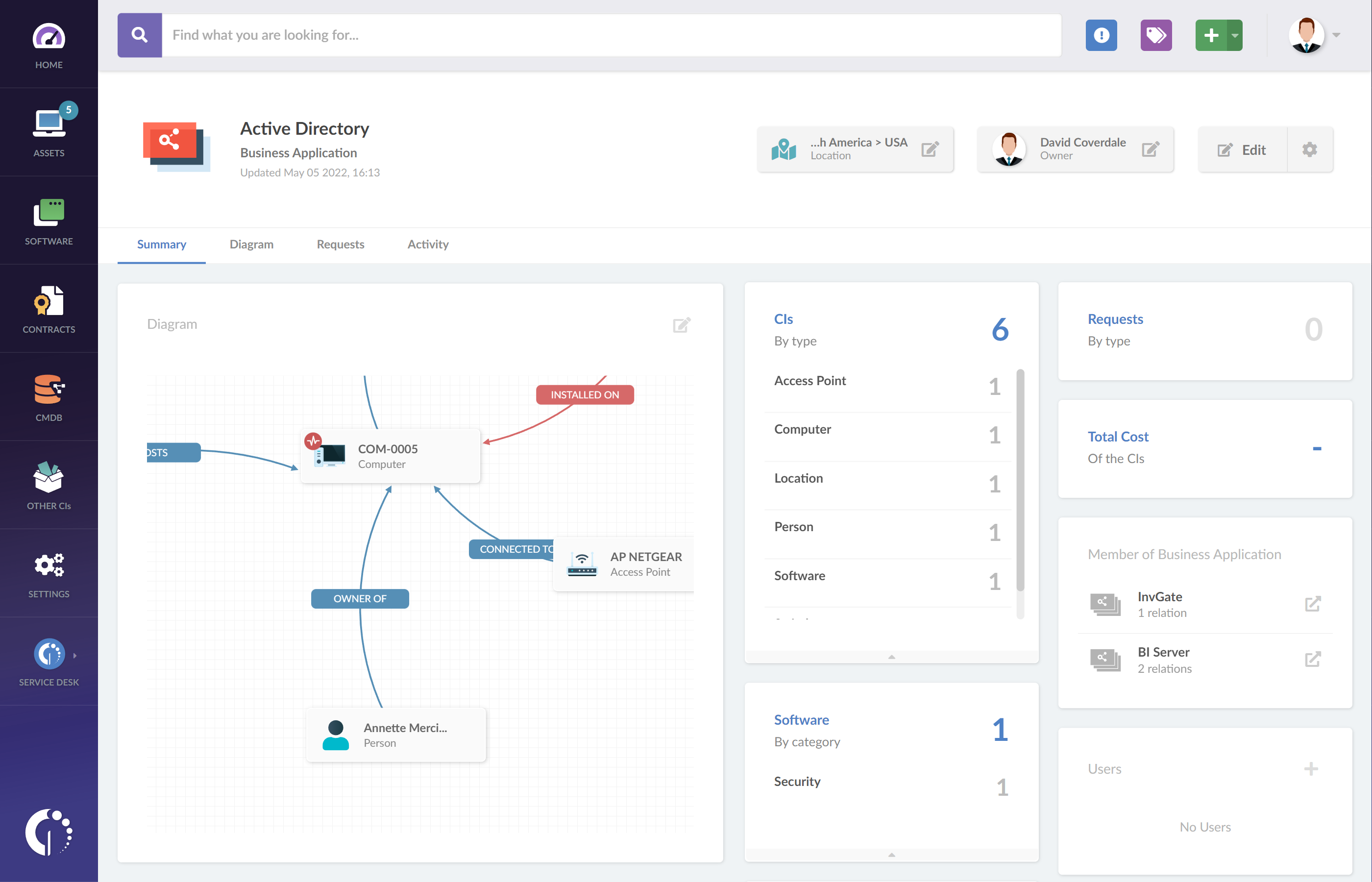 A comprehensive view of IT operations through native service desk integration
InvGate Insight seamlessly integrates with InvGate Service Desk, establishing a native connection that links tickets to devices and personnel. This integration provides a comprehensive perspective on IT operations, streamlining management. Associating service tickets with pertinent assets and personnel enhances workflows, communication, and issue resolution.
Enhanced management of IT assets and inventory
InvGate Insight facilitates seamless integration by aggregating data from various sources, including prominent operating systems, cloud service providers such as AWS, Google, Azure, and Mobile Device Management (MDM) solutions like JAMF and Google Endpoint Manager. This comprehensive integration ensures effective management of both IT and non-IT assets, locations, and personnel. This approach not only saves time but also offers a holistic view of the entire infrastructure.
Seamless remote management through native integration
InvGate Insight natively integrates with established remote desktop tools like Windows Remote Desktop, TeamViewer, AnyDesk, and VNC. This integration enhances remote management capabilities, providing direct device access for troubleshooting and maintenance. This seamless remote access empowers organizations to effectively address IT issues, execute maintenance tasks, and ensure uninterrupted operations.
Flexible deployment choices for tailored solutions
Recognizing the distinctiveness of each organization's needs and industry regulations, InvGate Insight presents adaptable deployment options. This flexibility enables organizations to select either a cloud-based or on-premise solution, ensuring alignment with specific needs and compliance standards.
Strengthening cybersecurity compliance through asset monitoring
InvGate Insight's asset monitoring capabilities establish and enforce device health rules, enabling proactive cybersecurity compliance. Swift identification of instances of non-compliance enables immediate action to ensure adherence to cybersecurity policies and safeguard the integrity of the IT infrastructure.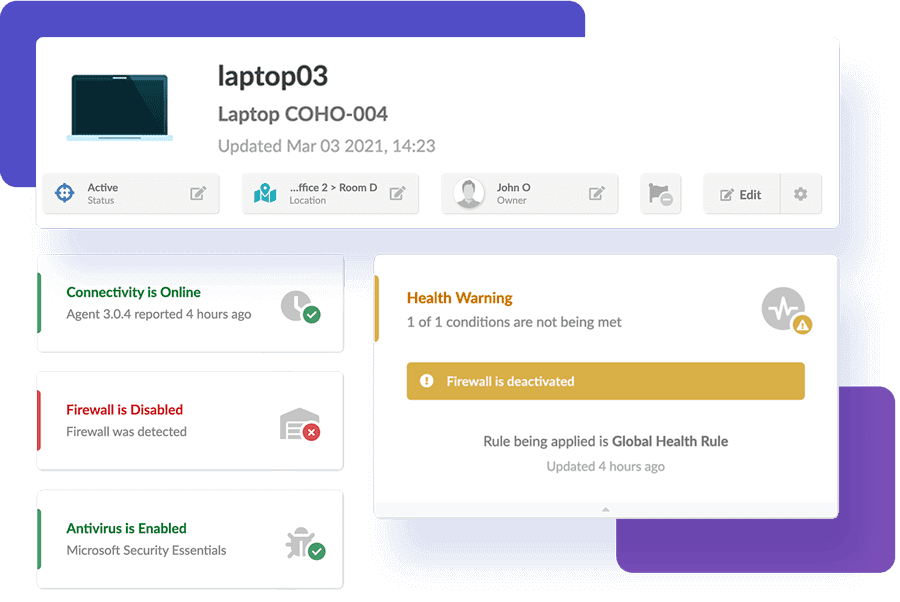 Automation and timely alerts for proactive management
InvGate Insight promotes process automation and the establishment of alerts, fostering proactive IT management. Automated alerts empower organizations to monitor contract expirations and promptly notify relevant stakeholders, reducing manual effort and the risk of oversights. This automation optimizes operations, allowing a focus on critical tasks and enhancing overall efficiency.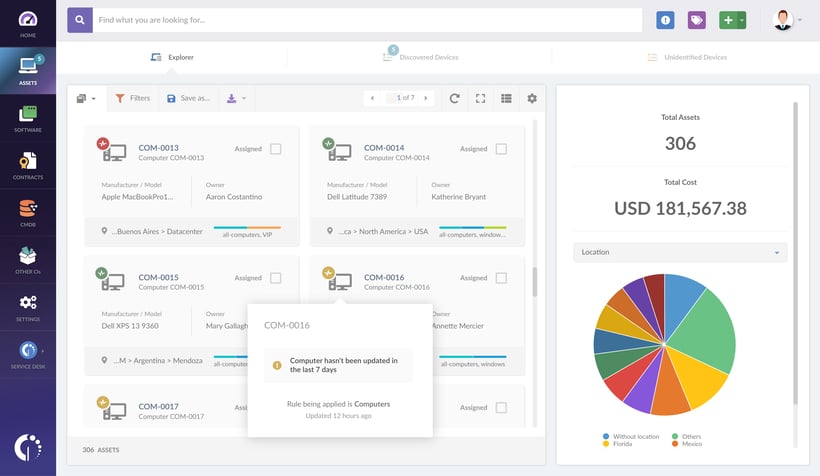 Proactive management of operational costs
InvGate Insight facilitates the direct integration of financial data, contracts, licenses, and other crucial information into the system. This approach provides organizations with a comprehensive understanding of operational costs, enabling proactive and informed financial decisions. This optimization of budget allocation ensures the maximization of value derived from IT investments.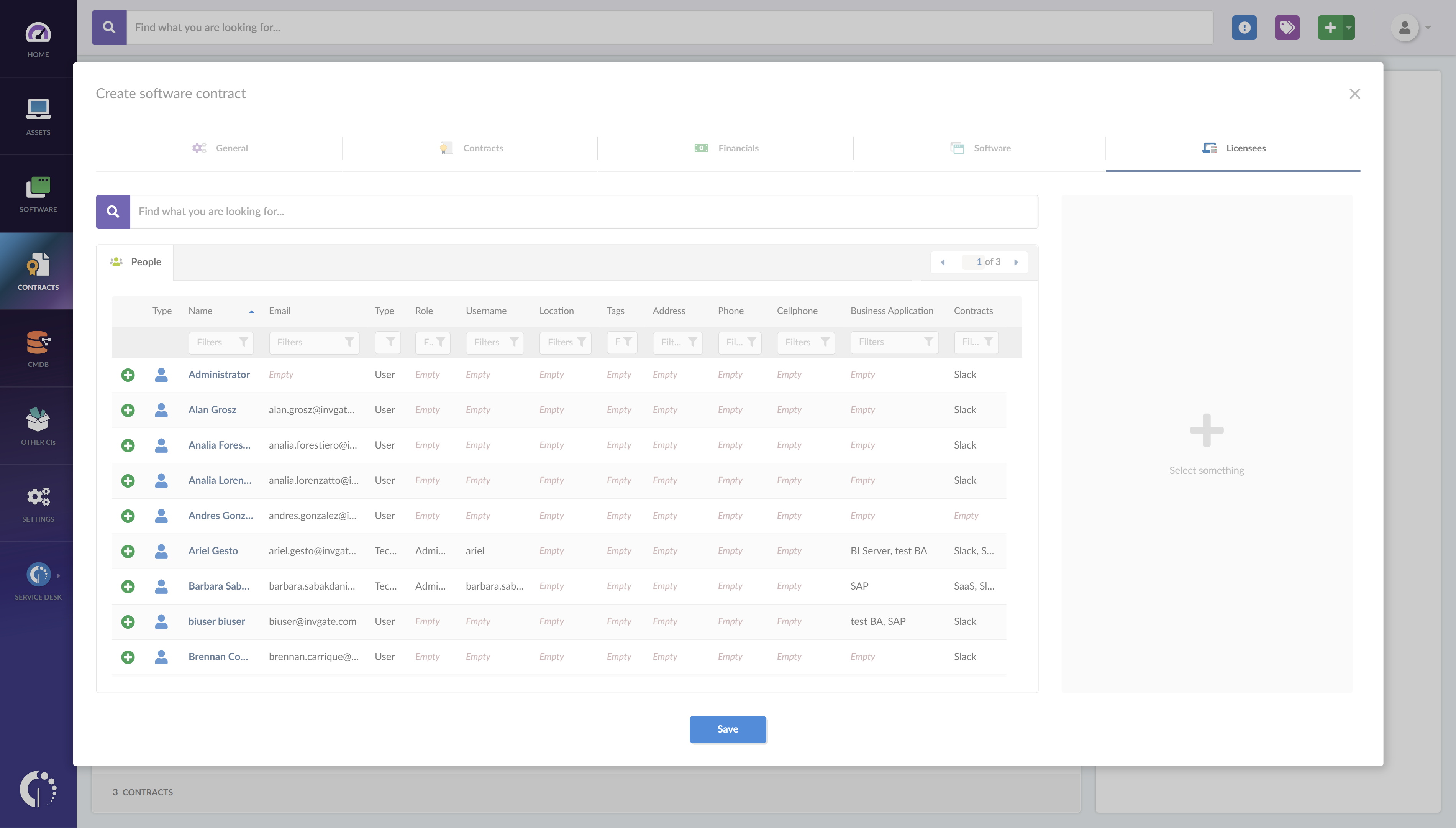 Optimization of software efficiency for cost reduction
InvGate Insight empowers organizations to identify and assess the usage of paid software, facilitating efficient Software Management. Gaining visibility into software utilization enables the reallocation of underutilized licenses, minimization of unnecessary costs, and maximization of returns on IT investments. This optimization of software efficiency assists organizations in making the most of their software resources.
In-depth insights into IT infrastructure
With its robust feature suite, InvGate Insight offers detailed and actionable insights into IT assets, encompassing their status and usage. This comprehensive insight enables effective management and optimization of the infrastructure, ultimately enhancing operational efficiency.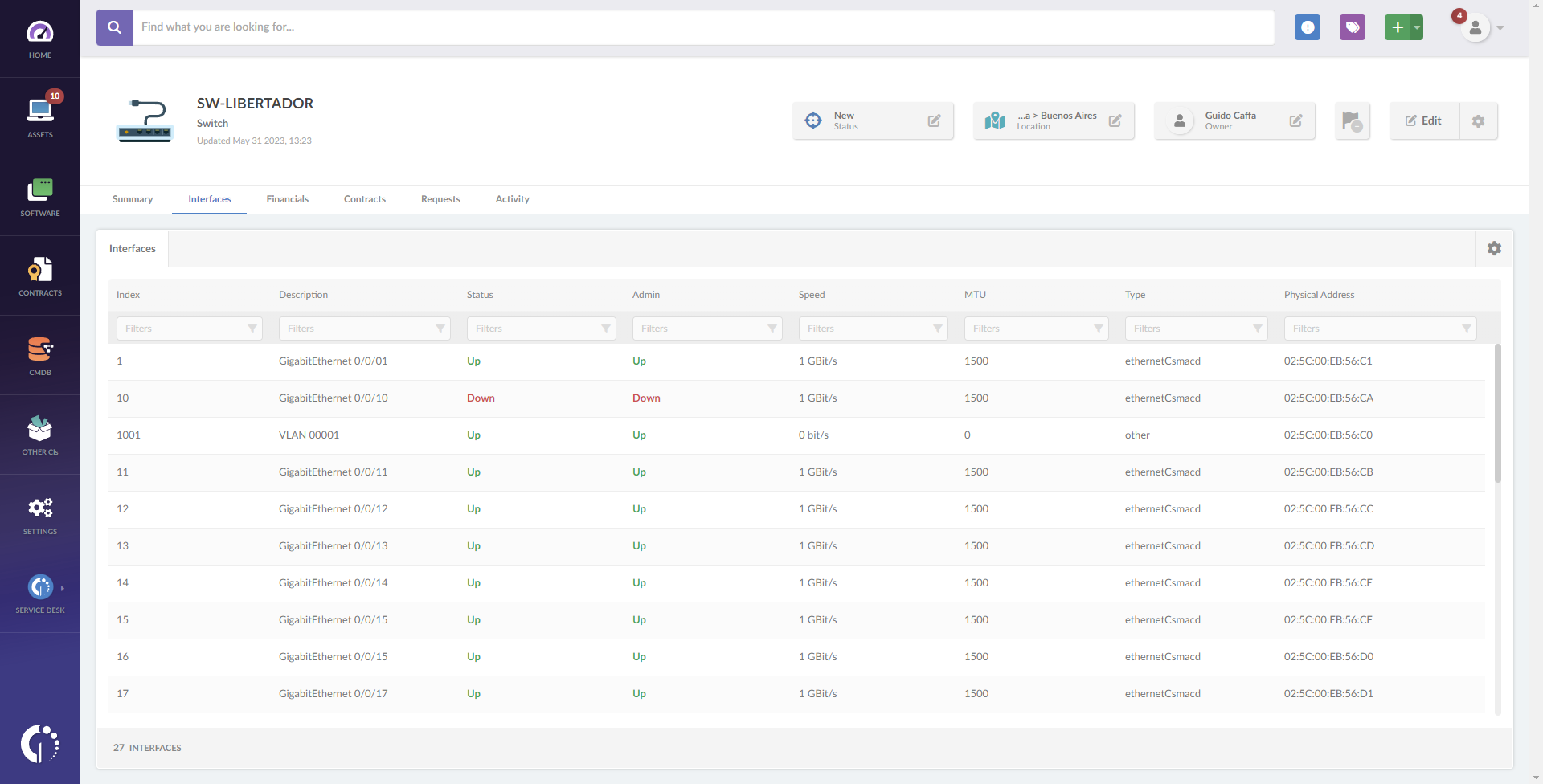 Next steps
In the realm of IT Asset Management, the comparison between SummitAI Asset Management vs. Snow License Manager highlights the diverse strengths and capabilities that each brings to the table. Yet, the pursuit of the optimal solution necessitates a broader exploration.
InvGate Insight is a distinctive alternative offering efficient management, cybersecurity compliance, and proactive cost control.
As you delve into this journey, seize the opportunity to experience a transformed era of streamlined and optimized IT Asset Management through our live demo. Discover the future of efficient asset oversight today!