In the dynamic IT Asset Management (ITAM) landscape, choosing the right solution between NinjaOne vs. SummitAI Asset Management isn't just about selecting software – it's about steering your organization towards operational excellence.
In this blog post, we'll delve deep into a comprehensive ITAM software comparison between these two contenders.
However, the IT Asset Management software options are broader. That's why we'll introduce you to a third alternative – InvGate Insight. With its distinctive functionalities and capabilities, InvGate Insight presents a compelling solution that could be the perfect fit for your ITAM needs.
Curious to learn more? Keep reading to uncover the ITAM solution for your organization!
Most looked-at features by buyers
When considering IT Asset Management solutions, potential purchasers assess a range of important features to locate the most fitting choice that matches their specific demands and business requirements.
Here are some key aspects that buyers take into account when selecting a personalized ITAM solution for their organization.
What is NinjaOne?
NinjaOne is committed to developing IT management solutions that deliver strong assistance to Managed Service Providers (MSPs) and IT experts. Their primary goal is to ensure the uninterrupted operation of businesses and amplify profitability. The platform is specifically designed to streamline the process of integrating new clients and take full advantage of automation, presenting a modern IT management experience.
The platform's objective is to reduce the costs linked to client integration and training, proactively identify and resolve common IT obstacles, and simplify intricate IT responsibilities. This transformation positions IT as a potential catalyst for growth in businesses rather than merely an expenditure.
Independently owned and operated by its founders, the company has an executive team with extensive IT backgrounds. Their experience ranges from managing services to launching startups tailored for MSPs and IT leaders. NinjaOne's foundation is built on cloud technology, providing a comprehensive IT management platform that is well-positioned for expansion.
What users like from NinjaOne
NinjaOne has garnered extensive recognition and received positive acclaim from reputable sources such as Gartner. Users have consistently emphasized numerous benefits, which are outlined below.
Unified solution - NinjaOne's comprehensive amalgamation of Help Desk, Patching, and Backup functionalities within a single product simplifies operations and fosters efficiency.
Cost-efficiency - The platform's cost-effective methodology makes it a valuable option for businesses of various sizes. The platform includes the option to start with just 50 devices, which allows organizations to adjust following their demands.
Streamlined navigation - The tool's intuitive arrangement of navigation elements ensures that users can swiftly locate the required tools and functionalities. This diminishes the learning curve and elevates the overall user encounter.
Assistance and interaction - NinjaOne's support services and active user engagement provide a positive user experience. Timely aid and interaction cultivate a sense of collaboration and trust in the platform.
Effective Patch Management - The solution's smooth handling of Windows Patch Management simplifies the upkeep of current systems. The capability to schedule patches and software updates amplifies system security and performance, simultaneously diminishing vulnerabilities.
Simplified implementation and management - The tool's uncomplicated procedures for deployment and administration make it simpler for IT teams to instate and oversee the platform, saving time and resources.
Search capabilities - The platform's swift search functions for individuals or serial numbers expedite the process of addressing issues and identifying assets.
Data safeguarding - The solution's incorporation of features for backing up servers and PCs delivers a dependable solution for safeguarding vital data, thereby mitigating potential losses.
Mobile app - The platform's mobile application extends the convenience of IT management beyond conventional desktop environments, allowing professionals to oversee and react to issues while on the move.
In-depth analytics - NinjaOne's robust reporting capabilities yield profound insights into IT operations.
Documentation and scripting options - The availability of comprehensive documentation and scripting alternatives empowers IT professionals to personalize processes, conduct efficient troubleshooting, and automate repetitive tasks.
What users don't like from NinjaOne
While NinjaOne has many strengths and positive attributes, it is not exempt from customer concerns and criticisms. Below, we'll look at some common issues that users frequently mention in reviews from respected sources such as Gartner.
Limited technical support beyond regular business hours - Certain users have voiced a preference for expanded 24/7 support to ensure prompt assistance and timely resolution of issues regardless of the time.
Integration shortcomings - Users have raised concerns about the effectiveness of specific integrations with external tools or systems, perceiving them as incomplete or inadequately functional, affecting overall workflow efficiency.
Challenges in retrieving asset details - Several users have encountered difficulties in efficiently retrieving asset information, potentially leading to slowdowns in troubleshooting and Asset Management processes.
Inconsistent remote capabilities - A subset of users has observed irregularities in the functionality of remote capabilities, potentially impeding efficient remote troubleshooting and management tasks.
Request for screenshot functionality - Users have expressed a requirement for screenshot functionality within the platform, which could assist in documentation, troubleshooting, and communication purposes.
Room for enhancement in the ticketing system - A number of users believe that the ticketing system could benefit from improvements in terms of its feature set, customization possibilities, and overall usability.
Absence of maintenance mode for devices - The lack of a maintenance mode for devices can complicate certain tasks, such as updates or troubleshooting, without causing disruptions to ongoing operations.
Past email delivery issues - Instances of historical email delivery issues have been reported, impacting communication and the timely handling of support-related inquiries.
Unfinished ticketing system and documentation - Some users have noticed that the ticketing system and its accompanying documentation appear unfinished or lack certain elements. This deficiency could influence user satisfaction and operational efficiency.
What's NinjaOne's argument over SummitAI Asset Management?
While both platforms have garnered their share of attention and accolades, NinjaOne stands out with its distinctive advantages catering to modern businesses' dynamic needs. Here's a comprehensive breakdown of NinjaOne's arguments against SummitAI Asset Management.
Unified versatility - NinjaOne asserts its supremacy through its unified approach, seamlessly integrating Help Desk, Patching, and Backup functionalities within a single product. This holistic amalgamation simplifies operations, eliminates the need for multiple tools, and fosters efficiency across various IT tasks.


Cost-effectiveness tailored to growth - NinjaOne's cost-efficiency strategy positions it as an attractive option for businesses of all sizes. The platform's flexibility to start with as few as 50 devices accommodates organizations' evolving requirements. This adaptive scalability allows businesses to align their investment with their growth trajectory.


Intuitive user experience for swift action - NinjaOne underscores its commitment to user-centric design with streamlined navigation elements that enable swift tool and functionality discovery. This design philosophy reduces the learning curve, empowering users to maximize their efficiency.


Active support and collaboration - NinjaOne's user engagement and support services create a sense of user collaboration and trust. Timely assistance and interaction contribute to a positive user experience, enhancing the platform's overall value proposition.


Effortless implementation and management - NinjaOne's streamlined deployment and management processes empower IT teams with a hassle-free experience. This simplicity saves valuable time and resources, allowing IT professionals to concentrate on core tasks.


Mobile management - NinjaOne's mobile application allows professionals to address issues and monitor operations on the go.


Comprehensive insights and personalization - NinjaOne showcases its robust reporting capabilities, providing in-depth insights into IT operations. This data-driven approach enables informed decision-making and strategic planning.


Customization and automation empowerment - NinjaOne's availability of comprehensive documentation and scripting options empowers IT professionals to tailor processes, streamline troubleshooting, and automate repetitive tasks.
What is SummitAI Asset Management?
SummitAI IT Asset Management utilizes artificial intelligence to effectively supervise assets, ensuring they are optimally used and compliant with regulations. This AI-powered solution smoothly integrates with IT Service Management, harmonizing seamlessly with well-recognized industry norms like ITIL and IMAC. The primary functionalities encompass:
Software Asset Management
The software company behind SummitAI IT Asset Management is SymphonyAI Summit. It specializes in AI-powered solutions for IT management, offering a range of products that span IT Service Management and Asset Management platforms.
Founded in 2015 and headquartered in Pune, India, SymphonyAI Summit serves a diverse global clientele, with more than 100 satisfied organizations as customers.
What users like from SummitAI Asset Management
SummitAI Asset Management has garnered wide recognition and favorable feedback from reputable sources such as Gartner. Users have highlighted numerous advantages, outlined as follows.
Enhanced user experience - SummitAI ensures a positive user experience through its instinctive interface, facilitating smooth interactions and rapid task execution. Including the CINDE chatbot bolsters user support by promptly addressing common queries.
Added features - Users value the array of reporting choices, enabling tailored reports aligned with their needs. The all-in-one platform caters to diverse requirements, encompassing Service Management and IT Asset Management, streamlining procedures.
Operational gains - Users encounter heightened productivity and improved collaboration among teams. The tool's heightened operational speed translates to time savings. Visual inspection capabilities aid users in better-grasping asset status and condition, while remote asset monitoring offers convenience and versatility.
Software usage tracking and non-compliance awareness - The software metering feature empowers users to oversee software usage, optimize software licenses, and curtail costs. The non-compliance awareness functionality assists organizations in adhering to software licensing agreements and mitigating potential legal and financial risks.
Application control and asset integration - The fusion of the application control feature and seamless asset integration significantly smoothens users' workflows.
User interface - The platform delivers a transparent and efficient dashboard, granting simple access to vital information and an accurate display of crucial data. The user-friendly design and instinctive interface simplify navigation for both novices and seasoned users.
Software inventory, standardization, and compliance reports - Users highly value these functions for their effectiveness and significance.
Cost efficiency - SummitAI delivers extensive features at a competitive price, positioning it as a cost-effective alternative compared to other solutions.
Anticipatory maintenance - This feature enables proactive planning and reduces asset downtime.
Discovery tool - SummitAI's discovery tool captures comprehensive particulars about hardware and software assets.
What users don't like from SummitAI Asset Management
While SummitAI Asset Management has numerous strengths and positive attributes, it is not immune to customer concerns and feedback. Here are several common issues that users have raised in reviews from reputable sources, including Gartner.
Usability and accessibility - Some users have deemed certain functions that require multiple clicks cumbersome. The inability to use the tool across multiple devices simultaneously presents limitations. Accessing and executing maintenance tasks within the platform can be challenging. Users have cited issues with agent syncing, which impacts data accuracy and reliability. Additionally, there are reservations about improving the user interface and experience. Some users express dissatisfaction with the login process.
Customization and compatibility - Users express a desire for enhanced support in customizing the tool to suit their specific needs. The tool's limited compatibility with Microsoft OS might hinder its effectiveness in diverse environments. Some customizations necessitate intervention from the support team, potentially causing delays.
Pricing considerations - Users have evaluated SummitAI's pricing in comparison to other tools and have questioned the overall pricing structure. Despite acknowledging the favorable features offered in relation to the cost, there are discussions around the pricing model.
Reporting and security - Users have voiced a preference for swifter reporting capabilities to expedite decision-making. Certain individuals have also raised concerns about security-related matters pertaining to the available data.
Specific features - Users have encountered difficulties in displaying the count of resolved tickets per analyst, affecting reporting and analytics.
What's SummitAI Asset Management's argument over NinjaOne?
Here's a comprehensive breakdown of SummitAI Asset Management's arguments against NinjaOne.
Enhanced user experience driving efficiency - SummitAI Asset Management takes pride in its focus on delivering an enhanced user experience, exemplified by its intuitive interface that ensures smooth interactions and swift task execution.


Robust all-in-one platform for streamlined processes - SummitAI Asset Management highlights its array of added features as a significant advantage. Users value the platform's versatility in reporting choices, catering to individual needs, and fostering efficient workflows.


Heightened operational efficiency and collaboration - SummitAI Asset Management ensures operational gains for users, leading to improved productivity and enhanced collaboration among teams. The platform's operational speed translates to valuable time savings.


Holistic software management for compliance and cost control - SummitAI Asset Management underscores its software usage tracking and non-compliance awareness features as pivotal for organizations.


Seamless integration and optimal application control - SummitAI Asset Management's application control feature and seamless asset integration significantly enhance users' workflows.


Transparent and user-friendly interface - SummitAI Asset Management takes pride in its user interface, which delivers transparent access to crucial information through an efficient dashboard.


Comprehensive Asset Management and reporting - SummitAI Asset Management places substantial emphasis on software inventory, standardization, and compliance reports, features highly valued by users for their effectiveness and significance.


Strategic cost efficiency and predictive maintenance - SummitAI Asset Management's value proposition is enhanced by its competitive pricing, which positions it as a cost-effective alternative compared to other solutions in the market.


In-depth discovery for comprehensive insights - SummitAI Asset Management offers a robust discovery tool that captures detailed specifics about hardware and software assets.
Considering InvGate Insight as an ITAM solution alternative
For organizations seeking customized IT Asset Management solutions tailored to their specific needs, InvGate Insight is a noteworthy option to consider. As a robust ITAM solution, InvGate Insight comes equipped with a diverse array of features and functionalities that position it as a viable choice for streamlining Asset Management processes. Let's delve into its key attributes.
Flexible deployment options to suit individual needs
Recognizing the distinct requirements and industry regulations of each organization, InvGate Insight offers flexible deployment choices. This allows organizations to opt for either a cloud-based or on-premise solution, ensuring alignment with specific needs and compliance standards.
Proactive operational cost management
InvGate Insight enables direct integration of financial data, contracts, licenses, and other crucial information into the system. This approach provides organizations with a complete understanding of operational costs, enabling proactive and well-informed financial decisions. This optimized budget allocation maximizes the value derived from IT investments.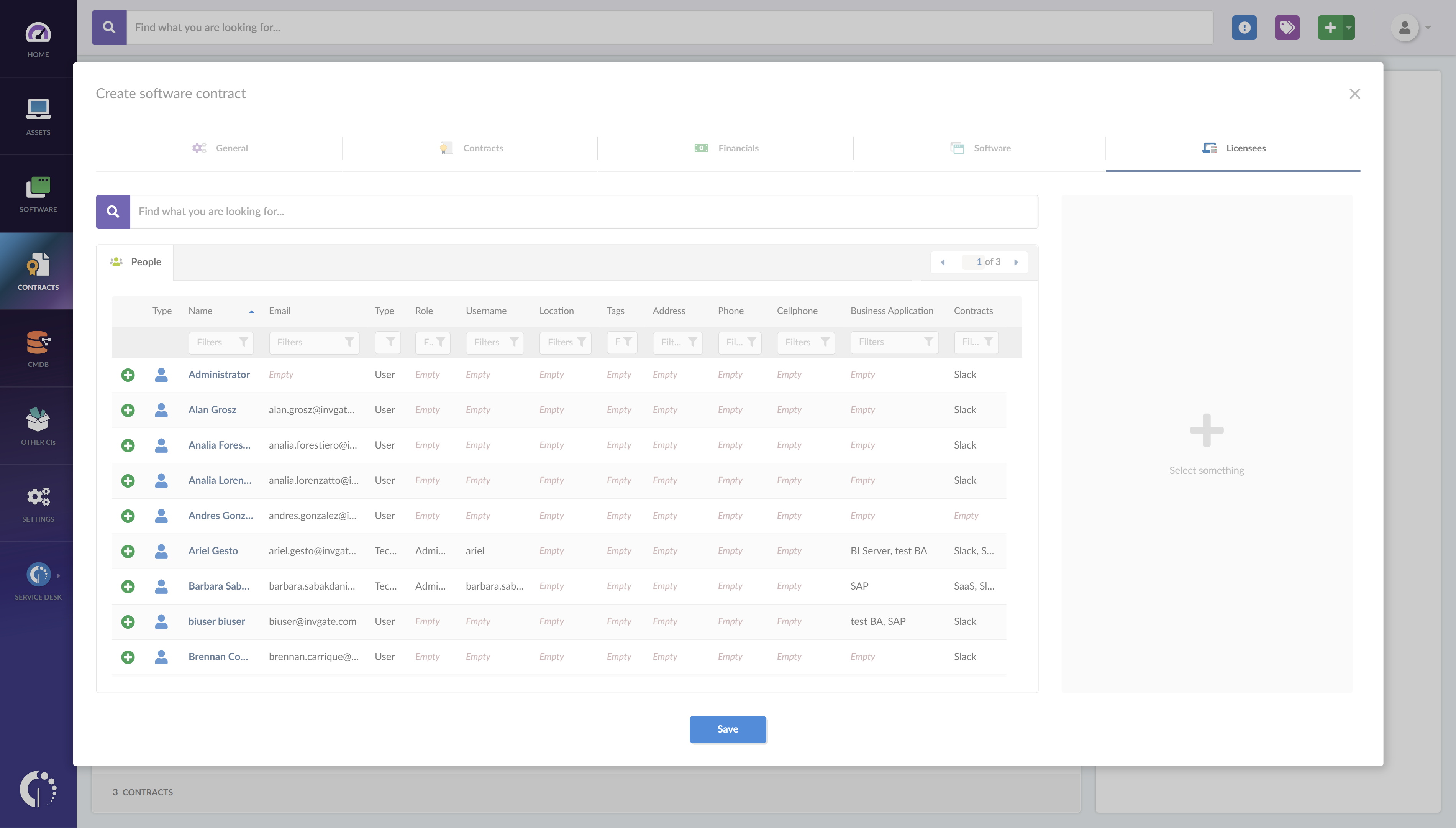 Enhanced management of IT Assets and Inventory
InvGate Insight facilitates seamless integration by consolidating data from various sources, including popular operating systems, cloud service providers (such as AWS, Google, and Azure), and Mobile Device Managers (MDMs like JAMF, Google Endpoint Manager). This comprehensive integration ensures efficient management of both IT and non-IT assets, locations, and personnel. This not only saves time but also provides a holistic view of the entire infrastructure.
Software efficiency optimization and cost reduction
InvGate Insight empowers organizations to identify and assess the utilization of paid software, facilitating efficient Software Management. By gaining insight into software usage, underutilized licenses can be reallocated, unnecessary costs reduced, and returns on IT investments maximized. This optimization of software efficiency assists organizations in making the most of their software resources.
Simplified operations with CMDB map builder
The CMDB map builder tool provided by InvGate Insight offers a clear and comprehensive depiction of the IT environment. Visualizing the connections between components can help identify potential impacts on operational continuity, leading to proactive risk mitigation. This visibility results in shorter service times, improved operational efficiency, and smoother IT operations.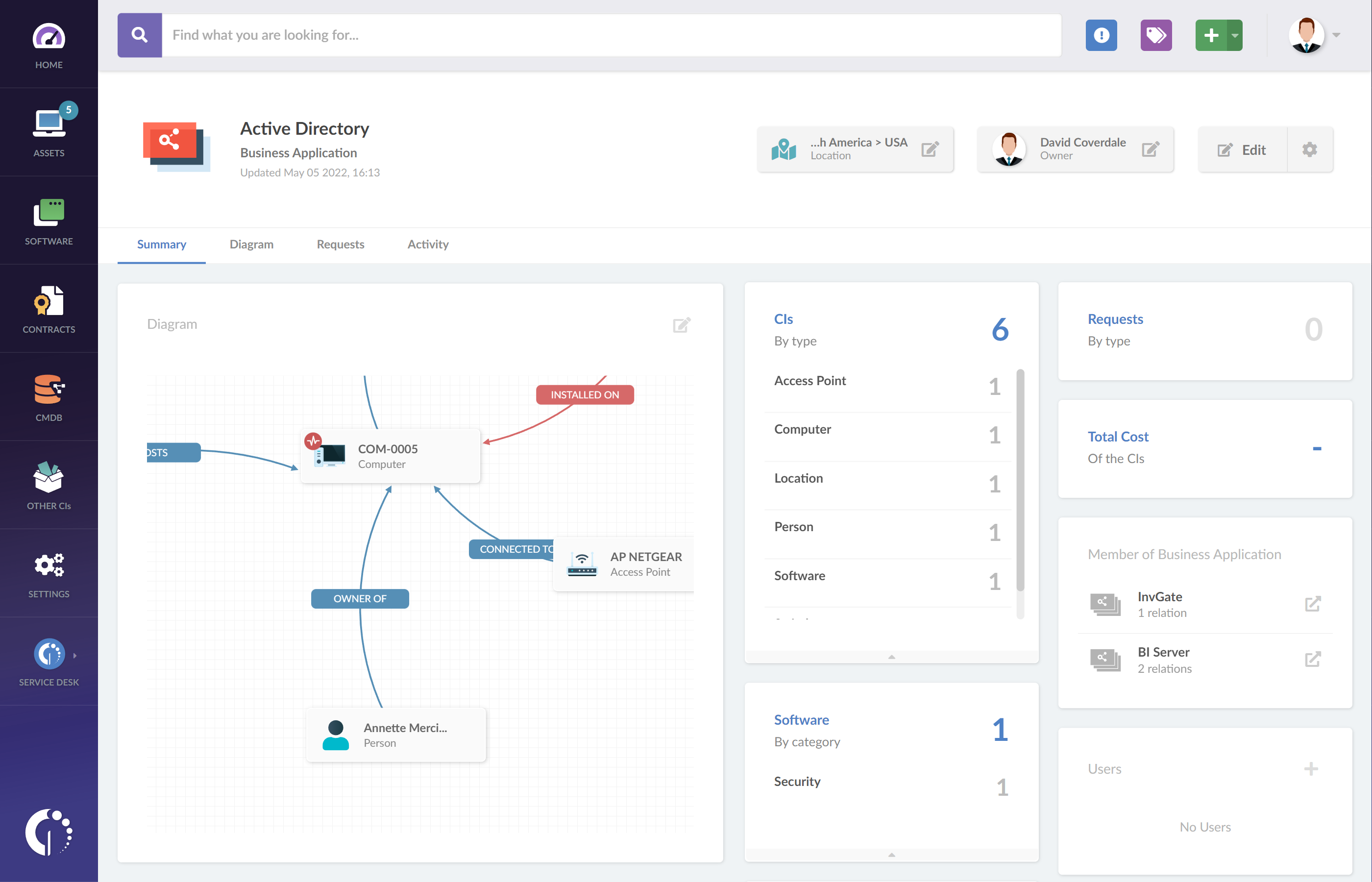 Enhanced cybersecurity compliance through asset monitoring
InvGate Insight's asset monitoring capabilities establish and enforce device health rules, facilitating proactive cybersecurity compliance. Swift identification of instances of non-compliance enables immediate action to ensure adherence to cybersecurity policies and safeguard the IT infrastructure.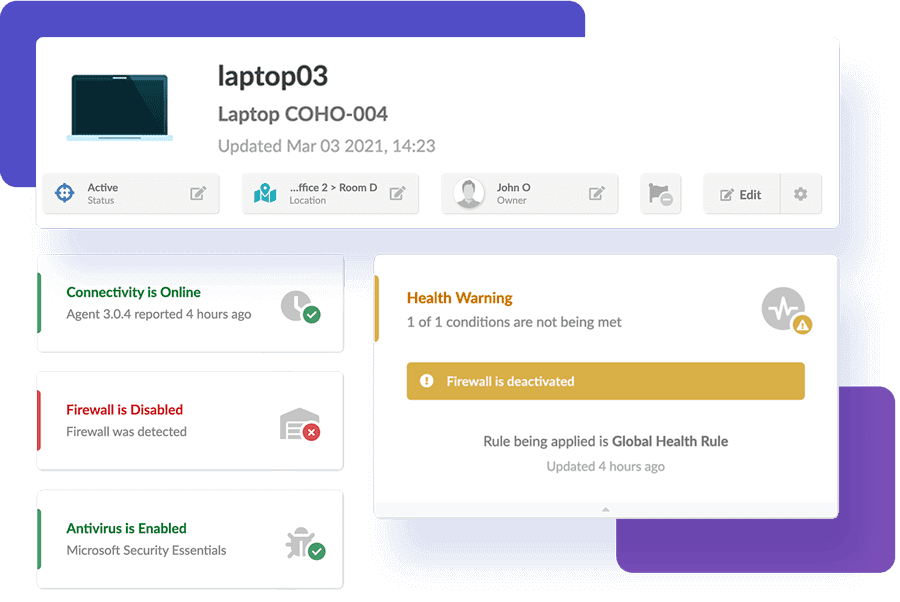 Automation and proactive alerts
InvGate Insight supports process automation and the creation of alerts, promoting proactive IT management. Automated alerts allow organizations to keep track of contract expirations and promptly inform relevant stakeholders, reducing the need for manual effort and the risk of oversight. This automated approach optimizes operations, allowing a greater focus on critical tasks and overall efficiency improvement.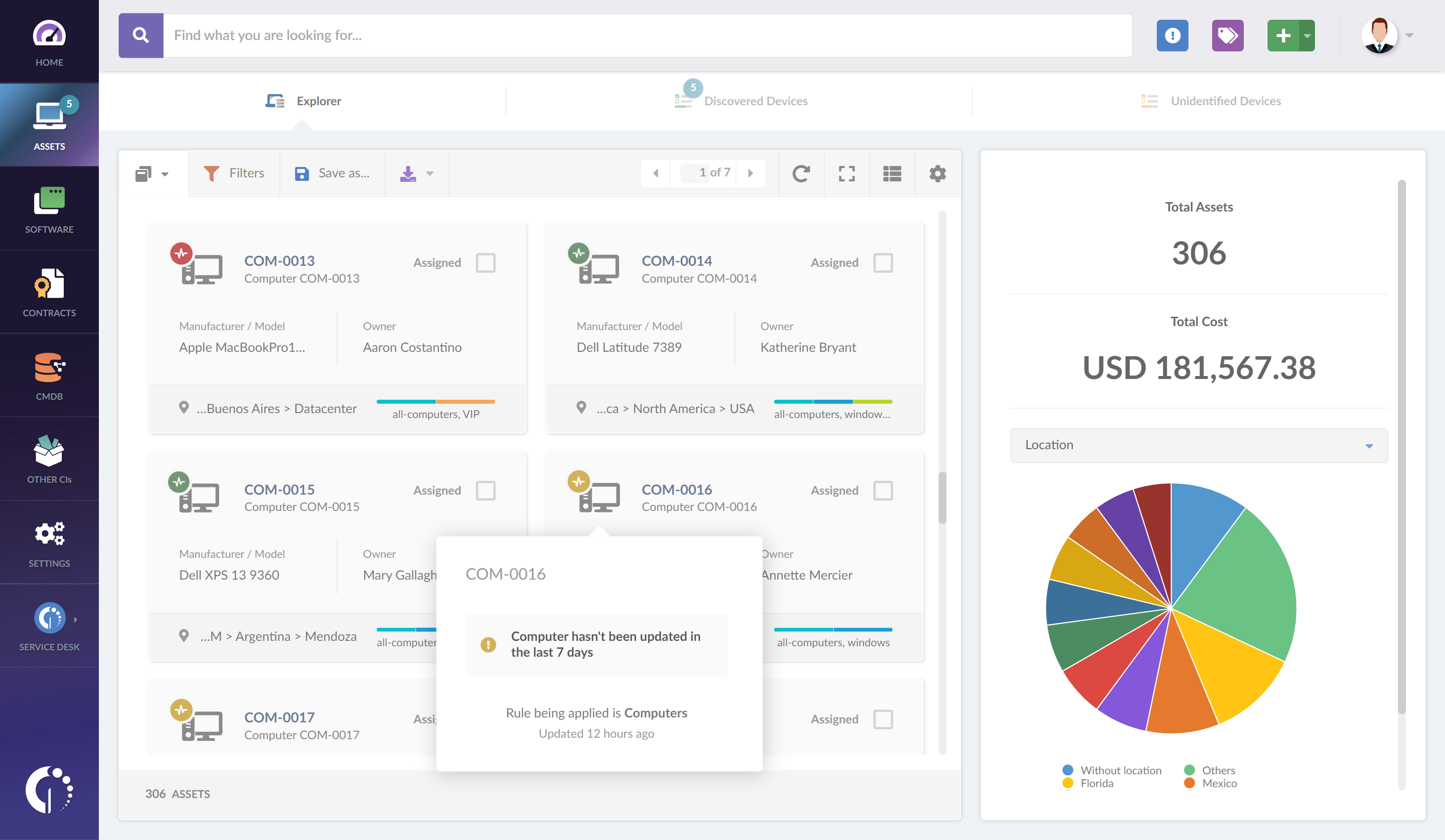 A comprehensive view of IT operations through native service desk integration
InvGate Insight seamlessly integrates with InvGate Service Desk, establishing a native connection that links tickets to devices and personnel. This integration provides a comprehensive overview of IT operations, streamlining management. Connecting service tickets to relevant assets and personnel enhances workflows, communication, and issue resolution.
Effortless Remote Management with native integration
InvGate Insight natively integrates with popular remote desktop tools like Windows Remote Desktop, TeamViewer, AnyDesk, and VNC. This integration enhances remote management capabilities, granting direct access to devices for troubleshooting and maintenance. This seamless remote access empowers organizations to effectively address IT issues, carry out maintenance tasks, and ensure uninterrupted operations.
Comprehensive insights into IT infrastructure
With its robust set of features, InvGate Insight provides detailed and actionable insights into IT assets, encompassing their status and usage. This comprehensive insight enables effective management and optimization of the infrastructure, ultimately leading to enhanced operational efficiency.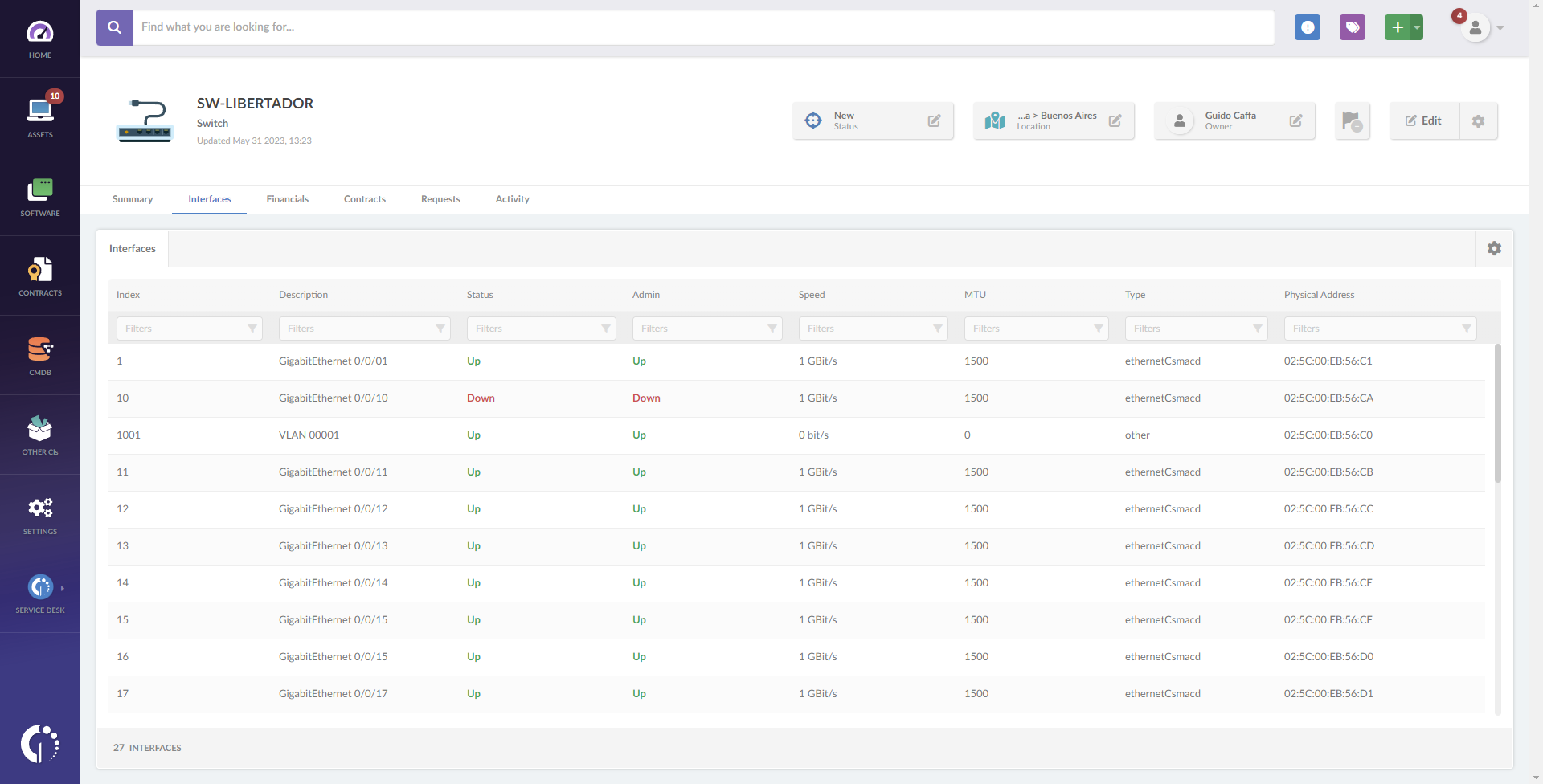 Next steps
The deliberation between NinjaOne vs. SummitAI Asset Management has highlighted distinct advantages and capabilities that cater to the diverse needs of modern businesses. Each platform brings its unique features and user-centric design principles, aiming to streamline workflows, bolster user experiences, and drive operational efficiency.
However, to find the ideal IT Asset Management solution, it's essential to cast a wider net and consider other alternatives. One noteworthy alternative is InvGate Insight, a platform that delivers a distinct blend of functionalities. From seamless Asset Management to elevated cybersecurity compliance and proactive cost optimization, InvGate Insight presents a comprehensive asset optimization approach that resonates with businesses' diverse needs.
Download our free ITAM implementation checklist today and map your next steps with clarity and confidence.