Organizations are constantly trying to increase productivity in their workforce. But despite their best efforts, it's common for productivity to start to take a hit as the organization grows. Employees struggle to find their way around mountains of files, documents, blueprints, contracts, and other information. Some of this information may go obsolete, some of it may get updated, and some may simply get lost.
A robust knowledge base is a great solution for this problem and complement your IT help desk. It is a simple tool to help an organization sort through and curate the entire collection of information they generate.
While building an IT knowledge base, there are a couple of common mistakes that are easy to fall into. We're covering a set of best practices in this article that will help you build an efficient and effective knowledge that delivers the best results.
But before we dive into the best practices, let's have a look at the basics of a knowledge base.
What is an IT help desk knowledge base?
In simple terms, you can picture a knowledge base as a search engine for your organization or company. With Google, for instance, you can search to find out (almost) every piece of knowledge in the universe. And as the name suggests, a knowledge base is part of a help desk software and contains all the relevant knowledge within your company. This includes all the standard processes in an organization, operating manuals, standard templates, employee contracts, products and services offered, and even the knowledge that is usually inside your specialized employees' minds.
A knowledge base stores all the information - both structured and unstructured - that is relevant to your organization. As an organization expands and scales up, it may become too difficult to keep track of files, documents, contracts, or other information. And documents and files are not the only types of information in an organization, which further complicates things.
Every organization requires a knowledge management strategy to handle this ever-growing mass of information and knowledge. This includes maintaining the consistency of the knowledge across the network and updating it as it changes.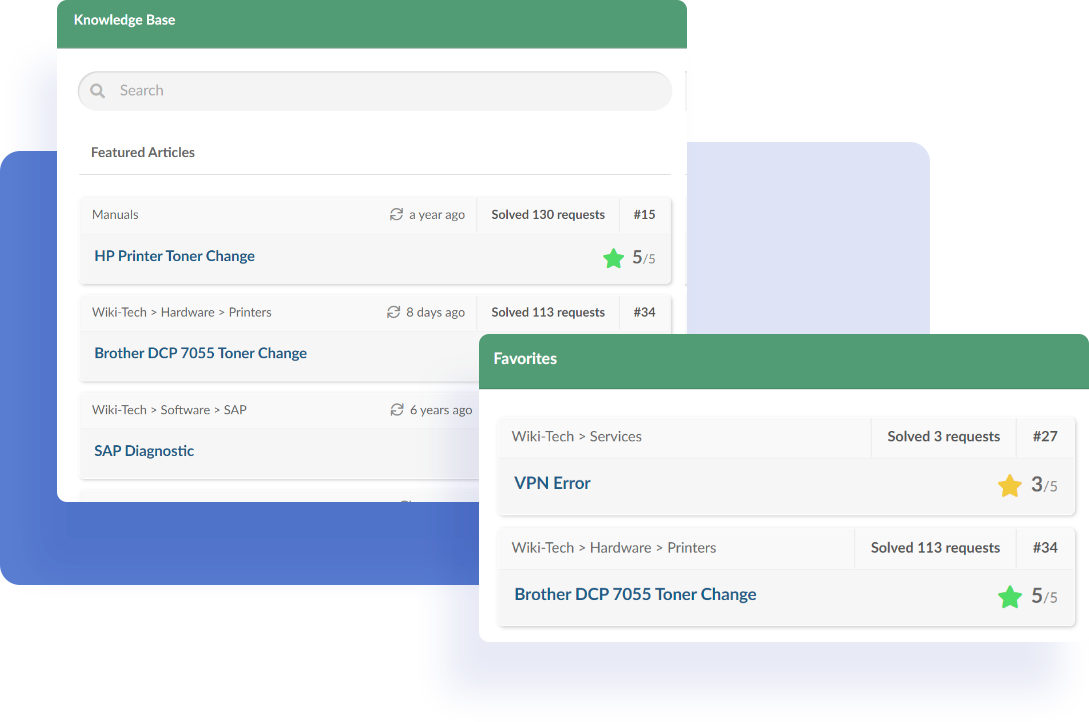 An enterprise help desk knowledge base software is an integral part of this. The relevant experts add information into the system which can later be accessed by everyone in the organization. For example, the HR team will add information related to the leave policy, employee rules, dress code, and others. The accounting team will add information related to topics like the process and format for submitting the expense reports, the process for submitting a supply order for approval, etc.
The knowledge base is not always limited to employee use alone. Specific sections such as product information, return policy, troubleshooting manuals may be available to the customers as well as the general public. External contractors who deal with your product, such as product installers can use training material from your knowledge base.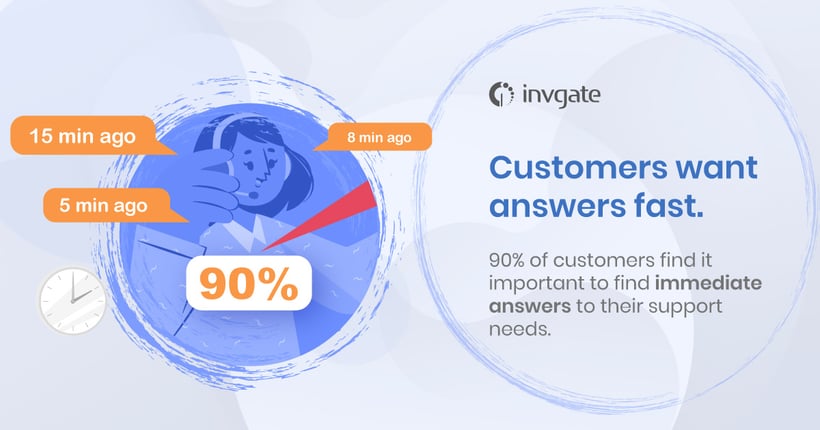 Why an IT help desk needs a knowledge base?
Knowledge Management is an integral part of ITSM best practices. A company needs a knowledge base for the same reason a library is organized systematically and the librarian keeps extensive records. There's just simply too much information and it will be difficult to keep track of everything without a system to organize it.
A help desk knowledge base will help an organization maintain the entire set of information produced or available within the organization, manage who has access to what, and find out if any piece of information is missing.
Here are a few key reasons why your organization need a knowledge base.
Without a knowledge base, knowledge loss is a real risk.
When you're in a competitive industry, you're at constant risk of losing important information or knowledge if your employees leave the organization. An NDA may prevent them from sharing it with a competitor, but it won't prevent your organization from losing the knowledge. And that's a huge reason to invest in effective knowledge management and a knowledge base.
A knowledge base software will Improve productivity in an organization
Without a knowledge base, employees are likely to spend a lot of time requesting information and waiting for a reply. A knowledge base can reduce this constant back and forth. If someone is unaware of the procedures or process for carrying out something, they don't have to run around the office asking everyone.
Imagine an employee facing an issue with their desktop or system. Without an IT knowledge base, they may ask their colleagues, or call up the IT department and discuss how they can get it resolved. But if the organization has a knowledge base software, they simply have to look up the service catalog and request the relevant service. Or if multiple employees are facing the same issue, the IT department could simply add a detailed solution to the IT knowledge base. The whole process is simplified.
Knowledge base software will make your team remote-ready
The back and forth question and answer can further hamper productivity if the organization has to go remote. This is a problem many organizations faced during the COVID-19 pandemic. You can't just walk to your colleague's desk to clarify something when you're remote. The situation is further complicated if your team is spread across different time zones. An effective knowledge base can help employees find precisely what they're looking for when they want it. And keeps your organization flexible and robust against any sudden changes.
Smoother knowledge transfer and onboarding
Imagine you're building a sales strategy and a sales team. You've come up with an effective sales funnel and a sales process. And now you're planning to scale up your team. It's easier to bring in one new person to the team and get them going. But onboarding 10 or more people and teaching them the workflow, the processes, the channels used, and others, won't be easy.
A knowledge base software can simplify this. New employees can learn everything they have to know easily and get started easily. New customers or external contractors can be onboarded easily with a good knowledge base. Instead of holding orientation sessions or personal guidance, the users can learn everything they want at their own pace.
Maintain consistency across the organization
The entire set of knowledge across any organization is constantly changing and evolving. Terms and conditions of a product may change, the workflows may change with automation, and the HR rules may change annually. Whatever the reason, everyone must be working on the latest version of the information. A knowledge base software will make sure that accurate and up-to-date information is available to every stakeholder.
Better customer support
A smooth service desk is essential for creating a smooth customer experience. A customer expects to have their queries and issues resolved as quickly as possible with no hassles.
We mentioned how customers can find out the exact solution with a good knowledge base software. But a knowledge base can also serve as a guide for your service desk. This will help avoid situations where two different customer support executives give two different answers to the same problem or put the customer on hold for a long time while they look up the answer.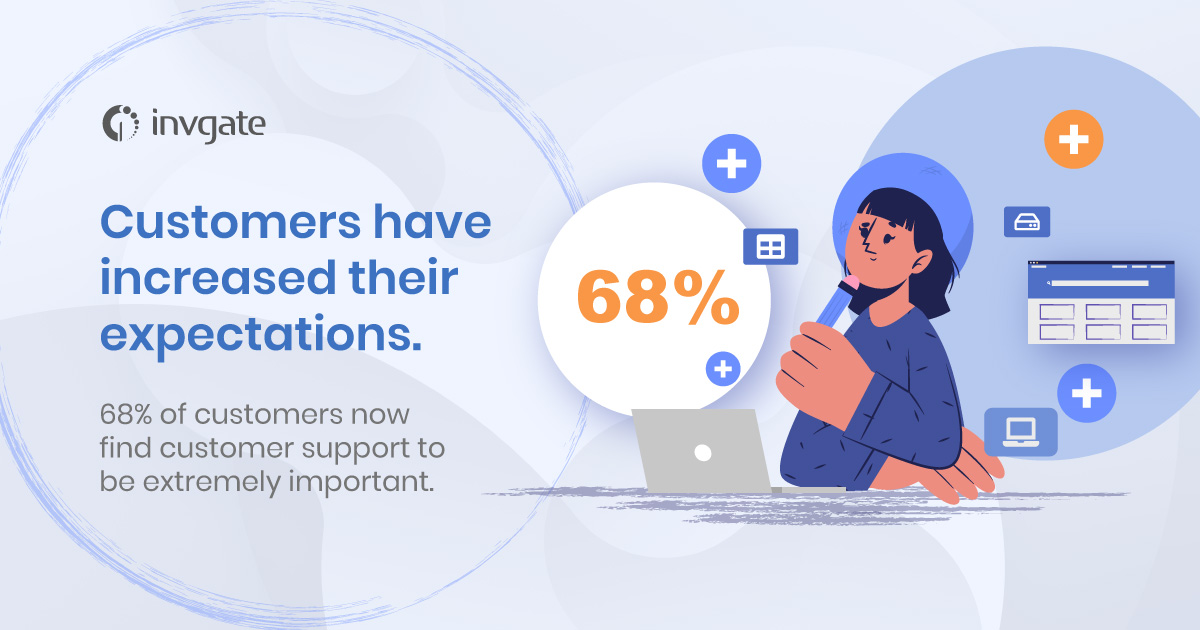 Best practices for your knowledge base
Building a knowledge base is no simple feat. You have to collect accurate and up-to-date information from different sources in your company and make them available clearly and concisely. Here are a couple of knowledge base best practices that will make the process easier and the knowledge base useful to more people.
Follow a consistent theme and layout from the beginning
Create a knowledge base template that aligns well with your brand. Once you have this nailed down, you'll find it easier to build upon it. It will also make it easier for users to navigate through and find what they're looking for. And when your theme goes well with your brand, your audience will easily recognize it and value it as authentic and trustworthy information. There are plenty of knowledge base templates available online for you to refer, but its better to create something best suited for you.
Leave no gray areas.
Understand your audience and write for them. Avoid complicated jargon or slang in your knowledge base articles. Don't assume that something is obvious. The whole point of a knowledge base is for people to get the answers themselves. So if they end up asking more questions, it means your knowledge base software is not effective. If you're making a user manual for a tech product, write it for the least tech-savvy person you can imagine. Search and remove any gray areas in your knowledge base articles(don't say a pinch of salt, say 2mg of salt).
Make it rich.
Add relevant pictures, videos, and infographics to the knowledge base. If you're describing a process, add relevant diagrams. If the knowledge base article is about doing something on the computer or a phone, add screenshots.
If it's just a very long step-by-step guide, users may find it difficult to go through. And if they get stuck somewhere, the guide may confuse them further.
Make sure the knowledge base is available
This is one of the most important among knowledge base best practices. To be most effective, a knowledge base has to be easily available and accessible to every user. If you're building a knowledge base to help your customers, they should be able to find it easily on your website or Google search. The knowledge base should meet accessibility standards for design. Optimize it for SEO so that if a customer searches the internet, they first find the relevant article from your knowledge base.
And the above point of adding videos and text is important here as well. People prefer to learn and understand in different manners. Some may like going through long articles instead of watching a two-minute video. And others may prefer watching a 10 min video guide.
And always test if it is working through various metrics. If fewer users ask fewer questions about the topic, it means your knowledge base is working. If users are asking questions about a specific topic, it means the knowledge base article about it is not clear enough.
You can always add a small survey at the bottom of every section or article to test your knowledge base.
And most importantly, when you build, build a self-service knowledge base
The whole idea behind building a knowledge base is to reduce the number of questions asked. Be it your employees, or your customers, a knowledge base software should be self-service. They should be able to find the answers they're looking for without someone else's help. The users shouldn't need someone to look up the answers and solve their queries. This simple concept or principle should be behind every decision you make while creating a knowledge base.
A self-service knowledge base doesn't just reduce the resources required on your company's end. Most customers(and employees) prefer looking things up for themselves instead of using chat support or calling the customer support line.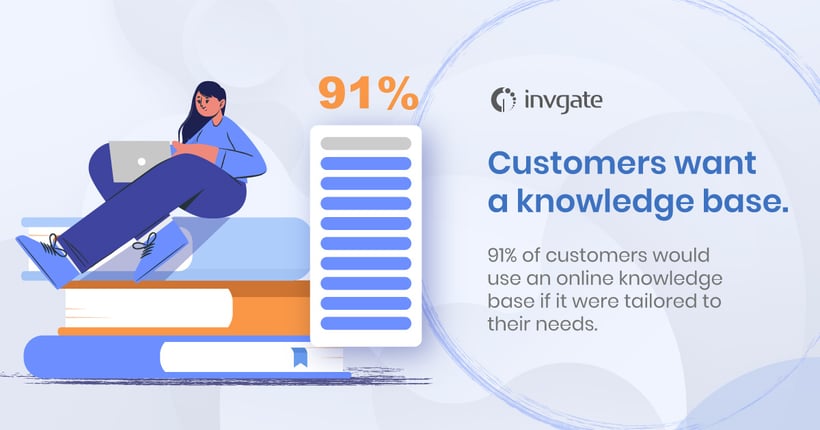 Common knowledge base pitfalls
Make sure you avoid these common mistakes while building a knowledge base.
Not having a good knowledge management strategy
A knowledge base is a key part of your knowledge management strategy. But to get the most out of it, a company needs a knowledge management strategy. The knowledge base has to be regularly updated with the latest information, and any new knowledge generated has to be added to the system. Investing in a knowledge base without updating it regularly is a complete waste of resources. The knowledge management should work around a continual improvement model.
If not for a dedicated knowledge management team, someone(knowledge manager) has to take the responsibility for this.
Not focusing on UI and UX
The importance of easy access cannot be overstated while developing a knowledge base. A user should be able to find and use the exact piece of information they're looking for within the shortest time. If users find your knowledge base difficult to use, they'll stop using it. If they find that your website is taking too long to load, they'll stop using it.
If they need to scroll through hundreds of articles to find the one they're looking for, they'll look for solutions elsewhere. If the knowledge base is for your employees, productivity will take a hit. If it is designed for a customer service portal, you'll find that the number of your customer support calls increases. Just think about the last time you called customer support and got annoyed at an automated answering system.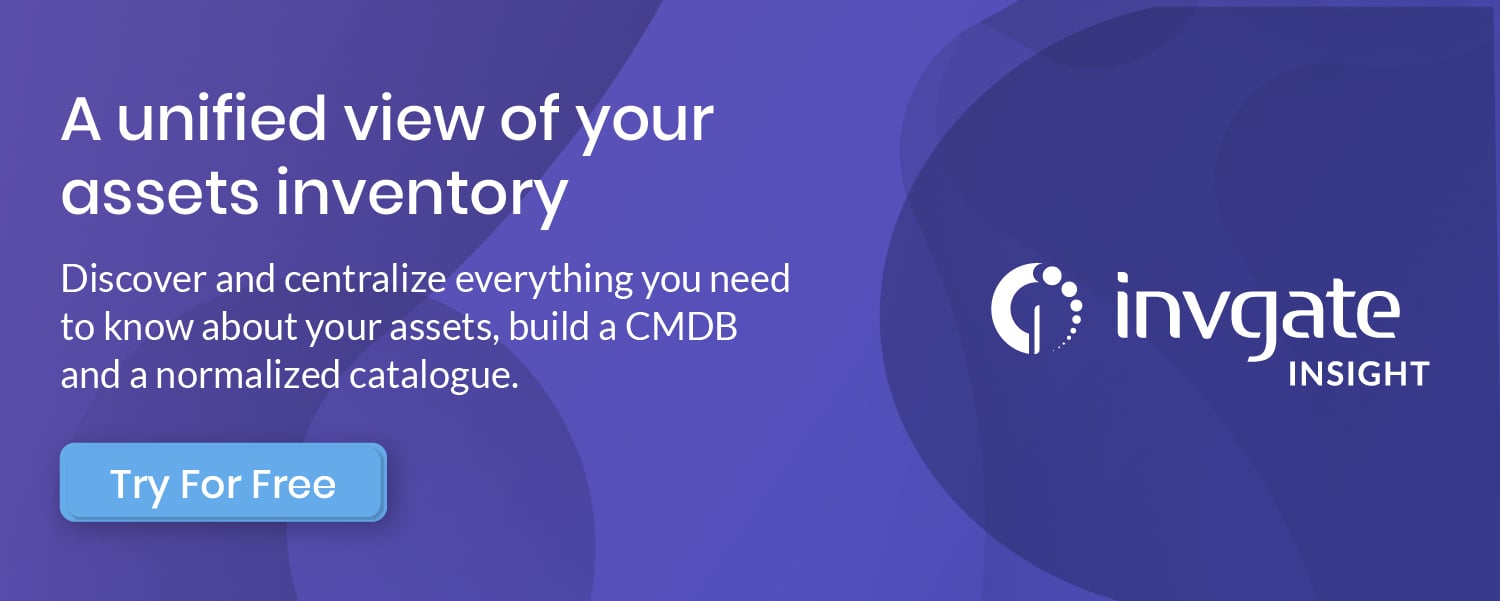 Whether you're building your own system or if you're buying it from a vendor, make sure the system is easy to use. Don't expect users to spend time learning how to use the system.
Not investing in people
A system is only as good as how people use it. Even if the system is well designed and helpful, there's always a hesitation to adopt new technology. This can be solved to a large extent by building a system similar to what users are already familiar with. Don't try to bring in a radical new design or interface all at once, even if it's better than any existing system. This is particularly important for customer-facing the end. You can train your employees to use a new system, you can't do the same for your customers.
When introducing the system, make sure you invest in raising awareness about it. Make sure everyone knows about the existence of the system. Maybe even incentivize using the system. A knowledge base system will start delivering value once its use is integrated into the organizational culture.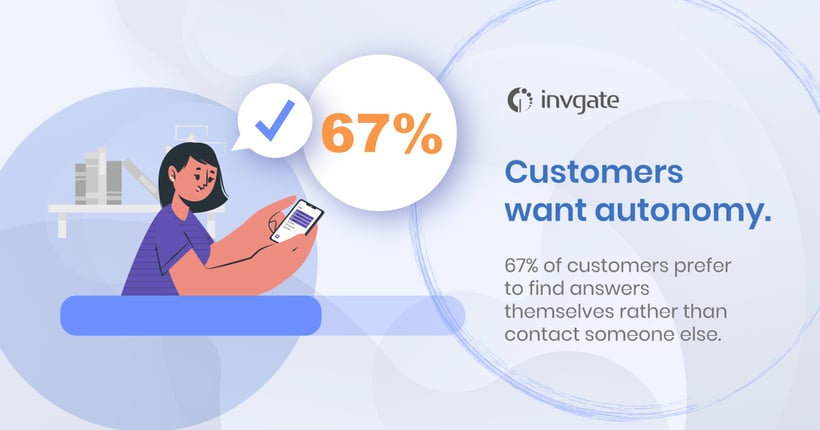 Choosing the best knowledge base provider
The process of choosing a knowledge base provider is similar to choosing any other software. The first step is to find out your exact requirements. Knowledge base for customer use and knowledge base primarily for internal use will need different features. And figuring this out will help you narrow down your search. The second step is to get a demo. Make sure that relevant stakeholders are present during the demo to find a solution best suited for all. And finally, narrow down to the specific vendor by considering factors like pricing, after-sales support, testimonials, and others.
The exact set of features that you'll need depends on your firm, the users, and the exact use case. But here are a few general features you can look out for in a knowledge base system:
Easy to use backend
While choosing a knowledge base system, a lot of attention is paid to the customers or employees who'll be using it. But an equally important factor is the ease of managing it. It should be easy to add, remove, edit, and update content. The system should have clear access roles to view, edit, or curate the content. If continual improvement is difficult, the knowledge base may not be kept up to date in the long run by your employees.
Search functionality
It is important that users find exactly what they're looking for without going through the entire knowledge base. For this, the knowledge base needs a robust search functionality. The search function has to be flexible enough to yield good results even for a vague query.
Version control
Frequent updates and changes to the information can make it difficult to keep track of the most accurate version. A version control system will make it easy to manage this and ensure that the most up-to-date information is available to the users.
Analytics
You can learn a great deal about your company and the knowledge base from how people are using a knowledge base. If your customers are constantly looking up how to perform an action on your software, it could mean that the software's UI has to be improved. If users are spending way too much time on an article in your knowledge base, it could mean that the article is not clear enough.
Integrations
Depending on your use case, you'll need different types of integrations. If the primary goal is for customer care, it should integrate with your existing customer service portal. If it is used for internal usage, it should integrate with the payroll management software, CRM platform, communication tools, project management tools, and other software used in the firm.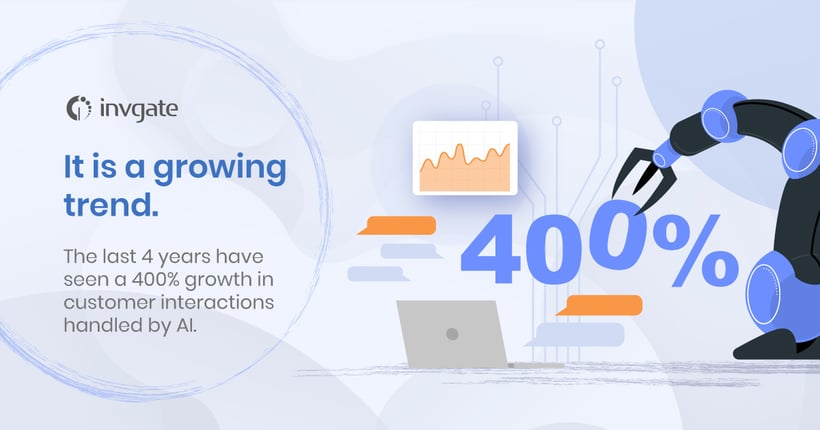 Frequently Asked Questions
What is in a knowledge base?
Basically, all the information that you deem relevant within an organization. Everything from procedures, best practices, emails, contracts, HR policy to workflows, standard operating procedures, troubleshooting manuals, and even what's inside the minds of the employees. If made just for customer use, it could be limited to whatever is relevant to them, such as user manuals, FAQs, etc.
What is an ITIL knowledge base?
ITIL is a set of processes, procedures, and tasks for providing efficient IT service. It is used by companies all around the world. An ITIL knowledge base is built around this, to help the company get the most out of its knowledge base. The knowledge base will work around ITIL process flows.
What is knowledge management?
Knowledge management is the process of collecting and curating information produced within a firm, maintaining it, and making it accessible to the relevant parties. It involves keeping the knowledge base up-to-date and making sure every stakeholder, from the management to the customers is aware of it.
What is the use of knowledge management?
As a firm grows and scales up, it becomes increasingly difficult to make sense out of the information generated and handled by it. Knowledge management helps collect, and curate this information, keep it updated, and make it easily accessible to everyone who needs it.
What is the difference between knowledge base and knowledge management?
A knowledge base is a technology used to handle and curate the entire set of knowledge produced by the organization. Knowledge management is a strategy or protocol implemented to collect, organize, and make the data easily accessible across the organization. Knowledge management is usually implemented by a knowledge manager along with a team, and a knowledge base is one of the tools used by them.
How do you create a knowledge base?
Once you have your knowledge management in place, the next step is to start collecting the relevant information and verifying the accuracy. Then a knowledge base system is either built in-house or purchased from a vendor according to your requirements. The collected knowledge is then added to the system.
How does a knowledge base feature into a self-service portal?
A self-service portal is often used to simplify customer service. Instead of having a second person assist the customer find the information they require, the customer is encouraged to find it themselves. A knowledge base is part of this self-service portal, and it (ideally)contains all the information a customer may need. A self-service portal helps a customer find the requisite information through a web search or a chatbot.
What is the difference between a service catalog and a knowledge base?
A service catalog showcases all the services provided by the IT department of a company. It simplifies requesting a service order from the IT department. A knowledge base contains all the information and knowledge within the company.