As you navigate the dynamic realm of IT Asset Management (ITAM), the challenge becomes even more intriguing with the clash of two prominent contenders: SummitAI Asset Management vs. Asset Panda. The choice you make holds the power to redefine your organization's efficiency and overall success.
In this blog post, we'll embark on an immersive journey, unraveling the intricacies of both platforms. Our goal is to equip you with a comprehensive ITAM software comparison that explores their features, benefits, and limitations in depth.
But that's not all – the horizon of possibilities extends further. We'll introduce a rising star in the ITAM landscape: InvGate Insight. With its distinctive functionalities and capabilities, this platform emerges as a compelling third alternative, finely tuned to match your IT Asset Management needs.
Join us in this exploration to discover the perfect fit that propels you towards optimized ITAM success.
Most looked-at features by buyers
When assessing IT Asset Management solutions, potential purchasers consider a range of crucial capabilities to identify the most appropriate choice that fits their specific needs and business requirements.
Here are some essential factors that buyers consider when selecting a tailored ITAM solution for their organization.
Unified Management of IT Assets and Inventory - Users can efficiently supervise and manage their

IT asset invent

ory

using a single interface. The solution needs to automate detecting assets and recording vital information like hardware specifications, software versions, and ownership details.


Construction of

CMDB

maps - Users can define and document relationships between various elements, such as hardware devices, software applications, network connections, and interdependencies. Visualizing these relationships aids organizations in understanding the impact of changes, assessing potential risks, and planning for effective

Incident

and

Change Management

.


Integration with help desk - Integration with

help desk software

facilitates seamless information exchange between Asset Management and

IT Service Management

procedures. This merging enhances communication, streamlines workflows, and improves overall service delivery.


Automation and proactive alerts - The solution should enable automated workflows for routine tasks like software updates, patch deployments, and system maintenance. This ensures smooth operations and quick responses to critical events through automation and timely proactive alerts.


Remote management with embedded tools - Integration with well-known remote desktop tools empowers IT teams to diagnose issues, apply patches, execute software installations, and perform system updates from a distance, eliminating the necessity for physical presence.


Enhanced cybersecurity compliance - Purchasers seek a tool that supervises asset security status to identify and proactively address security vulnerabilities.


Proactive cost management and financial optimization - The solution should incorporate financial data,

contract lifecycle management

, licenses, and other pertinent information to understand operational expenses comprehensively.


Flexible deployment options - Users prefer a platform that provides flexibility in choosing deployment models, including cloud-based, on-premises, or hybrid solutions.


Software management optimization - This functionality allows users to monitor software installations, ensure proper

Software License Management

, and pinpoint instances of over or underutilization.


Comprehensive infrastructure insights - The platform should offer complete visibility into the status, performance, and usage of IT assets, enabling users to make well-founded decisions and optimize their infrastructure. It should also include robust reporting and analytics capabilities.
What is SummitAI Asset Management?
Utilizing artificial intelligence, SummitAI IT Asset Management effectively supervises assets, ensuring they are optimally utilized and compliant with regulations. This AI-driven solution seamlessly integrates with IT Service Management, aligning smoothly with established industry standards like ITIL and IMAC. Its primary functionalities encompass:
The software enterprise responsible for SummitAI IT Asset Management is SymphonyAI Summit, a specialist in AI-powered solutions for IT management. Their product range encompasses both IT Service Management and IT Asset Management platforms. Founded in 2015 and headquartered in Pune, India, SymphonyAI Summit caters to a diverse global clientele, with more than 100 contented organizations as its customers.
What users like from SummitAI Asset Management
SummitAI Asset Management has garnered widespread recognition and favorable feedback from credible sources like Gartner. Users have emphasized several benefits, outlined as follows.
Operational advantages - Users witness heightened productivity and improved teamwork. The tool's accelerated operational speed results in time savings. Visual inspection capabilities aid users in better understanding asset status and condition, while remote asset monitoring provides convenience and adaptability.
Reports on software inventory, normalization, and compliance - These functionalities receive high praise for their effectiveness and value.
Additional features - Users value the assortment of reporting choices that allow tailored reports aligned with their needs. The all-inclusive platform caters to diverse requirements, encompassing both Service Management and IT Asset Management, streamlining operations.
User interface - The platform offers a transparent and efficient dashboard, allowing convenient access to vital information and precisely presenting critical data. The user-friendly layout and intuitive interface simplify navigation for both newcomers and seasoned users.
Proactive maintenance - This feature enables proactive planning and minimizes asset downtime.
Cost efficiency - SummitAI offers an extensive array of features at a competitive cost, positioning it as a cost-effective alternative compared to other solutions.
Application control and asset integration - The combination of application control and seamless asset integration substantially streamlines users' workflows.
Discovery tool - SummitAI's discovery tool captures comprehensive details about hardware and software assets.
Enhanced user experience - SummitAI ensures a positive user experience through its intuitive interface, facilitating smooth interactions and swift task execution. The incorporation of the CINDE chatbot elevates user support by promptly addressing common queries.
Software usage tracking and non-compliance awareness - The software metering feature empowers users to track software usage, optimizing licenses and reducing costs. The non-compliance awareness function assists organizations in adhering to software licensing agreements and mitigating potential legal and financial risks.
What users don't like from SummitAI Asset Management
Despite the many strengths and positive attributes of SummitAI Asset Management, it is not without its share of customer concerns and criticisms.
The following are several common issues users bring up in reviews from reputable sources such as Gartner.
Usability and accessibility - Some users find certain functions that require multiple clicks unwieldy. The inability to use the tool concurrently across multiple devices imposes constraints. Navigating and performing maintenance tasks within the platform can prove to be challenging. Users have reported issues with agent syncing, affecting the accuracy and dependability of data. Furthermore, reservations exist about enhancing the user interface and experience, with certain users showing discontent with the login process.
Reporting and security - Users desire swifter reporting capabilities to expedite decision-making. Some individuals have expressed worries about security-related matters concerning the existing data.
Customization and compatibility - Users wish enhanced support in customizing the tool to align with their needs. The limited compatibility of the discovery tool with Microsoft OS might hinder its effectiveness in diverse environments. Certain customizations require assistance from the support team, potentially leading to delays.
Specific features - Users have encountered difficulties in displaying the count of resolved tickets per analyst, which has implications for reporting and analytics.
Pricing - Users juxtapose SummitAI's pricing with other tools and have raised queries regarding the overall pricing considerations, despite recognizing the favorable features offered for the cost.
What's SummitAI Asset Management's argument over Asset Panda?
When comparing SummitAI Asset Management and Asset Panda, SummitAI stands out with a host of compelling advantages that underscore its position as a powerful Asset Management solution.
The following points highlight SummitAI Asset Management's distinct edge.
Operational excellence - SummitAI Asset Management enhances productivity and teamwork, offering accelerated operational speeds for time savings. Its visual inspection capabilities and remote asset monitoring foster better asset understanding and adaptability.


Comprehensive reporting - Users benefit from robust reporting options, enabling tailored insights into software inventory, normalization, and compliance. This functionality adds significant value and efficiency to ITAM processes.


All-inclusive platform - SummitAI's platform serves as a one-stop solution, catering to a range of diverse requirements encompassing both Service Management and IT Asset Management. This comprehensive approach streamlines operations and ensures seamless integration.


Intuitive user interface - SummitAI Asset Management provides a transparent and efficient dashboard, making vital information accessible and critical data presentation precise. The user-friendly design simplifies navigation for users of all levels of experience.


Proactive maintenance - The feature of proactive maintenance empowers organizations to strategically plan and minimize asset downtime, contributing to smoother operations.


Cost efficiency - SummitAI Asset Management offers a wealth of features at a competitive cost, positioning it as a cost-effective alternative compared to other solutions on the market.


Enhanced user experience - The intuitive interface ensures a positive user experience, facilitating smooth interactions and task execution. The incorporation of the CINDE chatbot adds further value by promptly addressing user queries.


Software usage optimization - SummitAI empowers users to track software usage, optimize licenses, and reduce costs through its software metering feature. This contributes to improved financial management and compliance.


Security and compliance - SummitAI Asset Management's strong emphasis on security and compliance ensures organizations can confidently adhere to licensing agreements and mitigate potential legal and financial risks.
What is Asset Panda?
Asset Panda offers a robust and innovative asset tracking and management platform designed to streamline and optimize Asset Management processes for organizations of all sizes. With a wide range of features and capabilities, Asset Panda empowers businesses to track, manage, and maintain their valuable assets.
With a globally distributed and adaptable remote workforce, Asset Panda shatters conventional norms, redefining the boundaries of corporate operations. Asset Panda emerges as an industry vanguard, distinguished by an unwavering commitment to innovation and unparalleled customer service.
What users like from Asset Panda
Asset Panda has garnered extensive recognition and positive feedback from reviews from reputable sources such as Gartner. Users have prominently outlined a range of advantages, as detailed below.
User-friendly interface - The tool has an intuitive design that ensures ease of use and seamless navigation.
Customer service - Users commend the skilled and proactive professionals who drive the tool's customer service.
Feature set - The tool stands out with its robust offerings, including comprehensive reporting and analytics, extensive customization options, and seamless integrations with other software.
Value for money - Users unequivocally appreciate the remarkable value the tool provides for the price they invest.
What users don't like from Asset Panda
While Asset Panda has a number of strengths and positive attributes, it is not exempt from customer concerns and criticisms.
Here are the common issues users highlight in reviews from respected sources such as Gartner.
User navigation challenges - Some users find Asset Panda perplexing, especially when searching for specific items, and require more streamlined guidance.
Support responsiveness concerns - There are complaints about delayed customer service response, where users seek quicker assistance and more responsive support.
Customization and reporting enhancement - Some users feel that additional customization options and a more intuitive reporting system would be beneficial to improve user control and understanding.
Pricing considerations - The pricing might be relatively high, especially for small or budget-constrained companies, prompting users to seek more cost-effective options for their circumstances.
What's Asset Panda's argument over SummitAI Asset Management?
When considering Asset Panda and SummitAI Asset Management, Asset Panda offers a distinct set of advantages that set it apart as a robust Asset Management solution.
The following points outline Asset Panda's strong stance:
User-centric interface - Asset Panda's user-friendly interface ensures a seamless experience, promoting ease of use and intuitive navigation for all users.


Proactive customer service - Users commend Asset Panda's responsive and proactive customer service, where skilled professionals drive swift issue resolution and exceptional support.


Feature-rich solution - Asset Panda excels in its feature offerings, with comprehensive reporting and analytics, extensive customization options, and seamless integrations with other software, all designed to enhance efficiency.


Unbeatable value - Users consistently praise Asset Panda for its remarkable value, underscoring its cost-effectiveness and the significant return on investment it provides.
Considering InvGate Insight as an ITAM solution alternative
For organizations seeking tailored IT Asset Management alternatives that align with their specific needs and requirements, considering InvGate Insight is recommended. As a robust ITAM solution, InvGate Insight provides a diverse array of features and functionalities that position it as a viable option for streamlining Asset Management processes.
Let's delve into its core characteristics.
Flexible deployment options to suit needs
Recognizing the individuality of each organization's requirements and industry regulations, InvGate Insight offers adaptable deployment choices. This flexibility allows organizations to opt for either a cloud-based or on-premise solution, ensuring alignment with specific needs and compliance standards.
Enhanced IT Asset and Inventory Management
InvGate Insight facilitates seamless integration by aggregating data from various sources, including popular operating systems, cloud service providers like AWS, Google, Azure, and MDMs such as JAMF and Google Endpoint Manager. This comprehensive integration guarantees efficient management of both IT and non-IT assets, locations, and personnel, thereby saving time and offering a holistic view of the infrastructure.
Enhanced cybersecurity compliance via asset monitoring
InvGate Insight's asset monitoring capabilities establish and enforce device health rules, enabling proactive cybersecurity compliance. Rapid identification of non-compliance instances permits immediate action to ensure adherence to cybersecurity policies and safeguard the IT infrastructure.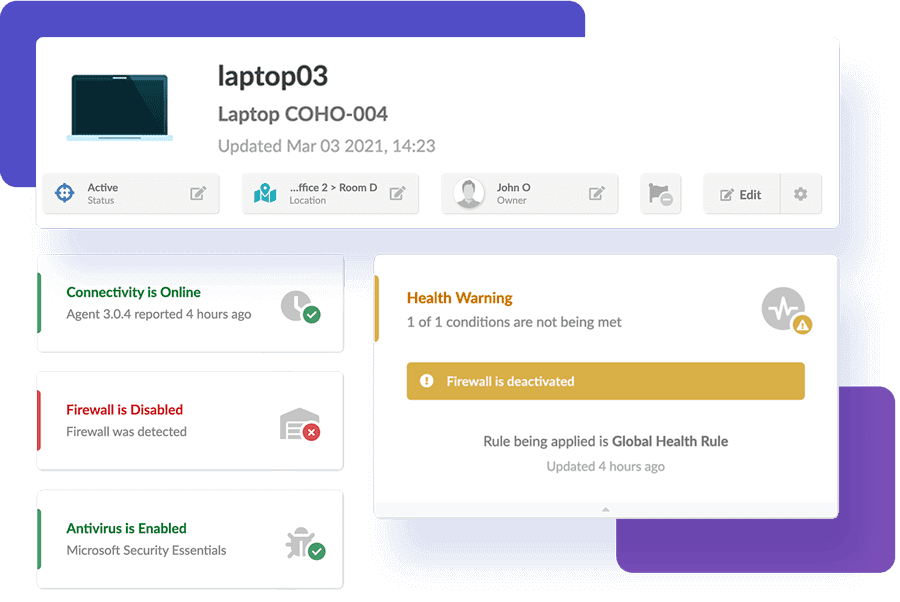 Proactive operational cost management
InvGate Insight allows the direct integration of financial data, contracts, licenses, and other vital information into the system. This approach offers organizations a comprehensive understanding of operational costs, enabling proactive and informed financial decisions. This optimization of budget allocation maximizes the value derived from IT investments.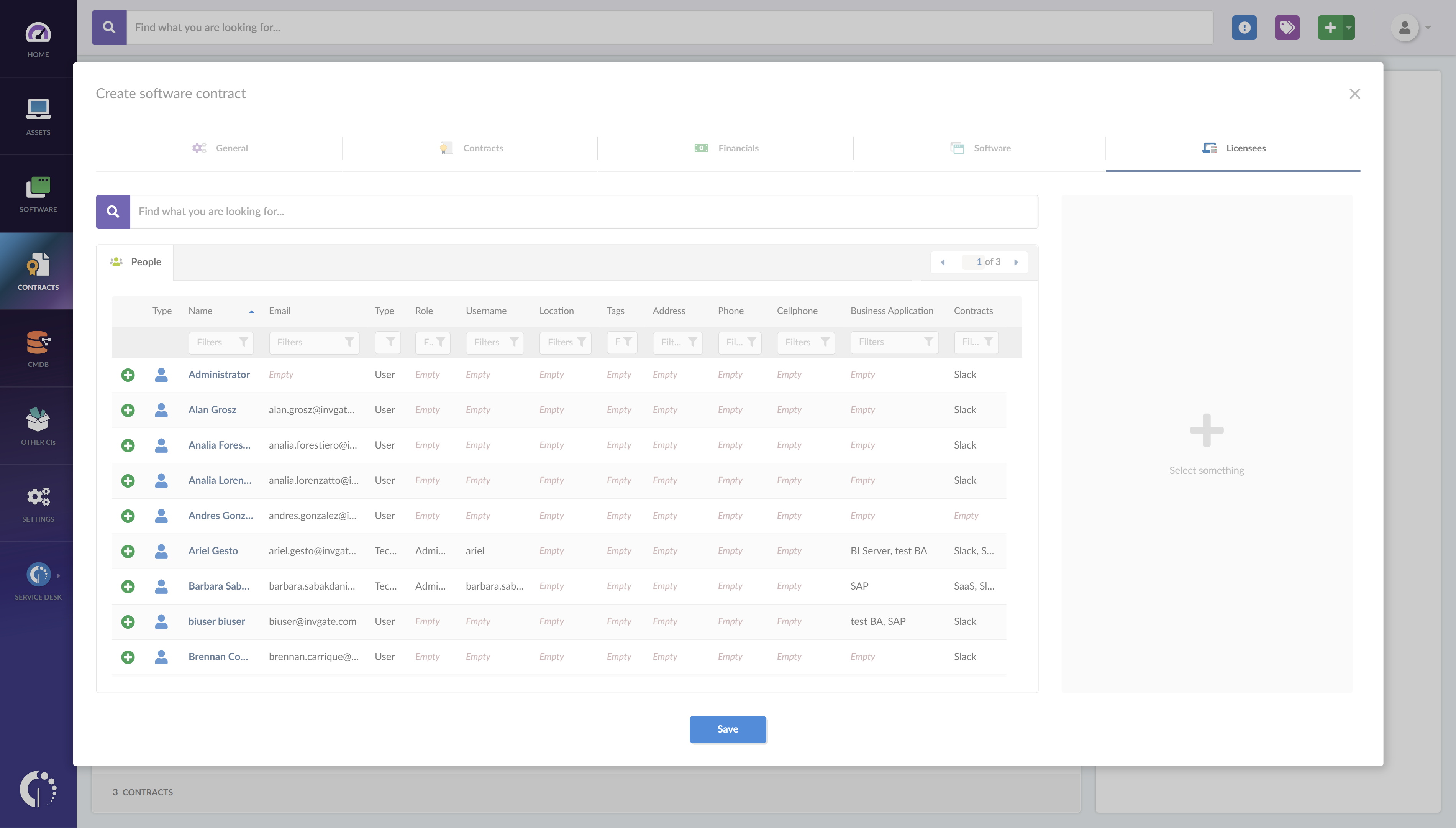 Automation and proactive alerts
InvGate Insight promotes process automation and the establishment of alerts, fostering proactive IT management. Automated alerts enable organizations to monitor contract expirations and promptly inform relevant stakeholders, minimizing manual effort and the risk of oversight. This automation optimizes operations, enabling a focus on critical tasks and improving overall efficiency.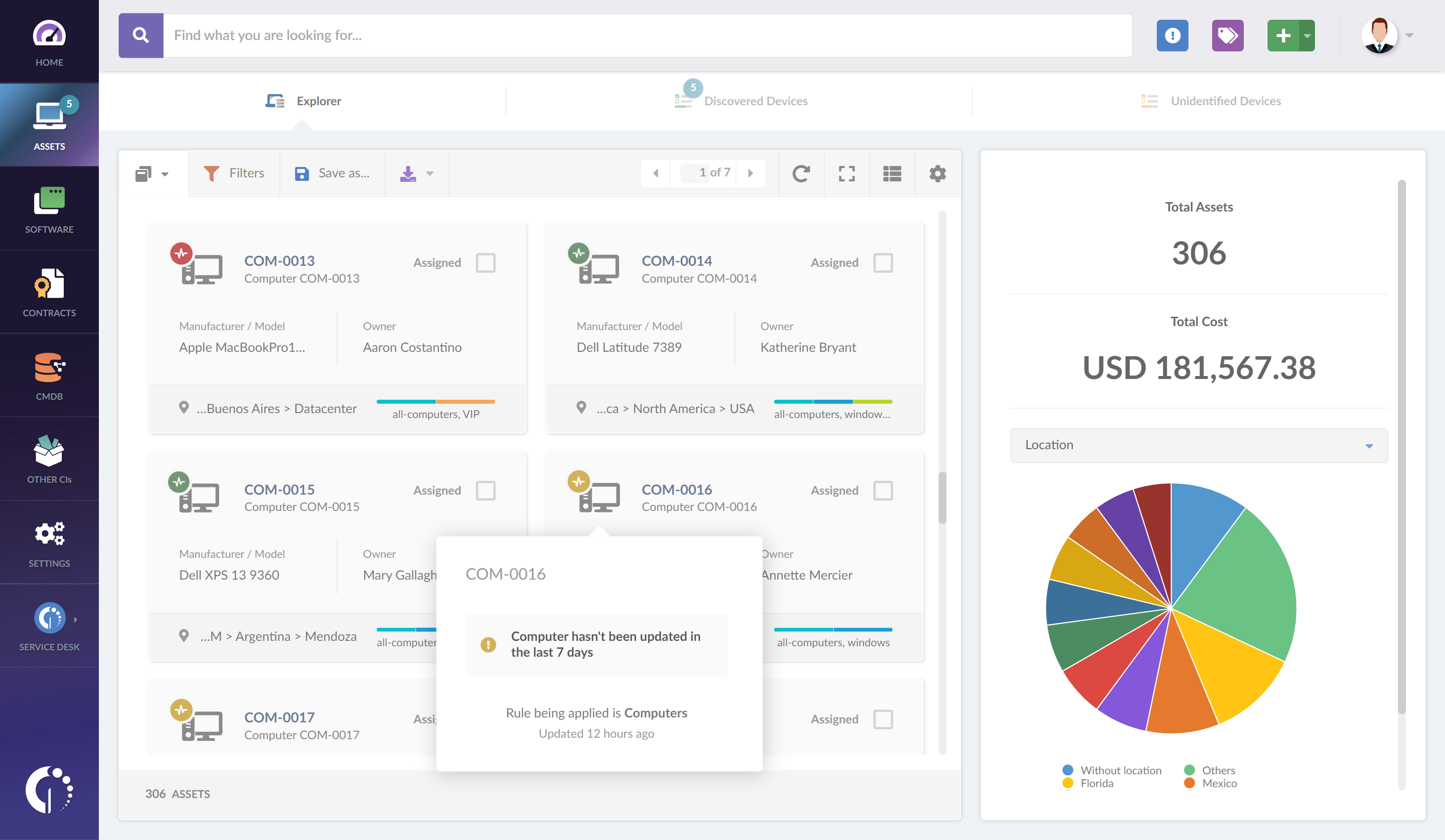 A holistic view of IT operations through native service desk integration
InvGate Insight seamlessly integrates with InvGate Service Desk, providing a native connection that links tickets to devices and personnel. This integration offers a comprehensive perspective on IT operations, streamlining management. Associating service tickets with relevant assets and personnel enhances workflows, communication, and issue resolution.
Streamlined operations through CMDB map builder
InvGate Insight's tool for constructing CMDB maps furnishes a clear and comprehensive overview of the IT ecosystem. Visualizing relationships between components can identify potential impacts on operational continuity, leading to proactive risk mitigation. This enhanced visibility reduces service times, enhances operational efficiency, and ensures smoother IT operations.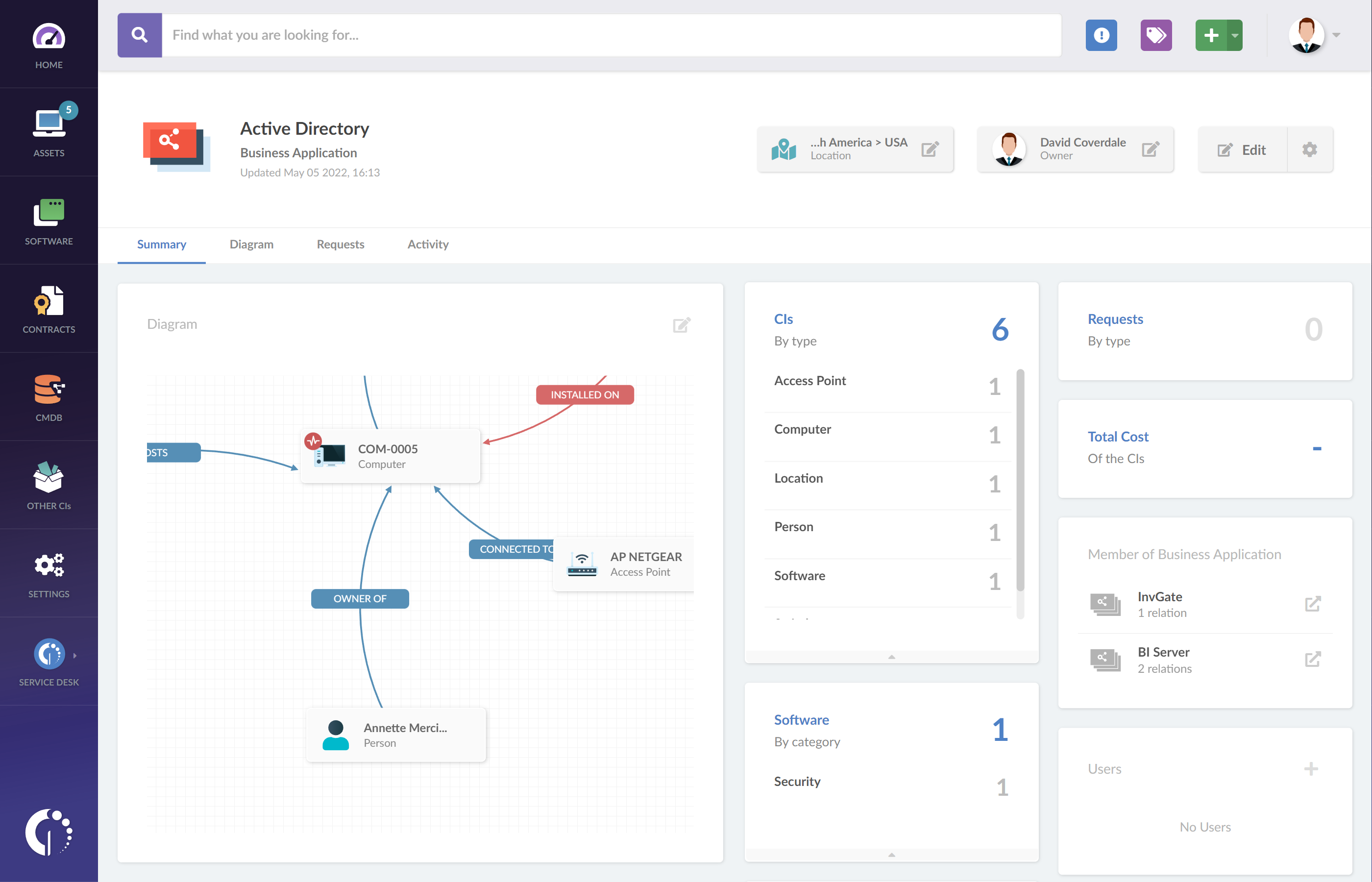 Effortless remote management with native integration
InvGate Insight natively integrates with well-known remote desktop tools like Windows Remote Desktop, TeamViewer, AnyDesk, and VNC. This integration augments remote management capabilities, affording direct device access for troubleshooting and maintenance. This seamless remote access empowers organizations to effectively address IT issues, execute maintenance tasks, and ensure uninterrupted operations.
Comprehensive insights into IT infrastructure
With its robust suite of features, InvGate Insight provides detailed and actionable insights into IT assets, encompassing their status and usage. This comprehensive insight enables effective management and optimization of the infrastructure, ultimately enhancing operational efficiency.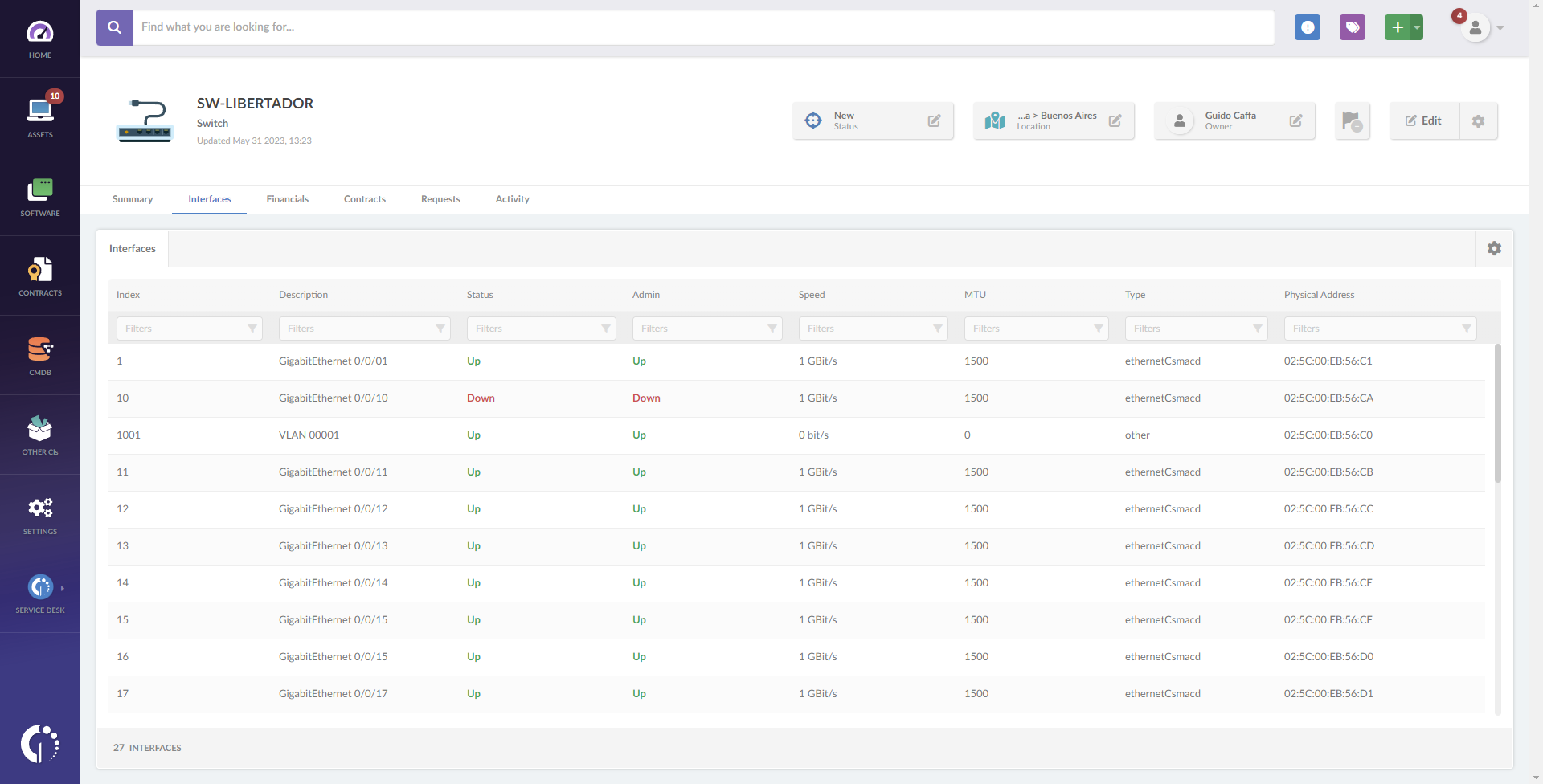 Optimization of software efficiency and cost reduction
InvGate Insight empowers organizations to identify and gauge the usage of paid software, facilitating efficient Software Management. By gaining visibility into software utilization, underutilized licenses can be reallocated, unnecessary costs minimized, and returns on IT investments maximized. This optimization of software efficiency assists organizations in making the most of their software resources.
Next steps
When it comes to choosing between SummitAI Asset Management vs. Asset Panda, both platforms have remarkable strengths and capabilities.
However, in the quest to find the perfect fit, it's a good idea to broaden your perspective and consider alternative solutions.
One such contender is InvGate Insight, which introduces a unique fusion of functionalities. From effective management strategies to bolstered cybersecurity compliance and proactive cost optimization, this platform presents a comprehensive approach to asset enhancement.
Download our free ITAM implementation checklist to help you map your next steps. Don't limit yourself to just two choices. Exploring alternatives like InvGate Insight can open doors to new possibilities!