Tracking and analyzing the right IT Asset Management metrics is essential for organizations of all sizes to guarantee a smooth delivery of IT services. An efficient ITAM practice makes sure that both hardware and software assets are always available at the least possible cost. Through routine updates and upgrades, it also ensures that your assets are not subject to unnecessary or unexpected downtime, and it can help to reduce IT security risk.
But how do you know if your Asset Management is correctly aligned to your plan and working towards your goals? Tracking ITAM KPIs is fundamental to see how your ITAM strategy is really functioning and make adjustments where needed.
For this, it's important to count with the right Asset Management software, which should include specific tools to create ITAM reports to provide you with the right visibility. With InvGate Insight, you will have full access to a unified inventory to keep your data centralized and always updated, and monitor KPIs in real-time.
In this article we will describe five essential metrics you should start analyzing and explain why and when they are useful to track. Finally, we will also learn how to calculate them on InvGate Insight.
Keep reading to take your ITAM practice to the next level!
Why are ITAM KPIs important?
KPIs or Key Performance Indicators help to ensure the ITAM strategy is operating as intended. They can provide useful information, for instance, on how well a certain initiative is working out and how close it is to the expected results.
This could be anything from installing a new workflow automation tool to building a cybersecurity culture. For the former, it would be important to know if and how much the employees are actually using it; to measure the latter, you might want to track the state of your assets and if they are safe and in compliance.
Metrics can also help organizations and managers make future decisions for their IT Asset Management strategy. They get access to relevant data to plan out next steps. For example, by monitoring asset utilization, managers can make better purchase decisions and prevent asset wastage.
KPIs also provide trustworthy information that can help "sell" initiatives to the stakeholders or showcase their importance. They can show how new software or a practice improves the end-user experience or contributes to the revenue for the organization. Finally, they can also help organizations and departments stay compliant and pass audits easily.
So, ultimately, with well-designed KPIs, IT managers can ensure ITAM initiatives are aligned and working towards the goals of the organization.
How to define IT Asset Management metrics
The most important aspect to consider when defining which KPIs to focus on is to make sure that they're aligned with your organization's specific objectives. Businesses and managers often go behind vanity metrics or solely focus on those numbers that always seem to be going up, but this does not always reflect business growth.
So, the first step is to define what you intend to achieve with your ITAM strategy. An objective to start off could be to reduce the overall expenditure on assets, or to improve the availability of IT services.
After this, the second step is to set out which KPIs are best aligned with this. Suppose that you decide to measure expenditure, you can track asset utilization.
To get useful results, it's important that the KPI is defined clearly from the start; it must be objectively measurable and actionable.
But the process doesn't end with this. All KPIs must be validated by stakeholders and clearly and effectively explained to all the involved parties. It's important that the whole team takes responsibility over it, to make sure that they're consistently measured and consequently improved.
Once the process has set off, don't forget that KPIs must be constantly monitored to ensure not only that the initiative is turning out successful, but also that the metrics reflect this success. Through this process, you can always redefine the KPIs accordingly.
5 essential Asset Management metrics to track
No matter the size or the activity of your organization, there are some essential ITAM metrics that will help you analyze your scenario and make informed decisions.
1. Stale Assets
Stale Assets are the number of assets waiting for updates, including both software and hardware. This reflects not only how efficiently your team is keeping everything up to date, but also how protected you are in terms of cybersecurity.
This metric can help you prioritize pending updates and stay on top of sending out updates to your IT team. It can also provide you with information to introduce changes to how you handle this process in general.
For more detailed information, you can further define this KPI to distinguish between assets that are in need of minor, major, and critical updates, and determine which assets are critical and which are least important.
It may also be a good idea to keep track of mean time to receive updates for various categories of devices. For example, fifty employee computers without the latest UI update may not be as dangerous as three routers with a pending critical security update, which can turn into a security nightmare.
The best way to do this on InvGate Insight is with the Health Status feature, through which you can customize the urgency of the issue and get notified whenever something isn't working as it should. This can include certain security policies or an alert if the Group Policy Object (GPO) isn't being applied or the anti virus or the firewall are disabled.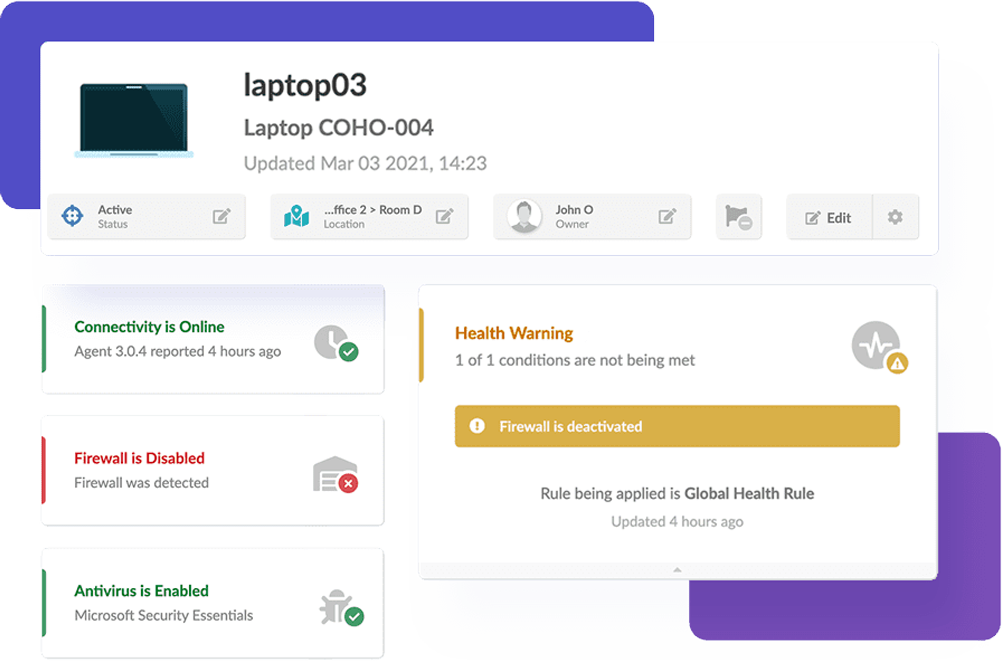 2. Asset Utilization
It's important for organizations to know how much their hardware and software assets are actually being put to use. Asset Utilization will give you a clear picture of the IT needs and the effectiveness of your budget. This can help you significantly reduce IT costs by better-allocating resources.
Unutilized assets, both hardware and software, all have something in common: they are not generating any added value to the organization and can be costly for the company to maintain.
For some assets, it may be useful to determine how often or for how long they have been used. For instance, when it comes to software, it is important to look into the software license usage. When it comes to hardware, it is key to make the most of its lifecycle.
InvGate Insight's tagging system is the best way to classify and track different types of assets. You can create automated smart tags to incorporate new assets when they match the conditions of those tags. To calculate asset utilization, you can easily tag and identify every asset that hasn't been used in 30 days or more.
3. Lifecycle Management
Managing the full lifecycle of assets is a crucial part of effective IT Asset Management. Following and analyzing every stage of the lifecycle is useful to plan future investments and check for anomalies. Keeping track of the different time frames for different types of assets and of the number of devices reaching their retirement can help you prevent unexpected downtime and ensure that the devices are updated on time.
To do this, you must configure InvGate Insight to track the lifecycle as a KPI, and alert you when devices are approaching their end-of-life. You can also track the lifespan of different assets to see if it is working as advertised by the vendor. If you're spotting lower figures, you may want to explore your device usage and maintenance work, or eventually look into alternate vendors.
Again, correctly using the Health Status on InvGate Insight will give you all the information you need to follow up on the whole lifecycle of your assets.
4. Return-On-Investment (ROI)
Calculating the Return-On-Investment can help convince stakeholders about the importance of an asset. In the IT department, it can also help stress the importance of getting the most out of the available assets before investing in new ones.
In addition, tracking this metric can help you get a clear picture of those assets taking up resources without delivering value.
ROI can also help you compare new options when incorporating assets. For example, if a new software solution can reduce the workload by 10 hours a week without compromising the quality of work, it will probably be a good idea to invest in that.
However, keep in mind that this metric does not always fully reflect the effectiveness of an asset. Some assets may not directly contribute to the revenue while others may be used for improving the quality of services provided. In such cases, you should look into other indicators as well, such as hours saved or human resources reduced. Along with ROI, you can also track Total Cost of Ownership, Asset Depreciation rate, etc.
5. Servicing and Maintenance
Servicing and Maintenance KPIs can help you keep your costs down by ensuring that routine maintenance is done on time and that the quality standards are met. But, to offer continuous support, maintenance shouldn't only be performed on schedule, it should also be proactive and prevent future situations that could result in equipment downtime.
For this, you can track how often different assets fail and how long it takes to get them back into service. Metrics such as the Mean Time Between Failure (MTBF) and Main Time to Repair (MTTR) come in handy for this. The first calculates the total run time divided by the number of failures, and the second, the total time to repair divided by the number of repairs. These two metrics ensure that the service and maintenance are up to standards and that the service quality is not affected.
To keep on increasing the Return-On-Investment of your Health Rules on InvGate Insight, you can turn to them again to track this KPI. They will be in charge of letting you know whenever there's an issue that you need to attend to.
Asset Management KPI dashboard on InvGate Insight
Dashboards are the best option to get a general idea of how KPIs are performing. They provide a visual display of your data to have a quick overview of your ITAM practice. InvGate Insight offers you the possibility to customize your dashboards to access and analyze the status of your CIs. You can then use these indicators to make informed decisions for your organization.
In a nutshell, this feature will allow you to:
Personalize the content and configuration of your dashboards.
Interact with the data displayed on the dashboard.
Apply global filters on the graphics.
Share custom dashboards between users.
Export the dashboards on PDF.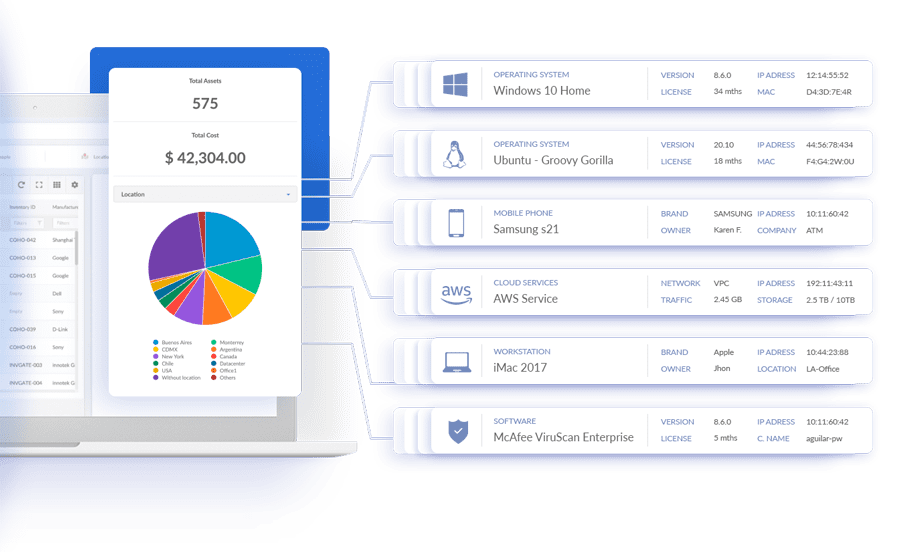 On InvGate Insight, you can choose the metric and the dimension that best suits your needs. Every dashboard is dynamic, meaning that you can get access to the list of assets they include, easily interact with them, and adjust if needed. You can also create specific reports to periodically track the KPIs you are most interested in. All you have to do is run certain queries on the search bar, and choose which commands to apply.
In conclusion
Running reports on your ITAM inventory will give you accurate and updated information on your assets, to have a deeper understanding of how your IT department is working and any changes you might need to implement. Thus, it is your best ally to make informed decisions and improve your asset management practices.
There are five central KPIs that you can start tracking in your organization:
Stale Assets
Asset Utilization
Lifecycle Management
Return-On-Investment (ROI)
Servicing and Maintenance
Choosing the right software is the key for the whole process to be effective, and InvGate Insight is a complete option to do so. It will provide you with a unified inventory, along with all the relevant information about your IT assets. It also includes dashboards to get a clear picture of what's going on with your ITAM infrastructure.
Ask for a 30-day free trial and get all the ITAM metrics you need!