In any organization, IT Asset Management (ITAM) is one of the key processes necessary to ensure the continued delivery of IT services. Efficient asset management ensures that both hardware and software assets are available at the least cost to the organization. Through routine updates and upgrades, asset management ensures that the assets don't face unnecessary or unexpected downtime.
You can also reduce IT security risk with asset management. But how do you know if its asset management is functioning as designed? How do you know if your asset management strategy is working for you? This is where ITAM KPIs become useful.
Why do you need KPIs for ITAM?
KPIs or key performance indicators are important to ensure that the ITAM initiatives are working as intended. KPIs can show how well a certain ITAM initiative - be it installing a new workflow automation tool or building a cybersecurity culture - has been adopted and completed, as well as how close the initiative is to the expected results.
For example, if a new workflow automation tool is rolled out in the workplace, it's important to know how much the employees are using it. It's also important to know if the new tool is helping employees become more productive or if it is helping them focus on more important tasks.
ITAM KPIs also help communicate executive decisions across the organization. For example, a common service desk KPI is the FCR or first call resolution. By using this as a KPI, the service desk agents know that they need to focus not just on resolving queries, but on making sure the replies are clear and provide all the information needed.
Key performance indicators also help organizations and managers with decision making in IT asset management. By observing the KPIs, they'll get a clear picture of the next steps they have to take. For example, by monitoring asset utilization, managers can make better purchase decisions and prevent asset wastage. Proper asset management KPIs can also help organizations and departments to stay compliant and pass audits easily.
With well-designed KPIs, IT managers can ensure that the ITSM initiatives are aligned with the goals of the organization. KPIs can help 'sell' initiatives to the stakeholders or showcase their importance. These KPIs can show how a new software or a practice improves the end-user experience or contributes to the revenue for the organization and can help get stakeholder buy-in for future initiatives.
How can you define KPIs for IT asset management?
The most important element of defining KPIs is to ensure that they're aligned with your business objectives. Businesses and managers often go behind vanity metrics or metrics that always seem to be going up, but don't actually reflect business growth.
So the first step is to look at the business objectives that you're trying to achieve with ITAM. For example, it could be to reduce the overall expenditure on assets, or it could be to improve the availability of IT services.
The second step is to write down KPIs that are aligned with the business objective. For example, if you want to reduce the expenditure on assets, you could measure asset utilization as a KPI. To get results from this KPI, it's important that the KPI is defined clearly; it should be objectively measurable and actionable.
The process doesn't end with this. The KPIs must be validated by stakeholders and shared among the relevant parties. It's important that the team takes ownership of the KPI - to make sure that they're measured and that they're improved.
KPIs must also be validated periodically; they must be monitored to ensure that your initiative is successful and to ensure that the KPIs reflect the actual success of the initiative. And based on this, the definition of the KPIs must be iterated.
5 essential ITAM KPIs you should be tracking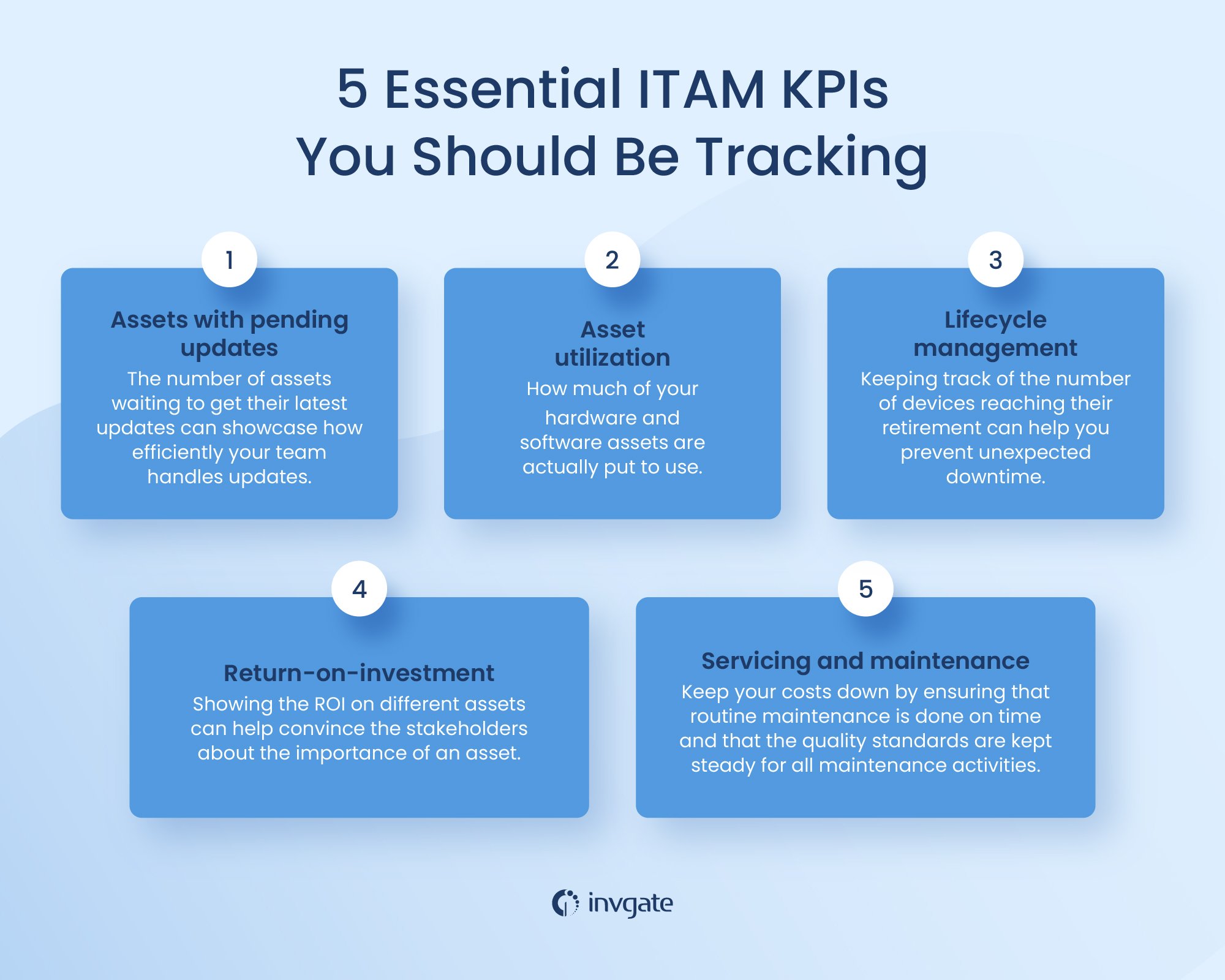 Assets with pending updates
The number of assets waiting to get their latest updates can showcase how efficiently your team handles updates. This includes both the software and the hardware used in your organization and it can be a metric of your cybersecurity readiness.
It may be worthwhile to define KPIs that further showcases the number of assets with a minor, major, and critical updates. Or maybe into assets that are critical or least important. It may also be a good idea to keep track of mean time to receive updates for various categories of devices. It can help you prioritize pending updates or introduce changes to how you handle updates.
For example, fifty employee computers without the latest UI update may not be the scariest thing, but 3 routers with a pending critical security update can be a potential security nightmare.
These ITAM KPIs can help convey the importance of sending out updates to your IT team. It can also ensure that the end-users of these assets - employees and customers - get the best experience.
Asset utilization
Asset utilization or how much of your hardware and software assets are actually put to use is a metric that can show how effective your IT budget planning is. By improving asset utilization, you can significantly reduce the IT expenditure in your organization. It can help you better allocate resources, give you a clear picture of the IT needs in your organization, and reduce shelfware in your company.
Unutilized assets can be hardware like employee workstations or software assets such as accounting tools, ERP solutions, etc. These assets are not generating any value to the organization and can actually be costly for the company to maintain.
For some assets, it may also be worthwhile to determine how often or for how long the assets are used. For example, in the cases of software with floating licenses, a large chunk of unused licenses can be costing the company. In the case of assets such as servers, it may also be worthwhile to determine how efficiently an asset is used.
In the case of asset utilization, it's important to have realistic goals for KPIs; it's inevitable that some assets will be underutilized for the sake of availability.
Lifecycle management
Managing the lifecycle of different assets is a crucial element of IT asset management. And keeping track of different assets and their lifecycle stages will be useful to plan future investments and check for anomalies.
Different assets may have different lifecycle durations and keeping track of the number of devices reaching their retirement can help you prevent unexpected downtime. It can ensure that the devices are maintained and updated on time. And for this, you must configure your asset management solution to track the lifecycle as a KPI and alert you when devices are approaching their end-of-life.
You can also track the lifespan of different assets to see if it's as advertised by the vendor. If you're seeing lower lifespans, you may want to explore your device usage, maintenance pattern, or even look into alternate vendors. If similar solutions from different vendors show different lifespans, you can opt for the one with the longest one.
Return-on-investment (ROI)
Showing the ROI on different assets can help convince the stakeholders about the importance of an asset. Within the IT department, it can stress the importance of getting the most out of the available assets before investing in new ones.
Tracking ROI can also help you gain a clear picture of the critical assets in your department, the assets with which you simply cannot go on. It can help you get rid of assets that are taking up resources without delivering value.
But ROI can also be a tricky KPI to measure. Some assets may not directly contribute to the revenue, and some may be purely for improving the quality of services provided. In such cases, you may have to come up with a metric such as hours saved or human resources reduced.
Along with ROI, you can also measure metrics like total cost of ownership, asset depreciation rate, etc.
ROI can also help you compare new options that combine the features of one or more assets. For example, if a new software solution can reduce the workload by 10 hours a week without compromising the quality of work, it may be a good idea to invest in that.
Servicing and maintenance
Servicing and maintenance KPIs can help you keep your costs down by ensuring that routine maintenance is done on time and that the quality standards are kept steady for all maintenance activities.
To ensure continuous service delivery, it is important that the assets are routinely maintained and upgraded. In a perfect situation, there should be no unexpected downtime for the assets.
So it's not enough that the maintenance is performed on time or on schedule, but also that it is enough to prevent or reduce equipment downtime. And for this, you need to track how often different assets fail and how long it takes to get them back into service.
You can use metrics like the mean time between failure (MTBF) and main time to repair (MTTR). MTBF or mean time between failures is the total run time divided by the number of failures, and MTTR is the total time to repair divided by the number of repairs.
These two metrics ensure that the service and maintenance are up to standards and that the service quality is not affected.
Using an ITAM tool to keep track of KPIs
InvGate Insight is a state of the art asset management solution that can help you keep track of multiple KPIs for your assets. The solution has an intuitive UI and comes with a detailed dashboard showcasing a complete overview of your assets.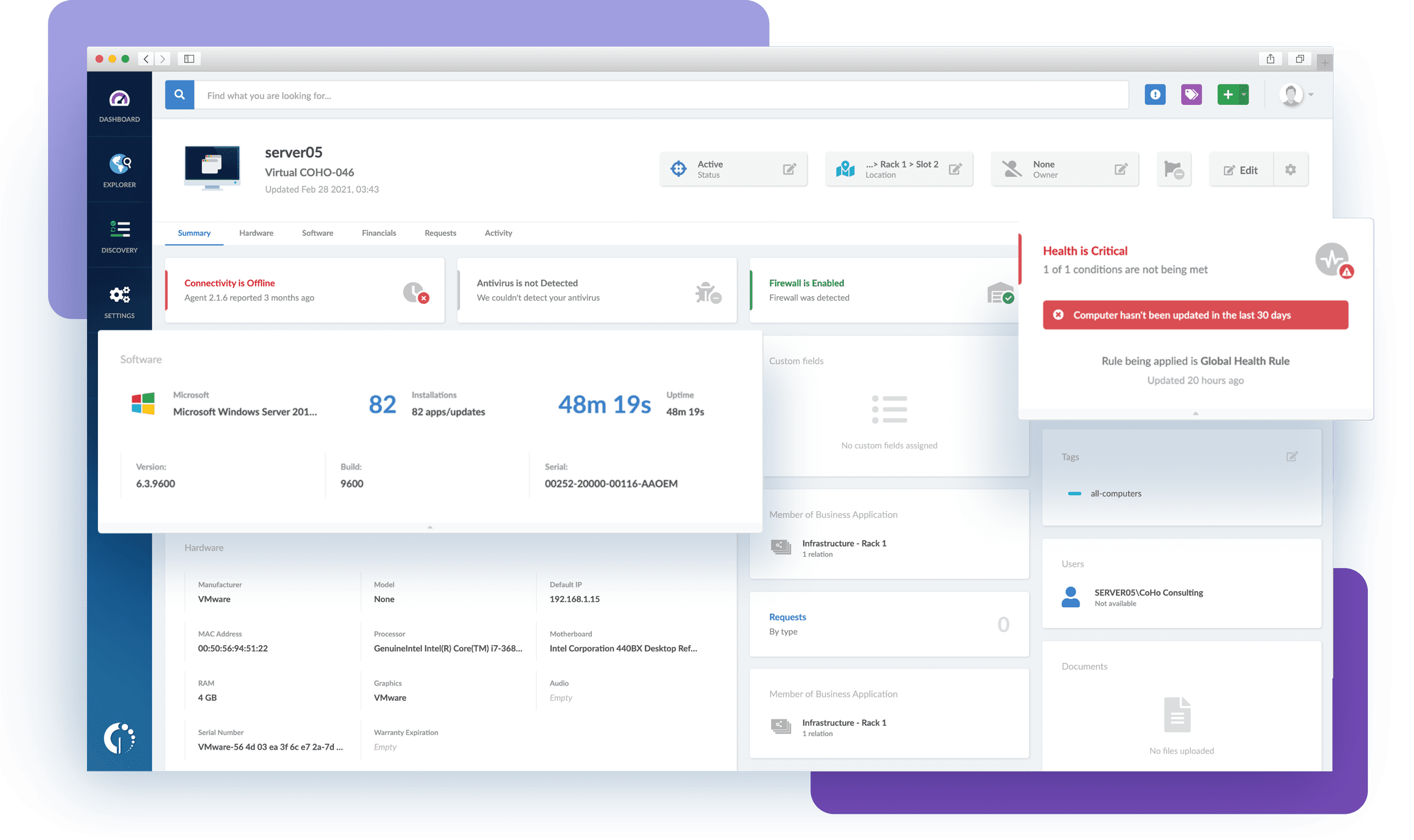 Insight can automatically detect all the assets across your network including cloud instances, IoT devices, and mobile devices. It can also monitor your assets for any changes, track any inconsistencies or anomalies and alert the relevant personnel.
It can help you keep track of the TCO for different assets as well as the level of software license compliance across the entire organization. The solution can ensure that all of your assets are compliant with your organization's IT security policies.