The main goal of IT Asset Management (ITAM) is to manage, control, and protect your IT assets throughout their whole lifecycle. In order for it to be successful, it's important to create an effective ITAM strategy, which will help you work more efficiently towards your goals and objectives, and get the most out of the practice.
In this article, we will describe what an IT Asset Management strategy looks like and everything it should include, as well as the main benefits it will bring to your organization. Plus, we will explain how to create an effective ITAM plan following best practices, and how InvGate Insight can help you with all of that.
Ready to get started? Let's go!
What is Strategic Asset Management?
Strategic Asset Management (SAM) is a structured and comprehensive approach to managing an organization's IT assets in order to achieve its objectives. This will include planning, deploying, supporting, optimizing, and retiring assets to maximize their value, whilst at the same time reducing risk.
It must involve a holistic view of the IT assets (hardware, software, and network equipment) and it must consider how they contribute to the organization's success. Simply put, this isn't a quick fix; it is the development of a long-term strategy for ITAM that considers equipment value, performance, and risks.
So, an effective SAM means the organization has a solid ITAM practice. It doesn't sound like the most exciting thing in the world, but it's particularly important to have a strategy in place for ITAM. Otherwise, you will end up with scope creep, bloated processes, and miserable users.
Having an appropriate plan will reduce costs, increase asset reliability and value, and ensure compliance with regulatory and vendor standards. It guarantees a procedure is in place for meeting financial obligations and responding to vendor audits.
Why do you need an ITAM strategy? 7 key benefits
So now that we've seen what an ITAM strategy looks like, let's talk a bit more about some of its main benefits.
1. Improved cost efficiency
By having a clear understanding of which IT assets are in use, how they're being used (and licensed in the case of Software Asset Management), and when they need to be replaced, organizations can avoid unnecessary procurement, reduce duplicate purchases, and lower the risk associated with fines and emergency licenses during software audits.
To help you with this, InvGate Insight provides you with a complete and updated IT inventory, along with the assigned users, License Management, Lifecycle Management, and Software Metering features.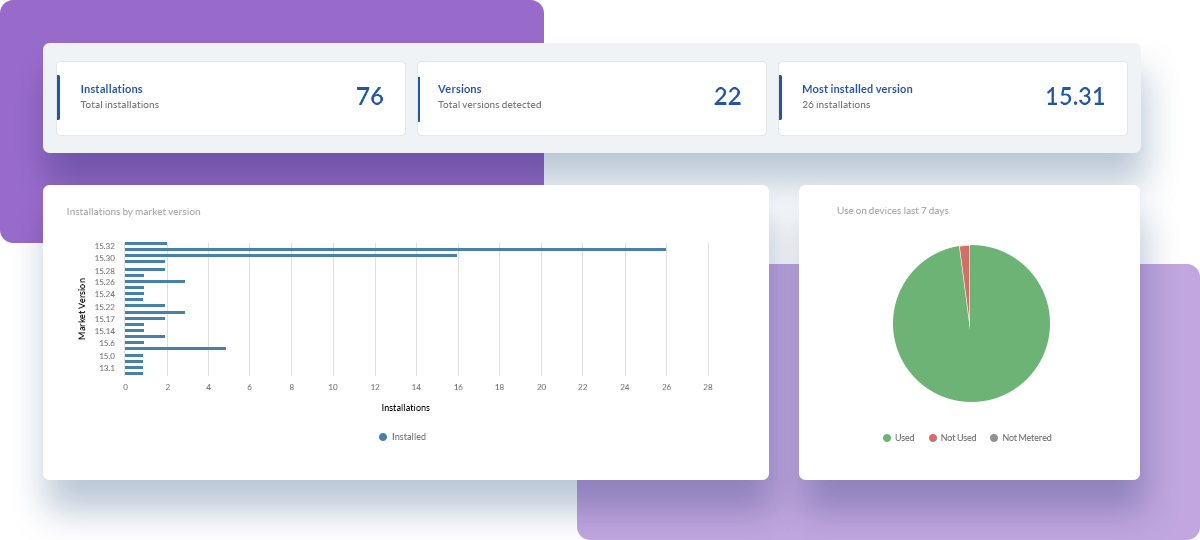 2. Increased transparency and accountability
An ITAM strategy can help organizations track which assets are against the colleagues that use them. This can help improve accountability and reduce the risk of lost, misplaced, or stolen assets – to help you with this, InvGate Insight includes asset geolocalization. It also supports the organization to be more transparent.
For too long now, businesses see IT equipment as a black hole that generates costs. By being transparent about it and how they make up the services, you can clearly look into how they add value.
3. Enhanced security and cyber resilience
Effective ITAM can help organizations identify security risks and vulnerabilities in their IT infrastructure, allowing them to take the appropriate action to mitigate them and protect sensitive data.
For example, you can tag key hardware assets and limit user access rights on PCs, laptops, and mobile devices to prevent unauthorized and potentially unsafe software from being installed on them. In addition, InvGate Insight provides you with the possibility to easily spot outdated software so that you can push patches as soon as they are released.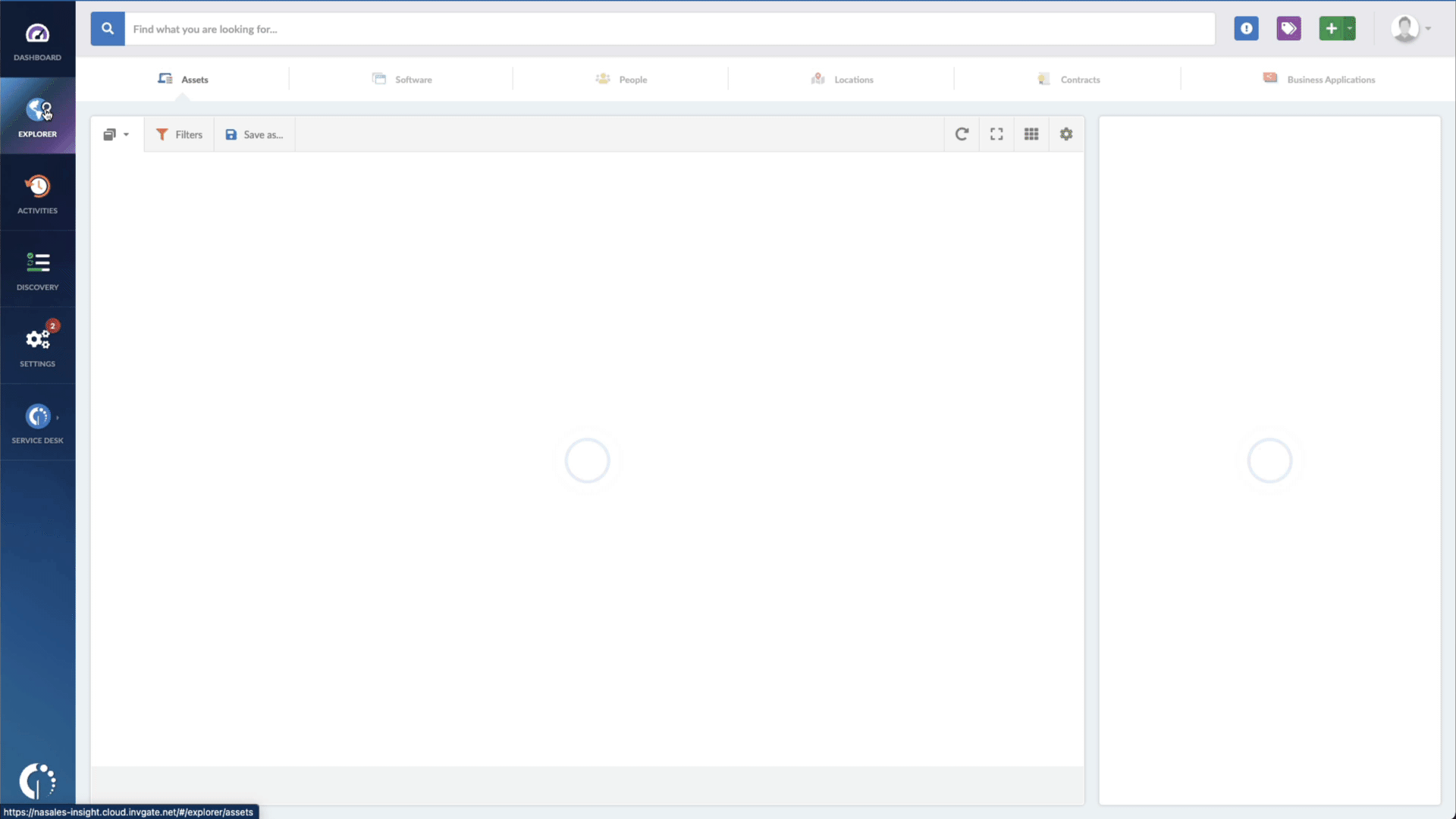 Example of how you can look for assets that need patching on InvGate Insight.
4. Better decision-making
With updated and accurate information, organizations can make more informed decisions about which assets to upgrade, service, or retire, when to do so, and how to allocate resources most effectively to deliver value.
5. Improved compliance
It can help organizations ensure compliance with industry regulations and internal policies, as well as monitor license compliance and avoid costly fines and penalties during audit time.
In particular, InvGate Insight's Contract Lifecycle Management feature allows you to be on top of soon-to-expire contracts (you can even enable deadline alerts).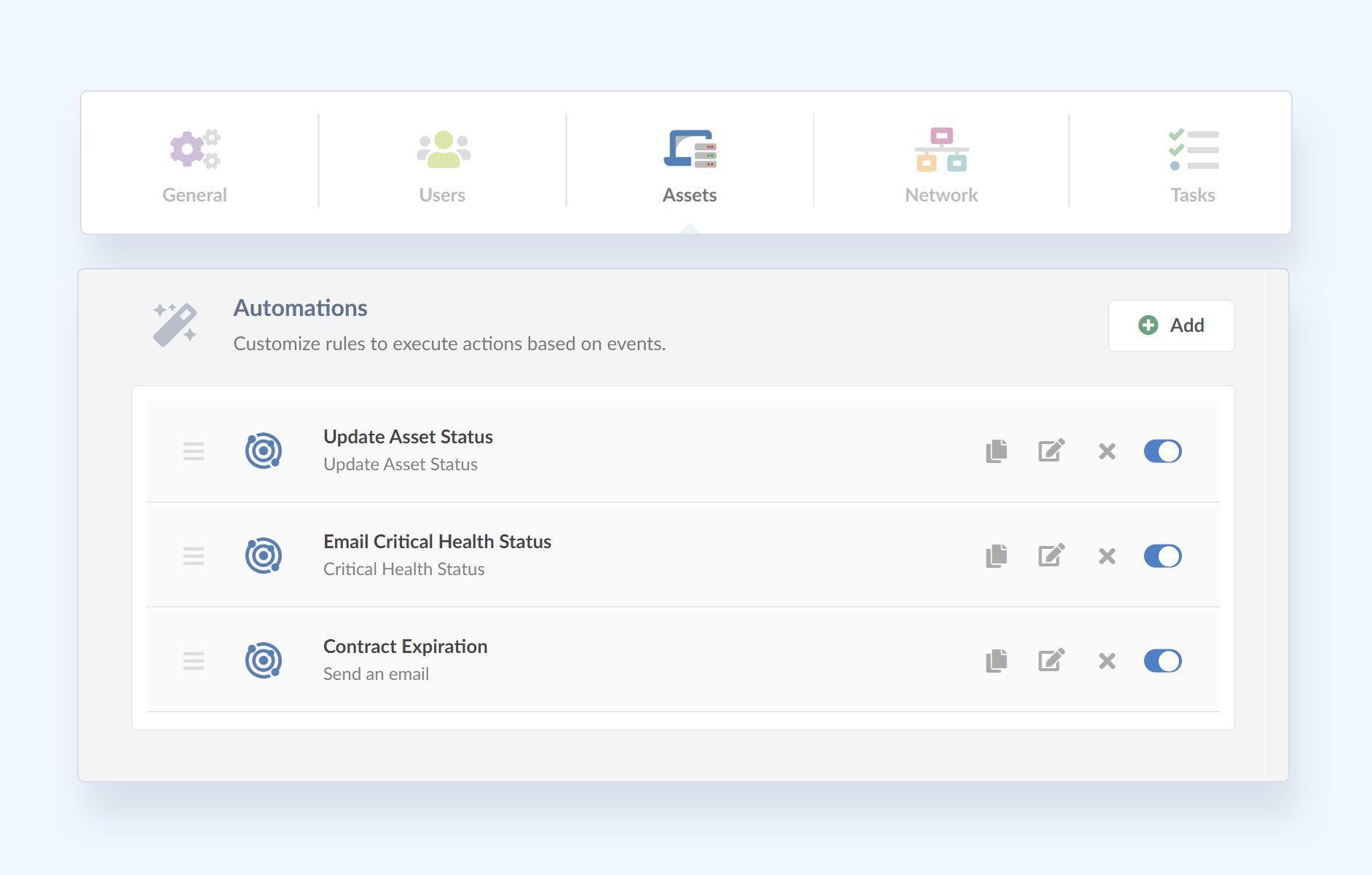 6. Reduced downtime
Organizations can proactively identify potential issues with IT assets and address them before they cause incidents, downtime, or other service disruptions.
Asset Health Rules are essential to avoid this since you can configure their criticality according to your organization's regulations to receive notifications when devices need attention.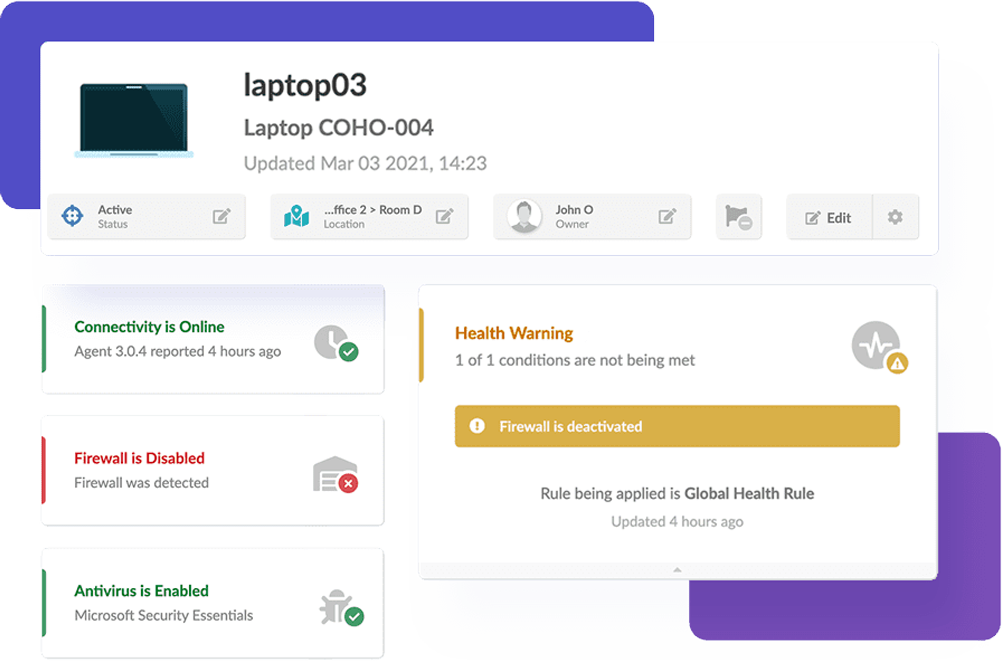 7. Increased agility
By clearly understanding their IT assets, organizations can quickly shift and adapt to changing business needs and take advantage of new opportunities as they arise.
7 steps to developing an IT Asset Management strategy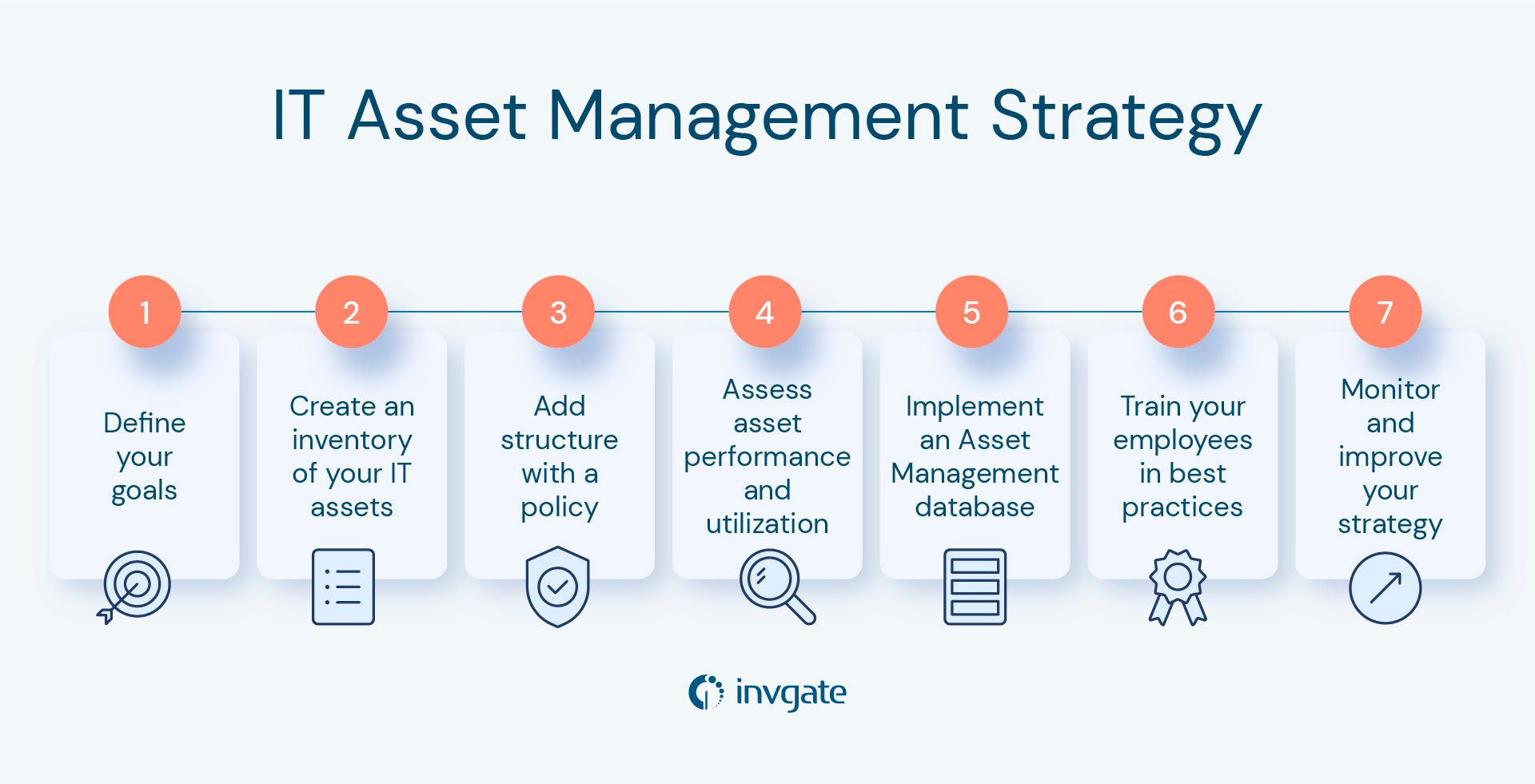 So, now that you've seen why getting your strategy right is key for your ITAM practice, a convenient way to get started and organize the work is through a checklist to break up the process into manageable stages. Here are the most important steps to consider when designing one for your business and its stakeholders.
1. Know what you want (and be sure)
In other words, clearly define your goals. Set out in writing what you want to achieve from your ITAM strategy. What is your primary mission? Is it to make sure you have enough licenses? To get a better handle on costs? To respond to audits more effectively? To stop losing equipment and peripherals?
If you're not sure, then ask! So many ITAM practices run into trouble because the scope is too nebulous, there's no clear objective, or people are confused as to where to start. Talk to the business and senior management and agree on a plan together. That way, everyone knows the key goals, and you can make sure that they are aligned with the organization's overall missions, and how to prioritize them appropriately.
2. Get organized and make an inventory of your IT assets
Conduct a comprehensive inventory of all the IT assets in your organization, including hardware, software, and licenses. This will help you understand what you have, its location, and who is responsible for it.
When collecting asset information, you will probably have different databases and spreadsheets with technical data or support information in your ITSM or ITAM tool. Make sure you agree on a common data set in advance, so everyone collects data consistently.
Things to include are:
Unique Identifier
Asset type, e.g., server, network device, application
Version Number
Support Details
Vendor Details
Owner
Relationship to other assets and services if you have a CMDB
3. Add structure with a policy
ITAM is a practice that does well when underpinned by a clear policy, so there's no room for confusion. Every organization will have different requirements, but things that should always be covered include the following:
Introduction and purpose - Why is ITAM essential, and how does it support the organization?
Scope - What services are covered?
Regulatory or legal requirements that the practice needs to support.
How to request hardware, software, and peripherals via the service desk and request management practices.
Installation guidelines for support teams so that IT colleagues are aware of best practices and install software that is appropriately licensed from a central media library, or source the appropriate equipment from the hardware store.
Maintenance - How software is updated and patched in line with any licensing conditions or how hardware is serviced with any warranty agreements.
Guidance for software that is no longer in use or hardware that is no longer fit for purpose.
Relationships with other processes

—

for example, Incident and Request Management, Financial Management, and Change Enablement.
Where to go for help and further information.
4. Have a process for assessing asset performance and utilization
Evaluate how well your IT assets are performing and how they're being used. Identify any underused assets (no more zombie servers), and consider how you can optimize asset utilization to increase efficiency and reduce the cost associated with unused or obsolete equipment.
Look at outputs from other practices such as Incident, Problem, or Change Management to see if there is data that can be used to optimize asset performance. It's important to define the ITAM metrics you are going to track from the start and build specific dashboards in order to always have updated visibility.
5. Have a single source of truth
In other words, implement a centralized Asset Management database that tracks and manages all IT assets in a centralized location. This can help you improve visibility into your assets and ensure accurate reporting.
Many organizations start their ITAM journey by having each support team collect their own information without proper ITAM software or strategy. At a certain point, you will need to look at having one central place for storing asset data. Otherwise you will have asset information stored across a range of spreadsheets (and it's always spreadsheets), SharePoint sites, network drives, and so on.
Ideally, your central database should be integrated into any existing ITSM tool so that you can link ITAM data to incidents, changes and service requests.
6. Training matters
Ensure you train employees in best practices and that they understand the importance of ITAM and their role in the process. These practices can include proper inventory tracking, software License Management, and asset disposal. This applies to the end-user community as well.
Ensure your user base understands that only equipment the IT department has provided can be used in the workplace and work with the business to capture any issues to prevent shadow IT quickly.
7. Improve, improve, improve!
Build on continual improvement by monitoring and updating your strategy. This will ensure it remains effective, achieves your goals, and progresses toward your objectives.
6 best practices to develop an ITAM plan
When developing the ITAM plan for your organization, consider the following best practices.
1. Know what's important
Look out for possible risks or areas of greatest exposure. Which assets would impact your business most in case of failure or downtime? If a breakdown would have considerable consequences for your company and productivity, this asset is critical, so prioritize it in your plan accordingly.
For hardware assets, you could have hot swaps available for mission-critical equipment. For software, it's about ensuring you are appropriately licensed for the leading players of Microsoft, Oracle, and Adobe.
2. Learn from previous mistakes
To understand where to start or what to focus on, review past HAM and SAM activities or earlier attempts at IT Asset Management. Things to look at include past audits, records, existing asset databases, service desk data, or information from problems and known errors. By understanding what has caused pain in the past, you can create a roadmap and adjust where it's needed most.
3. Data matters
It's all about the data. Your ITAM database is only as good as the information it contains. Build checkpoints into your processes to ensure everything is up to date and accurately reflects your live environment.
4. Stay in control
Software installation is a significant point of control, and it's important to ensure that only licensed and patched software is installed on corporate devices. It's generally safer to restrict access to company devices to prevent end users from accidentally installing inappropriate or unlicensed software.
It's the same with hardware assets, for instance with charging cables from an electrical safety standpoint. So work with procurement and purchasing teams to ensure only authorized, certified equipment is bought for users.
5. Have a plan in place for maintenance
It is generally easier to repair a device that has been regularly serviced than one that hasn't been looked at for months. So, plan and budget for predictive and proactive maintenance to keep things running smoothly.
6. Remember the lifecycle
Many ITAM processes can fail to add value by forgetting about assets once purchased and installed. Just because an asset is in active use doesn't mean you can forget about it. If only! That asset will still need to be managed, maintained, and retired in a controlled manner when it is no longer needed, so factor these steps into your process.
When planning the types of assets used to build services, negotiate contracts with your suppliers to consider maintenance activities and what happens when the asset is no longer needed.
In conclusion
ITAM is the practice that will ensure your production environment is maintained and supported effectively, efficiently, and safely. It is important to have a strategy put in place to guarantee your approach aligns with the overall organizational objectives. A well set out plan will enable your ITAM practice to increase your company's productivity by reducing downtime and repair costs through preventive maintenance.
Following a set of steps and general best practices will help you break down and organize the process efficiently. But don't forget that your Asset Management strategy should be ultimately determined by the types of assets your company operates with and your individual needs and objectives.
If you want to take a look at how InvGate Insight can help you implement an effective ITAM strategy, request our 30-day free trial now! If you're happy with the results, you can later turn that instance into your official workplace.
Frequently Asked Questions
What are the benefits of an ITAM strategy?
Some benefits include reduced risks, better purchasing decisions, and reduced system downtime.
What should I include in my ITAM plan?
Policy and procedures, scope, and maintenance planning.