When choosing an IT Asset Management (ITAM) solution, you may find yourself in an intriguing face-off: BMC Asset Management vs. Lansweeper. The decision you ultimately make holds the potential to redefine how you streamline, monitor, and optimize your IT assets.
In this blog post, we'll delve deep into an ITAM software comparison of these two solutions. Moreover, we'll introduce a game-changing contender to the arena: InvGate Insight. This alternative can revolutionize the way you navigate the challenges of IT Asset Management.
Keep reading to discover the solution that aligns perfectly with your organization's needs.
Most looked-at features by buyers
During the evaluation of IT Asset Management solutions, potential buyers consider a range of essential capabilities to pinpoint the most suitable option that aligns with their specific needs and business prerequisites.
Here are critical factors that purchasers take into account when selecting a customized ITAM solution for their company.
What is BMC Asset Management?
The main goal of the Asset Management features in BMC Helix ITSM is to effectively decrease the total cost of ownership associated with Configuration Items (CIs) and enhance the return on investment.
The Asset Management component of BMC Helix ITSM integrates smoothly with BMC Helix ITSM Change Management and BMC Service Level Management, creating a cohesive framework for comprehensive Asset Management.
What users like from BMC Asset Management
Feedback on BMC Asset Management from reputable sources such as Gartner is consistently positive in several critical areas. Let's delve into the specific aspects of the solution that users are praising.
Value for investment - Users perceive BMC Asset Management as delivering substantial value. The well-crafted dashboard aids efficient monitoring, and the software's proficiency in managing support contracts, ensuring timely renewals, and optimizing usage is impressive.
Smooth implementation - Implementing the software is consistently described as swift and seamless, enabling rapid integration into users' existing operations.
Comprehensive Service Management - BMC Asset Management receives accolades for its role in elevating service quality as both a robust ITSM and HR system. Its comprehensive approach encompasses

ITIL

activities, efficiently handling tasks like Incident and Change Management. Moreover, its outstanding ticketing tool and dedicated Change Management database set it apart from the competition.
Enhanced user experience - The tool's interface is exceptionally user-friendly, excelling in domains like Incident, Change, and

Problem Management

. This design enhances the ease of daily operations, making them intuitive and straightforward.
Enhanced visibility - The solution excels in providing extensive insight into existing inventory, a feature that is greatly valued. Its adeptness in analyzing impact reports and efficiently tracking configuration changes and services adds to its significance.
Efficient automation processes - Users appreciate the capability to independently submit requests, reducing reliance on IT staff and conserving resources. The software's contribution to well-informed decision-making, optimized resource allocation, and effective contract management is also acknowledged.
Streamlined management - Users highly regard its simplified management capabilities, helping them effectively oversee various aspects of their assets.
Training experience - Training is acknowledged as crucial, particularly during the go-live phase, ensuring users can fully leverage the system's potential.
Mobile accessibility - The availability of mobile access empowers users to manage tasks while on the move, further enhancing a positive and adaptable user experience.
What users don't like from BMC Asset Management
While BMC Asset Management offers valuable functionalities, there are aspects where making improvements could enhance the overall user experience.
Support and communication - Engaging third-party support is advised to introduce additional avenues for improvement. Users also point out instances of breakdowns in communication.
User interface - Certain users express discontent with the current user interface. Enhancements in this area have the potential to create a more intuitive and user-friendly encounter.
Improved reporting - Some users recommend enhancing reporting capabilities to offer more comprehensive insights that enhance decision-making and strengthen overall Asset Management strategies.
Chatbot and tools - Users suggest that enhancing the capabilities of the chatbot could make it more robust and functional, thereby increasing its overall utility.
What's BMC Asset Management's argument over Lansweeper?
When conducting a thorough comparison between BMC Asset Management and Lansweeper, the former holds a distinct advantage across several critical dimensions. Let's delve into the essential points that underscore BMC Asset Management's compelling argument over Lansweeper.
Value for investment - Users perceive BMC Asset Management as offering substantial value. Its well-designed dashboard aids in efficient monitoring, while its proficiency in handling support contracts, ensuring timely renewals, and optimizing usage might provide a competitive edge.


Effortless implementation - Users consistently commend BMC Asset Management for its swift and seamless deployment process. This seamless integration into existing operations reduces downtime and potential disruptions.


Comprehensive Service Management - BMC Asset Management distinguishes itself by significantly contributing to enhancing service quality through its robust ITSM and HR system. This solution encompasses a wide range of ITIL activities, including effectively managing Incidents and Changes.


Enhanced user experience - BMC Asset Management excels in user-friendliness across domains such as Incident, Change, and Problem Management.


Enhanced visibility - BMC Asset Management's exceptional ability to provide extensive insights into existing inventory further reinforces its competitive advantage.


Efficient automation processes - Users highly value BMC Asset Management's autonomous request handling, resource optimization, and contract management features.


Streamlined management - This streamlined approach aids in more efficient Asset Management.


Training experience - BMC Asset Management's emphasis on training during the initial launch ensures that users can fully harness its potential.


Mobile accessibility - BMC Asset Management's provision of mobile access empowers users to manage tasks on the go, further enhancing their experience.
What is Lansweeper?
Founded in 2004, Lansweeper is a thorough IT Asset Management and network discovery software designed to provide enterprises with a deep understanding of their IT setup. The platform incorporates functionalities intended to assist companies in proficiently overseeing and improving their IT resources, upgrading their network surveillance, and simplifying IT activities.
The main attributes of the system encompass:
Network scanning.
IT automation.
Comprehensive

Inventory Management

.
Integration capabilities.
Software License management.
Reporting and analytics.
What users like from Lansweeper
Lansweeper has received significant positive reviews from reputable sources such as Gartner, with users citing several benefits as detailed below.
Simplified deployment process - Lansweeper's Software-as-a-Service (SaaS) solution eliminates the necessity for individual computer installations, streamlining the setup procedure.
User-friendly interface - The platform's user interface, designed for simplicity, coupled with preconfigured security reports, makes it accessible to users with varying levels of IT expertise.
Comprehensive maintenance of asset records - Users highly value the tool's capability to uphold elaborate records for each device that joins the network, ensuring an orderly and effective Asset Management system.
Efficient management of remote servers - The standout aspect of effectively overseeing remote servers through the tool proves to be a time-efficient and convenient resource.
Clear insights into software - Users find value in the platform's feature that offers complete visibility into the organization's software environment, resulting in more intuitive and efficient software administration.
Effortless detection of network inventory - The software's seamless identification of network-connected inventory guarantees that users can handle their asset inventory with ease.
Precise scanning - The tool's scanning accuracy ensures the dependability and precision of gathered asset information.
Cost-effective resolution - Users discover that Lansweeper's range of features, reasonably priced, positions it as a budget-conscious option for meeting their IT Asset Management requirements.
What users don't like from Lansweeper
While Lansweeper has a number of benefits and positive qualities, it remains susceptible to customer concerns and criticism. Reviews from sources such as Gartner have highlighted consistent issues raised by users. These include:
Automatic asset deletion - Users encounter issues with assets being automatically deleted from the database once removed from the system. Preserving deleted assets in the database for reference or historical purposes would be preferable.
Crowded GUI interface - Some users find the platform's Graphical User Interface crowded due to the abundance of visible choices. Condensing specific options into menus could lead to a cleaner and more streamlined interface.
Impact of the revised licensing system - The updated licensing model of Lansweeper demands payment for a higher number of assets than may be necessary, with a minimum requirement of 2,000 assets. This pricing structure might not align effectively with smaller organizations and could be perceived as a drawback.
Absence of historical software views - Lansweeper doesn't offer historical views on software within its database; it only provides data at specific time points. This limitation hinders users' ability to access past software information.
Complexity of Patch Management - The software's Patch Management feature, referred to as deployment packages, presents usability challenges. Users encounter difficulties when deploying patches and managing software updates using this feature.
Missing firmware details for IoT devices - The tool lacks firmware information for Internet of Things devices, restricting users' access to this essential data.
Reporting intricacies - The reporting module might necessitate users to grasp relational databases for optimal utilization. Some users believe that additional training or database knowledge is required. Additionally, occasional inaccuracies in provided data might prompt users to cross-verify and authenticate information.
Complex custom queries - Although Lansweeper supports custom queries, crafting intricate queries can be challenging. Devising elaborate custom queries can prove demanding for users.
Limited regional partners - In specific regions like Argentina, the availability of Lansweeper partners might be limited, potentially affecting access to local support or services.
Outdated dashboards - Some users view the dashboards as outdated. Although efforts are underway to modernize them into a more contemporary cloud console, this aspect is still evolving.
What's Lansweeper's argument over BMC Asset Management?
In a head-to-head comparison with BMC Asset Management, Lansweeper emerges as a compelling choice, backed by its remarkable features. Let's take a closer look at how Lansweeper makes its case against BMC Asset Management.
Simplified and streamlined deployment process - Lansweeper's innovative SaaS solution eliminates the need for laborious individual computer installations, providing a seamless and hassle-free setup process.


User-friendly interface - Lansweeper's user interface is meticulously designed for simplicity, complemented by preconfigured security reports. This accessibility caters to users with varying levels of IT expertise, making it easier for organizations to adopt and implement.


Comprehensive asset record maintenance - Lansweeper excels in its ability to maintain detailed records for every device joining the network, contributing to a well-organized and efficient Asset Management system.


Efficient remote server management - Lansweeper's standout capability of effectively overseeing remote servers in a time-efficient and convenient manner sets it apart. This aspect addresses a critical need for businesses with remote operations.


Clear software insights - Lansweeper's comprehensive visibility into an organization's software environment empowers users with more intuitive and effective software administration.


Effortless network inventory detection - Lansweeper's ability to effortlessly identify network-connected inventory ensures smooth Asset Inventory Management.


Precise scanning and accurate data - The precision of Lansweeper's scanning technology ensures dependable and accurate asset data.


Cost-effectiveness - Lansweeper's array of features, offered at reasonable pricing, positions it as a budget-conscious choice for fulfilling IT Asset Management needs.
Considering InvGate Insight as an ITAM solution alternative
For companies searching for customized IT Asset Management solutions tailored to their specific needs, InvGate Insight emerges as a strong contender. Serving as a comprehensive ITAM solution, it offers a diverse set of functionalities that position it as an attractive choice for streamlining Asset Management processes. Let's delve into its core features.
Flexible deployment options to meet requirements
Recognizing the unique needs and industry regulations of each organization, InvGate Insight offers a variety of flexible deployment alternatives. This provides organizations with the flexibility to choose between cloud-based or on-premises solutions, ensuring alignment with specific needs and compliance standards.
In-depth insights into IT infrastructure
With a robust set of features, InvGate Insight provides detailed and actionable insights into IT assets, covering their status and usage. This comprehensive understanding enables effective management and optimization of the infrastructure, ultimately leading to improved operational efficiency.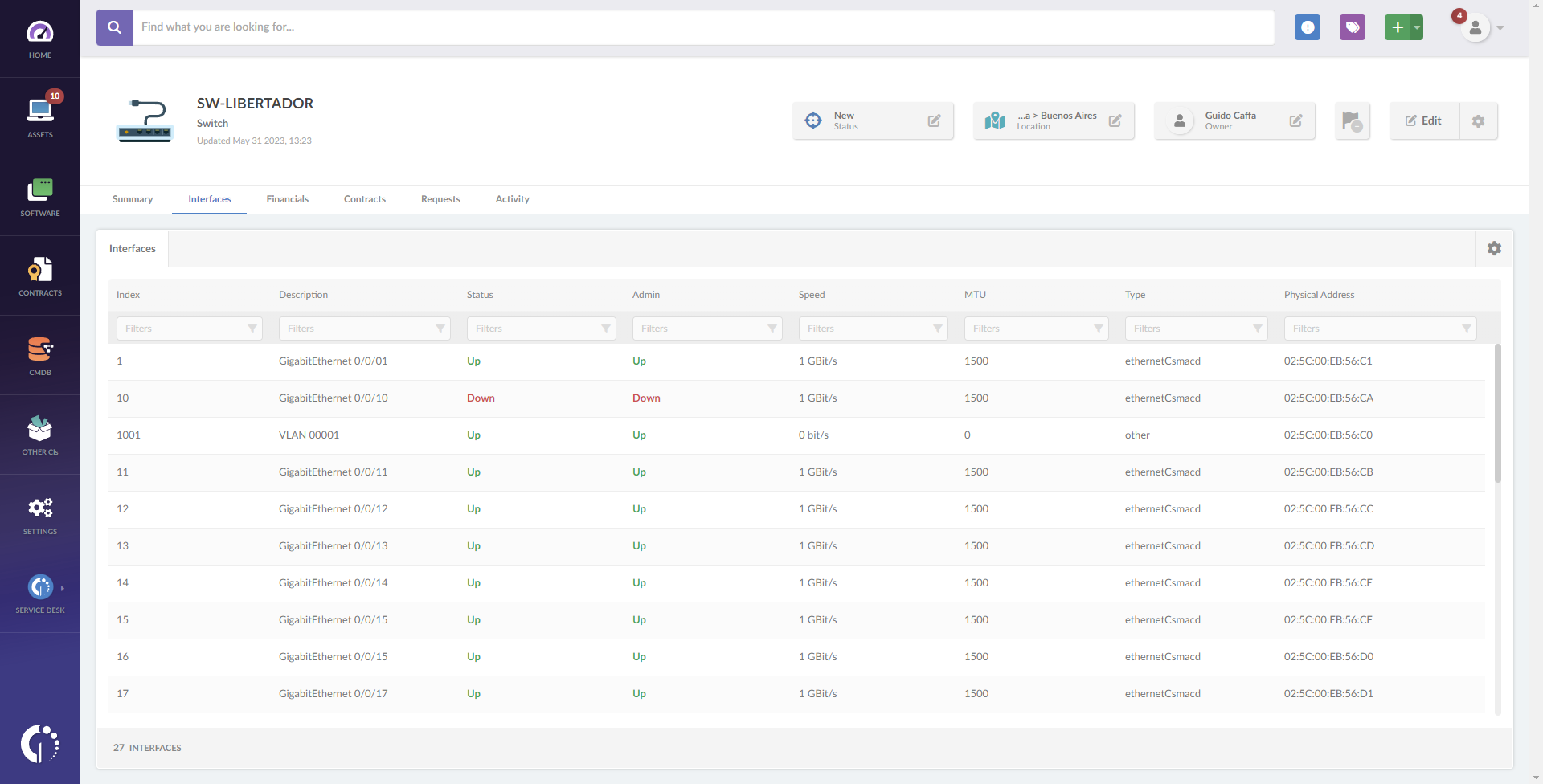 Enhanced oversight of IT Assets and Inventory
InvGate Insight facilitates seamless integration by aggregating data from various sources, including popular operating systems, cloud service providers (AWS, Google, Azure), and MDMs (JAMF, Google Endpoint Manager). This comprehensive integration ensures efficient oversight of both IT and non-IT assets, locations, and personnel. This not only saves time but also provides a holistic view of the infrastructure.
Software efficiency optimization and cost reduction
InvGate Insight empowers organizations to identify and measure the usage of paid software, facilitating effective Software Management. By gaining visibility into software usage, underutilized licenses can be reassigned, redundant costs minimized and returns on IT investments optimized. This software efficiency optimization enables organizations to extract maximum value from their software resources.
Comprehensive IT operations perspective through native service desk integration
InvGate Insight seamlessly integrates with InvGate Service Desk, establishing a native connection that correlates tickets with devices and personnel. This integration offers a comprehensive view of IT operations, which streamlines management. Linking service tickets to relevant assets and personnel enhances workflows, communication, and issue resolution.
Streamlined operations through CMDB map creation
The CMDB map builder tool within InvGate Insight offers a clear and comprehensive visualization of the IT environment. By visualizing the connections between components, it becomes easier to identify potential impacts on operational continuity, thus facilitating proactive risk mitigation. This enhanced visibility reduces service downtimes, enhances operational effectiveness, and ensures smoother IT operations.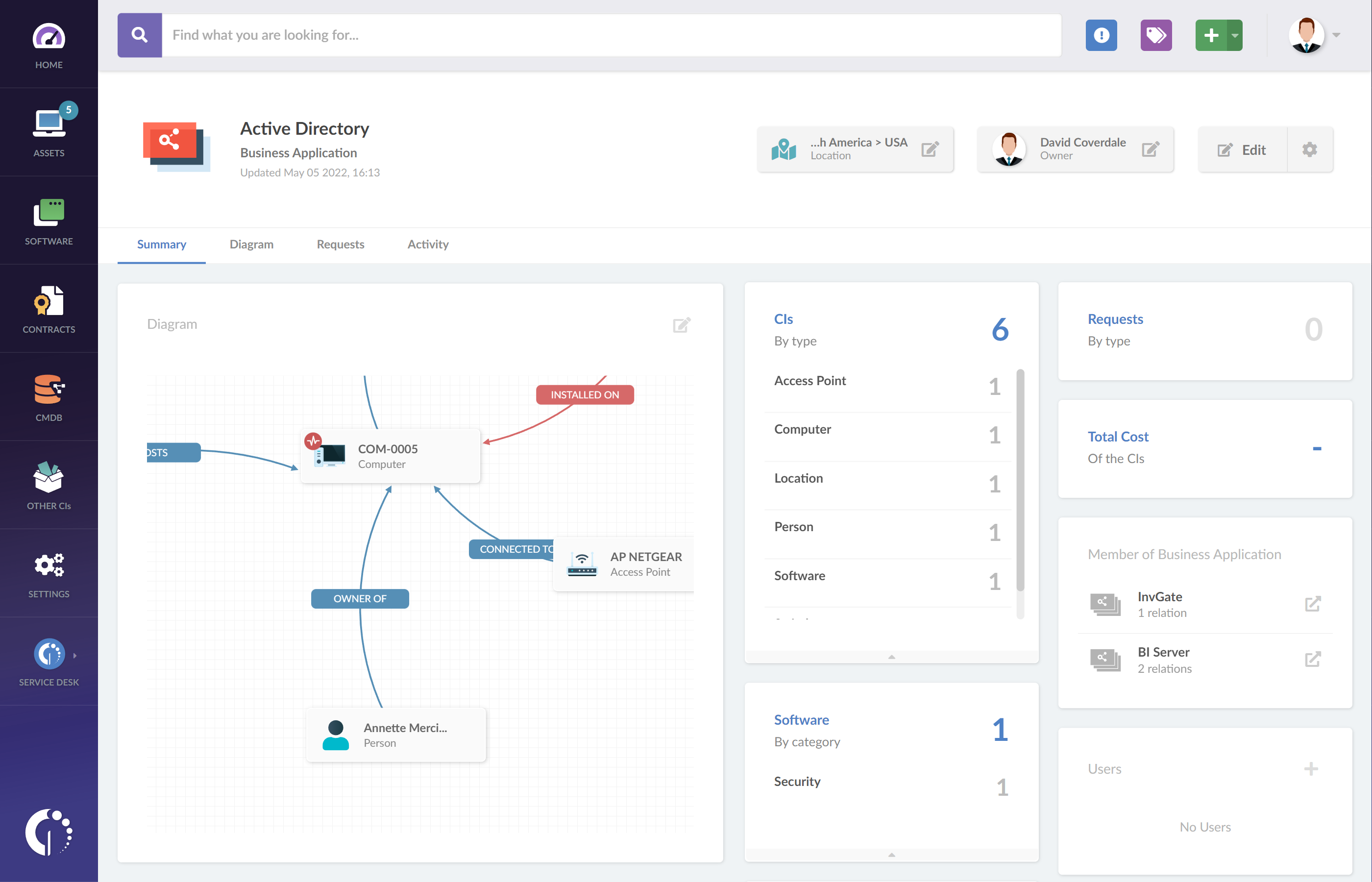 Automated management and proactive notifications
InvGate Insight simplifies process automation and notification setup, promoting proactive IT administration. Automated alerts enable organizations to monitor contract expirations and promptly inform relevant stakeholders, reducing manual efforts and the potential for oversights. This automation enhances operations, allowing a focused approach to critical tasks and overall efficiency improvement.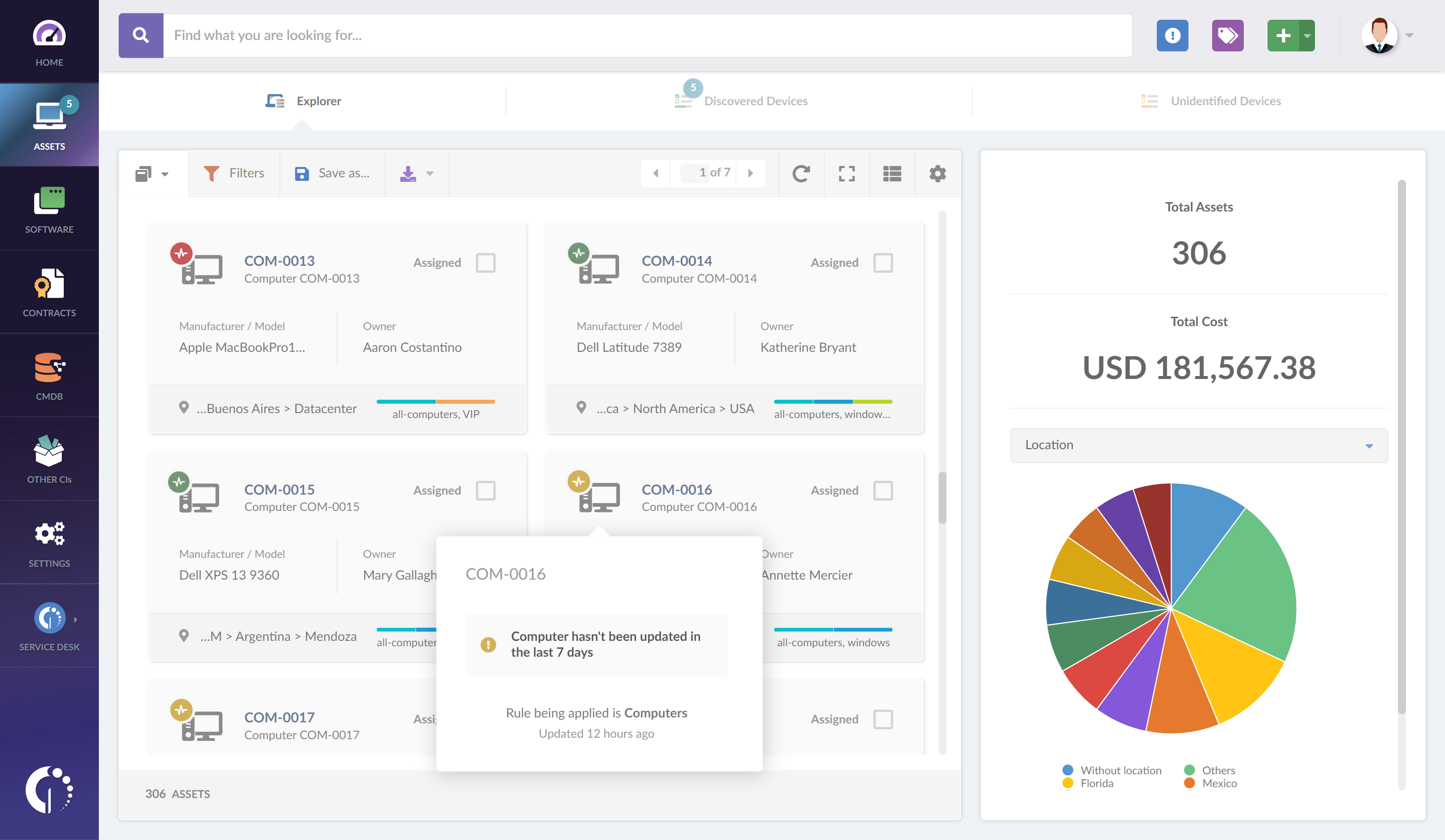 Improved cybersecurity compliance through asset monitoring
InvGate Insight's asset monitoring capabilities establish and enforce device health rules, promoting proactive cybersecurity compliance. Swift identification of instances of non-compliance allows for immediate action to ensure adherence to cybersecurity policies, thereby strengthening the IT infrastructure.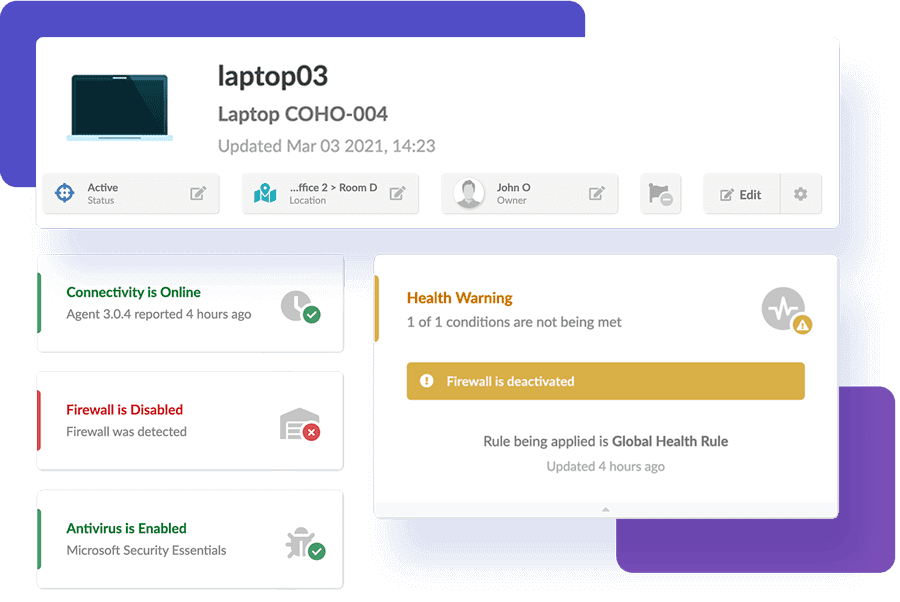 Proactive control of operational costs
InvGate Insight enables the direct integration of financial data, contracts, licenses, and other critical information into its system. This approach provides organizations with a comprehensive understanding of operational costs, enabling proactive and well-informed financial decision-making. This optimization of budget allocation maximizes the value derived from IT investments.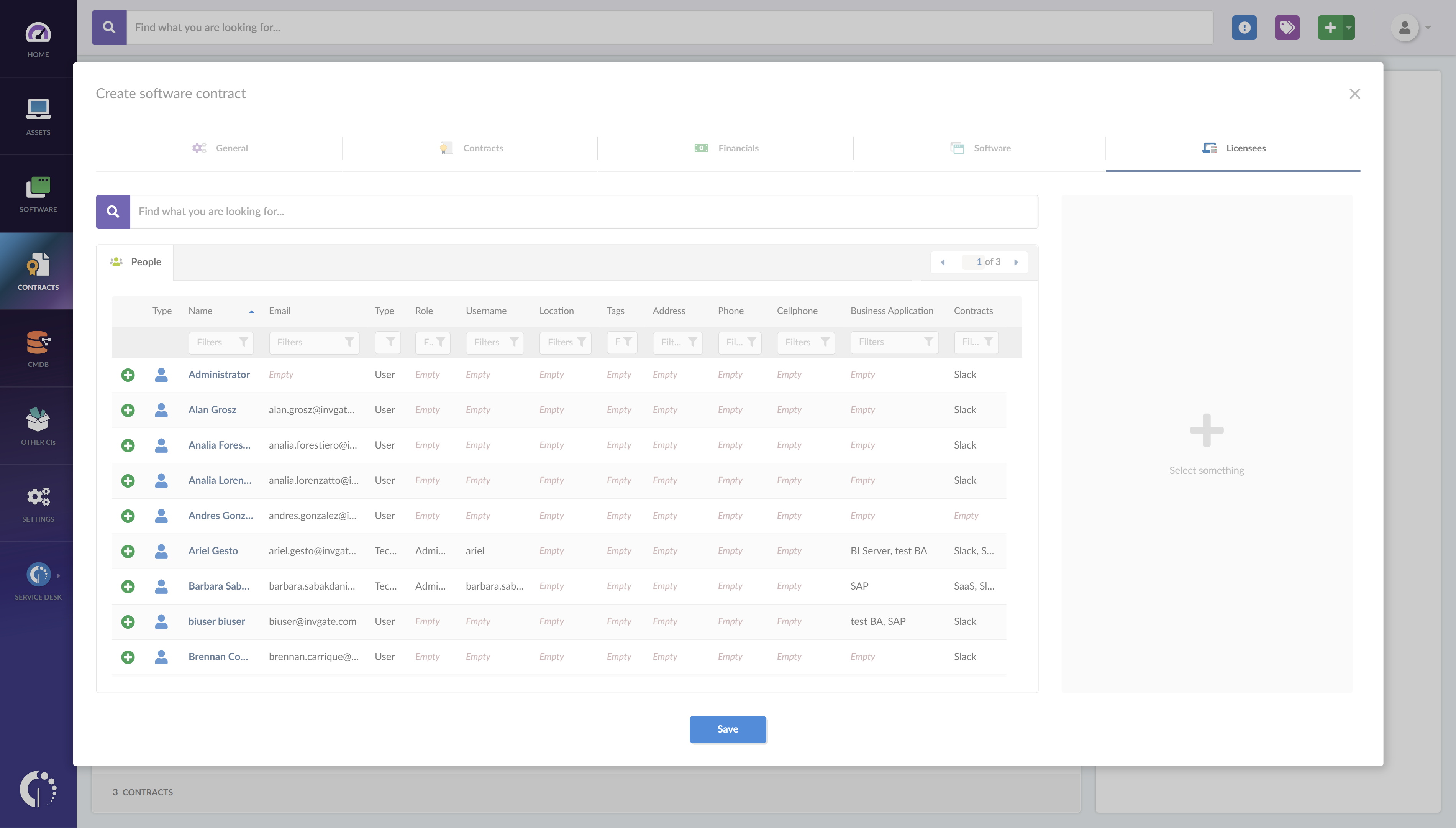 Effortless Remote Management through native integration
InvGate Insight seamlessly integrates with popular remote desktop tools like Windows Remote Desktop, TeamViewer, AnyDesk, and VNC. This integration enhances Remote Management capabilities, providing direct access to devices for troubleshooting and maintenance. This seamless remote access empowers organizations to efficiently address IT issues, perform maintenance tasks, and ensure uninterrupted operations.
Next steps
The in-depth comparison of BMC Asset Management vs. Lansweeper has shed light on each platform's individual strengths and weaknesses.
Nevertheless, the landscape of ITAM is ever-changing and dynamic, offering a wide array of alternatives that extend beyond the purview of these two contenders. InvGate Insight, for example, seamlessly merges efficient management practices, cybersecurity compliance, and proactive cost management into a unified ecosystem, demonstrating the continuous innovation within this industry.
Download our free ITAM implementation checklist, a valuable resource that can aid you in charting your next steps.