Are you currently grappling with the decision between SummitAI Asset Management vs. Flexera One for your organization's IT Asset Management (ITAM) requirements? Choosing the right ITAM solution can significantly influence the efficiency and overall success of your business operations.
In this blog post, we'll embark on a thorough ITAM software comparison, closely examining the features, benefits, and potential limitations of both tools.
But that's not all – we'll introduce a third contender into the mix. InvGate Insight, a compelling contender in the dynamic ITAM landscape, brings to the table a set of distinctive functionalities and capabilities that set it apart.
Keep reading to discover the tools that can transform your ITAM strategies.
Most looked-at features by buyers
When evaluating options for managing IT assets, potential buyers consider a variety of essential capabilities to choose the best-suited solution for their specific needs and business requirements.
Here are some key aspects that purchasers consider when selecting a tailored IT Asset Management (ITAM) solution for their company.
What is SummitAI Asset Management?
Utilizing artificial intelligence, SummitAI IT Asset Management effectively supervises assets, ensuring their optimal usage and compliance with regulations. This AI-driven solution seamlessly integrates with IT Service Management, aligning harmoniously with established industry benchmarks like ITIL and IMAC.
Its primary functionalities encompass:
The company behind SummitAI IT Asset Management is SymphonyAI Summit, a specialized provider of AI-driven solutions designed for IT management purposes. Their products span IT Service Management and IT Asset Management platforms. Founded in 2015 and headquartered in Pune, India, SymphonyAI Summit caters to a diverse global clientele, boasting a satisfied customer base of over 100 organizations.
What users like from SummitAI Asset Management
SummitAI Asset Management has garnered significant recognition and positive feedback from reputable sources like Gartner. Users have highlighted several benefits, as detailed below.
Improved user satisfaction - SummitAI ensures a positive user experience through its intuitive interface, facilitating seamless interactions and swift task execution. The incorporation of the CINDE chatbot improves user support by promptly addressing common queries.
Intuitive user interface - The platform delivers a clear and efficient dashboard, ensuring convenient access to vital information and accurate presentation of crucial data. The user-friendly design and intuitive interface simplify navigation for both newcomers and experienced users.
Tracking software usage and awareness of non-compliance - The software metering capability empowers users to monitor software usage, which optimizes licenses and reduces expenses. The non-compliance awareness function aids organizations in adhering to software licensing agreements and mitigating potential legal and financial risks.
Added functionalities - Users appreciate the diverse reporting options that enable tailored reports aligned with their needs. The comprehensive platform caters to a variety of requirements, spanning both Service Management and IT Asset Management, thereby streamlining operations.
Reports for software inventory, standardization, and compliance - These features have received acclaim for their effectiveness and value.
Enhanced operational efficiency - Users observe heightened productivity and enhanced collaboration. The tool's accelerated operational speed leads to time savings. Visual inspection capabilities aid users in understanding asset status and condition, while remote asset monitoring offers convenience and flexibility.
Control over applications and asset integration - The integration of application control and seamless asset integration significantly streamlines users' workflows.
Preemptive maintenance - This feature enables proactive planning and minimizes asset downtime.
Discovery tool - SummitAI's discovery tool captures comprehensive details about hardware and software assets.
Cost-effectiveness - SummitAI provides an extensive range of features at a competitive price point, positioning it as a cost-effective alternative when compared to other solutions.
What users don't like from SummitAI Asset Management
While SummitAI Asset Management has several strengths and positive attributes, it is not immune to receiving feedback and criticisms from customers.
The subsequent points outline a range of common concerns users highlight in reviews from reputable sources such as Gartner.
Customization and compatibility - Users are seeking enhanced support for tailoring the tool to their specific requirements. The limited compatibility of the discovery tool with Microsoft OS might hinder its effectiveness in diverse environments. Certain customizations necessitate assistance from the support team, potentially leading to delays.
Usability and accessibility - Some users find certain functions that require multiple clicks to be burdensome. The inability to use the tool across various devices simultaneously presents constraints. Navigating the platform and performing maintenance tasks can pose difficulties. Users have reported issues with agent synchronization, affecting data accuracy and dependability. Furthermore, reservations persist regarding the enhancement of the user interface and experience, with some individuals expressing dissatisfaction with the login process.
Reporting and security - Users express a desire for swifter reporting capabilities to expedite decision-making. Some individuals have expressed security-related concerns about the existing data handling practices.
Pricing - Users frequently compare SummitAI's pricing with that of other tools and have raised queries about the overall pricing structure, despite acknowledging the favorable features offered in exchange for the cost.
Specific features - Users have encountered difficulties in displaying the count of resolved tickets per analyst, which has implications for reporting and analytical purposes.
What's SummitAI Asset Management's argument over Flexera One?
SummitAI Asset Management has an array of distinctive advantages over its counterpart, Flexera One. Users have found SummitAI Asset Management to offer a host of compelling reasons to choose it as their preferred solution, as outlined below.
Enhanced user experience and support - SummitAI stands out by ensuring an elevated user satisfaction level. Its intuitive interface not only facilitates seamless interactions but also accelerates task execution, fostering a positive user experience. The incorporation of the CINDE chatbot further bolsters user support, providing quick resolutions to common queries.


Intuitive design and accessibility - The platform's intuitive user interface presents users with a clear and efficient dashboard, guaranteeing easy access to vital information and the precise presentation of crucial data.


Optimized software usage monitoring and compliance awareness - SummitAI's software metering capability empowers users to effectively monitor software usage, leading to optimized License Management and reduced costs. In addition, the software excels in promoting compliance by keeping organizations aligned with software licensing agreements, thereby mitigating potential legal and financial risks.


Comprehensive functionalities tailored to requirements - Users applaud the platform's versatile reporting options, which allow for the creation of tailored reports tailored to individual needs. SummitAI Asset Management addresses a wide spectrum of needs, encompassing both Service Management and IT Asset Management, resulting in streamlined operations.


Highly effective software inventory, standardization, and compliance reports - The features that provide software inventory insights, facilitate standardization and ensure compliance have garnered acclaim for their effectiveness and value, setting SummitAI apart.


Amplified operational efficiency and collaboration - Users have noticed a notable boost in productivity and collaboration facilitated by SummitAI. The tool's increased operational speed translates to time savings, while visual inspection capabilities aid in understanding asset status. Remote asset monitoring further adds convenience and flexibility to the equation.


Seamless control over applications and asset integration - SummitAI Asset Management excels through the integration of application control and the seamless integration of assets, streamlining users' workflows and enhancing efficiency.


Proactive maintenance planning - The inclusion of preemptive maintenance features enables proactive planning, reducing asset downtime and contributing to optimized operations.


Comprehensive discovery tool - SummitAI's discovery tool captures comprehensive details about both hardware and software assets, providing users with a robust understanding of their IT landscape.


Excellent value - SummitAI stands out as a cost-effective alternative to other solutions, offering a wide array of features at a competitive price, making it an attractive choice for organizations seeking value without compromising functionality.
What is Flexera One?
Flexera One, crafted by Flexera, is a Software as a Service (SaaS) solution that merges IT Asset Management and Software Asset Management. It takes a comprehensive approach by offering a unified, centralized perspective of IT assets spanning on-premises, cloud, and edge environments.
This platform aids organizations in streamlining IT spending, overseeing and fortifying cloud infrastructure, mitigating risks, ensuring adherence to regulations, and furnishing valuable insights and analytics.
Flexera, previously known as InstallShield and rebranded in 2009, is a corporation specializing in solutions for managing technology assets.
Headquartered in Itasca, Illinois, United States, Flexera has been a frontrunner in providing comprehensive technology tools since its inception in 1987. Their services encompass Software and Hardware Asset Management, Cloud Expenditure Optimization, Vulnerability Management, and Compliance with Open Source Software.
What users like from Flexera One
Flexera One has garnered customer acclaim, as demonstrated by appraisals from reputable sources like Gartner.
Let's delve deeper into some of the specific advantages that have been highlighted.
Empowering critical business processes and choices - Users have emphasized Flexera One's capability to provide valuable insights into software that bolster crucial business processes and decision-making. The software equips organizations with the essential tools and data required to optimize their strategic planning and enhance operational efficiency.
User-friendly with extensive clarity - Customers have expressed admiration for the user-friendliness of Flexera One. The product's intuitive interface and streamlined navigation contribute to its ease of comprehension and operation. Moreover, Flexera One offers substantial clarity, interpretation, and coverage of software consumption.
Responsiveness to business requirements - Flexera One has received widespread commendation as an exceptional tool for Software Asset Management that effectively addresses the unique needs of businesses. The software has demonstrated its ability to adapt to user demands, ensuring a smooth and tailored experience.
Exceptional customer assistance - Reviews consistently laud Flexera One's exceptional customer support. Users have conveyed contentment with the swift aid they've received and the attentive demeanor of Flexera One's support team. This attentiveness fosters a sense of being heard and supported among customers, ultimately heightening their overall contentment with the product.
What users don't like from Flexera One
Despite the manifold strengths and positive attributes of Flexera One, it is not immune to the apprehensions and criticisms of its users.
Reviews from credible sources such as Gartner have illuminated persistent concerns that users have articulated.
Reiteration of issues and protracted conflict resolution - Users have voiced dissatisfaction with the time required to address issues, which affects the efficiency of their workflow. Tackling these recurrent problems and optimizing the resolution process would amplify the overall user experience.
Configuration hurdles - Several customers have shared instances of encountering challenges during the system's setup phase, even with the guidance of Flexera's support team. Despite seeking assistance, users have encountered obstacles, underscoring the necessity for improvements in the setup procedure.
Obstacles with the support team and reservations about data quality - Certain users have encountered challenges when communicating with Flexera's support team. Moreover, reservations have been raised regarding the accuracy of the provided data.
Complexity in configuring intricate licensing models - Customers have noted that configuring the product to attain a satisfactory understanding of more intricate licensing models demands substantial exertion. The intricacy involved in obtaining precise insights into licensing can present difficulties and might benefit from a more streamlined and simplified approach.
What's Flexera One's argument over SummitAI Asset Management?
Flexera One has garnered a reputation for excellence among customers, a fact supported by reviews in reputable sources like Gartner. When delving into the details, there are a number of distinct advantages that Flexera One brings to the table.
Empowerment of crucial business processes and decisions - Flexera One shines in its ability to provide invaluable insights into software, which in turn bolsters critical business processes and decision-making. By equipping organizations with essential tools and data, the software optimizes strategic planning and operational efficiency, enabling businesses to make informed choices.


User-friendly interface with comprehensive clarity - Flexera One earns appreciation for its user-friendly design. Its intuitive interface and streamlined navigation contribute to its easy comprehension and operation. Furthermore, Flexera One stands out for its ability to offer substantial clarity, interpretation, and comprehensive coverage of software consumption.


Responsiveness to business requirements - Flexera One has garnered widespread acclaim as an exceptional Software Asset Management tool that effectively addresses the unique requirements of businesses. The software showcases its prowess in adapting to user demands, ensuring a seamless and customized experience that aligns with specific business needs.


Exceptional customer support - Consistent praise is directed towards Flexera One's customer support, which consistently surpasses expectations. This emphasis on attentiveness fosters a sense of being valued and supported among customers, enhancing their overall satisfaction with the product.
Considering InvGate Insight as an ITAM solution alternative
For organizations in search of IT Asset Management alternatives tailored to their specific needs, InvGate Insight presents itself as a strong contender. As a robust ITAM solution, InvGate Insight offers a range of features and functionalities that position it as a viable choice for streamlining Asset Management procedures.
Let's delve into its core features.
Proactive operational cost management
InvGate Insight facilitates the direct integration of financial data, contracts, licenses, and other critical information into the system. This integration gives organizations a holistic understanding of their operational costs, enabling proactive and well-informed financial decision-making. Such an approach optimizes budget allocation and maximizes the value derived from IT investments.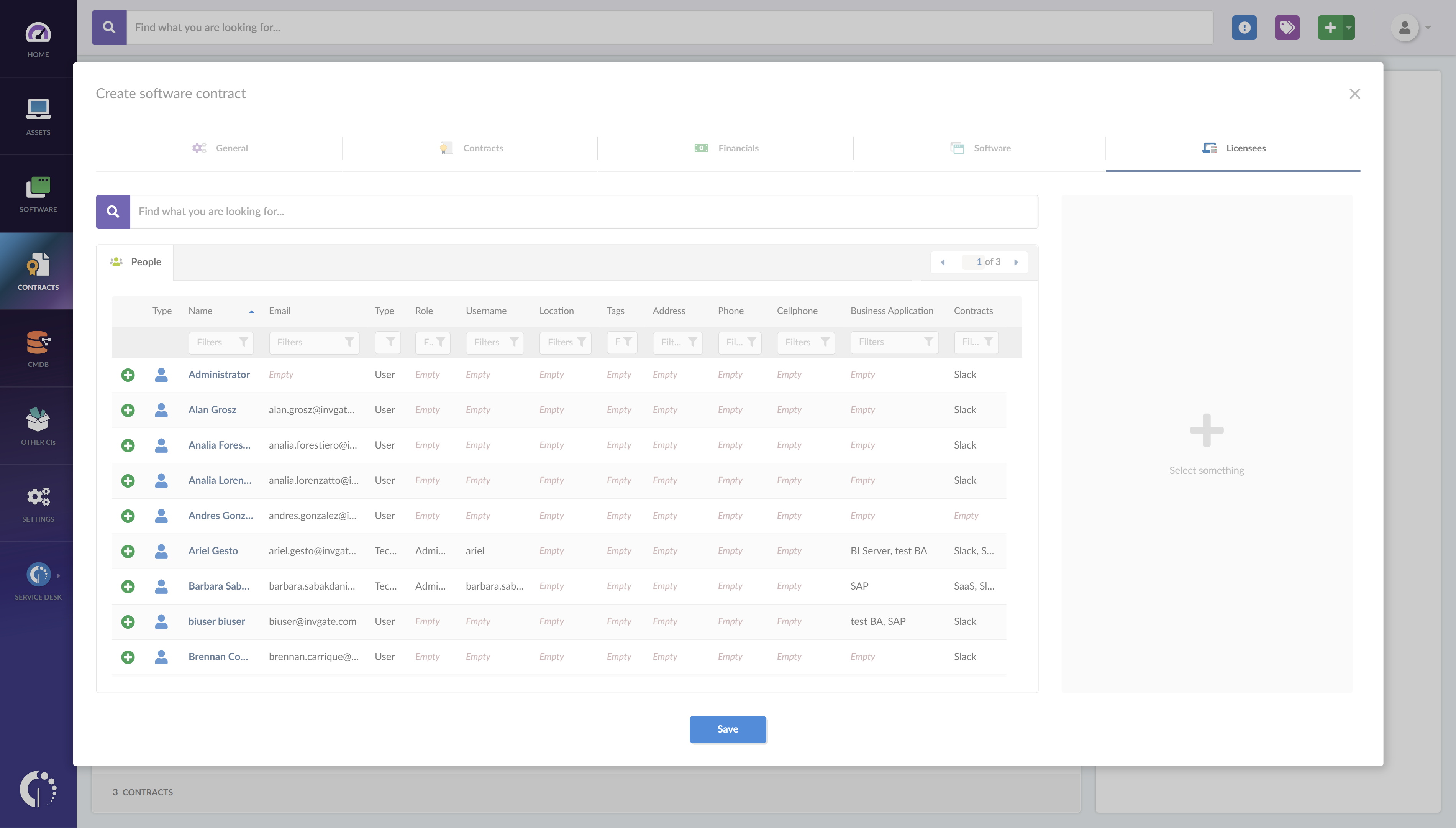 Comprehensive insights into IT infrastructure
With its robust suite of features, InvGate Insight offers comprehensive and actionable insights into IT assets, encompassing their status and usage. This depth of insight empowers effective management and optimization of the infrastructure, ultimately enhancing operational efficiency.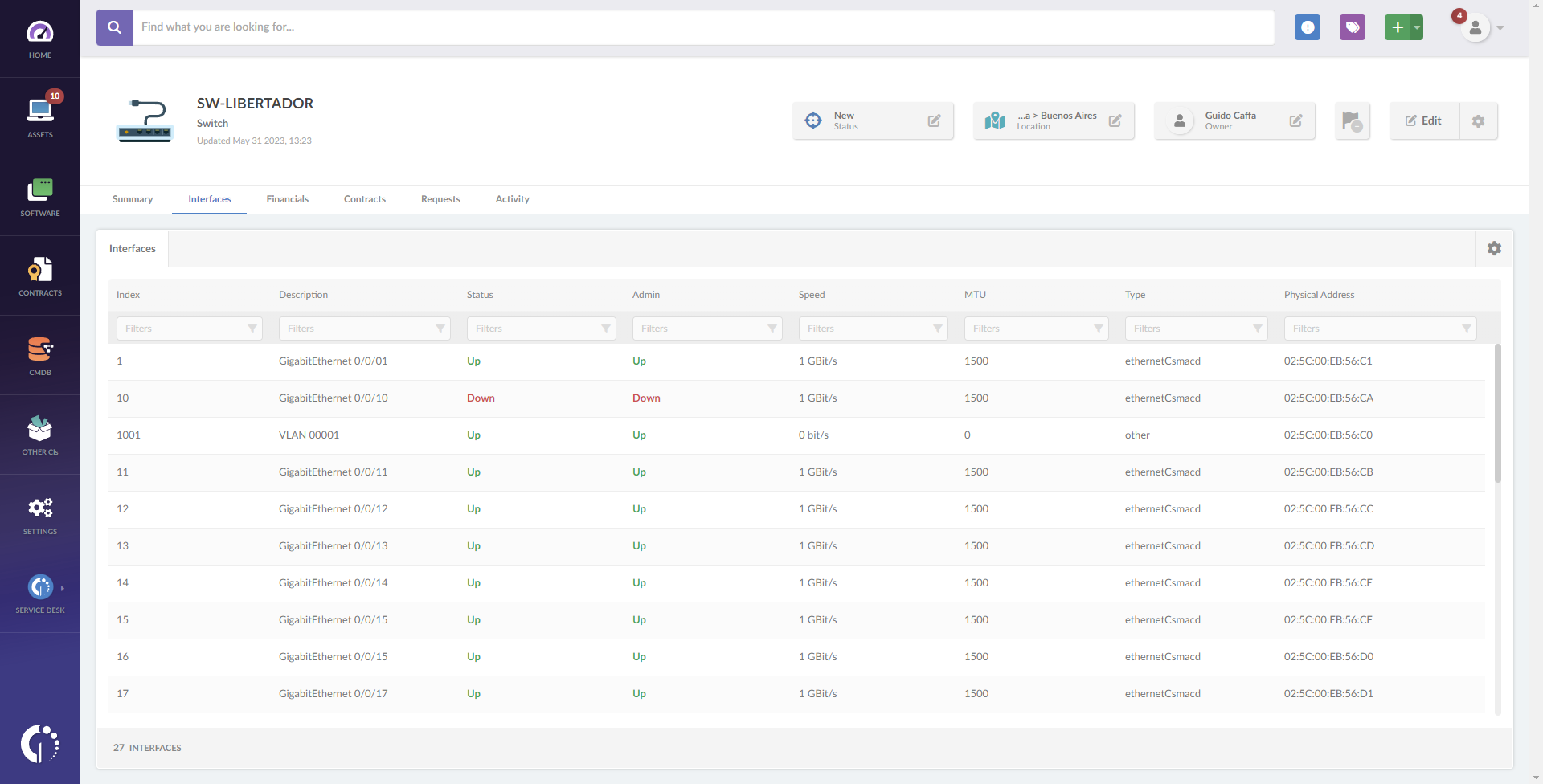 Effortless remote management with native integration
InvGate Insight natively integrates with widely used remote desktop tools such as Windows Remote Desktop, TeamViewer, AnyDesk, and VNC. This integration enhances remote management capabilities, providing direct access to devices for troubleshooting and maintenance. With seamless remote access, organizations can effectively address IT issues, conduct necessary maintenance tasks, and maintain uninterrupted operations.
Improved cybersecurity compliance with asset monitoring
InvGate Insight's asset monitoring capabilities establish and enforce device health rules, enhancing proactive cybersecurity compliance. Swift identification of instances of non-compliance enables immediate action to ensure adherence to cybersecurity policies and safeguard the IT infrastructure.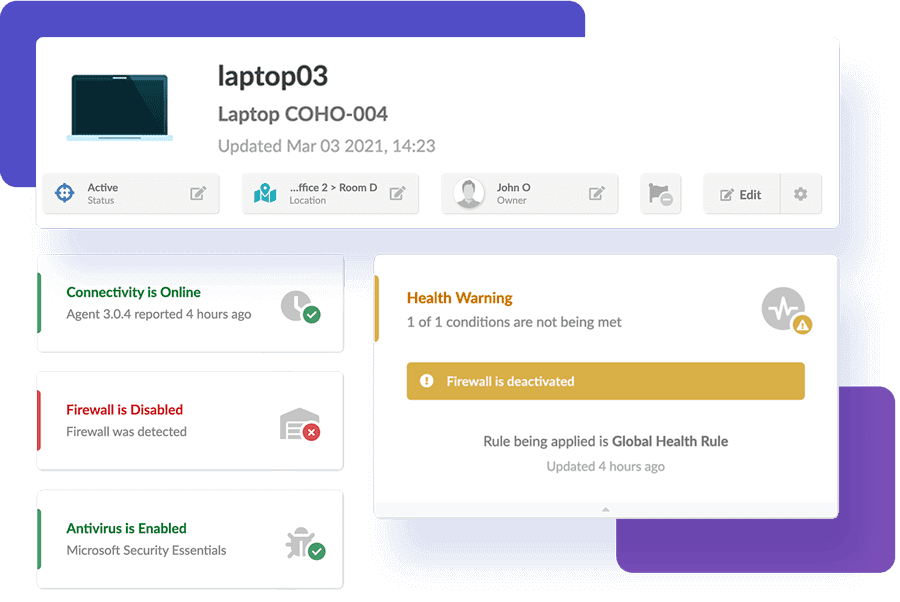 Enhanced IT Asset and Inventory Management
InvGate Insight facilitates a seamless integration process that consolidates data from diverse sources, including prominent operating systems, cloud service providers (such as AWS, Google, and Azure), and Mobile Device Management systems (like JAMF and Google Endpoint Manager). This holistic integration ensures effective management of both IT and non-IT assets, locations, and personnel. This not only saves time but also provides a comprehensive view of the infrastructure.
Efficient management through automation and alerts
InvGate Insight introduces process automation and alert configurations that facilitate proactive IT management. By creating automated alerts, organizations can actively monitor contract expirations and promptly inform relevant stakeholders, minimizing manual effort and the risk of oversights. This automated approach streamlines operations, freeing resources to focus on critical tasks and ultimately boosting overall efficiency.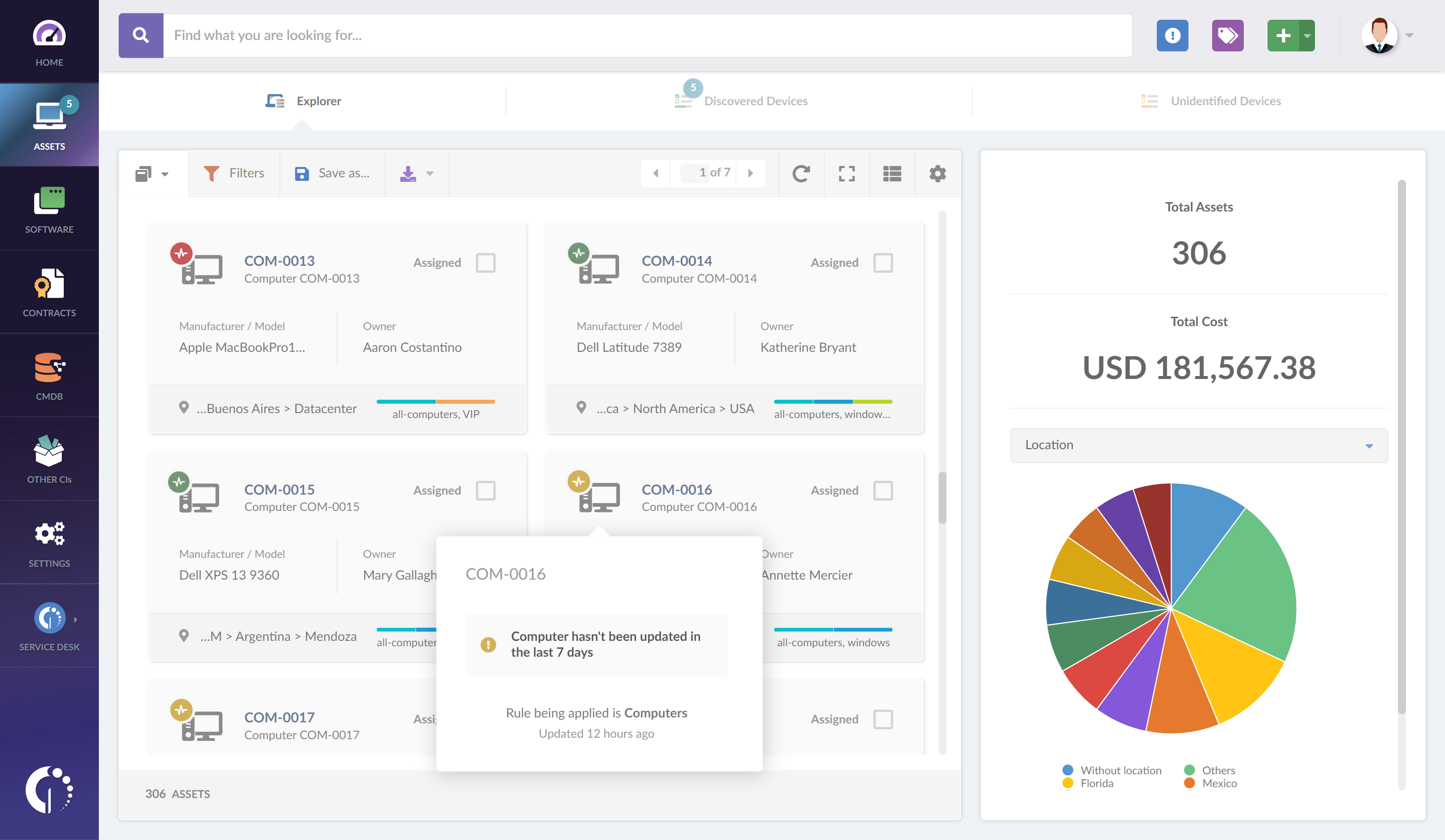 Streamlined operations with CMDB map builder
InvGate Insight incorporates the CMDB map builder tool, which provides a comprehensive and clear overview of the IT ecosystem. This tool visualizes component relationships, enabling the identification of potential impacts on operational continuity and leading to proactive risk mitigation. This increased visibility contributes to reduced service times, heightened operational efficiency, and smoother IT operations.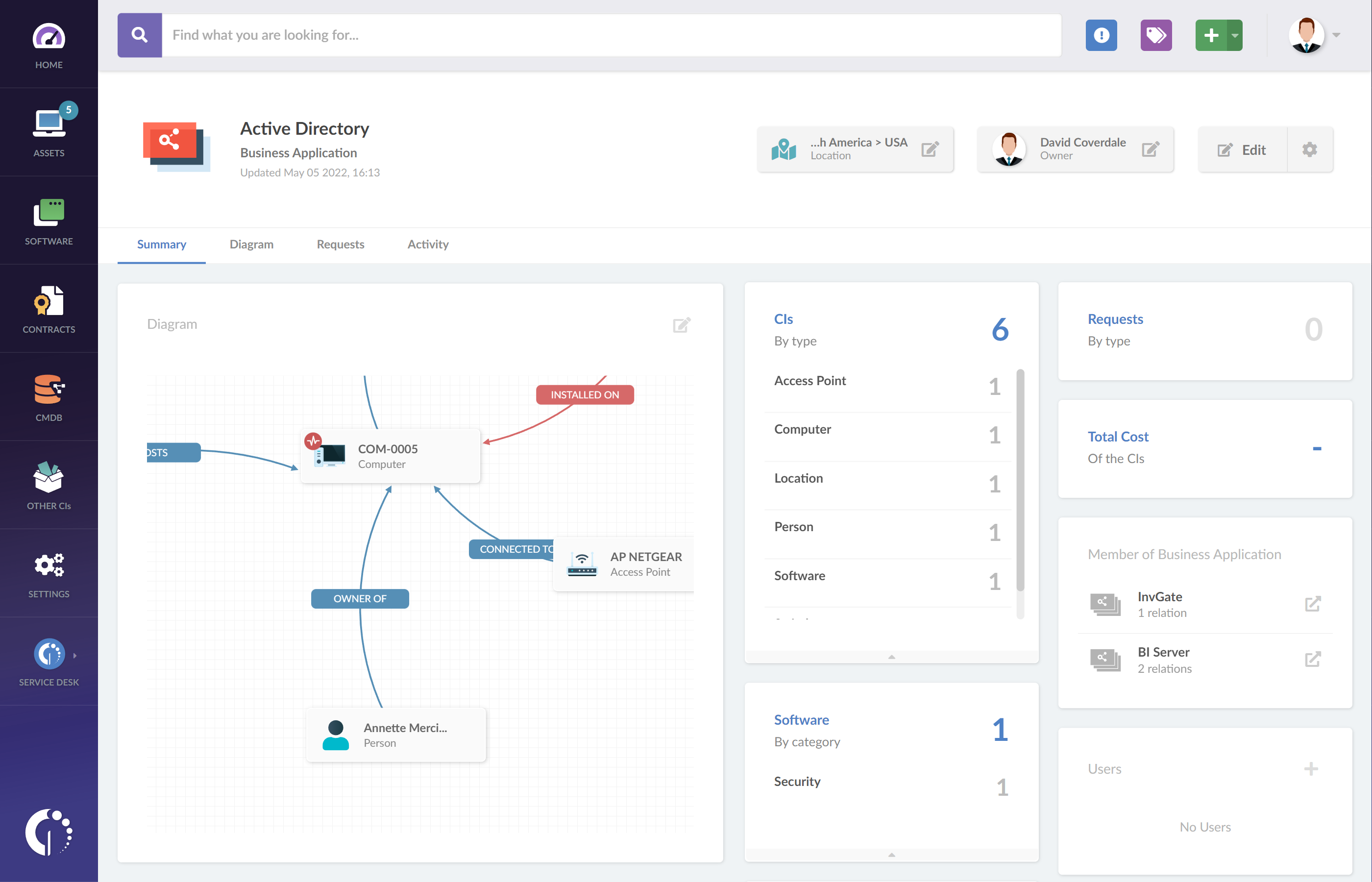 A holistic view of IT operations through native service desk integration
InvGate Insight seamlessly integrates with InvGate Service Desk, providing a native link that connects tickets with devices and personnel. This integration offers a comprehensive 360-degree perspective of IT operations, enhancing management efficiency. By associating service tickets with relevant assets and team members, workflows are streamlined, communication is enhanced, and issue resolution is improved.
Optimized software efficiency and reduced costs
InvGate Insight empowers organizations to identify and assess the utilization of paid software, facilitating efficient Software Management. Through the visibility into software usage, underutilized licenses can be redistributed, unnecessary costs minimized, and returns on IT investments maximized. This optimization of software efficiency aids organizations in making the most of their software resources.
Flexible deployment options to suit individual needs
Recognizing the distinct requirements and industry regulations of each organization, InvGate Insight offers flexible deployment choices. This flexibility allows organizations to opt for either a cloud-based or on-premise solution, ensuring alignment with specific needs and compliance standards.
Next steps
In the ongoing search for the perfect ITAM solution, the comparison between SummitAI Asset Management vs. Flexera One has shed light on two impressive contenders. Evaluating these platforms underscores the importance of making an informed decision that aligns with your organization's unique needs and goals.
However, as selecting an IT Asset Management tool carries substantial implications for your organization's efficiency and overall success, it's crucial to broaden the scope of exploration. InvGate Insight, for instance, emerges as another promising alternative that warrants consideration.
Download our free ITAM implementation checklist that will serve as your roadmap, guiding you through the essential steps required to integrate your chosen ITAM solution seamlessly.