Embarking on the IT Asset Management (ITAM) journey is no small task, and the competition is higher than ever. The comparison between NinjaOne vs. ServiceNow Software Asset Management in managing your organization's digital assets takes center stage. Your decision can significantly impact your organization's efficiency and overall success in the complex landscape of modern IT management.
In this blog post, we'll dive deep into an ITAM software comparison of these two platforms, analyzing their features, benefits, and limitations.
But the exploration doesn't stop there. We'll introduce a wildcard that could change the game entirely – InvGate Insight.
So, if you're seeking the perfect fit for your IT Asset Management needs, you're in the right place.
Most looked-at features by buyers
When assessing options for IT Asset Management solutions, potential purchasers take into account a range of crucial capabilities to locate the most fitting choice that corresponds with their specific demands and business necessities.
Here are several primary aspects that buyers factor in when selecting a tailored ITAM solution for their organization.
What is NinjaOne?
NinjaOne is committed to developing IT management solutions that deliver strong assistance to Managed Service Providers (MSPs) and IT experts. Their primary goal is to ensure the smooth continuation of business operations while enhancing profitability. The platform is strategically designed to streamline the process of bringing clients on board and to make the most of automation, providing a modernized IT management experience.
The platform's objective is to reduce the costs related to client onboarding and training, proactively identify and resolve common IT issues, and simplify complex IT tasks. This transformation positions IT as a potential catalyst for business growth rather than just a cost.
The company is self-reliant and led by its founders, with an executive team that possesses extensive backgrounds in IT. This spans from overseeing their services to establishing startups tailored for MSPs and IT leaders. NinjaOne's foundation is rooted in cloud technology, furnishing an integrated IT management platform well-positioned for expansion.
What users like from NinjaOne
NinjaOne has garnered widespread recognition and positive feedback from reputable sources such as Gartner. Users have underscored a multitude of benefits, as outlined below.
Comprehensive, integrated solution - NinjaOne's comprehensive amalgamation of Help Desk, Patching, and Backup functionalities in a singular product simplifies operations and advances efficiency.
Comprehensive resources - The availability of thorough documentation and choices for scripting empowers IT professionals to personalize processes, troubleshoot effectively, and automate repetitive duties.
Streamlined navigation - The platform's inherent structure for navigation ensures that users can promptly locate the tools and functionalities they require. This diminishes the learning curve and elevates the overall user encounter.
Cost-effective approach - The tool's cost-effective strategy positions it as a valuable selection for businesses of diverse scales. Its adaptable licensing, which permits a start with just 50 devices, empowers organizations to expand according to their demands.
Simplified implementation and management - The solution's uncomplicated implementation and management protocols simplify IT teams' tasks, conserving time and resources during platform establishment and oversight.
Robust reporting prowess - NinjaOne's strong reporting capabilities provide profound insights into the functioning of IT operations.
Responsive support and interaction - The platform's support services and engagement with users foster a positive user experience. Timely support and engagement efforts cultivate a sense of partnership and assurance in the platform.
Data safeguard through server and PC backup - NinjaOne's inclusion of features for server and PC backup supplies a dependable solution for data protection, securing essential information, and minimizing potential setbacks.
Mobile adaptability - The solution's mobile application extends the convenience of IT management beyond desktop settings, enabling professionals to supervise and address issues while on the move.
Rapid search functionalities - The tool's swift search capabilities for individuals or serial numbers expedite problem-solving and the identification of assets.
Efficient patch management capabilities - NinjaOne's seamless Windows Patch Management alleviates the intricacies of maintaining up-to-date systems. The ability to schedule patches and software updates bolsters system security and efficiency while curbing vulnerabilities.
What users don't like from NinjaOne
Despite NinjaOne's myriad strengths and commendable attributes, it is not exempt from customer concerns and constructive criticism. Here is a compilation of common issues users have highlighted in reviews from reputable sources such as Gartner.
Fluctuating remoting capabilities - Inconsistencies in remoting capabilities have been noted by certain users, potentially impeding efficient remote troubleshooting and management activities.
Incomplete integrations - Users have reported instances where integrations with external tools or systems seem incomplete or lacking in certain aspects, impacting the overall efficiency of their workflows.
Opportunity for enhancement in the ticketing system - Some users believe that the ticketing system could be improved by incorporating additional features, customization options, and overall usability.
Limited availability of technical support beyond standard business hours - A desire for extended 24/7 support has been voiced by some users, aiming to ensure prompt assistance and issue resolution at any time of the day.
Challenges in retrieving asset details - Certain users have encountered difficulties when trying to efficiently access asset details, potentially leading to a slowdown in the troubleshooting and Asset Management processes.
Historical issues with email delivery - Past email delivery issues have been reported, potentially impacting communication and the timely handling of support requests.
Unfinished ticketing and documentation components - Some users have observed that the ticketing system and related documentation feel unfinished or lacking in specific elements. This perception could influence user experience and overall efficiency.
Absence of maintenance mode for devices - The lack of a maintenance mode for devices has the potential to complicate certain tasks, such as updates or troubleshooting, without causing disruptions to ongoing operations.
Requirement for screenshot functionality - Users have expressed the need for screenshot functionality within the platform, which could facilitate documentation, troubleshooting, and communication processes.
What's NinjaOne's argument over ServiceNow Software Asset Management?
When comparing NinjaOne to ServiceNow Software Asset Management, the former presents a compelling argument backed by a range of distinctive features and benefits that set it apart.
Comprehensive all-in-one solution - NinjaOne offers a complete amalgamation of Help Desk, Patching, and Backup functionalities within a single product.


User empowerment through resources - NinjaOne's emphasis on comprehensive resources, including thorough documentation and scripting options, empowers IT professionals to personalize processes, troubleshoot effectively, and automate repetitive tasks.


Streamlined navigation and ease of use - NinjaOne's inherent structure for navigation ensures that users can quickly locate the tools and functionalities they need.


Cost-effectiveness and scalability - NinjaOne's cost-effective strategy, coupled with its adaptable licensing that allows starting with as few as 50 devices, makes it an appealing choice for businesses of varying sizes.


Simplified implementation and management - NinjaOne's straightforward implementation and management protocols save IT teams time and resources during platform establishment and oversight.


Robust reporting and insights - NinjaOne's strong reporting capabilities provide deep insights into IT operations, offering valuable data-driven decision-making.


Responsive support - NinjaOne's dedication to responsive support services and active user engagement creates a positive user experience.


Data safeguard and mobile adaptability - NinjaOne's inclusion of server and PC backup features ensures data protection and minimizes setbacks. Additionally, the platform's mobile application extends IT management beyond desktop settings, allowing professionals to address issues on the go.
What is ServiceNow Software Asset Management?
ServiceNow's Software Asset Management capabilities provide organizations with tools that empower them to effectively handle risk, decrease expenditures, and automate the entire software lifecycle, all within a cohesive platform. ServiceNow equips businesses to optimize their software assets, achieve cost savings, and proficiently oversee their software operations through the simplification of Asset Management, provision of scalable features, and a strong emphasis on security and adherence to regulations.
Established in 2004 and headquartered in Santa Clara, California, ServiceNow offers a broad range of cloud-based solutions tailored to cater to a variety of enterprise needs. Their offerings encompass IT Service Management, IT Operations Management, IT Business Management, Customer Service Management, Human Resources Service Delivery, Security Operations, and more.
What users like from ServiceNow Software Asset Management
ServiceNow's Software Asset Management has received widespread user recognition and positive feedback from respected sources such as Gartner. Customers have pointed out various benefits, which encompass:
Intuitive user interface - The platform's user interface (UI) is intuitive and user-friendly, allowing for effortless navigation and rapid learning.
Task automation - Users value the software's capability to automate tasks and enhance the efficiency of IT operations by simplifying employee provisioning.

Risk Management

- Users find the Risk Management features of the solution extremely advantageous, providing valuable insights for legal and compliance purposes.
Asset detection and inventory control - ServiceNow's SAM streamlines asset detection and inventory control, improving overall asset monitoring and regulation adherence.
What users don't like from ServiceNow Software Asset Management
While ServiceNow SAM has many strengths and positive attributes, it is not immune to customer concerns and criticisms. Here are some common complaints voiced by users in reviews from reputable sources such as Gartner:
Functionality limitations - Certain users point out that the tool lacks certain functionalities, potentially rendering it inadequate for managing complex licensing software scenarios.
Complexity - Some users perceive ServiceNow SAM as intricate, requiring considerable time to grasp its full operational intricacies.
Cost concerns - The cost associated with the platform raises concerns for medium and small-sized companies, presenting challenges for comprehensive implementation and adoption.
Documentation - Users desire improved documentation, particularly concerning end-user experience and comprehension of software normalization processes.
What's ServiceNow Software Asset Management's argument over NinjaOne?
When comparing ServiceNow Software Asset Management to NinjaOne, ServiceNow presents a compelling argument supported by a range of distinct features and benefits that set it apart.
Intuitive user interface - ServiceNow Software Asset Management excels with its intuitive and user-friendly UI. This interface facilitates effortless navigation and rapid learning, providing a seamless, user-centric experience.


Comprehensive task automation - ServiceNow's Software Asset Management takes task automation to the next level. The platform's system is built to enhance IT operation efficiency significantly.


Enhanced Risk Management - ServiceNow's focus on Risk Management offers valuable insights for legal and compliance purposes.
Considering InvGate Insight as an ITAM solution alternative
For organizations seeking customized IT Asset Management solutions that align with their specific needs, InvGate Insight presents itself as a viable option. Serving as a robust ITAM solution, InvGate Insight provides a variety of features and functionalities that make it a feasible choice for streamlining Asset Management procedures. Let's delve into its primary attributes.
Comprehensive insights into IT infrastructure
With its robust features, InvGate Insight furnishes detailed and actionable insights into IT assets, encompassing their status and usage. This comprehensive insight enables effective management and optimization of the infrastructure, ultimately enhancing operational efficiency.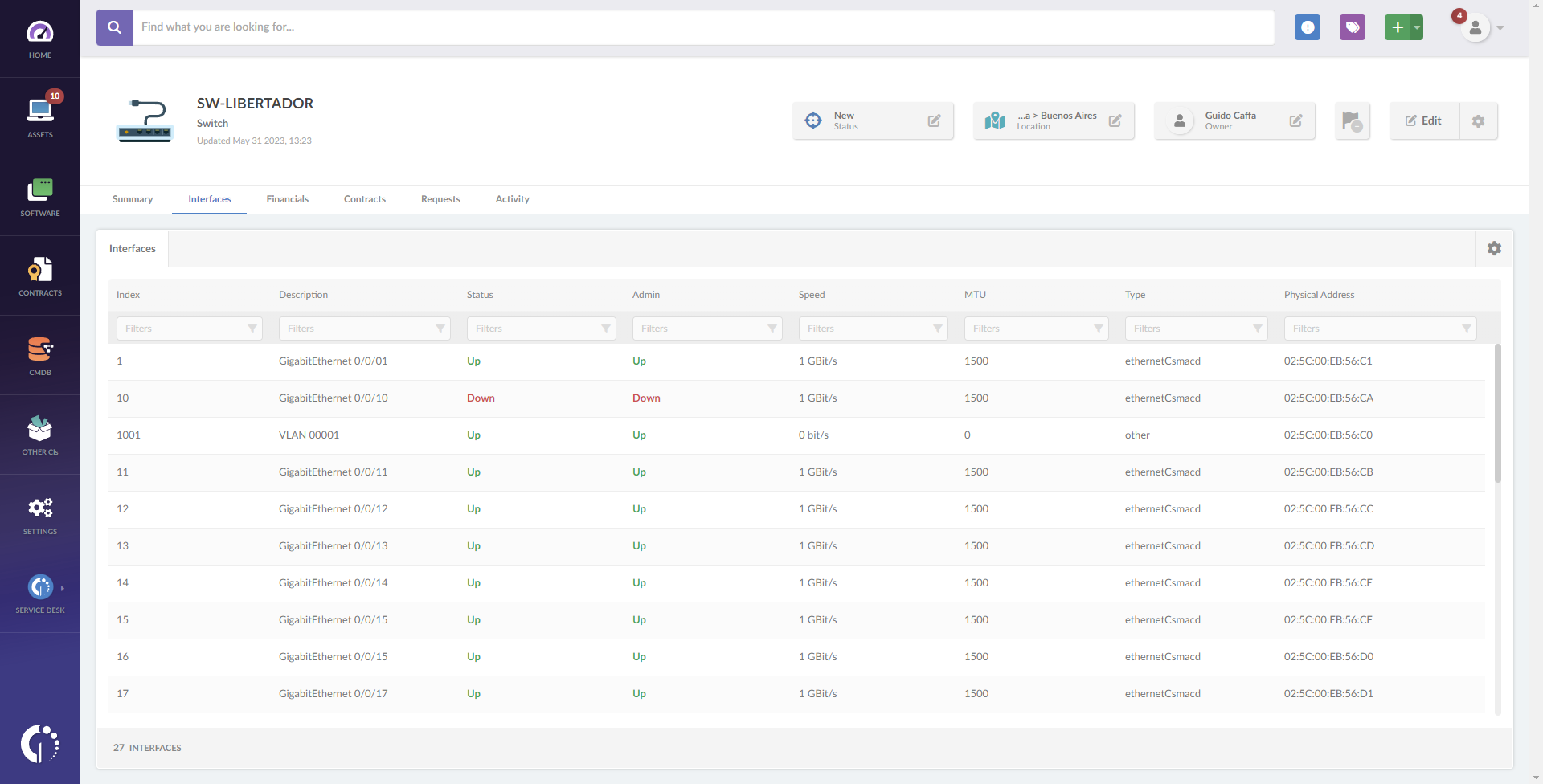 Enhanced IT Asset and Inventory Management
InvGate Insight simplifies integration by consolidating data from diverse sources, including major operating systems, cloud service providers (AWS, Google, Azure), and MDMs (JAMF, Google Endpoint Manager). This thorough integration facilitates the effective management of both IT and non-IT assets, locations, and personnel. This approach saves time and offers a holistic perspective of the infrastructure.
Efficient operations through CMDB map building
InvGate Insight's tool for constructing CMDB maps offers a clear and all-encompassing view of the IT landscape. Visualizing the relationships between components helps pinpoint potential impacts on operational continuity, thus preemptively addressing risks. This visibility results in shorter service times, heightened operational efficiency, and smoother IT operations overall.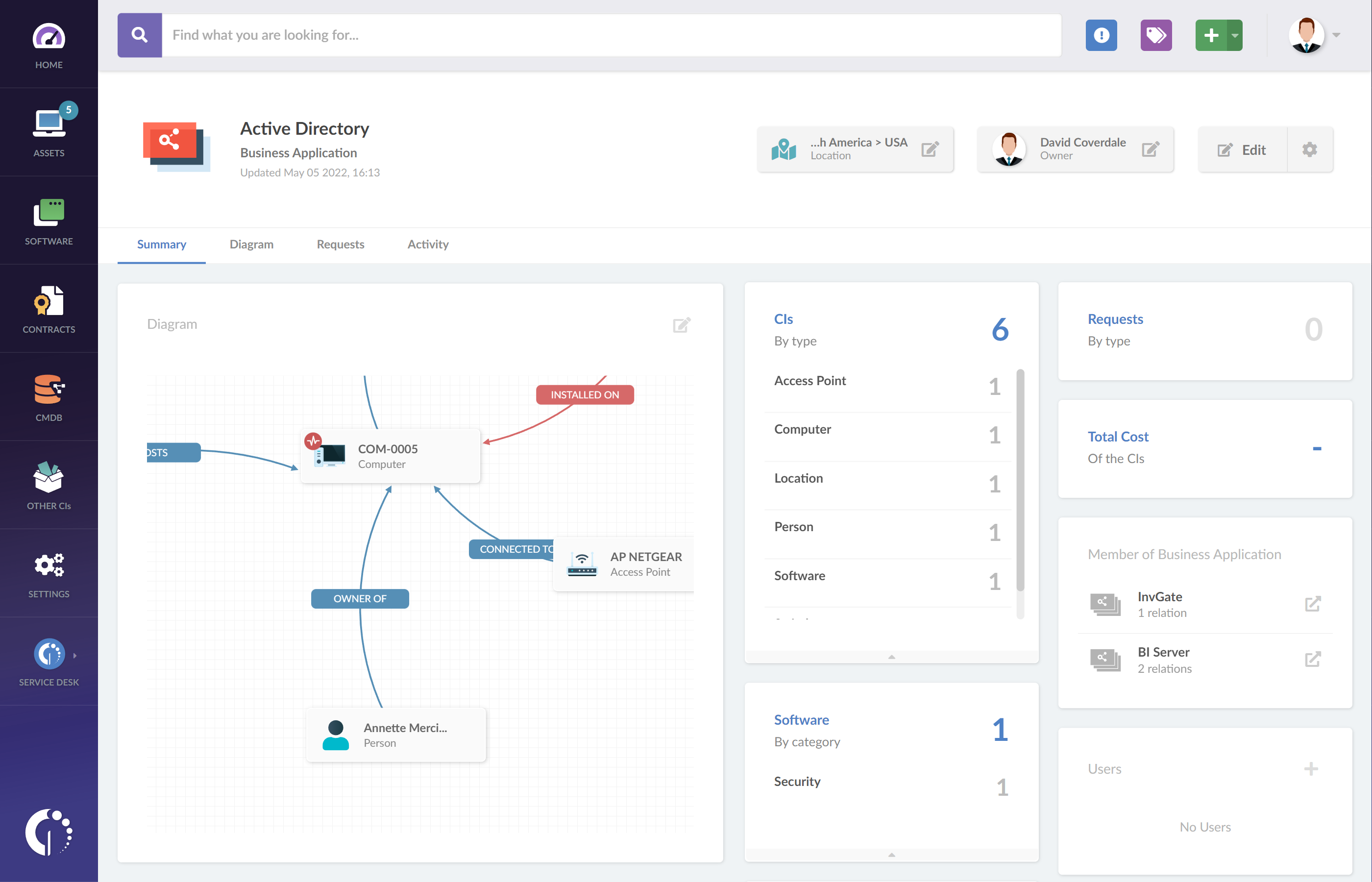 Software efficiency optimization and cost reduction
InvGate Insight empowers organizations to detect and gauge the utilization of paid software, streamlining Software Management. By gaining visibility into software usage, unused licenses can be reassigned, unnecessary costs curtailed, and returns on IT investments optimized. This optimization of software efficiency aids organizations in making the most of their software assets.
Comprehensive IT operations view through native service desk integration
InvGate Insight seamlessly integrates with InvGate Service Desk, establishing a native link between tickets, devices, and personnel. This integration offers a thorough perspective on IT operations, streamlining management. Linking service tickets to pertinent assets and personnel enhances workflows, communication, and issue resolution.
Automation and proactive alerts
InvGate Insight promotes process automation and the establishment of alerts to foster proactive IT management. Automated alerts enable organizations to monitor contract expirations and promptly notify relevant parties, mitigating the risk of oversight. This automation optimizes operations, enabling a focus on critical tasks and enhancing overall efficiency.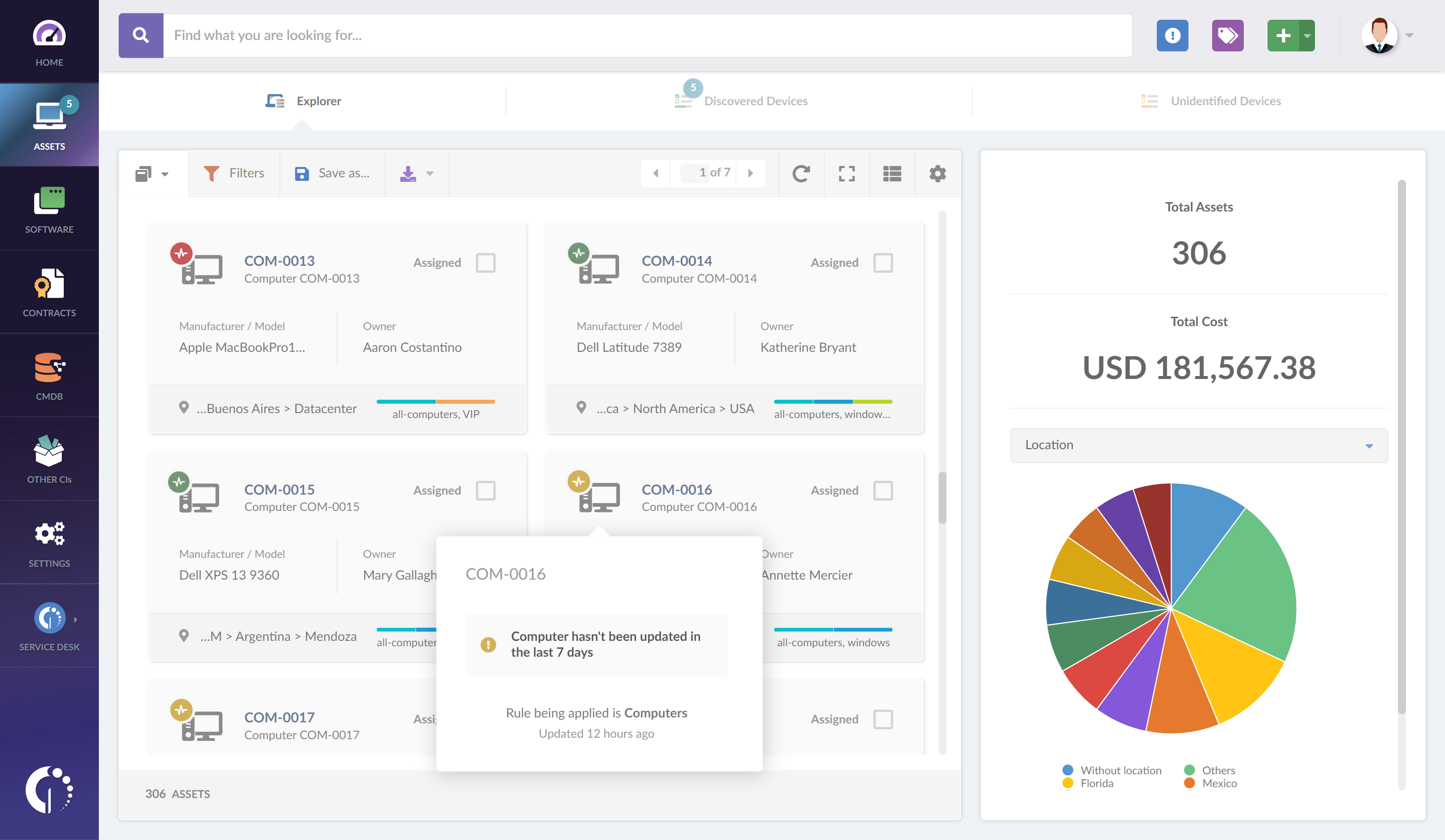 Enhanced cybersecurity compliance via asset monitoring
InvGate Insight's asset monitoring capabilities establish and enforce device health rules, contributing to proactive cybersecurity compliance. Rapid identification of instances of non-compliance enables immediate action to uphold cybersecurity policies and safeguard the IT infrastructure.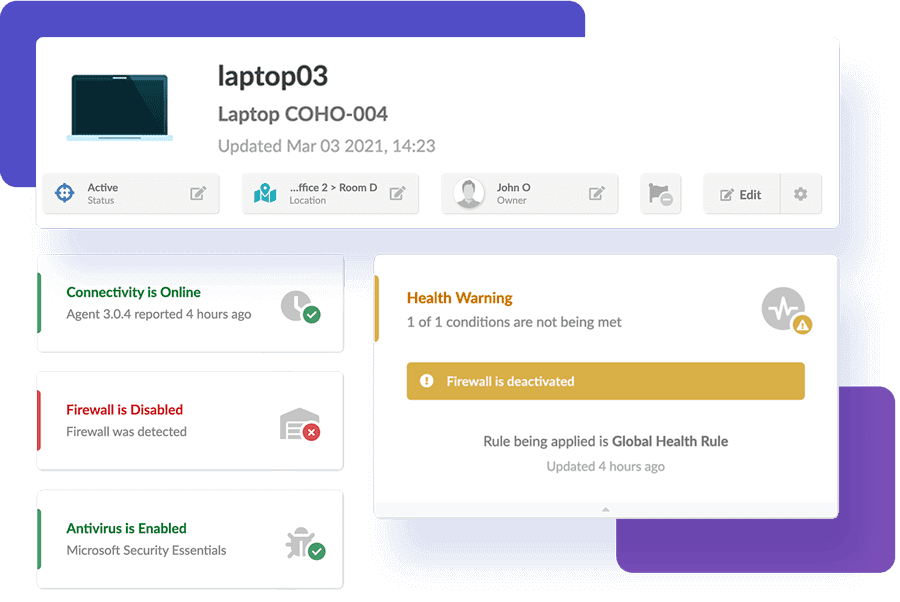 Proactive management of operational costs
InvGate Insight facilitates the direct integration of financial data, contracts, licenses, and other essential information into the system. This approach provides organizations with a comprehensive grasp of operational expenses, enabling proactive and well-informed financial decisions. This optimization of budget allocation maximizes the value derived from IT investments.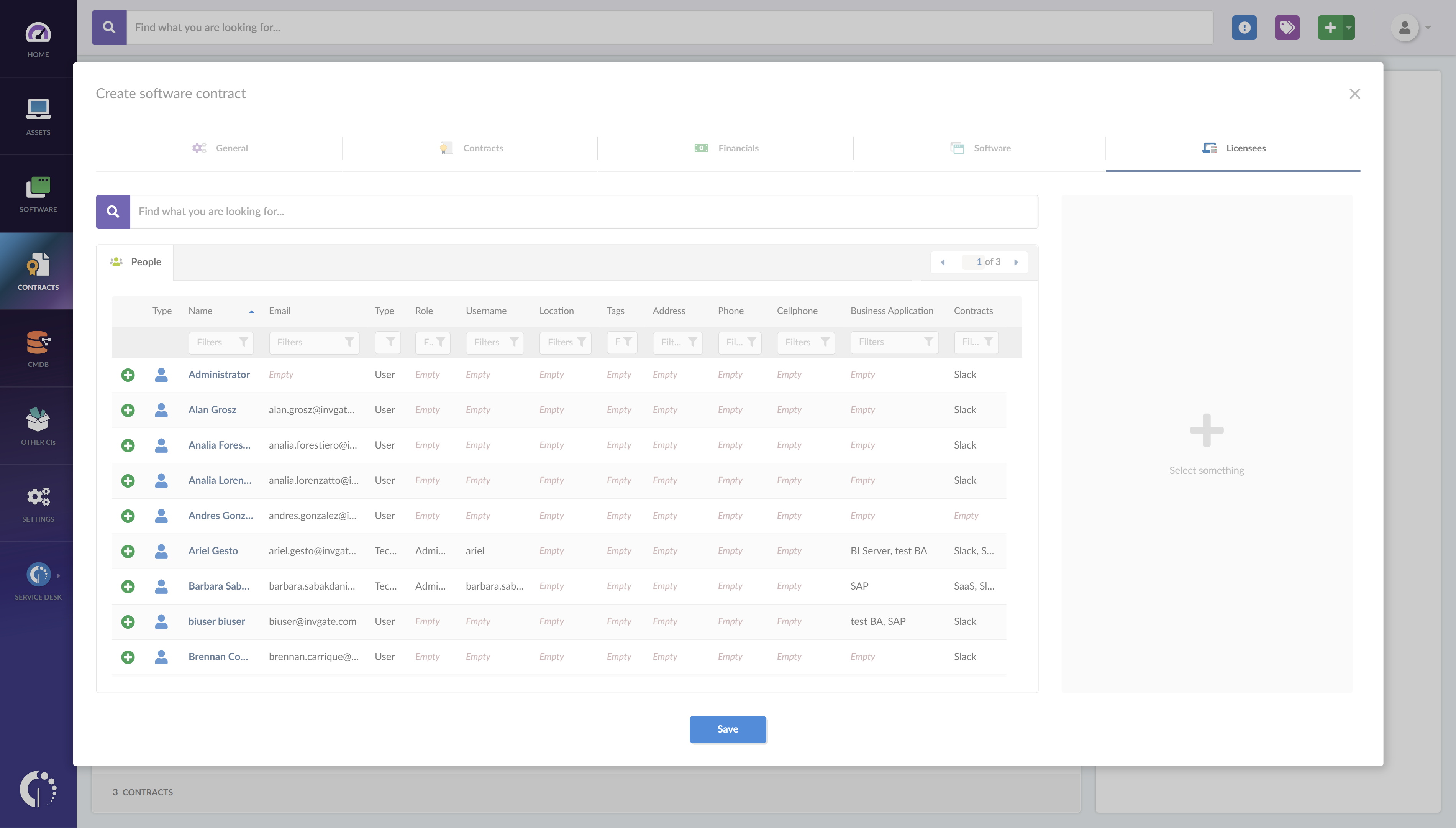 Effortless Remote Management with native integration
InvGate Insight natively integrates with widely used remote desktop tools like Windows Remote Desktop, TeamViewer, AnyDesk, and VNC. This integration bolsters remote management capabilities, granting direct access to devices for troubleshooting and upkeep. This seamless remote access empowers organizations to effectively handle IT issues, execute maintenance tasks, and ensure continuous operations.
Flexible deployment options to match requirements
Acknowledging the distinctiveness of each organization's needs and industry regulations, InvGate Insight offers adaptable deployment options. This flexibility permits organizations to choose between cloud-based or on-premise solutions, ensuring alignment with specific needs and compliance standards.
Next steps
In the dynamic landscape of IT Asset Management, the comparison between NinjaOne vs. ServiceNow Software Asset Management has revealed a spectrum of features and advantages that cater to diverse organizational needs.
Consideration of alternative offerings, such as InvGate Insight, becomes an integral part of this exploration. This platform brings forth a distinctive set of functionalities that pledge not only efficient management but also a heightened focus on cybersecurity compliance and proactive cost management.
Explore our live demo and step into a new era of efficiency and effectiveness.