Are you currently at the crossroads of IT Asset Management (ITAM) solutions, facing the crucial decision of choosing between NinjaOne vs. Flexera One? The path to maximizing your organization's ITAM effectiveness can be complicated and requires a thorough understanding of the strengths and capabilities of each available option.
In this blog post, we'll dive deep into a comprehensive ITAM software comparison, focusing on the unique attributes and limitations of both platforms.
But the exploration doesn't stop there - we'll also highlight InvGate Insight, a solution poised to bring a distinctive perspective to the ever-evolving ITAM landscape.
So, fasten your seatbelts to uncover a world of possibilities that await you on the path to achieving optimized IT Asset Management.
Most looked-at features by buyers
When evaluating choices for IT Asset Management solutions, potential buyers consider a range of essential capabilities to find the most suitable option that matches their specific requirements and business needs. The following are key factors that purchasers take into consideration when picking a customized ITAM solution for their company.
What is NinjaOne?
NinjaOne is dedicated to creating IT management solutions that offer substantial support to Managed Service Providers (MSPs) and IT professionals. Their primary objective is to ensure seamless business operations and increased profitability. The platform is strategically crafted to simplify the client onboarding process and maximize automation, resulting in a modernized IT management experience.
The tool aims to decrease expenses associated with client onboarding and training, proactively identify and solve common IT issues, and simplify intricate IT tasks. This shift redefines the role of IT from a mere expense to a potential driver of business growth.
The company is independent and led by its founders, supported by an executive team with extensive IT backgrounds. This ranges from supervising their services to launching startups tailored for MSPs and IT leaders. NinjaOne's core is rooted in cloud technology, providing an integrated IT management platform that is well-prepared for expansion.
What users like from NinjaOne
NinjaOne has garnered widespread recognition and positive customer feedback, as evidenced by reputable sources such as Gartner. Users have underscored a multitude of benefits, as outlined below.
All-inclusive, unified solution - NinjaOne's comprehensive fusion of Help Desk, Patching, and Backup functions within a single product simplifies operations and enhances effectiveness.
Streamlined implementation and management - The platform's straightforward implementation and management protocols simplify the tasks of IT teams, saving time and resources during platform setup and oversight.
Robust reporting capabilities - The tool's potent reporting features offer deep insights into the performance of IT operations.
Extensive resources - The availability of comprehensive documentation and scripting options empowers IT experts to tailor processes, troubleshoot effectively, and automate repetitive tasks.
Responsive support and engagement - NinjaOne's support services and user interactions foster a positive user journey. Timely assistance and engagement endeavors cultivate a sense of partnership and confidence in the platform.
Simplified navigation - The platform's built-in navigation structure ensures that users can swiftly locate necessary tools and functions, reducing the learning curve and enhancing the overall user experience.
Cost-efficient approach - NinjaOne's cost-effective strategy positions it as a valuable choice for businesses of various sizes. Its flexible licensing, allowing a start with as few as 50 devices, enables organizations to expand as per their requirements.
Swift search functionalities - The tool's rapid search capabilities for individuals or serial numbers expedite problem-solving and asset identification.
Data protection through server and PC backup - NinjaOne's incorporation of server and PC backup features provides a dependable solution for safeguarding data, securing critical information, and minimizing potential setbacks.
Efficient patch management capabilities - The solution's seamless Windows Patch Management eases the complexities of maintaining up-to-date systems. The ability to schedule patches and software updates enhances system security and efficiency while reducing vulnerabilities.
Mobile adaptability - The platform's mobile application extends the convenience of IT management beyond desktop environments, enabling professionals to oversee and address issues while on the move.
What users don't like from NinjaOne
While NinjaOne has a range of strengths and noteworthy qualities, it's not immune to customer inquiries and constructive feedback. Here's an aggregation of common issues that users have highlighted in reviews from reputable sources like Gartner.
Limited availability of technical support outside business hours - Some users have expressed the desire for extended 24/7 support to ensure timely assistance and issue resolution at any time.
Incomplete integrations - Users have reported cases where integrations with external tools or systems appear incomplete or deficient in certain aspects, affecting the overall efficiency of their workflows.
Issues in retrieving asset details - Certain users have faced challenges in promptly accessing asset details, potentially causing delays in troubleshooting and Asset Management processes.
Inconsistent remote capabilities - Some users have noticed fluctuations in the platform's remote capabilities, which could hinder effective remote troubleshooting and management tasks.
Unfinished ticketing and documentation components - A few users have observed that the ticketing system and associated documentation feel incomplete or lacking in specific elements. This perception could influence user satisfaction and overall efficiency.
Need for screenshot functionality - Users have communicated the necessity for screenshot functionality within the platform, which could aid in documentation, troubleshooting, and communication processes.
Lack of maintenance mode for devices - The absence of a maintenance mode for devices could complicate certain tasks like updates or troubleshooting without disrupting ongoing operations.
Past problems with email delivery - Previous occurrences of email delivery issues have been noted, potentially impacting communication and the prompt handling of support requests.
What's NinjaOne's argument over Flexera One?
In a direct comparison between NinjaOne and Flexera One, NinjaOne stands as a robust IT Asset Management solution with a range of compelling advantages that position it as a strong choice.
Comprehensive, unified solution - NinjaOne's innovative fusion of Help Desk, Patching, and Backup functionalities into a single, integrated product elevates its operational efficiency and effectiveness.
Streamlined implementation and management - NinjaOne's implementation and management protocols, marked by their simplicity and efficiency, simplify the tasks of IT teams.
Robust reporting capabilities - NinjaOne's reporting features transcend conventional standards, delivering profound insights into the intricacies of IT operations.
Extensive resources and empowerment - NinjaOne's provision of comprehensive documentation and scripting options empowers IT experts to shape processes, troubleshoot with precision, and automate routine tasks.
Responsive support and user engagement - NinjaOne's unswerving commitment to responsive support services and meaningful user interactions creates a truly positive and collaborative user journey.
Cost-efficient approach and scalability - NinjaOne's strategic cost-effective model underscores its adaptability.
Swift search functionalities and agile problem-solving - NinjaOne's rapid search capabilities expedite problem-solving and asset identification, optimizing user efficiency.
Data protection and mobile accessibility - NinjaOne's robust data protection through server and PC backup, coupled with its feature-rich mobile application, constitutes a comprehensive approach to modern IT needs.
Mobile adaptability and on-the-go management - NinjaOne's mobile application extends the reach of IT management beyond traditional desktop environments. This capability empowers professionals to oversee and address issues while on the move, enhancing operational flexibility.
What is Flexera One?
Flexera One, a product developed by Flexera, is a Software as a Service (SaaS) solution that combines IT Asset Management and Software Asset Management (SAM). This solution provides a unified and centralized perspective of IT assets across various environments like on-premises, cloud, and edge setups.
This platform aids businesses in streamlining their IT expenses, overseeing and enhancing their cloud infrastructure, reducing risks, ensuring adherence to regulations, and supplying valuable insights and analytics.
Previously known as InstallShield and then rebranded in 2009, Flexera specializes in solutions for managing technology assets. Headquartered in Itasca, Illinois, United States, Flexera has been a pioneer in delivering all-encompassing technology solutions since its establishment in 1987. Their services include Software and Hardware Asset Management, Cloud Expenditure Optimization, Vulnerability Management, and Compliance with Open Source Software.
What users like from Flexera One
Flexera One's positive customer reception is evidenced by reviews from respected sources such as Gartner. Let's take a closer look at the specific benefits that have been highlighted.
Supporting critical business processes and decisions - Users have highlighted Flexera One's ability to provide invaluable insight into software usage, which greatly supports critical business processes and decisions.
Intuitive and clear interface - Customers have appreciated the user-friendly aspect of the software. The product's interface is intuitive and its streamlined navigation contributes to its ease of use and operation.
Exemplary customer support - Reviews consistently highlight the outstanding customer support provided by the platform. Users have expressed their satisfaction with the prompt assistance they receive and the attentive approach of the Flexera One support team.
Tailored to business needs - Flexera One has been widely recognized as an exceptional software Asset Management solution that is effectively tailored to the unique needs of businesses. The software has proven flexible in meeting user requirements, ensuring a smooth and personalized user experience.
What users don't like from Flexera One
Despite the numerous strengths and positive attributes of Flexera One, it is not immune to the concerns and criticisms voiced by its users. Reviews from sources like Gartner have highlighted recurring matters that users have brought up.
Repetitive issues and prolonged conflict resolution - Users have expressed dissatisfaction with the time it takes to resolve issues, which impacts the efficiency of their workflow.
Configuration difficulties - Several customers have shared instances where they encountered challenges during the initial setup of the system, even with the assistance of Flexera's support team. Despite seeking help, users have encountered obstacles that highlight the need for improvements in the setup process.
Support team challenges and uncertainty about data accuracy - Some users have experienced difficulties when interacting with Flexera's support team. In addition, there were concerns about the accuracy of the data provided.
The complexity of configuring complex licensing models - Customers have found that configuring the product to satisfactorily understand more complex licensing models requires significant effort.
What's Flexera One's argument over NinjaOne?
When comparing Flexera One and NinjaOne, the former offers a number of distinct advantages that make it a suitable choice for organizations seeking efficient and comprehensive IT Asset and Software Management solutions.
Holistic business support - Users have consistently highlighted Flexera One's exceptional ability to provide insights into software usage, a feature that significantly bolsters essential business operations and informed decision-making.
User-friendly interface and navigation - Customers have praised the software's user-friendly nature, emphasizing that the intuitive design and streamlined navigation contribute to a seamless user experience.
Exceptional customer support - Flexera One consistently receives praise for its exemplary customer support, which plays a crucial role in user satisfaction. Users have expressed contentment with the prompt assistance and attentive approach of the support team.
Tailored solutions for businesses - Flexera One has earned recognition for being a Software Asset Management solution that can be effectively tailored to the unique needs of businesses.
Considering InvGate Insight as an ITAM solution alternative
For organizations in search of tailor-made solutions for managing their IT assets in a way that aligns with their specific requirements, InvGate Insight emerges as a viable choice. Serving as a robust ITAM solution, it provides an array of features and functionalities that position it as a feasible option for streamlining Asset Management processes. Let's explore its key attributes.
Seamless Remote Management with native integration
InvGate Insight natively integrates with widely used remote desktop tools such as Windows Remote Desktop, TeamViewer, AnyDesk, and VNC. This integration enhances remote management capabilities, providing direct access to devices for troubleshooting and maintenance. This smooth remote access empowers organizations to effectively address IT issues, perform maintenance tasks, and ensure uninterrupted operations.
Enhanced management of IT Assets and Inventory
InvGate Insight simplifies integration by consolidating data from various sources, including major operating systems, cloud service providers (such as AWS, Google, and Azure), and Mobile Device Management (MDM) systems like JAMF and Google Endpoint Manager. This thorough integration streamlines the efficient management of both IT and non-IT assets, locations, and personnel. This approach saves time and provides a holistic view of the infrastructure.
Optimizing software efficiency and reducing costs
InvGate Insight empowers organizations to identify and assess the usage of paid software, streamlining Software Management. By gaining visibility into software usage, unused licenses can be reallocated, unnecessary costs reduced, and returns on IT investments optimized. This software efficiency optimization assists organizations in deriving maximum value from their software assets.
A holistic view of IT operations through native service desk integration
InvGate Insight seamlessly integrates with InvGate Service Desk, creating a native link between tickets, devices, and personnel. This integration offers a comprehensive perspective on IT operations, simplifying management. Associating service tickets with relevant assets and personnel enhances workflows, communication, and issue resolution.
Thorough understanding of IT infrastructure
With its robust set of features, InvGate Insight delivers comprehensive and actionable insights into IT assets, covering their status and usage. This comprehensive understanding facilitates effective management and optimization of the infrastructure, ultimately leading to improved operational efficiency.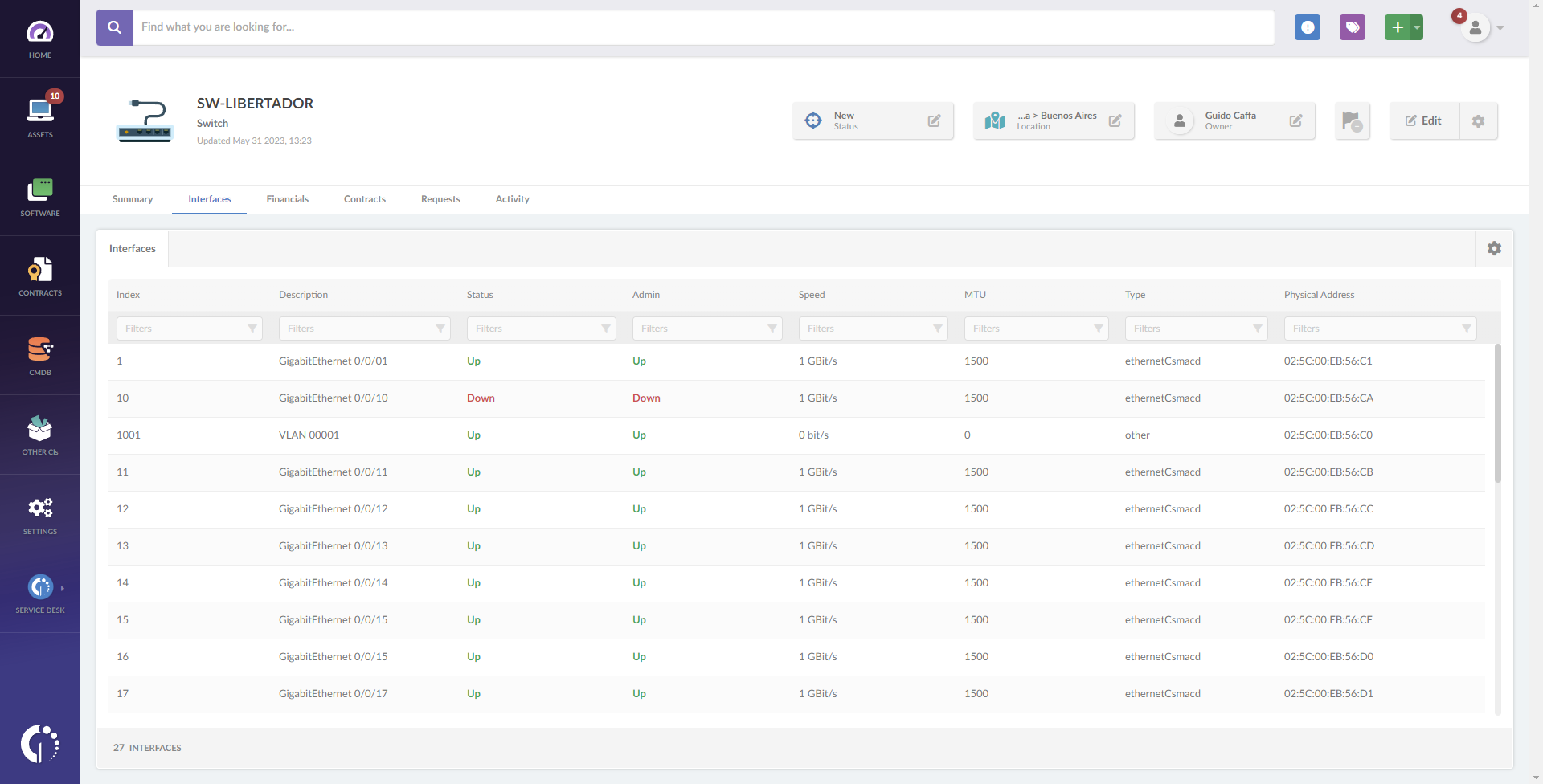 Efficient operations through constructing CMDB maps
InvGate Insight's tool for creating CMDB maps offers a clear and comprehensive view of the IT landscape. Visualizing the relationships between components helps identify potential impacts on operational continuity, allowing for proactive risk mitigation. This visibility results in reduced service times, heightened operational efficiency, and smoother overall IT operations.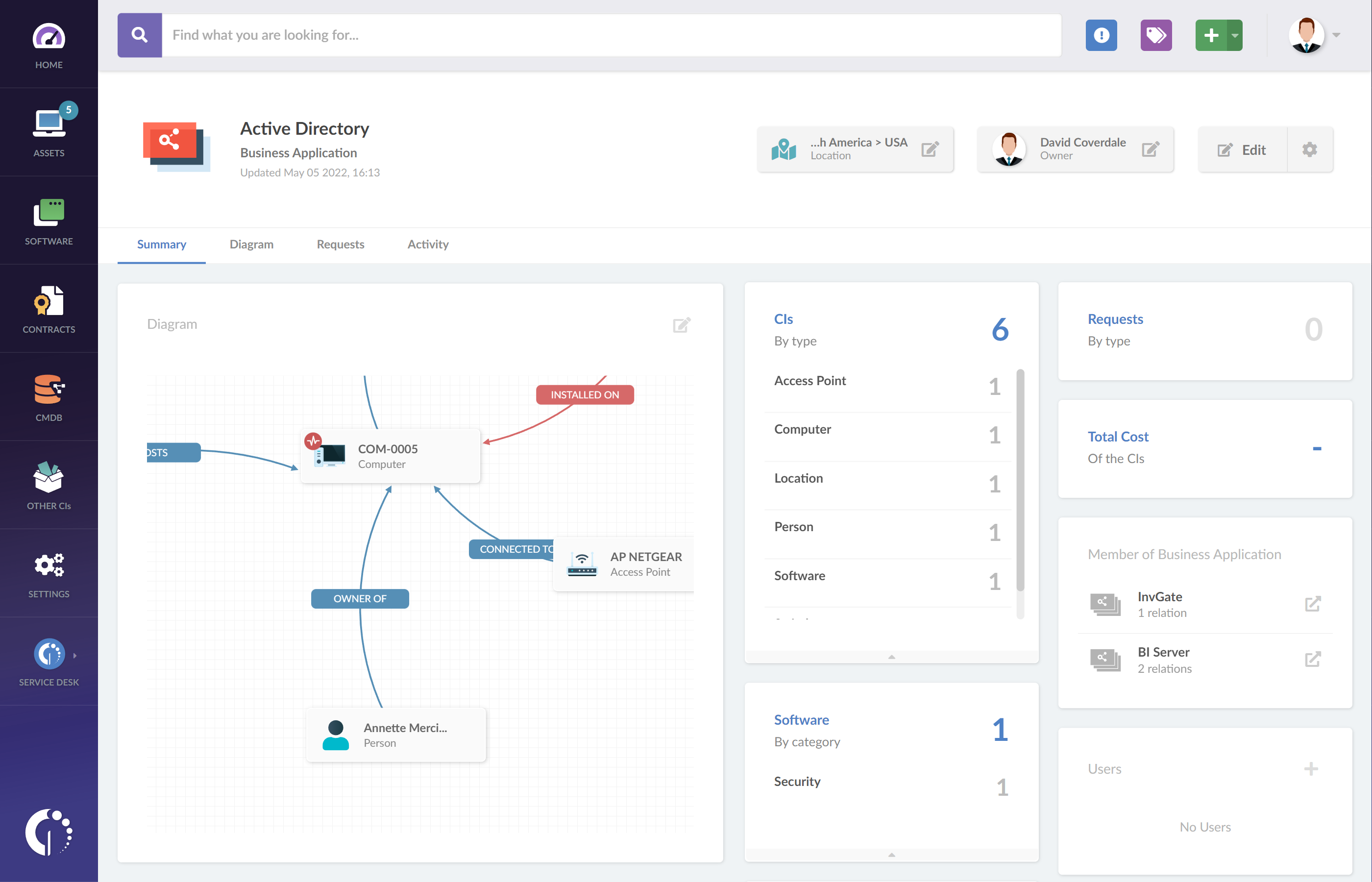 Automation and proactive alerts
InvGate Insight promotes process automation and the establishment of alerts to facilitate proactive IT management. Automated alerts enable organizations to monitor contract expirations and promptly inform relevant parties, minimizing the risk of oversight. This automation optimizes operations, enabling a focus on critical tasks and enhancing overall efficiency.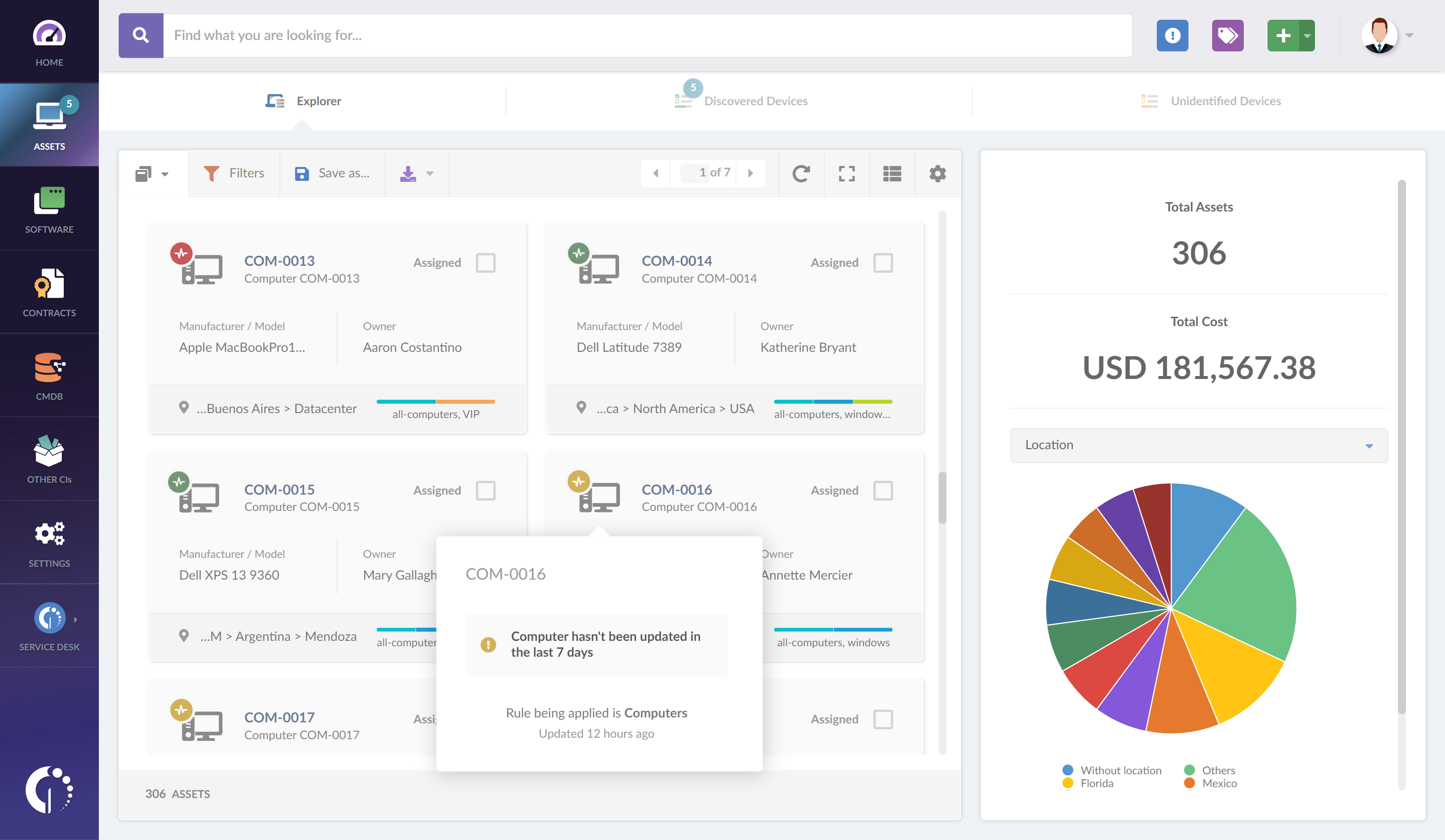 Strengthened cybersecurity compliance via asset monitoring
InvGate Insight's asset monitoring capabilities establish and enforce device health rules, contributing to proactive cybersecurity compliance. Swift identification of instances of non-compliance allows for immediate action to uphold cybersecurity policies and safeguard the IT infrastructure.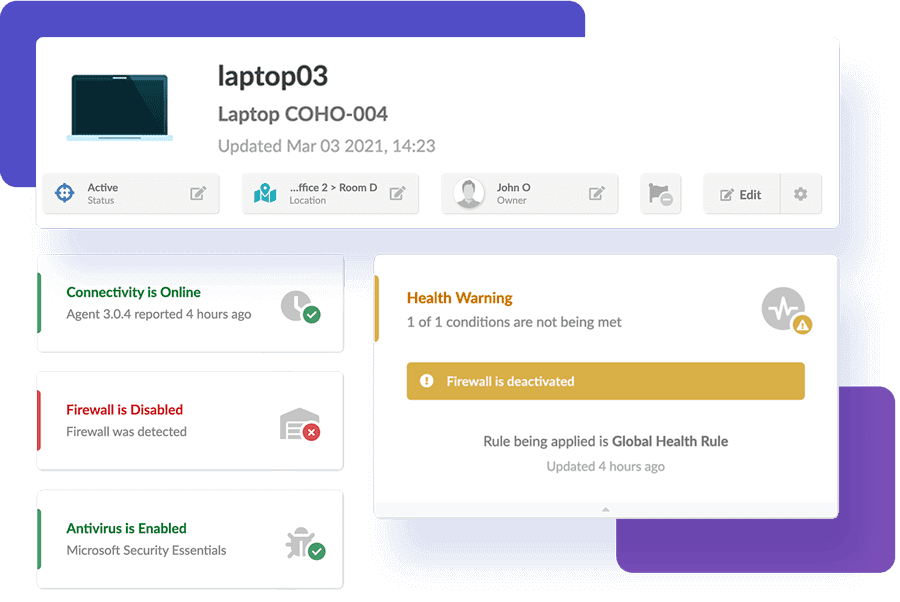 Proactive management of operational costs
InvGate Insight enables direct integration of financial data, contracts, licenses, and other essential information into the system. This approach grants organizations a comprehensive understanding of operational expenses, enabling proactive and well-informed financial decisions. This optimization of budget allocation maximizes the value derived from IT investments.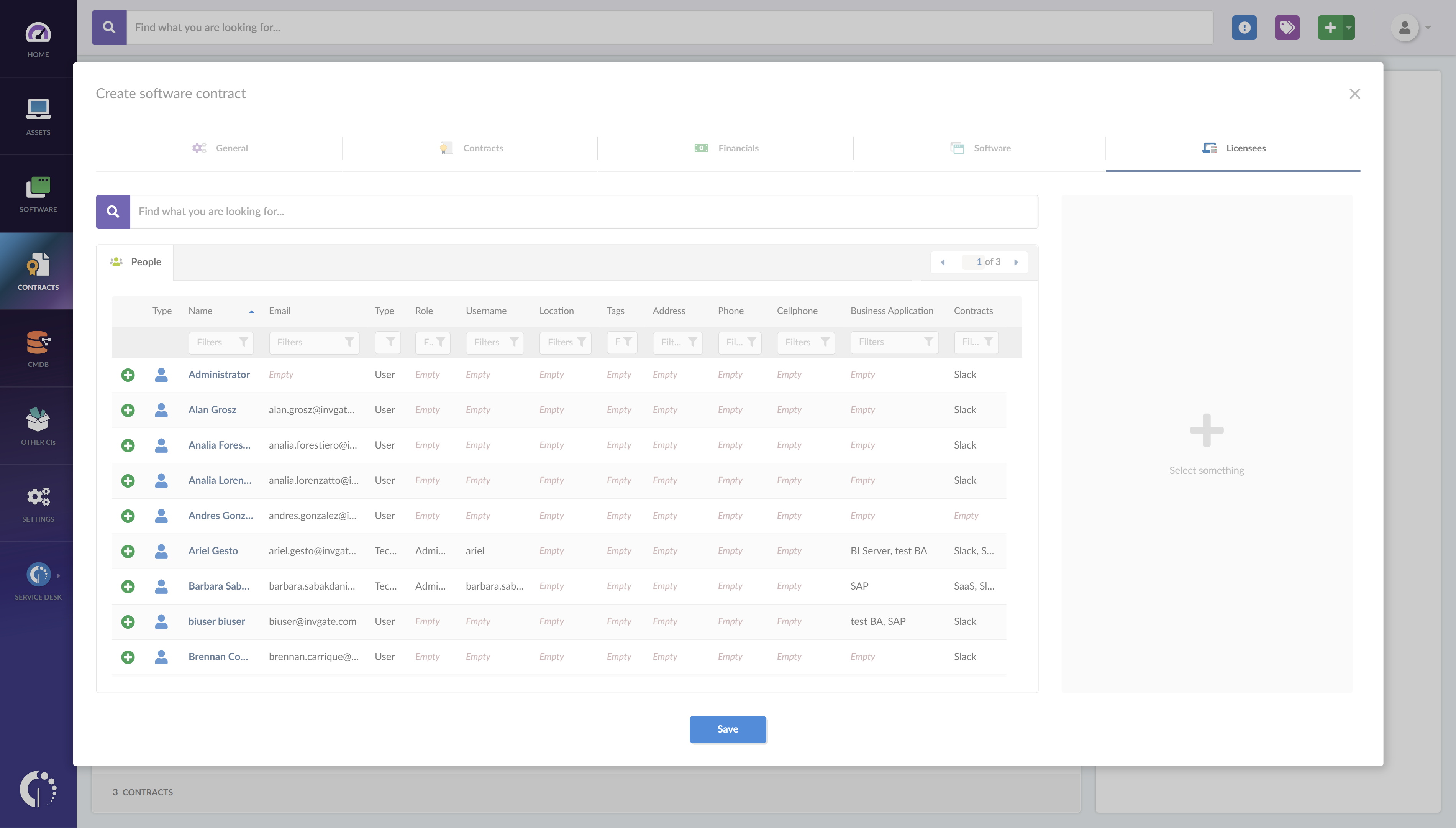 Flexible deployment options to suit needs
Recognizing the uniqueness of each organization's requirements and industry regulations, InvGate Insight offers flexible deployment options. This adaptability allows organizations to choose between cloud-based or on-premises solutions, ensuring alignment with specific needs and compliance standards.
Next steps
In the dynamic arena of IT Asset Management, the comparison of NinjaOne vs. Flexera One has unveiled a rich array of features and benefits that define these platforms.
However, the world of ITAM is vast and diverse, offering an array of alternatives, each with its own unique strengths.
InvGate Insight stands as an exemplar of efficiency, ushering in innovative approaches to Asset Management, cybersecurity compliance, and proactive cost control.
To assist you in your ITAM journey, download our complimentary free ITAM implementation checklist. This resource is a valuable tool to guide your next steps as you map the path to efficient and effective Asset Management.