Are you currently evaluating NinjaOne vs. Cherwell Asset Management to fulfill your IT Asset Management (ITAM) requirements? The decision you make regarding the ideal ITAM solution can wield a significant influence over your organization's operational efficiency and overall success.
In this blog post, we'll dive headfirst into a thorough ITAM software comparison between these two contenders, shedding light on their respective features, advantages, and potential limitations.
But that's not all - we're adding an extra twist to the equation. We'll introduce InvGate Insight, a third alternative with unique functionalities and capabilities that might reshape how you envision effective IT Asset Management.
Keep reading to make an informed decision for your ITAM needs.
Most looked-at features by buyers
During the evaluation of solutions for managing IT assets, potential purchasers take into account a number of crucial abilities in order to discover the most fitting choice that matches their particular requirements and business demands.
Below are some essential factors buyers contemplate when selecting a tailored IT Asset Management (ITAM) solution for their organization.
What is NinjaOne?
NinjaOne is committed to creating IT management solutions that deliver strong assistance to Managed Service Providers (MSPs) and IT experts. Their main goal is to ensure the smooth running of businesses and boost profitability. The platform is developed to simplify the process of getting started and take full advantage of automation, offering a modernized IT management experience.
The platform strives to reduce the costs linked to initial setup and training, proactively identify and resolve common IT challenges, and streamline complex IT tasks. This transformation repositions IT as a potential catalyst for business growth rather than just a cost.
The company operates independently and is led by its founders, who have a wealth of experience in the IT field. This includes overseeing their services and launching startups specifically tailored for MSPs and IT leaders. NinjaOne's core is rooted in cloud technology, offering an all-inclusive IT management platform ready for expansion.
What users like from NinjaOne
NinjaOne has garnered extensive recognition and garnered positive feedback from reputable sources such as Gartner. Users have notably emphasized several strengths, as outlined below.
Integrated solution - NinjaOne's comprehensive bundle of Help Desk, Patching, and Backup features within a single product refines operations and fosters efficiency.
Simplified deployment and management - The solution's uncomplicated deployment and management procedures simplify the implementation and oversight of the platform for IT teams, conserving time and resources.
Streamlined navigation - The platform's intuitive arrangement of navigation elements guarantees that users can swiftly locate the tools and functionalities they require. This diminishes the learning curve and elevates the overall user experience.
Robust data protection - The tool's inclusion of features for server and PC backup offers a dependable solution for safeguarding critical data, minimizing potential losses.
In-depth reporting features - NinjaOne's robust reporting functionalities supply comprehensive insights into IT operations, supporting informed decision-making, resource optimization, and future planning.
Customer support - The platform's dedicated support services and active user engagement contribute to a positive user experience. Timely assistance and meaningful interaction foster a sense of partnership and confidence in the platform.
Swift search capabilities - The tool's rapid search functions for individuals or serial numbers expedite resolving issues and identifying assets.
Effortless patch management - NinjaOne's seamless Windows Patch Management simplifies the maintenance of up-to-date systems. The capacity to schedule patches and software updates heightens system security and performance while mitigating vulnerabilities.
Mobile versatility - The solution's mobile app extends the convenience of IT management beyond desktop environments, enabling professionals to monitor and respond to issues while on the move.
Cost-effective approach - NinjaOne's economically efficient strategy positions it as a valuable option for businesses of diverse scales. Its adaptable licensing structure, which includes the option to initiate with as few as 50 devices, empowers organizations to grow according to their demands.
Detailed documentation and scripting options - The availability of comprehensive documentation and customizable scripting tools empowers IT professionals to tailor processes, troubleshoot effectively, and automate repetitive tasks.
What users don't like from NinjaOne
Despite NinjaOne's many strengths and positive attributes, customers do have concerns and criticisms. Here are some common issues that users frequently raise in reviews from reputable sources such as Gartner.
Limited technical support beyond business hours - Some users have expressed a preference for extended 24/7 support to ensure timely assistance and resolution of issues at any time of the day.
Integrations with room for improvement - Users have indicated that particular integrations with external tools or systems exhibit weaknesses or gaps, impacting the overall effectiveness of workflows.
Challenges in fetching asset details - Certain users have encountered difficulties in efficiently retrieving asset information, potentially leading to delays in troubleshooting and the management of assets.
Varied remoting capabilities - Users have observed inconsistencies in the capabilities related to remote access, which can hinder effective remote troubleshooting and management.
Opportunity for enhancement in the ticketing system - Certain users believe that the ticketing system has room for improvement, particularly in terms of introducing new features, enhancing customization options, and overall usability.
Incomplete ticketing and documentation - Some users perceive that the ticketing system and associated documentation are incomplete or lacking in certain aspects, which could potentially influence user satisfaction and operational efficiency.
Absence of maintenance mode for devices - The lack of a dedicated maintenance mode for devices can introduce challenges in tasks such as updates and troubleshooting without causing disruptions to ongoing operations.
Previous email delivery challenges - Instances of past email delivery issues have been noted, potentially affecting communication and the prompt handling of support-related inquiries.
A desire for screenshot functionality - Users have voiced a need for the inclusion of screenshot functionality within the platform. This addition could contribute to documentation, troubleshooting, and effective communication.
What's NinjaOne's argument over Cherwell Asset Management?
When comparing NinjaOne to Cherwell Asset Management, the former holds several distinct advantages that make it a compelling choice for businesses seeking an efficient and comprehensive IT management solution. While both platforms offer valuable features, NinjaOne stands out in the following areas:
Comprehensive integration and simplified operations - NinjaOne excels by seamlessly combining Help Desk, Patching, and Backup functionalities into a single product. This integrated approach streamlines operations, eliminating the need for multiple disjointed tools.


Thorough documentation and customization - NinjaOne provides users with comprehensive resources, including complete documentation and scripting options. This empowers IT professionals to tailor processes, troubleshoot effectively, and automate tasks.


User-friendly navigation and learning curve - NinjaOne has a user-friendly navigation structure, allowing users to locate necessary tools and functionalities quickly.


Cost-effective and scalable licensing - NinjaOne's cost-effective approach, with adaptable licensing starting at just 50 devices, caters to businesses of varying sizes.


Simplified implementation and management - NinjaOne's emphasis on uncomplicated implementation and management protocols simplifies the tasks of IT teams.


Robust reporting and data insights - NinjaOne's strong reporting capabilities provide deep insights into IT operations, facilitating data-driven decision-making.


Responsive support and user engagement - NinjaOne's commitment to responsive support and user engagement fosters a positive user experience.
Mobile adaptability for on-the-go management - NinjaOne's mobile application extends IT management convenience beyond desktop settings, enabling professionals to address issues while on the move.


Efficient Patch Management and security - NinjaOne's efficient Windows Patch Management reduces the complexities of system updates, enhancing security and efficiency while minimizing vulnerabilities.
What is Cherwell Asset Management?
Cherwell Asset Management is an IT tool crafted to streamline the management of both software and hardware assets. This comprehensive solution is designed to cut down software license expenses, minimize the burden on IT operations, and address potential risks linked to software audits.
The core features of Cherwell Asset Management encompass conducting inventories of hardware and software, managing compliance with licensing agreements, analyzing software usage patterns, and offering a system for IT Asset Management (ITAM) procurement. Its integration with Cherwell IT Service Management seamlessly enhances the broader IT ecosystem's functionality.
Cherwell Software, the company that developed Cherwell Asset Management, underwent an acquisition by Ivanti, a prominent vendor in enterprise Service Management. As a result of this merger, Ivanti has guided clients of Cherwell towards adopting its Ivanti Neurons platform. Nonetheless, this sudden transition has led to customer dissatisfaction, opening up an opportunity for alternative ITSM and ITAM vendors to present substitute solutions.
What users like from Cherwell Asset Management
Cherwell Asset Management has gained broad acclaim and favorable customer feedback, acknowledged for its strengths by respected sources such as Gartner. Users have underscored several merits of the platform, which encompass the following:
Monitoring and administration - Users have expressed high regard for Cherwell Asset Management's skill in integrating various sourcing services and managing non-IT assets. These aspects effectively contribute to asset tracking and administration. Using an

agent

to gather data enhances the precision and dependability of asset information.
Effectiveness and performance - The platform's efficiency and proficiency in tracking changes and incidents have also been highlighted as significant benefits.
User interface and customization - Users have lauded the tool's remarkable level of adaptability. Moreover, the capability to selectively allow or block software based on assets has been particularly favored.
Reporting - Users have positively remarked on the platform's reporting features, particularly its visual charts that are aesthetically pleasing and easy to comprehend.
Cost - Cherwell Asset Management's cost-effectiveness and user-friendly configuration out of the box make it an attractive option for users seeking effective Asset Management solutions.
What users don't like from Cherwell Asset Management
While Cherwell Asset Management has numerous strengths and favorable qualities, it is not immune to customer concerns and criticisms. Evaluations from reputable sources like Gartner have brought attention to certain common issues voiced by users, including:
Challenges with advanced customization - Advanced customization demands substantial effort and a deep understanding of the underlying code, presenting hurdles for users aiming for tailored configurations.
User interface - Criticisms are directed at the user interface of certain modules and Mapp due to their unwieldy design and lack of user-friendliness, suggesting enhancements.
Issues with specific tickets and usability - Certain tickets might not perform as anticipated, causing usability problems and frustration among users.
Limited advanced features and API capabilities - Some users wish for more advanced features and improved API capabilities to cater to specific needs and enhance overall functionality.
Implementation process - Some users have expressed dissatisfaction with Cherwell Asset Management's implementation process.
Inconvenience due to frequent minor upgrades - Some users find the regular occurrence of minor upgrades inconvenient, as these updates can potentially disrupt workflows and user interactions.
Performance concerns with specific web browsers - Reports of performance difficulties with certain web browsers and occasional lag have surfaced, impacting user efficiency and experience.
Limitations with built-in asset scanning - Users have encountered difficulties with asset scanning through the built-in option.
A desire for more interface design input pre-deployment - Users desire greater involvement in the interface design process before deployment, allowing them to align the platform more closely with their preferences and established workflows.
Absence of App Dynamics system monitoring integration - Users find the lack of integration with the App Dynamics system monitoring to be limiting, affecting the platform's comprehensive monitoring capabilities.
Enhancing user experience for smaller organizations - Some users propose optimizing the user experience specifically for smaller organizations to address their distinct requirements better.
What's Cherwell Asset Management's argument over NinjaOne?
When evaluating Cherwell Asset Management in comparison to NinjaOne, the former brings forth a compelling set of advantages that cater to the diverse needs of modern IT Asset Management. While both platforms offer unique strengths, Cherwell Asset Management excels in the following aspects:
Comprehensive monitoring and administration expertise - Cherwell Asset Management integrates diverse sourcing services and manages non-IT assets effectively. This proficiency significantly contributes to the seamless tracking and administration of assets.


Efficiency and proficiency in tracking changes and incidents - Cherwell Asset Management offers a streamlined approach to tracking changes and incidents. This functionality ensures that organizations respond promptly to evolving circumstances, enhancing overall operational effectiveness.


Adaptive user interface and tailoring capabilities - Cherwell Asset Management has an adaptive user interface that seamlessly caters to various organizational needs.


Robust reporting with visual appeal - Cherwell Asset Management has gained commendation for its robust reporting features, especially its incorporation of visually appealing charts that facilitate easy comprehension.


Cost-effective solution with user-friendly setup - Cherwell Asset Management's cost-effectiveness combined with its user-friendly out-of-the-box configuration solidifies its position as a favorable choice for organizations seeking an efficient Asset Management solution.
Considering InvGate Insight as an ITAM solution alternative
For organizations seeking personalized alternatives in IT Asset Management that cater to their specific needs and requirements, InvGate Insight emerges as a compelling option. Functioning as a powerful ITAM solution, InvGate Insight presents an array of attributes and functionalities that position it as a viable avenue for refining Asset Management procedures. Let's delve into its pivotal characteristics.
Holistic insights into IT infrastructure
Harnessing its robust set of features, InvGate Insight delivers comprehensive and actionable insights into IT assets, encompassing their status and usage. This extensive insight empowers effective administration and optimization of the infrastructure, ultimately culminating in elevated operational efficiency.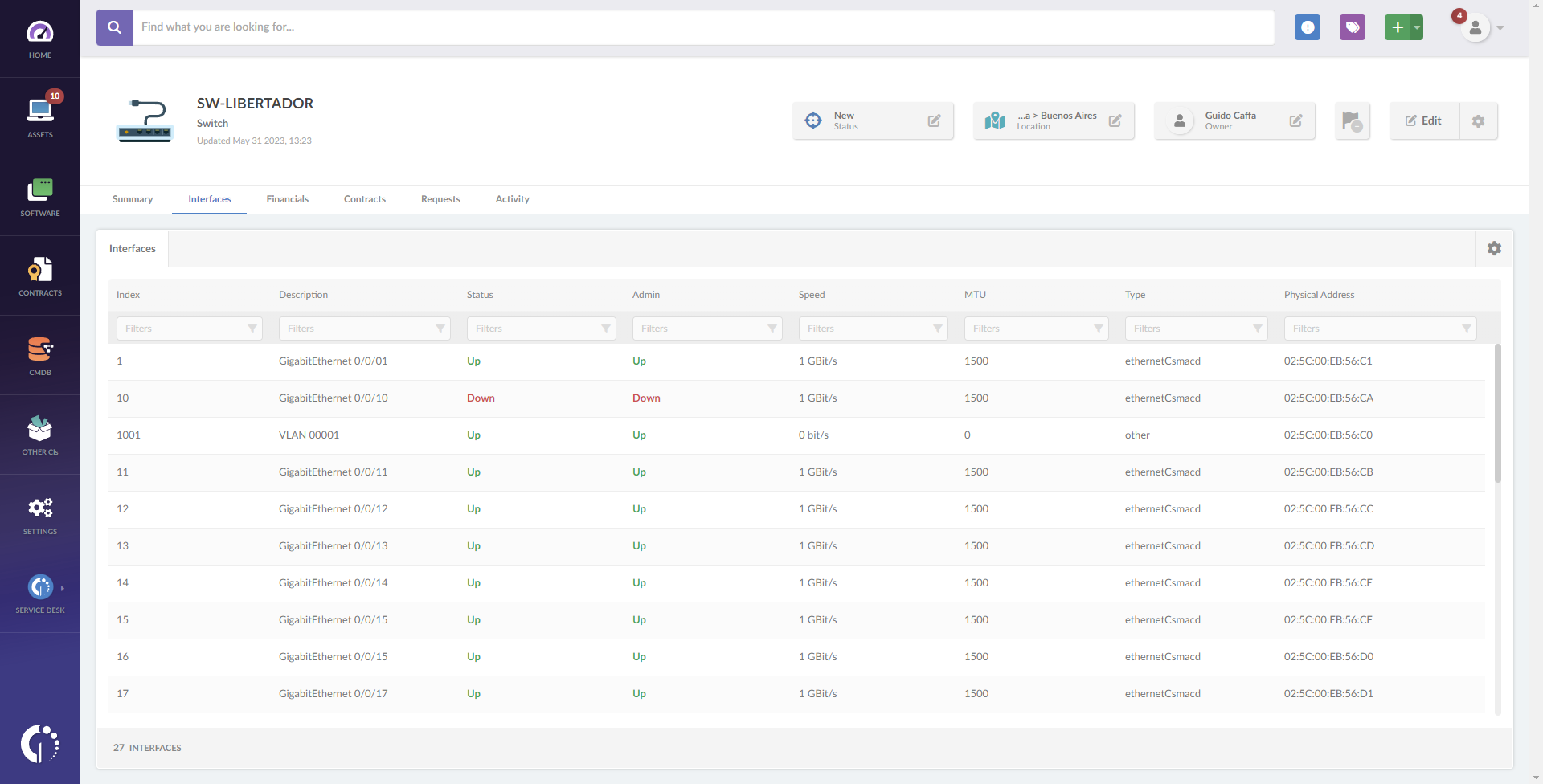 Optimization of software efficiency and cost reduction
InvGate Insight empowers organizations to identify and gauge the utilization of paid software, thereby fostering efficient Software Management. By attaining visibility into software usage, underutilized licenses can be redistributed, unnecessary costs curtailed, and returns on IT investments optimized. This optimization of software efficiency assists organizations in making optimal use of their software resources.
Automation and timely alerts for proactive management
InvGate Insight expedites process automation and the establishment of alerts, fostering proactive IT management. The inclusion of automated alerts enables organizations to monitor contract expirations and promptly notify pertinent stakeholders, thus diminishing manual effort and the likelihood of oversight. This automation streamlines operations, allowing a concentration on critical tasks and a boost in overall efficiency.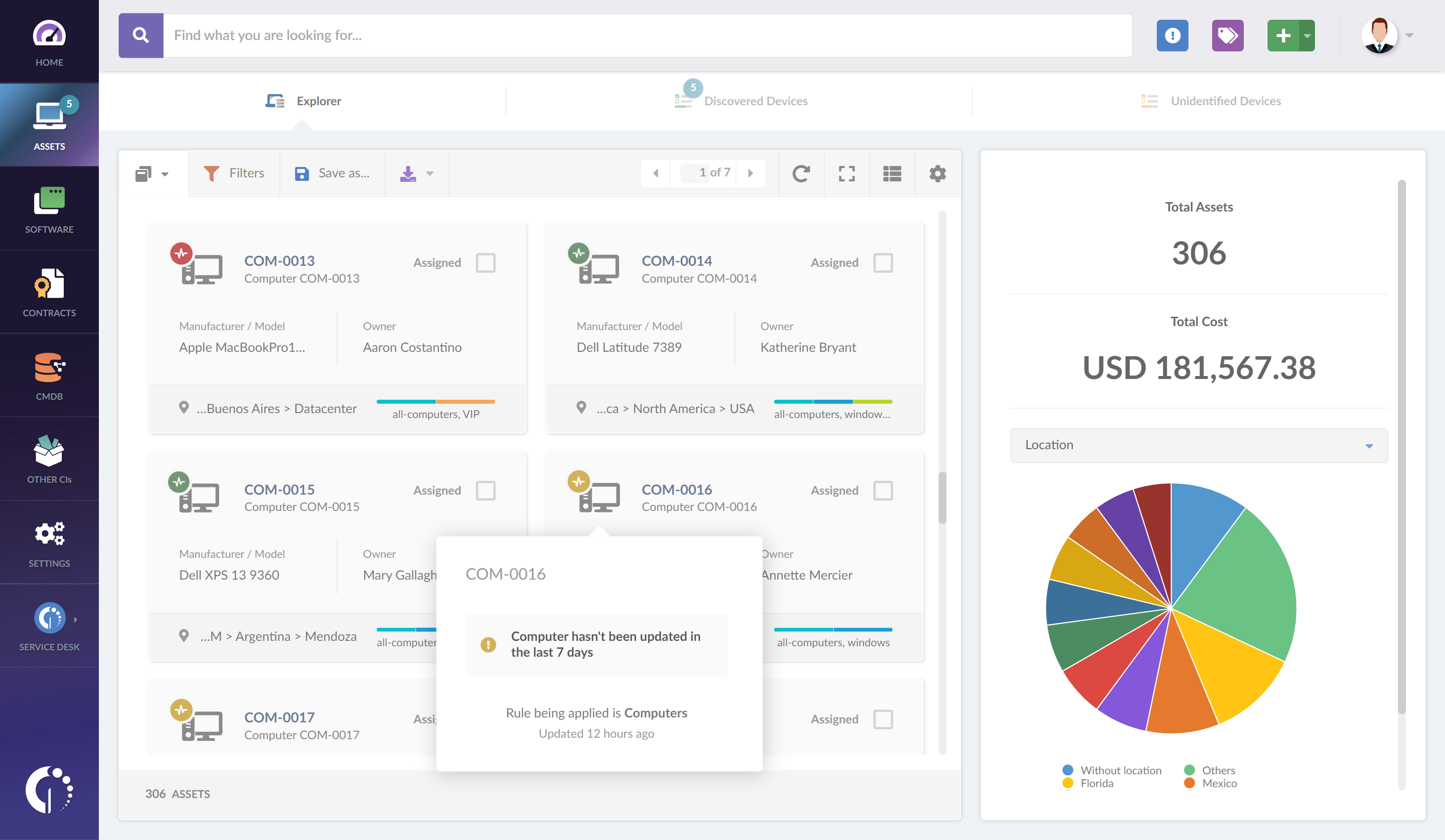 A comprehensive view of IT operations via native service desk integration
InvGate Insight seamlessly merges with InvGate Service Desk, establishing a native connection that links tickets to devices and personnel. This integration yields an all-encompassing view of IT operations, thereby streamlining administration. The linkage of service tickets to pertinent assets and personnel augments workflows, communication, and issue resolution.
Elevated IT Asset and Inventory Management
InvGate Insight simplifies integration by amalgamating data from various sources, encompassing popular operating systems, cloud service providers like AWS, Google, and Azure, along with MDMs, such as JAMF and Google Endpoint Manager. This comprehensive integration ensures the effective administration of both IT and non-IT assets, locations, and personnel, thereby saving time and presenting a holistic overview of the infrastructure.
Enhanced cybersecurity compliance through asset monitoring
InvGate Insight's asset monitoring capabilities instate and enforce device health rules, thereby facilitating proactive cybersecurity compliance. Swift identification of instances of non-compliance empowers immediate corrective action to ensure adherence to cybersecurity policies and the safeguarding of the IT infrastructure.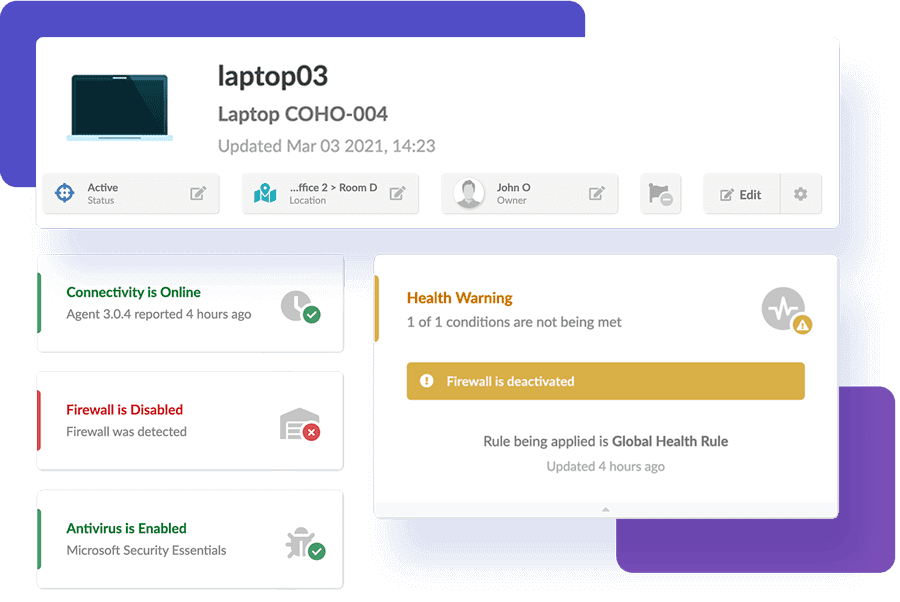 Efficient operations through CMDB map construction
InvGate Insight's CMDB map builder tool furnishes a clear and exhaustive portrayal of the IT environment. By visualizing interconnections between components, it becomes possible to recognize potential impacts on operational continuity, leading to proactive risk mitigation. This heightened visibility results in decreased service durations, enhanced operational efficiency, and the assurance of smoother IT operations.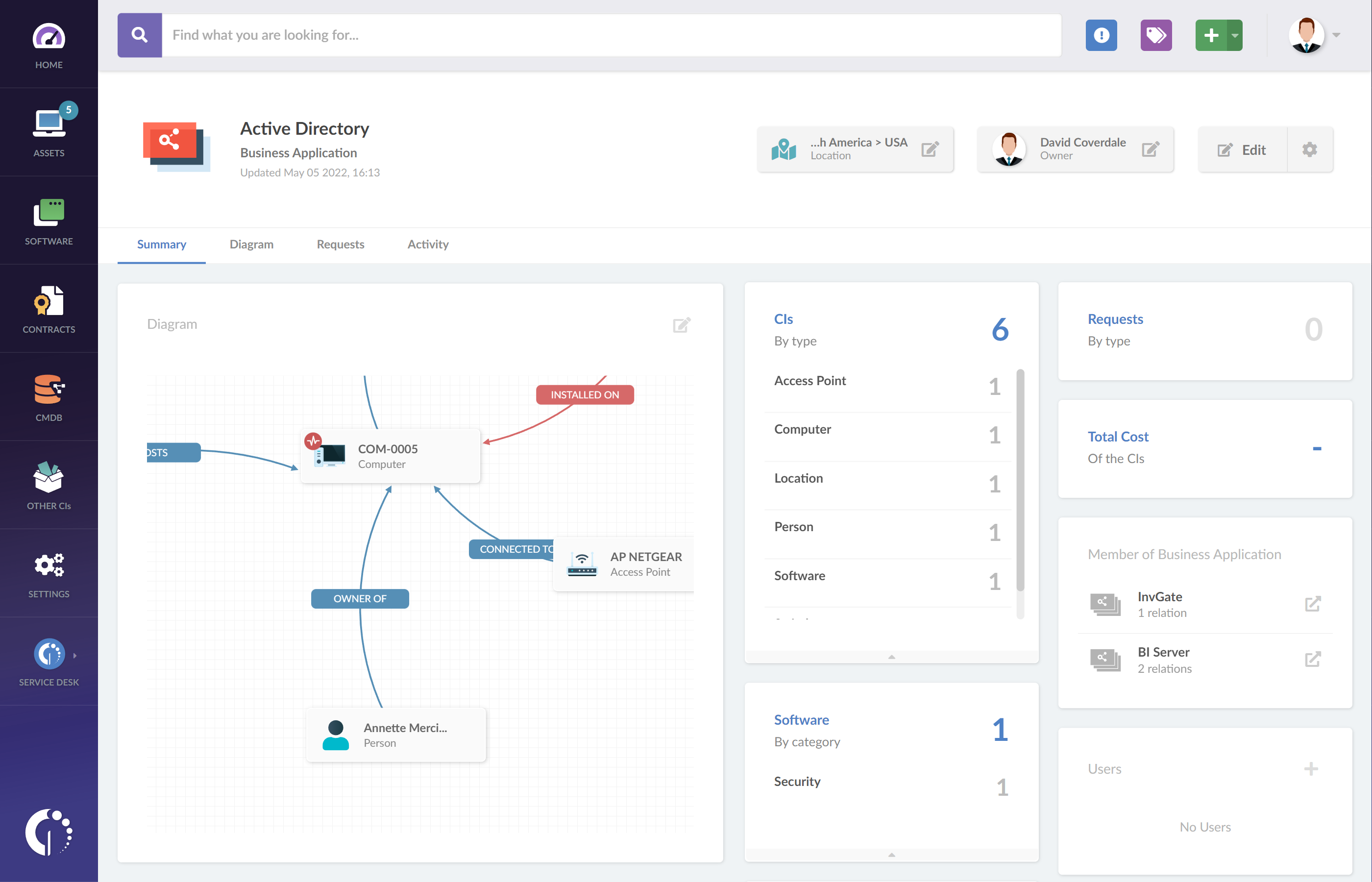 Proactive cost management for operational efficiency
InvGate Insight offers direct integration of financial data, contracts, licenses, and other pivotal information within the system. This approach furnishes organizations with a comprehensive grasp of operational expenditures, enabling informed and proactive financial decisions. This optimization of budget allocation maximizes the value extracted from IT investments.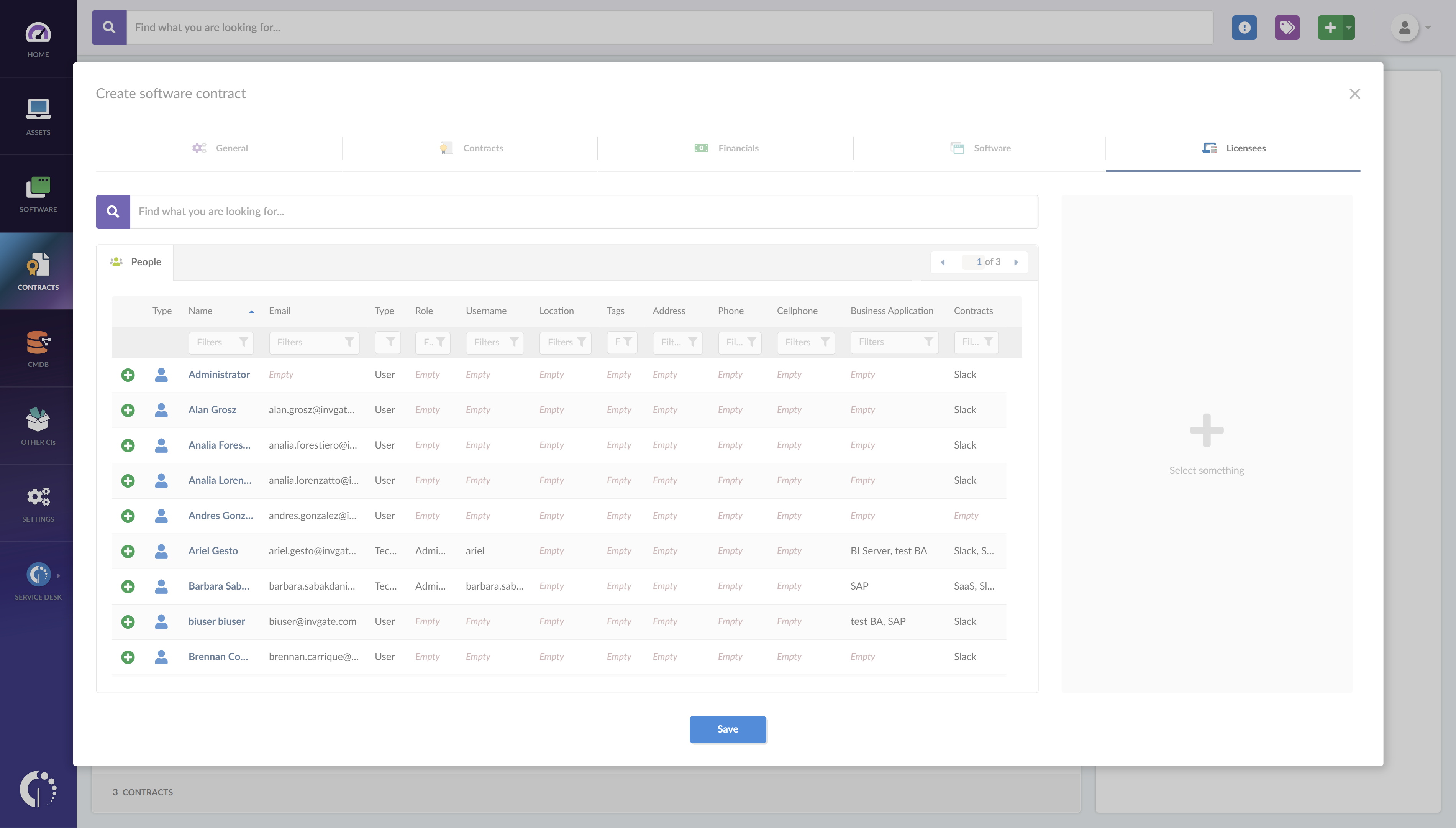 Effortless Remote Management through native integration
InvGate Insight boasts native integration with prevalent remote desktop tools such as Windows Remote Desktop, TeamViewer, AnyDesk, and VNC. This integration bolsters remote management capabilities, facilitating direct device access for troubleshooting and maintenance purposes. The seamless remote access empowers organizations to adeptly address IT issues, execute maintenance tasks, and ensure uninterrupted operations.
Flexible deployment choices for tailored solutions
Recognizing the distinctiveness of each organization's requisites and industry standards, InvGate Insight extends versatile deployment alternatives. This empowers organizations to choose between cloud-based or on-premise solutions, ensuring alignment with specific needs and compliance benchmarks.
Next steps
In the ever-evolving landscape of ITAM solutions, the comparison between NinjaOne vs. Cherwell Asset Management has highlighted each platform's unique strengths and offerings.
However, the decision of the right ITAM tool is far from one-size-fits-all. The needs of each organization, coupled with the nuances of their workflows, call for a thorough exploration of alternatives beyond the immediate comparison. InvGate Insight, for instance, brings innovative approaches and features to the table.
To guide you through this pivotal process, download our free ITAM implementation checklist. This resource will assist you in mapping out the crucial steps, ensuring the seamless integration of your chosen ITAM solution into your organization's ecosystem.