Are you tasked with selecting the optimal IT Asset Management (ITAM) solution for your organization's needs? If so, comparing Lansweeper vs. ServiceNow Software Asset Management is undoubtedly a critical consideration.
In this blog post, we'll take a deep dive into a comprehensive ITAM software comparison, examining their individual features, strengths, and potential limitations.
But what if these options don't align perfectly with your unique requirements? We'll introduce you to an alternative InvGate Insight that could be the missing puzzle piece.
Keep reading to equip yourself with the information you need for success.
Most looked-at features by buyers
When evaluating options for the management of IT assets, potential buyers consider a range of essential capabilities in order to select the most suitable solution that aligns with their specific needs and business requirements.
The following are key factors that buyers consider when choosing a personalized IT Asset Management solution for their company.
What is Lansweeper?
Lansweeper is an extensive network discovery and IT Asset Management solution. It provides organizations with profound insights into their IT infrastructure.
The platform, founded in 2004, is equipped with functionalities designed to aid businesses in efficiently managing and improving their IT assets, enhancing network visibility, and optimizing IT operations.
Its notable attributes encompass:
Network scanning.
Reporting and analytics.
Software license management.
Integration capabilities.

Patch management

.
IT automation.
What users like from Lansweeper
Lansweeper's excellence has gained widespread acclaim and positive feedback from respected sources like Gartner. A range of advantages have been highlighted by users, as outlined below.
User-friendly interface - The platform's design that is easy to navigate, combined with preconfigured security reports, renders it accessible to users with varying levels of expertise in IT.
Transparent software overview - Users value the tool's feature that grants full visibility into the organization's software landscape, enhancing the intuitive and effective management of software resources.
Improved asset tracking - Lansweeper's distinctive capability to generate maps for placing assets within complex buildings assists users in visualizing and optimizing the distribution of assets.
Precision in scanning - The software's scanning guarantees reliable and accurate collection of asset data.
Effortless implementation - The SaaS-based solution of Lansweeper removes the necessity of installing on individual machines, simplifying the setup process.
Smooth network inventory detection - The platform's straightforward identification of network-connected inventory ensures that users can manage their asset inventory effortlessly.
Incorporated report generation - The integrated reporting abilities within Lansweeper streamline the generation and analysis of reports, saving valuable time and energy.
Thorough asset documentation - Users appreciate the platform's capacity to uphold intricate records for every device that enters the network, ensuring a well-structured and effective Asset Management system.
Effortless server management - The standout remote management feature for servers in Lansweeper serves as a time-efficient and convenient tool for proficient server control.
Cost-effective resolution - Users find the assortment of features offered by Lansweeper to be reasonably priced, establishing it as a budget-friendly choice for their ITAM necessities.
What users don't like from Lansweeper
While Lansweeper shows potential for small-scale organizations, its effectiveness for larger enterprises might be diminished due to specific constraints. Presented below are some downsides that users have highlighted.
Automated asset deletion - Assets removed from the system are automatically eliminated from the database, which users find troublesome. Preserving deleted assets within the database for reference or historical purposes would be preferable.
Custom query complexities - Although Lansweeper supports custom queries, users have encountered complexity when creating intricate queries, posing a challenge.
Cluttered GUI interface - Certain users perceive the interface as crowded due to the multitude of visible choices. Condensing specific menu options could lead to a more organized and streamlined interface.
Dated dashboards - Some users view the dashboards in Lansweeper as outdated. While efforts are underway to modernize them into a more contemporary cloud console, this aspect is still evolving.
Absence of historical software perspectives - Lansweeper cannot display historical software views in the database, offering solely instantaneous data. This limitation hampers users from accessing previous software-related information.
Complexities in Patch Management - The Patch Management feature, referred to as deployment packages in Lansweeper, presents challenges in usability. Certain users encounter difficulties when deploying patches and handling software updates using this feature.
Firmware particulars for IoT devices - Lansweeper does not provide firmware details for Internet of Things (IoT) devices, restricting users' access to this crucial information.
Reporting intricacies - Lansweeper's reporting module might require users to possess a basic grasp of relational databases for optimal utilization. Some users believe additional training or database knowledge is necessary. Additionally, occasional inaccuracies in information might prompt users to cross-verify data.
Impact of new licensing system - Lansweeper's revised licensing system requires payment for more assets than necessary, starting from a minimum of 2000 assets. This pricing structure might not align well with smaller organizations, presenting a potential drawback.
Restricted regional partnerships - In certain regions like Argentina, the availability of Lansweeper partners could be limited, potentially impacting access to local support or services.
What's Lansweeper's argument over ServiceNow Software Asset Management?
Users have highlighted a variety of benefits that contribute to Lansweeper's appeal. Below are some of the aspects that users particularly appreciate:
User-centric interface - Lansweeper has a user-friendly interface that simplifies navigation, catering to users with varying levels of IT expertise. This design ensures accessibility and usability combined with preconfigured security reports.


Software visibility - Users value Lansweeper's transparent software overview feature, which provides a comprehensive view of an organization's software landscape.


Optimized asset tracking - Lansweeper's unique capability to create maps for asset placement within intricate buildings aids users in effectively visualizing and optimizing asset distribution.


Accurate scanning - Lansweeper's scanning process guarantees precise and dependable asset data collection, contributing to accurate records and insights.


Effortless implementation - With its SaaS-based solution, Lansweeper eliminates the need for individual machine installations, streamlining the user setup process.


Seamless inventory detection - The platform's straightforward identification of network-connected inventory simplifies asset inventory management.


Integrated reporting - Lansweeper's integrated reporting capabilities expedite the generation and analysis of reports, saving users valuable time and effort.


Comprehensive asset documentation - Users appreciate the platform's capacity to maintain detailed records for every device entering the network, establishing a structured and effective Asset Management system.


Efficient server management - Lansweeper's standout remote management feature for servers offers users a time-efficient and convenient tool for proficient server control.


Affordability - Users find the assortment of features offered by Lansweeper to be reasonably priced, making it a cost-effective choice for their ITAM needs.
What is ServiceNow Software Asset Management?
ServiceNow's capabilities in Software Asset Management (SAM) offer organizations the tools to effectively manage risk, reduce expenses, and automate the software lifecycle, all within a unified framework. By simplifying Asset Management, providing adaptable features, and prioritizing security and regulatory compliance, ServiceNow empowers businesses to optimize their software assets, cut costs, and efficiently supervise their software operations.
Founded in 2004 and headquartered in Santa Clara, California, ServiceNow provides an extensive range of cloud-based solutions customized to meet various corporate requirements. Their solutions span various domains, including IT Service Management, IT Operations Management, IT Business Management, Customer Service Management, Human Resources Service Delivery, Security Operations, and more.
What users like from ServiceNow Software Asset Management
ServiceNow's Software Asset Management capabilities have been widely recognized and have received positive feedback from content customers, as evidenced by reputable sources such as Gartner. Users have highlighted several benefits, including:
Enhanced asset discovery and Inventory Management - ServiceNow's Software Asset Management simplifies identifying assets and managing inventory, resulting in improved asset tracking and adherence to regulations. This attribute contributes to superior organization and command over an organization's assets.
Streamlined workflows - Users express contentment with the tool's capability to automate tasks and optimize employee allocation. This functionality elevates the efficiency of IT processes, ultimately leading to heightened overall operational efficiency.
Intuitive user interface - The platform has an instinctive and user-friendly interface, empowering users to navigate effortlessly and swiftly grasp its functionalities. This user-focused design fosters seamless interaction and swift acclimatization to the platform.
Effective Risk Mitigation - Users emphasize the valuable advantages of the risk management components provided by ServiceNow. These features offer significant insights for legal and compliance purposes, ensuring that organizations can proficiently handle risks and make well-informed choices.
What users don't like from ServiceNow Software Asset Management
While ServiceNow's SAM has several strengths and favorable attributes, it is not immune to customer apprehensions and critiques. Here are several common issues raised by users in reviews from reputable sources like Gartner:
Functional constraints - Certain users highlight that the tool's functionality is limited in certain aspects, potentially making it unsuitable for managing intricate software licensing scenarios.
Budgetary concerns - The platform's cost raises concerns, particularly for medium and small-sized enterprises. This financial consideration can pose obstacles in achieving complete implementation and acquiring the platform, affecting the viability of its adoption for these businesses.
Complexity - Some users encounter complexity when interacting with ServiceNow SAM, requiring a significant investment of time to grasp and navigate its intricacies effectively.
Documentation deficiencies - Users express a need for enhanced documentation, especially pertaining to the end-user experience and understanding of the software normalization processes. Improved documentation would aid users in utilizing the platform's capabilities more efficiently.
What's ServiceNow Software Asset Management's argument over Lansweeper?
To gain a comprehensive understanding of their respective advantages, let's delve into the multifaceted arguments that ServiceNow Software Asset Management asserts over Lansweeper.
Workflow optimization and automation - ServiceNow SAM workflow optimization capabilities bolster the efficiency of IT processes.


User-centric interface - ServiceNow SAM stands out with its intuitive and user-friendly interface that resonates with users. This design philosophy facilitates seamless navigation and swift comprehension of the platform's features.


Effective Risk Management - ServiceNow SAM offers effective Risk Management features that provide valuable insights, especially pertinent for legal and compliance requirements. This empowers organizations to handle risks and make informed decisions proficiently.


Enhanced asset discovery and Inventory Management - ServiceNow SAM simplifies the complex task of asset discovery and inventory management, contributing to improved asset tracking and compliance.
Considering InvGate Insight as an ITAM solution alternative
For organizations in search of tailored solutions for managing their IT assets in a way that suits their specific needs, InvGate Insight offers an attractive choice. This robust ITAM solution presents a variety of features and functionalities that position it as a viable option for optimizing processes related to Asset Management.
Let's delve into its key characteristics.
Flexible deployment options to accommodate unique needs
Recognizing the diversity of organizational requirements and industry regulations, InvGate Insight offers adaptable deployment options. This flexibility enables organizations to choose between cloud-based or on-premise solutions, ensuring alignment with individual needs and compliance standards.
A comprehensive view of IT operations through native service desk integration
Through seamless integration with InvGate Service Desk, InvGate Insight establishes a native connection between tickets, devices, and personnel. This integration provides a comprehensive 360° view of IT operations, streamlining management processes. By linking service tickets with pertinent assets and individuals, workflows are streamlined, communication is enhanced, and issue resolution is improved.
Enhanced Management of IT Assets and Inventory
InvGate Insight simplifies both IT and non-IT Asset Management by seamlessly integrating data from various sources, including major operating systems, cloud service providers (such as AWS, Google, and Azure), and MDMs (such as JAMF and Google Endpoint Manager). This integration streamlines the management of assets, locations, and personnel, ultimately saving time and providing a comprehensive view of the infrastructure.
Comprehensive insights into the IT infrastructure
With its strong array of features, InvGate Insight provides detailed and actionable insights into IT assets, including their status and usage. This depth of understanding empowers effective management and optimization of the infrastructure, resulting in improved operational efficiency.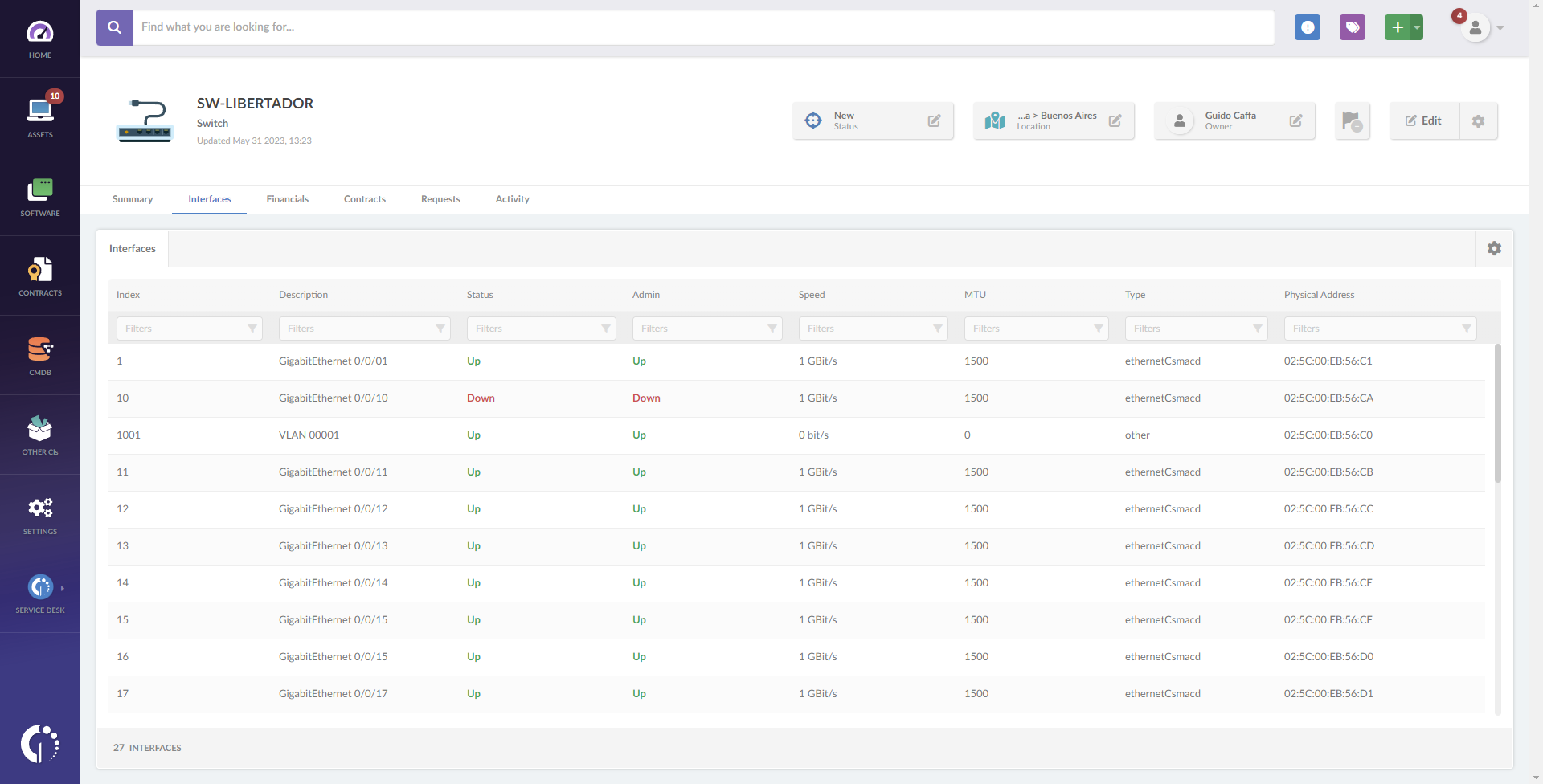 Heightened cybersecurity compliance through asset monitoring
InvGate Insight reinforces cybersecurity compliance through its asset monitoring capabilities, establishing and enforcing device health rules. Rapid identification of instances of non-compliance enables swift corrective action, ensuring adherence to cybersecurity policies and safeguarding the IT environment.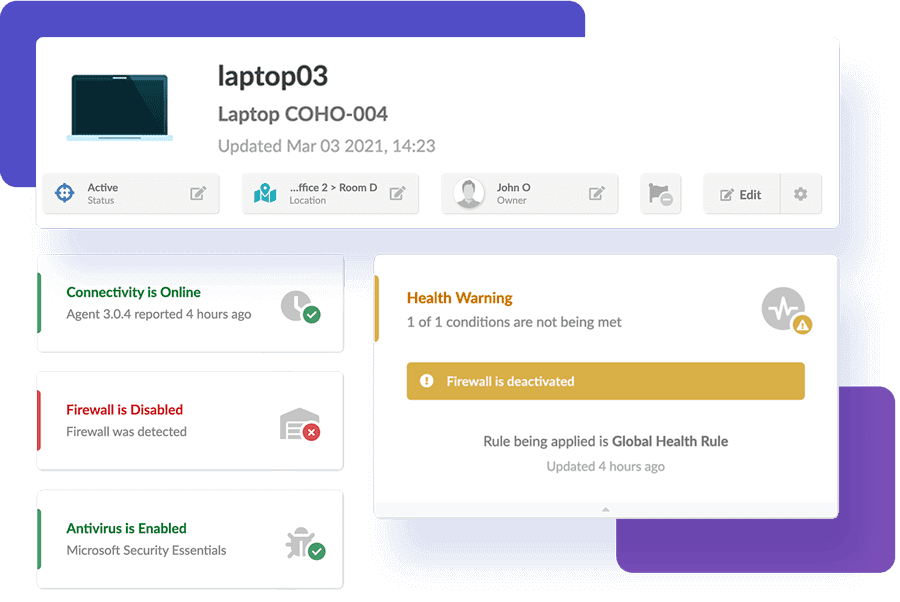 Streamlined operations through the CMDB map builder
Integrated within InvGate Insight, the CMDB map builder tool offers a comprehensive and clear overview of the IT landscape. By visually representing relationships between components, potential impacts on operational continuity can be swiftly identified, leading to proactive risk mitigation. This increased visibility results in reduced service times, enhanced operational efficiency, and smoother IT workflows.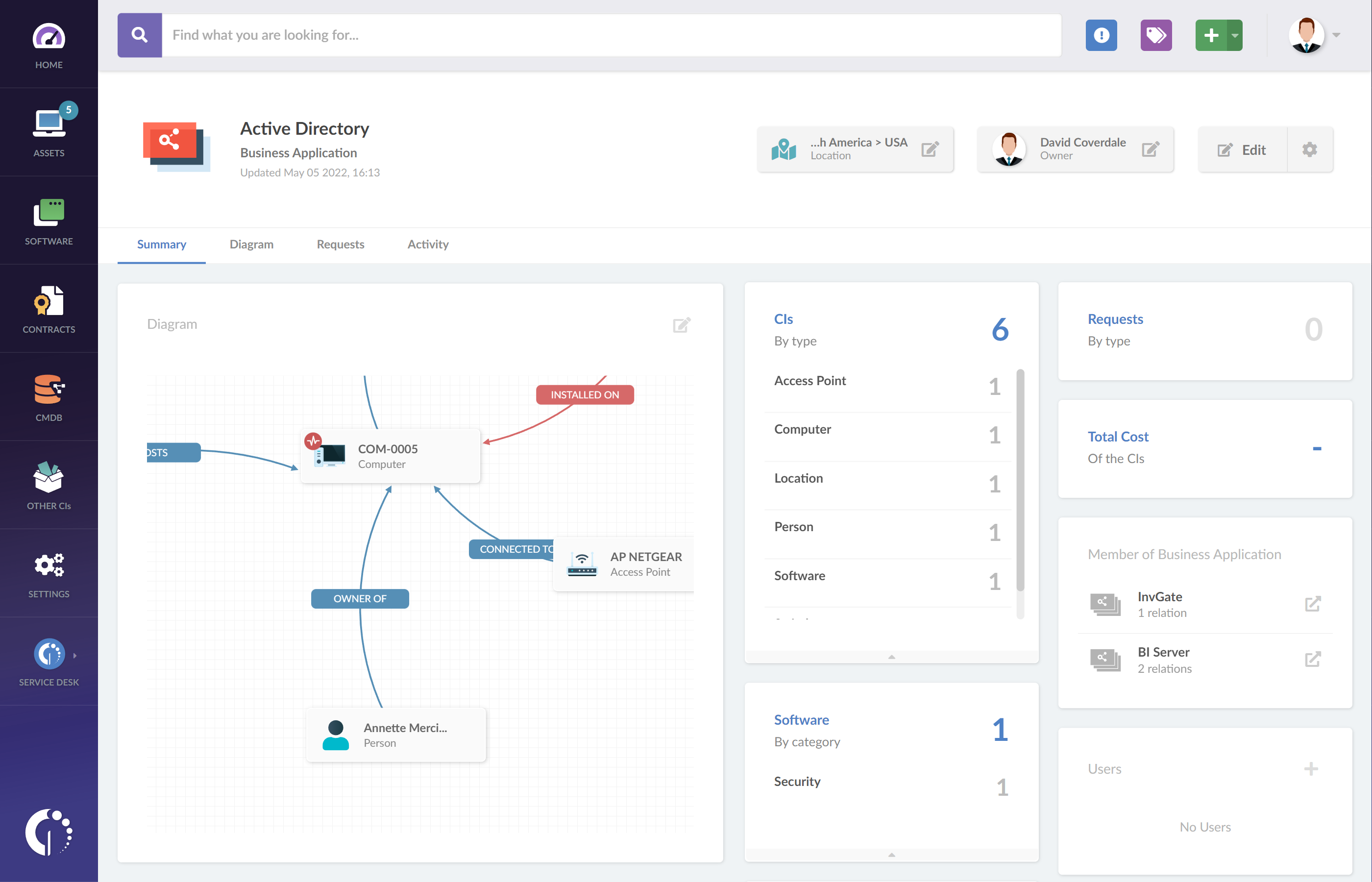 Effortless remote management through built-in integration
InvGate Insight features smooth integration with popular remote desktop tools like Windows Remote Desktop, TeamViewer, AnyDesk, and VNC. This integration enhances remote management capabilities, providing direct device access for troubleshooting and maintenance. With seamless remote access, organizations can effectively address IT issues, perform necessary maintenance tasks, and ensure uninterrupted operations.
Improved operational efficiency through automation and alerts
InvGate Insight enhances operational efficiency by implementing automation and alert mechanisms. This proactive approach to IT management involves setting up automated alerts to monitor contract expirations and promptly inform relevant stakeholders. This automation reduces manual efforts, minimizes the risk of oversights, and directs attention to critical tasks, thereby enhancing overall efficiency.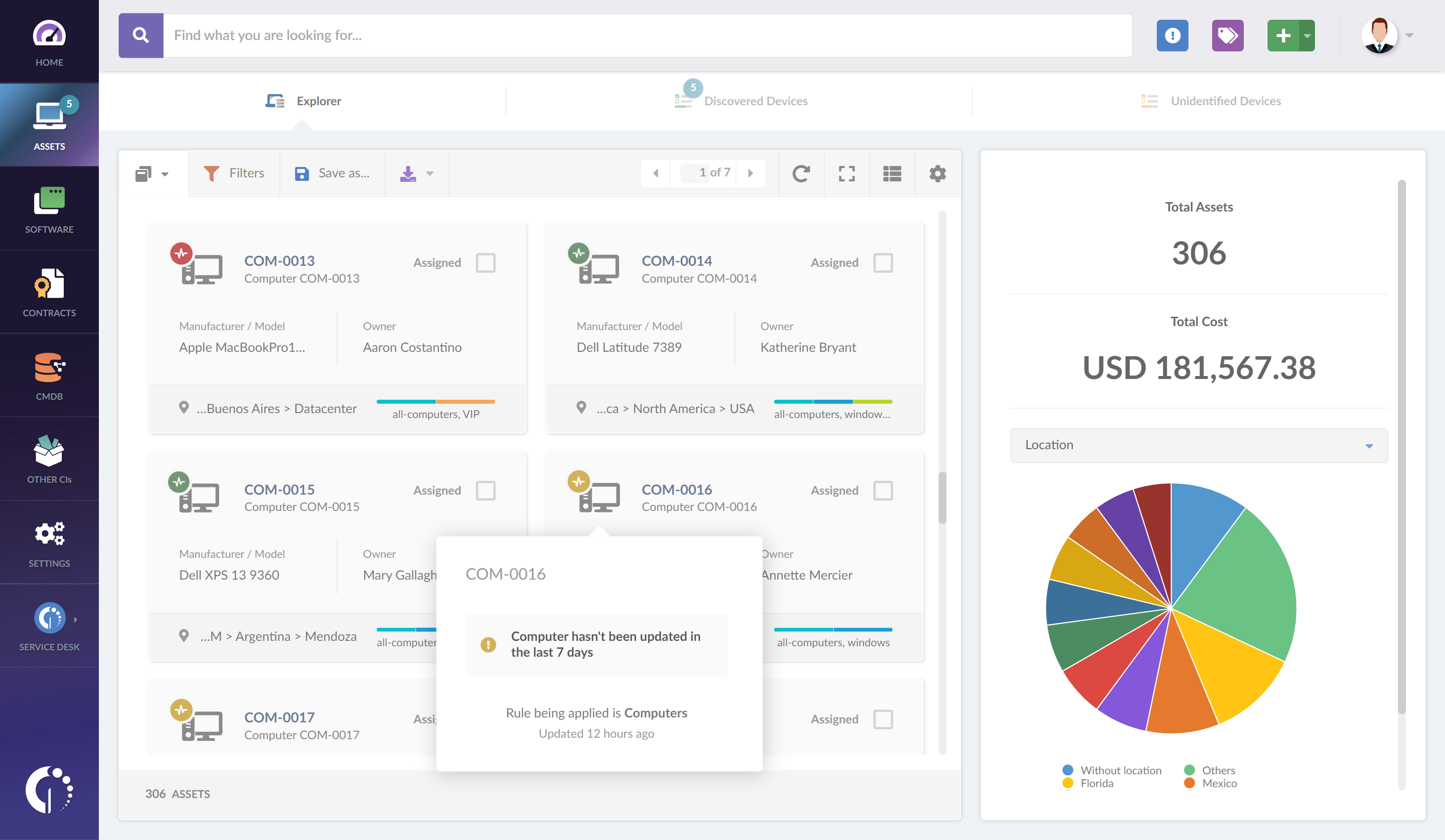 Optimized software efficiency and reduced costs
InvGate Insight equips organizations with the ability to identify and quantify the usage of paid software, facilitating effective Software Management. By gaining insight into software utilization, unused licenses can be reallocated, unnecessary costs minimized, and returns on IT investments maximized. This optimization of software efficiency empowers organizations to extract optimal value from their software resources.
Proactive management of operational expenses
InvGate Insight empowers organizations by seamlessly integrating financial data, contracts, licenses, and essential information into its system. This seamless integration offers a comprehensive grasp of operational costs, enabling informed and proactive financial decision-making. This approach enhances budget allocation and maximizes returns on IT investments.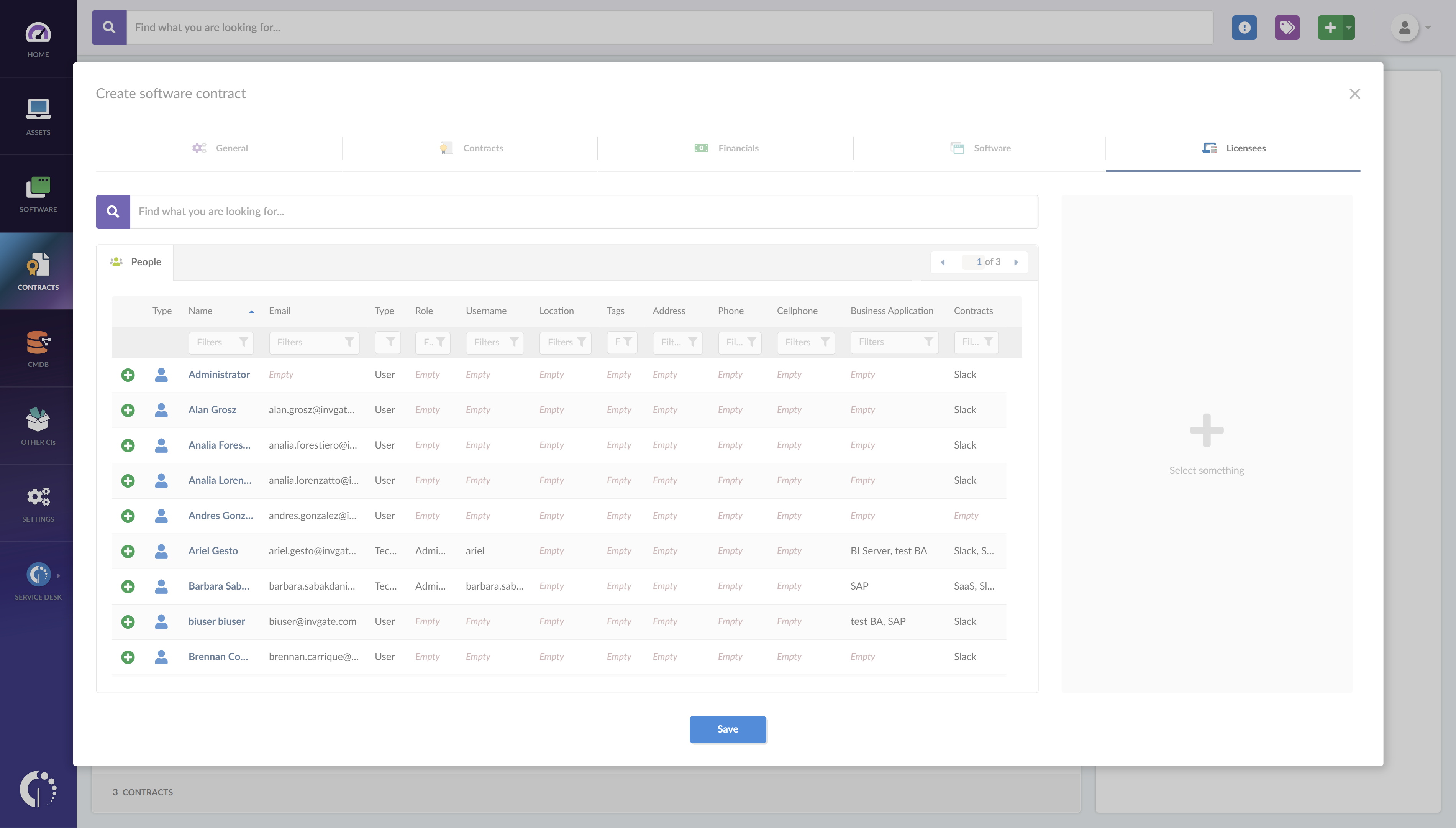 Next steps
In IT Asset Management, comparing Lansweeper vs. ServiceNow Software Asset Management has provided valuable insights into their strengths and limitations.
However, the world of ITAM is rich with alternatives and innovations. Take, for instance, InvGate Insight. This standout alternative helps to address various Asset Management needs, enabling organizations to streamline their operations and make informed decisions.
Explore our live demo and experience the power of InvGate Insight in action.