Now that organizations are more reliant than ever on the digital workplace, IT support is absolutely paramount for business processes to function without a glitch. An organization's IT service desk plays a crucial role here. And as the workforce gets distributed and remote or work-from-anywhere models are becoming the norm, the importance of this role is increasing.
Your organization needs smooth, robust, and consistent access to the digital workplace in order to have optimal help desk agent productivity. Efficient IT technical support is important for good employee experience and for the organization to meet its KPIs.
Here we explore the top ten tips to get your service desk to perform at its best as well as some must-have tools for an efficient service desk.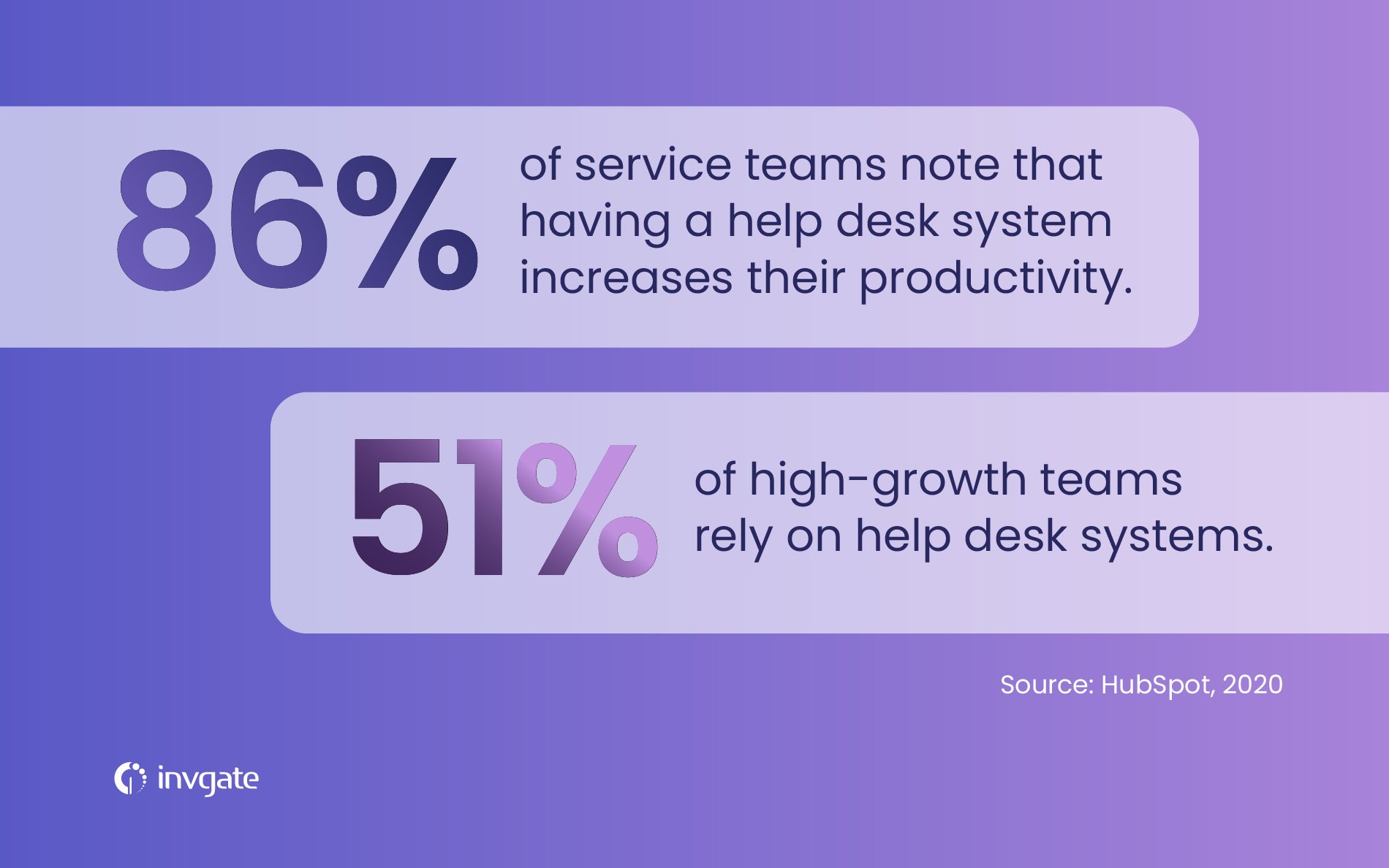 Top 10 tips to improve the performance of your service desk
1. Focus on the people, not just the technology
Organizations and service desk managers often place a lot of importance on the tools for the service desk; getting the latest systems and investing in advanced software solutions. But the most important element in a service desk is its people; the service desk agents and the users. Motivated and well-trained employees can provide effective tech support and resolve more tickets every day across all IT support levels.
Invest in providing regular training to keep the service desk agents aware of the common issues your employees are facing and how they can best resolve them. Make sure they have the right tools and information to solve the issues in the least time.
You can also invest in gamification strategies to further motivate your team. For example, you can implement a leaderboard system that tracks the number of tickets resolved every week and reward the top performers with company swag. Gamification can bring out the competitive spirit among employees and keep them motivated.
2. Define clear, measurable goals, metrics, and KPIs
Going after so-called vanity metrics is a common mistake observed while defining goals for a service desk. These ITSM metrics tend to look good always as if the service desk is performing well. But they don't often reflect the actual performance of the service desk.
For example, the total number of queries received a day may always be high, even if the employees are not having the best experience with the service desk. Or the metrics may show that the employees are checking the IT knowledge base very frequently, but that could simply mean that the articles are not clear enough and are not solving their queries easily.
When defining metrics, make sure they're measurable and that it aligns with the overall vision and goals of the organization. For example, instead of the number of queries resolved, a better measure would be the average time taken to resolve queries or the number of queries resolved at first contact (FCR).
Organize your service desk such that employees can access most of the IT services by themselves. A self-service service desk requires fewer resources and can significantly reduce the time for resolving the queries.
While it may be impossible to make the entire help desk self-service, it is certainly possible to make at least some aspects of the services without assistance from service desk agents.
The simplest part that employees can handle is actually requesting the service. Build an IT service catalog detailing how employees can request different services as well as all the information a service desk agent will need to resolve the query. Through a self-service portal, employees can request these services by looking at the catalog without directly contacting an agent.
You can also use chatbots and other automation to reduce the workload for the service desk technicians and let employees find out the answers themselves.
4. Collect employee feedback
Collecting employee feedback is as important as collecting performance metrics for the service desk. This feedback can give you insights on what employees found lacking in the service desk and on how you can improve to deliver better services.
The feedback can showcase the performance of individual service desk agents as well as the overall service desk systems. For example, if a certain agent is getting consistently poor feedback, they may need additional training. But if employees requesting a specific service are giving consistently poor feedback, there may be something wrong with the workflow or how that type of ticket is handled.
While you can occasionally send out detailed surveys to employees, it's best to collect feedback through a short questionnaire right after a ticket is resolved. Employees are more likely to answer short questions, such as a simple yes or no, or rate on a scale of 1 to 10, instead of detailed questionnaires asking them to describe a conversation. And you're likely to get more accurate feedback right after the query is resolved, instead of days after.
From the start, institute a plan to make improvements on the service desk based on the performance metrics and the employee feedback.
Review the performance metrics regularly and analyze the service desk data for any bottlenecks in the workflow. Besides the service desk performance metrics you've defined, modern service desk solutions have detailed analytics dashboards that can reveal trends and patterns inhibiting the service desk's performance. Besides collecting the data, discuss with stakeholders from different departments in the organization to find out any difficulties they're facing.
Once you have all the information about what's working and what's not, develop a plan to enhance the service desk. Make changes in how tickets are handled, update the IT knowledge base, and train your employees.
And most importantly, review the metrics to see if they're in the same direction as the organization's goals. See if the data from these metrics are reflecting the issues pointed out by employees, service desk agents, and the stakeholders and make changes accordingly.
6. Offer omnichannel support
Don't limit the service desk to just call support. Employees may prefer communicating through multiple channels, such as email or live chat, and offering omnichannel support enhances the overall service desk experience.
An important aspect to keep in mind is that omnichannel support is not just offering multiple ways of contacting the service desk, but rather bringing these channels together seamlessly. For example, if an employee contacts the service desk initially via live chat, and later switches over to phone support, they often end up having to explain their whole query all over.
With omnichannel support, these different channels of contact are linked, and the support agent has all the information to continue the discussion over any platform. And if a query can be resolved through remote desktop access, the conversation can be switched over to live chat or another appropriate medium.
Besides enhancing the employee experience, omnichannel support also offers better data about customer expectations and service desk performance.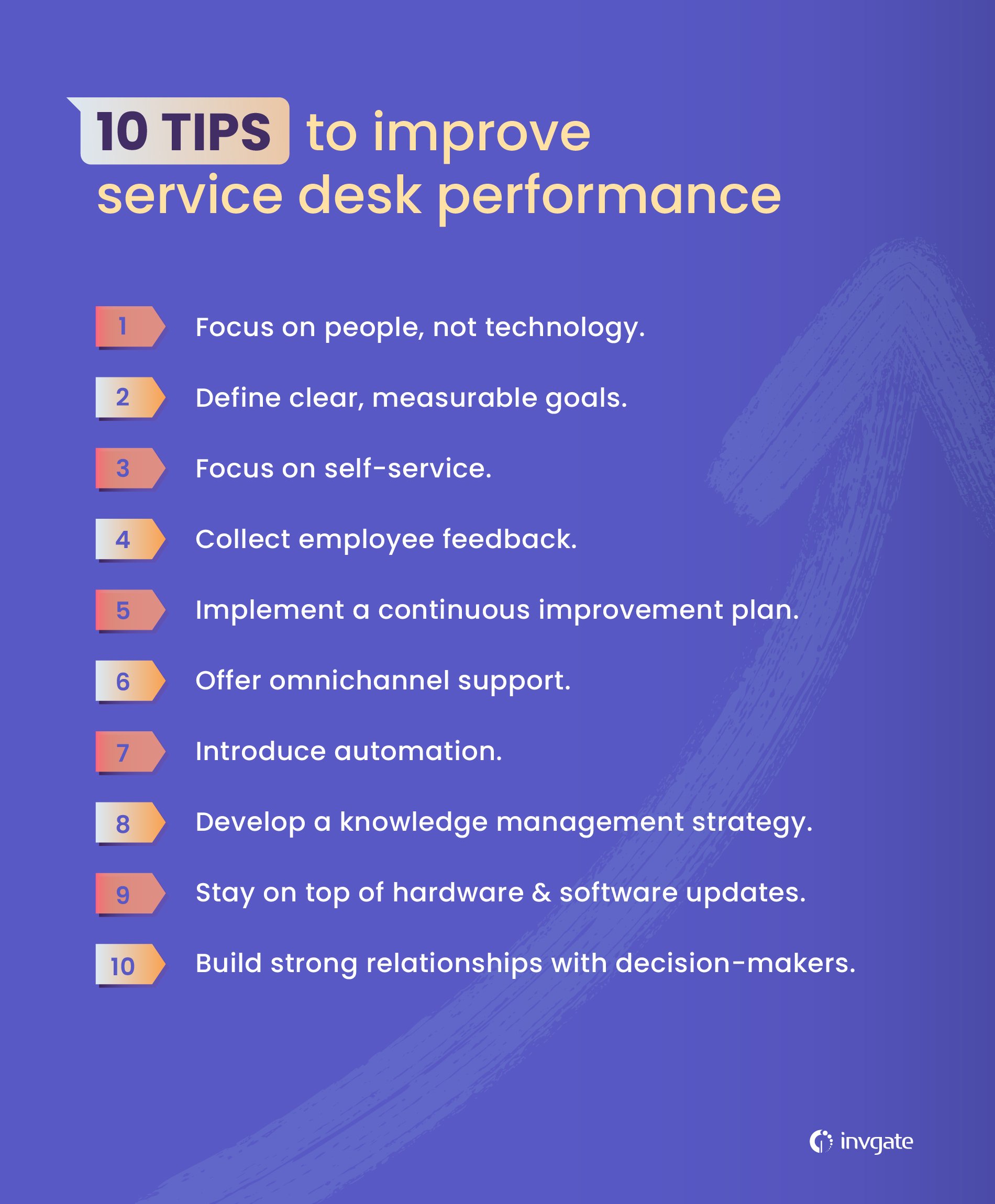 7. Introduce automation to your service desk
Besides reducing the workload for the service desk agents, ITSM automation will also ensure consistency in your services. It will ensure that all the procedures are followed correctly and that service quality doesn't deteriorate over time. Automation will also ensure clear documentation of the service desk processes for compliance and review.
When getting started, you can just automate how tickets are handled, how it's assigned to different service desk agents, and the entire ticketing flow. You can also automate sending alerts and updates to the employees about the status of their query and once resolved, you can automate sending emails or forms to collect feedback.
ITSM automation can help save a lot of resources for your organization and empower your employees to perform more important tasks.
As the organization evolves, the scope of the service desk will also evolve accordingly. New services may be added, existing services may be removed or updated, and accordingly, the service desk workflow may be changed. Service desk technicians need easy access to the latest information to provide these services effectively and efficiently. This is where an efficient knowledge management strategy comes.
A knowledge management strategy enables employees to access a universal source of truth for all organization-related matters. An IT service desk should have a strategy to store, update, and distribute all IT-related data and information. A robust knowledge base supported by a knowledge management strategy can ensure that the latest information is stored and that employees have the proper access to perform their tasks effectively.
9. Stay on top of hardware and software updates
An "if-its-not-broken-don't-fix-it" attitude towards IT asset management can prove costly to the organization in the long run. Hardware and software have to be updated regularly to ensure that the business functions don't take a hit due to downtime.
It's important to keep track of all the devices and ensure that they have the latest security patches and firmware updates. The same goes for the software solutions the organization is using; make sure that their licenses are up-to-date and that they are secure from any threats.
Proper asset management can reduce the total cost of ownership for the organization's assets. It will also make sure that employees have the right tools to do their job. If an employee's device fails or a license expires, that can result in a lot of unproductive hours, particularly in a remote environment. They also play a huge role in the cybersecurity strategy of the organization.
10. Build a strong relationship with the organization's executives and decision-makers
It's important that the organization's executives understand the importance of the service desk and the value it delivers. The service desk manager has to work closely with the executives to understand the organization's vision with the service desk. And the manager has to convey this vision to the agents.
Executive support is also important for any new initiatives or changes from the service desk. Executive championship and change management plays a huge role in ensuring a high rate of adoption for new changes; it emphasizes the importance of the change among the employees and motivates the organization to follow through.
A strong relationship with executives who understand the importance of the service desk, its activities, and actively support it can improve the performance of the service desk in the long run.
Must-have tools for an efficient service desk
Service desk software
Obviously, a robust service desk solution is an important element. It can help you streamline all the processes in your service desk solution and reduce your workload.
Modern service desk solutions come with a wide range of automation and data analysis tools. They can automatically route the tickets, send updates and alerts, and can collect, analyze, and bring you actionable insights to improve your workflow.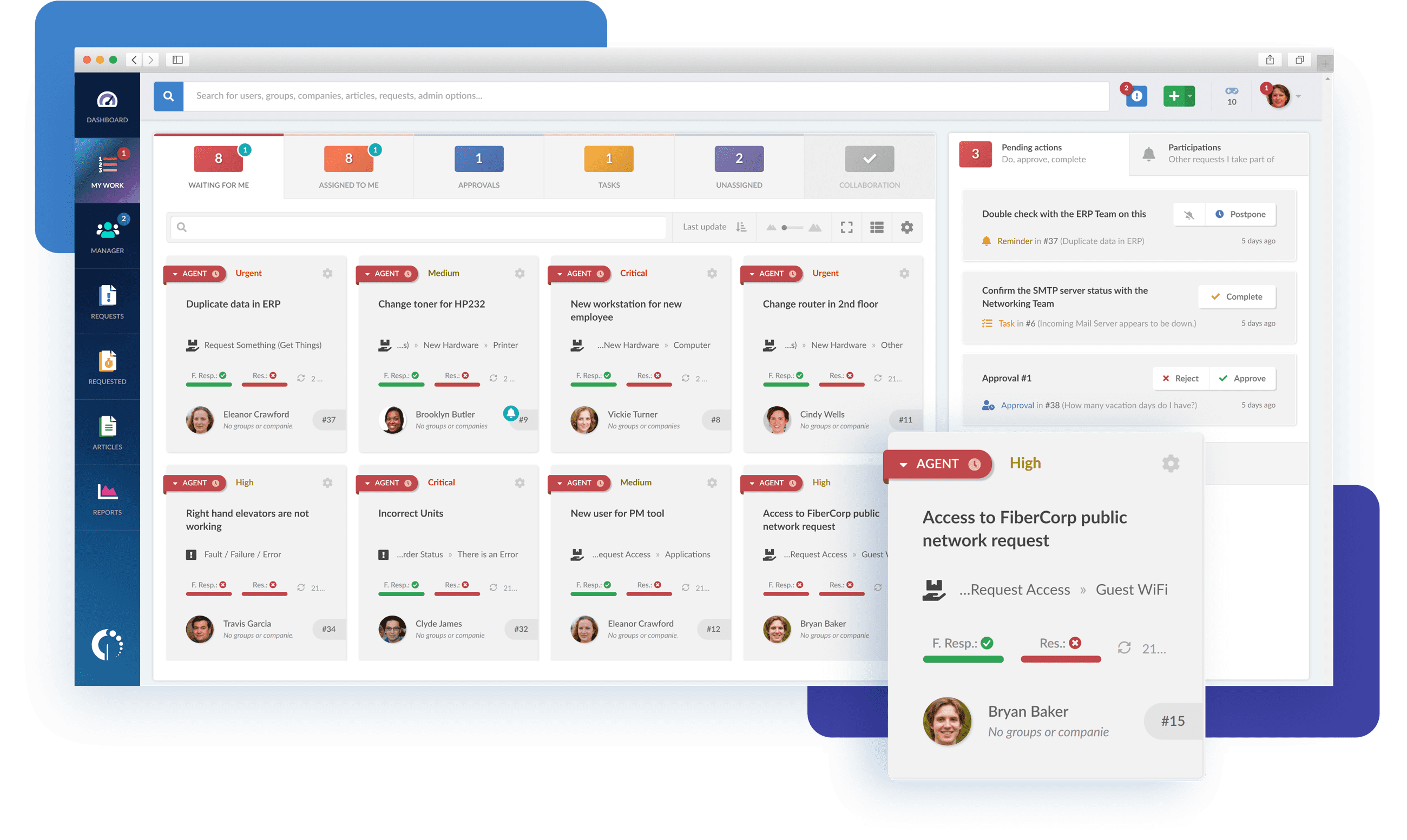 They also have a lot of other features that will make a service desk manager's job easier. For example, InvGate Service Desk has modules that support gamification, tools for handling change management, cutting-edge automation, and many other top-of-the-line features that make it one of the most acclaimed help desk and ITSM tools in the market.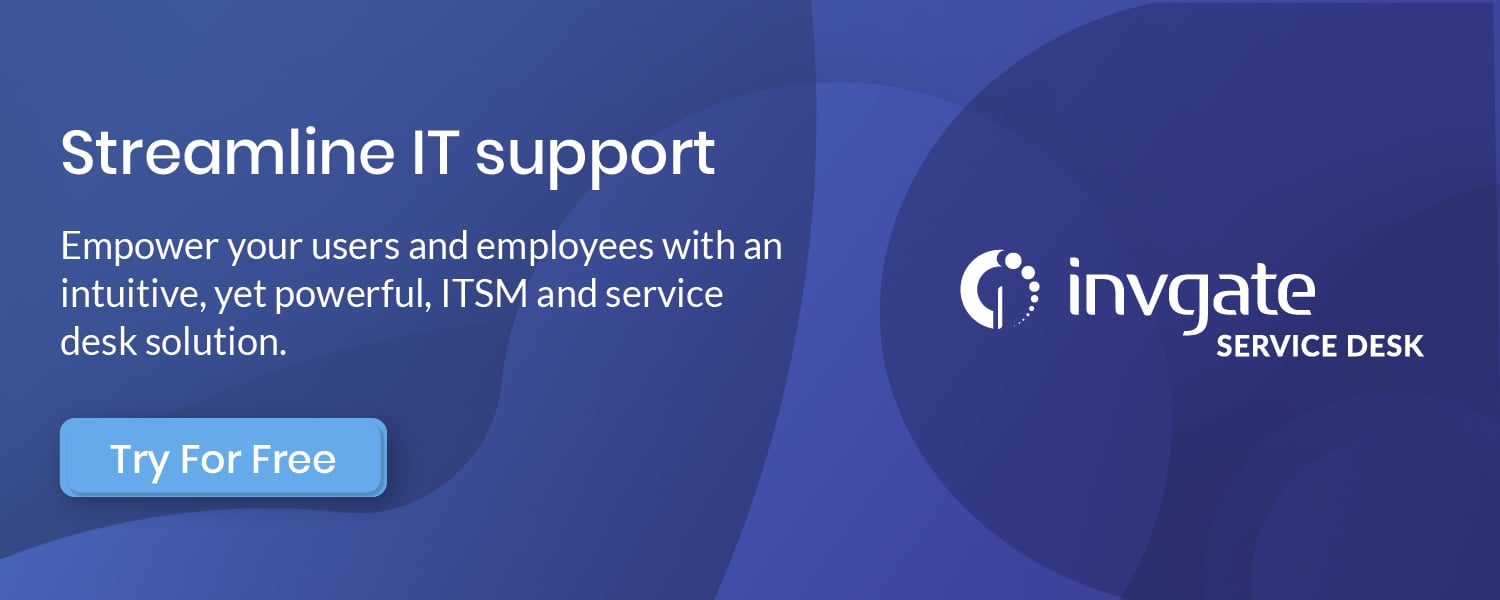 Asset management software
For an IT service desk supporting an organization's employees, a major part of its day-to-day activities would be fixing hardware and software issues. An IT Asset Management (ITAM) solution can be a huge help in dealing with these issues. These solutions can keep a detailed inventory of the organization's assets; laptops, PCs, printers, scanners, and other devices as well as software solutions and their licenses.
Asset management solutions, such as InvGate Insight, can help you keep an eye on your assets and configuration management. They can be a valuable tool to ensure that the organization's devices don't face any downtime and that the business processes are running smoothly.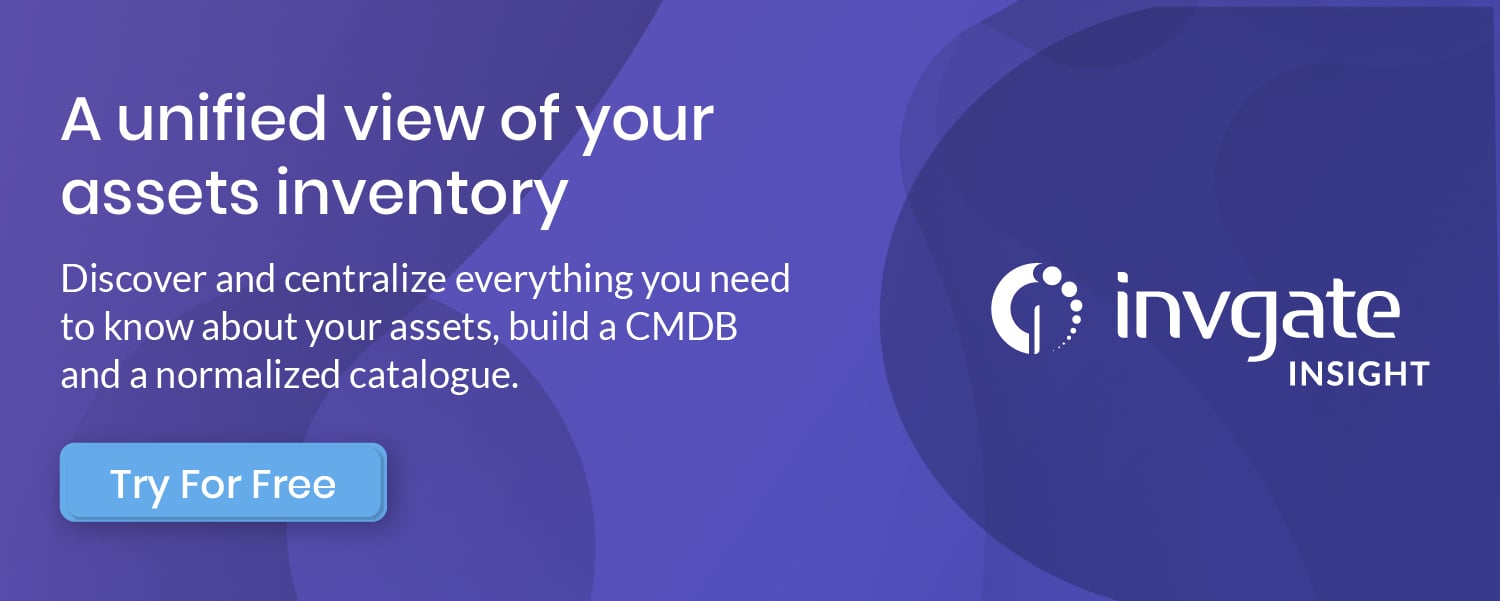 Frequently asked questions
How can I improve my service desk?
The most important factor is to focus on your team. Make sure they have the right tools, training, and motivation, and make sure they understand the role of the service desk within the organization. Another important factor is continuous improvements; define the goals of the service desk, measure the performance, develop strategies for improvement, implement the strategies, and repeat.
How can I make the service desk more self-service oriented?
Develop a robust self-service portal and ensure that users can find all the answers they're looking for. Make sure that the knowledge base articles are up-to-date and are easily accessible and invest in chatbots to assist users in their search.