IT support and service delivery mechanisms are changing. End-users are used to Amazon, Facebook, and Google levels of customer experience, so building a tier 0 help desk offering in your organization should be seen as a priority. Done well, this ground-zero level of IT support can empower end-users and help your agents to focus on more technical matters.
But what is actually tier 0? In this article, we'll examine its extent, benefits, and examples, and share a few tips on running it effectively and in a user-centric way.
Ready to get excited about setting up your help desk's level 0 of support? Let's dive in!
What is a tier 0 help desk?
Level 0 is typically a self-service capability with links to services that will help the end-user to fix an incident themselves. It often includes a self-service portal, a service catalog, and a knowledge base.
What differentiates tier 0 from every other tier of help desk support is that it has little to no direct customer-to-employee interaction. We've all heard of shift left, and most of us are comfortable applying it in a tech support environment; this is taking it further and applying it to customers and end-users by sharing knowledge via knowledge base articles, FAQs, user forums, and artificial intelligence (AI).
By giving end-users the ability to self-apply simple fixes such as restarting a failed device, troubleshooting common brands of broadband routers, or even self-service password resets, we're empowering them through knowledge sharing, and freeing up valuable service desk resources for the hard stuff.
Another key feature of the tier 0 help desk is its importance in proactive Incident Management and preventative maintenance. An example of this is to use keywords as a support mechanism. This allows your ITSM tool to identify the issue the user is experiencing and proactively create a ticket that contains a link to the knowledge base article that will help them resolve it themselves.
Tier 0 functions
Tier 0 has two essential functions: supporting users with self-help, and acting as a filter to free up our human support resources for more complicated tasks. However, the way you implement it will affect the outcomes of this level of IT support.
Self-service portal

: a one-stop shop for everything a user would need to log their issues, get updates, and provide feedback to the next level of support.



Self-help

: actionable services that enable the colleague to make changes – for instance, account management tasks like password reset and account unlock or installing software.



Service catalog

: a virtual signpost that directs users to service information. In this case, you'll get bonus points if it's actionable (for example, linking directly to knowledge articles or raising incidents and requests against a related service).



Knowledge base

: user-centric service that shares help, user guides, and how-to information with end-users.



User discussion boards and forums

: spaces to encourage collaboration among end-users.
5 benefits of implementing a tier 0 tech support
As you can see, implementing a tier 0 tech support service doesn't require too much work. With
, you can customize your service catalog and set up your knowledge base in no time. And once it's up and running, level 0 will bring you plenty of benefits:
Improved user experience: end-users don't need to wait for the service desk to be available; they can access help and support at a time that best suits them.


Options: having a tier 0 offering is part of the service desk presence; it means that users can contact the service desk in the most convenient way for them. Not everyone has the time or even likes talking on the phone. Tier 0 gives people an alternative way to access IT support, and having diverse options so people can feel more comfortable engaging with IT can only be a good thing.


Free up analysts: tier 0 can act as a filter so that support technicians can focus on the more complicated, value add tasks.


In line with industry best practices and user expectations: as stated above, we live in an Amazon world, and that's where the customer expectation sits at. By providing self-help alternatives, you satisfactorily meet them.



End-user happiness: they feel supported and empowered, and become more confident over time through knowledge sharing and tutorials.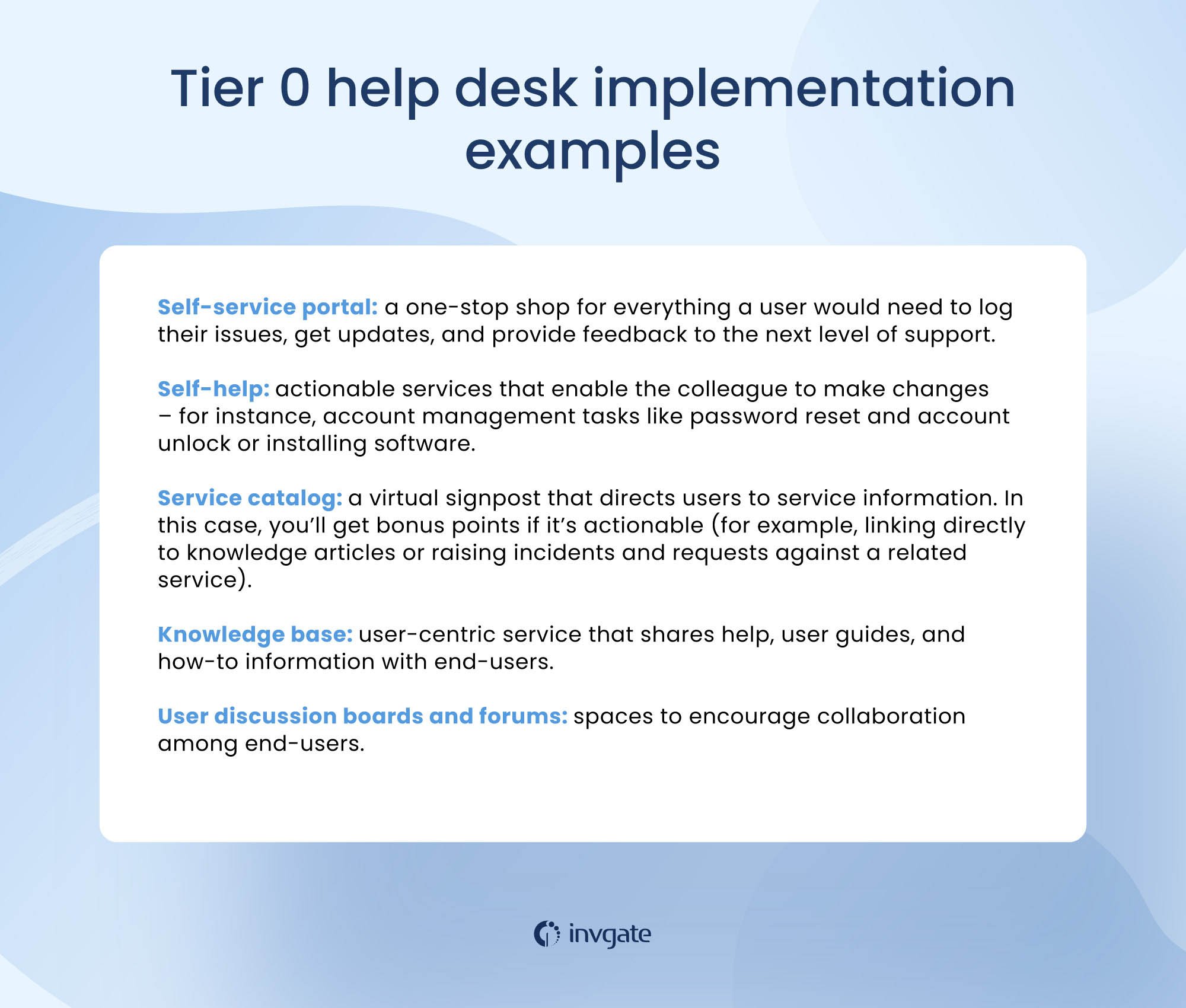 What do you need to offer tier 0 technical support?
What many organizations miss when they run into problems with tier 0 support is that it's not good enough to spin up a self-service portal – they expect end-users to embrace it straight away. Care needs to be taken to ensure your self-service offering fits the needs of the business. It'll also need to be socialized so that end-users are aware of its existence and engage with it.
Of course, you can encourage its adoption by choosing an intuitive tool that users feel comfortable using right away. Avoiding steep learning curves is a smart move to change behaviors – especially if you come from offering email support.
"To familiarize the end-user with InvGate Service Desk, we renamed it CAS, Centro de Atención de Servicio (Service Attention Center), and created our own URL with this name. Plus, we facilitated the access by those who would upload the tickets to the tool by establishing an automatic login process.

As soon as we brought CAS online, the user immediately learned how to upload an incident, and how to find a solution in the knowledge base. It brought us quite a few benefits."

Pablo Godoy
Head of Technology at Grupo Cepas
When offering tier 0 tech support, design it with the following things in mind:
Make sure the colleague experience is consistent with other corporate services. Ensure the look and feel align with other systems and that the correct branding is in place.


Solid integration with related services, for example, the knowledge base, service catalog, and service desk system, in case their issue needs to be escalated.


When linking to the knowledge base, make sure it's kept up to date.



It's important to link to your service catalog so that it can act as a signpost to your services (and don't forget to build it following

service catalog best practices

).


The user interface must be well designed with the end customer in mind (no complicated drop-down menus or forms) and it should be easy to use and navigate, so remember to build in anchor links.


Use keywords and SEO functionality to personalize the experience and link to the most relevant knowledge and support articles.



Lean into AI and

bot technology

if you have it, so even in the absence of people, there's still an interface for the end-users to engage with.



Service level agreements (SLAs)

should be in place for tier 0 so that support can be monitored and the end-user experience is protected.



Moderators should be available to monitor customer forums and intervene where appropriate.
Tier 0 support examples
Tier 0 help desk support is especially useful in the following examples:
Password resets

Asking questions through knowledge articles and FAQs

Logging non-urgent incidents

Requesting new hardware or software via request management
When to scale tickets to tier 1
The user will need to be directed to the next tier of support when their issue cannot be fixed via self-service. Typically, a support case will need to be looked at by tier 1 when the issue is complex or needs human intervention to resolve.
Using a tiered support model should be seamless to avoid issues when escalating issues. So make sure to build triggers into your process so that tickets move forward to the next level of support if needed.
Some common situations when escalation to level 1 of support is needed are:
If the issue is complex.

If the fault is time-sensitive.

If there is a potential risk to people (for example, if the health and safety system isn't working correctly).

If there is the potential for a

major incident

(such as if it's suspected that the email service is unavailable for all users).
Key takeaways
Providing tier 0 help desk support can be a game changer for your support offering. But for it to be effective, make sure to take the following into account:
Tier 0 is all about balancing automation with being user-centric.

Integration with other areas should be seamless.

Design it for the end-user so that it's easy to access and use.

Create clearly defined escalation points if something needs to go to the next level in your support tier.