Have you ever found yourself at the crossroads of IT Asset Management (ITAM) solutions, pondering the choice between Cherwell Asset Management vs. Snow License Manager? How can you navigate this crucial decision and steer your organization toward optimized ITAM success?
In this blog post, we'll embark on an in-depth ITAM software comparison of these two prominent tools.
But that's not all – we're about to unveil a contender that brings a unique twist to the ITAM landscape: InvGate Insight.
Intrigued? Keep reading to uncover a world of possibilities that awaits on your journey to ITAM excellence.
Most looked-at features by buyers
When assessing choices for managing IT assets, potential purchasers evaluate a range of crucial capabilities to select the most fitting solution that matches their needs and business prerequisites.
Here are a number of vital factors buyers consider when picking a customized ITAM solution for their company.
What is Cherwell Asset Management?
Cherwell Asset Management is a software tool designed to streamline the management of software and hardware assets. This comprehensive solution aims to reduce costs associated with software licenses, ease the workload on IT operations, and mitigate the risks linked to software audits.
The key functionalities of Cherwell Asset Management include monitoring hardware and software inventory, ensuring compliance with licenses, analyzing software utilization, and facilitating ITAM purchases. It seamlessly integrates with Cherwell IT Service Management, thereby enhancing the overall IT structure.
The company responsible for developing Cherwell Asset Management, Cherwell Software, was acquired by Ivanti, a well-known enterprise Service Management provider. Following this merger, Ivanti is directing Cherwell clients toward its Ivanti Neurons platform. However, this sudden transition has resulted in customer dissatisfaction, creating an opportunity for other vendors in the ITSM/ITAM space to present alternative solutions.
What users like from Cherwell Asset Management
Cherwell Asset Management has gained widespread recognition and garnered favorable customer responses, with respected entities like Gartner acknowledging its strengths.
Users have emphasized several advantages of the platform, which encompass the subsequent aspects.
User interface and customization - Users highly value the platform's remarkable adaptability. Moreover, users particularly appreciate the feature allowing them to whitelist and blacklist software based on individual assets.
Report generation - Users have expressed favorable comments about the software's capability to generate reports, noting that including charts enhances visual appeal and ease of comprehension.
Efficiency and performance - Users have offered positive feedback regarding the tool's application reliability and performance. Its effectiveness and ability to track modifications and incidents are also highlighted as notable benefits.
Monitoring and management - The software's seamless integration with various sourcing services and its ability to oversee non-IT assets have been lauded by users for their effectiveness in asset monitoring and administration. Using an agent to collect data enhances the accuracy and reliability of asset information.
Cost-effectiveness - Cherwell Asset Management's affordability, coupled with its straightforward out-of-the-box configuration, makes it an attractive choice for users in search of efficient Asset Management solutions.
What users don't like from Cherwell Asset Management
Despite the numerous strengths and positive attributes of Cherwell Asset Management, it remains susceptible to customer concerns and criticisms. Reviews from reputable sources like Gartner have highlighted specific recurring complaints voiced by users. These encompass:
Implementation process - Dissatisfaction among certain users regarding the implementation process of Cherwell Asset Management underscores the need for improvements in its out-of-the-box readiness.
User interface - The design of the user interface for specific modules and Mapp faces criticism for its awkwardness and lack of user-friendliness, indicating a requirement for enhancements. Moreover, some users suggest enhancing the UX for smaller organizations to cater to their unique requirements.
Issues with certain tickets and usability - Specific tickets may not perform as expected, impacting usability and causing user frustration.
Limited advanced features and API capabilities - Certain users desire more advanced features and API capabilities to tailor the platform to specific needs and enhance its functionality.
A desire for greater involvement in interface design before deployment - Users express a wish for more participation in the interface design phase prior to deployment, aligning the platform more closely with their preferences and workflows.
Performance concerns with specific web browsers - Reports of performance issues and occasional lag with certain web browsers influence user experience and efficiency.
Limitations of built-in asset scanning - Users have encountered difficulties with asset scanning using the built-in option, leading to a desire for improved scanning alternatives.
Inconvenience due to frequent minor upgrades - Some users find minor upgrades disruptive, potentially interrupting their workflows and overall user experience.
Challenges with advanced customization - Advanced customization demands significant effort and a deep understanding of the code base, presenting challenges for users seeking personalized configurations.
Lack of integration with App Dynamics system monitoring - Users note the absence of integration with App Dynamics system monitoring, which restricts comprehensive monitoring capabilities.
What's Cherwell Asset Management's argument over Snow License Manager?
When pitted against Snow License Manager, Cherwell Asset Management shines in several key aspects, showcasing its benefits:
User interface customization and flexibility - Users can personalize the platform to their precise needs, fostering a user-centric experience. The ability to whitelist and blacklist software on a per-asset basis grants users control, promoting compliance and operational efficiency.


Monitoring and administration - Cherwell stands out with its seamless integration across multiple sourcing services, offering a comprehensive approach to asset monitoring. This extends beyond IT assets, covering a wide spectrum, including non-IT components.


Efficient performance and reliability - Cherwell Asset Management excels in swiftly tracking modifications and incidents, enabling organizations to address issues promptly.


Seamless integration with Cherwell IT Service Management - The integration between Cherwell Asset Management and Cherwell IT Service Management not only enhances the Asset Management aspect but also contributes to the overarching IT framework.


Cost-effectiveness and ease of configuration - Cherwell Asset Management stands as the epitome of cost-effectiveness. Moreover, its out-of-the-box configuration process is straightforward, making it a compelling solution across different organizations. This affordability, coupled with a user-friendly setup, presents an attractive option for smaller businesses and beyond.
What is Snow License Manager?
Snow License Manager, developed by Snow Software, is a tool created to facilitate Software Asset Management (SAM) for businesses. The primary objective of this tool is to assist organizations in effectively managing their software licenses, optimizing software utilization, and ensuring compliance with licensing agreements.
The software encompasses a diverse range of features and capabilities that empower enterprises to gain a comprehensive understanding of their software assets. This comprehension, in turn, facilitates well-informed decision-making pertaining to software procurement, usage strategies, and cost-effectiveness.
Snow Software is a globally renowned provider that specializes in delivering technology intelligence solutions across domains such as Software Asset Management, IT Service Management, and Enterprise Mobility Management. The company, headquartered in Stockholm, Sweden, has established a robust international presence with regional offices spanning the United States, Europe, and Asia.
Since its inception in 1997, Snow Software has consistently maintained a leadership position by offering a wide array of products and services. These offerings are strategically designed to aid organizations in optimizing their technology investments and extracting optimal value from them.
In addition to Snow License Manager, the company's product portfolio includes Snow Device Manager, Snow Inventory, and Snow Automation Platform.
What users like from Snow License Manager
Snow License Manager has garnered recognition and positive customer feedback from credible sources like Gartner. The following are notable benefits that have been emphasized:
Intuitive user interface - Snow License Manager has an instinctive user interface that prioritizes user-friendliness. Its design facilitates straightforward navigation and engagement across various processes, ensuring users can efficiently utilize the tool.
Exceptional performance - The platform excels in consolidating information and employs a method that readies organizations for audits. This aids in maintaining a thorough inventory of software assets.
Seamless integration - The software demonstrates robust integration capabilities within SAP environments, streamlining workflows and boosting compatibility. The utilization of lightweight agents guarantees efficient operations.
Insightful reporting - Snow License Manager presents a diverse array of valuable standard reports that offer insights into software usage and hardware data collected by agents. Users can effortlessly generate customized reports tailored to their specific needs.
Comprehensive Software Recognition Service (SRS) - The tool offers a comprehensive and meticulous SRS. Regular updates are conducted to ensure precise identification of software assets. Stable agents are employed by the service, yielding dependable results.
Continuous maintenance - The software remains consistently updated, ensuring it stays current with the latest features and security enhancements. It is regarded as a mature product with a proven history of reliability.
Exceptional support - Users have conveyed high satisfaction with the support team's quality of communication. This effective interaction aids users in addressing their inquiries. Furthermore, participating in the beta program grants users access to new features and the chance to provide feedback. Dedicated customer success managers also contribute to achieving successful outcomes.
Streamlined licensing - The platform simplifies the monitoring and visualization of software licenses and compliance concerns. It equips organizations with direct tools for efficient license management, facilitating adherence to licensing agreements.
Cost efficiency - By providing insights into installations and compliance, the software aids organizations in cost reduction during audits by ensuring license compliance.
What users don't like from Snow License Manager
Although Snow License Manager has various strengths and positive qualities, it remains susceptible to user concerns and criticisms. Reviews from reputable sources such as Gartner have shed light on a range of issues that users commonly encounter.
Software glitches and limitations - Users have also reported encountering software glitches or constraints that curtail specific functionalities, detracting from the software's optimal utilization.
Impact of data volume - In scenarios where organizations possess extensive software inventories or intricate IT environments, the system might experience performance setbacks like delayed response times or report generation.
Challenges in accurate identification - The platform faces challenges in accurately identifying certain software assets. This can lead to incomplete or inaccurate reports on software inventory.
Intricacies in setup - Users may confront complexities while striving to tailor the interface to suit their specific requirements, potentially resulting in suboptimal user experiences.
Cross-platform rights hurdles - The system encounters difficulties recognizing and managing software assets across distinct platforms or operating systems due to limitations tied to cross-platform rights.
Integration and implementation challenges - Some users have faced challenges during the integration and implementation of the software.
Improvement in reporting functionality - Some users have indicated areas for enhancement in the reporting functionality. Moreover, generating specific or customized reports might come with constraints or be time-consuming.
User-friendly agent configuration absence - The agent configuration process might lack user-friendliness, necessitating specialized expertise and additional effort for successful integration.
Absence of synchronization notifications - Users have expressed concerns regarding the lack of notifications when synchronization fails during the licensing process.
Compliance vulnerability - The absence of immediate alerts about synchronization issues between Snow License Manager and software license databases could expose organizations to compliance risks.
Delayed response times - Instances of delayed response times and inadequate problem-solving from the support team have been documented, leading to prolonged issue resolution.
Elevated cost - The initial acquisition expenses, coupled with ongoing maintenance costs, can be significant. Moreover, supplementary costs related to technical support services could further amplify the overall financial burden on organizations.
Impacts of product upgrades - Some users have reported that product upgrades can lead to issues or disruptions in system functionality.
What's Snow License Manager's argument over Cherwell Asset Management?
When comparing Snow License Manager to Cherwell Asset Management, Snow License Manager presents a compelling case through its array of strengths and user-preferred features:
Intuitive user interface - Snow License Manager has an intuitive user interface prioritizing user-friendliness. This design promotes straightforward navigation and engagement across processes, ensuring users can effectively harness the tool's capabilities.


Exceptional performance and audit readiness - The platform excels in consolidating information and adopts a method that prepares organizations for audits.


Robust integration capabilities - Snow License Manager showcases robust integration capabilities, particularly within SAP environments.


Insightful reporting for informed decision-making - The software presents users with a diverse array of valuable standard reports, offering insights into software usage and hardware data collected by agents. Additionally, users can generate customized reports tailored to their specific needs.


Comprehensive Software Recognition Service (SRS) - Snow License Manager stands out with its comprehensive and meticulous SRS. Regular updates are conducted to ensure the accurate identification of software assets.


Continuous maintenance and proven reliability - The software's consistent updates ensure its alignment with the latest features and security enhancements.


Exceptional support for user success - Users have expressed high satisfaction with the support team's quality of communication. Participation in the beta program grants users access to new features and the opportunity to provide feedback, while dedicated customer success managers contribute to successful outcomes.


Streamlined licensing and compliance management - Snow License Manager simplifies the monitoring and visualization of software licenses and compliance matters.
Considering InvGate Insight as an ITAM solution alternative
For organizations seeking customized solutions in the realm of IT Asset Management tailored to their specific needs, InvGate Insight emerges as a compelling option.
Serving as a robust ITAM solution, InvGate Insight boasts a diverse array of features and functionalities that position it as a strong contender for optimizing Asset Management processes. Let's delve into its key attributes.
Proactive cost management
InvGate Insight empowers organizations by seamlessly integrating financial data, contracts, licenses, and vital information into its system. This comprehensive integration leads to a holistic understanding of operational costs, enabling informed and proactive financial decisions. This approach streamlines budget allocation and maximizes returns on IT investments.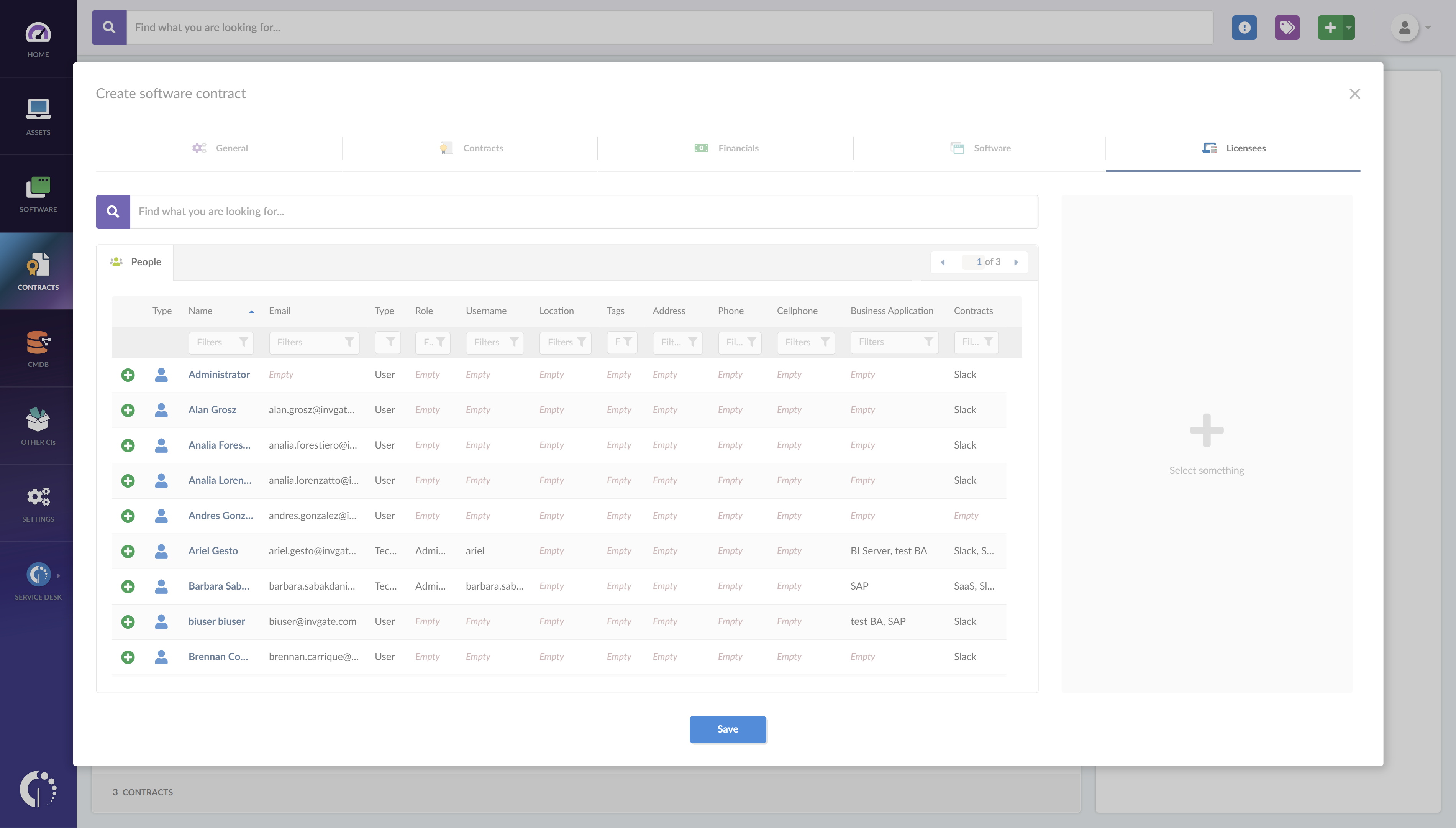 Comprehensive IT infrastructure insights
With its robust feature set, InvGate Insight provides comprehensive and actionable insights into IT assets, encompassing their status and utilization. This depth of insight empowers effective infrastructure management and optimization, ultimately enhancing operational efficiency.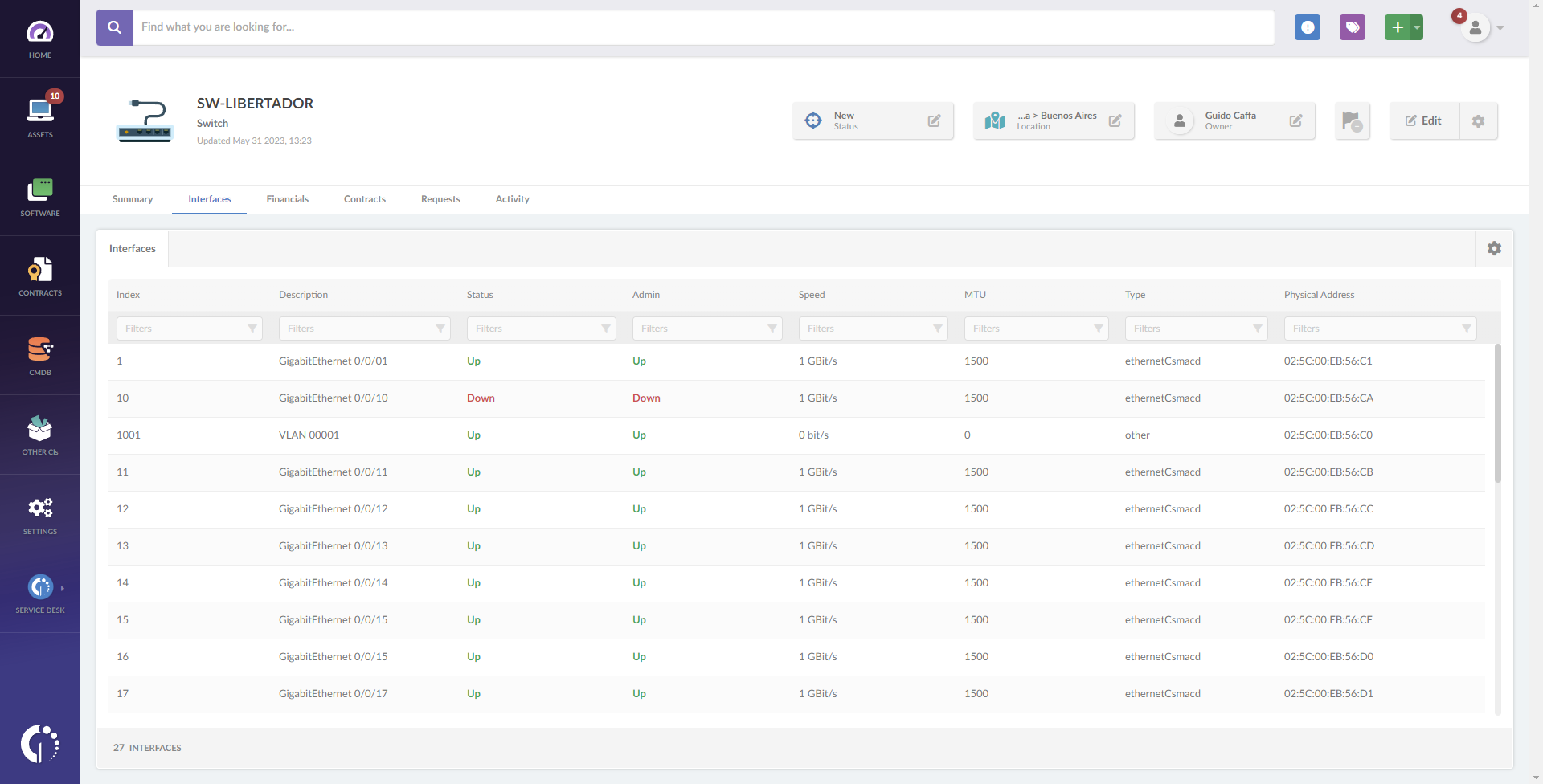 Enhanced IT Asset and Inventory Management
InvGate Insight streamlines both IT and non-IT Asset Management by seamlessly integrating data from diverse sources, including major operating systems, cloud service providers (AWS, Google, and Azure), and Mobile Device Management (MDM) systems (JAMF and Google Endpoint Manager). This integration simplifies asset, location, and personnel management, ultimately saving time and offering a holistic view of the infrastructure.
Flexible deployment choices
InvGate Insight recognizes the uniqueness of organizational requirements and industry regulations, providing flexible deployment options. This adaptability allows organizations to choose between cloud-based or on-premise solutions, ensuring alignment with individual needs and compliance standards.
Strengthened cybersecurity compliance through asset monitoring
InvGate Insight enhances cybersecurity compliance through its asset monitoring capabilities, setting up and enforcing device health rules. Swift identification of non-compliance instances enables prompt corrective action, ensuring adherence to cybersecurity policies and safeguarding the IT environment.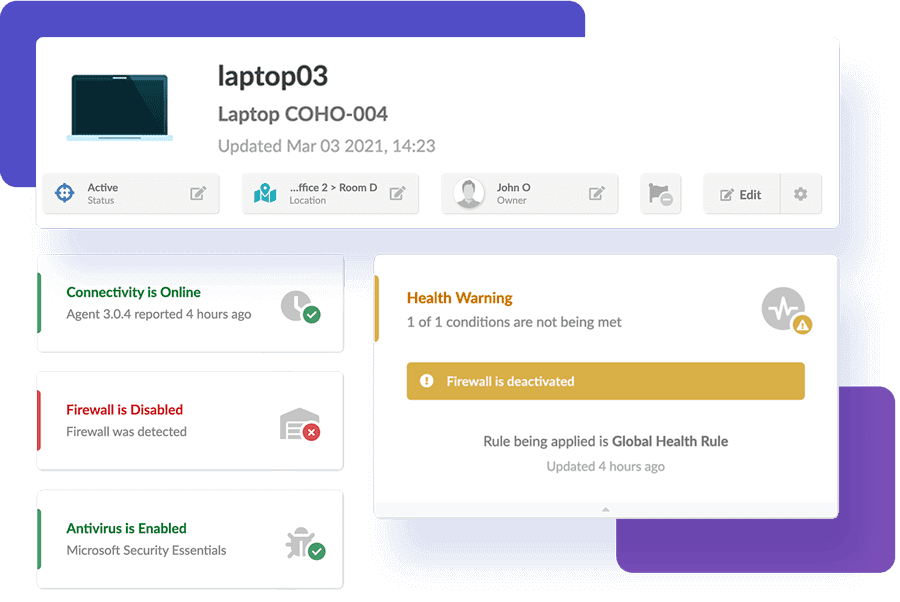 Efficient operations via CMDB map builder
The integrated CMDB map builder tool in InvGate Insight offers a comprehensive and clear overview of the IT landscape. By visually representing component relationships, potential impacts on operational continuity can be quickly identified, leading to proactive risk mitigation. This heightened visibility translates into reduced service times, increased operational efficiency, and smoother IT workflows.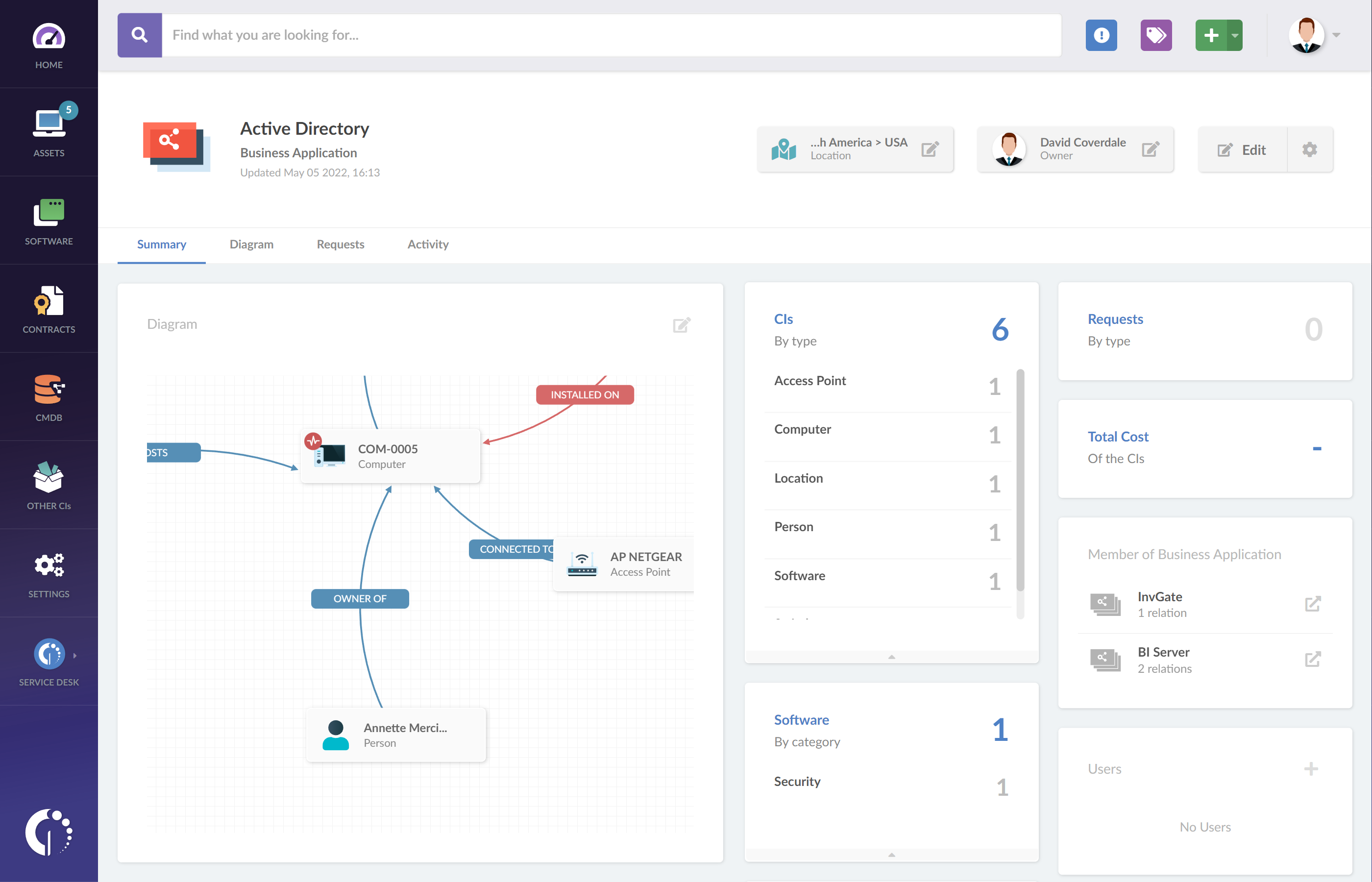 Improved efficiency through automation and alerts
InvGate Insight facilitates streamlined operations through the implementation of automation and alert mechanisms. This proactive IT management approach involves setting up automated alerts, allowing organizations to monitor contract expirations and promptly inform relevant stakeholders. This automation reduces manual effort, minimizes oversight risks, and directs focus toward critical tasks, ultimately enhancing overall efficiency.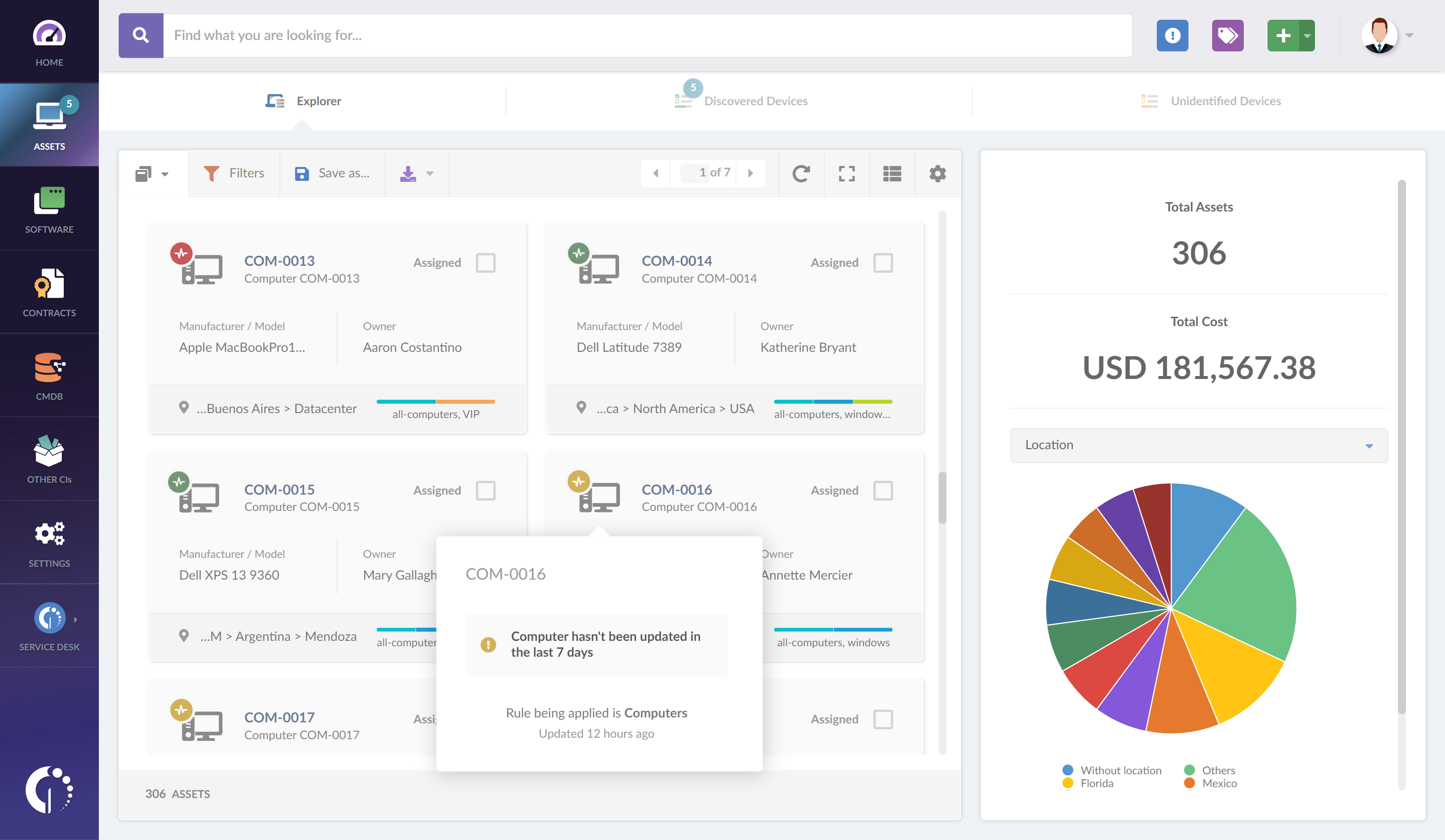 Comprehensive IT operations view via native service desk integration
InvGate Insight seamlessly integrates with InvGate Service Desk, establishing a native link between tickets, devices, and personnel. This integration provides a comprehensive 360° view of IT operations, streamlining management processes. By connecting service tickets with relevant assets and individuals, workflows are streamlined, communication is improved, and issue resolution is optimized.
Effortless remote management via native integration
InvGate Insight offers seamless integration with popular remote desktop tools like Windows Remote Desktop, TeamViewer, AnyDesk, and VNC. This integration enhances remote management capabilities, granting direct access to devices for troubleshooting and maintenance. With smooth remote access, organizations can efficiently address IT issues, perform necessary maintenance tasks, and ensure uninterrupted operations.
Optimized software efficiency and cost reduction
InvGate Insight equips organizations with the means to identify and quantify paid software usage, facilitating effective Software Management. Gaining visibility into software utilization enables the reallocation of underutilized licenses, reduction of unnecessary costs, and maximization of returns on IT investments. This software efficiency optimization enables organizations to extract maximum value from their software resources.
Next steps
In the dynamic landscape of IT Asset Management, the comparison between Cherwell Asset Management vs. Snow License Manager sheds light on the rich array of features and advantages that define each platform.
However, the world of ITAM is vast, with multiple alternatives offering unique strengths and capabilities. InvGate Insight, for instance, is a solution that has gained recognition for its efficiency in Asset Management, cybersecurity compliance, and proactive cost control.
Explore our live demo to witness firsthand how this solution can reshape your approach to asset oversight. The future of IT Asset Management is bright, and it's within your reach.