Have you ever stood at the crossroads of IT Asset Management (ITAM) solutions, facing the pivotal decision between Cherwell Asset Management vs. Flexera One? The path to optimizing your organization's ITAM success can be intricate, demanding a clear understanding of each option's strengths and capabilities.
In this blog post, we'll embark on a comprehensive ITAM software comparison, delving into the distinct attributes of both platforms.
But that's not all – we're about to shed light on InvGate Insight, a solution poised to bring a unique perspective to the ITAM landscape.
Buckle up as we embark on this voyage to uncover a world of possibilities that lie ahead in the pursuit of optimized IT Asset Management.
Most looked-at features by buyers
When assessing choices for managing IT assets, potential purchasers take into account various crucial capabilities to opt for the most appropriate solution that matches their specific requirements and business needs.
Presented below are several vital factors buyers consider when picking a customized IT Asset Management solution for their company.
What is Cherwell Asset Management?
Cherwell Asset Management is a software tool crafted to simplify the oversight of both software and hardware assets. This all-encompassing software solution aims to lower expenses tied to software licenses, lighten the workload on IT operations, and reduce the hazards associated with software audits.
The primary features of Cherwell Asset Management encompass keeping track of hardware and software inventory, ensuring adherence to licenses, analyzing software usage, and facilitating ITAM purchases. It smoothly integrates with Cherwell IT Service Management, thereby boosting the overall IT framework.
The company that created Cherwell Asset Management, Cherwell Software, was acquired by Ivanti, a renowned enterprise Service Management provider. Following this amalgamation, Ivanti is steering Cherwell clients towards its Ivanti Neurons platform. Nevertheless, this abrupt transition has led to customer dissatisfaction, opening up an opportunity for other vendors in the ITSM/ITAM realm to propose alternative solutions.
What users like from Cherwell Asset Management
Cherwell Asset Management has gained significant renown and garnered positive customer feedback, with respected entities such as Gartner acknowledging its strengths.
Users have highlighted several advantages of the platform, encompassing the following aspects.
Efficiency and performance - Users have provided favorable responses concerning the tool's dependability and performance. Its effectiveness and capacity to track changes and incidents are also underscored as notable advantages.
User interface and customization - Users highly appreciate the platform's exceptional flexibility. Additionally, users particularly value the feature enabling them to specify approved and restricted software based on individual assets.
Report generation - Users have shared positive comments about the software's ability to create reports, noting that incorporating charts enhances visual appeal and ease of understanding.
Cost-effectiveness - Cherwell Asset Management's affordability, combined with its simple out-of-the-box setup, positions it as an appealing choice for users seeking efficient Asset Management solutions.
Monitoring and management - Users commend the software's smooth integration with various sourcing services and its capability to oversee non-IT assets, which are deemed effective for asset monitoring and administration. Utilizing an agent to gather data enhances the precision and dependability of asset information.
What users don't like from Cherwell Asset Management
In spite of the many strengths and positive qualities of Cherwell Asset Management, it remains open to customer concerns and critiques. Reviews from reputable sources like Gartner have highlighted specific recurring issues brought up by users. These include:
Challenges with advanced customization - Advanced customization requires significant effort and a deep understanding of the code base, presenting difficulties for users seeking personalized configurations.
User interface - The design of the user interface for specific modules and Mapp receives criticism for being awkward and lacking user-friendliness, suggesting a need for enhancements. Furthermore, some users propose improving the user experience for smaller organizations to cater to their unique needs.
Problems with specific tickets and usability - Certain tickets may not function as anticipated, affecting usability and causing user dissatisfaction.
Implementation process - Dissatisfaction among certain users about the implementation process of Cherwell Asset Management indicates a need for improvements in its initial readiness.
A desire for greater involvement in interface design before deployment - Users desire more participation in the interface design phase before deployment, aligning the platform more closely with their preferences and workflows.
Inconvenience due to frequent minor upgrades - Some users find minor upgrades disruptive, potentially interrupting their workflows and overall user experience.
Performance issues with specific web browsers - Reports of performance problems and occasional lag with particular web browsers impact user experience and efficiency.
Limited advanced features and API capabilities - Some users wish for more advanced features and API capabilities to customize the platform for specific needs and enhance its functionality.
Limitations of built-in asset scanning - Users have faced difficulties with asset scanning using the built-in option, leading to a preference for improved scanning alternatives.
Absence of integration with App Dynamics system monitoring - Users note the lack of integration with App Dynamics system monitoring, which limits comprehensive monitoring capabilities.
What's Cherwell Asset Management's argument over Flexera One?
Cherwell Asset Management presents a compelling case over Flexera One, supported by its user-favored features and advantages. This disparity becomes evident when delving into the strengths that Cherwell Asset Management offers:
Efficiency and performance triumph - The platform's proven reliability and performance have garnered positive responses, positioning it as a reliable choice for organizations seeking optimal operational functionality.


Customization and user interface excellence - Flexibility is a prominent attribute of Cherwell Asset Management, as users commend its user interface and customization capabilities. Particularly noteworthy is the feature that empowers users to define approved and restricted software for individual assets, adding a layer of precision and control to the Asset Management process.


Report generation and enhanced understanding - Users applaud the software's adeptness in generating comprehensive reports. Incorporating visual charts not only elevates the aesthetic appeal of the reports but also bolsters their ease of comprehension.


Affordability and simplicity - Cherwell Asset Management's cost-effectiveness coupled with its streamlined setup sets it apart as a solution that resonates with users seeking efficient Asset Management strategies.


Comprehensive monitoring and administration - The software's seamless integration with diverse sourcing services and its ability to oversee non-IT assets have received a commendation from users.
What is Flexera One?
Developed by Flexera, Flexera One is a Software as a Service (SaaS) offering that combines IT Asset Management and Software Asset Management (SAM). This solution takes a holistic approach by providing a unified and centralized view of IT assets across on-premises, cloud, and edge environments.
This platform assists organizations in simplifying their IT expenditures, supervising and strengthening cloud infrastructure, minimizing risks, ensuring compliance with regulations, and delivering valuable insights and analytics.
Previously recognized as InstallShield and rebranded in 2009, Flexera specializes in technology Asset Management solutions. With its headquarters situated in Itasca, Illinois, United States, Flexera has been at the forefront of offering comprehensive technology solutions since its establishment in 1987. Their offerings encompass Software and Hardware Asset Management, Cloud Expenditure Optimization, Vulnerability Management, and Compliance with Open Source Software.
What users like from Flexera One
Flexera One has garnered positive customer recognition, evident through reviews from reputable sources such as Gartner. Let's delve into more specific advantages that have been highlighted.
User-friendly with extensive clarity - Customers have expressed appreciation for the user-friendly nature. The product's intuitive interface and streamlined navigation contribute to its ease of understanding and operation. Furthermore, the platform provides significant clarity, interpretation, and coverage of software consumption.
Responsive to business needs - Flexera One has received widespread praise as an exceptional tool for Software Asset Management that effectively caters to businesses' distinct requirements. The software has showcased its adaptability to user demands, ensuring a seamless and personalized experience.
Enabling crucial business processes and decisions - Users have underscored Flexera One's ability to offer valuable insights into software that bolster vital business processes and decision-making. The software equips organizations with essential tools and data necessary for optimizing strategic planning and enhancing operational efficiency.
Outstanding customer support - Reviews consistently highlight the exceptional customer support provided. Users have expressed satisfaction with the prompt assistance they've received and the attentive approach of Flexera One's support team. This attentiveness cultivates a sense of being heard and supported among customers, ultimately enhancing their overall satisfaction with the product.
What users don't like from Flexera One
In spite of the many strengths and positive characteristics of Flexera One, it is not exempt from the concerns and criticisms expressed by its users.
Reviews from reliable sources like Gartner have shed light on recurring issues that users have raised.
Challenges with configuration - Several customers have shared instances of facing difficulties during the setup phase of the system, even with guidance from Flexera's support team. Despite seeking assistance, users have encountered hurdles, emphasizing the need for improvements in the setup process.
Reiteration of problems and prolonged conflict resolution - Users have expressed dissatisfaction with the time taken to address issues, impacting the efficiency of their work processes. Addressing these persistent problems and enhancing the resolution process would enhance the overall user experience.
Complexity in configuring intricate licensing models - Customers have observed that configuring the product to gain a satisfactory understanding of more complex licensing models requires substantial effort. The intricacies involved in obtaining accurate insights into licensing can pose challenges and might benefit from a more streamlined and simplified approach.
Issues with the support team and doubts about data accuracy - Certain users have faced challenges when communicating with Flexera's support team. Additionally, doubts have been raised regarding the precision of the provided data.
What's Flexera One's argument over Cherwell Asset Management?
Flexera One presents a compelling case that distinguishes it from Cherwell Asset Management, fortified by its array of user-favored attributes and advantages. This differentiation becomes apparent when delving into the strengths that Flexera One brings to the forefront:
User-friendly interface and clarity - Flexera One's exceptional user-friendliness takes center stage. The platform's ease of understanding and operation is further enhanced by its emphasis on clarity, interpretation, and comprehensive coverage of software consumption.


Customization aligned with business needs - Flexera One has garnered widespread praise for its ability to cater effectively to the distinct requirements of businesses. This adaptability ensures a seamless and personalized experience tailored to the unique needs of organizations.


Empowering critical business processes and decision-making - The software equips organizations with indispensable tools and data crucial for optimizing strategic planning and enhancing operational efficiency, contributing to a well-rounded business ecosystem.


Exceptional customer support as a pillar of success - Users commend the prompt assistance they receive and the attentive approach of Flexera One's support team. This high level of attentiveness elevates their overall satisfaction with the product.
Considering InvGate Insight as an ITAM solution alternative
For organizations seeking tailor-made solutions for IT Asset Management that cater to their specific requirements, InvGate Insight presents an appealing option.
As a robust ITAM solution, InvGate Insight offers a range of features and functionalities that position it as a viable choice for optimizing Asset Management processes. Let's explore its key characteristics.
In-depth insights into IT infrastructure
With its robust set of features, InvGate Insight delivers comprehensive and actionable insights into IT assets, including their status and utilization. This depth of insight empowers efficient infrastructure management and optimization, leading to enhanced operational effectiveness.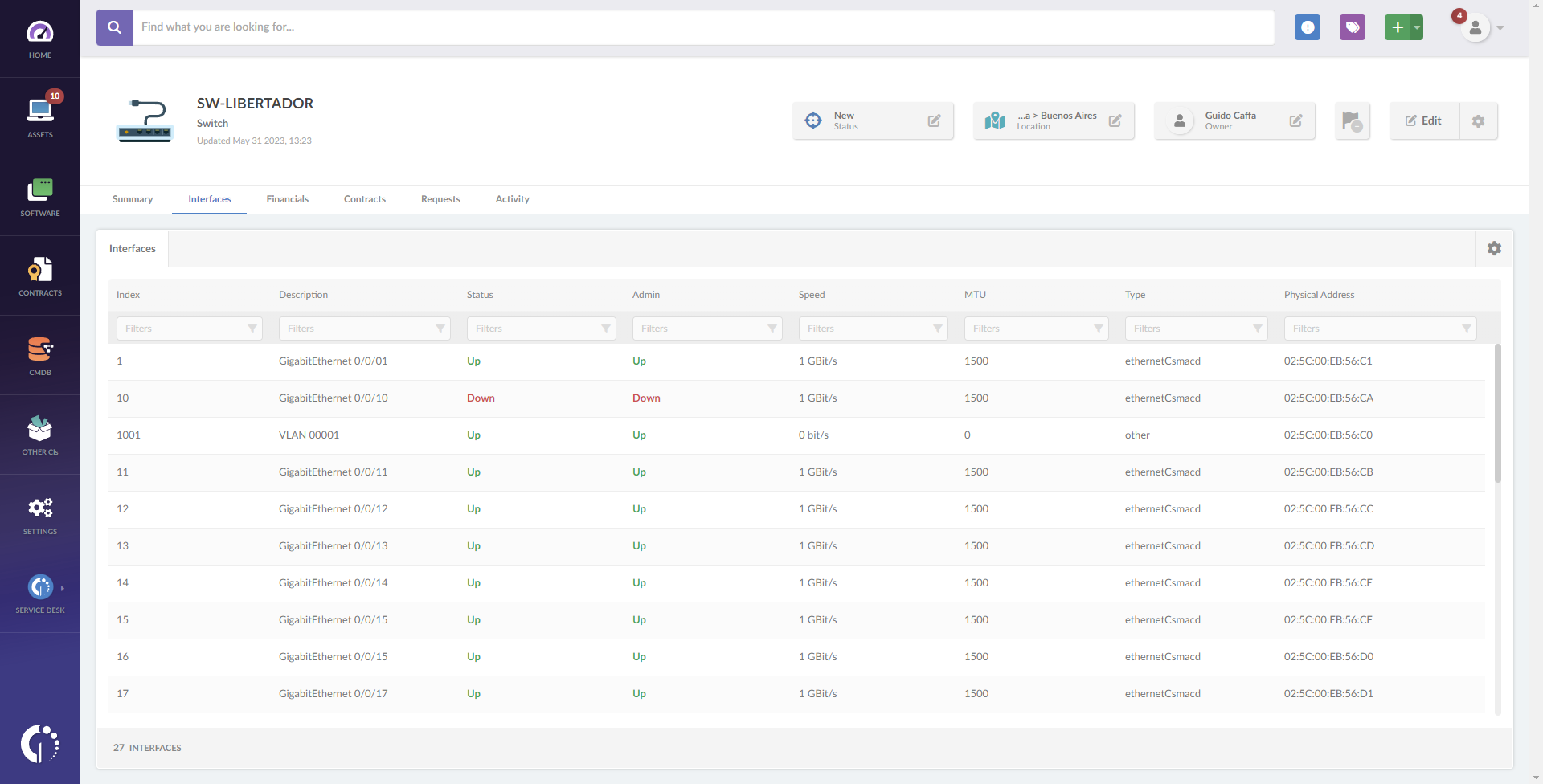 Efficient operations through CMDB map builder
Integrated with InvGate Insight, the CMDB map builder tool provides a comprehensive and clear overview of the IT landscape. By visually representing component relationships, potential impacts on operational continuity can be quickly identified, leading to proactive risk mitigation. This increased visibility results in reduced service times, improved operational efficiency, and smoother IT workflows.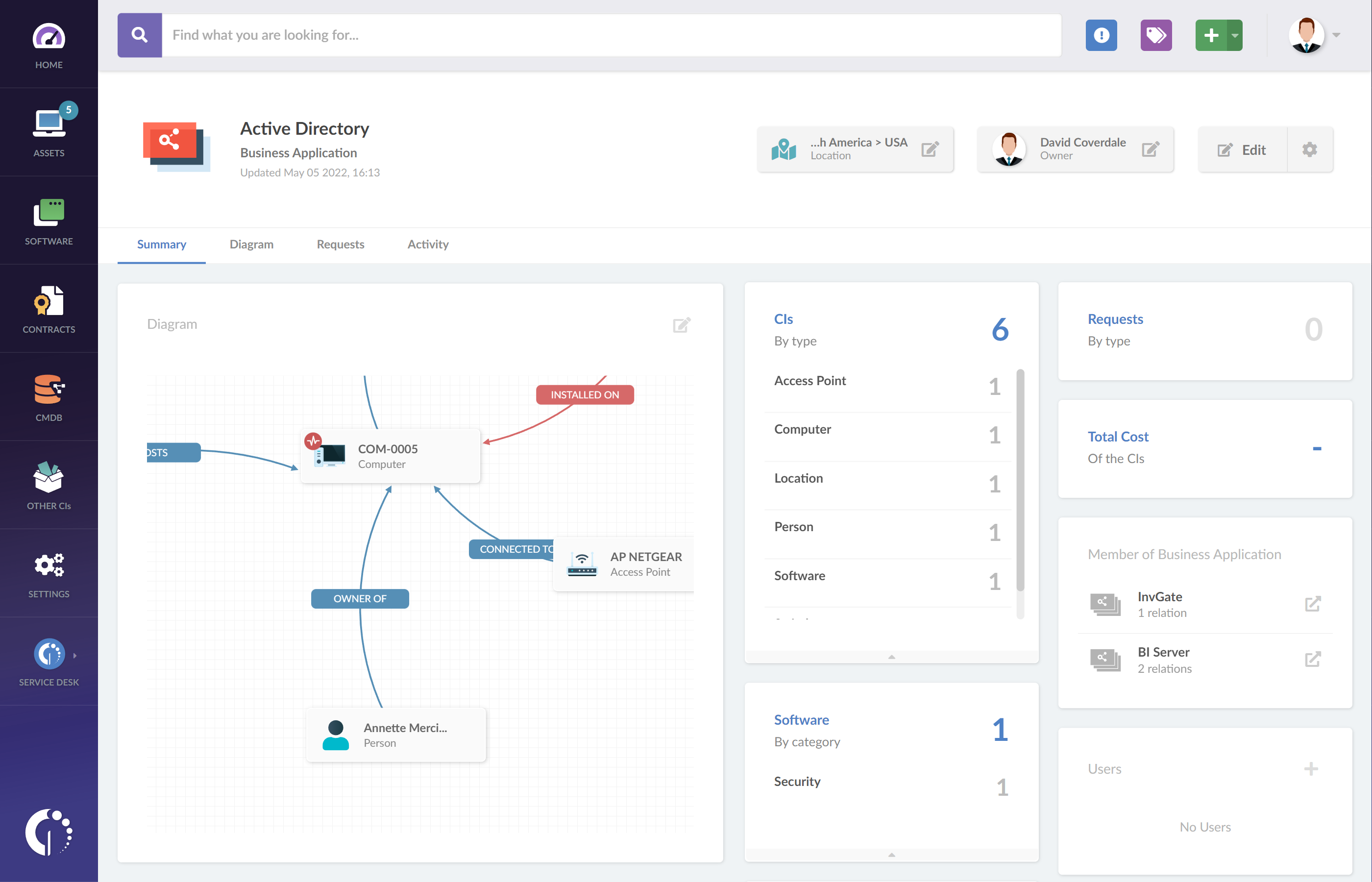 Enhanced IT Asset and Inventory Management
InvGate Insight streamlines both IT and non-IT Asset Management by seamlessly integrating data from diverse sources, including major operating systems, cloud service providers (such as AWS, Google, and Azure), and Mobile Device Management (MDM) systems (such as JAMF and Google Endpoint Manager). This integration simplifies the management of assets, locations, and personnel, ultimately saving time and providing a holistic view of the infrastructure.
Strengthened cybersecurity compliance through asset monitoring
InvGate Insight reinforces cybersecurity compliance through its asset monitoring capabilities, establishing and enforcing device health rules. Swift identification of non-compliance instances enables prompt corrective action, ensuring adherence to cybersecurity policies and safeguarding the IT environment.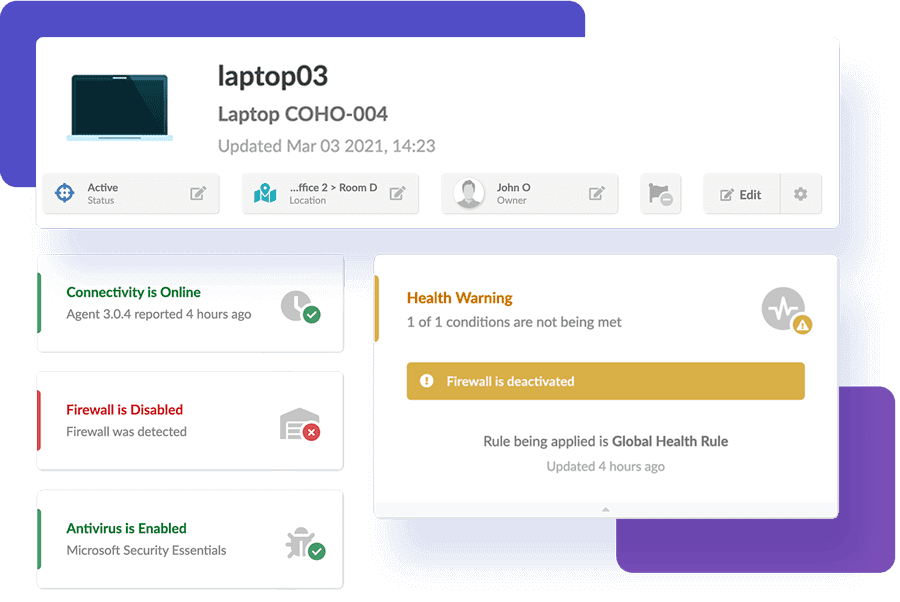 Improved operational efficiency through automation and alerts
InvGate Insight enhances operational efficiency by implementing automation and alert mechanisms. This proactive IT management approach involves setting up automated alerts to monitor contract expirations and promptly notify relevant stakeholders. This automation reduces manual efforts, minimizes the risk of oversights, and focuses attention on critical tasks, thus elevating overall efficiency.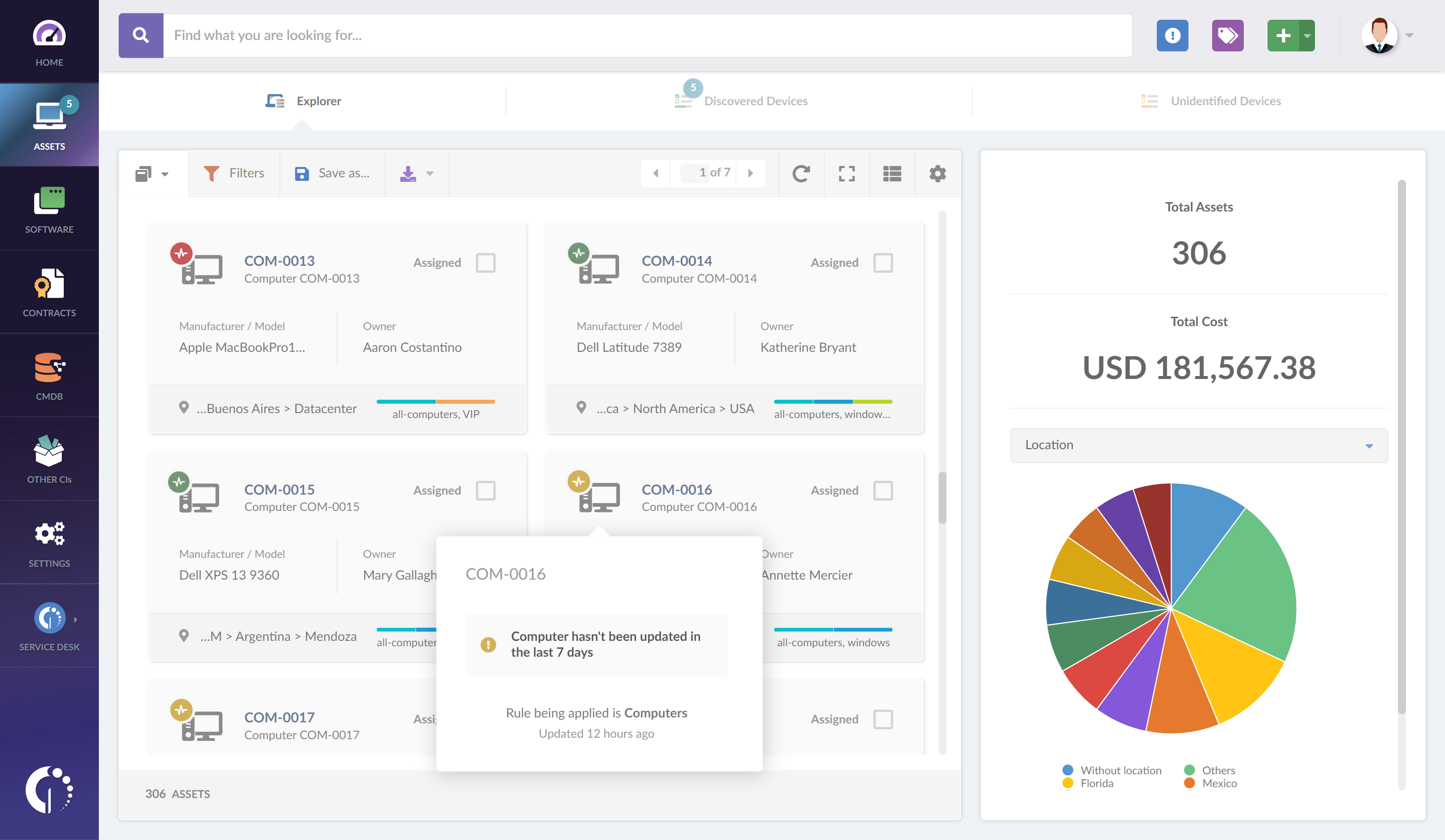 Optimized software efficiency and cost reduction
InvGate Insight equips organizations with the means to identify and quantify the usage of paid software, enabling effective Software Management. By gaining visibility into software utilization, unused licenses can be reallocated, unnecessary costs minimized, and returns on IT investments maximized. This optimization of software efficiency enables organizations to derive optimal value from their software resources.
A comprehensive view of IT operations via native service desk integration
Seamlessly integrating with InvGate Service Desk, InvGate Insight provides a native connection between tickets, devices, and personnel. This integration offers a comprehensive 360° view of IT operations, streamlining management processes. By linking service tickets with relevant assets and individuals, workflows are streamlined, communication is enhanced, and issue resolution is improved.
Flexible deployment options to suit unique needs
Recognizing the diversity of organizational needs and industry regulations, InvGate Insight offers adaptable deployment options. This flexibility allows organizations to choose between cloud-based or on-premise solutions, ensuring alignment with individual requirements and compliance standards.
Proactive management of operational expenses
InvGate Insight empowers organizations by seamlessly integrating financial data, contracts, licenses, and essential information into its system. This seamless integration provides a comprehensive understanding of operational costs, enabling informed and proactive financial decision-making. This approach enhances budget allocation and maximizes IT investment returns.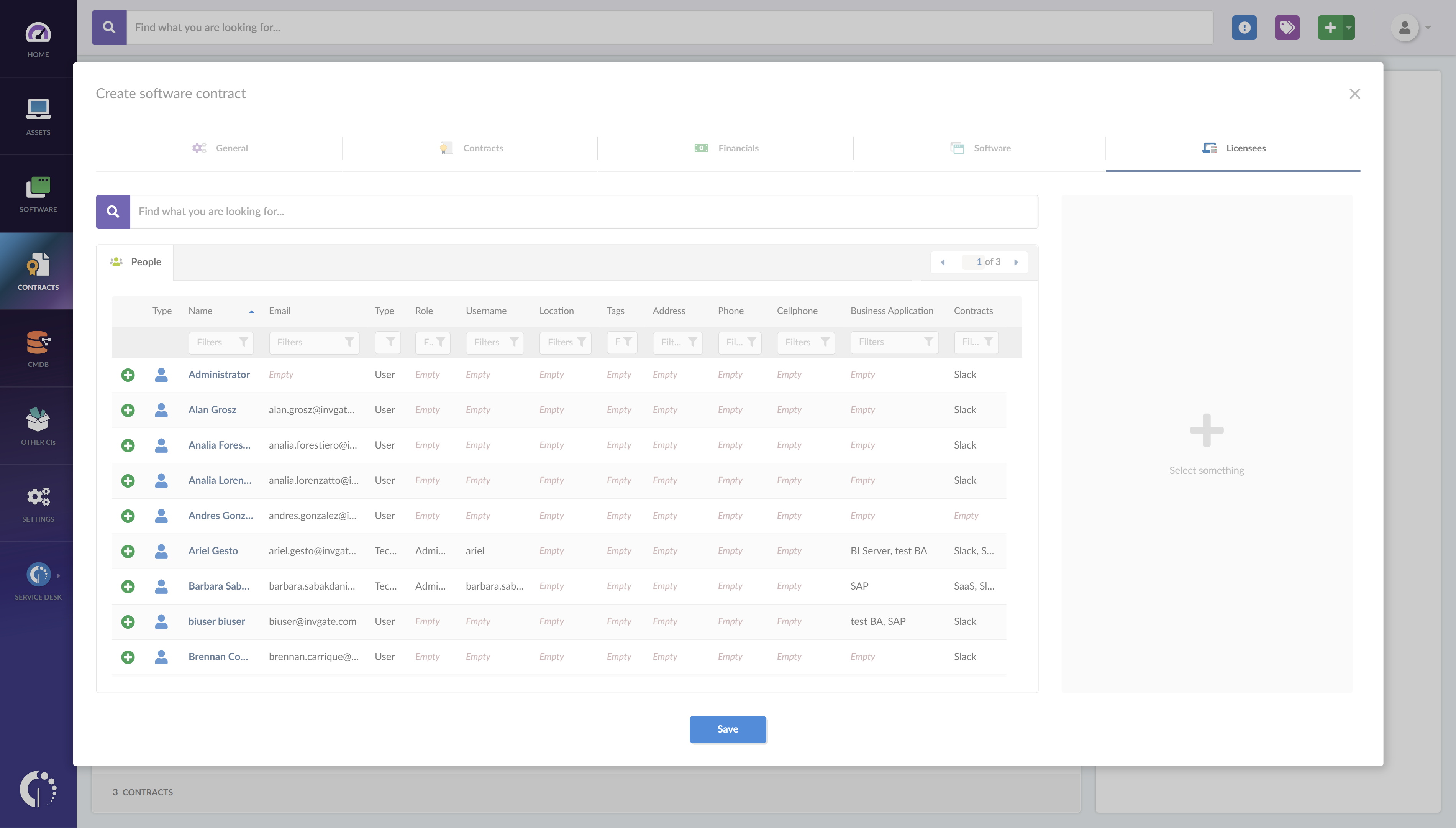 Effortless remote management through native integration
InvGate Insight features seamless integration with popular remote desktop tools such as Windows Remote Desktop, TeamViewer, AnyDesk, and VNC. This integration enhances remote management capabilities, providing direct device access for troubleshooting and maintenance. With smooth remote access, organizations can effectively address IT issues, perform necessary maintenance tasks, and ensure uninterrupted operations.
Next steps
In the ever-evolving realm of IT Asset Management, exploring Cherwell Asset Management vs. Flexera One has revealed an array of strengths and offerings that characterize these platforms.
However, the landscape of ITAM is expansive, brimming with different alternatives, each presenting its distinctive capabilities. A solution like InvGate Insight is a beacon of efficiency, ushering in a new era of Asset Management, cybersecurity compliance, and proactive cost control.
Explore our live demo, where you can witness firsthand how InvGate Insight can reshape your approach to Asset Management.