In the intricate landscape of IT Asset Management (ITAM), making informed decisions becomes paramount, especially when confronting two major contenders head-to-head: Cherwell Asset Management vs. BMC Asset Management. Your selection of an ITAM solution wields the power to shape your organization's efficiency and overall achievements significantly.
In this blog post, we'll embark on a comprehensive exploration of both platforms. The aim is to provide you with an extensive ITAM software comparison that delves into their array of features, benefits, and limitations.
However, the possibilities don't end there. We'll introduce you to a third alternative – InvGate Insight. Armed with distinct functionalities and capabilities, this platform emerges as a compelling third option that could impeccably align with your IT Asset Management requisites.
Are you ready to uncover the insights that will illuminate your ITAM journey? Read on!
Most looked-at features by buyers
In the process of evaluating options for IT Asset Management, prospective purchasers take a range of crucial capabilities into consideration to determine the most appropriate choice that aligns with their specific needs and business requirements.
Here are several pivotal factors that buyers take into account when selecting a tailor-made ITAM solution for their enterprise.
Creation of

CMDB

maps - Users can define and document connections between diverse components, encompassing hardware devices, software applications, network links, and interdependencies. Visualizing these connections aids organizations in comprehending the repercussions of changes, assessing potential risks, and planning for efficient

Incident

and

Change Management

.


Enhanced compliance with cybersecurity standards - Prospective buyers seek a tool that monitors the security state of assets to identify and preemptively address security vulnerabilities.


Remote management facilitated by integrated tools - Integration with widely used remote desktop tools empowers IT teams to diagnose issues, apply patches, conduct software installations, and execute system updates remotely, obviating the need for physical presence.


Optimization of software management - This feature empowers users to monitor software installations, ensure effective

Software License Management

, and pinpoint instances of excessive or insufficient usage.


Holistic insights into infrastructure - The platform should furnish complete visibility into the status, performance, and utilization of IT assets, granting users the ability to make well-informed decisions and enhance their infrastructure. It should also encompass robust reporting and analytical functionalities.


Proactive expense management and financial optimization - The solution should incorporate financial data,

contract lifecycle management

, licenses, and other pertinent details to achieve a comprehensive grasp of operational costs.


Unified oversight of IT assets and inventory - Users can efficiently supervise and govern their

IT asset inventory

through a singular interface. The solution needs to automate the identification of assets and the recording of critical particulars such as hardware specifications, software versions, and ownership details.


Integration with help desk systems - Incorporating integration with

help desk software

facilitates a seamless exchange of information between Asset Management and

IT Service Management

workflows. This integration enhances communication, streamlines processes, and improves overall service provision.


Automation and preemptive alerts - The solution should enable automated workflows for routine tasks like software updates, patch deployments, and system upkeep. This guarantees smooth operations and swift responses to crucial events through automated procedures and timely proactive alerts.


Adaptable deployment choices - Users prefer a platform that offers flexibility in choosing deployment methods, which can encompass cloud-based, on-premises, or hybrid solutions.
What is Cherwell Asset Management?
Cherwell Asset Management is an IT tool designed to simplify the management of software and hardware assets. This comprehensive solution aims to reduce costs related to software licenses, alleviate the workload on IT operations, and mitigate the risks associated with software audits.
The key functionalities of Cherwell Asset Management involve tracking hardware and software inventory, ensuring compliance with licenses, analyzing software utilization, and facilitating ITAM purchases. It seamlessly integrates with Cherwell IT Service Management, thereby enhancing the overall IT framework.
The creator of Cherwell Asset Management, Cherwell Software, was acquired by Ivanti, a prominent provider of enterprise Service Management. Following this merger, Ivanti is directing Cherwell clients to its Ivanti Neurons platform. However, this sudden transition has caused customer dissatisfaction, creating an opportunity for other vendors in the ITSM/ITAM space to offer alternative solutions.
What users like from Cherwell Asset Management
Cherwell Asset Management has garnered extensive recognition and received favorable customer feedback.
Users have highlighted various advantages of the platform in reputable sources such as Gartner, which include the following.
Efficiency and performance - Users have provided positive feedback on the dependability and performance of Cherwell Asset Management's applications. Its efficiency and capability to track changes and incidents are also highlighted as significant benefits.
User interface and customization - Users highly appreciate the platform's exceptional adaptability. Additionally, users particularly value the option to allow or disallow software based on individual assets.
Monitoring and management - Users have praised the software for its seamless integration with multiple sourcing services and its ability to oversee non-IT assets effectively. They emphasize its proficiency in monitoring and administrating assets. Employing an agent to collect data adds to the accuracy and reliability of asset information.
Report generation - Users have conveyed positive comments about the tool's capability to generate reports, noting that including charts enhances visual appeal and facilitates comprehension.
Cost-effectiveness - The affordability of Cherwell Asset Management, combined with its user-friendly configuration right from the start, makes it an appealing choice for users seeking effective Asset Management solutions.
What users don't like from Cherwell Asset Management
Despite the numerous strengths and positive attributes associated with Cherwell Asset Management, it does not evade the presence of customer concerns and criticisms. Reviews from reputable sources like Gartner have shed light on certain recurring complaints voiced by users. These include:
Challenges with advanced customization - Achieving advanced customization demands significant effort and familiarity with the code base, presenting challenges for users aiming to create tailored configurations.
User interface - The design of the user interface for specific modules and Mapp has faced criticism for its awkwardness and lack of user-friendliness, indicating a requirement for improvements. Moreover, some users suggest improving the UX for smaller organizations to cater to their unique requirements.
Issues with certain tickets and usability - Specific tickets may not perform as expected, impacting usability and leading to user frustration.
Implementation process - Dissatisfaction among certain users regarding the implementation process of Cherwell Asset Management highlights the need for enhancing its out-of-the-box readiness.
Limited advanced features and API capabilities - Some users desire more advanced features and API capabilities to better tailor the platform to distinct needs and enhance its functionality.
Performance concerns with specific web browsers - Reports of performance issues and occasional lag with particular web browsers influence user experience and efficiency.
Inconvenience from frequent minor upgrades - Minor upgrades are viewed as disruptive by some users, potentially causing interruptions in workflows and user experience.
A desire for greater involvement in interface design before deployment - Users express a wish for more participation in the interface design phase before deployment to align the platform more closely with their preferences and workflows.
Lack of integration with App Dynamics system monitoring - Users point out the absence of integration with App Dynamics system monitoring, limiting comprehensive monitoring capabilities.
Limitations of built-in asset scanning - Users have encountered difficulties with asset scanning through the built-in option, prompting a desire for improved scanning alternatives.
What's Cherwell Asset Management's argument over BMC Asset Management?
When considering the strengths of Cherwell Asset Management in comparison to BMC Asset Management, a comprehensive analysis reveals distinct advantages that position Cherwell as a compelling choice for efficient Asset Management solutions.
Efficiency and performance - Users have consistently lauded Cherwell Asset Management for its exceptional efficiency and performance. The software's ability to trace changes and incidents has been noted as a valuable feature, contributing significantly to its effectiveness.


User interface and customization - Cherwell Asset Management excels in offering a user-friendly experience and remarkable adaptability. Users highly appreciate the platform's ability to tailor its interface to individual preferences. Moreover, the provision to allow or restrict software access based on individual assets has been a highly regarded capability, enhancing control and security.


Monitoring and management - Cherwell Asset Management distinguishes itself through its seamless integration with multiple sourcing services and its adeptness at overseeing non-IT assets.


Report generation - The software's prowess in generating insightful reports has been commended by users. The inclusion of charts and visual aids in these reports not only enhances their aesthetic appeal but also aids in better understanding complex data.


Cost-effectiveness - Cherwell Asset Management's competitive pricing structure and user-friendly configuration from the outset make it an attractive option for organizations seeking cost-effective yet powerful Asset Management solutions.
What is BMC Asset Management?
The capabilities of BMC Helix Asset Management are geared towards efficiently reducing the Total Cost of Ownership associated with Configuration Items (CIs) while simultaneously enhancing the ROI.
BMC Helix ITSM Asset Management smoothly integrates with BMC Helix ITSM Change Management and BMC Service Level Management, creating a unified structure for holistic Asset Management.
What users like from BMC Asset Management
Regarding BMC Asset Management, user feedback is positive across several key domains. Let's delve into the aspects that users find commendable about this solution.
Intuitive user interface - The software excels in domains like Incident, Change, and

Problem Management

, making day-to-day operations straightforward and user-friendly.
Seamless implementation - Implementing BMC Asset Management is often characterized as a swift and effortless process, aiding its rapid integration into users' operational workflows.
Value for investment - Users find that the software provides substantial value for the investment, complemented by a well-crafted dashboard that aids in efficient monitoring. The tool's proficiency in managing support contracts, ensuring timely renewals, and optimizing usage also sets it apart.
Comprehensive Service Management - BMC Asset Management earns accolades for enhancing service quality as a robust ITSM and HR system. Its comprehensive strategy encompasses

ITIL

activities, including effective management of Incidents and Changes. Its standout features include an exceptional ticketing tool and a dedicated Change Management database.
Efficient automation of processes - Users find significant value in the solution's ability to facilitate independent request submissions, reducing dependence on IT personnel and conserving resources. The software's contribution to informed decision-making, optimized resource allocation, and effective contract management is also acknowledged.
Streamlined management - Users praise the software's simplified management capabilities, enabling efficient oversight of various asset-related aspects.
Mobile accessibility - The availability of mobile access empowers users to handle tasks on the move, contributing to a positive and adaptable user experience.
Effective training experience - Users emphasize the importance of training, especially as the go-live stage approaches, ensuring that users can fully leverage the system's capabilities.
Enhanced visibility - The solution's remarkable capability to offer detailed insights into existing inventory is highly valued. Its ability to provide clear impact report analysis and efficient tracking of configuration changes and services further elevates its worth.
What users don't like from BMC Asset Management
Although BMC Asset Management offers valuable functionalities, there exist opportunities for improvements that could elevate the user experience.
Refining user interface - Some users have found the user interface suboptimal. This domain's enhancement could result in a more intuitive and user-friendly user experience.
Augmenting support and communication - To further enhance the system, users recommend incorporating third-party support that opens up additional avenues for improvements. Users also point out communication breakdowns, underlining the need for consistent and efficient communication channels.
Enhancements to chatbot and tools - Users have indicated that there is room for bolstering the chatbot's capabilities to make it more robust and functional, thus enhancing its overall usefulness.
Improving reporting capabilities - Suggestions have been raised to enhance the reporting capabilities, aiming to provide more insightful data that contributes to better decision-making and an overall improvement in Asset Management strategies.
Elevating service support - User experiences with service support have been mixed, ranging from expert guidance to inconclusive responses. Users desire a uniform and knowledgeable support approach that consistently meets their needs.
What's BMC Asset Management's argument over Cherwell Asset Management?
When contrasting BMC Asset Management with Cherwell Asset Management, the former holds several compelling arguments that set it apart as a superior solution.
Holistic Service Management approach - BMC Asset Management offers a comprehensive and robust approach to Service Management that extends beyond IT functions. Its effectiveness in serving both ITSM and HR systems garners praise, providing users with a versatile solution that encompasses a wide array of activities.


Seamless implementation and integration - BMC Asset Management's reputation for a swift and smooth implementation process aids in its rapid integration into users' workflows.


Optimized value for investment - Users highlight that BMC Asset Management delivers substantial value for the investment. Its well-crafted dashboard aids in efficient monitoring and management, ensuring that users can maximize their asset utilization.


Exceptional automation and efficiency - BMC Asset Management's capacity for efficient automation resonates with users, allowing them to independently submit requests and manage resources with reduced reliance on IT staff.


In-depth visibility and impact analysis - BMC Asset Management's exceptional ability to provide detailed insights into existing inventory, clear impact report analysis, and efficient tracking of changes is greatly appreciated. This robust visibility contributes to informed decision-making and strategic planning.


Versatile mobile accessibility - BMC Asset Management's mobile accessibility empowers users to manage tasks on the move, promoting flexibility and efficiency.
Considering InvGate Insight as an ITAM solution alternative
For organizations in search of alternative solutions for IT Asset Management tailored to their specific needs, InvGate Insight presents itself as a compelling option. This robust ITAM solution offers a range of functionalities that render it a practical choice for refining Asset Management procedures.
Let's delve into its notable attributes.
In-depth insights into IT infrastructure
With its robust array of features, InvGate Insight furnishes intricate and actionable insights concerning IT assets, encompassing their status and utilization. These comprehensive insights empower effective infrastructure management and optimization, increasing operational efficiency.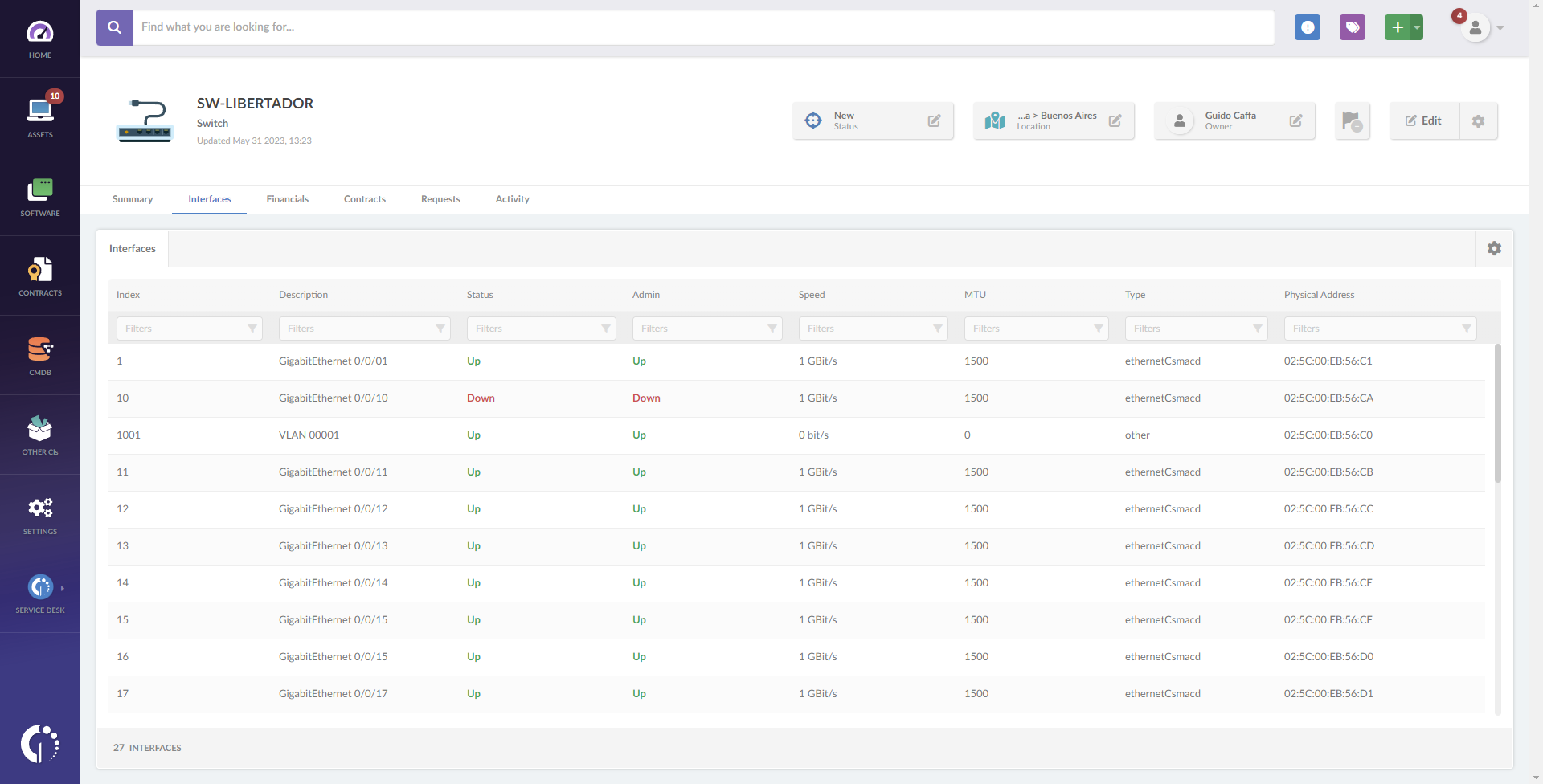 Streamlined operations with CMDB map builder
The CMDB map builder tool within InvGate Insight provides a clear and comprehensive depiction of the IT landscape. By visualizing component relationships, potential impacts on operational continuity become discernible, enabling proactive risk mitigation. This visibility curtails service durations, bolsters operational efficiency, and ensures seamless IT operations.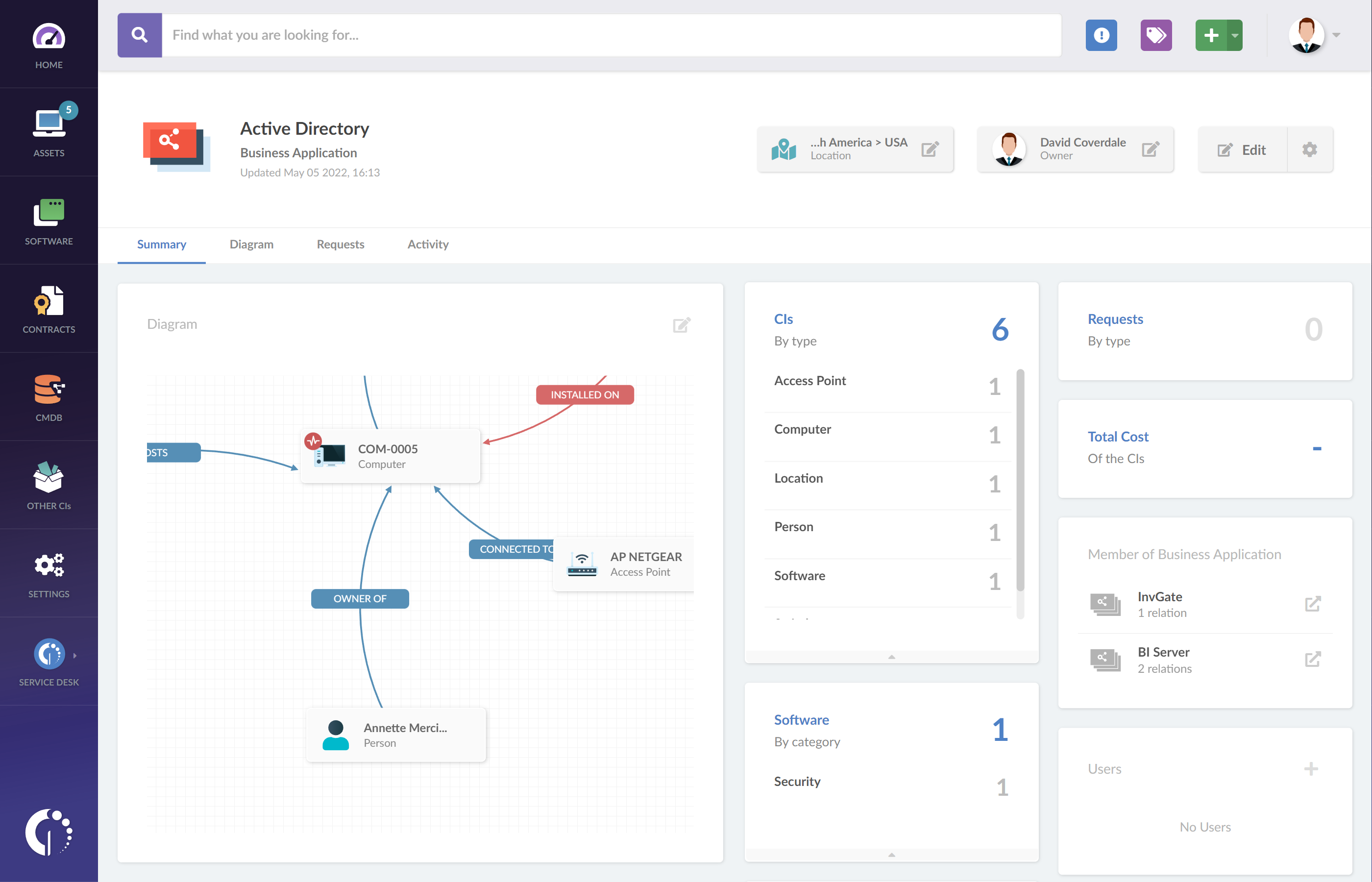 Enhanced IT Asset and Inventory Management
InvGate Insight orchestrates a seamless integration process that harmonizes data from diverse sources, including popular operating systems, cloud service providers (such as AWS, Google, and Azure), and MDMs (like JAMF and Google Endpoint Manager). This comprehensive integration facilitates efficient management of IT and non-IT assets, locations, and personnel, resulting in time savings and a holistic infrastructure overview.
Augmented cybersecurity compliance through asset monitoring
InvGate Insight's asset monitoring capabilities establish and enforce device health rules, fostering proactive cybersecurity compliance. Rapid identification of instances of non-compliance allows swift corrective measures, ensuring adherence to cybersecurity policies and fortifying the IT infrastructure.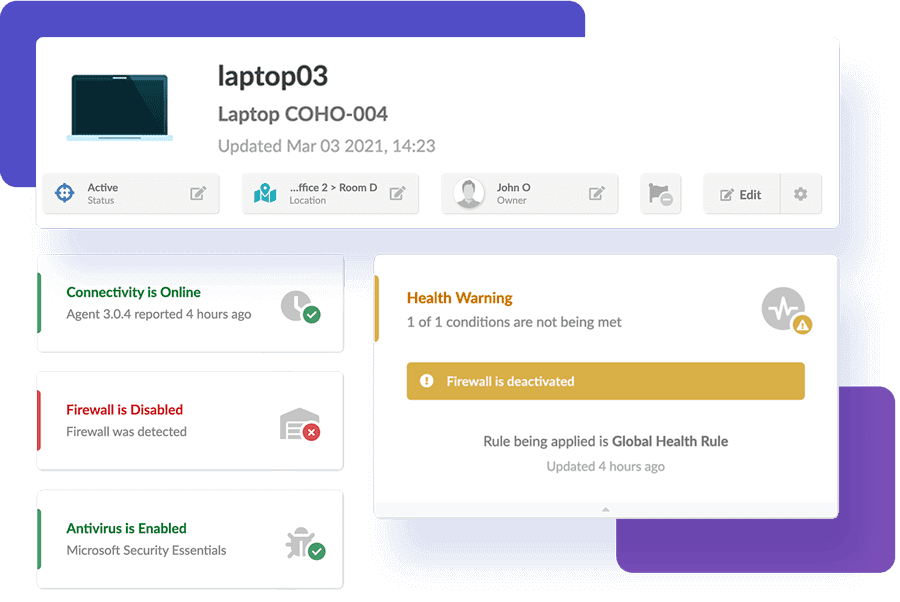 Efficient management through automation and alerts
InvGate Insight introduces automation into processes and establishes alert mechanisms, facilitating proactive IT management. By configuring automated alerts, organizations can monitor contract expirations and promptly notify relevant stakeholders, minimizing manual efforts and the potential for oversight. This automation streamlines operations, allowing focused attention to critical tasks and overall operational enhancement.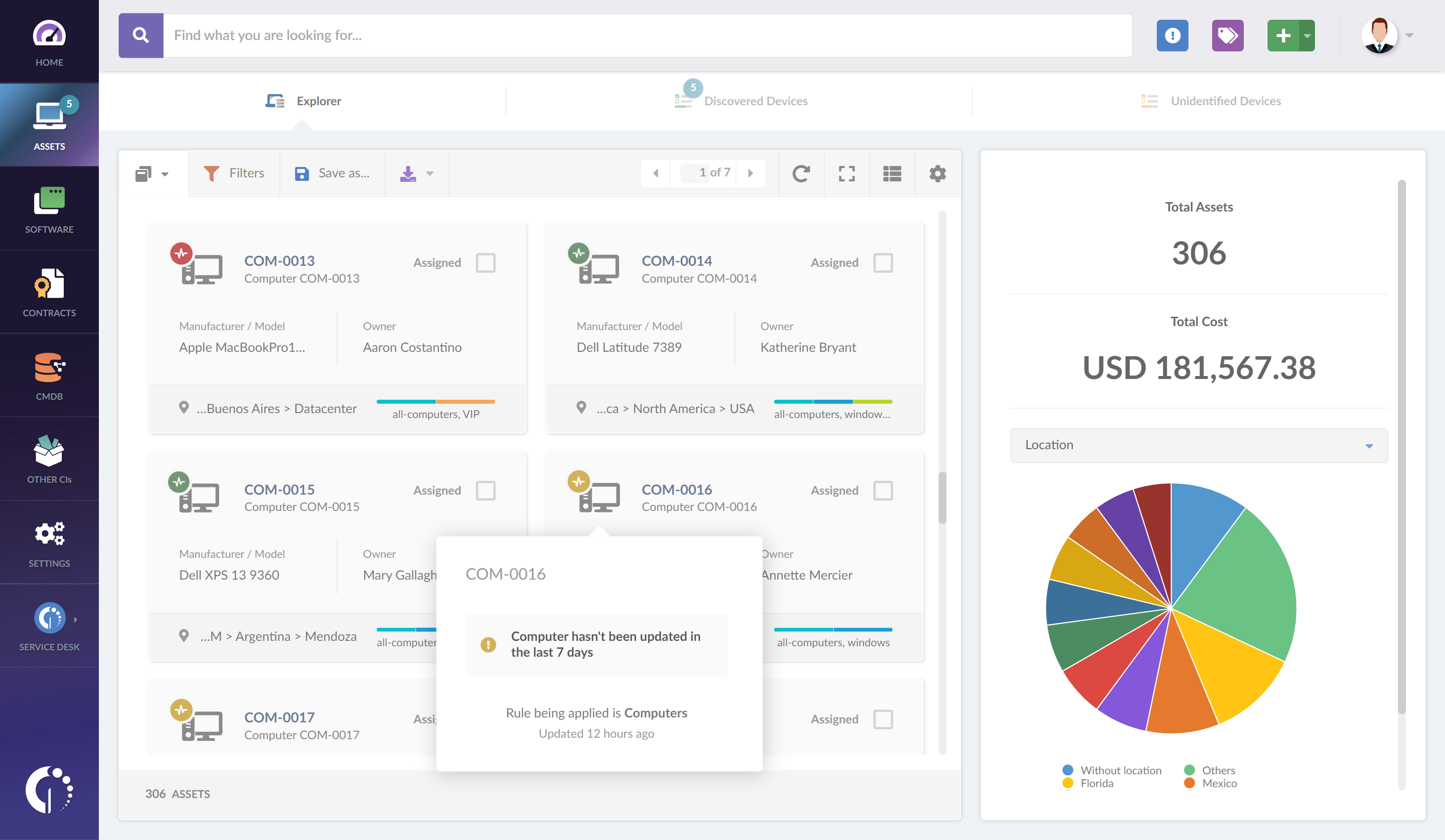 A comprehensive overview of IT operations via native service desk integration
InvGate Insight seamlessly integrates with InvGate Service Desk, furnishing a native connection that links tickets with devices and personnel. This integration offers a 360° perspective of IT operations, streamlining management processes. Connecting service tickets to pertinent assets and individuals enhances workflows, augments communication, and advances issue resolution.
Proactive operational cost management
InvGate Insight allows seamless integration of financial data, contracts, licenses, and other pivotal information into the system. By doing so, organizations attain a thorough comprehension of operational expenditures, enabling proactive and well-informed financial decisions. This approach optimizes budget allocation and amplifies the value extracted from IT investments.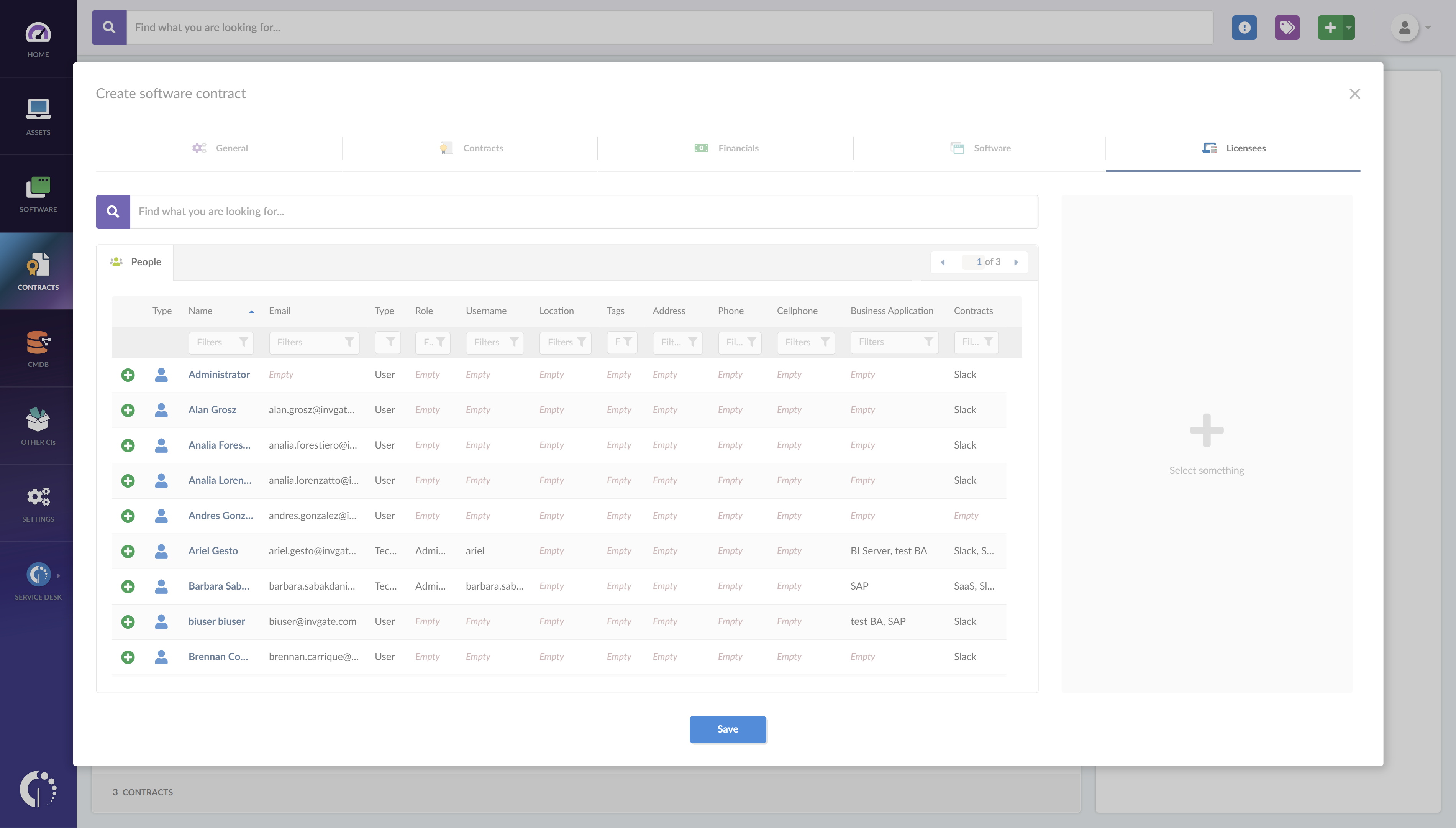 Flexible deployment options to match specific needs
InvGate Insight acknowledges the distinctiveness of each organization's requisites and industry regulations, offering adaptable deployment choices. This accommodates the selection between a cloud-based or on-premise solution, ensuring alignment with unique demands and compliance standards.
Effortless remote management via native integration
InvGate Insight seamlessly integrates with popular remote desktop tools such as Windows Remote Desktop, TeamViewer, AnyDesk, and VNC. This integration heightens remote management capabilities, affording direct access to devices for troubleshooting and maintenance. With seamless remote access, organizations adeptly address IT challenges, execute essential maintenance tasks, and ensure uninterrupted operations.
Optimizing software efficiency and reducing costs
InvGate Insight empowers organizations to recognize and gauge the usage of paid software, facilitating streamlined Software Management. By gaining visibility into software utilization, underutilized licenses can be redistributed, superfluous costs curtailed, and returns on IT investments optimized. This enhancement of software efficiency empowers organizations to extract maximal value from their software resources.
Next steps
In IT Asset Management, comparing Cherwell Asset Management vs. BMC Asset Management reveals distinct strengths and advantages for both solutions.
Yet, as organizations evaluate the best fit for their ITAM requirements, it's crucial to consider not only the features offered by these contenders but also to broaden the scope and explore other alternatives in the market.
InvGate Insight is a noteworthy option, offering a unique blend of capabilities. From proactive cost management to bolstered cybersecurity compliance and comprehensive asset optimization, this platform presents a holistic approach to Asset Management that organizations can greatly benefit from.
Explore our live demo and witness firsthand the power of streamlined and optimized Asset Management.