Do you find yourself at a juncture in your IT Asset Management (ITAM) solutions, faced with the choice between BMC Asset Management vs. Flexera One? The road to ITAM excellence can be a complicated one, requiring a thorough understanding of the strengths and capabilities that each option brings to the table.
In this blog post, we'll embark on an all-encompassing ITAM software comparison of both platforms.
But that's not the end. We're also set to shine a light on another contender: InvGate Insight. This solution offers a unique perspective on the ITAM landscape, introducing insights and possibilities that can reshape your approach to managing IT assets.
Continue reading to equip yourself with the insights needed to make a decision that aligns perfectly with your goals.
Most looked-at features by buyers
During the evaluation of IT Asset Management solutions, potential buyers consider a range of essential capabilities to determine the most suitable option that aligns with their specific needs and business prerequisites.
Here are some critical factors that purchasers consider when choosing a customized ITAM solution for their company.
What is BMC Asset Management?
The main goal of the Asset Management features within BMC Helix ITSM is to effectively decrease the total cost of ownership associated with Configuration Items (CIs) and enhance the returns on investment.
BMC Helix ITSM Asset Management seamlessly integrates with BMC Helix ITSM Change Management and BMC Service Level Management, creating a cohesive framework for comprehensive Asset Management.
What users like from BMC Asset Management
Customer feedback on BMC Asset Management from trusted sources such as Gartner is consistently positive on a number of key aspects. Let's take a look at some of the things users like about this solution.
Enhanced user experience - The software's interface, which excels in Incident, Change, and

Problem Management

domains, stands out for its user-friendliness. This excellence makes daily operations intuitive and straightforward.
Value for investment - Users perceive BMC Asset Management as delivering substantial value. The well-designed dashboard aids in efficient monitoring, while the software's proficiency in handling support contracts, ensuring timely renewals, and optimizing usage is highly notable.
Streamlined management - Users commend its simplified management capabilities, assisting them in effectively overseeing various aspects of their assets.
Comprehensive Service Management - BMC Asset Management earns praise for its role in enhancing service quality as a robust ITSM and HR system. Its all-inclusive approach covers

ITIL

activities such as efficient management of Incidents and Changes. Additionally, its exceptional ticketing tool and dedicated Change Management database distinguish it from others.
Efficient automation processes - Users find the capability to independently submit requests valuable, reducing reliance on IT staff and conserving resources. The software's contribution to well-informed decision-making, optimized resource allocation, and effective contract management is also acknowledged.
Effortless implementation - The process of implementing BMC Asset Management is frequently described as rapid and seamless, enabling quick integration into users' operations.
Enhanced visibility - The solution's exceptional ability to provide extensive insight into existing inventory is highly appreciated. Its clear analysis of impact reports and efficient tracking of configuration changes and services make it even more valuable.
Mobile accessibility - The availability of mobile access empowers users to manage tasks while on the go, further enhancing a positive and adaptable user experience.
Training experience - Training is recognized as crucial, particularly during the initial phase, ensuring that users can fully leverage the system's potential.
What users don't like from BMC Asset Management
While BMC Asset Management has valuable features, there are areas where improvements could enhance the overall user experience.
Support and communication - Engaging third-party support is advised to introduce additional avenues for improvement. Users also highlight instances of communication breakdowns.
User interface - Certain users express discontent with the present user interface. Enhancements in this realm have the potential to cultivate a more intuitive and user-friendly encounter.
Enhanced reporting - Some users propose elevating reporting capabilities to offer more comprehensive insights that facilitate decision-making and fortify overarching Asset Management strategies.
Chatbot and tools - Users suggest reinforcing the chatbot functionality to make it more robust and functional, thereby amplifying its overall utility.
What's BMC Asset Management's argument over Flexera One?
In a direct comparison with Flexera One, BMC Asset Management emerges as a compelling choice, having distinct advantages across crucial dimensions. Let's delve into the core points that strengthen BMC Asset Management's persuasive argument over Flexera One.
Enhanced user experience - BMC Asset Management excels in user-friendliness across Incident, Change, and Problem Management domains.


Value for investment - Users perceive BMC Asset Management as a cost-effective solution.


Streamlined Management - BMC Asset Management's simplified management capabilities receive accolades for their effectiveness in overseeing various facets of Asset Management.


Comprehensive Service Management - BMC Asset Management enhances service quality through its robust ITSM and HR system. Covering a broad range of ITIL activities, BMC Asset Management's comprehensive approach sets it apart.


Efficient automation processes - Users highly value BMC Asset Management's autonomous request handling, resource optimization, and contract management features.


Effortless implementation - Users consistently highlight BMC Asset Management's swift and seamless deployment process, enabling rapid integration into existing operations.


Enhanced visibility - BMC Asset Management's exceptional ability to provide extensive insights into existing inventory further solidifies its competitive advantage.


Mobile accessibility - BMC Asset Management's provision of mobile access empowers users to manage tasks on the go, enhancing their experience.


Training experience - BMC Asset Management's emphasis on training during the initial launch ensures that users can fully harness its potential.
What is Flexera One?
Created by Flexera, Flexera One is a Software as a Service (SaaS) product that brings together IT Asset Management (ITAM) and Software Asset Management (SAM). This solution adopts a comprehensive approach by supplying a unified and centralized perspective of IT assets across on-premises, cloud, and edge environments.
This platform aids businesses in streamlining their IT expenses, overseeing and enhancing cloud infrastructure, reducing risks, ensuring adherence to regulations, and furnishing valuable insights and analytics.
Formerly known as InstallShield and rebranded in 2009, Flexera specializes in technology Asset Management solutions. Headquartered in Itasca, Illinois, United States, Flexera has been a pioneer in providing extensive technology solutions since its establishment in 1987. Their services encompass Software and Hardware Asset Management, Cloud Expenditure Optimization, Vulnerability Management, and Compliance with Open Source Software.
What users like from Flexera One
Flexera One's positive customer reception is evidenced by reviews from sources such as Gartner. Let's explore some of the more specific benefits that have been highlighted.
Empowering critical business processes and decisions - Users have highlighted Flexera One's capacity to provide valuable insights into software usage, significantly enhancing crucial business processes and decision-making. The software equips organizations with essential tools and data essential for optimizing strategic planning and improving operational efficiency.
Noted for user-friendliness and exceptional clarity - Users have lauded the product's user-friendly nature. The software's intuitive interface and smooth navigation contribute to its easy grasp and operation. Additionally, the platform offers substantial clarity, interpretation, and coverage of software usage.
Exemplary customer support - Reviews consistently underscore the exceptional customer support provided. Users have expressed their satisfaction with the timely assistance they've received and the attentive approach of Flexera One's support team.
Responsive to unique business needs - Flexera One has garnered widespread acclaim as an outstanding tool for Software Asset Management that effectively addresses the distinct requirements of businesses. The software has demonstrated its flexibility in meeting user demands, ensuring a seamless and personalized user experience.
What users don't like from Flexera One
Despite Flexera One's many strengths and positive attributes, it is not immune to the concerns and criticisms voiced by its users. Feedback from sources such as Gartner has highlighted recurring issues raised by users.
Repetitive issues and prolonged conflict resolution - Users have expressed dissatisfaction with the time it takes to resolve issues, which impacts the efficiency of their workflow.
Configuration difficulties - Several customers have shared instances where they encountered challenges in setting up the system, even with the assistance of Flexera's support team.
Complexity in configuring intricate licensing models - Customers have noted that configuring the product to gain a satisfactory grasp of more intricate licensing models demands substantial exertion. The complexities involved in acquiring accurate insights into licensing can pose difficulties and might benefit from a more simplified and streamlined approach.
Challenges with the support team and uncertainties about data accuracy - Certain users have encountered difficulties while communicating with Flexera's support team. Additionally, doubts have been raised regarding the precision of the provided data.
What's Flexera One's argument over BMC Asset Management?
While both platforms offer valuable features, Flexera One offers a compelling argument over BMC Asset Management based on several distinct advantages.
Empowering critical business processes and decisions - Flexera One provides an unparalleled ability to offer valuable insights into software usage. This capability significantly bolsters vital business processes and decision-making within an organization.


User-friendliness and exceptional clarity - Users consistently praise Flexera One for its intuitive interface, streamlined navigation, and overall user-friendly design. This ease of use contributes to an effortless grasp and operation of the platform.


Exemplary customer support - The platform's support team is known for its prompt assistance and attentive approach, ensuring users feel heard and supported throughout their journey.


Responsive to unique business needs - The software has demonstrated its flexibility in adapting to various user demands, ensuring a seamless and personalized experience for organizations.
Considering InvGate Insight as an ITAM solution alternative
For organizations in search of customized IT Asset Management solutions that match their unique requirements, InvGate Insight emerges as a strong contender. Serving as a comprehensive ITAM solution, it offers a variety of features that position it as a compelling choice for streamlining Asset Management processes. Let's explore its core features.
In-depth understanding of IT infrastructure
With its robust set of features, InvGate Insight provides detailed and actionable insights into IT assets, covering their status and usage. This comprehensive insight enables effective management and optimization of the infrastructure, leading to increased operational efficiency.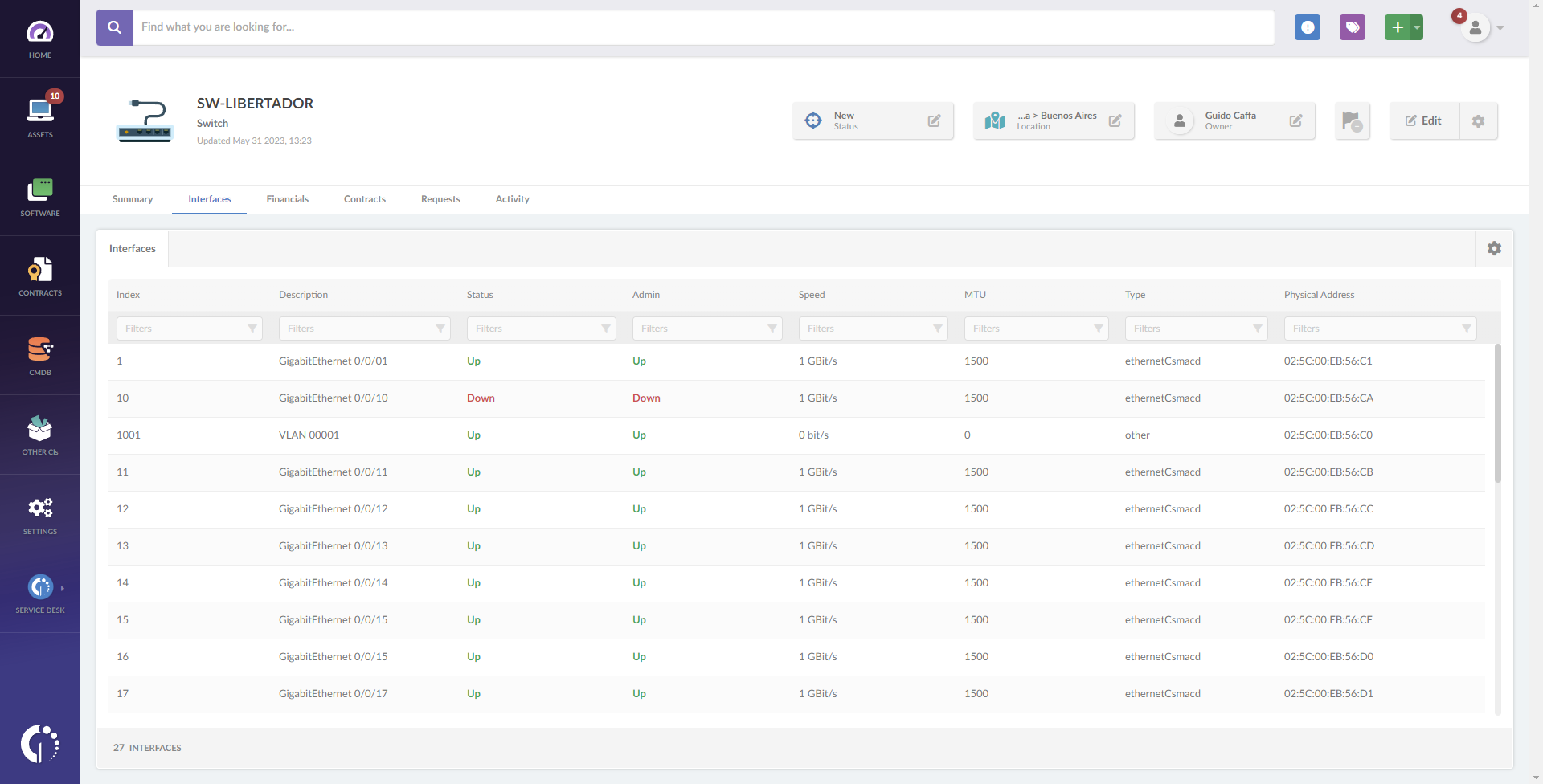 Enhanced oversight of IT Assets and Inventory
InvGate Insight facilitates seamless integration by aggregating data from various sources, including popular operating systems, cloud service providers (AWS, Google, Azure), and MDMs (JAMF, Google Endpoint Manager). This all-encompassing integration ensures effective oversight of both IT and non-IT assets, locations, and personnel. This not only saves time but also provides a holistic view of the infrastructure.
Simplified operations through CMDB map creation
The CMDB map builder tool within InvGate Insight offers a clear and comprehensive visualization of the IT environment. Visualizing the connections between components helps identify potential impacts on operational continuity, facilitating proactive risk mitigation. This heightened visibility reduces service durations, enhances operational efficiency, and ensures smoother IT operations.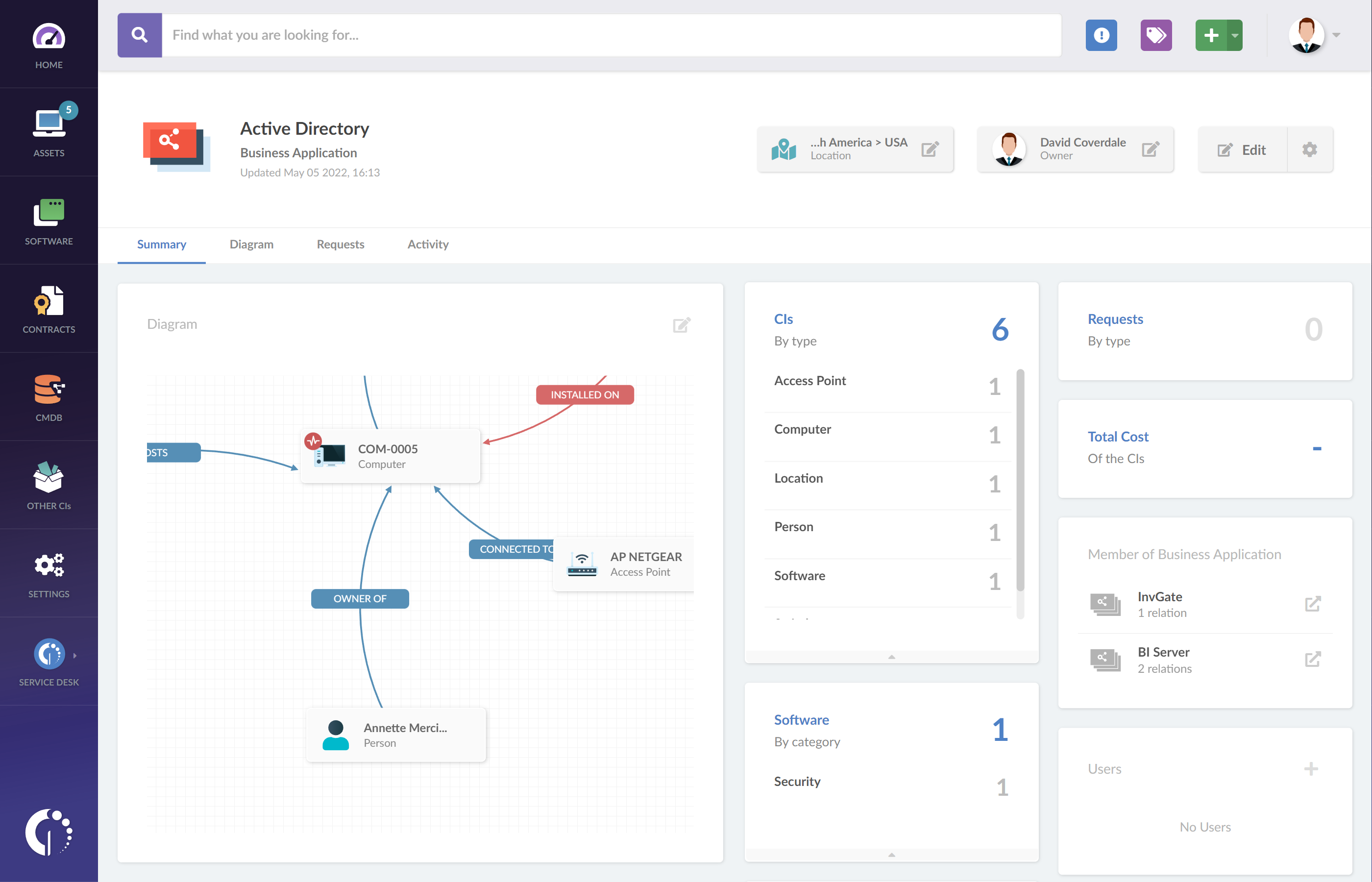 Software efficiency optimization and cost reduction
InvGate Insight empowers organizations to identify and measure the usage of paid software, facilitating effective Software Management. By gaining visibility into software usage, underutilized licenses can be reallocated, redundant costs minimized, and returns on IT investments optimized. This software efficiency optimization allows organizations to derive maximum value from their software resources.
Flexible deployment options to suit requirements
Recognizing the distinct requirements and industry regulations of each organization, InvGate Insight offers a range of flexible deployment alternatives. This gives organizations the freedom to choose a cloud-based or on-premises solution, ensuring alignment with specific needs and compliance standards.
Comprehensive IT operations view through native service desk integration
InvGate Insight seamlessly integrates with InvGate Service Desk, establishing a native connection that correlates tickets with devices and personnel. This integration offers a panoramic view of IT operations, streamlining management. Linking service tickets to relevant assets and personnel enhances workflows, communication, and issue resolution.
Effortless Remote Management via native integration
InvGate Insight seamlessly integrates with popular remote desktop tools like Windows Remote Desktop, TeamViewer, AnyDesk, and VNC. This integration enhances Remote Management capabilities, providing direct access to devices for troubleshooting and maintenance. Seamless remote access empowers organizations to effectively address IT issues, perform maintenance tasks, and ensure uninterrupted operations.
Enhanced cybersecurity compliance through asset monitoring
InvGate Insight's asset monitoring capabilities establish and enforce device health rules, facilitating proactive cybersecurity compliance. Swift identification of non-compliance instances allows immediate action to ensure adherence to cybersecurity policies, ultimately strengthening the IT infrastructure.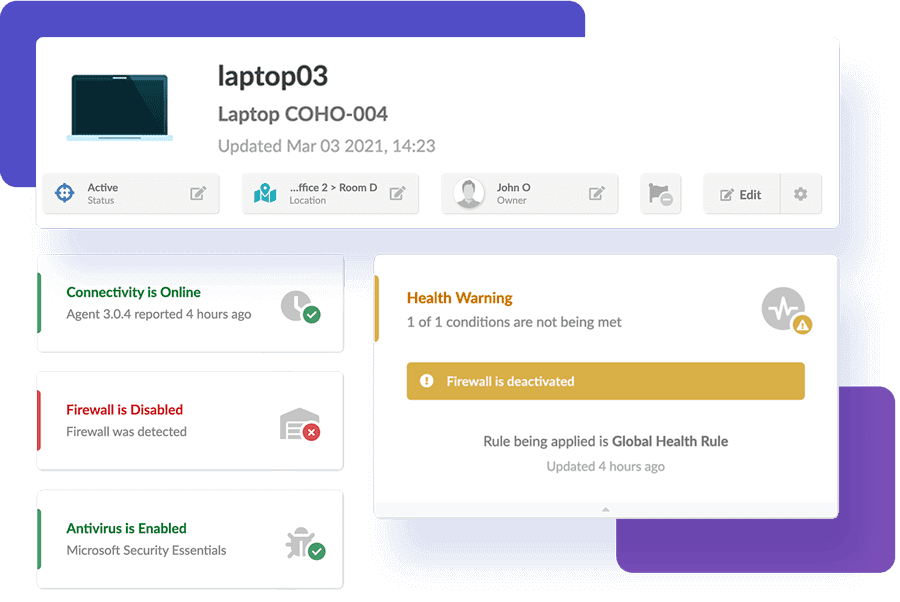 Automated management and proactive notifications
InvGate Insight streamlines process automation and notification setup, promoting proactive IT administration. Automated alerts enable organizations to monitor contract expirations and promptly notify relevant stakeholders, reducing manual efforts and the risk of oversights. This automation optimizes operations, allowing focused attention on critical tasks and boosting overall efficiency.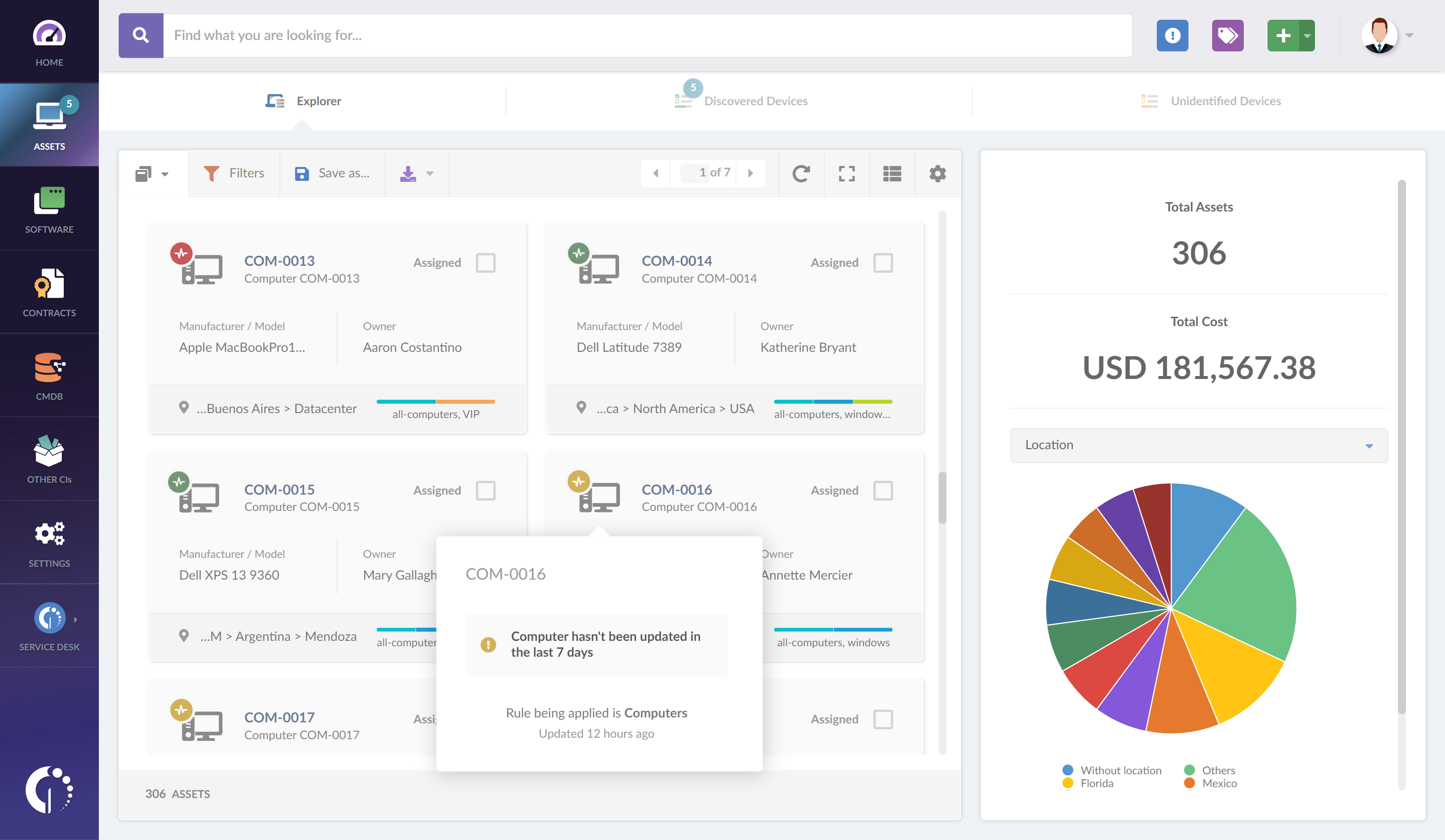 Proactive control of operational costs
InvGate Insight enables direct integration of financial data, contracts, licenses, and other essential information into its system. This approach provides organizations with a comprehensive understanding of operational costs, enabling proactive and well-informed financial decision-making. This budget allocation optimization maximizes value from IT investments.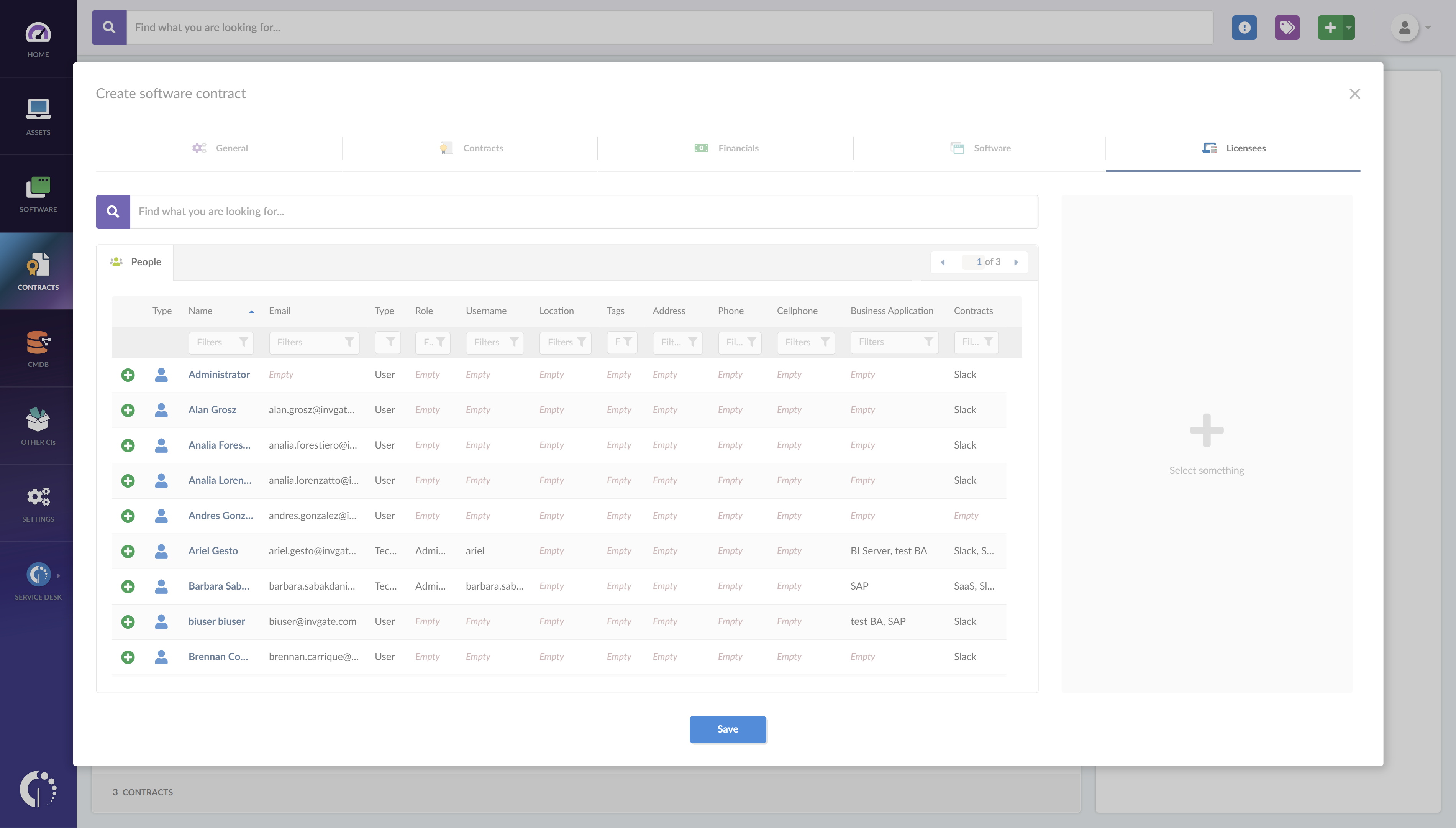 Next steps
In the dynamic world of IT Asset Management, the comparison between BMC Asset Management vs. Flexera One has illuminated a rich spectrum of features and advantages that define these platforms.
However, the landscape of ITAM is vast and offers various alternatives, each with its own unique capabilities. One such beacon of efficiency is InvGate Insight, which ushers in a new era of Asset Management. Its potential lies not only in managing assets effectively but also in fortifying security measures and optimizing costs.
Take a step further and explore our live demo. Witness firsthand how this solution can reshape your approach to Asset Management.