In the ever-evolving landscape of IT Asset Management (ITAM), the journey becomes even more captivating as two prominent contenders, ServiceNow Software Asset Management vs. Asset Panda, step into the spotlight. The decision you make now has the potential to reshape your organization's efficiency and overall achievements.
In this blog post, we'll take you on a journey that delves deep into the heart of both platforms. The goal is to provide you with a comprehensive ITAM software comparison that unravels the intricacies of their features, benefits, and potential limitations.
But the exploration doesn't stop there. Beyond the horizon of these two contenders, a rising star emerges – InvGate Insight. With its unique blend of functionalities and capabilities, this solution steps into the ITAM landscape as a compelling third alternative.
Ready to uncover the full picture? Keep reading to discover the insights that will guide you towards making the right choice for your IT Asset Management needs.
Most looked-at features by buyers
When evaluating options for the management of IT assets, potential buyers consider a range of important capabilities in order to select the most suitable solution that aligns with their specific needs and business requirements.
Here are a number of crucial factors that purchasers take into consideration when choosing a tailored IT Asset Management solution for their company.
What is ServiceNow Software Asset Management?
ServiceNow's Software Asset Management (SAM) capabilities offer organizations the tools to effectively manage risk, reduce costs, and automate the software lifecycle, all within a unified framework. By simplifying Asset Management, providing adaptable features, and prioritizing security and compliance, ServiceNow enables businesses to optimize their software assets, cut expenses, and efficiently oversee their software operations.
Founded in 2004 and headquartered in Santa Clara, California, ServiceNow provides a wide range of cloud-based solutions customized to cater to various corporate requirements. Their solutions cover areas including IT Service Management, IT Operations Management, IT Business Management, Customer Service Management, Human Resources Service Delivery, Security Operations, and more.
What users like from ServiceNow Software Asset Management
ServiceNow's expertise in Software Asset Management has been widely recognized and praised by customers, as evidenced by reputable sources such as Gartner. Users have highlighted various benefits, which encompass:
Intuitive user interface - The platform has an intuitive and user-friendly interface, allowing users to navigate effortlessly and quickly grasp its features. This user-centric design fosters seamless interaction and swift familiarity with the platform.
Efficient Risk Management - Users emphasize the valuable advantages of ServiceNow's risk mitigation features. These elements provide insights that are especially valuable for legal and compliance purposes, ensuring that organizations can effectively handle risks and make well-informed decisions.
Enhanced asset discovery and Inventory Management - ServiceNow's Software Asset Management simplifies the asset discovery process and the management of inventory, resulting in improved asset tracking and compliance. This characteristic contributes to better organization and control over an organization's assets.
Streamlined workflows - Users express their contentment with the tool's ability to automate tasks and optimize employee provisioning. This functionality enhances the efficiency of IT processes, resulting in overall improved operational effectiveness.
What users don't like from ServiceNow Software Asset Management
While ServiceNow's SAM presents a variety of strengths and favorable attributes, it is not without its share of customer apprehensions and critiques.
Here are some common complaints voiced by users in reviews from reputable sources like Gartner:
Concerns about costs - The platform's cost raises concerns, particularly for medium and small-sized companies. This financial aspect can create challenges in terms of achieving full implementation and acquiring the platform, impacting the practicality of adoption for these enterprises.
Complexity - Some users encounter complexity when interacting with ServiceNow SAM, necessitating a significant investment of time to understand and navigate its intricacies effectively.
Functional limitations - Certain users specifically highlight that the tool's functionality is restricted in certain areas, potentially making it inadequate for handling complex scenarios involving licensing software.
Documentation shortcomings - Users wish for improved documentation, particularly regarding the end-user experience and comprehension of the software normalization processes. Enhanced documentation would assist users in harnessing the platform's capabilities more effectively.
What's ServiceNow Software Asset Management's argument over Asset Panda?
Let's delve into a comprehensive analysis of ServiceNow Software Asset Management's arguments in comparison to Asset Panda.
Advanced workflow optimization - ServiceNow's comprehensive suite of automated features caters to a wide spectrum of operational needs, ensuring smoother processes and higher productivity.


Intuitive user interface - The user-centric design not only minimizes learning curves but also encourages quick familiarity with the software. Such an intuitive interface enhances user engagement and ensures efficient interaction with the platform.


Holistic Risk Management - ServiceNow SAM's effective risk mitigation features offer valuable insights that play a pivotal role in legal compliance and decision-making.


Enhanced asset tracking and Inventory Management - This simplification leads to more accurate asset records and streamlined compliance. ServiceNow's approach ensures assets are well-organized and tracked across their lifecycle.
What is Asset Panda?
Asset Panda presents a powerful and inventive solution for asset tracking and management, strategically crafted to enhance and simplify Asset Management procedures for businesses of varying scales. Armed with an extensive array of functionalities, Asset Panda grants enterprises the authority to monitor, govern, and uphold their valuable assets effectively.
With a dispersed and flexible workforce spanning the globe, Asset Panda disrupts traditional norms and reshapes the parameters of corporate functioning. It stands out as a trailblazer in its sector, marked by a steadfast dedication to pioneering advancements and an unmatched level of customer support.
What users like from Asset Panda
Asset Panda has garnered considerable acclaim and positive comments through reviews conducted by reputable entities like Gartner. Users have distinctly highlighted a variety of benefits, as elaborated below.
Rich feature set - The software distinguishes itself with its robust array of offerings, encompassing comprehensive reporting and analytical tools, extensive customization capabilities, and seamless integrations with other software solutions.
Intuitive user interface - The software has a design that guarantees user-friendly interactions and effortless maneuverability.
Cost-effectiveness - Users unequivocally laud the exceptional value that the software delivers relative to the investment made.
Quality customer service - Users admire the proficient and proactive experts who fuel the software's customer service.
What users don't like from Asset Panda
Despite Asset Panda's array of strengths and favorable characteristics, it is not immune to customer reservations and criticisms.
Outlined below are the recurring issues that users underscore in evaluations from esteemed sources such as Gartner.
User navigation complexity - Certain users encounter confusion when navigating Asset Panda, particularly during searches for specific items, indicating a need for more streamlined guidance.
Customization and reporting issues - Some users advocate for expanded customization choices and a more user-friendly reporting system to enhance user control and comprehension.
Support response time concerns - Criticisms revolve around delayed customer service responses, with users desiring quicker assistance and more prompt support interactions.
Price considerations - The pricing might be relatively steep, particularly for smaller or budget-conscious companies, prompting users to seek more budget-friendly alternatives tailored to their circumstances.
What's Asset Panda's argument over ServiceNow Software Asset Management?
Let's explore the multifaceted argument that Asset Panda asserts over ServiceNow Software Asset Management.
Robust and comprehensive feature set - Asset Panda offers a robust array of functionalities, including comprehensive reporting and analytical tools. Additionally, Asset Panda's extensive customization capabilities and seamless integrations with other software solutions contribute to its prowess in addressing diverse Asset Management needs.


Intuitive and user-friendly interface - This platform's intuitive user interface is crucial in facilitating swift adoption and ease of use, ultimately enhancing the user experience.


Exceptional value and cost-effectiveness - The value proposition contributes to the overall ROI of organizations, making Asset Panda an attractive choice for businesses seeking optimal returns on their ITAM solution investment.


Dedicated and responsive customer service - Asset Panda's quality customer service significantly enhances the overall user experience and reinforces the software's reliability.
Considering InvGate Insight as an ITAM solution alternative
InvGate Insight offers an attractive choice for organizations seeking customized IT Asset Management solutions tailored to their specific needs.
As a robust ITAM solution, InvGate Insight provides a range of features and functionalities that position it as a viable option for optimizing Asset Management processes.
Let's delve into its main characteristics.
Optimized software efficiency and cost reduction
InvGate Insight equips organizations with the means to identify and quantify the usage of paid software, enabling effective Software Management. By gaining visibility into software utilization, unused licenses can be reallocated, unnecessary costs minimized, and returns on IT investments maximized. This optimization of software efficiency enables organizations to derive optimal value from their software resources.
Enhanced IT Asset and Inventory Management
InvGate Insight simplifies both IT and non-IT Asset Management by seamlessly integrating data from various sources, including major operating systems, cloud service providers (such as AWS, Google, and Azure), and MDMs (such as JAMF and Google Endpoint Manager). This integration streamlines the management of assets, locations, and personnel, ultimately saving time and providing a holistic view of the infrastructure.
Improved operational efficiency through automation and alerts
InvGate Insight enhances operational efficiency by implementing automation and alert mechanisms. This proactive IT management approach involves setting up automated alerts to monitor contract expirations and promptly notify relevant stakeholders. This automation reduces manual efforts, minimizes the risk of oversights, and focuses attention on critical tasks, thereby elevating overall efficiency.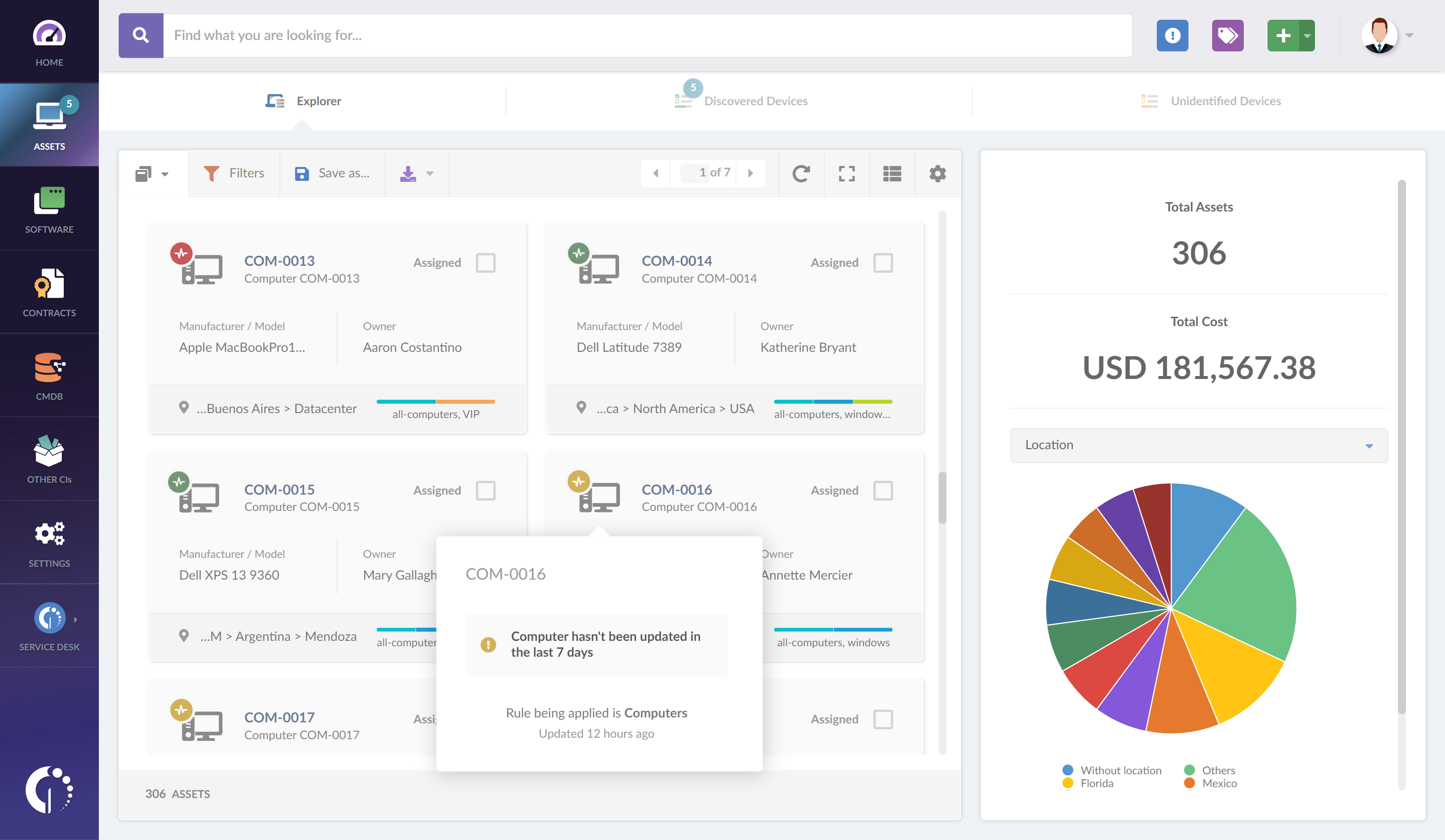 Proactive management of operational expenses
InvGate Insight empowers organizations by seamlessly integrating financial data, contracts, licenses, and essential information into its system. This seamless integration provides a comprehensive understanding of operational costs, enabling informed and proactive financial decision-making. This approach enhances budget allocation and maximizes IT investment returns.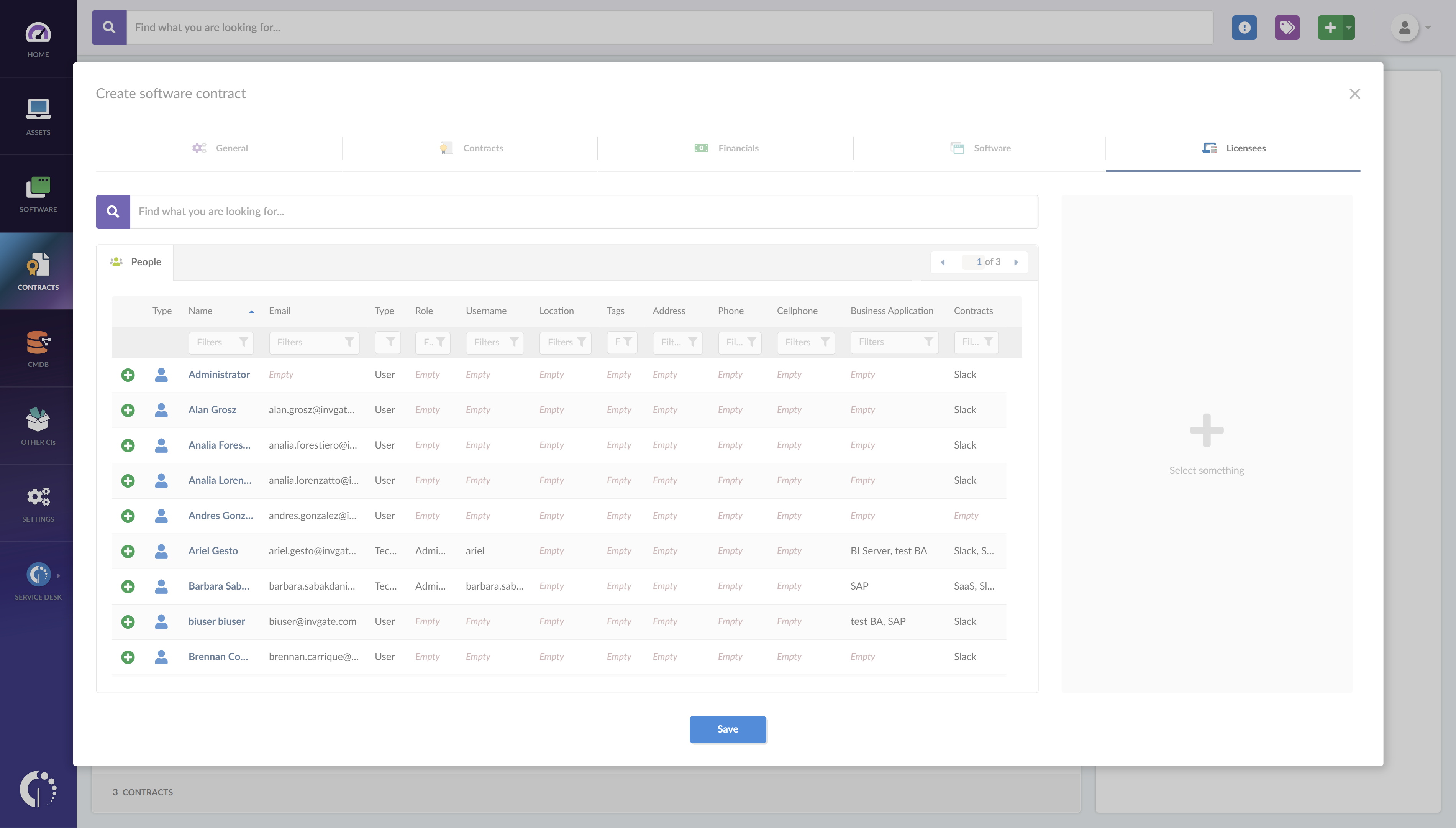 Strengthened cybersecurity compliance through asset monitoring
InvGate Insight reinforces cybersecurity compliance through its asset monitoring capabilities, establishing and enforcing device health rules. Swift identification of instances of non-compliance enables prompt corrective action, ensuring adherence to cybersecurity policies and safeguarding the IT environment.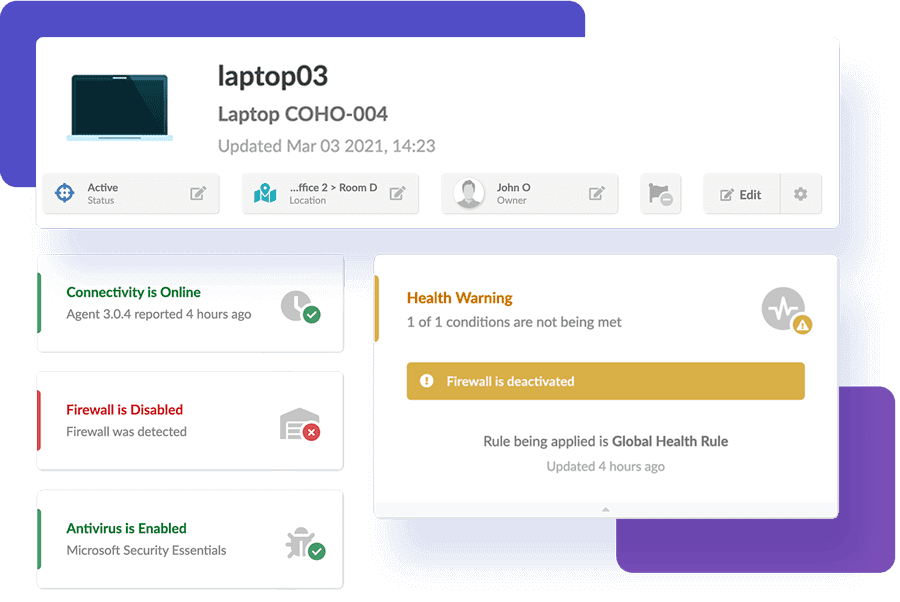 Comprehensive insights into IT infrastructure
With its robust feature set, InvGate Insight delivers thorough and actionable insights into IT assets, including their status and usage. This depth of insight empowers efficient management and optimization of the infrastructure, leading to improved operational effectiveness.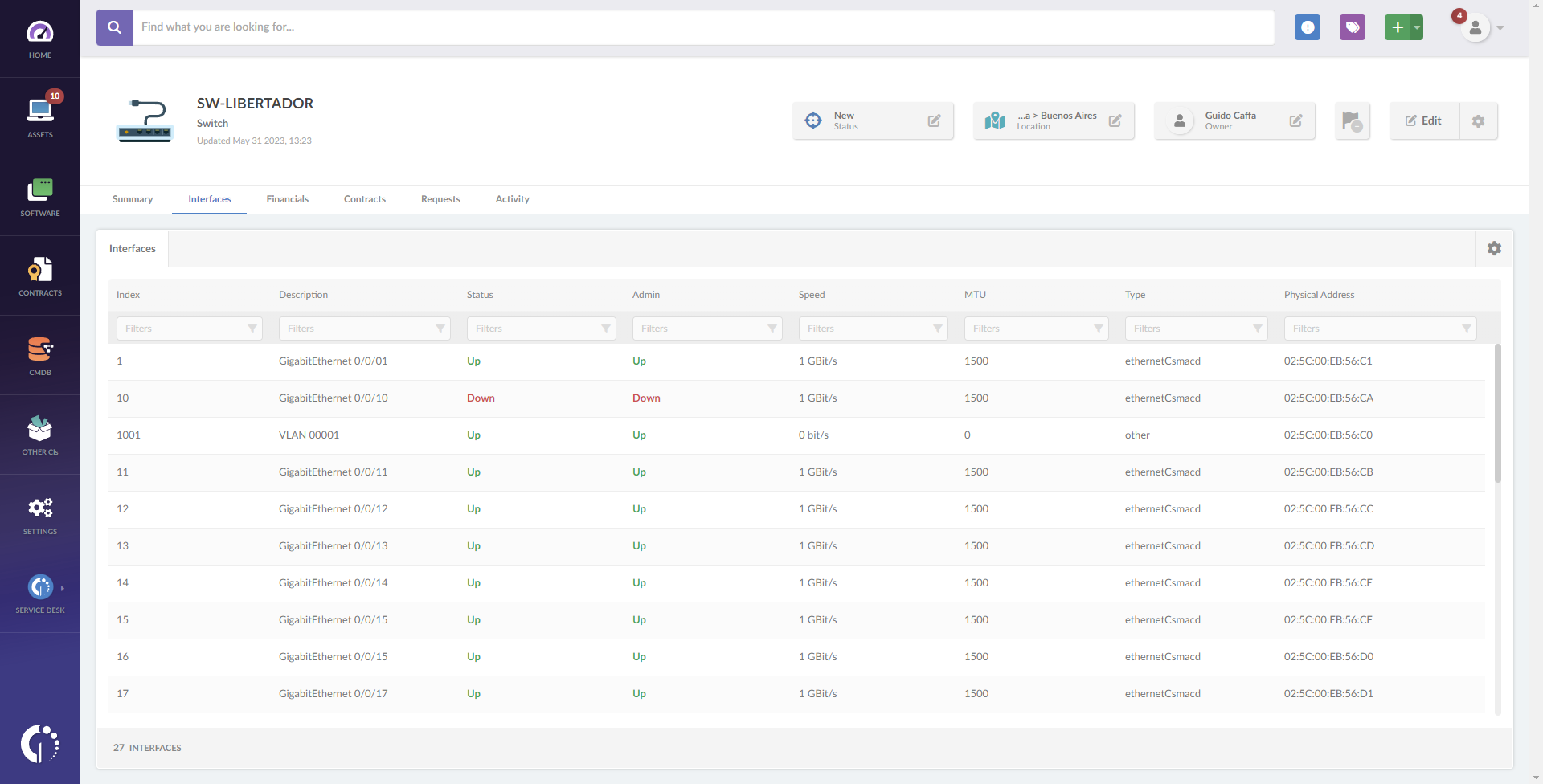 Streamlined operations through CMDB map builder
Integrated with InvGate Insight, the CMDB map builder tool offers a comprehensive and clear overview of the IT landscape. By visually representing relationships between components, potential impacts on operational continuity can be swiftly identified, leading to proactive risk mitigation. This increased visibility results in reduced service times, enhanced operational efficiency, and smoother IT workflows.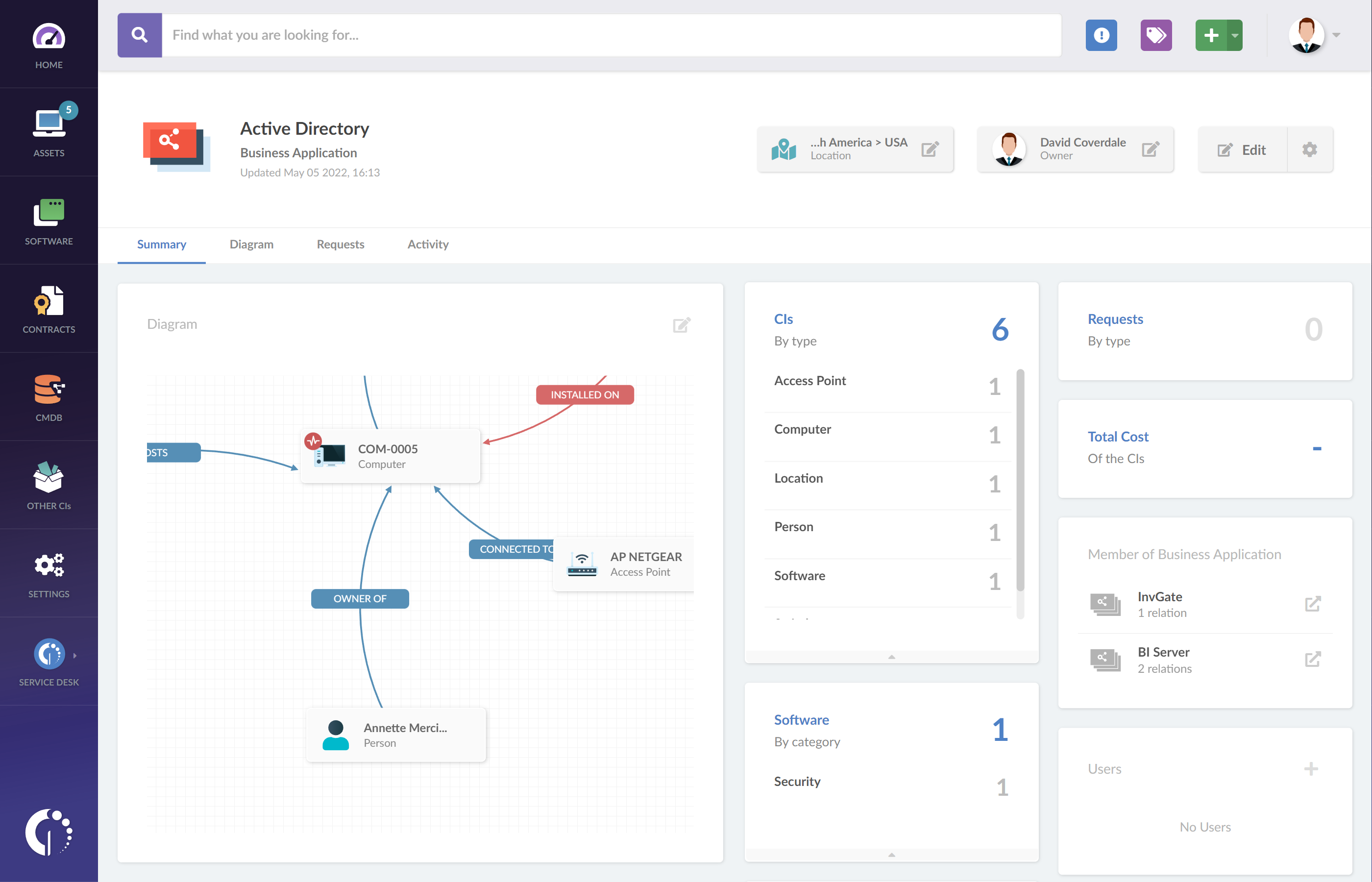 A comprehensive view of IT operations via native service desk integration
By seamlessly integrating with InvGate Service Desk, InvGate Insight provides a native connection between tickets, devices, and personnel. This integration offers a comprehensive 360° view of IT operations, streamlining management processes. By linking service tickets with relevant assets and individuals, workflows are streamlined, communication is enhanced, and issue resolution is improved.
Effortless remote management through native integration
InvGate Insight features seamless integration with popular remote desktop tools such as Windows Remote Desktop, TeamViewer, AnyDesk, and VNC. This integration enhances remote management capabilities, providing direct device access for troubleshooting and maintenance. With smooth remote access, organizations can effectively address IT issues, perform necessary maintenance tasks, and ensure uninterrupted operations.
Flexible deployment options to suit unique needs
Recognizing the diversity of organizational needs and industry regulations, InvGate Insight offers adaptable deployment options. This flexibility allows organizations to choose between cloud-based or on-premise solutions, ensuring alignment with individual requirements and compliance standards.
Next steps
The comparison between ServiceNow Software Asset Management vs. Asset Panda highlights that both platforms offer compelling strengths and capabilities for effective Asset Management.
However, the journey towards selecting the ideal solution is an opportunity to expand your horizons and explore alternative avenues.
InvGate Insight is a fresh option that offers a holistic approach. From robust management strategies to enhanced cybersecurity compliance and proactive cost optimization, this platform brings a comprehensive toolkit to the table.
Download our free ITAM implementation checklist that will guide your next steps. Don't limit your options - take advantage of the variety of solutions available like InvGate Insight to create a customized Asset Management strategy that meets your unique needs and goals.