In the ever-shifting terrain of IT Asset Management (ITAM), you stand at the crossroads of an engaging showdown: NinjaOne vs. Lansweeper. The choice you make have a profound impact on your organization's efficiency and development.
In this blog post, we'll provide a comprehensive and insightful ITAM software comparison of these two solutions.
But that's not all - we'll introduce a game changer, InvGate Insight. This alternative solution brings a fresh perspective to the mix, with distinctive features and capabilities that could revolutionize your approach to overcoming IT Asset Management hurdles.
Strap in and join us as we navigate the intricate world of IT Asset Management software.
Most looked-at features by buyers
When considering choices for IT Asset Management solutions, potential buyers evaluate a variety of essential capabilities to find the most suitable option that aligns with their specific requirements and business needs. Here are some key factors that purchasers take into account when picking a customized ITAM solution for their company.
What is NinjaOne?
NinjaOne is dedicated to creating IT management solutions that offer robust support to Managed Service Providers (MSPs) and IT professionals. Their main objective is to ensure seamless business operations and increased profitability. The platform is carefully designed to simplify the client onboarding process and maximize automation, resulting in a modernized IT management experience.
The platform aims to lower the expenses associated with bringing in new clients and providing training, actively detect and resolve common IT issues, and simplify intricate IT tasks. This transformation shifts the perception of IT from being merely an expense to a potential driver of business growth.
The company is independent and guided by its original founders, supported by an executive team with extensive backgrounds in IT. This experience ranges from overseeing their services to creating startups specifically tailored for MSPs and IT leaders. NinjaOne's core is built on cloud technology, offering an integrated IT management platform that is well-prepared for expansion.
What users like from NinjaOne
NinjaOne has received positive customer reviews in respected sources such as Gartner. Users have highlighted several benefits, which are outlined in the following sections.
Extensive resources - The availability of comprehensive documentation and scripting options empowers IT experts to tailor processes, troubleshoot effectively, and automate repetitive tasks.
Cost-effective approach - NinjaOne's budget-friendly strategy positions it as an attractive choice for businesses of all sizes. Its flexible licensing, which allows starting with just 50 devices, enables organizations to scale according to their requirements.
Comprehensive, unified solution - The platform integrates Help Desk, Patching, and Backup features into a single product, simplifying operations and enhancing productivity.
Responsive support and interaction - NinjaOne's customer support services and user engagement contribute to a positive user experience. Timely assistance and interaction efforts foster a sense of partnership and confidence in the platform.
Robust reporting capability - The tool's powerful reporting features offer deep insights into the performance of IT operations.
Quick search functionalities - The solution's rapid search capabilities for individuals or serial numbers expedite problem-solving and asset identification.
Simplified implementation and management - NinjaOne's straightforward implementation and management protocols simplify tasks for IT teams, saving time and resources during platform setup and oversight.
Streamlined navigation - The platform's built-in navigation structure ensures quick access to necessary tools and functions, reducing the learning curve and improving the overall user experience.
Efficient Patch Management capabilities - NinjaOne's seamless Windows Patch Management simplifies the complexities of keeping systems up-to-date. The ability to schedule patches and software updates enhances system security and efficiency while reducing vulnerabilities.
Mobile adaptability - The platform's mobile application extends the convenience of IT management beyond desktop settings, allowing professionals to monitor and address issues while on the move.
Data protection through server and PC backup - NinjaOne's incorporation of server and PC backup features provides a reliable solution for safeguarding data, securing critical information, and minimizing potential setbacks.
What users don't like from NinjaOne
In spite of the multitude of strengths and commendable qualities possessed by NinjaOne, it is not immune to customer inquiries and constructive feedback. Here is a compilation of prevalent concerns expressed by users in reviews from reputable sources like Gartner.
Room for improvement in the ticketing system - Certain users believe that the ticketing system could be enhanced by incorporating additional features and customization choices.
Difficulties in retrieving asset details - Certain users have faced challenges when trying to access asset details efficiently, potentially causing delays in troubleshooting and Asset Management processes.
Lack of maintenance mode for devices - The absence of a maintenance mode for devices has the potential to complicate certain tasks, such as updates or troubleshooting, without disrupting ongoing operations.
Inconsistent remote capabilities - Some users have observed irregularities in the platform's remote capabilities, which could potentially hinder effective remote troubleshooting and management tasks.
Incomplete integrations - Instances have been reported where the integration of external tools or systems appears unfinished or lacking in certain aspects, impacting the overall efficiency of user workflows.
Need for screenshot functionality - Users have emphasized the need for screenshot functionality within the platform, which could aid documentation, troubleshooting, and communication processes.
Limited availability of technical support outside business hours - Some users have expressed the desire for round-the-clock 24/7 support, aiming to ensure timely assistance and issue resolution at any hour.
Past problems with email delivery - Historical instances of email delivery issues have been reported, potentially affecting communication and the prompt handling of support requests.
What's NinjaOne's argument over Lansweeper?
In a head-to-head comparison between NinjaOne and Lansweeper, NinjaOne emerges with a set of advantages that make it a compelling IT Asset Management solution. Let's take a closer look at NinjaOne's key strengths.
Extensive resources and easy implementation - NinjaOne's provision of comprehensive documentation and scripting options empowers IT experts, streamlining troubleshooting and automation.


Cost-efficient approach - NinjaOne's strategic, cost-effective model positions it as a versatile solution suitable for businesses of various sizes.


Comprehensive, unified solution - NinjaOne's remarkable fusion of Help Desk, Patching, and Backup functionalities into a single product streamlines operations and amplifies productivity.

Responsive support and interaction - NinjaOne's commitment to customer support and meaningful user engagement fosters a positive user journey.


Simplified navigation and strong reporting - NinjaOne's intuitive navigation and robust reporting capabilities enhance user experience and operational insights.


Swift search functionalities - NinjaOne's rapid search capabilities expedite problem-solving and asset identification, bolstering user efficiency.


Data protection and mobile adaptability - NinjaOne's focus on data protection through server and PC backup, along with its mobile application for on-the-go IT management, presents a holistic approach to modern IT demands.
What is Lansweeper?
Established in 2004, Lansweeper is a comprehensive IT Asset Management and network discovery solution created to offer businesses a profound insight into their IT infrastructure. The software includes features aimed at aiding organizations in effectively supervising and enhancing their IT assets, enhancing their network monitoring, and streamlining IT operations.
The primary characteristics of the platform include:
Integration capabilities.
Network scanning.
Asset Lifecycle Management.
Comprehensive

Inventory Management

.
Software License Management.
Reporting and analytics.
What users like from Lansweeper
Lansweeper has garnered substantial positive customer evaluations from respected sources such as Gartner. Users have highlighted several benefits, as elaborated below.
Easy server management - The standout feature of managing remote servers proves to be a time-saving and convenient tool for effective server oversight.
User-friendly interface - The platform's interface, designed for ease of use, along with preconfigured security reports, renders it accessible to users possessing varying degrees of IT proficiency.
Effortless deployment process - Lansweeper's Software-as-a-Service (SaaS) solution eliminates the need for individual computer installations, streamlining the setup procedure.
Thorough asset records - Users greatly value the tool's ability to uphold detailed records for each device joining the network, guaranteeing an organized and effective Asset Management system.
Accurate scanning - The tool's scanning precision guarantees the reliability and accuracy of collected asset data.
Clear software insights - Users appreciate the platform's functionality that provides complete visibility into the organization's software environment, leading to more intuitive and effective software administration.
Smooth network inventory detection - The software's effortless identification of network-connected inventory ensures that users can seamlessly handle their asset inventory.
Cost-effective solution - Users find that Lansweeper's array of features, reasonably priced, positions it as a budget-friendly choice for fulfilling their IT Asset Management needs.
What users don't like from Lansweeper
While Lansweeper has a number of advantages and positive attributes, it is not immune to customer concerns and criticism. Evaluations from reputable outlets such as Gartner have highlighted consistent problems voiced by users. These include:
Impact of new licensing system - The revised licensing system in Lansweeper requires payment for more assets than necessary, with a minimum of 2000 assets. This pricing structure might not align well with smaller organizations and could be seen as a drawback.
Cluttered GUI interface - The platform's Graphical User Interface appears crowded to some users due to the abundance of visible choices. Condensing certain options into menus could result in a tidier and more streamlined interface.
Missing firmware details for IoT devices - The tool doesn't offer firmware information for Internet of Things (IoT) devices, limiting users' access to this crucial data.
Automatic asset deletion - Users find it problematic that assets removed from the system are automatically eradicated from the database. Retaining deleted assets in the database for reference or historical purposes would be preferable.
Complicated custom queries - While Lansweeper supports custom queries, creating intricate queries can be demanding. Formulating elaborate custom queries can prove to be challenging for users.
Lack of historical software views - Lansweeper doesn't provide historical perspectives on software within its database, only offering data at specific points in time. This limitation hampers users' ability to access previous software information.
Reporting complexity - The reporting module might require users to understand relational databases for optimal utilization. Some users believe that additional training or database knowledge is necessary. Furthermore, occasional inaccuracies in provided data might prompt users to cross-verify and authenticate information.
Outdated dashboards - Some users consider the dashboards outdated. Although efforts are underway to modernize them into a more contemporary cloud console, this aspect is still evolving.
Complex Patch Management - The software's Patch Management feature, referred to as deployment packages, presents usability challenges. Users face difficulties deploying patches and managing software updates using this feature.
Limited regional partners - In certain regions, such as Argentina, the availability of Lansweeper partners might be restricted, potentially affecting access to local support or services.
What's Lansweeper's argument over NinjaOne?
When comparing Lansweeper and NinjaOne, the former presents a compelling case by showcasing its exceptional features and benefits, described below.
Effortless server management - Lansweeper takes the lead with its standout feature of remote server management. This feature not only saves time but also offers a convenient solution for efficiently overseeing remote servers.


User-friendly interface - The platform's design emphasizes ease of use, making it accessible to users with varying levels of IT expertise. This intuitive interface, combined with preconfigured security reports, ensures that even non-technical users can navigate and utilize the tool effectively.


Effortless deployment process - One of Lansweeper's significant advantages is its SaaS solution, eliminating the need for complex individual computer installations.


Thorough asset records - Lansweeper's ability to maintain detailed records for each network-connected device stands as a strong point of differentiation.

Accurate scanning - Lansweeper's scanning precision is a testament to its reliability. This accuracy ensures that the collected asset data is dependable.


Clear software insights - Lansweeper's complete visibility into an organization's software environment provides valuable insights for efficient software management.


Smooth network inventory detection - Lansweeper's seamless identification of network-connected inventory ensures that Asset Management becomes effortless.


Cost-effective solution - Lansweeper's cost-effective approach, offering a range of features at a reasonable price point, positions it as a practical choice for IT Asset Management needs.
Considering InvGate Insight as an ITAM solution alternative
For organizations in search of an IT Asset Management solution tailored to their particular demands, InvGate Insight emerges as a viable choice. Functioning as a robust ITAM platform, it provides an array of features and functionalities that render it a practical option for streamlining Asset Management procedures. Let's delve into its key characteristics.
Effortless Remote Management with native integration
InvGate Insight natively integrates with widely used remote desktop tools like Windows Remote Desktop, TeamViewer, AnyDesk, and VNC. This integration enhances remote management capabilities, granting direct access to devices for troubleshooting and upkeep. This seamless remote access empowers organizations to address IT issues effectively, perform maintenance tasks, and ensure uninterrupted operations.
Enhanced IT Asset and Inventory Management
InvGate Insight simplifies integration by consolidating data from diverse sources, including major operating systems, cloud service providers (such as AWS, Google, and Azure), and Mobile Device Managers (such as JAMF and Google Endpoint Manager). This comprehensive integration facilitates the efficient management of both IT and non-IT assets, locations, and personnel. This approach saves time and provides a holistic view of the infrastructure.
Thorough understanding of IT infrastructure
With its robust attributes, InvGate Insight delivers detailed and actionable insights into IT assets, encompassing their status and usage. This comprehensive understanding allows for effective management and optimization of the infrastructure, ultimately boosting operational efficiency.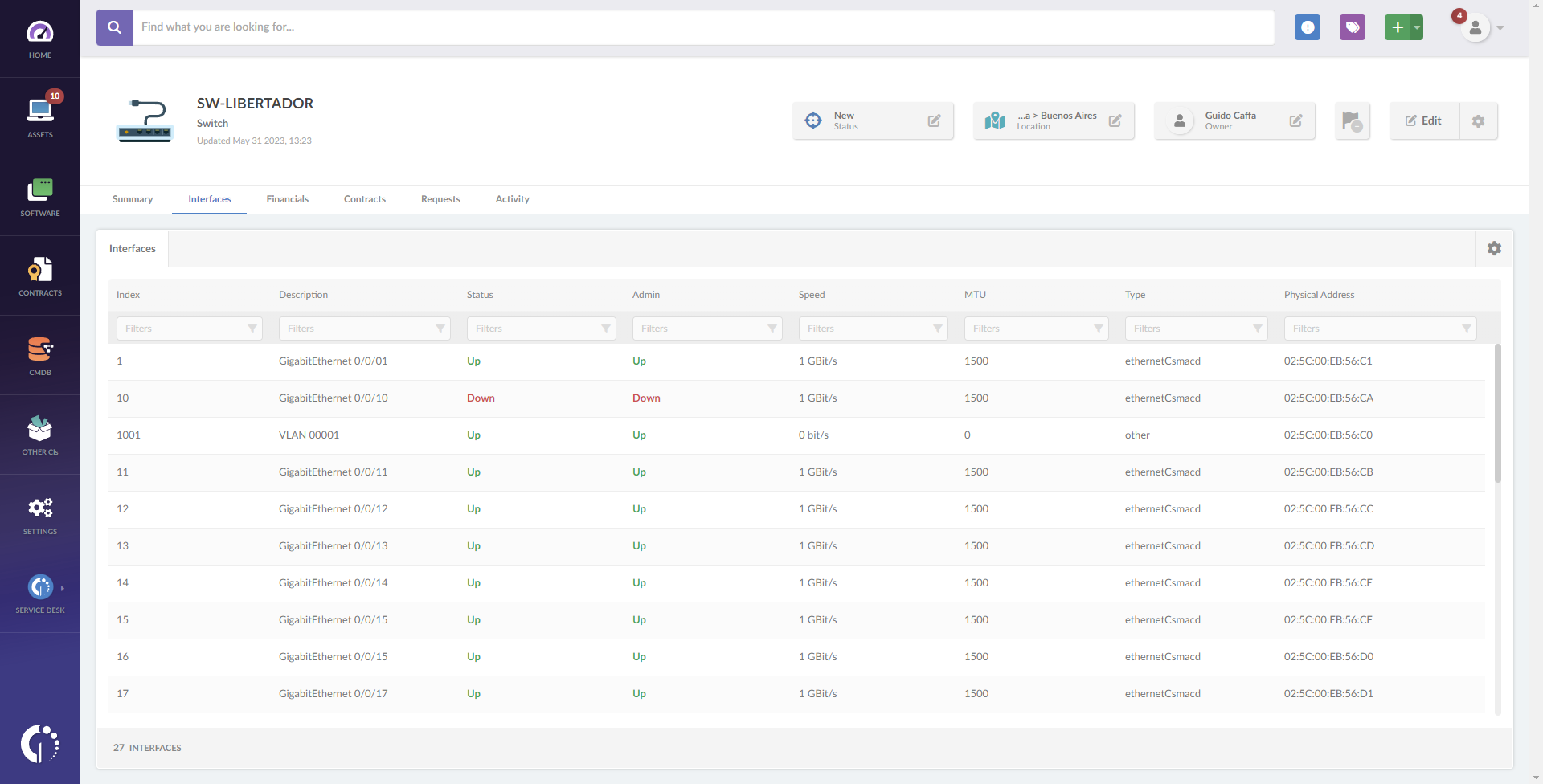 Optimized software efficiency and cost reduction
InvGate Insight empowers organizations to detect and evaluate the utilization of paid software, streamlining Software Management. By gaining insight into software usage, unused licenses can be reallocated, unnecessary costs minimized, and returns on IT investments optimized. This software efficiency optimization helps organizations extract the most value from their software assets.
Comprehensive view of IT operations through native service desk integration
InvGate Insight seamlessly integrates with InvGate Service Desk, establishing a natural link between tickets, devices, and personnel. This integration offers an extensive perspective on IT operations, which streamlines management. Connecting service tickets to relevant assets and personnel improves workflows, communication, and issue resolution.
Enhanced cybersecurity compliance via asset monitoring
InvGate Insight's asset monitoring capabilities establish and enforce device health rules, contributing to proactive cybersecurity compliance. Swift identification of instances of non-compliance enables immediate action to uphold cybersecurity policies and safeguard the IT infrastructure.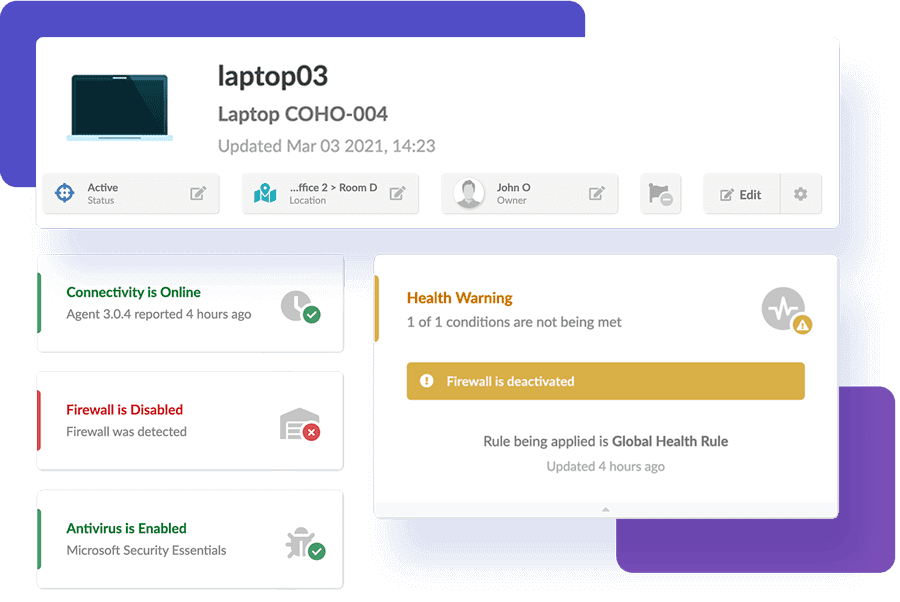 Efficient operations via CMDB map creation
InvGate Insight's CMDB map-building tool offers a transparent and all-encompassing perspective of the IT landscape. Visualizing the connections between components helps identify potential impacts on operational continuity, proactively addressing risks. This visibility results in shorter service times, increased operational efficiency, and smoother overall IT operations.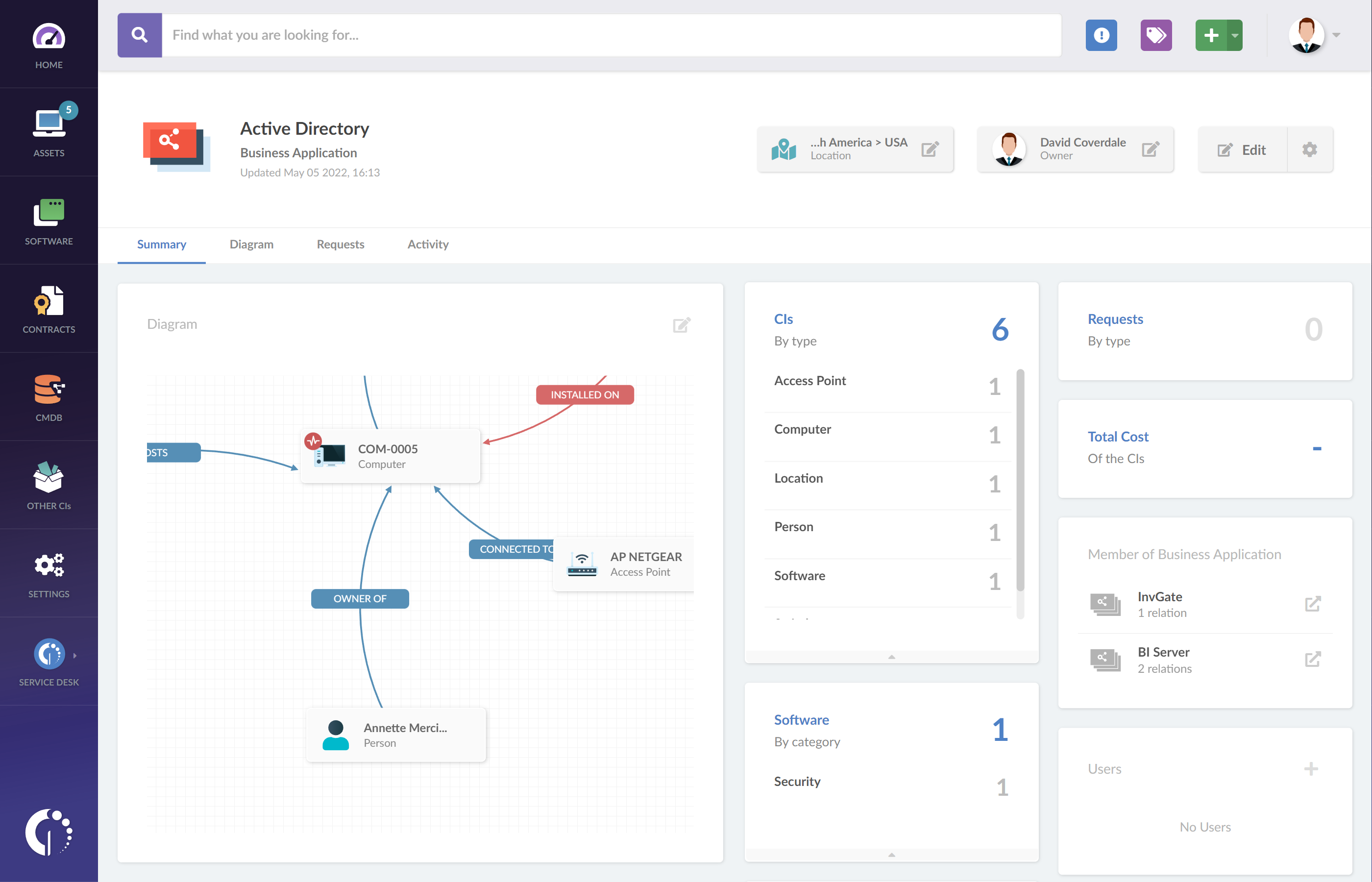 Automation and early alerts
InvGate Insight promotes process automation and the implementation of alerts to encourage proactive IT management. Automated alerts enable organizations to monitor contract expirations and promptly notify relevant parties, mitigating the risk of oversight. This automation enhances operations, allowing a focus on crucial tasks and improving overall efficiency.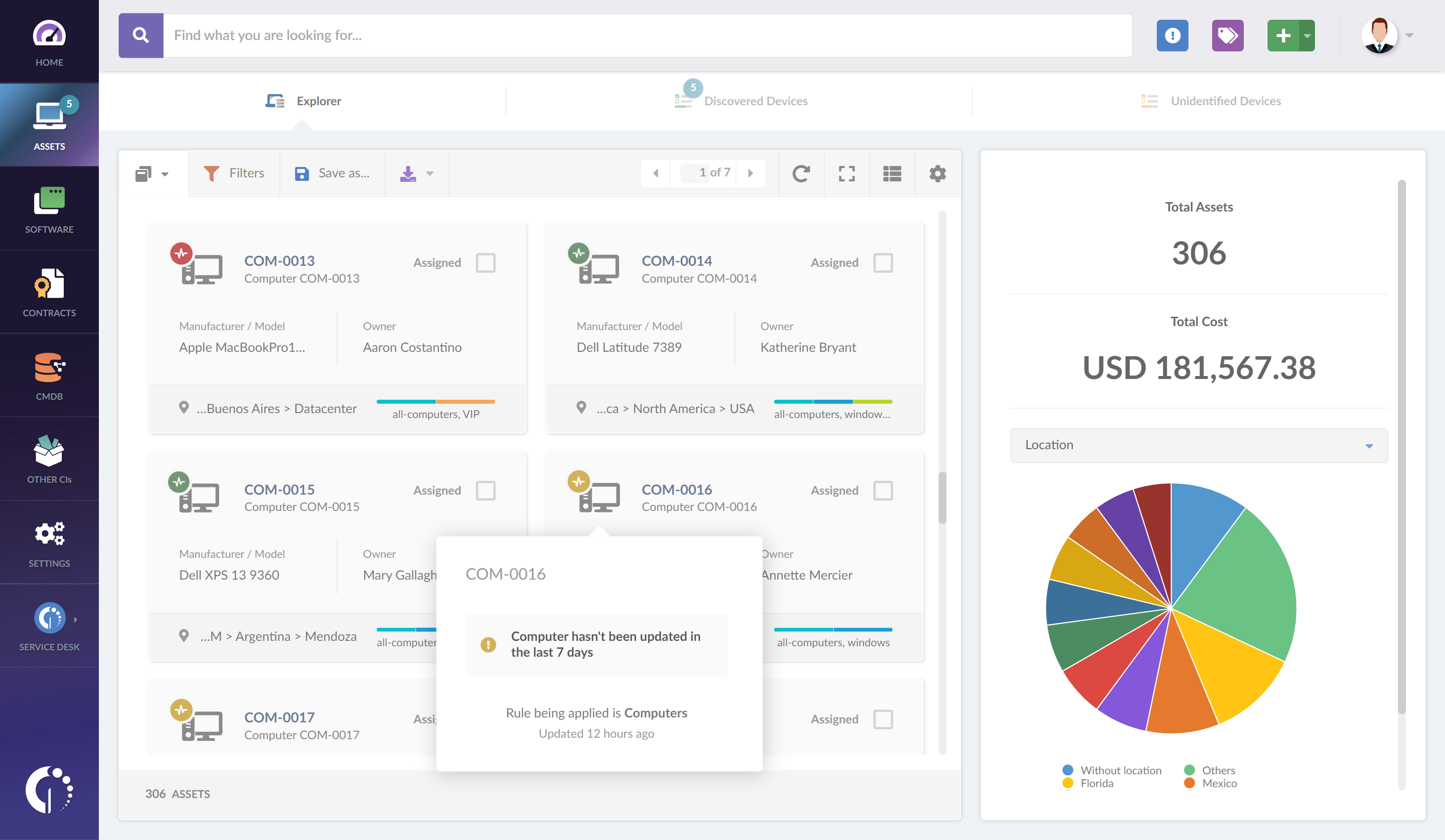 Flexible deployment options to suit requirements
Recognizing the uniqueness of each organization's needs and industry regulations, InvGate Insight offers flexible deployment options. This flexibility enables organizations to choose between cloud-based or on-premise solutions, ensuring alignment with specific needs and compliance standards.
Proactive management of operational costs
InvGate Insight facilitates the direct integration of financial data, contracts, licenses, and other crucial information into the system. This approach provides organizations with a comprehensive understanding of operational expenses, enabling proactive and well-informed financial decisions. This optimization of budget allocation maximizes the value derived from IT investments.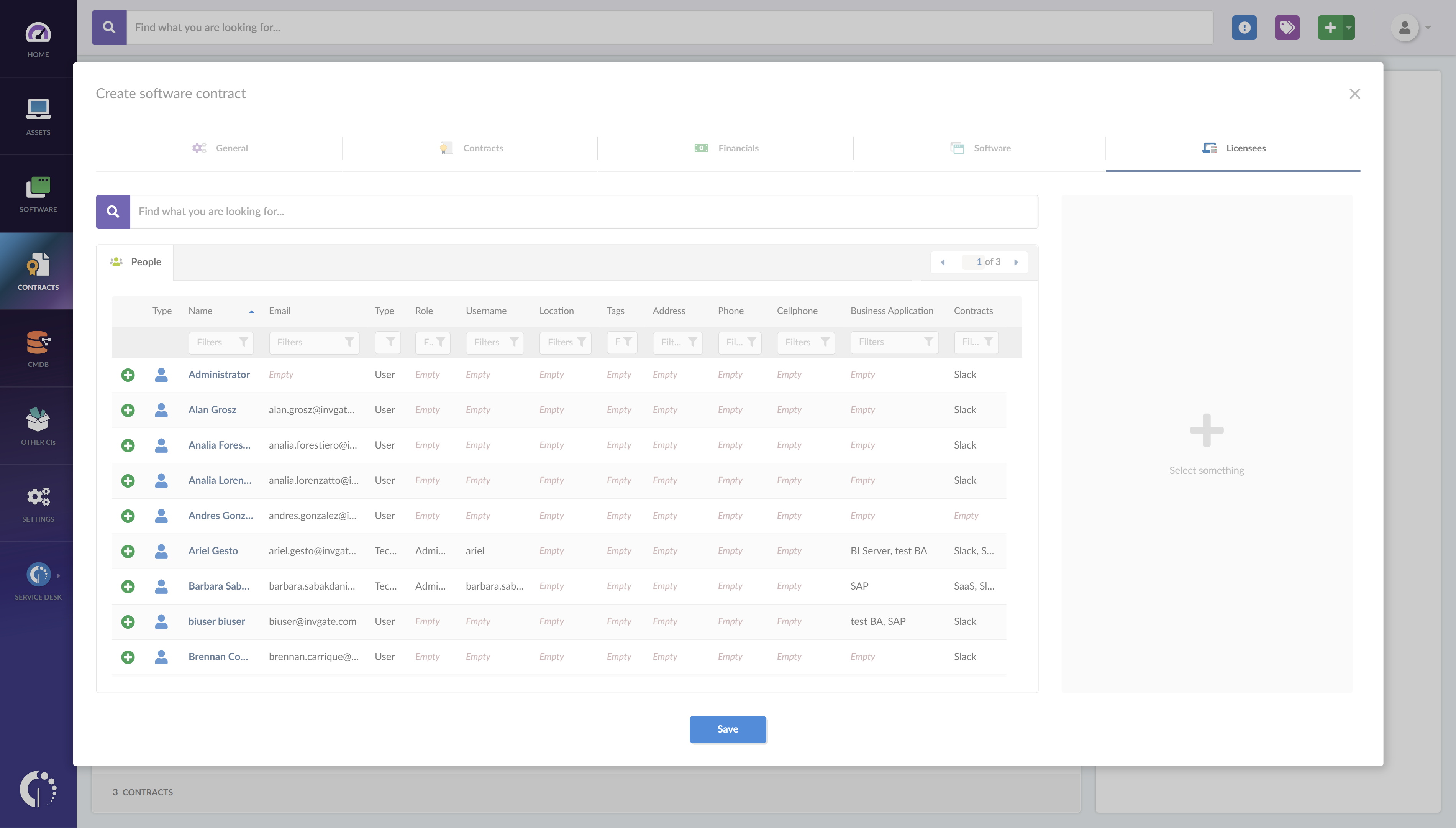 Next steps
Exploring NinjaOne vs. Lansweeper has provided a comprehensive understanding of their distinctive attributes and drawbacks.
However, the landscape of IT Asset Management is dynamic and constantly evolving, offering different alternatives beyond the scope of these two contenders. InvGate Insight, for instance, seamlessly integrates efficient management practices, cybersecurity compliance, and proactive cost management into a unified platform.
Take a step further by exploring our live demo and revolutionize your approach to Asset Management today!