Getting started with a new ITSM tool can be intimidating - but migrating from one service desk tool to another is likely much more complicated. Over time, there's so much data, not only from your tickets but also your knowledge base, users, and so on.
Moreover, the company is comfortable using existing help desk system, they know how to navigate and interact with the interface. So, it's very rational to fear a platform change. However, migrating from your current help desk software to InvGate Service Desk doesn't need to be difficult or time-consuming. The secret is just putting together a help desk migration project plan, and having the right elements.
And because we don't want you to just take our word for it, here's a brief tutorial to import your data into InvGate Service Desk.


Before you start, clean your data
Moving is a great time to clean up; after all, no one wants to fill their new home with old junk. The same goes for changing help desk platform. We just mentioned the high amount of data stored, wouldn't it be a good time to review it and understand what is useful (and what's old and obsolete)?
Once your datasets are cleaned, it's time to make a list of items to relocate, so nothing gets lost in migration. In addition, you can create a timeline to organize the process and minimize errors. This should include every step until the migration is complete.
Even though the entire process can take some time, it doesn't mean that you can launch the new help desk right away. That's why we'll focus next on the three pillars you need to get things going.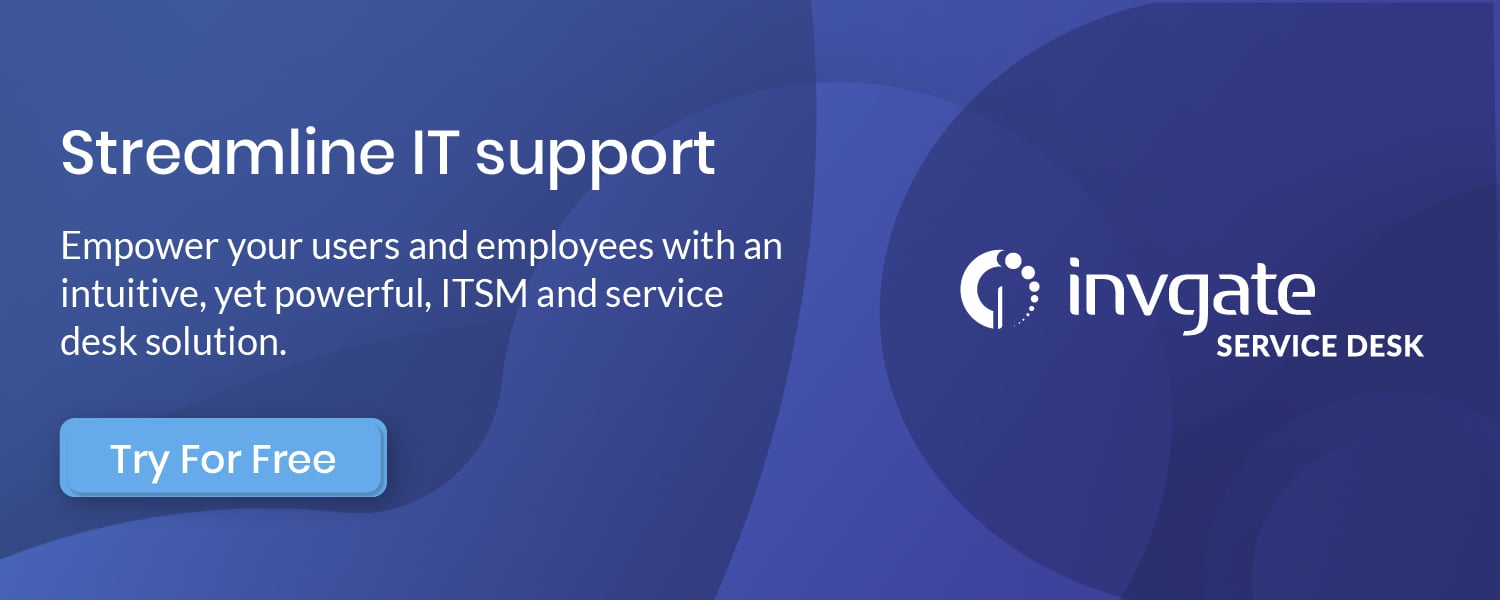 Changing help desks? Step-by-step guide to migrate the basic data to InvGate Service Desk
1. Create users and help desks
At a minimum, you will need to have agents and managers loaded to share work. You'll probably also want to add end-users: including external customers and the other teams that require your support. So, the first thing to do is to import all your users to your new instance.
There are a few different methods to create users:
CSV or spreadsheet: This is the fastest and most universal way to import users. You can download our template, place your data, and upload it, and be done in no time.
Central location: If you have your user data stored in Active Directory, SCIM, or an LDAP source, you can configure those settings within "Directory Services."
Single-sign-on provider:

If you have Microsoft Identity, Google, or some other SAML or LDAP provider, you'll find automatically registering new signs on, or links with embedded credentials under the "Authentication" section.
CSV files are also helpful to import your teams. You can quickly upload them into the platform and create your help desks in seconds.
2. Create a catalog of services
To get the catalog items loaded into your system, you can download the CSV template, populate it and upload it. If you'd like to do it manually, all you have to do is create a category, select an icon, name it, and provide the descriptions and keywords.
Then, all that's left to do is choose which team to assign this work to, and set the type of ticket this category creates. You can also check out the other tabs for additional options like customizing the form or adding custom fields.
3. Create a knowledge base
For your first setup to be complete, you'll need to get some articles up on your knowledge base. To configure it for articles, all you'll need to do is create a few categories and then add some pieces of content.
To create your articles, go to "Articles" > "New Article," and then you can select the category, visibility, and create the content straight in the editor, however it works best for you! If you need some assistance, here are the best practices to create a knowledge base - and some mistakes to avoid when building the knowledge base, as well!
Key takeaways
These are the three steps to get a basic InvGate Service Desk launch started. As you can see, a simple team can be easily done by the end of a days' work.
Of course, there's so much more you can do with the help desk, like customize the self-service portal or implement workflow automation. But with this basic setup, you're ready to start taking requests and managing work.
Once the platform is up and running, you can take the time to explore the system and take advantage of all its functionality.
Remember, this can be used to migrate from Zendesk, Jira Service Desk, Solarwinds, ManageEngine, CA, or whatever platform your company currently uses. Contact us to enquiry anything related to your plans to migrate from your current service desk / help desk platform.
Don't forget that you can request a free trial and get started today!