Between SolarWinds vs. Ivanti Neurons as your ideal IT Service Management (ITSM) solution? Both offer compelling features and capabilities, but how do these solutions stack up against each other? Which one aligns better with your organization's unique requirements? And what about a third alternative?
In this blog post, we'll delve into a detailed comparison between SolarWinds and Ivanti Neurons, dissecting their key features, strengths, and weaknesses. However, amidst these prominent contenders, a compelling alternative emerges - InvGate Service Desk. With its streamlined functionalities and a strong focus on digital transformation, this service desk software alternative presents organizations with a unique opportunity to elevate their IT operations to new heights.
Discover how this ITSM tool comparison will help you to find the perfect fit for your IT Service Management needs.
Most looked-at features by buyers
When potential buyers evaluate IT Service Management solutions, they concentrate on specific features that align with their organization's requirements. It is crucial to understand these desired features in order to make well-informed decisions.
Let's explore the main factors that potential buyers commonly consider when comparing ITSM tools.
User experience and interface - Buyers consider ease of use and interface design as crucial factors. They prefer a user-friendly platform with an intuitive interface that promotes user adoption and productivity. Mobile accessibility is also important for organizations with remote or mobile workforces.


Scalability - Organizations with evolving needs prioritize solutions that can adapt to their growth and accommodate customization. The solution should allow the creation of custom fields, workflows, and extensions/plugins, enabling them to tailor the software to their unique business requirements.


Ticket Management solution - Buyers emphasize the importance of a comprehensive Ticket Management System within the

help desk software

. This feature allows effective tracking, assignment, and resolution of customer inquiries and support requests.


Customization and flexibility - Buyers value software solutions that offer customization options, enabling them to tailor the platform to their business needs. This flexibility ensures the software aligns with their unique workflows and processes, ultimately enhancing user satisfaction and overall effectiveness.



Support automation

and Workflow Management - Buyers actively seek software solutions that offer automation capabilities to optimize routine tasks such as

ticket routing

, approvals, and

escalations

. These automation features contribute to increased efficiency and productivity.


Insightful reporting - Buyers look for help desk software with powerful reporting tools like

dashboards and reports

, providing valuable insights into their IT operations and performance. This data-driven approach facilitates informed decision-making and continuous service improvement.


Seamless integration capabilities - Integration with other systems and applications is a critical requirement for buyers, ensuring smooth data flow and process automation. The ability to integrate existing tools and platforms is highly valued for improved efficiency and a unified user experience.


Optimized

IT service catalog

- Organizations often require a streamlined IT service catalog, providing a centralized platform for users to request specific IT services or resources. This feature simplifies service requests, enhances visibility, and aids in effective service delivery management.



Self-service portal

and

knowledge base

- Including a self-service portal is highly valued as it empowers end-users to independently resolve common issues and find relevant information without requiring direct assistance.


Pricing and support - Buyers consider the solution's cost-effectiveness, including licensing models, subscription plans, and additional costs for features or users. The availability of reliable customer support, comprehensive documentation, and accessible training resources also play a significant role in the decision-making process.



ITIL

compliance - Adhering to ITIL best practices is a priority for many organizations. Buyers may prioritize solutions that support ITIL processes, such as

Incident Management

,

Problem Management

,

Change Management

, and Asset Management.


Efficient

IT Asset Management

- Users prioritize software that offers robust ITAM capabilities to help them maintain accurate inventories and optimize resource utilization within their organizations.
What is SolarWinds?
SolarWinds Corporation is a company that specializes in creating software solutions for the management of IT systems. One of their key offerings is SolarWinds Service Desk, a cloud-based platform designed to support IT Service Management. This platform provides a range of features and functionalities to enhance IT operations' efficiency and productivity.
These features include automation capabilities, self-service options, IT Asset Management tools, and the ability to integrate with other systems seamlessly. The platform is organized into modules that handle incidents, problems, releases, and changes, and it also incorporates a Configuration Management Database (CMDB). Users can generate customized reports that provide valuable insights into their operations.
What users like from SolarWinds
SolarWinds Service Desk has garnered positive feedback from users, as evident in reviews conducted by Gartner. Let's explore the benefits that both customers and experts have highlighted.
User-friendly interface and experience - Users consistently praise the platform's user-friendly interface and intuitive navigation. This makes the platform accessible and easy for individuals with varying technical expertise.
Customization and integration options - Users appreciate the available customization options that allow them to tailor the platform to their specific needs. Its integration capabilities with other tools and services are also highly regarded.
Extensive ITSM features - Users value the platform's broad range of features, which include Incident Management, Problem Management, Change Management, Asset Management, and a service catalog. The platform is highly regarded for its comprehensive set of capabilities.
Efficiency and productivity improvements - Users report significant enhancements in efficiency and productivity through streamlined IT operations and effective incident resolution processes facilitated by the software.
Effective IT Asset Management - Users highly value the software's ITAM capabilities, which enable efficient tracking of hardware, software, licenses, and contracts.
What users don't like from SolarWinds
SolarWinds Service Desk has faced customer criticism despite its strengths, as documented in reputable sources like Gartner. Let's explore some of the concerns that have been highlighted.
Limitations in reporting functionality - Users desire improved reporting capabilities and more comprehensive analytics within the software.
Complex workflow - Users find the workflow within the software to be complex or cumbersome, indicating a need for simplified processes.
Challenges in initial setup and implementation - Some users find the initial setup and implementation process time-consuming, particularly when importing existing inventory.
Integration with third-party apps - Users feel the platform could improve the seamless integration with third-party applications.
Localization and language support - Some users suggest that the platform could improve support for multiple languages and enhance localization features to cater to a more diverse user base.
Limited customization options - Users have mentioned that the available customization options are limited and could benefit from expansion.
Limitations in search functionality - Users have noted limitations in the search functionality of the tool, suggesting a need for enhancements in this area.
A desire for additional features - Users express a desire for additional features, such as a calendar booking system, webhooks for integration purposes, and enhanced functionality on the mobile app.
What's SolarWinds' argument over Ivanti Neurons?
SolarWinds and Ivanti Neurons are two prominent players in the ITSM industry, each with unique strengths and weaknesses. Let's delve into SolarWinds' arguments over Ivanti Neurons and explore how these platforms differentiate themselves in meeting the needs of organizations.
Extensive ITSM features - SolarWinds Service Desk boasts a comprehensive suite of ITSM features, including Incident Management, Problem Management, Change Management, Asset Management, and a service catalog. This wide range of capabilities enables organizations to manage their IT operations and enhance service delivery effectively.


Efficiency and productivity - With SolarWinds Service Desk, users report significant improvements in efficiency and productivity. The platform streamlines IT operations, automates workflows, and facilitates effective incident resolution processes, enhancing operational efficiency and reducing downtime.


Effective IT Asset Management - SolarWinds Service Desk's robust ITAM capabilities provide efficient tracking of hardware, software, licenses, and contracts. This enables organizations to manage and optimize their IT assets effectively, ensuring better visibility and control over their IT infrastructure.
What is Ivanti Neurons?
Ivanti Neurons for ITSM, developed by Ivanti, is an advanced Service Management solution designed for enterprises. It provides options for deployment in both cloud and on-premise environments. This comprehensive solution covers the entire service delivery lifecycle, from capturing requests to resolving issues. It is built on recognized industry standards and incorporates 11 ITIL 4-certified practices, ensuring a strong foundation for organizations' Service Management requirements.
The main objective of Ivanti Neurons for ITSM, which is part of the Ivanti Neurons platform, is to streamline operations by replacing manual processes with automated workflows. This shift towards automation improves organizational efficiency, compliance, and security.
Ivanti is a private technology company that specializes in managing and securing Everywhere Work environments. They have a strong focus on enhancing the digital employee experience (DEX). Established in 1985, Ivanti is headquartered in South Jordan, Utah, and takes pride in its dedicated workforce of approximately 2,500 to 4,999 professionals.
What users like from Ivanti Neurons
According to reliable assessments such as Gartner's reviews, users from various industries, including IT Services, Healthcare and Biotech, and Finance, have expressed positive feedback regarding Ivanti Neurons for ITSM. Let's explore some of the advantages highlighted by customers.
Flexibility - Users appreciate the system's flexibility, which enables them to create individual group function modules and adjust workflows according to their requirements.
User-friendly interface - The system is praised for its intuitive and user-friendly nature, particularly in areas such as ticketing, equipment access, and call stacks.
Customization - Users highly value the extensive customization options Ivanti offers, allowing them to tailor the system to their specific needs.
Automation - The platform's automation capabilities are well-regarded by users, as they streamline processes and improve overall efficiency.
Customer service - Ivanti's customer service receives frequent commendation for its collaborative approach and understanding of customer needs.
Cost savings - Some users have observed that Ivanti offers cost savings compared to other similar products they have tested.
What users don't like from Ivanti Neurons
While users appreciate Ivanti's robust capabilities and transformative impact on their IT service environments, there are areas that could be improved, particularly related to the user interface and complexity. Based on analysis from reputable sources such as Gartner, let's explore some of the criticisms that have been mentioned.
Complex backend - Users have found the backend to be complicated, with options scattered across different areas, making navigation challenging.
Poor documentation - Users have criticized the outdated and insufficient documentation provided by Ivanti, requiring extensive hands-on training.
Limited integration - Certain users express frustration over the limited integration capabilities with other tools, making it more difficult to implement process improvements.
Lack of out-of-the-box features - Some users feel that Ivanti lacks certain features they would expect from a solution of this sophistication level.
Inadequate support - Some users have encountered difficulties with Ivanti's support function, including challenges in assigning the appropriate agent and identifying the root cause of problems.
Outdated appearance - Some users have mentioned that the product has an outdated look, which may impact the overall user experience.
What's Ivanti Neurons' argument over SolarWinds?
When comparing Ivanti Neurons and SolarWinds Service Desk, it's essential to understand the unique strengths and advantages that Ivanti Neurons brings. Let's explore Ivanti Neurons' arguments over SolarWinds and how it distinguishes itself in meeting the ITSM requirements of organizations.
Flexibility and customization - Ivanti Neurons offers exceptional flexibility, empowering users to create individual group function modules and adjust workflows according to their needs. The platform's extensive customization options allow organizations to tailor the system to their unique ITSM requirements, ensuring a personalized and adaptable solution.


Automation and efficiency - Ivanti Neurons stands out with its robust automation capabilities. Users appreciate the platform's automation opportunities, which streamline processes, reduce manual effort, and enhance overall efficiency. Organizations can optimize their workflows and allocate resources more effectively by automating repetitive tasks.


Cost savings - Users have recognized Ivanti Neurons for its potential cost savings compared to other similar products in the market. By implementing Ivanti Neurons, organizations can streamline operations, automate workflows, and improve resource utilization, resulting in long-term cost efficiencies.
Considering InvGate Service Desk as an ITSM solution alternative
While SolarWinds and Ivanti Neurons are recognized competitors in the ITSM industry, it is essential to explore alternative solutions that closely align with your organization's specific needs. In this regard, InvGate Service Desk emerges as a compelling choice worthy of thorough consideration.
Let's take a closer look at the beneficial features of InvGate Service Desk that make it an invaluable option for meeting your organization's ITSM needs.
Exceptional user experience
InvGate Service Desk prioritizes delivering an exceptional user experience through meticulous design and adherence to UI/UX best practices. Its intuitive interface promotes quick adoption and minimizes the need for extensive training, ensuring a user-friendly design that maximizes productivity.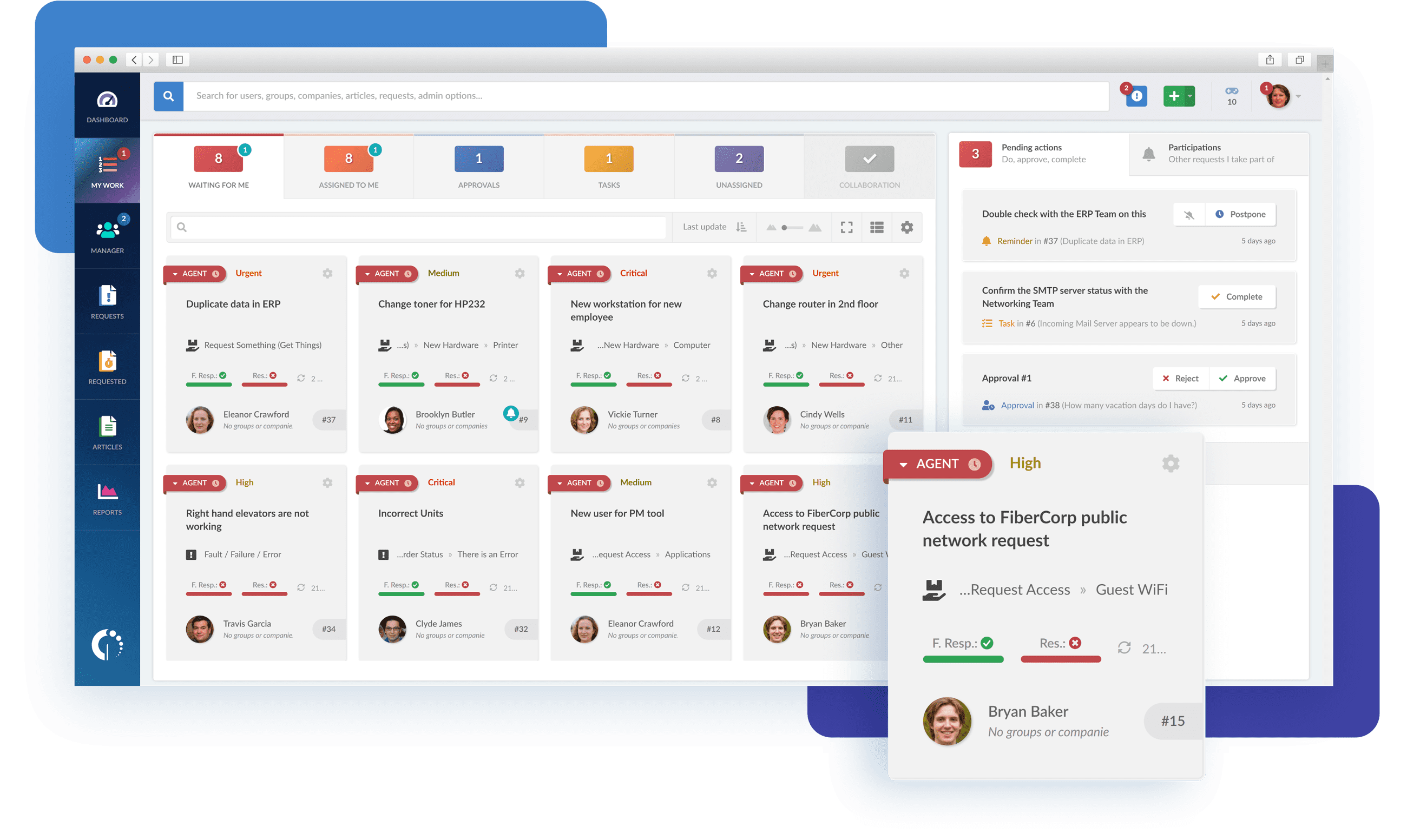 Robust Ticketing and Incident Management
InvGate Service Desk excels in providing powerful features for Ticketing and Incident Management, enabling efficient tracking, collaboration, and resolution of tickets. It empowers IT teams to effectively handle and prioritize incidents through automated ticket routing, customizable workflows, and SLA Management, thereby enhancing the efficiency of incident resolution processes.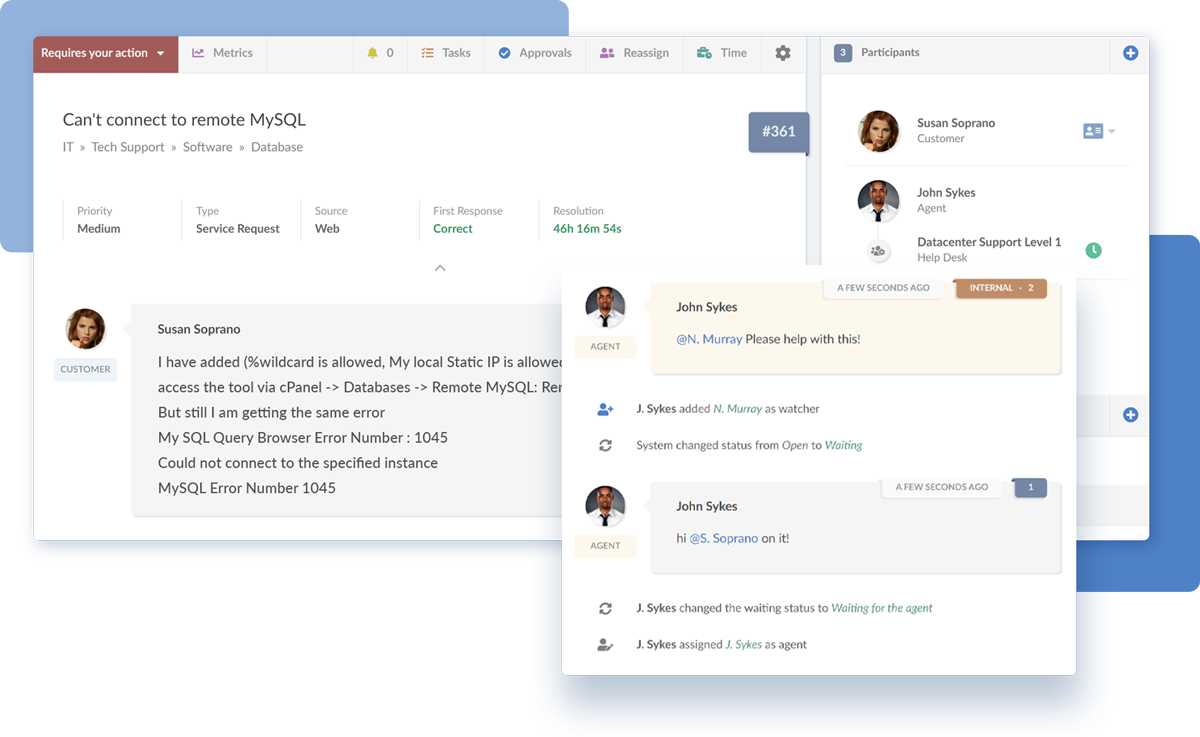 Simplified configuration and setup
InvGate Service Desk streamlines the configuration and setup process with a no-code/low-code approach. This simplifies the implementation of the system, enabling both novice and experienced users to adopt it without extensive technical expertise. The platform provides straightforward configuration options that allow organizations to leverage their robust ITSM capabilities quickly.
Customization and flexibility
InvGate Service Desk offers flexible deployment options, allowing organizations to choose between on-premise or cloud-based solutions. This adaptability ensures that the platform can cater to the specific requirements of different sectors and industries.
Designed for ITSM and ESM
InvGate Service Desk is purpose-built for ITSM while seamlessly extending its capabilities to Enterprise Service Management (ESM). It enables operational departments to enhance their processes and fully embrace the benefits of digital transformation, promoting streamlined workflows and comprehensive digital initiatives across all departments.
Extensive reporting and analytics
InvGate Service Desk offers comprehensive reporting and analytics functionalities, enabling organizations to gain valuable insights into their IT operations and performance. The platform provides ready-to-use reports and customizable dashboards, empowering IT teams to analyze data, identify patterns, and make informed decisions to enhance their services.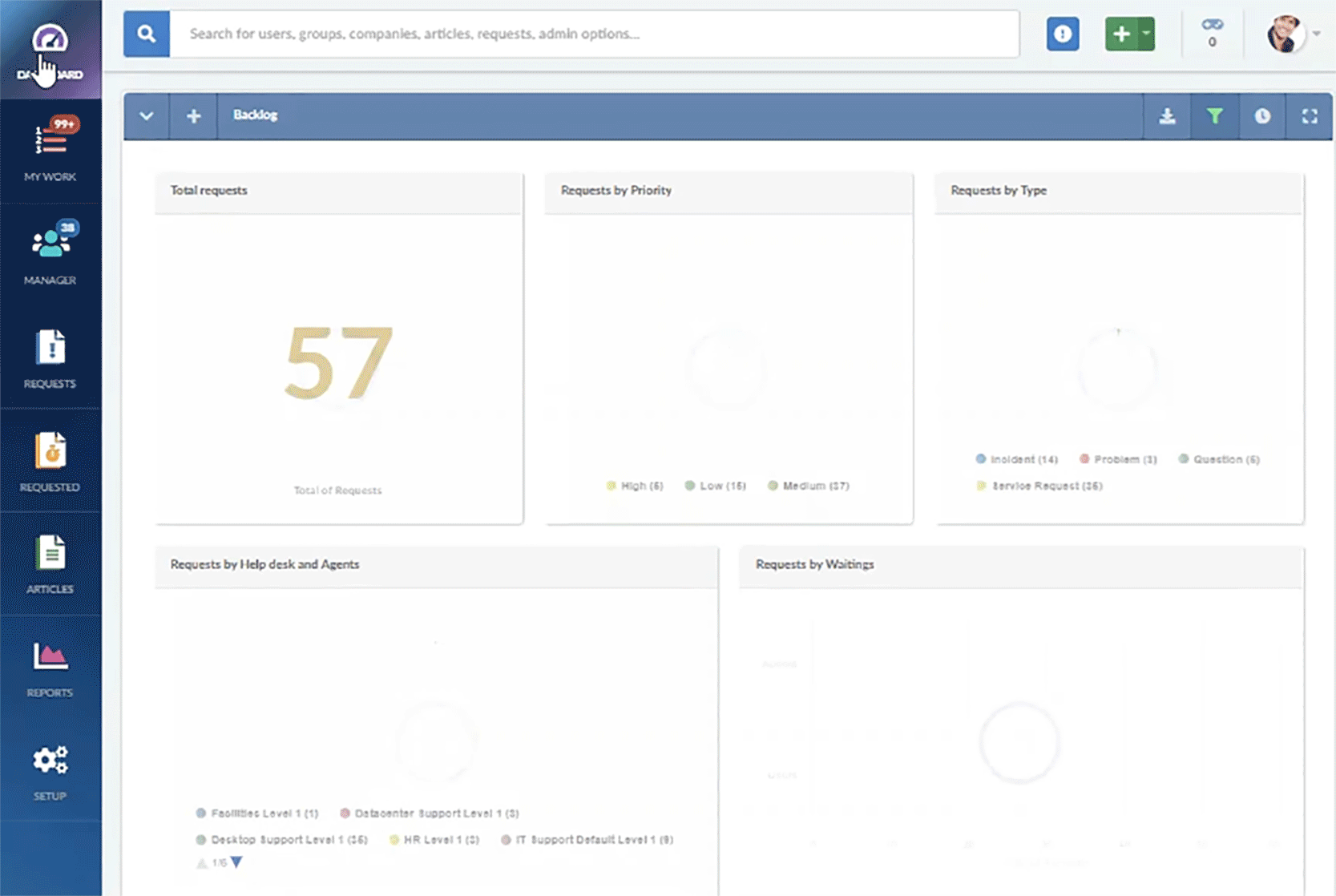 Comprehensive Asset Management
By integrating InvGate Service Desk with InvGate Insight, organizations gain a holistic view of their IT ecosystem, leading to improved service delivery and reduced downtime. InvGate Insight provides a range of features, including IT Asset Discovery, Inventory Management, Software License Management, and maintenance schedules.
Robust self-service capabilities
InvGate Service Desk offers a user-friendly portal, an extensive IT service catalog, and a knowledge base, empowering end-users to independently resolve common issues, access IT services, and utilize self-help resources. This reduces the burden on IT staff.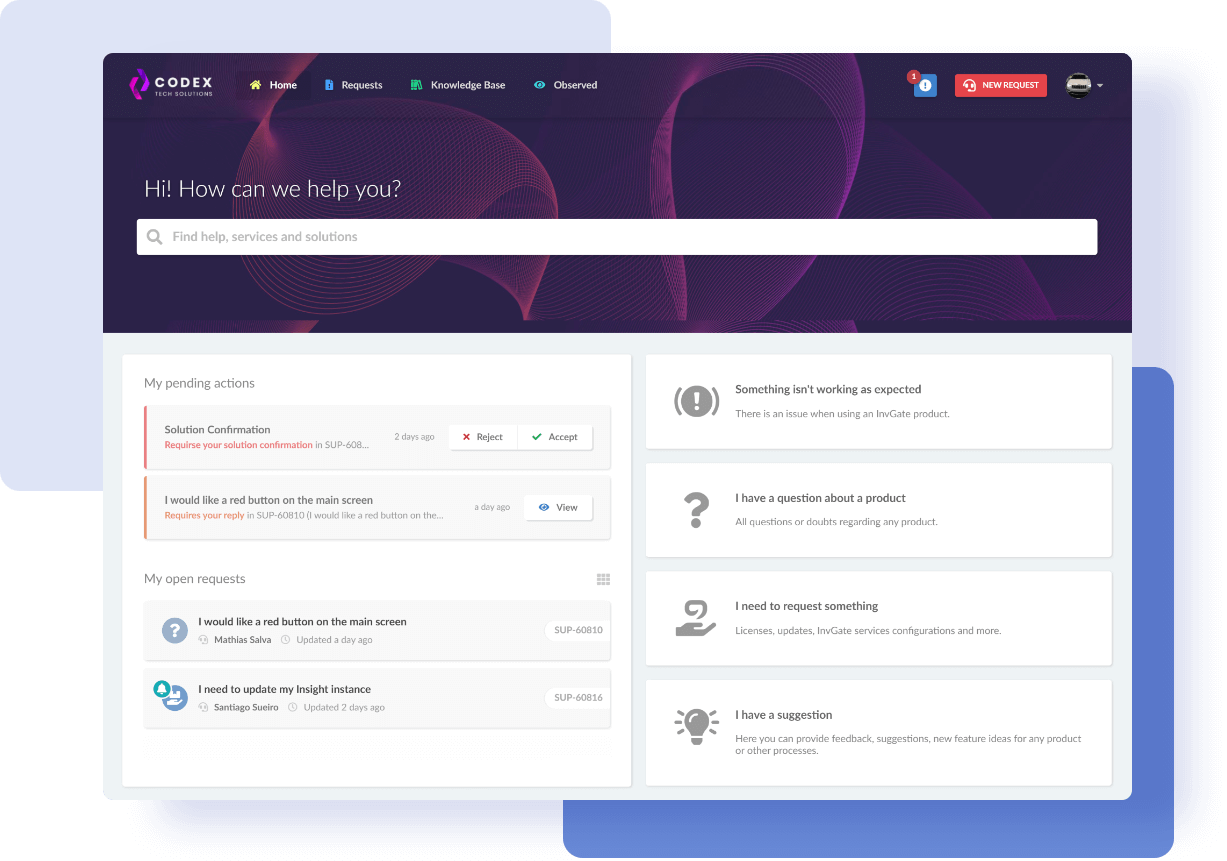 Cost-effective solution
InvGate Service Desk provides a cost-effective solution without compromising functionality. It offers a comprehensive range of ITSM features at a competitive price, making it an appealing choice for organizations seeking affordability without sacrificing capabilities. Compared to alternatives like SolarWinds and Ivanti Neurons, InvGate Service Desk strikes a balance between cost and functionality.
ITIL-certified readiness
InvGate Service Desk has obtained the esteemed ITIL4 certification from PINK Elephant, demonstrating its commitment to upholding ITSM excellence. Whether organizations are starting their ITIL journey or managing complex operations, InvGate Service Desk offers a user-friendly and feature-rich experience aligned with industry best practices.
Fast ROI and ongoing innovation
InvGate Service Desk ensures a fast Return On Investment through efficient implementation processes. Within weeks, organizations can begin experiencing the benefits of this robust ITSM solution. Additionally, regular feature updates keep users at the forefront of technology without incurring additional costs.
Next steps
In the quest to find the ideal ITSM solution for your organization, the decision between SolarWinds vs. Ivanti Neurons can be challenging. However, an alternative stands out amidst the comparisons: InvGate Service Desk. This powerful solution provides streamlined functionalities and a dedicated focus on digital transformation, giving organizations a distinct opportunity to enhance their IT operations and overall efficiency.
Explore our live demo to grasp the advantages and witness the impact firsthand. Discover how this exceptional solution can revolutionize your business operations, streamline your IT services, and empower your team to deliver unparalleled support. Make an informed choice that propels your organization toward success!