Are you currently facing the challenge of choosing between ServiceNow Software Asset Management vs. Flexera One for your organization's IT Asset Management (ITAM) needs? Selecting the right ITAM solution is a pivotal decision that can profoundly impact your business operations' efficiency and overall success.
In this blog post, we'll embark on a detailed exploration of these two prominent ITAM tools. The goal is to provide an in-depth ITAM software comparison that delves into their features, advantages, and potential limitations.
However, that's not the whole story – we're introducing a third player into the arena: InvGate Insight. With its unique array of functionalities and capabilities, InvGate Insight brings a fresh perspective to the table, promising to differentiate itself in the ever-evolving landscape.
Keep reading to unveil the tools that have the potential to reshape and revolutionize your ITAM strategies.
Most looked-at features by buyers
When evaluating IT Asset Management options, prospective buyers consider a variety of critical capabilities to select the most appropriate solution to meet their specific needs and business requirements.
The following are the primary considerations that buyers ponder when selecting a personalized ITAM solution for their organization.
What is ServiceNow Software Asset Management?
ServiceNow's Software Asset Management (SAM) capabilities equip organizations with the tools to manage risk, reduce spending, and automate the software lifecycle, all within a unified framework. ServiceNow empowers enterprises to optimize their software assets, reduce costs, and effectively oversee their software operations by streamlining Asset Management, offering adaptable features, and giving precedence to security and compliance with regulations.
Established in 2004 and headquartered in Santa Clara, California, ServiceNow delivers an extensive array of cloud-based solutions tailored to cater to diverse corporate needs. Their solutions encompass a wide spectrum of domains, including IT Service Management, IT Operations Management, IT Business Management, Customer Service Management, Human Resources Service Delivery, Security Operations, and more.
What users like from ServiceNow Software Asset Management
ServiceNow's Software Asset Management capabilities have gained extensive acknowledgment and favorable feedback from reputable sources like Gartner. Users have highlighted a range of advantages, including:
User-friendly interface - The platform boasts an intuitive and user-centric interface, enabling users to navigate seamlessly and quickly grasp its features. This design tailored to user requirements fosters smooth interaction and swift familiarity with the platform.
Improved asset discovery and Inventory Management - ServiceNow's Software Asset Management simplifies the process of identifying assets and handling inventory, resulting in enhanced asset tracking and adherence to compliance standards. This attribute contributes to a more effective organizational structure and heightened asset control.
Streamlined workflows - Users have expressed satisfaction with the tool's ability to automate tasks and optimize employee provisioning. This functionality strengthens the efficiency of IT processes, leading to overall enhancements in operational efficiency.
Effective Risk Management - Users underscore the significant benefits of ServiceNow's risk mitigation functionalities. These elements offer valuable insights, especially critical for legal and compliance objectives. This ensures organizations can adeptly manage risks and arrive at well-informed decisions.
What users don't like from ServiceNow Software Asset Management
While ServiceNow's SAM has a number of strengths and advantages, it is not immune to customer concerns and criticisms. Here are some common issues raised by users in evaluations conducted by reputable sources such as Gartner:
Cost considerations - Concerns arise over the costs associated with the platform, especially for medium and small-sized enterprises. This financial aspect can pose challenges in achieving complete implementation and procuring the platform, affecting the feasibility of its adoption for these businesses.
Complexity - Some users encounter intricacy when engaging with ServiceNow SAM, necessitating a significant time investment to understand and navigate its intricacies fully.
Insufficient documentation - Users desire more comprehensive documentation, particularly concerning the end-user experience and comprehension of software normalization processes. Improved documentation would assist users in leveraging the platform's capabilities more effectively.
Functional constraints - Certain users point out that the tool has limitations in specific aspects of its functionality, potentially rendering it inadequate for managing complex software licensing scenarios.
What's ServiceNow Software Asset Management's argument over Flexera One?
Several distinct advantages come to light when assessing ServiceNow's strengths in SAM. Here are this platform's unique attributes:
User-friendly interface - ServiceNow SAM stands out with its intuitive and user-centric interface, enabling users to navigate effortlessly and swiftly grasp its functionalities.


Enhanced asset discovery and Inventory Management - ServiceNow SAM offers an optimized approach to identifying and managing assets, resulting in improved asset tracking and streamlined compliance efforts.


Streamlined workflow - ServiceNow SAM's ability to automate tasks and optimize employee provisioning has resonated positively with users, resulting in more efficient IT processes.


Effective Risk Management - ServiceNow's SAM includes robust risk mitigation features that provide valuable insights, particularly critical for legal and compliance requirements.
What is Flexera One?
Flexera One, developed by Flexera, is a Software as a Service (SaaS) solution that combines IT Asset Management and Software Asset Management. This integrated approach involves presenting a unified and centralized view of IT assets across on-premises, cloud, and edge environments.
This platform assists businesses in simplifying their IT expenses, supervising and reinforcing cloud infrastructure, reducing risks, ensuring compliance with regulations, and providing valuable insights and analytics.
Flexera, previously recognized as InstallShield before being rebranded in 2009, is a company specializing in solutions for managing technology assets. With its headquarters in Itasca, Illinois, United States, Flexera has been at the forefront of offering comprehensive technology solutions since its establishment in 1987. Their services encompass Software and Hardware Asset Management, Cloud Expenditure Optimization, Vulnerability Management, and Compliance with Open Source Software.
What users like from Flexera One
Flexera One has been recognized by customers, as evidenced by reviews from reputable sources such as Gartner. Let's take a closer look at the specific benefits that have been highlighted.
User-friendly with extensive clarity - The product's intuitive interface and streamlined navigation contribute to its ease of understanding and operation. Additionally, Flexera One provides significant clarity, interpretation, and coverage of software usage.
Enabling vital business processes and decisions - Users have underscored Flexera One's capacity to offer valuable insights into software that enhance critical business processes and decision-making.
Responsiveness to business requirements - Flexera One has received widespread praise as an exceptional tool for Software Asset Management that effectively caters to the distinct needs of businesses. The software has demonstrated its ability to adapt to user requirements, ensuring a seamless and personalized experience.
Exceptional customer support - Users have expressed satisfaction with the prompt help they've received and the attentive approach of Flexera One's support team.
What users don't like from Flexera One
In spite of the various strengths and positive qualities associated with Flexera One, it is not exempt from the concerns and criticisms voiced by its users. Reviews from reputable sources such as Gartner have shed light on ongoing issues that users have raised.
Challenges in system configuration - Several customers have recounted instances of encountering difficulties during the initial setup of the system, even with guidance from Flexera's support team. Despite seeking help, users have faced obstacles, highlighting the need for improvements in the setup procedure.
Reiteration of challenges and prolonged conflict resolution - Users have expressed dissatisfaction with the time taken to address issues, which impacts their workflow efficiency. Addressing these recurring problems and enhancing the resolution process would enhance the overall user experience.
Complexity in configuring licensing models - The complexity of gaining accurate licensing insight can be challenging and could benefit from a more streamlined and simplified approach.
Issues with support team interaction and data accuracy concerns - Certain users have faced challenges when communicating with Flexera's support team. Additionally, concerns have been raised about the precision of the provided data.
What's Flexera One's argument over ServiceNow Software Asset Management?
When analyzing the strengths and unique selling points of Flexera One in comparison to ServiceNow Software Asset Management, several compelling arguments come to the forefront.
Deep insights for informed decision-making - Flexera One goes beyond merely managing software licenses. It empowers businesses with valuable insights derived from software usage data. These insights are pivotal in shaping critical business decisions and optimizing operational processes.


User-centric interface and usability - Flexera One has been recognized for its user-friendly interface allowing easy navigation and interaction. Users have praised its intuitive design, contributing to faster adoption and smoother usage.


Tailored solutions for business needs - Flexera One has been recognized for its ability to cater to the specific requirements of businesses, making it a flexible and adaptable SAM solution.


Exceptional customer support - Flexera One has consistently received praise for its top-notch customer support services. Users have highlighted the responsive and attentive approach of the support team, which contributes to a sense of being heard and valued.
Considering InvGate Insight as an ITAM solution alternative
For organizations seeking customized solutions to effectively handle their IT assets in a manner tailored to their specific requirements, InvGate Insight emerges as a compelling option. This robust ITAM solution presents an array of features and functionalities that position it as a viable choice for optimizing processes related to managing assets. Let's delve into its key attributes.
Optimized software efficiency and reduced costs
InvGate Insight equips organizations with the ability to identify and quantify the utilization of paid software, facilitating effective Software Management. By attaining insight into software usage, unused licenses can be redistributed, superfluous costs minimized, and returns on IT investments maximized. This optimization of software efficiency empowers organizations to derive optimal value from their software assets.
A holistic view of IT operations through native service desk integration
By seamlessly integrating with InvGate Service Desk, InvGate Insight establishes an innate connection between tickets, devices, and personnel. This integration furnishes a comprehensive 360° perspective of IT operations, streamlining management processes. By associating service tickets with pertinent assets and individuals, workflows are optimized, communication is elevated, and issue resolution is enhanced.
Enhanced Management of IT Assets and Inventory
InvGate Insight simplifies both IT and non-IT Asset Management by seamlessly amalgamating data from diverse sources, encompassing major operating systems, cloud service providers (such as AWS, Google, and Azure), and Mobile Device Managers (MDMs) like JAMF and Google Endpoint Manager. This integration streamlines asset, location, and personnel management, ultimately conserving time and offering an all-encompassing view of the infrastructure.
Flexible deployment alternatives to accommodate unique demands
Recognizing the wide spectrum of organizational needs and industry regulations, InvGate Insight provides adaptable deployment choices. This flexibility empowers organizations to select between cloud-based or on-premise solutions, ensuring alignment with individual needs and compliance standards.
Comprehensive insights into the IT infrastructure
With its robust array of features, InvGate Insight furnishes comprehensive and actionable insights into IT assets, encompassing their status and utilization. This depth of comprehension empowers efficient management and optimization of the infrastructure, resulting in heightened operational efficiency.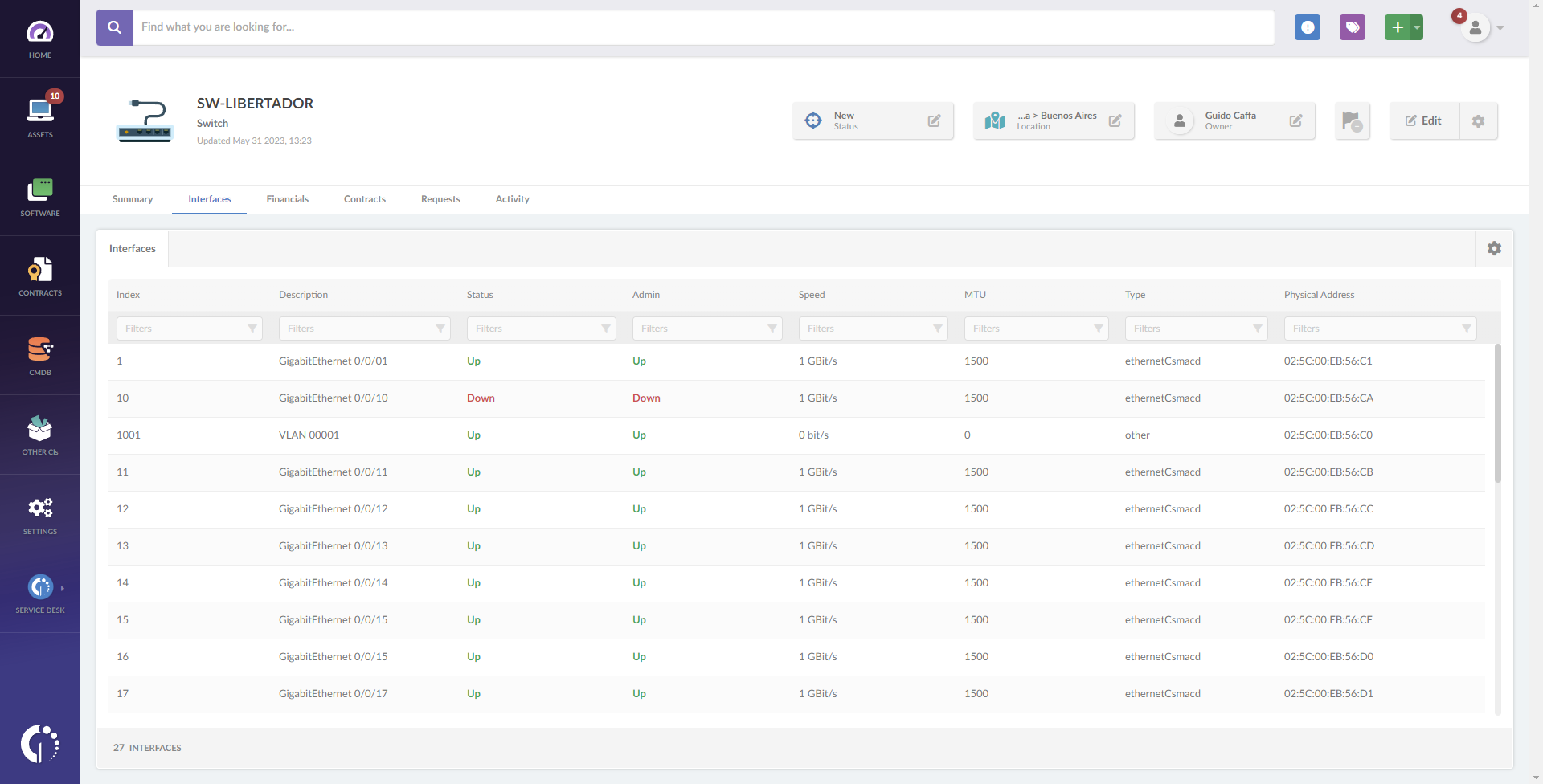 Enhanced cybersecurity compliance through asset monitoring
InvGate Insight bolsters cybersecurity compliance via its asset monitoring capabilities, instituting and enforcing device health rules. Swift identification of non-compliance instances facilitates prompt corrective action, ensuring adherence to cybersecurity policies and safeguarding the IT environment.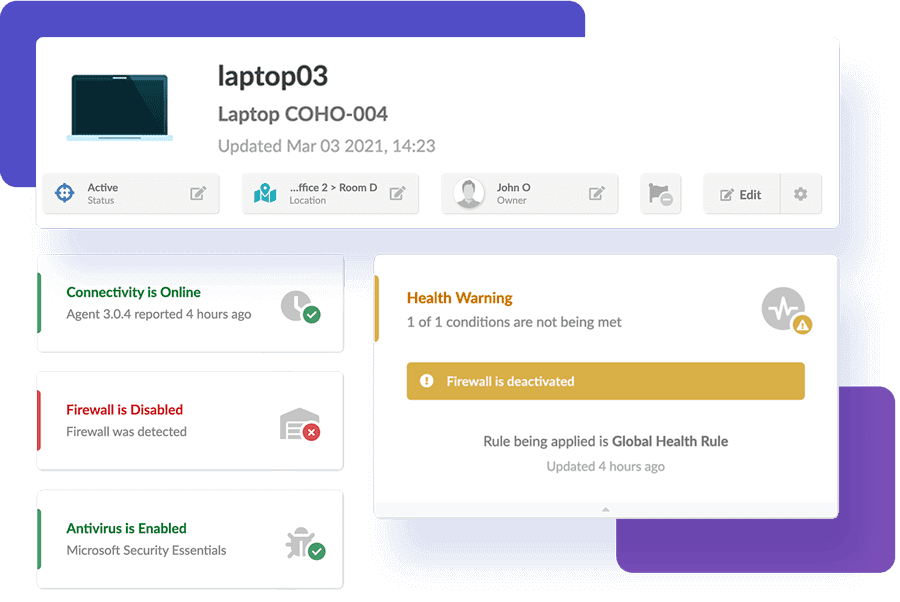 Effortless remote management through built-in integration
InvGate Insight boasts smooth integration with popular remote desktop tools such as Windows Remote Desktop, TeamViewer, AnyDesk, and VNC. This integration amplifies remote management capabilities, granting direct device access for troubleshooting and maintenance. With this seamless remote access, organizations can effectively address IT issues, carry out necessary maintenance tasks, and ensure uninterrupted operations.
Enhanced operational efficiency via automation and alerts
InvGate Insight heightens operational efficiency through the implementation of automation and alert mechanisms. This proactive approach to IT management involves configuring automated alerts to oversee contract expirations and promptly inform pertinent stakeholders. This automation reduces manual exertions, mitigates the risk of oversights, and focuses attention on critical tasks, thus augmenting overall efficiency.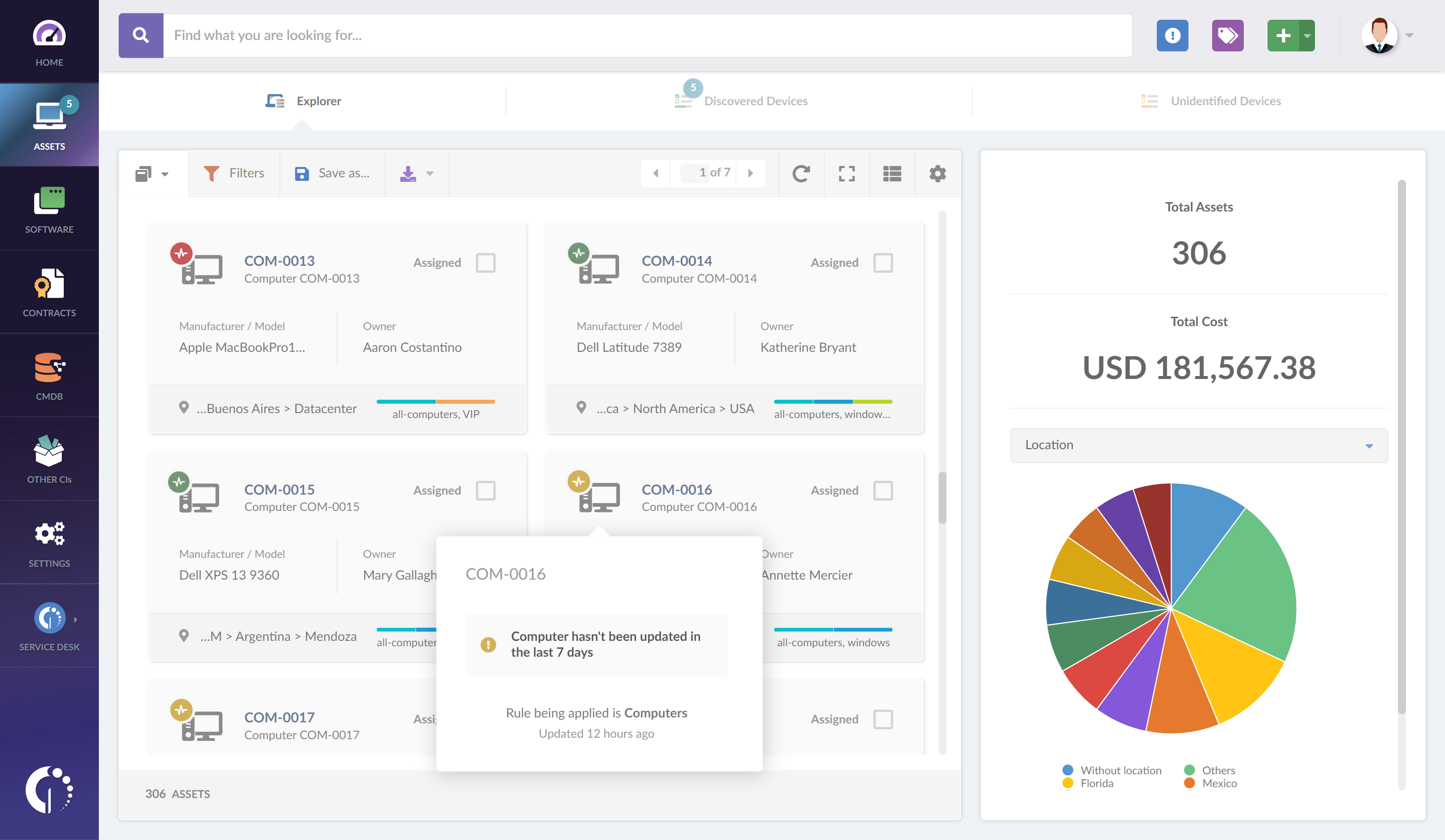 Proactive control of operational costs
InvGate Insight empowers organizations by seamlessly integrating financial data, contracts, licenses, and essential information into its system. This seamless integration offers a thorough comprehension of operational costs, facilitating informed and proactive financial decision-making. This approach amplifies budget allocation and maximizes returns on IT investments.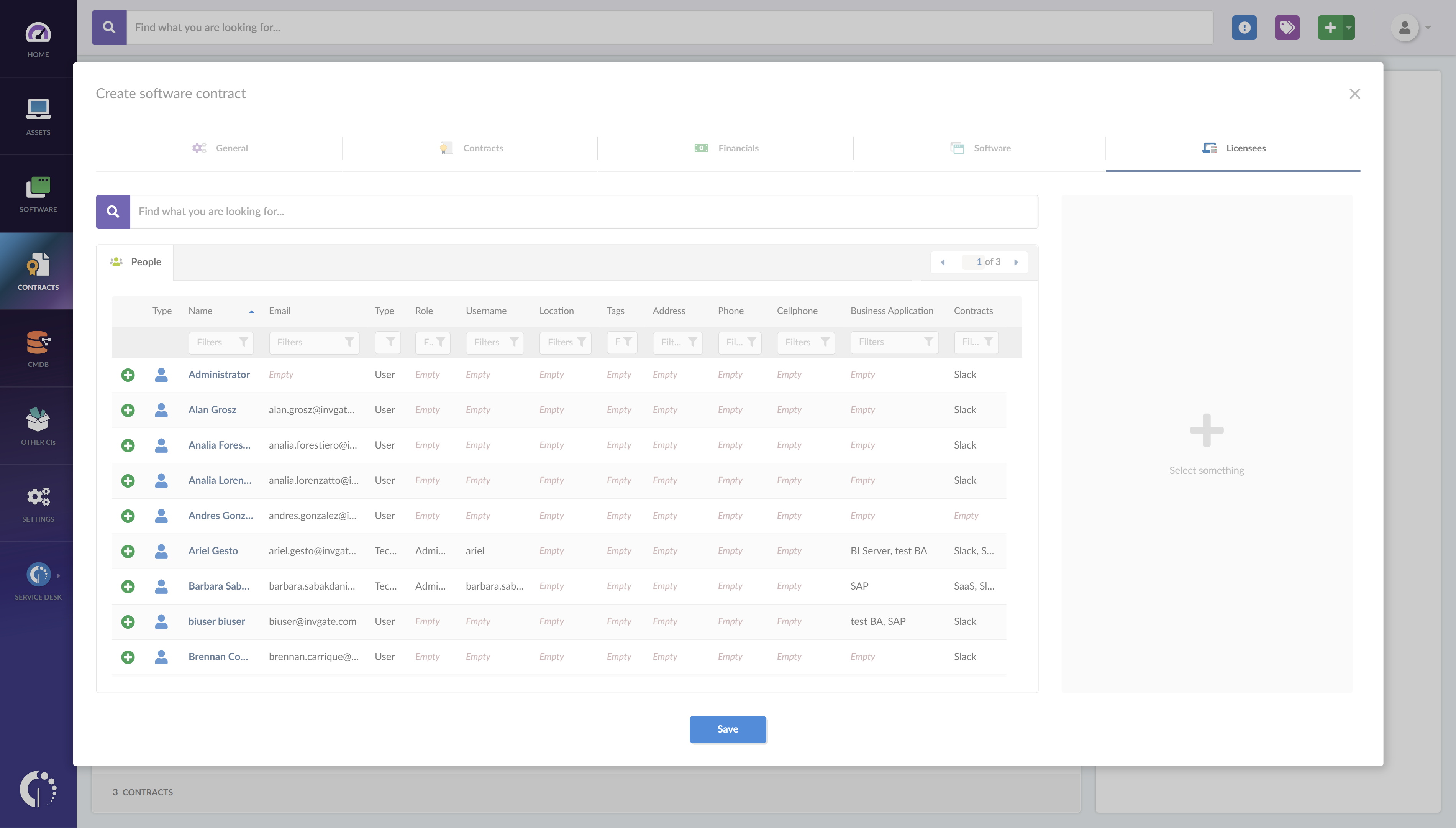 Next steps
The ServiceNow Software Asset Management vs. Flexera One comparison has provided valuable insights into these two prominent contenders.
However, the landscape is rich with options, and making the right selection can significantly impact your operational efficiency and overall success. Exploring alternatives, such as InvGate Insight, can further enhance your understanding of available options, ensuring you find the perfect fit for your organization's unique requirements.
Explore our live demo and unlock the potential of optimized technology management with InvGate Insight.