Calling all Lansweeper users! Now, you can expand your IT Service Management (ITSM) capabilities by integrating InvGate Service Desk with Lansweeper.
This powerful pairing unlocks new possibilities for streamlining your IT operations, broadening your visibility, and delivering rapid, superior service.
Want to know more? Let's dive right in!
Why integrate InvGate Service Desk and Lansweeper?
As you know, Lansweeper is an IT Asset Management (ITAM) tool that allows businesses to manage and track their IT inventory. However, on its own, it lacks ITSM capabilities since it wasn't designed to provide them. But this ITSM and ITAM software integration comes to the rescue.
We're delighted to announce a powerful combination of both tools for you to improve your service delivery capabilities, productivity, and unprecedented customization.
The power of combining ITSM and ITAM
ITSM and IT Asset Management (ITAM) are meant to work together. Of course, they're valuable used separately, but when combining a service desk with an asset manager, you unlock a whole new world of possibilities in both areas of work.
In order to manage an IT environment effectively, you need to keep track of all the moving parts. Service delivery and asset tracking are deeply interconnected and share information and resources in order to work properly. And in there lies the power of the InvGate Service Desk and Lansweeper integration. By linking the two, you'll have a single pane of glass to view and manage your IT service requests and IT assets.
The benefits of combining InvGate Service Desk and Lansweeper
As you know, Lansweeper is an ITAM tool that allows businesses to manage and track their IT inventory. However, on its own, it lacks ITSM capabilities since it wasn't designed to provide them. But this ITSM and ITAM software integration comes to the rescue.
Let's explore exactly what this powerful combination will bring you to improve your service delivery capabilities:
Automated asset data import - Automatically incorporate your Lansweeper assets and their relations within your InvGate Service Desk instance, and get access to all this data directly from its interface.


Faster incident resolution times - Agents and users can easily see linked assets inside each request, offering deeper insight into the resources involved. This way, they will get easy access to the needed asset data to solve the request.


Improved

Change

and

Problem Management

- By combining Lansweeper's IT asset data with InvGate Service Desk's Change and Problem Management capabilities, you'll be able to address recurring issues proactively.


Advanced search capabilities - Agents can quickly find the tickets related with assets through the comprehensive search engine.


Efficient reporting - Include Lansweeper's asset data in your InvGate Service Desk

reports and dashboards

for better decision-making. This integration provides enhanced visibility into each request, highlighting the full context of any associated assets.
InvGate and Lansweeper integration setup
Running the InvGate Service Desk and Lansweeper integration consists of two main steps: the integration configuration and the connection setup.
Let's go through the step-by-step process.
1. Integration configuration
Because this is a native integration, the configuration is made directly from the Integrations module in your InvGate Service Desk instance.
To start the process, you have to first make sure you're logged in as an administrator. Then, go to "Settings" and navigate to Integrations >> Asset Management. Finally, click on the "Add" button to initiate the integration configuration process.
Once there, complete the following fields:
Choose "Lansweeper" as the application to use.
Provide a name for this configuration.
Select the categories in which you want related Configuration Items to be displayed.
Decide which end-users can link Configuration Items and search for them.
2. Connection setup
The next step consists in setting up the connection. For this, log in as an administrator in Lansweeper, create a new application to enable API data access, and gather the necessary data for integration setup:
Site ID: Located in Lansweeper's Configuration >> Site Settings >> Site ID.
Redirect URL: This URL is utilized for creating the application in Lansweeper.
Application ID: Retrieved from the document downloaded after clicking the "Refresh secret" button in Lansweeper.
Client Secret: Password associated with the application.
With this information, you have to request the application access token within InvGate Service Desk. To do so, select the relevant Lansweeper site (where the application was generated) and click "Allow" to authorize access.
Finally, to complete the configuration, input the collected data into the corresponding fields in the InvGate Service Desk configuration page. Then, test it to validate the connection and, once confirmed, save the changes.
And there you go, you'll have your ITSM processes integrated with your ITAM data!
What does the integration look like?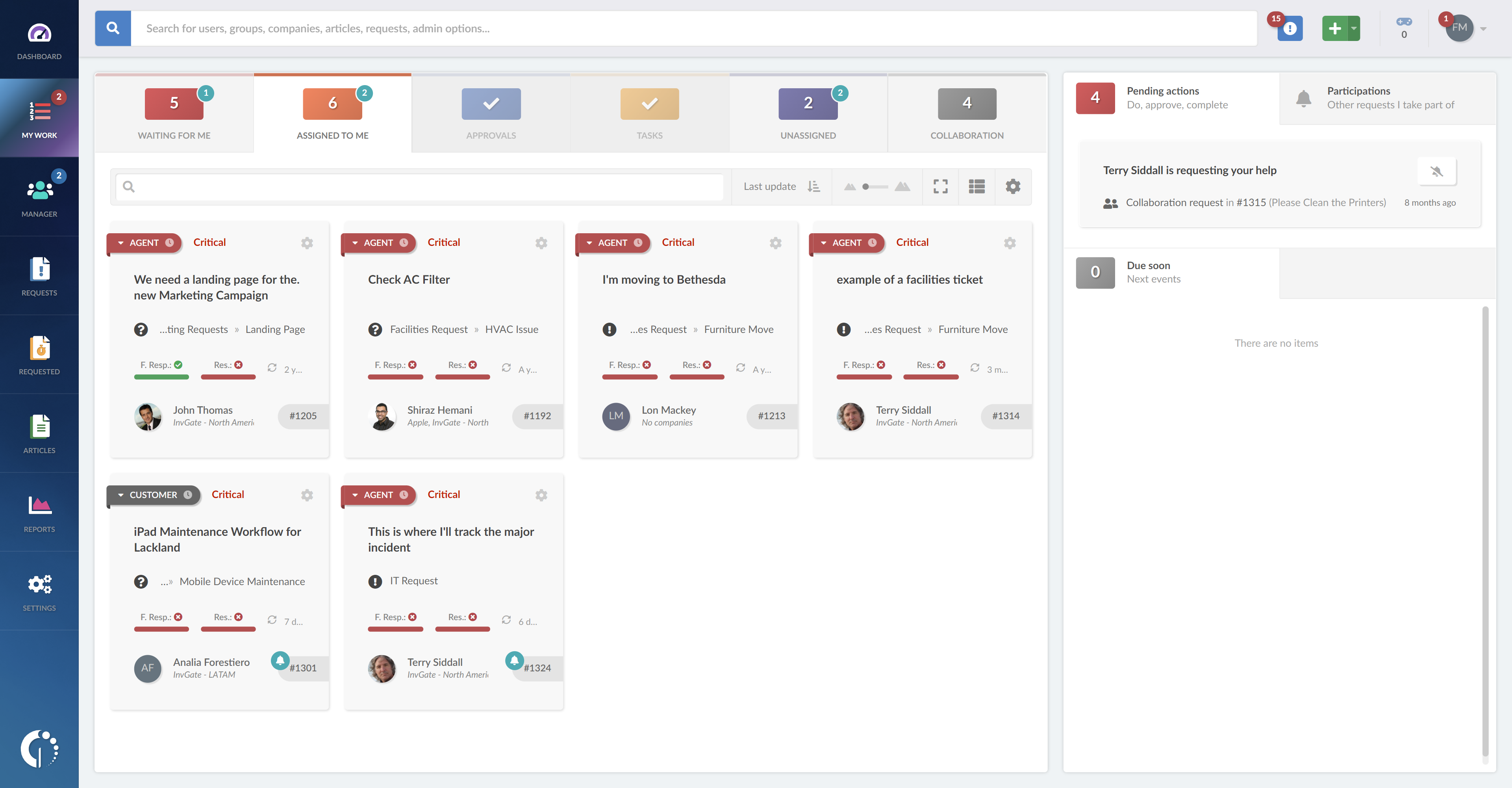 We've already seen how combining both ITAM and ITSM processes can help you boost overall IT operations, but let's take a look at what this integration really looks like in practice and how it can benefit both your agents' work and end-users' experience.
First and foremost, once it is up and running, agents won't have to go back and forth from one tool to another to get the data they need and complete their tasks. This will help both improve user experience and enhance productivity.
So, when they receive a ticket on InvGate Service Desk, they will have clear access not only to that ticket's relevant information (i.e. category, priority, type, source, SLAs, knowledge articles, shortcuts to actions), but also to the assets related to it.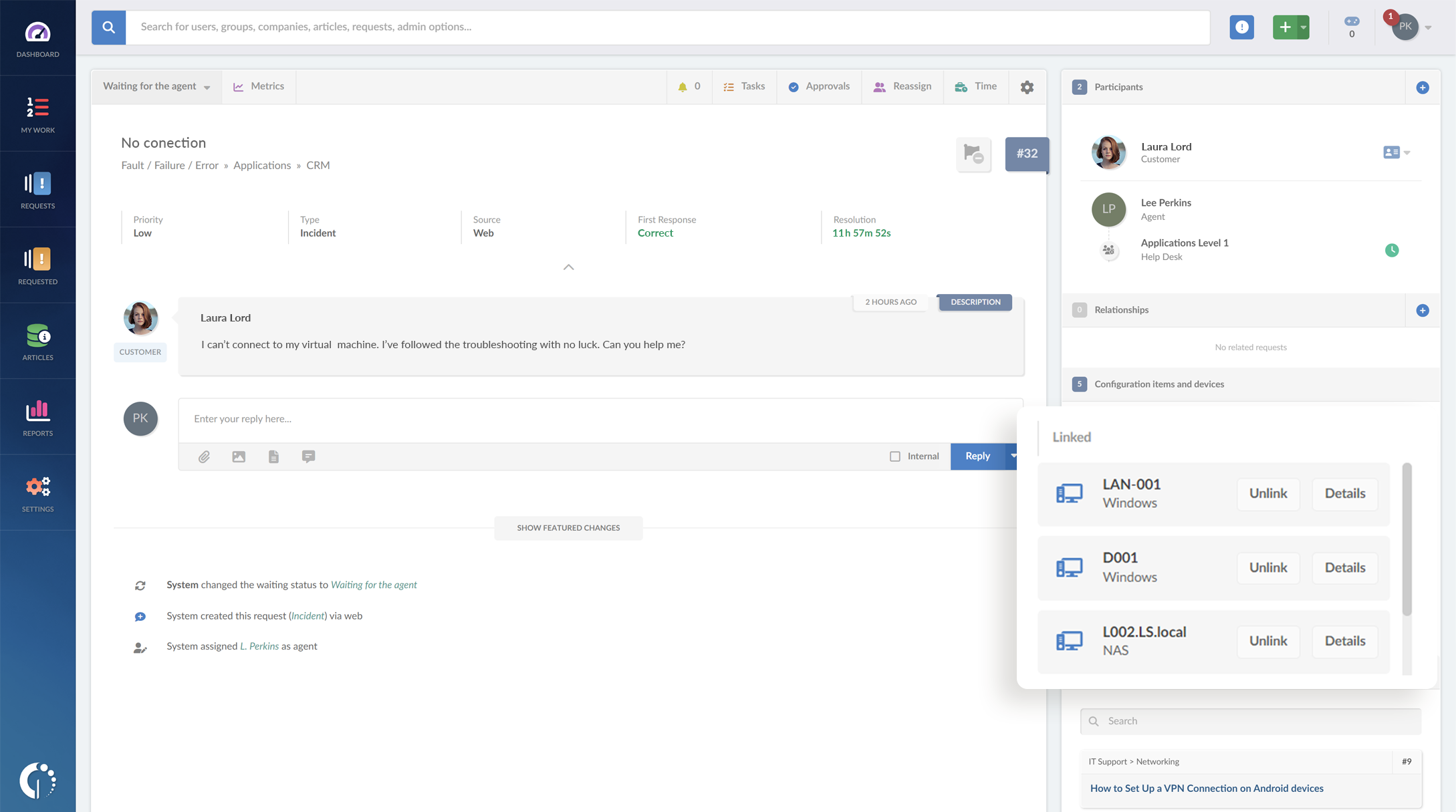 At the same time, with a single click, agents get access to relevant information of those linked assets, including details of its hardware and software. These insights can further help them solve the issue more efficiently, or triage the ticket when needed. If they require any additional data, they can also go to the asset's profile on Lansweeper through a shortcut in the request.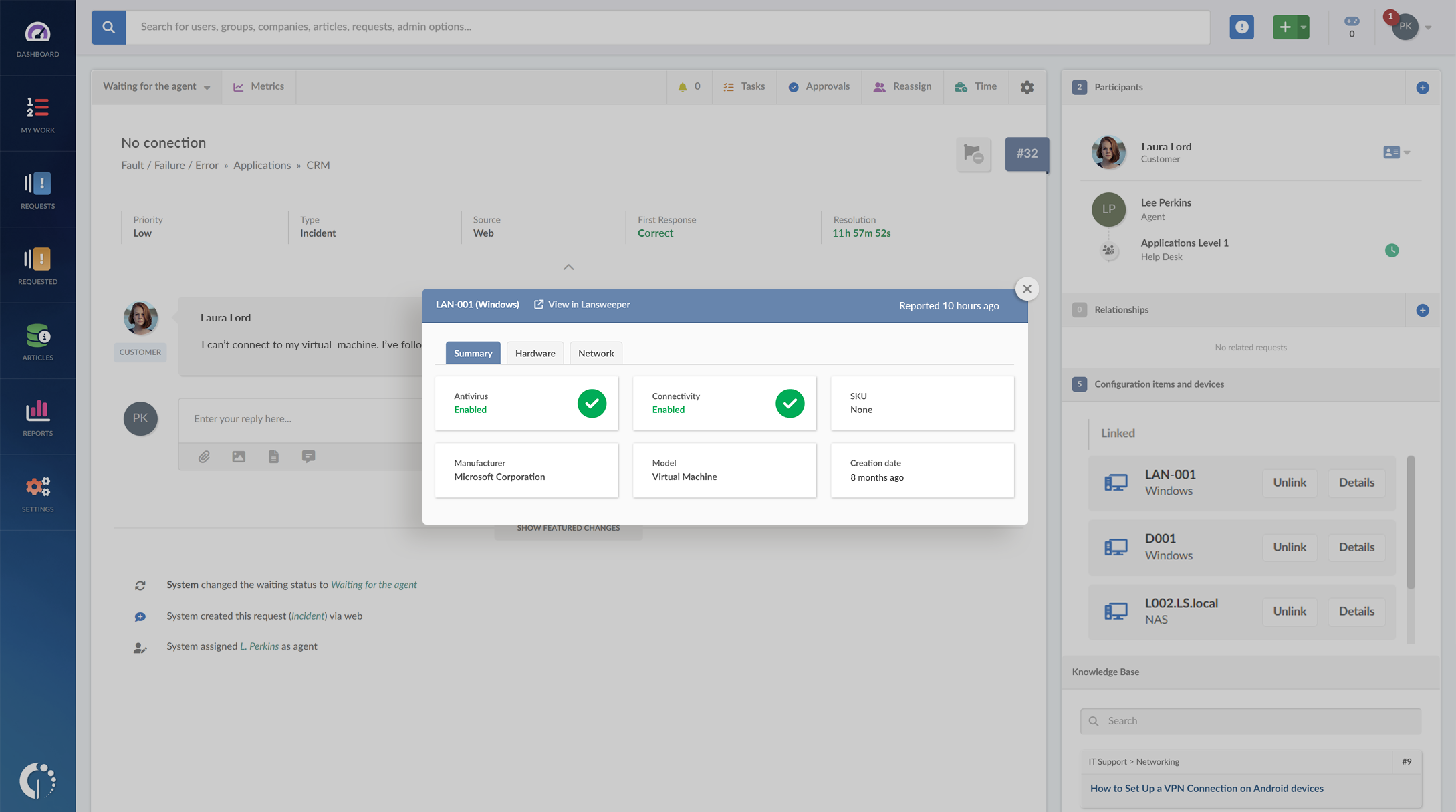 Finally, this integration enhances InvGate Service Desk's reporting capabilities, to help managers analyze their IT support team's performance. You can add variables related to your organization's Asset Management, such as the assets with the most associated tickets or the most common issues linked to a certain asset type. This broader view can help to identify possible bigger issues and address their root causes
InvGate Service Desk migration: 5 features to supercharge your ITSM
If you're looking for a Lansweeper help desk integration, you don't need to look further. InvGate Service Desk will not only cover all your ITSM needs, but it'll make the migration process simple and smooth.
With just a few clicks, you can migrate all your data and have the basic setup up and running in just a day. After that, our implementation period to use InvGate Service Desk ITSM capabilities at total capacity is 2 to 4 weeks.
Once it's up and running, you'll be able to enjoy some extra benefits that will optimize your service operations. From Ticket Management to ITSM analytics, automated workflows, and a user-friendly self-service portal, InvGate Service Desk is the comprehensive solution that supports your IT team's productivity and enhances customer satisfaction.
Ticket Management for improved efficiency and collaboration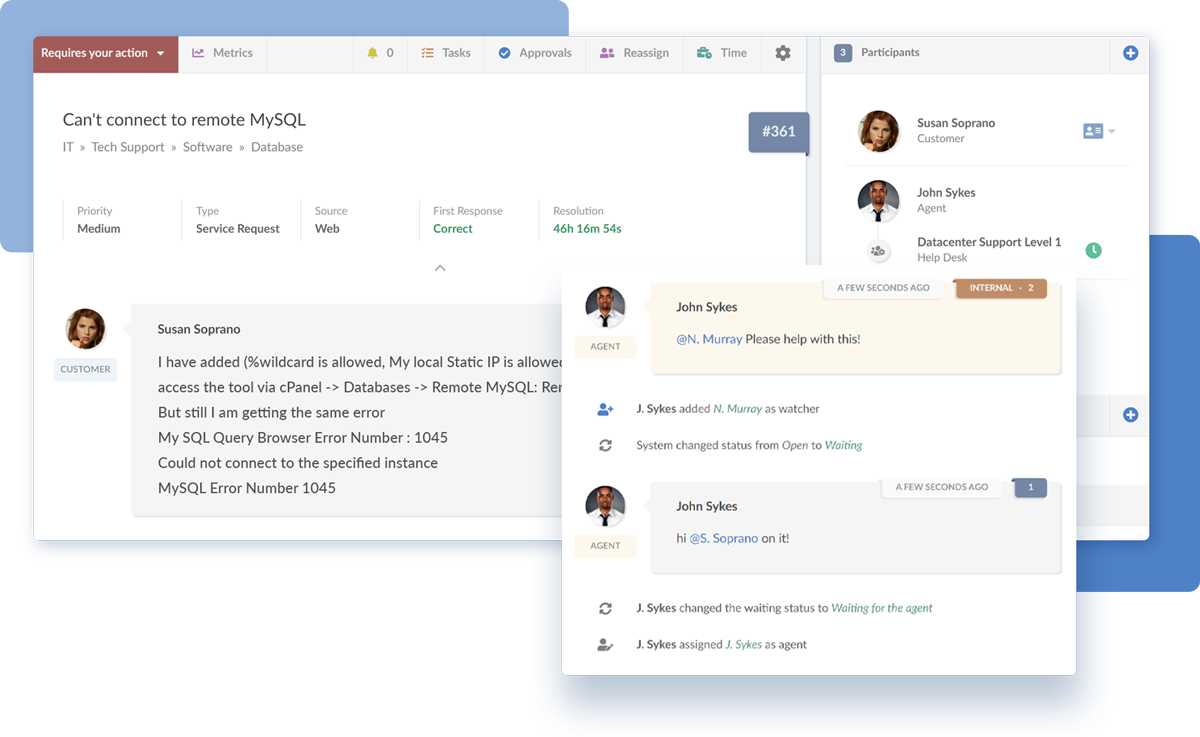 InvGate Service Desk provides a comprehensive Ticket Management solution that empowers agents to prioritize and organize their work effectively. With an intuitive, modern user interface, agents can easily track requests that need attention and improve collaboration with complete visibility of ticket changes, linked requests, and configuration items.
ITSM analytics for clear, actionable insights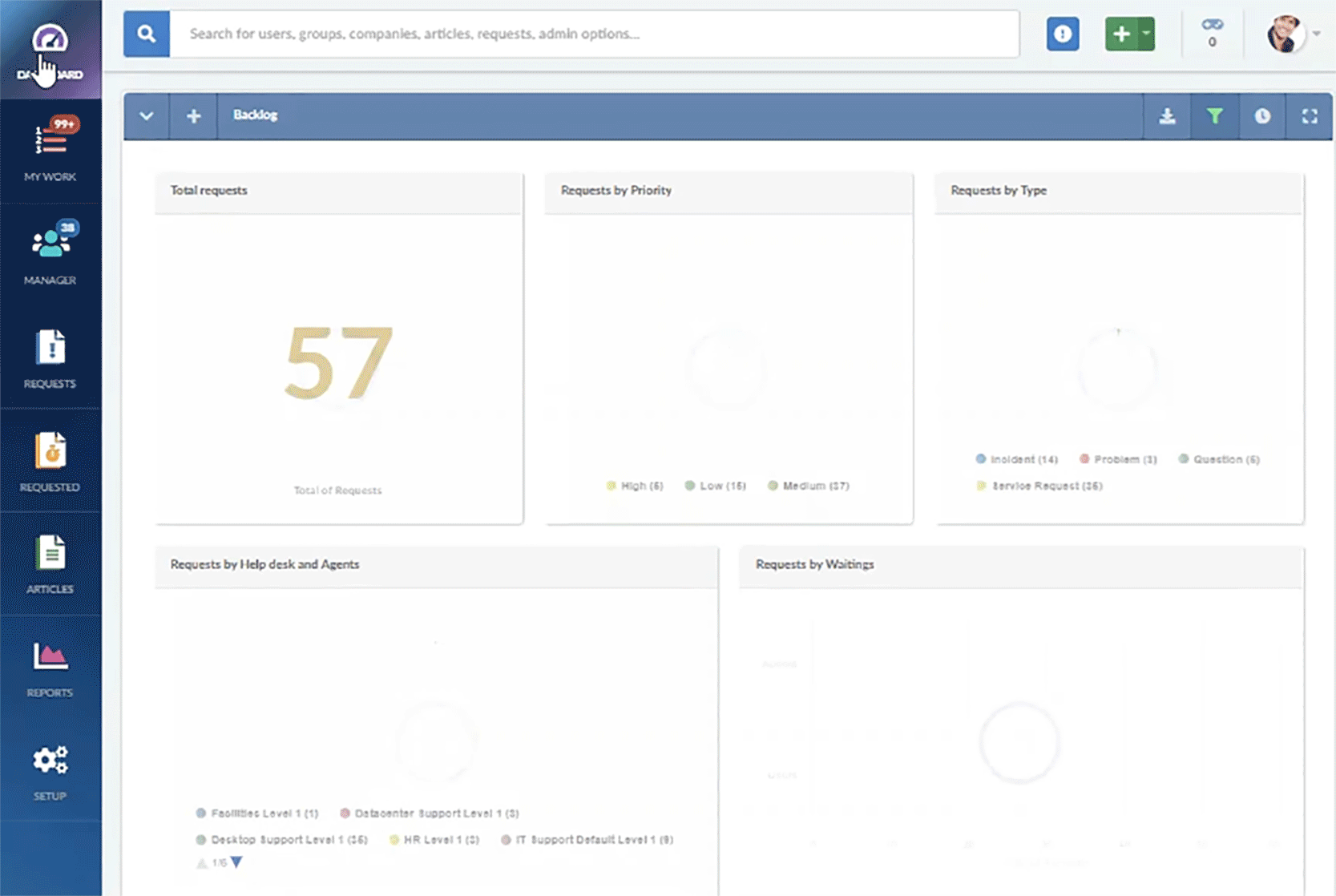 InvGate Service Desk's analytics clearly show your service desk's performance. You can customize dashboards to suit your needs and those of other stakeholders, cross-analyze over 150 metrics to create detailed reports and share dashboards with customers for enhanced transparency.
Streamlined workflows for automated operations
InvGate Service Desk facilitates efficient operations with automated workflows and third-party integrations. With a visual workflow editor and AI-powered suggestions, you can streamline your processes, improving agents' efficiency.
User-friendly self-service portal for enhanced end-user experience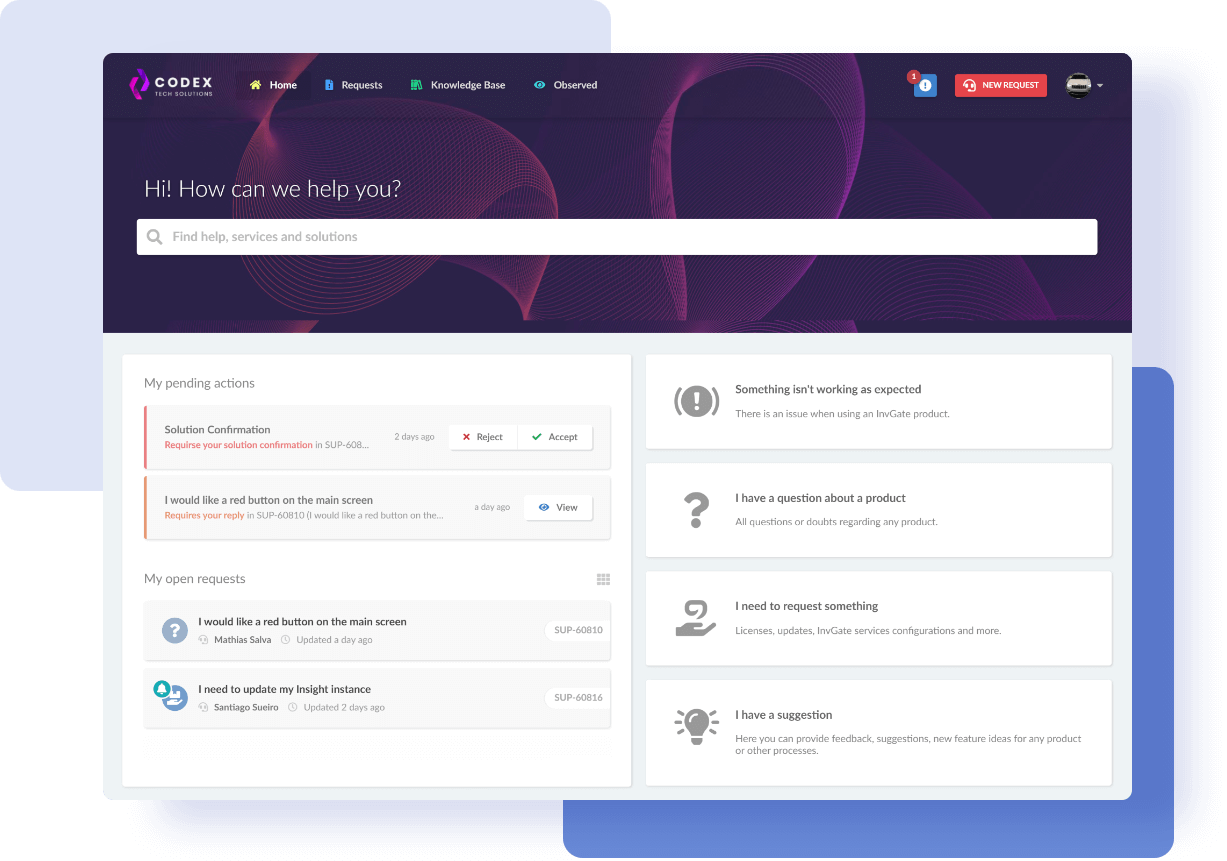 Our solution empowers your organization with a branded self-service portal, an integrated knowledge base, and a service catalog. With the ability to centralize communications on one platform, you can improve the end-user experience and encourage self-service.
AI Capabilities for Enhanced Support Efficiency
InvGate Service Desk is equipped with AI capabilities to enhance support efficiency further. Our AI Assistant offers recommendations to Agents for superior ticket management and customer communication.
Ready to unlock the power of integration?
The InvGate Service Desk and Lansweeper integration offers a harmonious blend of IT Service Management and IT Asset Management. Start leveraging this integration today to deliver faster, more efficient IT services tailored to your organization's needs.
If you want to integrate your Lansweeper instance with InvGate Service Desk, book a call with our experts so they can help you out. And don't forget that you can start exploring InvGate Service Desk right now with our 30-day free trial!