In the dynamic and ever-transforming landscape of IT Asset Management (ITAM), the choices you make hold the power to shape the very foundation of your organization's efficiency and direction. Enter the spotlight: the riveting clash between two prominent contenders, Cherwell Asset Management vs. Lansweeper.
In this blog post, the mission is clear: to offer you an in-depth, insightful ITAM software comparison of these two solutions.
But that's not all – we'll introduce InvGate Insight. This alternative solution adds a fresh perspective to the mix, with its distinctive functionalities and capabilities that could revolutionize how you tackle your IT Asset Management challenges.
Strap in, and let's navigate the landscape of these solutions.
Most looked-at features by buyers
During the process of assessing options for managing IT assets, potential buyers carefully consider a variety of essential capabilities in order to select the most suitable solution that matches their specific needs and business requirements.
Here are some key factors purchasers consider when choosing a customized ITAM solution for their company.
What is Cherwell Asset Management?
Cherwell Asset Management is an IT tool with the purpose of simplifying the management of both software and hardware assets. This comprehensive solution is geared towards reducing expenses related to software licenses, lightening the workload on IT operations, and minimizing the risks linked to software audits.
The main features of Cherwell Asset Management encompass monitoring the inventory of hardware and software, ensuring adherence to licensing agreements, examining software usage, and facilitating IT Asset Management procurements. It seamlessly integrates with Cherwell IT Service Management, thereby enhancing the overall IT structure.
The developer behind Cherwell Asset Management, Cherwell Software, was acquired by Ivanti, a well-known enterprise Service Management provider. As a result of this merger, Ivanti is transitioning Cherwell clients to its Ivanti Neurons platform. However, this abrupt shift has led to customer dissatisfaction, thereby creating an opportunity for other vendors in the ITSM and ITAM sectors to present alternative solutions.
What users like from Cherwell Asset Management
Cherwell Asset Management has gained widespread recognition and garnered favorable feedback from its users. Noteworthy advantages of the platform have been highlighted in reputable sources like Gartner, which encompass the following aspects.
Cost-effectiveness - Cherwell Asset Management's affordability, coupled with its user-friendly configuration right from the outset, positions it as an enticing option for users seeking efficient Asset Management solutions.
Operational efficiency and performance - Users have expressed positive sentiments about the reliability and performance of the tool's applications. They also emphasize its efficiency in tracking changes and incidents, underscoring its substantial merits.
User interface and customization - Users have lauded the platform's exceptional adaptability. Furthermore, the ability to individually permit or restrict software based on specific assets is a feature that users highly value.
Monitoring and governance - Users have commended the software's seamless integration with various sourcing services and its competence in effectively overseeing non-IT assets. Its adeptness in monitoring and managing assets is highlighted. The utilization of an agent to gather data enhances the precision and dependability of asset information.
Generation of reports - Users have positively acknowledged the tool's capacity to generate reports, noting that the inclusion of charts not only enhances visual appeal but also aids in better understanding.
What users don't like from Cherwell Asset Management
While Cherwell Asset Management boasts a range of strengths and positive qualities, it is not immune to customer concerns and criticisms. Reviews from respected sources like Gartner have highlighted recurring issues raised by users. These include:
Ticket and usability issues - Certain tickets may not function as expected, impacting usability and causing user frustration.
Limitations of built-in asset scanning - Users have encountered challenges with asset scanning through the built-in option, leading to a desire for improved scanning alternatives.
Challenges with advanced customization - Achieving advanced customization requires significant effort and a deep understanding of the underlying code, posing difficulties for users seeking tailored configurations.
User interface - Some users have criticized the design of the user interface for specific modules and Mapp, citing awkwardness and a lack of user-friendliness, indicating a need for improvements. Moreover, suggestions have been made to enhance the UX for smaller organizations, addressing their distinct requirements.
Implementation process - Dissatisfaction with the implementation process of Cherwell Asset Management among certain users underscores the need to improve its out-of-the-box readiness.
Limited advanced features and API capabilities - Some users desire more advanced features and API capabilities to better tailor the platform to specific needs and enhance its functionality.
Inconvenience from frequent minor upgrades - Minor upgrades are seen as disruptive by certain users, potentially causing workflow interruptions and affecting the user experience.
A desire for greater interface design involvement before deployment - Users wish for more involvement in the interface design phase before deployment to align the platform more closely with their preferences and workflows.
Performance concerns with certain web browsers - Reports of performance issues and occasional lag with particular web browsers affect user experience and efficiency.
Lack of integration with App Dynamics system monitoring - Users point out the lack of integration with App Dynamics system monitoring, which limits comprehensive monitoring capabilities.
What's Cherwell Asset Management's argument over Lansweeper?
Let's delve into the specific arguments that position Cherwell Asset Management as a standout choice in comparison to Lansweeper.
Superior user interface and customization - Users are impressed by the platform's adaptability, enabling organizations to tailor the system to their unique operational requirements. Cherwell Asset Management offers a level of customization that extends to controlling software access for individual assets.


Holistic monitoring and management - Cherwell Asset Management goes beyond mere asset tracking, establishing itself as a comprehensive monitoring and management solution. The platform seamlessly integrates with various sourcing services, offering an encompassing approach to asset oversight that includes non-IT assets.


Powerful report generation - Users consistently commend the platform's report generation capabilities, with the incorporation of visually appealing charts enhancing the presentation and comprehension of intricate asset data.


Unwavering reliability, performance, and incident tracking - The platform's capacity to effectively monitor changes and incidents is a testament to its robust design and seamless functionality.


Cost-effectiveness and seamless implementation - The platform positions itself as a cost-effective option from the outset, backed by a user-friendly setup that ensures a smooth onboarding experience.
What is Lansweeper?
Lansweeper, founded in 2004, is a thorough IT Asset Management and network exploration tool designed to provide organizations with an in-depth understanding of their IT system.
The platform comes with functionalities intended to assist companies in efficiently managing and improving their IT resources, strengthening their network visibility, and simplifying IT tasks.
Its main attributes encompass:
Software license management.
Comprehensive

Inventory Management

.

Security

and

Vulnerability Management

.

Patch Management

.
Network scanning.
Reporting and analytics.
IT automation.
Integration capabilities.
What users like from Lansweeper
Lansweeper has gained considerable acclaim and positive feedback in reviews from reputable sources like Gartner. Users have pointed out several advantages, as outlined below.
User-friendly interface - The user-friendly design of the platform, coupled with preconfigured security reports, makes it accessible to users with varying levels of IT expertise.
Comprehensive asset records - Users highly appreciate the tool's capability to maintain detailed records for each device that joins the network, ensuring an orderly and effective Asset Management system.
Improved asset tracking - Lansweeper's distinct ability to generate maps for placing assets within intricate buildings assists users in visualizing and optimizing asset distribution.
Clear software insights - Users value the platform's feature that grants complete visibility into the organization's software landscape, resulting in more intuitive and efficient software management.
Integrated reporting - The integrated reporting functionalities within the tool streamline the creation and analysis of reports, saving valuable time and effort.
Simple deployment process - Lansweeper's Software-as-a-Service (SaaS) solution removes the necessity of installing it on individual computers, simplifying the setup procedure.
Effortless server management - The standout feature of remote server management proves to be a time-saving and convenient tool for efficient server control.
Seamless network inventory detection - The software's effortless identification of network-connected inventory ensures users can effortlessly manage their asset inventory.
Precise scanning - The tool's scanning precision guarantees that the collected asset data is reliable and accurate.
Cost-effective solution - Users find Lansweeper's range of features available at a reasonable price point, making it a budget-friendly choice for their IT Asset Management requirements.
What users don't like from Lansweeper
While Lansweeper shows potential for smaller organizations, its appropriateness for large enterprises might be less efficient due to specific limitations. Here, we detail some drawbacks that users have pointed out.
Automatic asset deletion - Assets that are removed from the system are automatically deleted from the database, a situation that users find problematic. Preserving deleted assets in the database for reference or historical reasons would be preferable.
Absence of historical software views - Lansweeper doesn't offer historical software perspectives within its database, presenting solely point-in-time data. This constraint restricts users' access to past software information.
Cluttered GUI interface - Some users perceive the platform's Graphical User Interface (GUI) as crowded due to the profusion of visible choices. Condensing certain options into menus could lead to a neater and more streamlined interface.
Complex Patch Management - The software's Patch Management feature, known as deployment packages, presents usability difficulties. Some users encounter challenges when trying to deploy patches and manage software updates using this feature.
Complex custom queries - Although Lansweeper supports custom queries, they can become intricate. Formulating elaborate custom queries can prove to be challenging for users.
Firmware details for IoT Devices - The tool doesn't provide firmware information for Internet of Things (IoT) devices, limiting users' access to this crucial data.
Reporting complexity - The reporting module might demand users to possess a fundamental grasp of relational databases for optimal utilization. Some users believe extra training or database knowledge is necessary. Additionally, occasional inaccuracies in the data provided might prompt users to cross-verify and authenticate information.
Outdated dashboards - Certain users view the dashboards as outdated. Although efforts are in progress to modernize them into a more contemporary cloud console, this aspect is still evolving.
Impact of new licensing system - The new licensing system in Lansweeper necessitates payment for more assets than required, starting from a minimum of 2000 assets. This pricing structure might not align well with smaller organizations and could be viewed as a drawback.
Limited regional partners - In certain regions such as Argentina, the availability of Lansweeper partners might be restricted, potentially impacting access to local support or services.
What's Lansweeper's argument over Cherwell Asset Management?
User-friendly interface - Lansweeper's intuitive interface is tailored to accommodate users with varying levels of technical expertise. This means that even individuals without extensive IT knowledge can effectively utilize the platform.


Comprehensive asset records - Lansweeper's emphasis on maintaining detailed records sets it apart. Lansweeper's approach ensures that every facet of an asset's configuration and history is meticulously tracked.


Advanced asset tracking - This capability allows organizations to visualize the physical placement of assets within complex structures, promoting optimized distribution and minimizing the risk of asset mismanagement.


Integrated reporting - The streamlined report creation and analysis process in Lansweeper potentially saves more time and effort.


Precise scanning - Lansweeper's scanning precision ensures that collected asset data is highly accurate. This precision is crucial for informed decision-making and maintaining data integrity.


Simple deployment process - Lansweeper's Software-as-a-Service (SaaS) deployment approach offers a simple setup process. The absence of the need for individual installations simplifies the initial deployment, potentially reducing implementation complexity and speeding up the integration process.


Effortless server management - This feature allows for efficient control of servers from a distance, potentially saving time and enhancing server performance.


Seamless network inventory detection - This feature ensures that assets are promptly identified and integrated into the system, reducing the chances of overlooking devices and maintaining accurate inventory records.


Cost-effective solution - Lansweeper's affordability and comprehensive capabilities may make it a more attractive option for organizations seeking optimal value for their IT Asset Management investment.
Considering InvGate Insight as an ITAM solution alternative
For organizations seeking tailored alternatives in the realm of IT Asset Management that align with their specific requisites and demands, considering InvGate Insight comes highly recommended.
As a robust solution for ITAM, InvGate Insight presents a diverse array of attributes and functionalities that position it as a viable choice for streamlining Asset Management procedures.
Let's delve into its fundamental characteristics.
In-depth insights into IT infrastructure
With its robust array of features, InvGate Insight offers comprehensive and actionable insights into IT assets, encompassing their status and usage. This comprehensive insight enables effective management and optimization of the infrastructure, ultimately enhancing operational efficiency.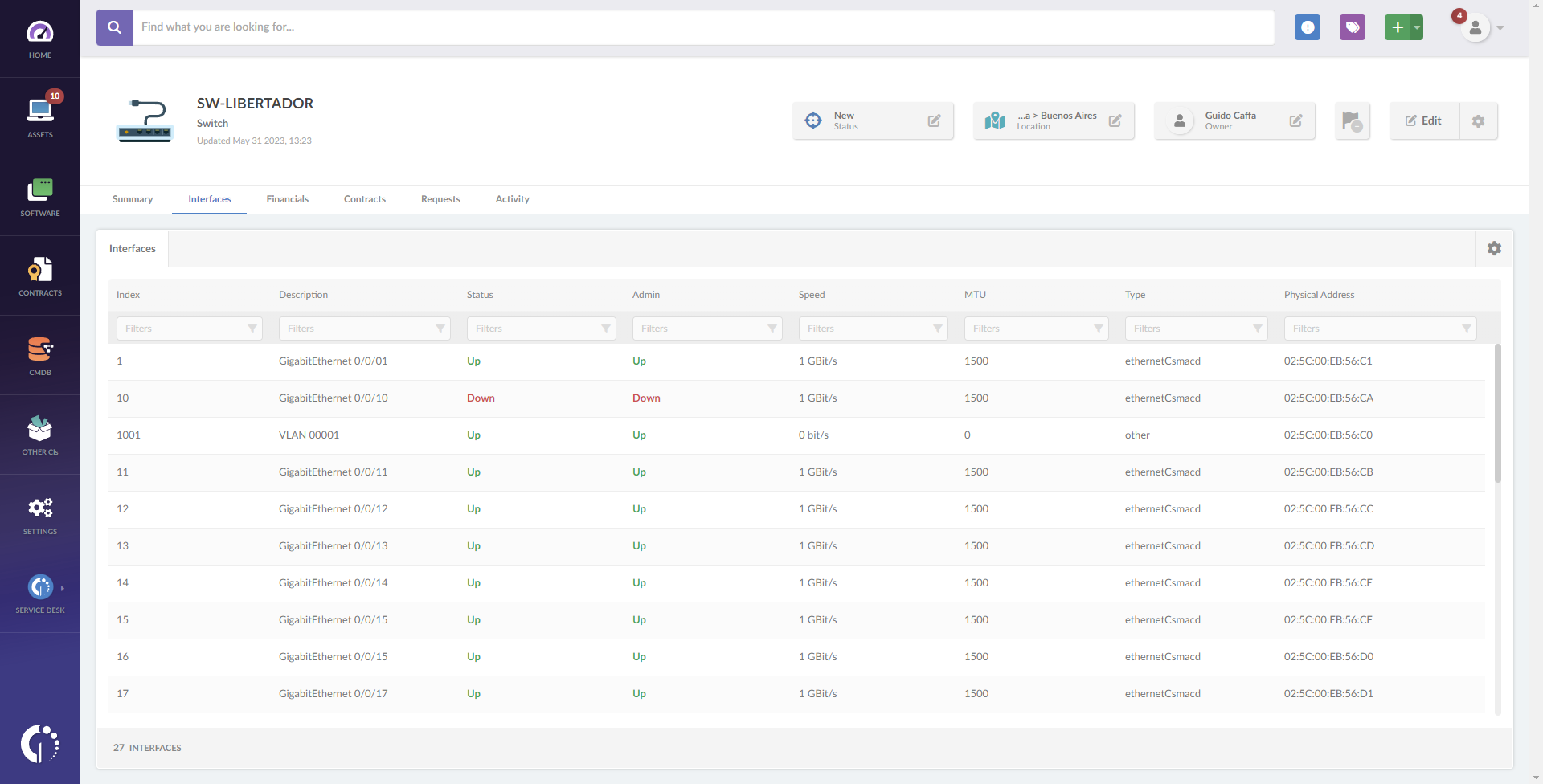 Adaptable deployment options to cater to needs
Recognizing the distinctiveness of each organization's demands and the regulations of their respective industries, InvGate Insight extends adaptable choices for deployment. This flexibility allows organizations to opt for either a cloud-based or on-premise solution, ensuring alignment with particular requirements and compliance standards.
Enhanced IT Asset and Inventory Management
InvGate Insight facilitates seamless integration by aggregating data from various sources, encompassing widely-used operating systems, cloud service providers like AWS, Google, Azure, and MDMs such as JAMF and Google Endpoint Manager. This comprehensive integration guarantees efficient management of both IT and non-IT assets, locations, and personnel, thus conserving time and offering a holistic perspective of the infrastructure.
Automation and early alerts
InvGate Insight advocates for process automation and the establishment of alerts, fostering proactive IT management. Automated alerts allow organizations to monitor contract expirations and promptly notify relevant stakeholders, minimizing manual effort and the risk of oversight. This automation optimizes operations, enabling a focus on pivotal tasks and enhancing overall efficiency.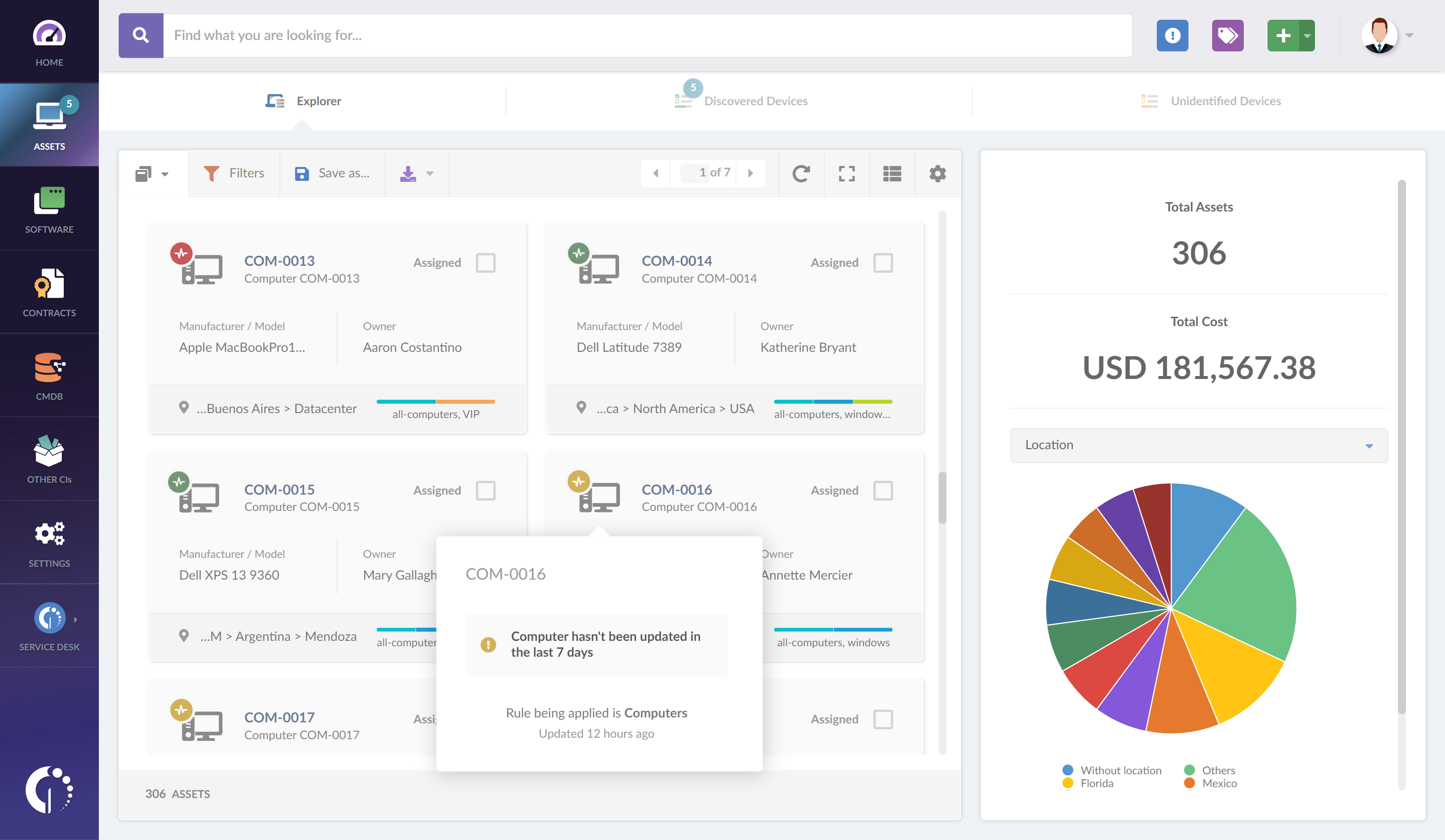 Optimization of software efficiency and reduction of costs
InvGate Insight empowers organizations to identify and assess the utilization of paid software, thereby facilitating efficient Software Management. By gaining visibility into software usage, underutilized licenses can be reallocated, unnecessary expenses minimized, and returns on IT investments maximized. This optimization of software efficiency assists organizations in making the most of their software resources.
Augmented cybersecurity compliance through asset monitoring
InvGate Insight's capabilities for asset monitoring establish and enforce device health rules, enabling proactive compliance with cybersecurity standards. Swift identification of instances of non-compliance allows for immediate action, ensuring adherence to cybersecurity protocols and safeguarding the IT framework.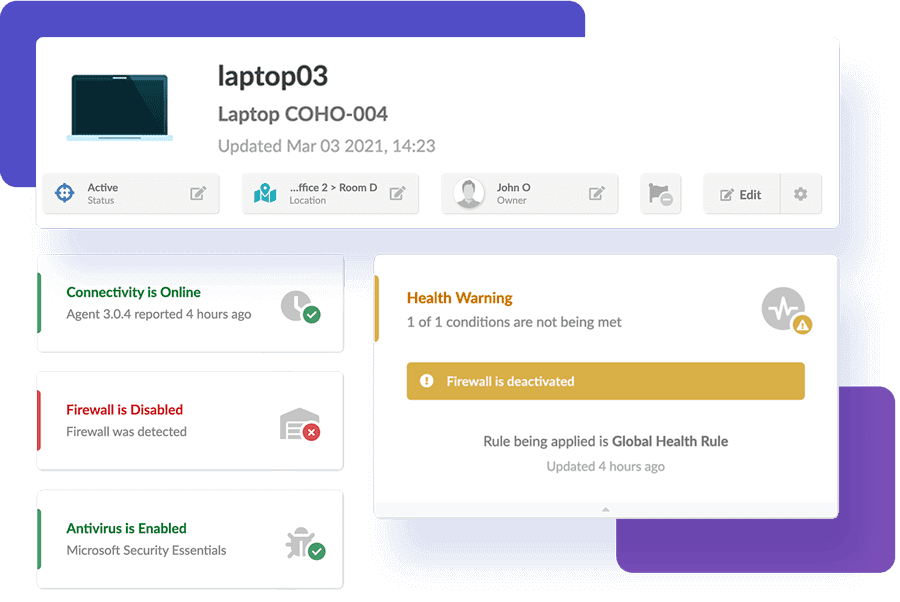 Proactive management of operational costs
InvGate Insight permits the direct integration of financial data, contracts, licenses, and other critical information into the system. This approach furnishes organizations with a comprehensive comprehension of operational expenses, enabling proactive and well-informed financial decision-making. This optimization of budget allocation maximizes the value derived from IT investments.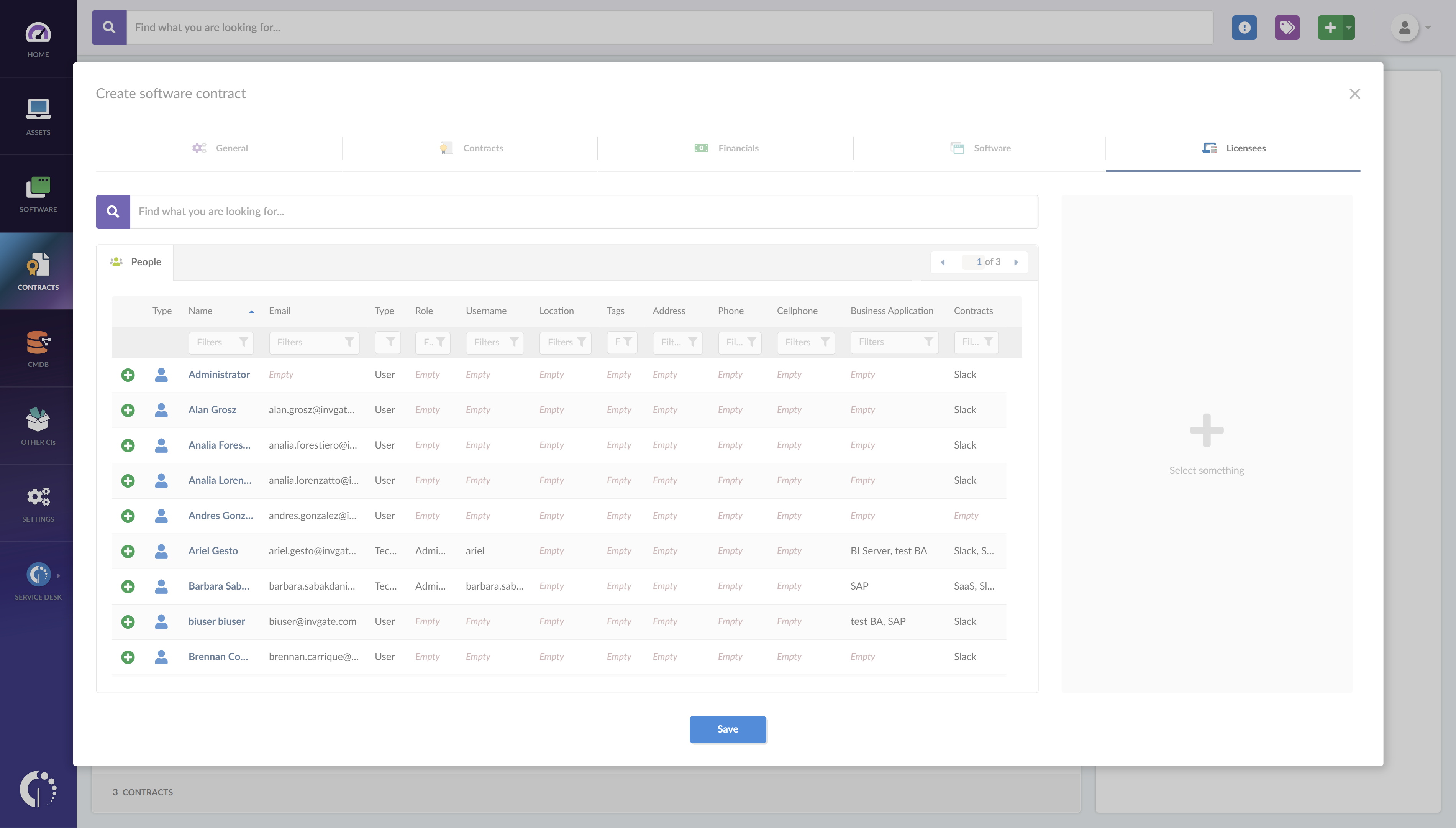 A comprehensive perspective on IT operations through native service desk integration
InvGate Insight seamlessly integrates with InvGate Service Desk, establishing a native connection that links tickets to devices and personnel. This integration furnishes a comprehensive outlook on IT operations, streamlining management. Associating service tickets with pertinent assets and personnel enhances workflows, communication, and the resolution of issues.
Efficient operations via CMDB map builder
InvGate Insight's tool for constructing CMDB maps provides a lucid and comprehensive overview of the IT ecosystem. Visualizing relationships between components aids in identifying potential impacts on operational continuity, thereby facilitating proactive risk mitigation. This heightened visibility reduces service times, enhances operational efficiency, and ensures smoother IT operations.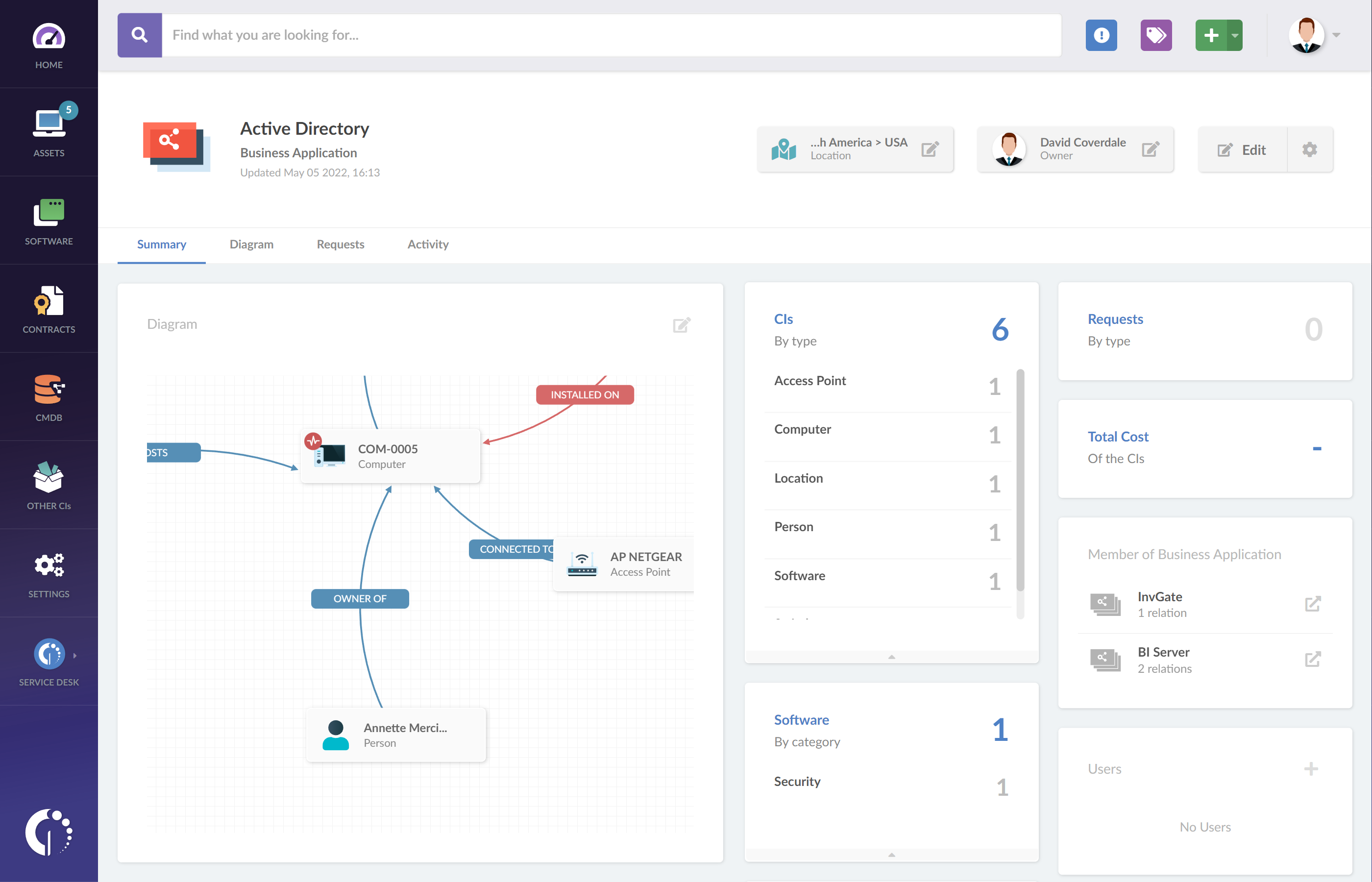 Seamless remote management through native integration
InvGate Insight natively integrates with widely-recognized remote desktop tools such as Windows Remote Desktop, TeamViewer, AnyDesk, and VNC. This integration enhances remote management capabilities, affording direct access to devices for troubleshooting and maintenance. This seamless remote access empowers organizations to effectively address IT issues, execute maintenance tasks, and ensure uninterrupted operations.
Next steps
In IT Asset Management, the comparison between Cherwell Asset Management vs. Lansweeper has highlighted a wealth of insights into their respective capabilities and limitations. Each platform brings unique strengths to the table, catering to diverse organizational demands and preferences.
Yet, the world of IT Asset Management is expansive and ever-evolving, with a host of alternatives beyond these two contenders. InvGate Insight, for instance, intertwines effective management strategies, cybersecurity compliance, and proactive cost control into a holistic framework. Explore our live demo and revolutionize your Asset Management strategy!