As you navigate the dynamic IT Asset Management (ITAM) landscape, the stage is set for an intriguing clash between two prominent contenders: Cherwell Asset Management vs. Asset Panda. In this ever-evolving space, the decision you make holds the potential to reshape your organization's efficiency and overall trajectory.
In this blog post, we'll unravel the complexities of these two platforms. The aim is to provide you with a comprehensive ITAM software comparison, delving deep into their features, advantages, and limitations.
But the vista of possibilities extends even further. As we navigate through this exploration, we'll introduce InvGate Insight. With its distinctive functionalities and capabilities, this platform emerges as a compelling third alternative, finely calibrated to address your unique IT Asset Management needs.
Read on to make an informed decision that will drive your organization's success.
Most looked-at features by buyers
During the process of assessing choices for managing IT assets, potential buyers consider a range of important capabilities to decide on the most suitable option that fits their specific requirements and business needs.
Here are several key factors purchasers consider when picking a customized IT Asset Management solution for their company.
Comprehensive insights into infrastructure - The platform should provide complete visibility into the condition, performance, and utilization of IT assets, giving users the ability to make well-informed decisions and enhance their infrastructure. It should also include robust reporting and analytical functions.


Proactive expense management and financial optimization - The solution should incorporate financial data,

contract lifecycle management

, licenses, and other relevant details to gain a comprehensive understanding of operational costs.


Unified oversight of IT assets and inventory - Users can effectively oversee and manage their

IT asset inventory

through a single interface. The solution needs to automate asset identification and record crucial details such as hardware specifications, software versions, and ownership information.


Improved compliance with cybersecurity standards - Potential buyers look for a tool that monitors asset security status to identify and proactively address security vulnerabilities.


Integration with help desk systems - Integrating with

help desk software

enables a smooth exchange of information between Asset Management and

IT Service Management

workflows. This integration enhances communication, streamlines processes, and improves overall service provision.


Automation and proactive alerts - The solution should enable automated workflows for routine tasks such as software updates, patch deployments, and system maintenance. This ensures smooth operations and quick responses to important events through automated procedures and timely proactive alerts.


Establishment of

CMDB

maps - Users have the ability to define and document connections between various components, including hardware devices, software applications, network links, and interdependencies. Visualizing these connections helps organizations understand the consequences of changes, evaluate potential risks, and plan for efficient

Incident

and

Change Management

.


Remote management with integrated tools - Integration with commonly used remote desktop tools empowers IT teams to diagnose problems, apply patches, perform software installations, and carry out system updates remotely, eliminating the need for physical presence.


Software management optimization - This feature enables users to monitor software installations, ensure effective

Software License Management

, and identify instances of excessive or insufficient usage.


Flexible deployment options - Users prefer a platform that provides flexibility in choosing deployment methods, including cloud-based, on-premises, or hybrid solutions.
What is Cherwell Asset Management?
Cherwell Asset Management is a software tool designed to streamline the management of software and hardware assets within the field of IT. This comprehensive solution aims to simplify the process of handling software licenses, reduce the workload on IT operations, and minimize the risks associated with software audits.
The main features of Cherwell Asset Management include monitoring hardware and software inventory, ensuring adherence to licensing agreements, analyzing software usage, and facilitating Asset Management purchases. It smoothly integrates with Cherwell IT Service Management, thereby enhancing the overall IT structure.
The developer of Cherwell Asset Management, Cherwell Software, was acquired by Ivanti, a prominent enterprise Service Management provider. As a result of this merger, Ivanti is guiding Cherwell clients toward its Ivanti Neurons platform. Nonetheless, this abrupt transition has led to customer dissatisfaction, creating an opening for other vendors in the ITSM/ITAM field to present alternative solutions.
What users like from Cherwell Asset Management
Cherwell Asset Management has gained significant recognition and garnered positive user feedback. Various advantages of the platform have been highlighted by users in reputable sources like Gartner, which include the following:
User interface and customization - Users greatly value the platform's exceptional adaptability. Moreover, the option to control software access on individual assets is particularly appreciated.
Monitoring and management - The software's seamless integration with multiple sourcing services and its effectiveness in overseeing non-IT assets have been lauded by users. They highlight its proficiency in monitoring and managing assets, with the use of an agent to gather data enhancing the accuracy and reliability of asset information.
Report generation - Users have positively commented on the tool's report generation capabilities, noting that the inclusion of charts improves the visual appeal and aids understanding.
Efficiency and performance - Users have praised the reliability and performance of the tool's applications. Its ability to effectively track changes and incidents has also been emphasized as a notable benefit.
Cost-effectiveness - Cherwell Asset Management's affordability, coupled with its user-friendly setup right from the beginning, positions it as an attractive option for users seeking efficient Asset Management solutions.
What users don't like from Cherwell Asset Management
In spite of the numerous strengths and positive qualities associated with Cherwell Asset Management, it doesn't escape the presence of customer concerns and criticisms. Evaluations from reputable sources like Gartner have illuminated specific recurring complaints raised by users. These include:
Limited advanced features and API capabilities - Some users desire more advanced features and API capabilities to customize the platform to unique needs and elevate its functionality.
User interface - The design of the user interface for specific modules and Mapp has faced criticism due to its awkwardness and lack of user-friendliness, signaling the need for improvements. Moreover, some users propose enhancing the UX for smaller organizations to accommodate their distinct requirements.
A desire for greater involvement in interface design before deployment - Users express a wish for more involvement in the interface design phase before deployment to align the platform more closely with their preferences and workflows.
Challenges with advanced customization - Achieving advanced customization requires significant effort and familiarity with the code base, creating obstacles for users seeking to craft tailored configurations.
Implementation process - Dissatisfaction among specific users regarding the implementation process of Cherwell Asset Management underscores the necessity of enhancing its readiness out of the box.
Performance concerns with specific web browsers - Reports of performance problems and occasional delays with specific web browsers impact user experience and effectiveness.
Issues with certain tickets and usability - Certain tickets may not perform as expected, affecting usability and resulting in user dissatisfaction.
Inconvenience from frequent minor upgrades - Minor upgrades are seen as disruptive by certain users, potentially causing disruptions in workflows and user experience.
Limitations of built-in asset scanning - Users have faced challenges with asset scanning through the built-in option, prompting a preference for improved scanning alternatives.
Lack of integration with App Dynamics system monitoring - Users highlight the lack of integration with App Dynamics system monitoring, restricting comprehensive monitoring capabilities.
What's Cherwell Asset Management's argument over Asset Panda?
Let's delve into Cherwell Asset Management's distinct arguments that set it apart in this competitive landscape.
User interface and customization - One of Cherwell Asset Management's strongest arguments lies in its exceptional user interface and customization capabilities. Users consistently commend the platform's adaptability, allowing them to tailor the system to their unique needs.


Comprehensive monitoring and management - Cherwell Asset Management doesn't simply track assets; it orchestrates a comprehensive monitoring and management ecosystem. Its seamless integration with various sourcing services facilitates a holistic approach to asset oversight, effectively encompassing non-IT assets as well.


Empowering report generation - Users consistently highlight the platform's report generation capabilities, emphasizing the added value brought by visually appealing charts. This enhances the overall user experience and aids in the comprehension of complex asset data.


Reliability, performance, and incident tracking - Cherwell Asset Management's argument further extends to its exceptional reliability, performance, and incident tracking prowess.

Cost-effectiveness - Cherwell's cost-effective approach combined with its accessible setup grants it a strategic advantage, particularly for businesses looking to optimize their Asset Management without straining their budgets.
What is Asset Panda?
Asset Panda presents a strong platform for tracking and managing assets, strategically aimed at enhancing and simplifying Asset Management procedures for enterprises regardless of their scale.
With a comprehensive set of attributes and functionalities, Asset Panda provides organizations with the tools to monitor, govern, and uphold their valuable assets effectively.
With a globally distributed and adaptable remote workforce, Asset Panda breaks away from traditional conventions, reshaping the parameters of corporate functioning. As a pioneer in the industry, Asset Panda is marked by its resolute dedication to innovation and unmatched customer support.
What users like from Asset Panda
Asset Panda's reputation has been greatly enhanced by widespread recognition and positive reviews. In particular, users have highlighted several benefits in reviews from respected entities such as Gartner, detailed below.
Exceptional value proposition - Users wholeheartedly recognize the remarkable value that Asset Panda delivers relative to the investment made.
Rich feature suite - The tool distinguishes itself with its comprehensive offerings, encompassing extensive reporting and analytics, ample options for personalization, and smooth integrations with other software solutions.
Intuitive user experience - The software has an instinctive layout that ensures simplicity in operation and effortless navigation.
Exemplary customer support - Users praise the adept and forward-thinking experts who spearhead the platform's customer service.
What users don't like from Asset Panda
While Asset Panda possesses various strengths and favorable qualities, it isn't immune to user reservations and criticisms.
Here are the prevalent issues that users frequently point out in reviews from esteemed sources like Gartner.
Considerations regarding pricing - The cost might be relatively steep, especially for smaller or budget-constrained companies, leading users to seek more budget-friendly alternatives tailored to their circumstances.
Challenges in user navigation - Certain users encounter confusion with Asset Panda, particularly when attempting to locate specific items, and express a desire for more streamlined guidance.
A desire for enhanced customization and reporting - A portion of users believe that additional customization possibilities and a more user-friendly reporting system could be advantageous in bolstering user control and comprehension.
Concerns about support responsiveness - Some complaints revolve around delayed responses from customer service, with users desiring swifter assistance and more prompt support.
What's Asset Panda's argument over Cherwell Asset Management?
Let's explore the specific arguments presented by Asset Panda that distinguish it within this competitive environment.
Value proposition - Users consistently acknowledge and appreciate the exceptional value Asset Panda delivers in relation to the investment made.


Comprehensive and robust feature set - The platform distinguishes itself by providing users with an impressive array of tools, including robust reporting and analytics capabilities, extensive customization options, and seamless integrations with other software solutions.


Intuitive user experience - The platform's instinctive layout ensures users can easily navigate and operate the software without unnecessary complexity. This user-centric approach not only enhances user satisfaction but also contributes to increased productivity as users can swiftly adapt to the platform.


Customer support - Users consistently praise the adept and forward-thinking professionals who drive the platform's customer service. This level of dedicated assistance ensures that users can navigate challenges and optimize their Asset Management processes effectively.
Considering InvGate Insight as an ITAM solution alternative
For organizations searching for customized alternatives for IT Asset Management that align with their specific needs and demands, it is advisable to consider InvGate Insight.
As a robust solution for ITAM, InvGate Insight offers a diverse array of features and functionalities that establish it as a viable choice for streamlining Asset Management processes.
Let's delve into its fundamental characteristics.
Proactive management of operational costs
InvGate Insight facilitates the direct integration of financial data, contracts, licenses, and other critical information into the system. This approach equips organizations with a thorough understanding of operational expenses, enabling proactive and well-informed financial decisions. This optimization of budget allocation maximizes the value derived from IT investments.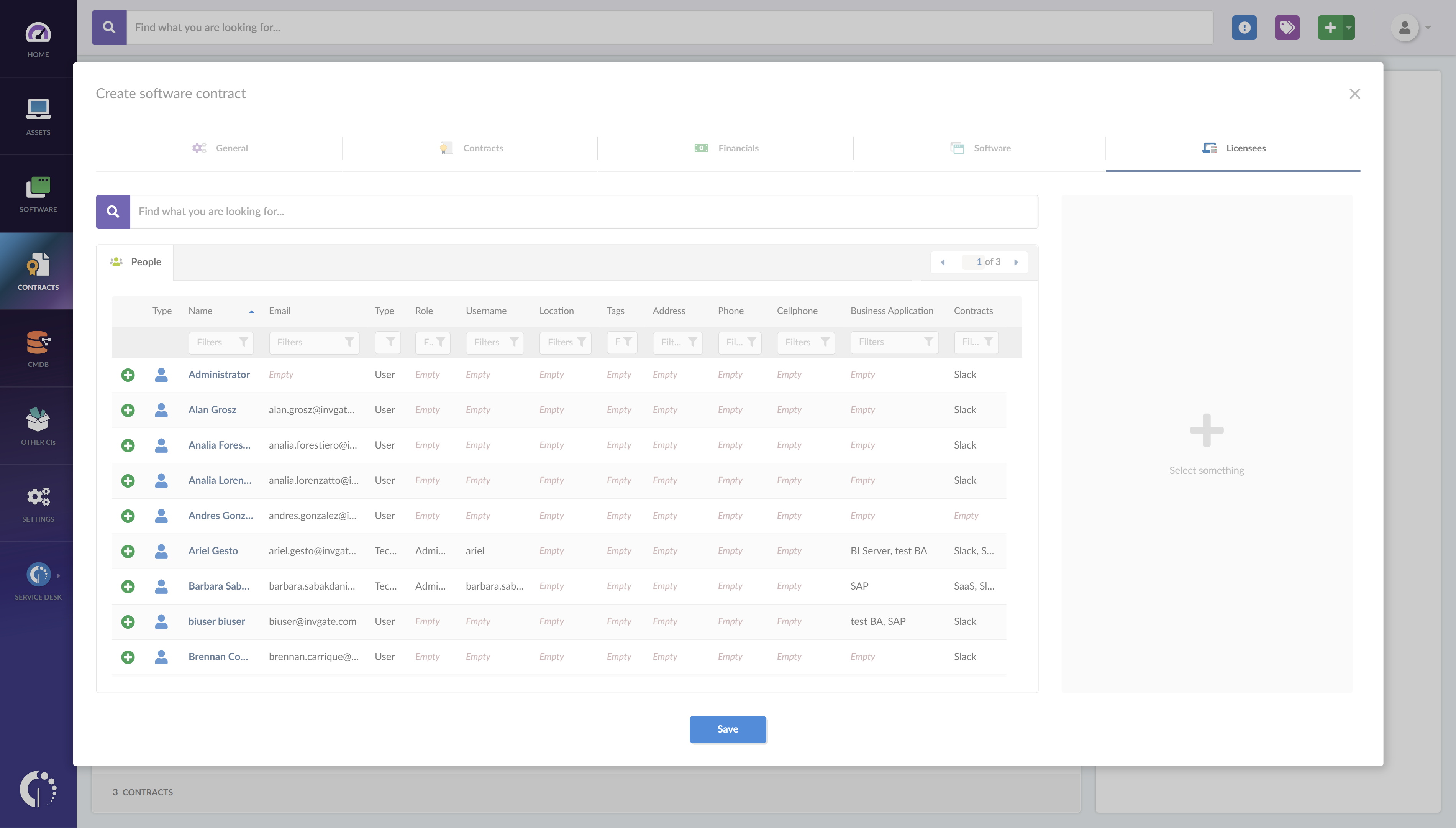 Strengthened cybersecurity compliance through asset monitoring
The asset monitoring capabilities of InvGate Insight establish and enforce device health rules, enabling proactive cybersecurity compliance. Swift identification of instances of non-compliance allows immediate action to ensure adherence to cybersecurity policies and safeguard the IT infrastructure.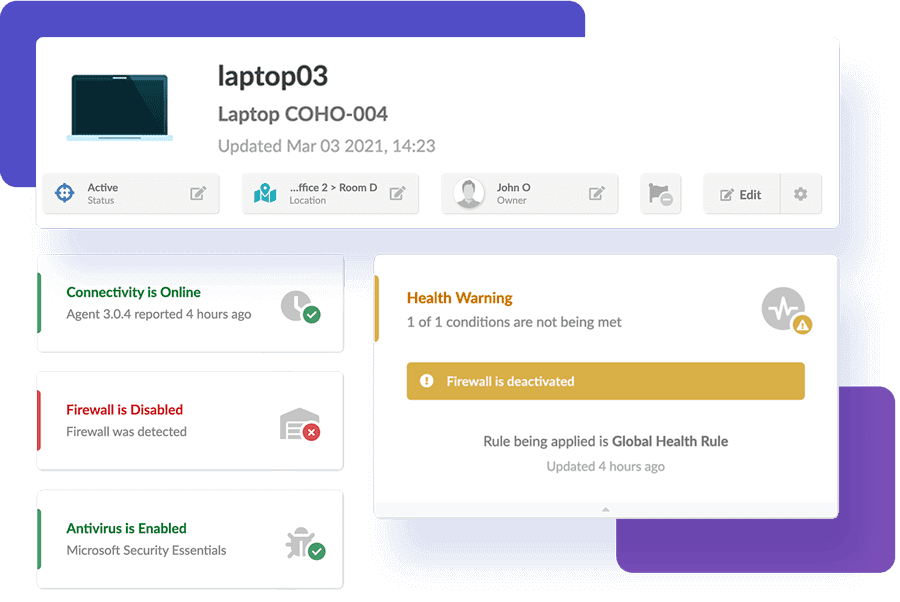 In-depth insights into IT infrastructure
With its robust suite of features, InvGate Insight furnishes detailed and actionable insights into IT assets, encompassing their status and usage. This comprehensive insight enables efficient management and optimization of the infrastructure, ultimately enhancing operational efficiency.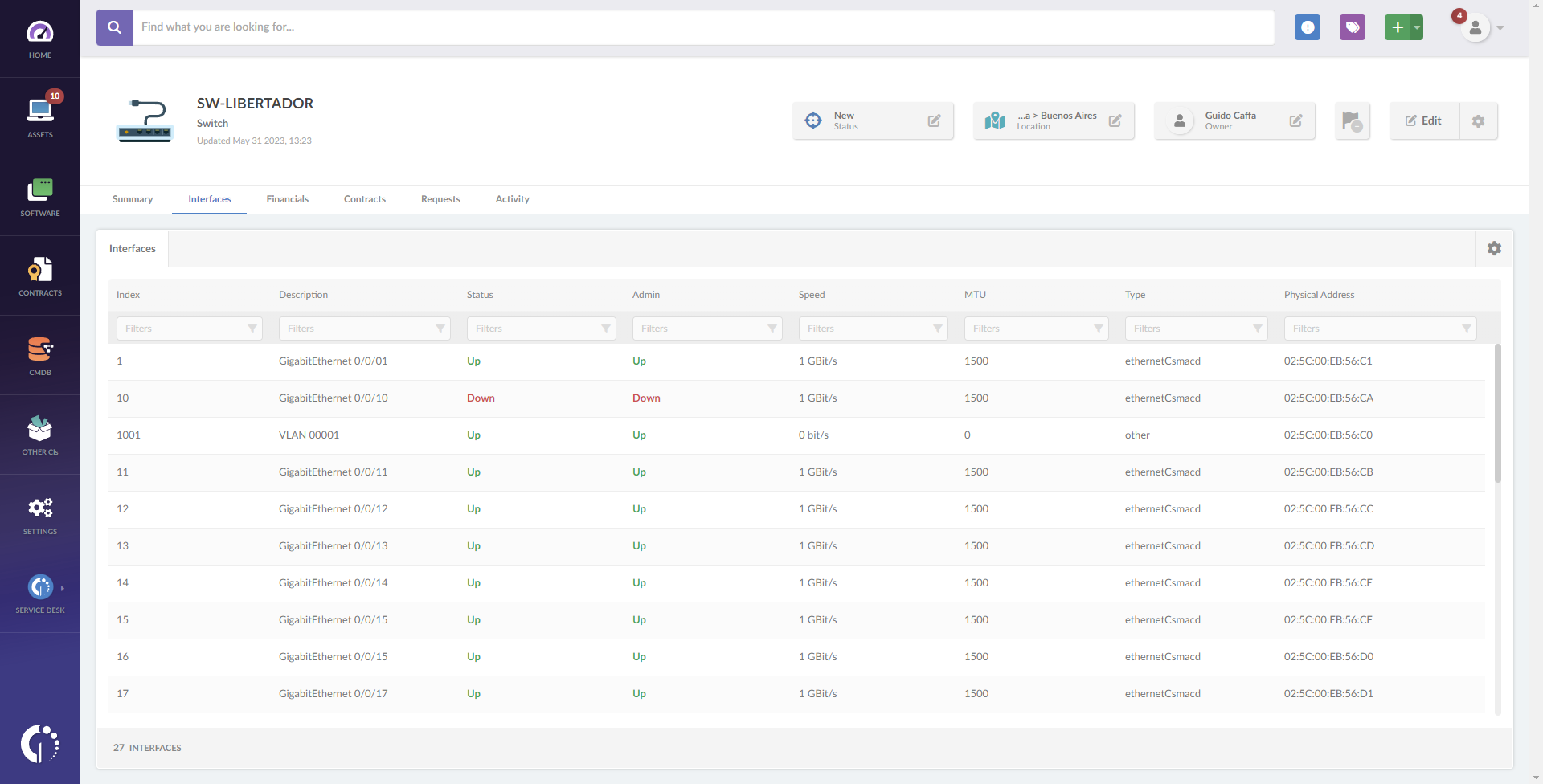 Enhanced Management of IT Assets and Inventory
InvGate Insight simplifies integration by aggregating data from various sources, including major operating systems, cloud service providers like AWS, Google, Azure, and MDMs such as JAMF and Google Endpoint Manager. This extensive integration guarantees effective management of both IT and non-IT assets, locations, and personnel, resulting in time savings and a comprehensive infrastructure view.
A comprehensive view of IT operations through native service desk integration
InvGate Insight seamlessly integrates with InvGate Service Desk, establishing a native connection that links tickets to devices and personnel. This integration offers a holistic perspective on IT operations, simplifying management. Associating service tickets with relevant assets and personnel enhances workflows, communication, and issue resolution.
Automation and early alerts
InvGate Insight promotes process automation and the establishment of alerts, fostering proactive IT management. Automated alerts enable organizations to monitor contract expirations and promptly notify relevant stakeholders, reducing manual efforts and the risk of oversights. This automation streamlines operations, allowing a focus on essential tasks and overall efficiency improvement.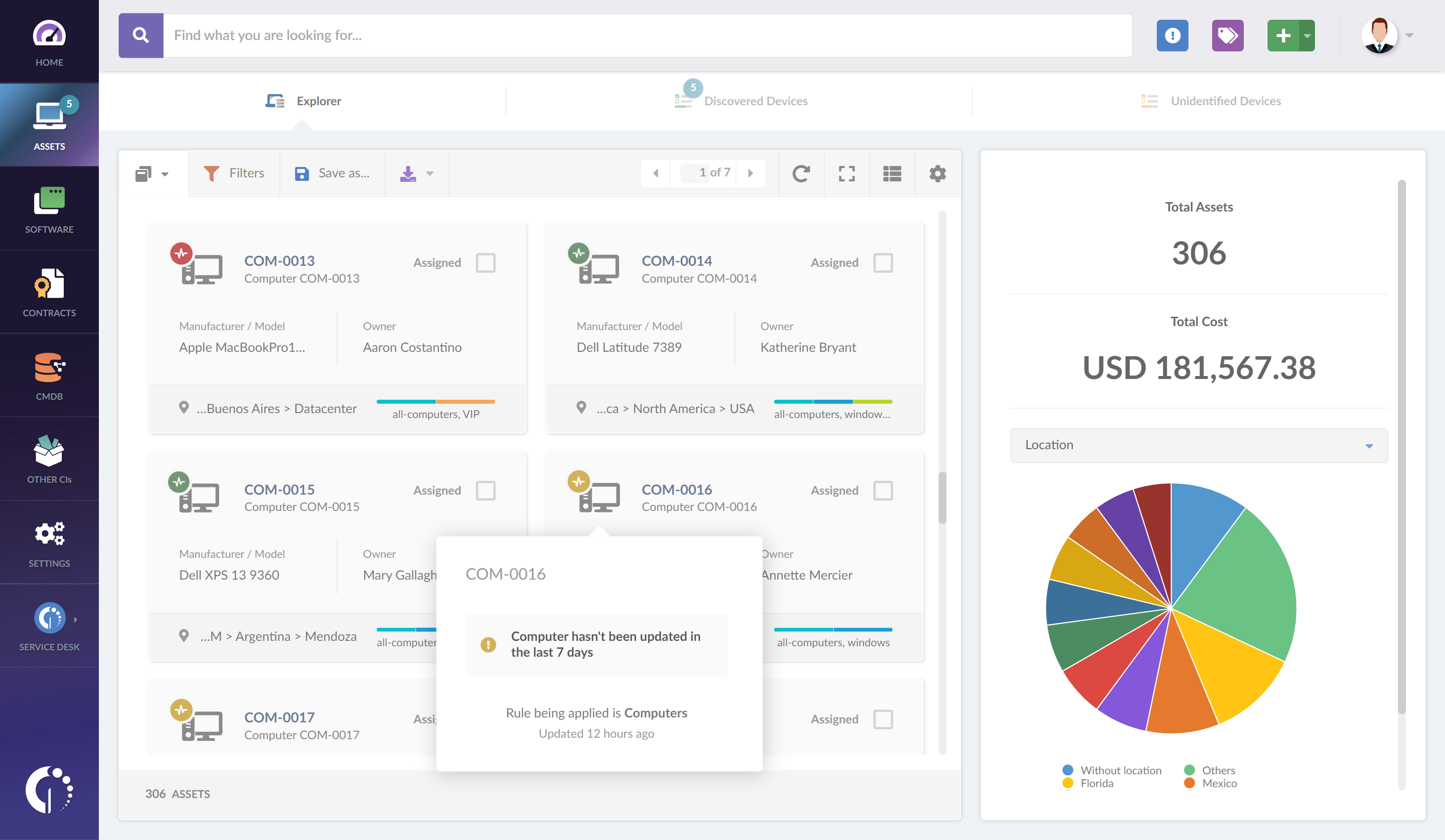 Effortless remote management with native integration
InvGate Insight natively integrates with renowned remote desktop tools like Windows Remote Desktop, TeamViewer, AnyDesk, and VNC. This integration enhances remote management capabilities, allowing direct device access for troubleshooting and maintenance. This seamless remote access empowers organizations to effectively address IT issues, carry out maintenance tasks, and ensure uninterrupted operations.
Optimization of software efficiency and cost reduction
InvGate Insight empowers organizations to identify and assess the usage of paid software, facilitating efficient Software Management. By gaining visibility into software utilization, underutilized licenses can be redistributed, unnecessary costs minimized, and returns on IT investments maximized. This software efficiency optimization aids organizations in maximizing their software resources.
Adaptable deployment options to cater to needs
Recognizing the unique requirements and industry regulations of each organization, InvGate Insight provides flexible deployment options. This adaptability permits organizations to select either a cloud-based or on-premise solution, ensuring alignment with particular needs and compliance standards.
Streamlined operations through CMDB map builder
InvGate Insight's tool for constructing CMDB maps offers a clear and comprehensive overview of the IT ecosystem. Visualizing relationships between components helps identify potential impacts on operational continuity, leading to proactive risk mitigation. This increased visibility reduces service times, enhances operational efficiency, and ensures smoother IT operations.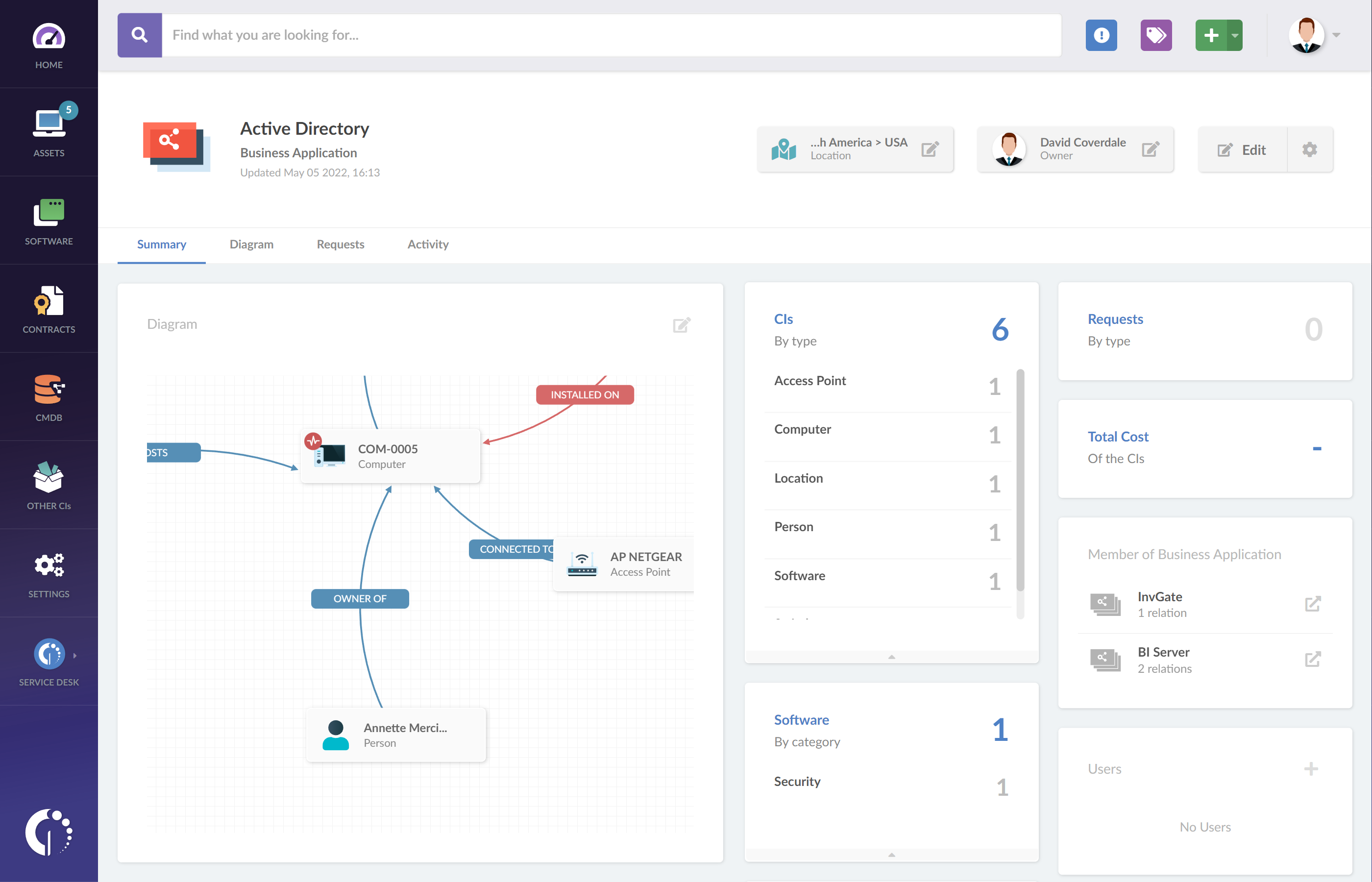 Next steps
In the dynamic comparison of Cherwell Asset Management vs. Asset Panda, both platforms undoubtedly exhibit strengths and capabilities that cater to diverse asset management needs.
Yet, as organizations contemplate the ideal solution for their unique requirements, it's essential to cast a wider net and explore alternative options.
InvGate Insight emerges as a compelling alternative, offering a distinct set of functionalities that addresses the intricacies of modern Asset Management. From its strategic approach to fortifying cybersecurity compliance and proactive cost optimization, this platform offers a holistic and innovative solution to asset enhancement.
Download our complimentary free ITAM implementation checklist, a valuable resource to guide you through your next steps. Don't limit your possibilities to just a couple of choices. Embrace the exploration of alternatives like InvGate Insight, and unlock the potential for innovative and tailored Asset Management solutions that can truly elevate your operations.