The mobile experience will only continue to develop. It started in the early aughts, but honestly, the writing was on the wall when someone made a killing selling an app that simulated drinking a beer for only $2.99.
When it comes to your company's IT service desk and resolving time-sensitive support tickets, agility is paramount. A help desk software with a good mobile experience is therefore essential. After all, premier customer service in 2022 requires speed and precision.
The following will dive into why every IT help desk needs to include a good mobile experience for both users and agents, and what exactly makes a great help desk with 5 key features to look out for.
So turn on your Do Not Disturb, leave your phone in another room, and let's get started.
Why a good mobile experience is a must-have for any complete service desk
Not only is the world mobile, it's customer-centric. The customer is not only right these days, they're the protagonist. With a dizzying increase in competition of services being offered, only the chosen few who address their underlying intent to buy and provide them with seamless customer support survive.
Help desk software was the first step to advance this process. It streamlined customer support and further developed customer service around the customer. Keeping support tickets in a physical drawer or file cabinet has become obsolete. You can still speak on the phone the old-fashioned way or you can live chat with a representative from the relative comfort of your computer. The choice is yours. It has never been better to be a customer.
A mobile help desk enriches this customer experience by making it even easier for them to access support.
Additionally, a good mobile help desk experience helps your IT support team with the same flexibility it offers customers. Reps can answer from anywhere at any hour, increasing response time. Just as well, not all tickets are created equal. The right web help desk can help your team prioritize which tickets need immediate attention and which can wait.
Basically: IT help desk software on a mobile device reduces the time to both understand and resolve a customer's problem.
What makes for a great help desk mobile experience?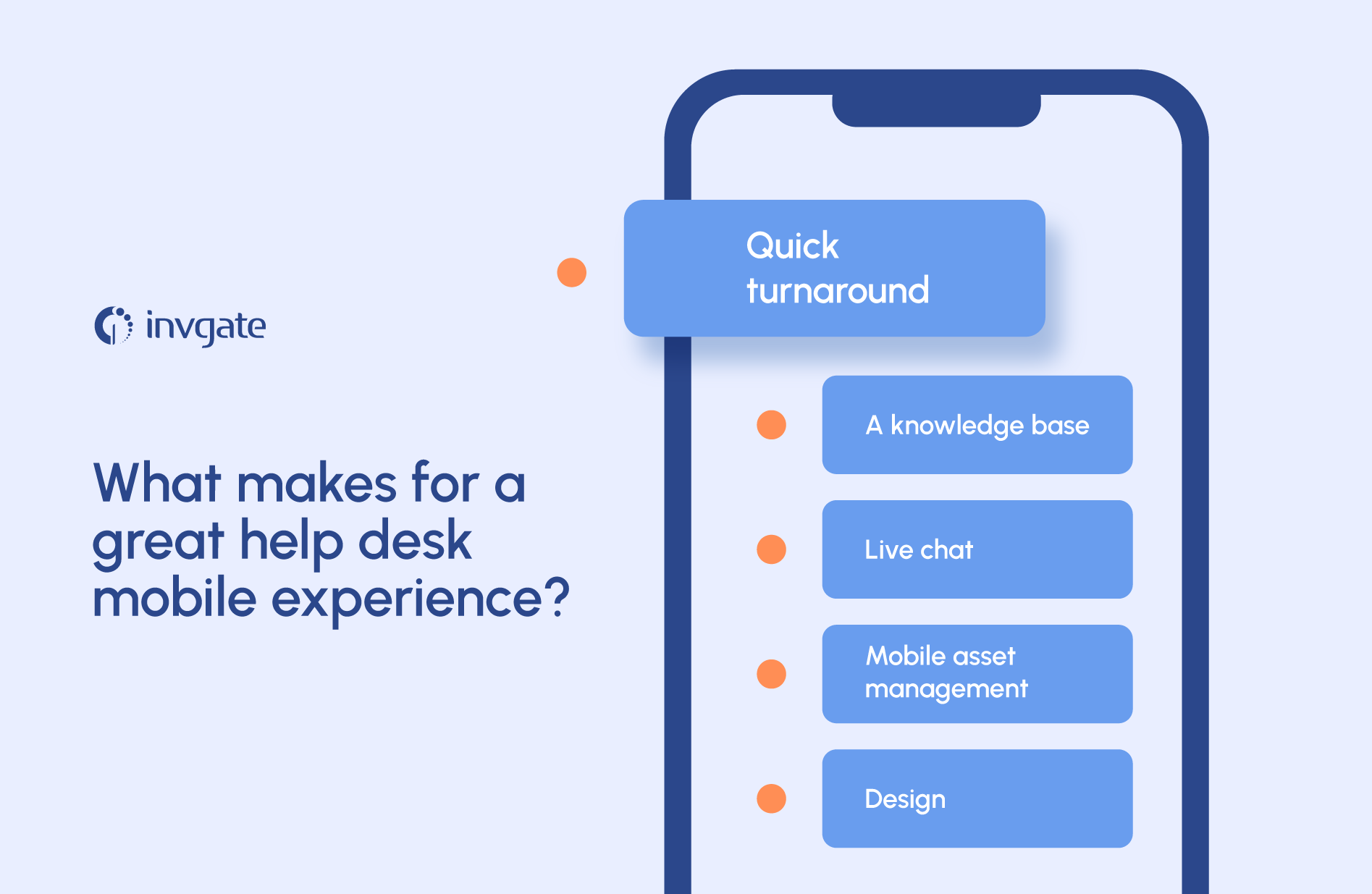 We've already highlighted a few of the important ways the modern IT team needs a mobile service desk. For now, let's break down the five most important features that make for a great help desk mobile experience.
Quick turnaround
Speed is everything in our digitalized world, and this is especially true in customer service. Response time to a ticket is reduced simply by virtue of mobile capability as outlined above; the customer can request service from the palm of their hand and a representative can create a ticket to assist them from theirs.
With the right help desk solution you can even use automation and templates for common, repetitive questions to speed up the customer support process and respond even faster.
A knowledge base
A well-kept and accessible knowledge base can answer a customer's question or (better yet) resolve their problem before a ticket has to be made. Typically this will include a curated layout of all the most frequently asked questions with answers or troubleshooting instructions. It may also include content like how-to guides, video demonstrations, a historical record of past tickets, or helpful blogs like this one!
This solution can be used internally for your team to reference company policy or externally as a kind of self-service wiki for customers who prefer to Google something before lifting up the proverbial phone.
Mobile asset management
This is an all-in-one feature that keeps track of all ongoing and resolved tickets. Maintained in a service cloud, mobile asset management organizes incidents and prioritizes them according to company protocol. From here your team can also see the big picture and reps can be deployed or collaborate to assist customers based on the information within. It's a mobile, unified wiki that enables greater visibility and assigned responsibility of tasks through ticket management.
With it, information such as compliance policy or the details of a company's unique asset lifecycle is easily accessible and transparent. Equipped with this agile tool, your team has another arrow in its quiver to proactively resolve customer issues.
Intuitive and easy-to-navigate design
Perhaps an overlooked feature but a nonetheless important one is the design of a mobile help desk experience. Aesthetics that stand out are important, but by design in this sense we mean is the app intuitive? Is the user experience fluid? Accessibility is nice in theory but it needs to be put in practice, with options to make navigation a frictionless process.
In addition, a mobile help desk service needs to be compatible with multiple devices without any sacrifices in performance. A responsive web design has to include all iPhones, Androids, or tablets. Nobody should be left out because an app only operates on one system.
What makes for a good mobile experience for customers and agents?
All of the above. Often with a mobile help desk solution, what is good for the customer is good for the agents and vice versa. A mobile version of help desk software should look to improve upon the original and make life easier for those who rely on it. It should foster customer engagement and enhance the workflow of your IT team.
Some other features to consider in addition to those we listed could include a high-level security function and in-depth customer profiles. The former is a necessity for those working with and transferring personal data. The latter could fall under the umbrella of one of the previously mentioned databases, but also providing an extra layer of accuracy and personalization that goes a long way in providing exceptional customer service.

InvGate Service Desk's mobile experience


InvGate Service Desk has earned wide acclaim as a top-of-the-line, ITIL 4 certified service desk solution.

- Features an easily customizable self-service portal that clearly lays out your organization's service catalog as well as provides quick access to your knowledge base for easy searching.

- Provides a comfortable and intuitive agent view, displaying assignments and docket items.

- Navigation sidebar with a clear view of actionable items such as unresolved and unsassigned requests, pending approvals for stakeholders, and easy access to notifications and settings.

InvGate Service Desk's mobile experience is everything you could want from a mobile Help Desk and more, empowering your customers and your agents to accomplish more and do it with ease.

You can try out our 30 day free trial.