Are you searching for the ideal IT Service Management (ITSM) solution to elevate your organization's efficiency and customer support? If you're currently weighing the options between SysAid vs. Freshworks, two prominent players in the ITSM market, you've come to the right place.
In this blog post, we'll delve into a detailed ITSM tools comparison, exploring SysAid and Freshworks' unique features, advantages, and areas for potential improvement.
However, these solutions may not perfectly align with every organization's specific requirements. That's why we'll also introduce you to InvGate Service Desk, an alternative service desk software with compelling strengths and capabilities designed to cater to diverse IT service needs.
Ready to make an informed decision on your ITSM solution? Continue reading to explore the different solutions.
Most looked-at features by buyers
When potential buyers evaluate IT Service Management solutions, they focus on specific features that align with their organization's needs. It becomes crucial to understand these desired attributes to make well-informed decisions.
Let's explore the key factors commonly considered by prospective buyers when comparing ITSM tools.
Pricing and support - Buyers consider cost-effectiveness, including licensing models, subscription plans, and additional costs for features or users. The availability of reliable customer support, comprehensive documentation, and accessible training resources are significant considerations.


Optimized

IT service catalog

- Streamlined IT service catalogs are highly valued as they provide a centralized platform for users to request specific IT services or resources, simplifying service requests and enhancing visibility.


Ticket Management solution - The significance of a comprehensive Ticket Management System within the

help desk software

is emphasized by buyers. This feature enables effective tracking, assignment, and resolution of customer inquiries and support requests.



Self-service portal

and

knowledge base

- Buyers highly value a self-service portal that empowers end-users to independently resolve common issues and find relevant information without direct assistance.


User experience and interface - Buyers highly value ease of use and an intuitive interface, as these promote user adoption and productivity. Mobile accessibility is also essential for organizations with remote or mobile workforces.



ITIL

compliance - Adhering to ITIL best practices is a priority for many organizations, leading buyers to prioritize solutions that support ITIL processes like

Incident Management

,

Problem Management

,

Change Management

, and Asset Management.


Customization and flexibility - Buyers seek software solutions with customization options to align the platform with their business needs. This flexibility ensures the software adapts to their unique workflows and processes, enhancing user satisfaction and overall effectiveness.



Support automation

and Workflow Management - Buyers actively seek automation capabilities to optimize routine tasks such as

ticket routing

, approvals, and

escalations

, contributing to increased efficiency and productivity.


Insightful reporting - Buyers look for help desk software with powerful reporting tools like

dashboards and reports

, providing valuable insights into IT operations and performance for informed decision-making and continuous service improvement.


Efficient

IT Asset Management

- Users prioritize software with robust ITAM capabilities to maintain accurate inventories and optimize organization resource utilization.


Seamless integration capabilities - Integration with other systems and applications is critical for smooth data flow and process automation, enhancing efficiency and providing a unified user experience.


Scalability - Solutions that can adapt to changing needs and accommodate customization are prioritized, allowing organizations to tailor the software to their unique business requirements.
What is SysAid?
SysAid, developed by SysAid Technologies Ltd., is a cloud-based IT Service Management platform that aims to empower mid-sized teams and mature IT departments. With its focus primarily on automation, enhancing user experience, and offering comprehensive functionality, SysAid enables IT professionals to efficiently streamline processes, boost productivity, and prioritize critical tasks, ultimately driving business success.
SysAid Technologies Ltd., headquartered in Toronto, Canada, was founded in 2002 as an ITSM company having a team of over 100 professionals. Their specialization lies in providing effective solutions for IT Incident Management, problem-solving, Change Management, and service requests. The company's ultimate mission is to assist organizations in optimizing their IT operations, thereby achieving greater efficiency in their workflows.
What users like from SysAid
SysAid has received commendable user feedback, as evident from Gartner reviews. Let's explore the advantages highlighted by these satisfied users.
Customization options - Users greatly appreciate SysAid's vast customization choices, empowering them to tailor the software to their needs and preferences. This includes incorporating knowledge base articles, which fosters knowledge sharing within the organization.
User-friendly interface - SysAid has an intuitive and user-friendly interface, enabling users to navigate effortlessly and fully harness the software's capabilities.
Responsive GUI - The Graphic User Interface (GUI) promptly addresses any issues, ensuring a seamless and efficient user experience.
Email integration - SysAid seamlessly integrates with email, facilitating effective communication with end users and encouraging collaboration for efficient issue resolution.
SSO and AD integration - By integrating Single Sign-On (SSO) and Active Directory (AD), SysAid simplifies user authentication and access management, enhancing both security and user convenience.
Reporting capabilities - SysAid offers robust reporting features, providing comprehensive insights into ticket performance. This empowers users to make data-driven decisions and optimize their service desk operations.
Knowledge base organization - SysAid's knowledge base is thoughtfully designed, promoting improved organization and easy accessibility to information.
Global customer support - The platform goes the extra mile by offering support on a global scale, adopting a customer-centric approach by actively seeking and incorporating user feedback.
What users don't like from SysAid
SysAid IT Service Management, while having its strengths, has also faced customer criticism, as documented by reputable sources like Gartner. Let's delve into some of the concerns raised by users.
Incomplete features - Specific features, such as the Configuration Management Database (CMDB) and license tracking, are reported to be incomplete or not fully functional. This falls short of user expectations and hinders optimal IT management practices.
Pricing concerns - Some users express dissatisfaction with SysAid's pricing, deeming it unreasonably high.
Difficulty in modifying settings without disrupting configurations - Users find it challenging to modify settings without unintentionally disrupting other configurations. This leads to disruptions and complexities during the system setup and administration process.
Limitations on administrators and reporting options - The software limits the number of administrators allowed, which can be limiting for organizations with larger teams. Furthermore, the lack of comprehensive reporting options hampers users' ability to gather and analyze data effectively.
Slow support response and challenging system change - Users report experiencing slow response times from the support team, resulting in delays in issue resolution. Additionally, system changes are described as frustrating and cumbersome, leading to a negative user experience.
Challenges with ticket updates and landing page customization - Users encounter difficulties when updating tickets, leading to inefficiencies in the workflow. Similarly, customizing the landing/login page proves to be challenging, impeding desired branding and personalization efforts.
Restricted customization options in specific areas - Certain users feel limited by the lack of extensive customization options available in specific areas of the software. This restricts their ability to tailor SysAid to their unique needs and preferences.
Integration and AI/Automation limitations - Users express dissatisfaction with SysAid's limited integration capabilities, making integrating with other systems seamlessly challenging. Additionally, the absence of advanced AI capabilities and automation features hinders efficiency and productivity gains.
Outdated and inconsistent user interface - The user interface receives criticism for being outdated and inconsistent, exhibiting varying styles within the same product. This inconsistency undermines the user experience and creates difficulties regarding ease of use.
What's SysAid's argument over Freshworks?
SysAid's argument over Freshworks centers on the unique advantages it offers compared to Freshservice. Here are the points to distinguish itself.
Extensive customization options - SysAid prides itself on providing users with a wide array of customization choices. This level of flexibility empowers organizations to tailor the software precisely to their specific needs and preferences.


Responsive GUI and efficient user experience - SysAid's GUI promptly addresses any issues, ensuring a seamless and efficient user experience. This focus on responsiveness contributes to enhanced user satisfaction and productivity.


Comprehensive reporting capabilities - SysAid offers robust reporting features that provide comprehensive insights into ticket performance and service desk operations. This data-driven approach enables users to make informed decisions and continuously optimize their support processes.


Single Sign-On and Active Directory integration - By seamlessly integrating SSO and AD, SysAid simplifies user authentication and access management, enhancing both security and user convenience. This integration promotes a streamlined and secure user experience.


Thoughtfully designed knowledge base organization - SysAid's knowledge base is thoughtfully designed, promoting improved organization and easy accessibility to information. This well-structured knowledge base empowers users to find the information they need more efficiently.


Global customer support - SysAid adopts a customer-centric approach by offering support on a global scale and actively seeking and incorporating user feedback. This dedication to customer satisfaction sets it apart in terms of providing excellent service worldwide.
What is Freshworks?
Freshworks, an organization founded in 2010 and based in San Mateo, California, USA, created Freshservice, an ITSM platform specifically tailored to aid small to medium-sized businesses and large enterprises in effectively managing their IT services. Freshservice utilizes cloud technology and provides a wide range of features, such as IT Asset Management, incident and service request resolution, workflow automation, and a comprehensive knowledge base maintenance.
The platform's user-friendly interface and an impressive Gartner rating of 4.5 out of 5 make Freshservice a dependable choice for companies seeking to streamline their IT operations and deliver outstanding service to their employees.
What users like from Freshworks
Freshservice has garnered positive feedback from users, with endorsements from reputable sources like Gartner and G2. The platform's advantages include.
User-friendly interface - Users appreciate the platform's intuitive interface, enabling effortless navigation and maximizing productivity.
Ticketing system - Users find Freshservice's ticketing system highly effective for managing, tracking, and collaborating on tickets. It ensures quick resolution of customer inquiries and problems.
Knowledge base - The knowledge base feature receives high praise for empowering customers to find self-help resources, reducing the need for repetitive support requests.
Automation and Workflow Management - The tool's automation capabilities are well-regarded, streamlining processes and enhancing efficiency through workflows, automated responses, and escalations.
Mobile app - Freshservice's mobile app is deemed convenient for accessing and managing tickets on the go. It offers a similar user experience to the web version, facilitating efficient remote support.
Customer support - The software's customer support is responsive and helpful, with knowledgeable teams swiftly addressing concerns to provide a satisfactory user experience.
What users don't like from Freshworks
However, there are specific aspects of Freshservice that have raised concerns or dislikes among users. According to evaluations from Gartner and G2, here are some of the dislikes highlighted.
Limited customization - Certain users feel that Freshservice lacks sufficient customization options, particularly in ticketing workflows and interface personalization. They desire greater flexibility to adapt the platform according to their specific requirements.
Steep learning curve for advanced features - While users find the basic features easy to use, some face challenges when trying to navigate and make use of the more advanced functionalities.
Platform stability - Some users have encountered stability issues with Freshservice, including occasional system glitches, slow performance, and instances of downtime.
Limited reporting and analytics - Several users have expressed that the platform's reporting capabilities could be improved, as they find the current options to be limited.
Integration challenges - Users have reported difficulties when trying to integrate Freshservice with third-party tools or systems.
Pricing structure - Some users consider Freshservice's pricing structure to be expensive, especially when additional features or agent licenses are needed. They would prefer more transparent and flexible pricing options.
Search functionality - Some users have faced challenges with the search feature, making it difficult to find specific information or tickets as needed.
What's Freshworks' argument over SysAid?
Freshworks presents compelling arguments in favor of Freshservice over SysAid, emphasizing its unique strengths and advantages.
Intuitive user interface and enhanced productivity - Freshservice is praised for its user-friendly interface, enabling users to navigate effortlessly and maximize productivity. The platform's intuitive design streamlines workflows, making it easy for users to adapt quickly and efficiently manage their IT services.


Effective ticketing system - Freshservice's ticketing system is highly regarded for its efficiency in managing, tracking, and collaborating on tickets. It ensures swift resolution of customer inquiries and issues, contributing to improved customer satisfaction.


Empowering knowledge base - Freshservice's knowledge base feature is recognized for its ability to empower customers with self-help resources. By offering comprehensive and accessible knowledge articles, the platform reduces the volume of repetitive support requests, freeing up resources for more critical tasks.


Streamlined automation and Workflow Management - The automation capabilities of Freshservice are well-regarded for streamlining processes and enhancing overall efficiency. Workflows, automated responses, and escalations simplify routine tasks, allowing IT teams to focus on more complex challenges.


Convenient mobile app - Freshservice's mobile app is deemed convenient for on-the-go access to Ticket Management. It mirrors the web version's user experience, enabling efficient remote support and seamless communication.


Responsive customer support - Freshservice's customer support receives praise for its responsiveness and helpfulness. Knowledgeable support teams address concerns promptly, providing a satisfactory user experience and ensuring that users receive the assistance they need when they need it.
Considering InvGate Service Desk as an ITSM solution alternative
While SysAid and Freshworks are prominent competitors in the ITSM sector, it's crucial to explore alternative solutions that align closely with your organization's unique needs. In this regard, InvGate Service Desk emerges as a compelling and deserving option that warrants careful consideration.
Let's delve into the features of InvGate Service Desk, making it an invaluable and suitable choice to fulfill your ITSM requirements.
Outstanding user experience
InvGate Service Desk places a high priority on delivering an exceptional user experience through meticulous design and adherence to UI/UX best practices. Its intuitive interface encourages quick adoption and minimizes the need for extensive training, resulting in a user-friendly design that maximizes productivity.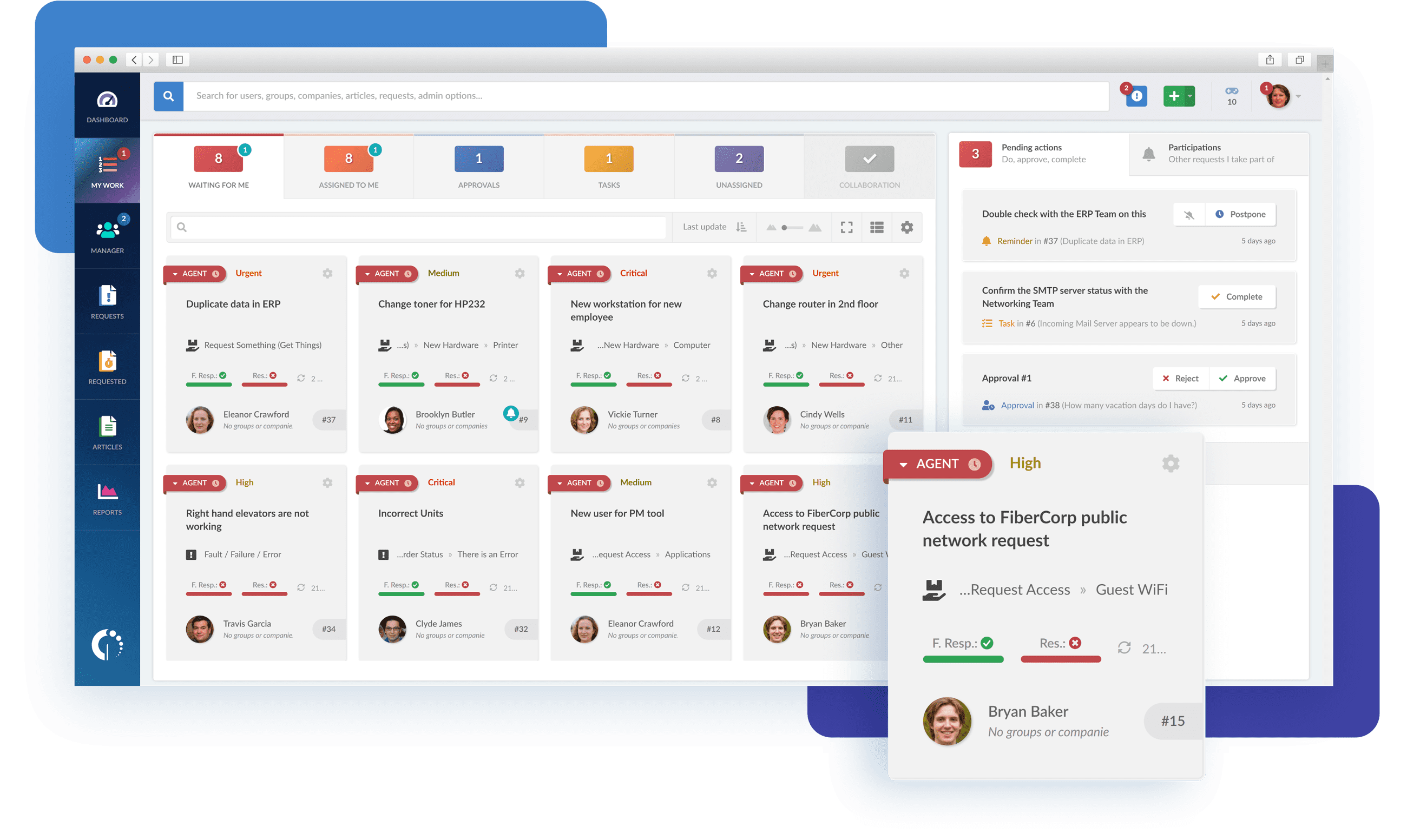 Customization and flexibility
InvGate Service Desk offers flexible deployment options, allowing organizations to choose between on-premise or cloud-based solutions. This adaptability ensures that the platform can cater to the specific requirements of different sectors and industries.
Simplified configuration and setup
InvGate Service Desk streamlines the configuration and setup process by employing a no-code/low-code approach, ensuring a simple implementation that allows users with varying technical expertise to adopt it effortlessly. The platform offers straightforward configuration options that promptly leverage its robust ITSM capabilities.
Designed for ITSM and ESM
InvGate Service Desk is purpose-built for ITSM while seamlessly extending its capabilities to Enterprise Service Management (ESM). It empowers operational departments to improve their processes and fully embrace the benefits of digital transformation, promoting streamlined workflows and comprehensive digital initiatives across all departments.
Robust self-service capabilities
InvGate Service Desk empowers end-users with a user-friendly portal, an extensive IT service catalog, and a knowledge base, enabling them to independently resolve common issues, access IT services, and utilize self-help resources. This significantly reduces the burden on IT staff.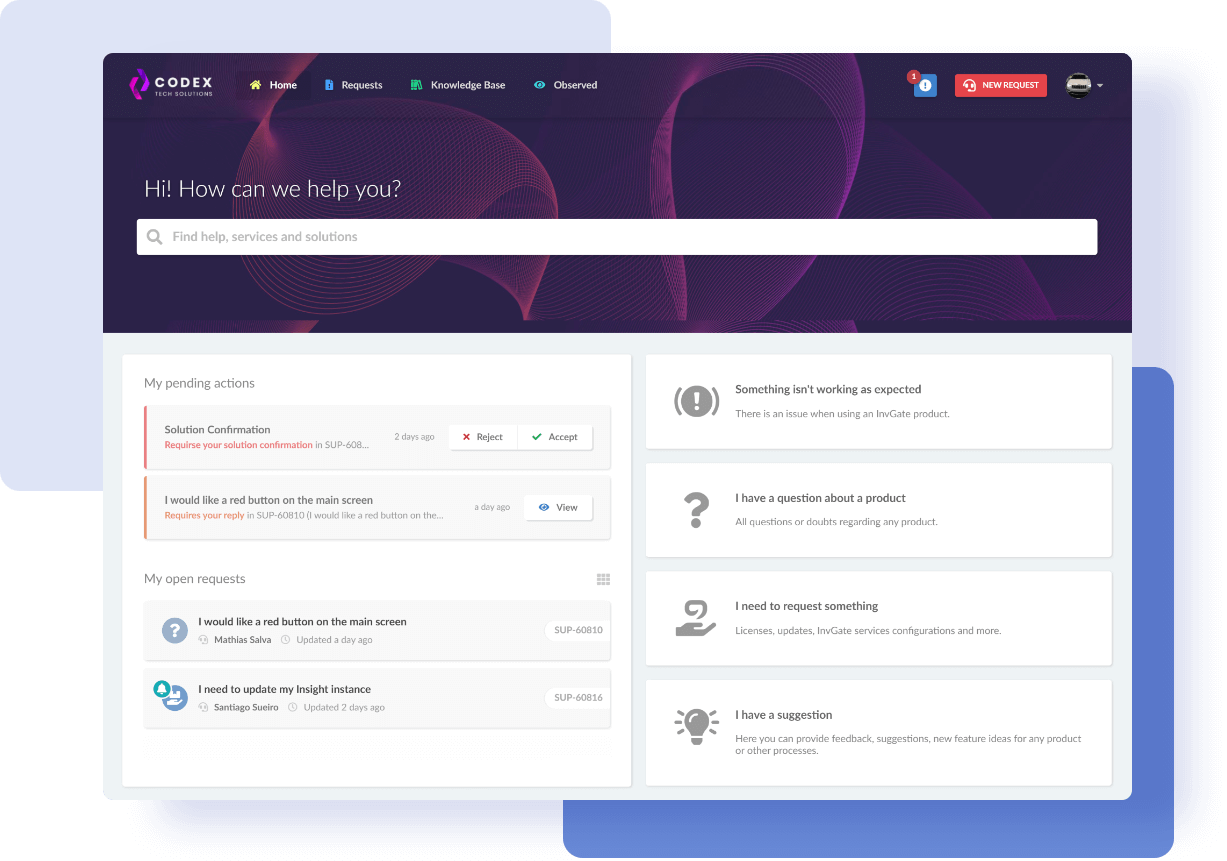 Powerful Ticketing and Incident Management
InvGate Service Desk excels in delivering robust features for ticketing and incident management. It facilitates efficient tracking, collaboration, and resolution of tickets, empowering IT teams to handle and prioritize incidents effectively. Automated ticket routing, customizable workflows, and SLA Management enhance the efficiency of incident resolution processes.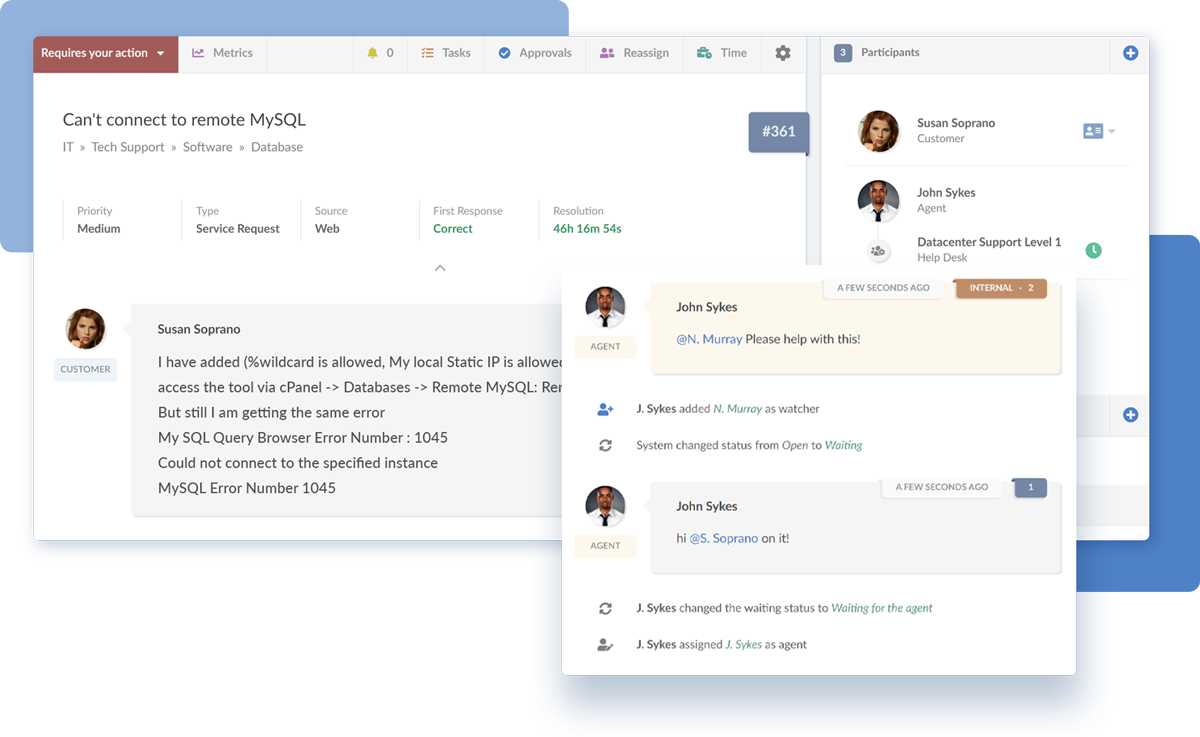 Extensive reporting and analytics
InvGate Service Desk provides comprehensive reporting and analytics functionalities, offering valuable insights into IT operations and performance. The platform includes ready-to-use reports and customizable dashboards, enabling IT teams to analyze data, identify patterns, and make informed decisions to enhance their services.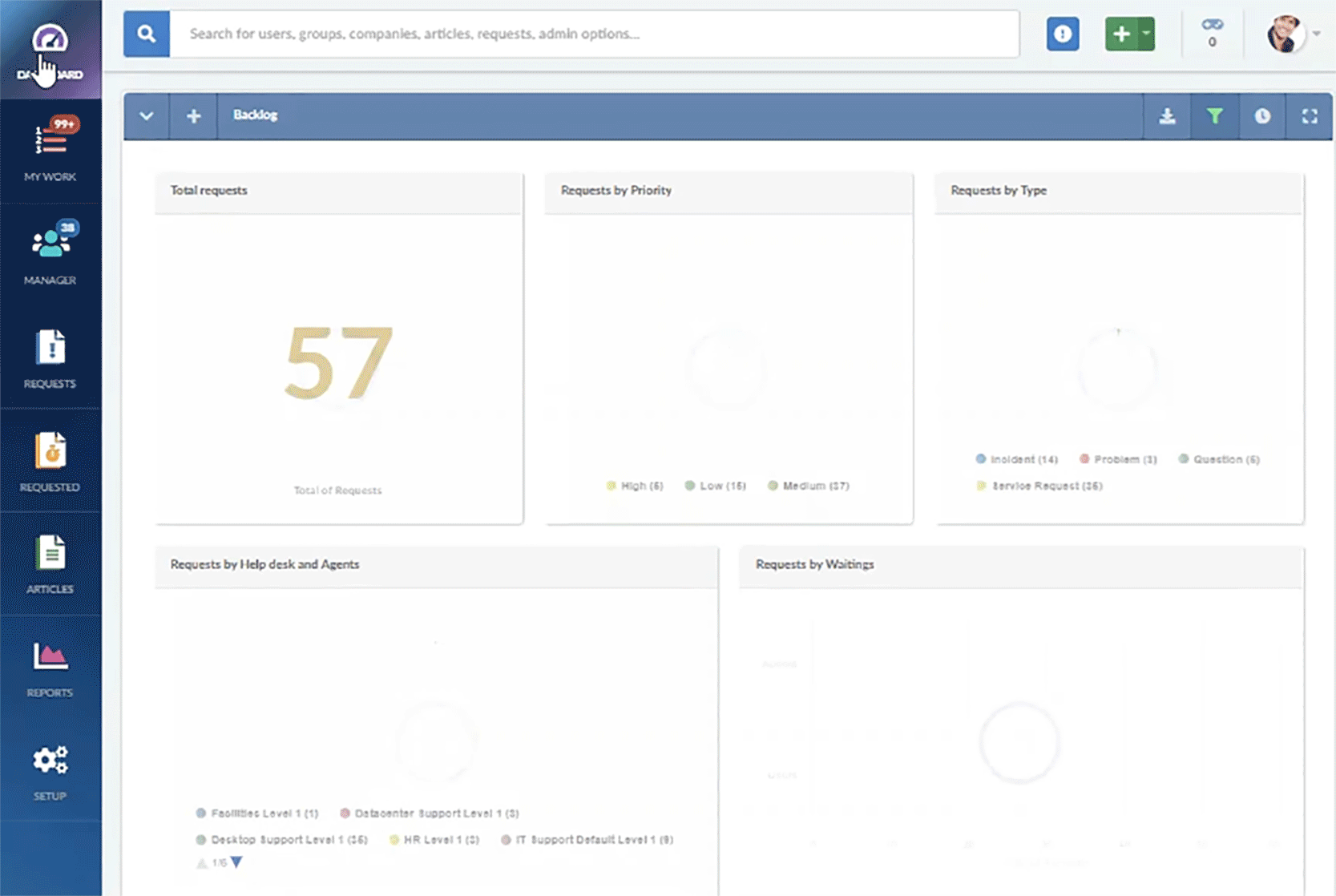 Comprehensive Asset Management
By integrating InvGate Service Desk with InvGate Insight, organizations gain a holistic view of their IT ecosystem, leading to improved service delivery and reduced downtime. InvGate Insight offers features such as IT Asset Discovery, Inventory Management, Software License Management, and maintenance schedules.
Cost-effective solution
InvGate Service Desk provides a cost-effective solution without compromising functionality. It presents a comprehensive array of ITSM features at a competitive price, making it an appealing option for organizations seeking affordability without sacrificing capabilities. In comparison to alternatives like SysAid and Freshworks, InvGate Service Desk effectively balances cost and functionality.
ITIL4 certification
InvGate Service Desk has earned the esteemed ITIL4 certification from PINK Elephant, underscoring its dedication to maintaining ITSM excellence. Whether organizations are embarking on their ITIL journey or managing intricate operations, InvGate Service Desk provides a user-friendly and feature-rich experience aligned with industry best practices.
Fast ROI and ongoing innovation
InvGate Service Desk ensures a fast return on investment through efficient implementation processes. Within weeks, organizations can begin experiencing the benefits of this robust ITSM solution. Additionally, regular feature updates keep users at the forefront of technology without incurring additional costs.
Next steps
The comparison between SysAid vs. Freshworks showcases two powerful IT Service Management solutions, each offering distinct advantages to cater to the diverse needs of organizations.
As businesses strive to improve their IT operations and deliver exceptional service to their users, a thoughtful evaluation of these platforms is crucial in making an informed decision. That's why it's worth considering other contenders in the space, such as InvGate Service Desk. With its streamlined functionalities, robust features, and focus on optimizing IT services, this platform emerges as a compelling alternative for businesses seeking a comprehensive and innovative IT Service Management solution.
Take the next step towards optimizing your IT services by downloading our free ITSM implementation guide, designed to assist you in mapping out your path to success.