A proper Patch Management process is crucial as it helps prevent data breaches by fixing security vulnerabilities and bugs. It is also the way to make sure all your devices run the latest software versions, which implies having access to updated functions and characteristics.
Just so we are all on the same page, Patch Management consists of acquiring, testing, distributing, and installing updates or software patches. It is an essential part of an organization's IT Asset Management (ITAM), and it requires following Patch Management best practices and selecting a top patching software to ensure the task is done effectively and efficiently.
In this article, we will analyze the goals of this practice and delve into the instructions needed to implement the whole process with InvGate Insight.
Get ready to explore the Patch Management process, which goes way beyond patch deployment.
What are the goals of a Patch Management process?
Patch Management aims to keep all the operating systems in your network updated and, therefore, as secure as possible against malware and other vulnerabilities that may result in data losses and significant risks.
An effective patching process requires attaining the following goals.
1. Reduce interruptions and rollbacks
Planning is crucial to avoid interruptions and rollbacks when deploying updates. A good Patch Management process implies, among other things, scheduling the updates when the devices are not in use so that the workflow is not interrupted and there are no rollbacks.
2. Create predictability and routine around patching
The process should follow a predictable plan, so routine is key. Devices and software should be categorized to periodically receive their corresponding patches, with the aim of preserving information security.
3. Empower IT with emergency powers (rollback and distribution) when needed
Automation is crucial to perform patching effectively, but if, for whatever reason, the automated Patch Management software fails, then the IT department should also be able to perform necessary adjustments. Using a workflow to design this process guarantees everything runs smoothly and is documented for analysis.
4. Ensure complete visibility into patch status
It is essential to know how and when each software and operating system has been updated and which patch version all devices have received. An ITAM tool with monitoring capabilities should provide you with a historical report of applied patches and current versions.
Besides, this data should serve to design IT Asset Management reports, allow the IT department to track any problem that might arise, and prove compliance with internal and external standards.
Step-by-step instructions for implementing a Patch Management process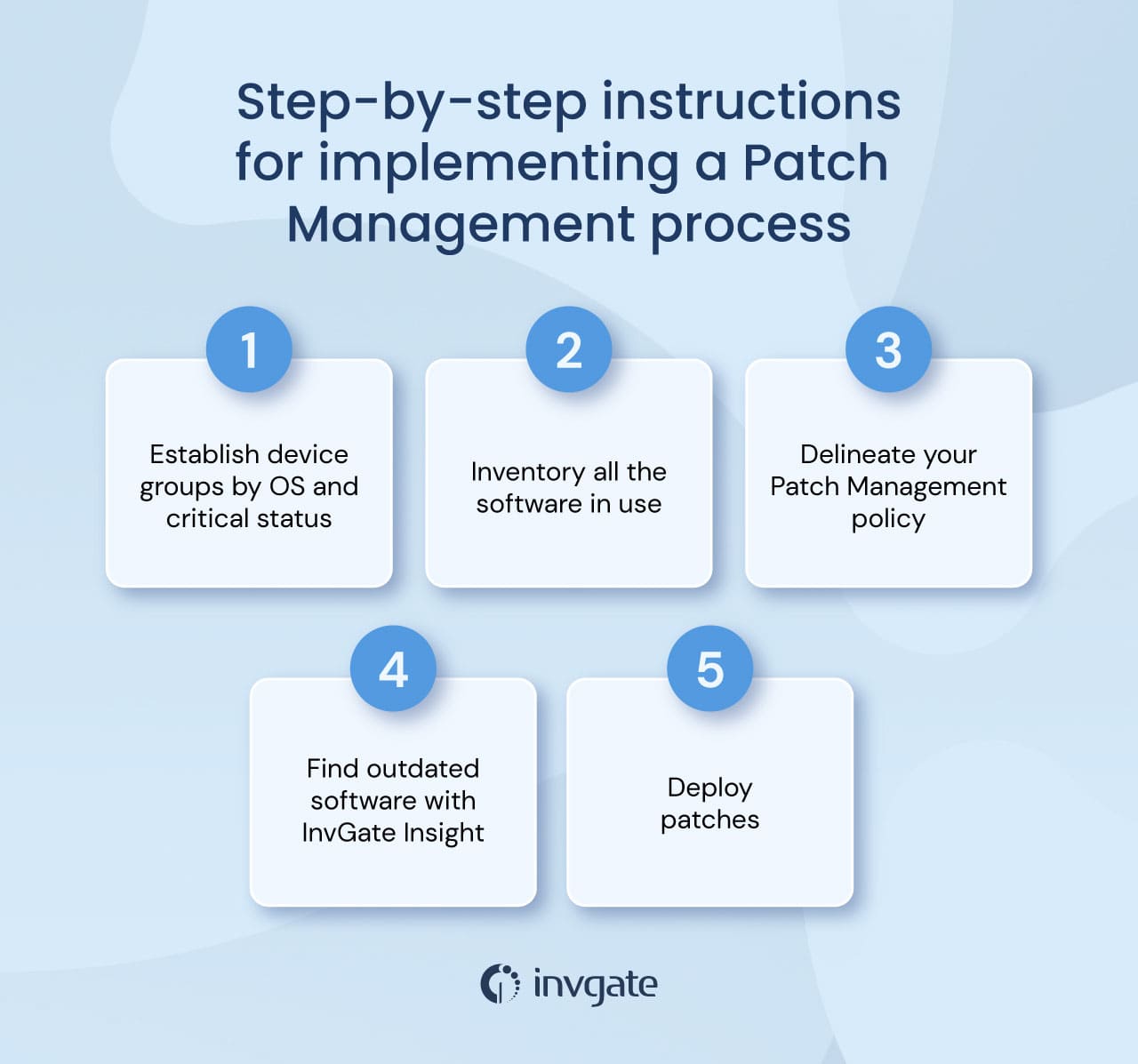 Organizations generally try to maintain software consistency across the different devices connected to the network, and resort to centralized Patch Management rather than letting each computer download its updates.
Centralized Patch Management usually implies an ITAM software solution that checks missing patches, downloads, and distributes them to the related equipment according to the Patch Management workflow defined by the company.
Here are the necessary steps to illustrate this process, as well as some tips to accomplish them with InvGate Insight.
1. Establish device groups by OS and critical status
Applications and devices should be categorized according to their risk factor. How critical is that system or device to the organization? What data and processes will be affected? These questions will help determine priorities. Preserving security is crucial.
Servers or computers with confidential data should be considered a high priority, and thus should receive patches first. In contrast, less relevant, offline, and rarely used devices should be deemed a low priority.
It is crucial to have a multi-staged approach to streamline the patching process. In this sense, the chief information security officer might also want to establish device groups based on their operating system, as this will facilitate the patching process.
2. Inventory all the software in use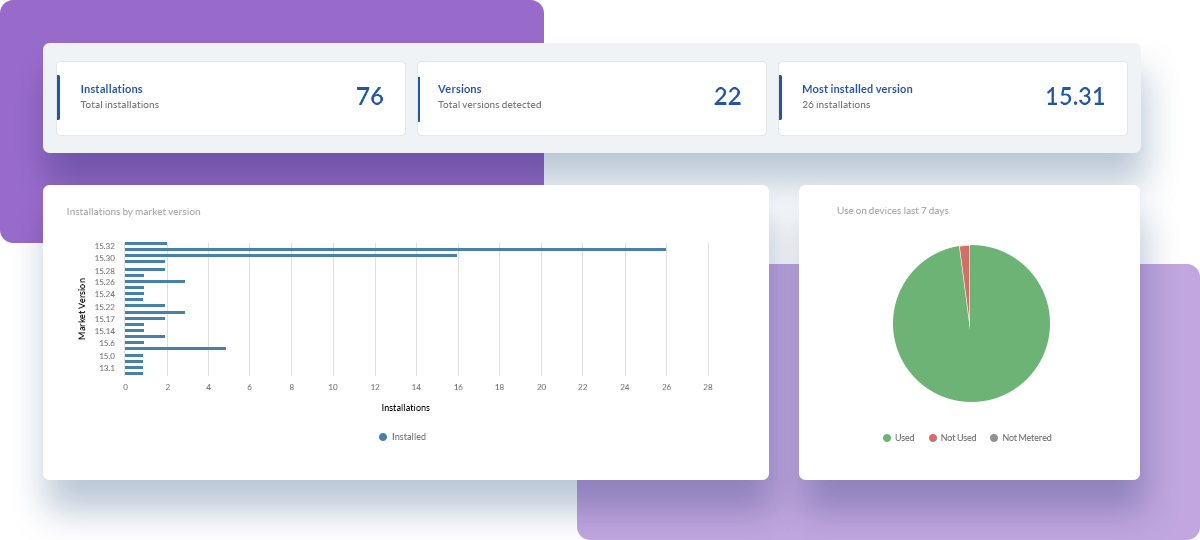 Organizations should build a complete IT inventory, including all the operating systems and applications as the first step to assessing what patches have been installed and which ones might be missing. Knowing the current state of patching will help outline the strategy to be carried out.
The inventory can be done manually or automatically through Asset Management software. In this sense, InvGate Insight provides you with a quick and easy unified view of your entire asset inventory, including their details and status. Plus, by installing InvGate's Agent on your computers, it will also report all their data to your instance (including all the installed software) and notify you when something is wrong.
3. Delineate your Patch Management policy
Once priorities have been established based on the critical status of all the devices analyzed, it is time to outline a Patch Management policy that will determine how and when security patches should be deployed.
The policy will specify the procedures to be carried out based on the criticality of devices, the mitigation capabilities, and the risk imposed by the type of security vulnerability identified in each case. This is part of the Vulnerability Management organizations should carry out.
4. Find outdated software with InvGate Insight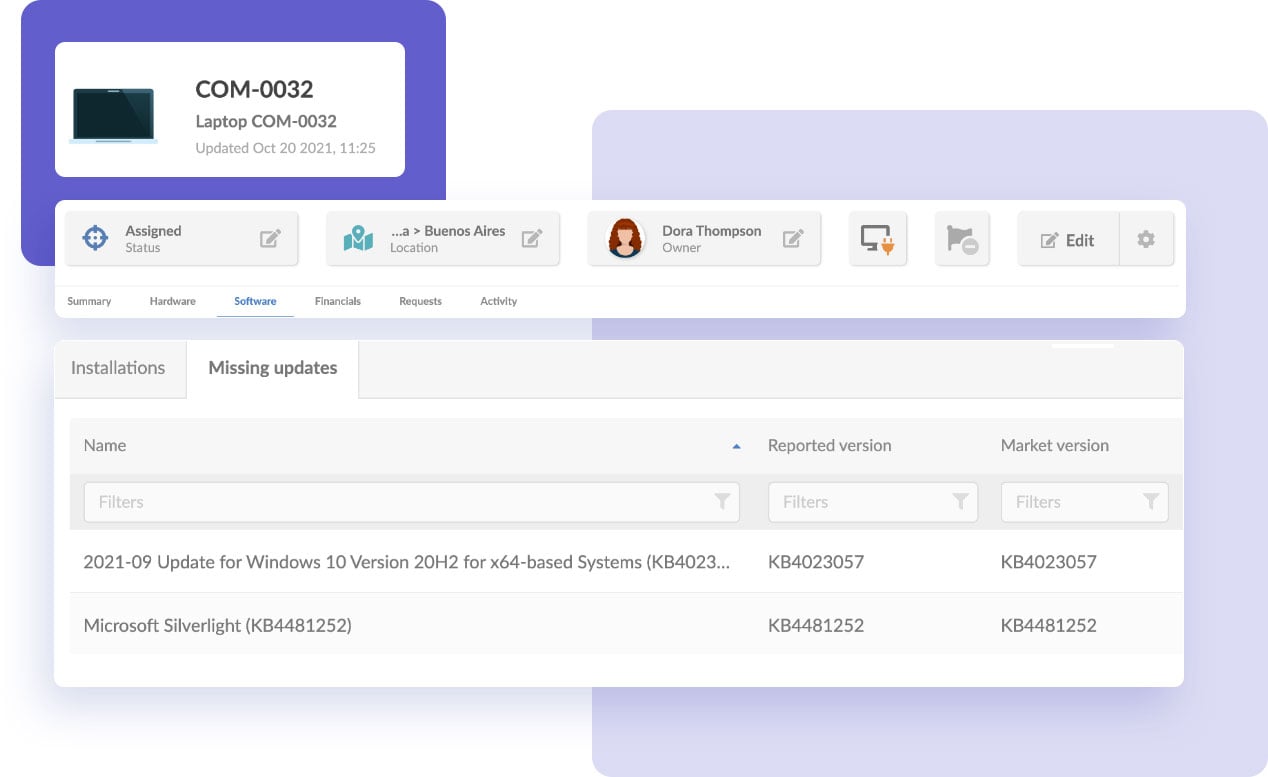 Up until now, you have put together an inventory outlined the rules to patching. Now, it's time to take action. A crucial part of the Patch Management process is to effectively monitor your network to spot outdated devices that might pose a risk to the organization.
InvGate Insight offers two options to do it:
Use its searching capabilities to find software that matches a specific manufacturer and version. The ones that match stand as the targets to be patched.
Go to the software's profile and check the "Installations by market version" dashboard to spot installations from previous versions.
Once you have identified the devices, prioritize the work based on usage or risk. If it's a simple patch method, you can apply the patches to all machines at once. However, keep in mind that outdated software might be in place for a reason – be it because of old operating systems, lack of technical capabilities, or other. Part of the asset manager's job is to determine whether updates are the right move for each scenario.
5. Deploy patches
Finally, it's time to perform the patch deployment. Here, InvGate Insight also provides you with two alternatives:
The first one is manual. Once you identify the device in need of patching, open its profile on InvGate Insight and use the remote desktop integration to fix it.
The second one is using a software deployment tool to automate and streamline the process across various systems.
Key takeaways
An effective Patch Management process should keep your company network safe against multiple vulnerabilities that have the potential to impact its performance.
The easiest way to do it is to add the workflow to your IT Asset Management practice. ITAM is well-known for its ability to contribute to reducing risks, and this is no exception. With such a solution, you'll be able to map your entire IT infrastructure, spot outdated software, and update it.
If you want to try out InvGate Insight's capabilities related to patching, ask for a 30-day free trial!
Frequently Asked Questions
What is a Patch Management process?
A Patch Management process is a procedure that involves acquiring, testing, deploying, and monitoring updates (patches) to software systems to address security vulnerabilities, improve functionality, and maintain system health.
How to audit the Patch Management process?
To audit Patch Management, review documentation for update policies, assess patch testing procedures, examine deployment records, validate monitoring practices, and ensure alignment with security standards.
What are some common problems with Patch Management?
One of the most common difficulties is the lack of visibility into the patches deployed and on what devices. Another problem is that the patch may fail, which opens the system to vulnerabilities and attacks. Manual patching is another common obstacle because it is time-consuming and can lead to errors. Finally, there's the problem of lack of mobile control. It is crucial that organizations implement updates on mobile devices to keep the corporate data secure.
What are the three types of Patch Management?
The 3 most common types of patches are:
Security patches - Involves patching newly discovered security holes in the system.
Bug fixes - Involves patching newly discovered security holes in the system.
Performance patches - Enhance overall performance by lowering resource requirements, making apps run faster, or getting new functionalities.
What are Patch Management procedures?
Patch Management procedures involve identifying, acquiring, testing, and installing patches or making code changes to solve security vulnerabilities, fix bugs, or add features to a network's software or operating systems.