As you enter the complex landscape of IT Asset Management (ITAM), the critical choice between NinjaOne vs. Snow License Manager comes to the forefront. Choosing the right ITAM solution isn't just a decision – it's a transformative leap that can reshape your organization's efficiency and pave the way for its overall success.
In this blog post, we'll delve deep into the heart of these two prominent tools. Our goal? To provide you with an in-depth and comprehensive ITAM software comparison.
But our exploration doesn't conclude there. We'll also introduce you to a noteworthy contender in the ITAM arena – InvGate Insight. With its distinct functionalities and capabilities, this platform brings its own unique flavor to the mix, adding another dimension to your ITAM strategy considerations.
The journey to optimized ITAM starts right here and now!
Most looked-at features by buyers
When evaluating choices for IT Asset Management solutions, potential buyers consider a variety of essential capabilities to discover the most suitable option that aligns with their specific requirements and business needs. Here are several key factors that purchasers take into consideration when picking a customized ITAM solution for their company.
What is NinjaOne?
NinjaOne is dedicated to creating IT management solutions that offer robust support to Managed Service Providers (MSPs) and IT professionals. Their primary aim is to ensure seamless business operations and increased profitability. The platform is strategically designed to simplify the process of bringing clients on board and to maximize automation, resulting in a modernized IT management experience.
The tool's main goal is to lower the expenses associated with client onboarding and training, proactively identify and resolve common IT issues, and simplify intricate IT tasks. This shift positions IT as a potential driver of business growth rather than just an expenditure.
The company operates independently and is led by its founders, supported by an executive team with extensive backgrounds in IT. This ranges from overseeing their services to establishing startups tailored for MSPs and IT leaders. NinjaOne's core is built on cloud technology, providing an integrated IT management platform well-prepared for expansion.
What users like from NinjaOne
NinjaOne has received significant customer recognition and positive feedback from reputable sources such as Gartner. Users have highlighted a variety of benefits, as detailed below.
Streamlined implementation and management - The platform's straightforward implementation and management protocols simplify tasks for IT teams, saving time and resources during platform setup and oversight.
All-inclusive, integrated solution - NinjaOne's comprehensive fusion of Help Desk, Patching, and Backup functionalities within a single product simplifies operations and enhances effectiveness.
Extensive resources - The provision of thorough documentation and scripting options empowers IT professionals to customize processes, troubleshoot proficiently, and automate repetitive tasks.
Robust reporting capabilities - The tool's powerful reporting features offer deep insights into the functionality of IT operations.
Responsive support and interaction - NinjaOne's customer support services and user engagement cultivate a positive user experience. Timely assistance and interaction efforts foster a sense of partnership and confidence in the platform.
Cost-efficient approach - NinjaOne's budget-friendly strategy positions it as a valuable choice for businesses of various sizes. Its flexible licensing, allowing for a start with just 50 devices, enables organizations to scale according to their needs.
Efficient Patch Management capabilities - NinjaOne's seamless Windows Patch Management eases the complexities of keeping systems up to date. The ability to schedule patches and software updates reinforces system security and efficiency while reducing vulnerabilities.
Simplified navigation - The platform's inherent navigation structure ensures rapid locating of necessary tools and features. This reduces the learning curve and enhances the overall user experience.
Mobile adaptability - The solution's mobile application extends the convenience of IT management beyond desktop environments, enabling professionals to oversee and address issues while on the move.
Data protection through server and PC backup - NinjaOne's incorporation of server and PC backup features provides a reliable solution for safeguarding data, securing vital information, and minimizing potential setbacks.
Swift search functionalities - The platform's rapid search capabilities for individuals or serial numbers expedite problem-solving and asset identification.
What users don't like from NinjaOne
In spite of NinjaOne's numerous strengths and praiseworthy qualities, it is not immune to customer considerations and constructive critique. Below is a compilation of prevalent issues users have brought up in reviews from respected sources like Gartner.
Fluctuating remote capabilities - Some users have observed inconsistencies in the platform's remote capabilities, which could hinder efficient remote troubleshooting and management tasks.
Room for improvement in the ticketing system - Certain users believe that the ticketing system could be enhanced by introducing additional features, customization choices, and improved usability.
Issues in retrieving asset details - A subset of users have faced challenges when trying to access asset details effectively, potentially causing delays in troubleshooting and Asset Management processes.
Incomplete integrations - Instances have been reported where integrations with external tools or systems appear incomplete or lacking certain aspects, affecting the overall efficiency of users' workflows.
Limited availability of technical support beyond standard business hours - Some users have expressed the desire for 24/7 support to ensure prompt assistance and issue resolution at any hour.
Demand for screenshot functionality - Users have indicated a need for screenshot functionality within the platform, which could aid in documentation, troubleshooting, and communication processes.
Lack of maintenance mode for devices - The absence of a maintenance mode for devices could complicate certain tasks, such as updates or troubleshooting, without disrupting ongoing operations.
Past problems with email delivery - Previous instances of email delivery issues have been documented, potentially impacting communication and the timely handling of support requests.
What's NinjaOne's argument over Snow License Manager?
In a direct comparison between NinjaOne and Snow License Manager, NinjaOne possesses a range of advantages that position it as a compelling IT Asset Management solution.
Extensive resources and easy implementation - NinjaOne's provision of comprehensive documentation and scripting options empowers IT experts, simplifying troubleshooting and automation.


Comprehensive, unified solution - NinjaOne's innovative integration of Help Desk, Patching, and Backup functionalities into a single, cohesive product amplifies its efficiency and operational effectiveness.


Responsive support - NinjaOne's unwavering commitment to responsive customer support and meaningful user engagement fosters a positive and collaborative user journey.


Cost-efficient approach - NinjaOne's strategic cost-effective strategy positions it as a flexible solution.


Simplified navigation and strong reporting - NinjaOne's intuitive navigation and robust reporting capabilities enhance user experience and provide valuable insights.


Data protection and mobile adaptability - NinjaOne's robust data protection through server and PC backup, in addition to its mobile application for on-the-go IT management, represents a comprehensive approach to modern IT needs.
What is Snow License Manager?
Snow License Manager, developed by Snow Software, is a tool to manage software assets. Its primary objective is to assist businesses in effectively overseeing their software licenses, enhancing software utilization, and ensuring adherence to licensing agreements.
The software comes equipped with a range of features and capabilities that empower enterprises to grasp the nature of their software assets. This understanding, in turn, facilitates well-informed decision-making regarding software procurement, usage, and cost-effectiveness.
Snow Software is a well-known global provider that specializes in solutions for managing technology intelligence related to Software Asset Management, IT Service Management, and Enterprise Mobility Management. Headquartered in Stockholm, Sweden, the company possesses a strong worldwide presence with regional offices across the United States, Europe, and Asia.
Since its establishment in 1997, Snow Software has consistently maintained a leading position by offering an extensive array of products and services. These offerings are designed to assist organizations in optimizing their technology investments and obtaining maximum value.
In addition to Snow License Manager, the company also offers other products, including Snow Device Manager, Snow Inventory, and Snow Automation Platform.
What users like from Snow License Manager
Reviews from reputable sources such as Gartner attest to the strong reputation and positive feedback Snow License Manager has received. Notable benefits are outlined below.
User-friendly interface - The platform boasts an intuitive interface designed for user convenience. Its layout promotes easy navigation and interaction across various processes, enabling efficient utilization.
Outstanding performance - Snow License Manager excels in consolidating data and employs a strategy that readies organizations for audits. This aids in maintaining a thorough record of software assets.
Continuous upkeep - The software undergoes consistent updates, ensuring it stays up-to-date with the latest features and security enhancements. It's recognized as a mature product with a proven history of reliability.
Seamless integration - The tool exhibits robust integration capabilities with SAP environments, streamlining workflows and bolstering compatibility. Lightweight agents are used for efficient operations.
Insightful reporting - Snow License Manager presents a diverse range of valuable standard reports that provide insights into software usage and hardware information collected through agents.
Outstanding support - Users have expressed considerable satisfaction with the support team's communication quality. Moreover, participation in the beta program offers users access to new features and a chance to contribute feedback.
Comprehensive Software Recognition Service (SRS) - The tool offers an extensive and meticulous SRS. Regular updates are carried out to ensure precise identification of software assets. The service relies on stable agents to produce dependable results.
Cost efficiency - By offering insights into installations and compliance, the platform assists organizations in curtailing audit expenses by ensuring license conformity.
Simplified licensing - The tool eases the monitoring and visualization of software licenses and compliance issues. It equips organizations with straightforward tools for proficient license management, thereby promoting adherence to licensing agreements.
What users don't like from Snow License Manager
While Snow License Manager has many strengths and positive attributes, it's not immune to user concerns and criticisms. Reviews from respected sources such as Gartner have drawn attention to several issues commonly encountered by users.
Performance challenges - The performance of Snow License Manager can be adversely affected by extensive data volumes. In cases where organizations possess vast software inventories or intricate IT environments, the system might encounter performance obstacles like sluggish response times or delays in generating reports. Users have also pointed out encountering software glitches or limitations that curtail specific functionalities, thereby impeding optimal software utilization.
Integration hurdles - Certain users have faced difficulties during the integration and implementation of the software. Moreover, the process of

agent

configuration might lack user-friendliness, demanding supplementary effort and expertise to ensure successful integration.
User interface complexity - The setup process for the software can be intricate and not consistently straightforward. Users might encounter difficulties while attempting to personalize the interface to match their precise requirements, potentially resulting in a less-than-optimal user experience.
Maintenance expenditure - The tool incurs notable maintenance costs that organizations need to factor into their software budgeting. Some users have reported that product upgrades can lead to problems or disruptions in the system's functionality.
Software Recognition Service (SRS) issues - The platform grapples with challenges in accurately identifying certain software assets. This can lead to incomplete or inaccurate reporting of software inventory. Moreover, issues related to cross-platform rights can curtail the system's ability to recognize and manage software assets across diverse platforms or operating systems.
Reporting functionality - While the tool provides an array of valuable standard reports, some users have proposed room for enhancement in the reporting functionality. Generating specific or customized reports might entail limitations, and the procedure for crafting intricate or tailored reports can be time-intensive and necessitate added effort.
Support limitations - Users have raised instances of delayed response times from the support team, resulting in delays in resolving issues. Additionally, there have been occurrences where the support team's problem-solving capabilities fell short, leading to protracted troubleshooting endeavors.
Cost concerns - One drawback of the tool is its elevated cost. Organizations might perceive the initial acquisition and ongoing maintenance expenses of the platform as significant. Additional expenses related to technical support services could further contribute to the overall financial strain.
Licensing apprehensions - Users have expressed reservations about the absence of notifications when synchronization fails during the licensing process. This could potentially result in compliance challenges. Furthermore, compiling a comprehensive software license position might be time-consuming, necessitating manual effort to gather and consolidate accurate license information.
What's Snow License Manager's argument over NinjaOne?
Pitted against NinjaOne, Snow License Manager emerges as a robust and comprehensive IT Asset Management solution. It effectively highlights its strengths in several key areas, differentiating itself and making a compelling case.
User-friendly interface - Snow License Manager places great emphasis on user convenience with its intuitive interface, ensuring seamless navigation and interaction throughout diverse processes.


Outstanding performance - Snow License Manager excels in consolidating data and preparing organizations for audits, thus maintaining a thorough software asset record.


Continuous upkeep - Snow License Manager's consistent updates ensure it remains at the forefront of features and security enhancements, bolstering its reliability.


Seamless integration - The robust integration capabilities of Snow License Manager with SAP environments streamline workflows and enhance compatibility.


Insightful reporting - Snow License Manager's diverse range of valuable standard reports provides deep insights into software usage and hardware information.


Outstanding support - Snow License Manager's exceptional support, characterized by effective communication and user satisfaction, enhances user engagement and product improvement.


Cost efficiency - Snow License Manager's ability to curtail audit expenses through insights into installations and compliance is a strong counterpoint.


Simplified licensing - Snow License Manager's effective tools for monitoring and visualizing software licenses and compliance issues offer a straightforward solution.
Considering InvGate Insight as an ITAM solution alternative
For organizations in search of tailored solutions for managing their IT assets, InvGate Insight emerges as a viable choice. As a robust ITAM solution, it offers a range of functionalities that make it a suitable option for optimizing Asset Management processes. Let's delve into its main features.
Enhanced management of IT Assets and Inventory
InvGate Insight simplifies integration by consolidating data from various sources, including major operating systems, cloud service providers (AWS, Google, and Azure), and MDMs (JAMF and Google Endpoint Manager). This comprehensive integration facilitates effective management of both IT and non-IT assets, locations, and personnel. This approach saves time and provides a holistic view of the infrastructure.
Optimization of software efficiency and cost reduction
InvGate Insight empowers organizations to detect and measure the usage of paid software, streamlining Software Management. By gaining visibility into software usage, unused licenses can be reassigned, unnecessary costs minimized, and returns on IT investments maximized. This optimization of software efficiency helps organizations make the most of their software assets.
Thorough understanding of IT infrastructure
With its strong capabilities, InvGate Insight delivers comprehensive and actionable insights into IT assets, covering their status and usage. This detailed understanding allows for efficient infrastructure management and optimization, resulting in improved operational efficiency.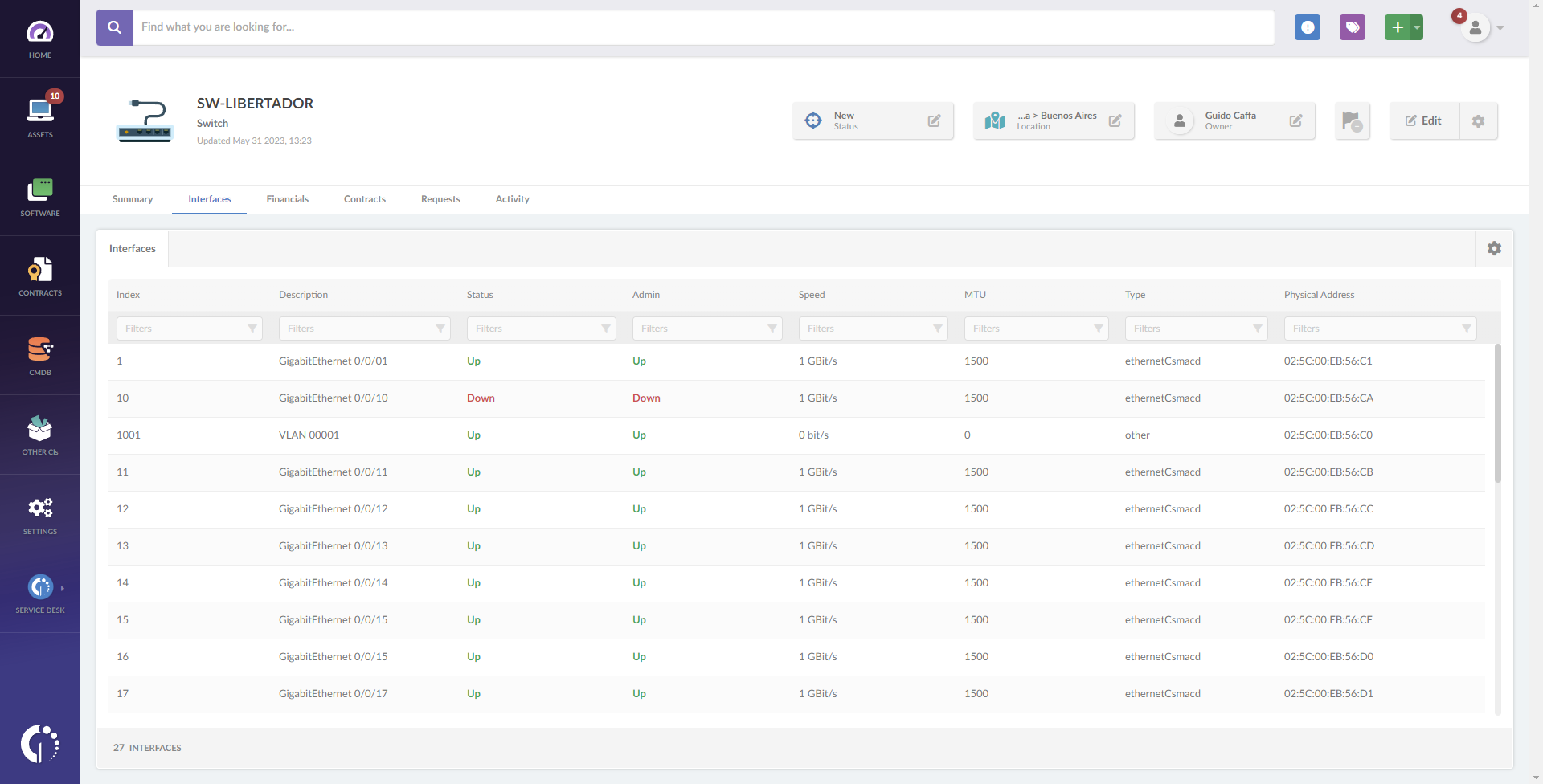 Holistic IT operations view through native service desk integration
InvGate Insight seamlessly integrates with InvGate Service Desk, creating a native connection between tickets, devices, and personnel. This integration provides a comprehensive view of IT operations, which streamlines management. Linking service tickets to relevant assets and personnel enhances workflows, communication, and issue resolution.
Effortless Remote Management with native integration
InvGate Insight seamlessly integrates with widely used remote desktop tools like Windows Remote Desktop, TeamViewer, AnyDesk, and VNC. This integration enhances remote management capabilities, granting direct access to devices for troubleshooting and maintenance. This smooth remote access empowers organizations to effectively address IT issues, perform maintenance tasks, and ensure uninterrupted operations.
Automation and proactive alerts
InvGate Insight promotes process automation and the setup of alerts to foster proactive IT management. Automated alerts allow organizations to monitor contract expirations and promptly inform relevant parties, reducing the risk of oversight. This automation optimizes operations, allowing a focus on critical tasks and boosting overall efficiency.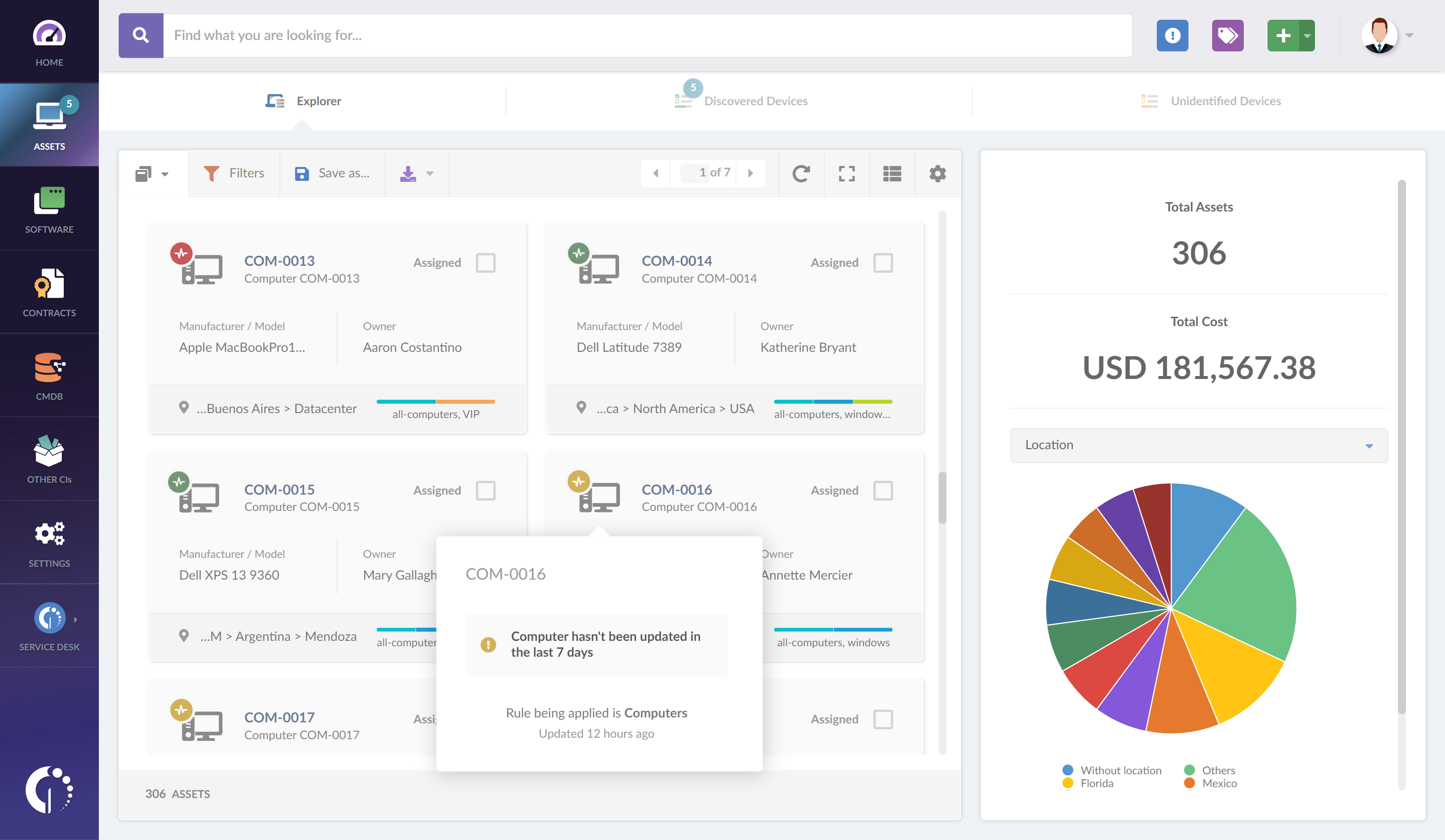 Streamlined operations through CMDB map creation
InvGate Insight's CMDB map-building tool offers a clear and comprehensive view of the IT landscape. Visualizing relationships between components helps identify potential impacts on operational continuity, addressing risks proactively. This visibility results in reduced service times, increased operational efficiency, and smoother IT operations overall.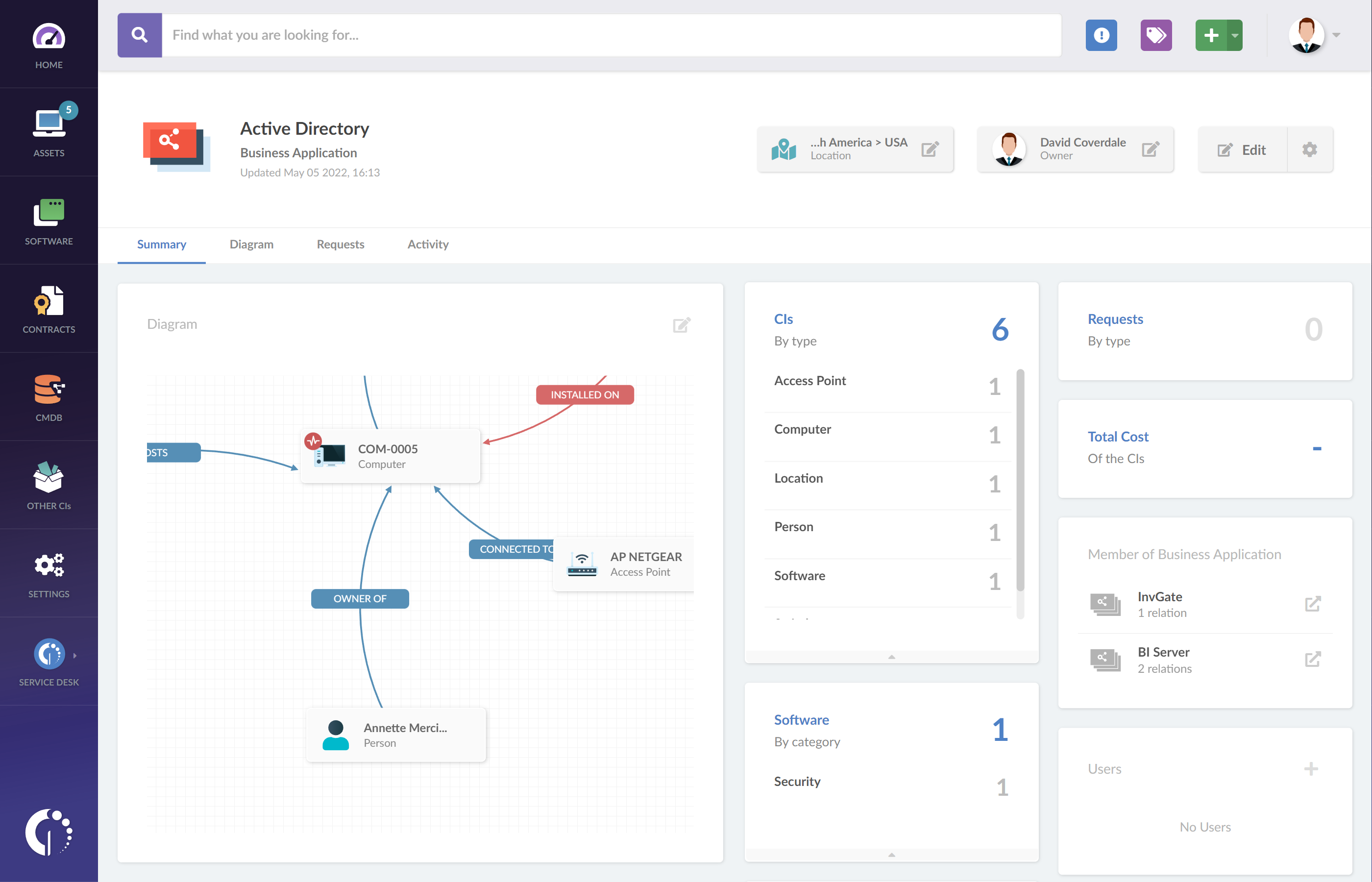 Enhanced cybersecurity compliance through asset monitoring
InvGate Insight's asset monitoring capabilities establish and enforce device health rules, contributing to proactive cybersecurity compliance. Swift identification of instances of non-compliance enables immediate action to uphold cybersecurity policies and safeguard the IT infrastructure.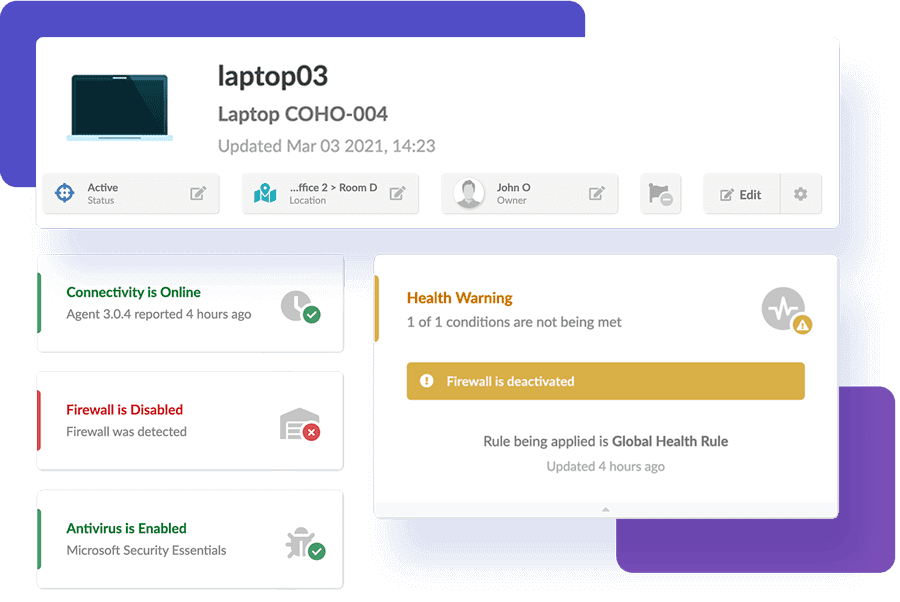 Proactive management of operational costs
InvGate Insight facilitates the direct integration of financial data, contracts, licenses, and other essential information into the system. This approach provides organizations with a comprehensive understanding of operational expenses, enabling proactive and well-informed financial decisions. This optimization of budget allocation maximizes the value derived from IT investments.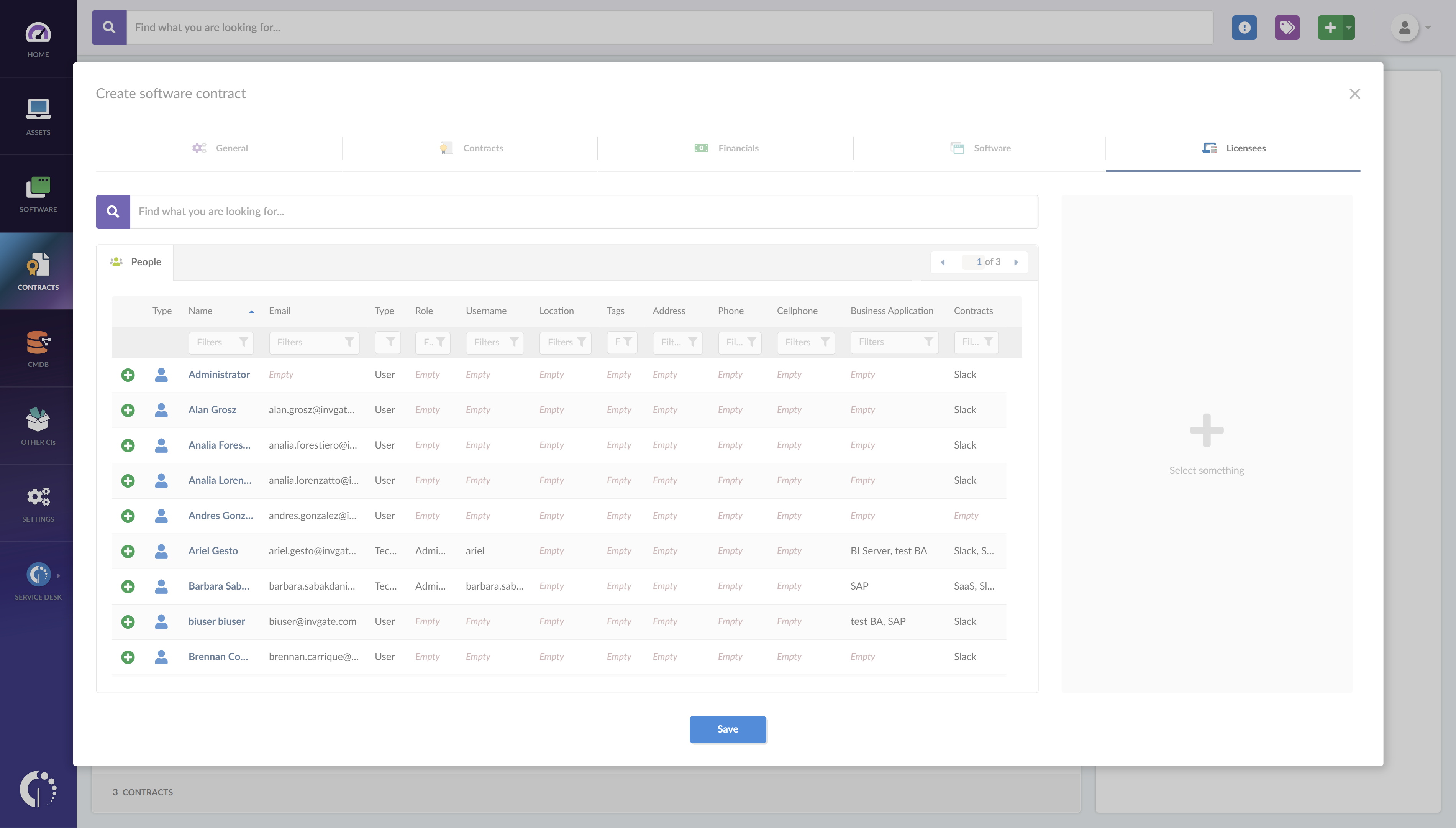 Flexible deployment options to suit requirements
Recognizing the uniqueness of each organization's needs and industry regulations, InvGate Insight offers flexible deployment options. This flexibility allows organizations to choose between cloud-based or on-premises solutions, ensuring alignment with specific needs and compliance standards.
Next steps
The comparison between NinjaOne vs. Snow License Manager as IT Asset Management solutions has shed light on their respective merits and functionalities. However, the quest for the perfect fit demands a deeper investigation, considering the unique requirements of each organization.
Consider exploring alternatives like InvGate Insight, which stands out with its efficient management capabilities, robust cybersecurity compliance, and proactive cost control.
To guide you through this decision-making process, download our complimentary free ITAM implementation checklist. This resource can help you map out your next steps with clarity and confidence.