As you navigate the dynamic realm of IT Asset Management (ITAM), the decision between ServiceNow Software Asset Management vs. Snow License Manager emerges as a pivotal choice. Selecting the right ITAM solution can revolutionize your organization's efficiency and success.
In this blog post, we'll embark on a comprehensive ITAM software comparison of these two prominent tools.
But this is not the end of your journey. We'll introduce InvGate Insight, an ITAM competitor celebrated for its distinctive functionalities and capabilities, further enriching your options in the ITAM landscape.
The path toward optimized ITAM starts here. Continue reading to uncover the possibilities that lie ahead!
Most looked-at features by buyers
When evaluating IT Asset Management options, potential buyers evaluate a number of critical capabilities to select the most appropriate solution to meet their specific requirements and business needs.
Below are the key factors buyers consider when selecting a customized IT Asset Management solution for their organization.
What is ServiceNow Software Asset Management?
ServiceNow's Software Asset Management (SAM) capabilities provide organizations with the tools to manage risk, reduce spending, and automate the software lifecycle, all within a unified framework. By streamlining Asset Management, providing customizable functionality, and emphasizing security and regulatory compliance, ServiceNow enables organizations to manage their software assets better, reduce costs, and effectively oversee their software operations.
Established in 2004 and headquartered in Santa Clara, California, ServiceNow offers an extensive array of cloud-centric solutions tailored to cater to diverse corporate needs. Their solutions encompass a wide spectrum of domains, including IT Service Management, IT Operations Management, IT Business Management, Customer Service Management, Human Resources Service Delivery, Security Operations, and more.
What users like from ServiceNow Software Asset Management
ServiceNow's Software Asset Management capabilities have garnered widespread acclaim and favorable feedback from reputable sources like Gartner. Users have highlighted various advantages, which include:
User-friendly interface - The platform boasts an intuitive and user-centric interface, enabling users to navigate effortlessly and swiftly grasp its features. This design tailored to user needs fosters seamless interaction and rapid familiarity with the platform.
Effective Risk Management - Users underscore the valuable benefits of ServiceNow's risk mitigation features. These components offer valuable insights, particularly vital for legal and compliance purposes. This ensures that organizations can adeptly manage risks and arrive at well-informed decisions.
Improved asset discovery and Inventory Management - ServiceNow's Software Asset Management simplifies the identification of assets and the management of inventory, culminating in enhanced asset tracking and compliance. This attribute contributes to a more efficient organizational structure and better asset control.
Streamlined workflows - Users express satisfaction with the tool's ability to automate tasks and enhance employee provisioning. This functionality reinforces the efficiency of IT processes, leading to overall enhancements in operational efficiency.
What users don't like from ServiceNow Software Asset Management
Although ServiceNow's SAM presents a variety of strengths and beneficial characteristics, it is not immune to customer concerns and criticisms. Here are some common issues users have highlighted in reviews from trusted sources such as Gartner:
Complexity - Some users encounter complexity while interacting with ServiceNow SAM, necessitating a significant time investment to comprehend and navigate its intricacies fully.
Functional limitations - Certain users point out that the tool's capabilities are restricted in certain aspects, which could render it inadequate for managing intricate licensing software scenarios.
Cost considerations - Concerns arise regarding the platform's associated costs, especially for medium and small-sized enterprises. This financial aspect can create challenges in achieving complete implementation and procuring the platform, affecting the feasibility of its adoption for these businesses.
Insufficient documentation - Users express the need for improved documentation, particularly regarding the end-user experience and understanding of software normalization processes. Enhanced documentation would assist users in utilizing the platform's functionalities more effectively.
What's ServiceNow Software Asset Management's argument over Snow License Manager?
Let's delve into the distinctive advantages that ServiceNow Software Asset Management holds over Snow License Manager:
User-friendly interface - ServiceNow SAM is characterized by an intuitive and user-centric interface that empowers users to navigate effortlessly and swiftly understand its functionalities. This interface design fosters seamless and efficient interaction.


Effective Risk Management- ServiceNow's SAM features robust risk mitigation tools that provide valuable insights, particularly crucial for legal and compliance objectives. This empowers organizations to manage risks and make informed decisions proactively.


Enhanced asset discovery and Inventory Management - ServiceNow SAM introduces a streamlined and practical approach to identifying assets and managing inventory, leading to heightened asset tracking and ensuring compliance. This fundamental capability significantly contributes to organizational structure.


Streamlined workflow - ServiceNow SAM's capability to automate tasks and optimize employee provisioning has garnered user satisfaction, leading to more efficient IT processes. This automation-driven approach fosters a higher level of operational efficiency.
What is Snow License Manager?
Snow License Manager, developed by Snow Software, is a tool created to assist businesses in managing their software licenses effectively, making the best use of software, and ensuring they comply with licensing agreements. The software comes with various features that empower organizations to understand their software assets. This knowledge helps organizations make well-informed decisions about software procurement, usage, and cost-effectiveness.
Snow Software is a well-known global provider specializing in technology intelligence solutions for Software Asset Management, IT Service Management, and Enterprise Mobility Management.
Headquartered in Stockholm, Sweden, the company has a strong worldwide presence, maintaining offices in the United States, Europe, and Asia. Since its establishment in 1997, it has consistently been a leader in offering various products and services. These offerings are designed to help organizations optimize their technology investments and get the most value from them.
Alongside Snow License Manager, the company offers other products like Snow Device Manager, Snow Inventory, and Snow Automation Platform.
What users like from Snow License Manager
Reviews from reputable sources such as Gartner have reinforced positive feedback from customers. Notable benefits of Snow License Manager include:
Ongoing maintenance - The software remains consistently updated, ensuring it stays current with the latest features and security enhancements. It is recognized as a mature product with a proven track record of reliability.
User-friendly interface - The platform has an intuitive interface prioritizing user-friendliness. Its design facilitates effortless navigation and interaction across various processes, ensuring users can efficiently utilize the tool.
Optimal performance - Snow License Manager excels at data aggregation and takes an audit-ready approach. This enables the creation and maintenance of a thorough inventory of software assets.
Seamless integration - The software showcases robust integration capabilities within SAP environments, streamlining workflows and boosting compatibility. The use of lightweight agents ensures efficient operations.
Comprehensive Software Recognition Service (SRS) - The tool presents an expansive and meticulous SRS. Regular updates are executed to ensure precise identification of software assets. This service relies on stable agents that produce dependable results.
Informative reporting - Snow License Manager provides valuable standard reports that offer insights into software usage and hardware data agents collect. Generating customized reports aligned with specific requirements is also simple.
Excellent support - Users report high satisfaction with the support team's communication quality. This effective interaction helps users address their concerns. Beta program participation provides access to new features and allows users to provide feedback. In addition, dedicated customer success managers reinforce positive results.
Simplified licensing - The tool simplifies monitoring and visualizing software licenses and compliance issues. It equips organizations with straightforward tools for effective license management, aiding in adhering to licensing agreements.
Cost efficiency - The platform helps organizations reduce costs during audits by maintaining license compliance by supplying insights into installations and compliance.
What users don't like from Snow License Manager
While Snow License Manager has many strengths and positive qualities, it is not immune to the concerns and criticisms voiced by its user base. Reviews from reputable sources such as Gartner have highlighted several issues commonly encountered by users.
Maintenance implications - The tool involves substantial maintenance costs, which organizations need to consider in their software budgeting. Some users have noted that product upgrades can lead to issues or system functionality interruptions. Organizations might need to allocate extra resources and plan for potential disruptions during the upgrade process to mitigate any adverse effects on their operations.
Performance challenges - Snow License Manager's performance can suffer when dealing with large amounts of data, such as slower response times or delays in generating reports. Users have also reported stumbling upon software glitches or limitations that impede the full utilization of the software.
Integration challenges - Some users have faced challenges integrating and implementing the software. The agent configuration process may not be user-friendly, requiring additional effort and expertise for successful integration.
Reporting improvements needed - While the tool offers an array of practical standard reports, some users have suggested that generating specific or personalized reports can be time-intensive and require extra effort.
User interface complexity - The setup procedure can be intricate and not always straightforward. Users might face difficulties while attempting to customize the interface according to their specific requirements, potentially leading to a suboptimal user experience.
Software Recognition Service (SRS) limitations - The platform encounters difficulty identifying certain software assets. This can result in incomplete or inaccurate reports of software inventory. Additionally, challenges tied to cross-platform permissions can restrict the system's ability to recognize and manage software assets spanning various platforms or operating systems.
Support issues - Users have reported instances of delayed response times from the support team, leading to delays in problem resolution. Moreover, there have been cases where the support team's ability to solve issues has been insufficient, resulting in prolonged troubleshooting endeavors.
High-cost concerns - Organizations might find the platform's initial acquisition and ongoing maintenance expenses to be significant. Additional costs associated with technical support services could further add to the overall financial burden.
Licensing apprehensions - Users have expressed reservations about the lack of notifications when synchronization fails during the licensing process. Additionally, creating a comprehensive software license position could be time-consuming, necessitating manual efforts to gather and consolidate accurate license information.
What's Snow License Manager's argument over ServiceNow Software Asset Management?
When considering Snow License Manager and ServiceNow Software Asset Management, it's essential to explore the distinctive strengths and advantages each solution brings to the table.
Snow License Manager offers a compelling argument based on the following key points:
Ongoing maintenance and reliability - Snow License Manager has established itself as a mature product with a proven track record of reliability. The platform undergoes consistent updates, ensuring it remains up-to-date with the latest features and security enhancements.


User-friendly interface for seamless interaction - The platform design prioritizes ease of use, enabling users to navigate effortlessly across various processes. The interface's simplicity enhances user interaction, making it accessible even for individuals with varying levels of technical expertise.


Optimal performance and audit readiness - Snow License Manager's adeptness in data aggregation and audit readiness ensures organizations can effectively consolidate their software assets.


Strong integration capabilities - The software's robust integration capabilities, particularly within SAP environments, streamline workflows and enhance compatibility. This integration ensures efficient and effective utilization of the platform's features.


Comprehensive Software Recognition Service (SRS) - Regular updates are performed to guarantee the accurate identification of software assets. This meticulous approach, backed by stable agents, ensures dependable results, providing organizations with confidence in the accuracy of their software inventory data.


Valuable reporting and user support - The software provides users with a diverse range of standard reports that offer valuable insights into software usage and hardware information agents collect. Furthermore, the platform's excellent support system, characterized by high-quality communication and proactive interaction, ensures that users' concerns are promptly addressed.


Licensing simplification and cost efficiency - Snow License Manager's capability to simplify license monitoring and visualization, alongside aiding in compliance matters, presents a strong argument. The tool equips organizations with straightforward tools for effective license management, aiding in adherence to licensing agreements and ultimately contributing to cost efficiency.
Considering InvGate Insight as an ITAM solution alternative
For enterprises seeking personalized approaches to managing their IT assets according to their precise requirements, InvGate Insight presents an appealing option. This robust ITAM solution offers a range of features and functionalities that establish it as a viable choice for optimizing Asset Management processes. Let's delve into its core attributes.
Proactive management of operational costs
InvGate Insight empowers organizations by seamlessly integrating financial data, contracts, licenses, and vital information into its system. This seamless integration furnishes a comprehensive grasp of operational expenses, enabling informed and proactive financial decision-making. This approach bolsters budget allocation and maximizes returns on IT investments.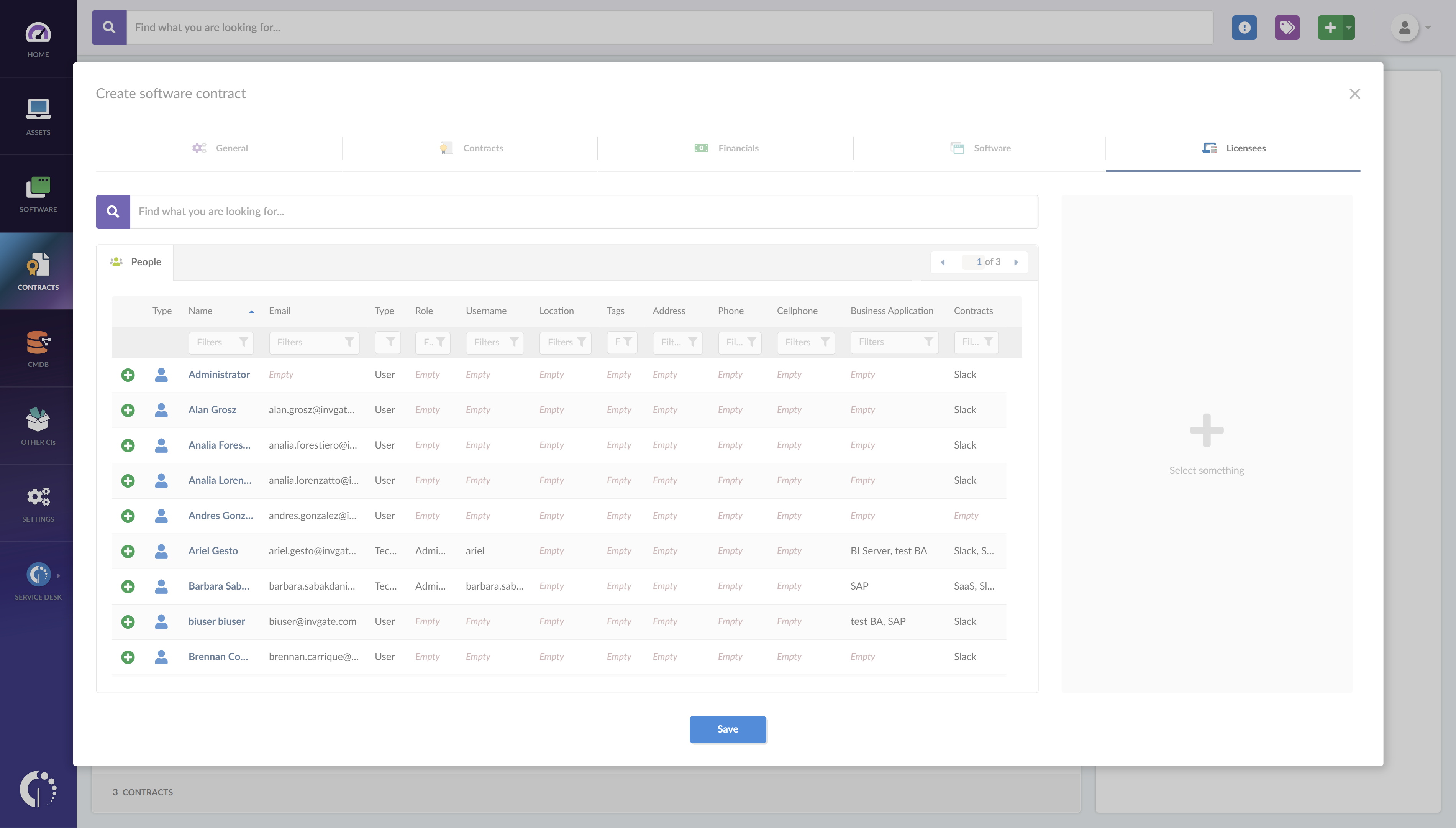 Comprehensive insights into the IT infrastructure
With its robust set of features, InvGate Insight furnishes comprehensive and actionable insights into IT assets, including their status and usage. This profound understanding empowers effective infrastructure management and optimization, culminating in enhanced operational efficiency.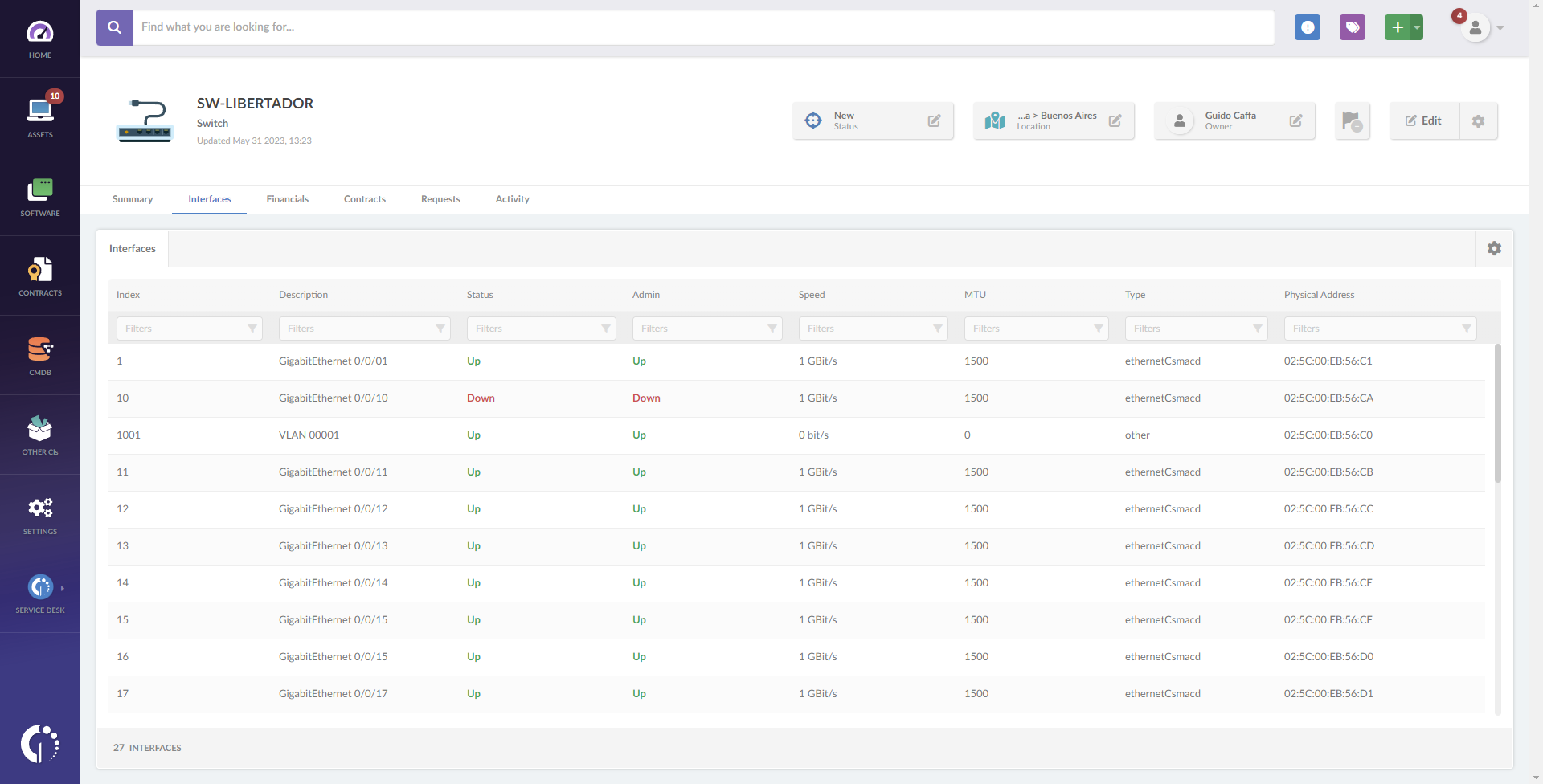 Enhanced Management of IT Assets and Inventory
InvGate Insight simplifies the management of both IT and non-IT assets by smoothly amalgamating data from diverse sources, encompassing major operating systems, cloud service providers (such as AWS, Google, and Azure), and Mobile Device Managers (MDMs) (like JAMF and Google Endpoint Manager). This integration streamlines asset, location, and personnel management, ultimately saving time and offering a comprehensive view of the infrastructure.
Flexible deployment choices tailored to unique needs
InvGate Insight recognizes the diversity of organizational demands and industry regulations and provides adaptable deployment alternatives. This adaptability empowers organizations to select between cloud-based or on-premise solutions, ensuring alignment with individual requirements and compliance standards.
A holistic insight into IT operations through integrated service desk functionality
Through seamless integration with InvGate Service Desk, InvGate Insight establishes a native connection among tickets, devices, and personnel. This integration yields a comprehensive 360° perspective of IT operations, streamlining management procedures. By linking service tickets with pertinent assets and individuals, workflows become more efficient, communication is enhanced, and issue resolution is elevated.
Enhanced cybersecurity compliance via asset monitoring
InvGate Insight bolsters cybersecurity compliance through its asset monitoring capabilities, establishing and enforcing device health rules. Swift identification of non-compliance instances facilitates prompt corrective action, ensuring adherence to cybersecurity policies and safeguarding the IT environment.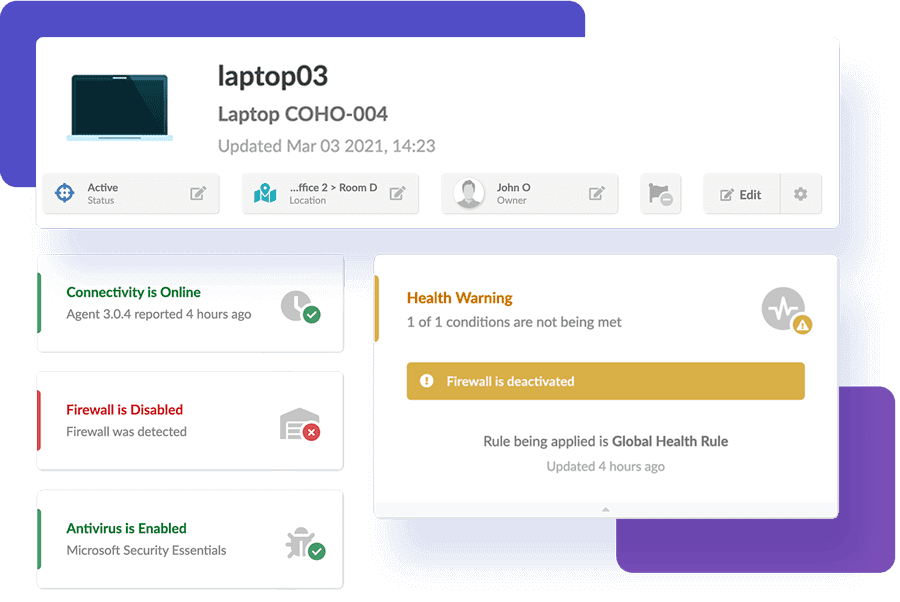 Elevated operational efficiency through automation and alerts
InvGate Insight amplifies operational efficiency by implementing automation and alert mechanisms. This proactive approach to IT management involves establishing automated alerts to monitor contract expirations and promptly notify relevant stakeholders. This automation curtails manual efforts, minimizes the risk of oversights, and directs attention to critical tasks, thus augmenting overall efficiency.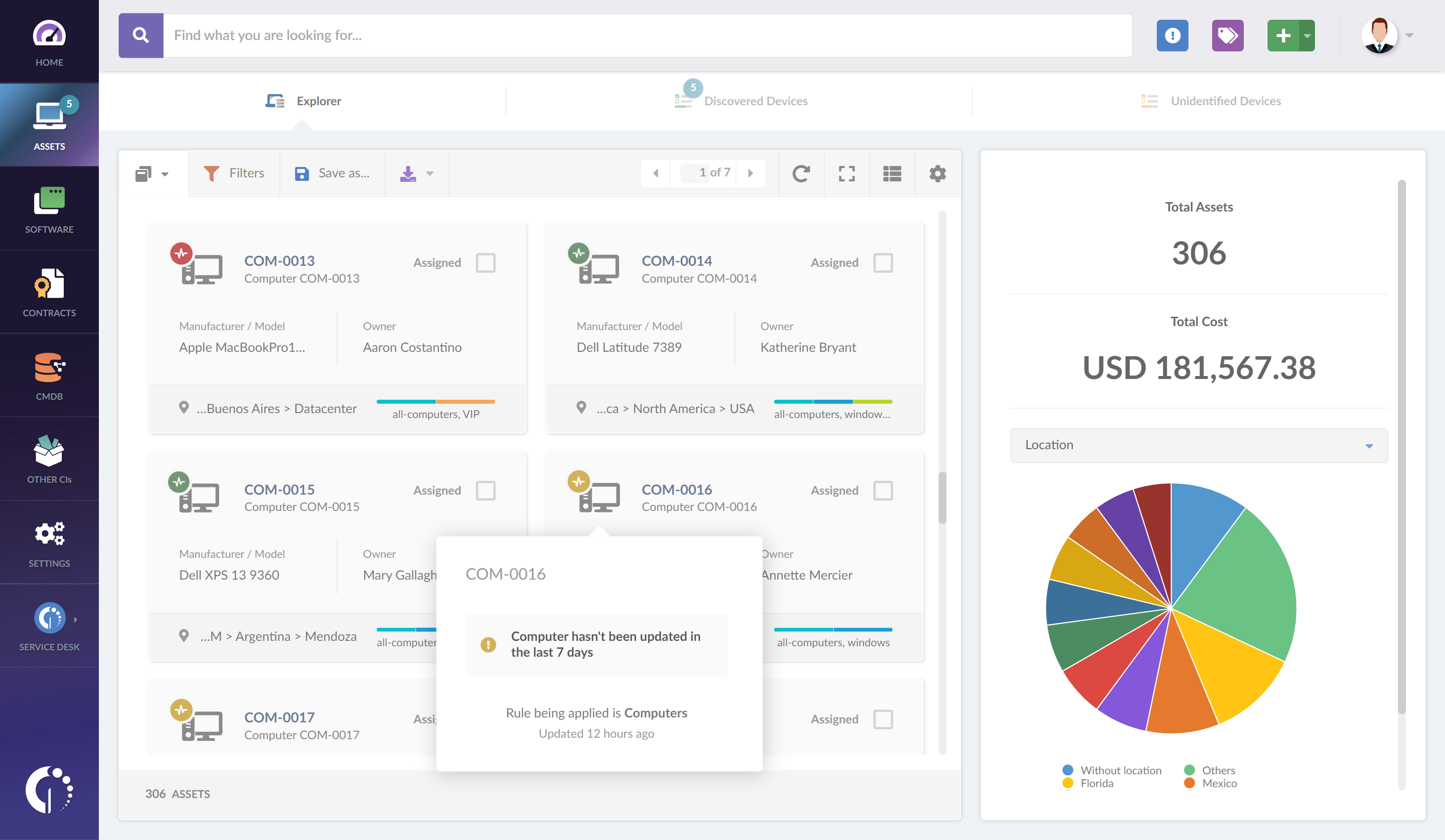 Streamlined operations through the CMDB map builder
Integrated within InvGate Insight, the CMDB map builder tool offers a thorough and lucid overview of the IT landscape. By visually depicting relationships among components, potential effects on operational continuity can be swiftly pinpointed, leading to proactive risk mitigation. This heightened visibility translates to reduced service durations, heightened operational efficiency, and smoother IT workflows.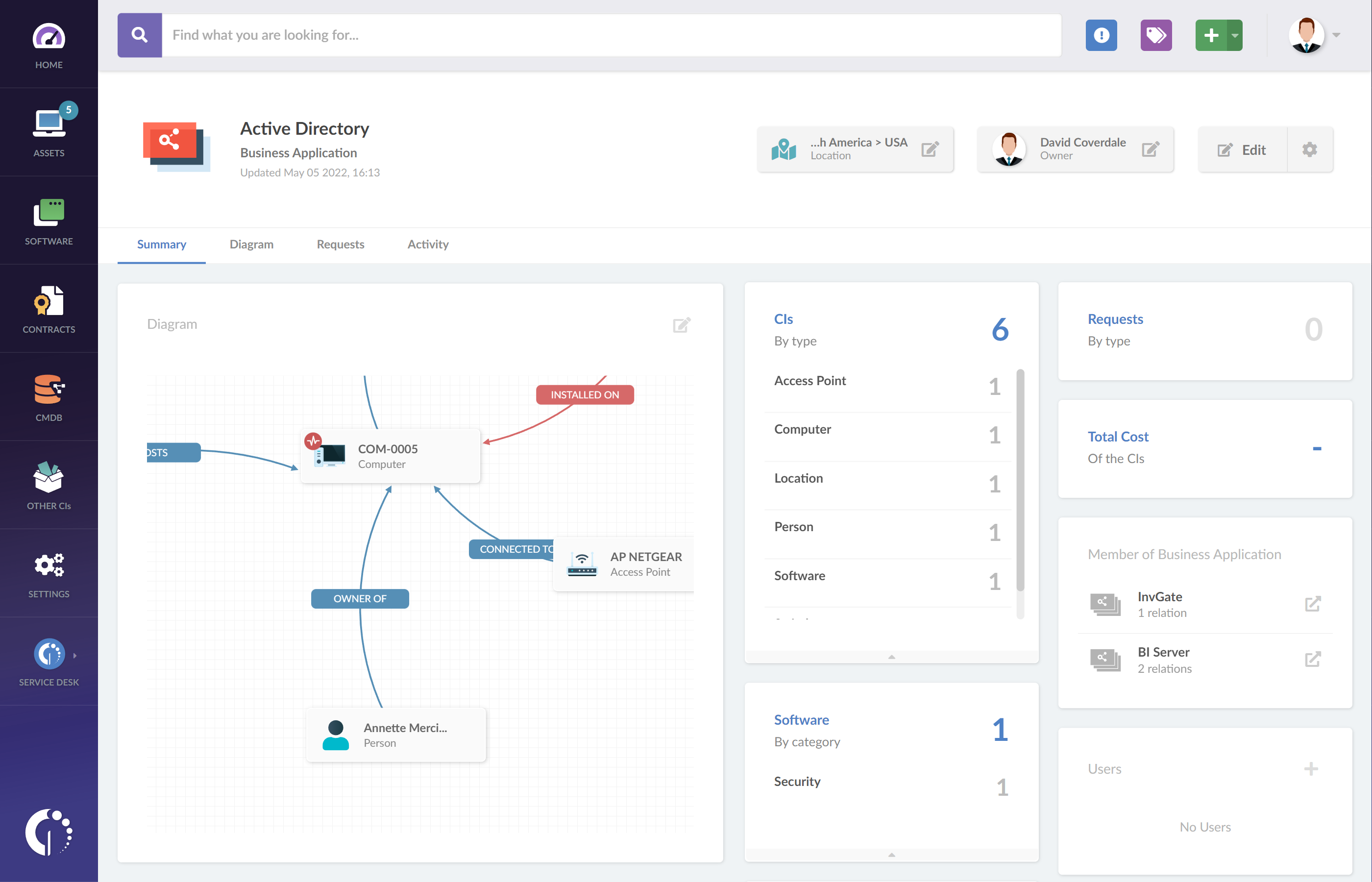 Effortless remote management via built-in integration
InvGate Insight seamlessly integrates with popular remote desktop tools like Windows Remote Desktop, TeamViewer, AnyDesk, and VNC. This integration amplifies remote management capabilities, providing direct device access for troubleshooting and upkeep. Through seamless remote access, organizations can efficiently address IT concerns, carry out necessary maintenance tasks, and ensure uninterrupted operations.
Optimized software efficiency and reduced expenses
InvGate Insight equips organizations with the ability to detect and quantify the usage of paid software, facilitating efficient Software Management. By gaining insights into software utilization, unused licenses can be reallocated, superfluous costs reduced, and returns on IT investments maximized. This optimization of software efficiency empowers organizations to derive peak value from their software assets.
Next steps
As organizations navigate the complex landscape of Asset Management, considering ServiceNow Software Asset Management vs. Snow License Manager reveals a tapestry of unique features and benefits that address different organizational needs.
Yet, amidst this exploration, a remarkable alternative emerges — InvGate Insight. This solution represents a paradigm shift that promises to streamline operations and optimize resource utilization.
Are you ready to move forward? Download our free ITAM implementation checklist and pave the way for your next strides in the right direction.