We continue to expand the range of InvGate Service Desk features because we want to keep making your life at work easier. Today we're pleased to tell you that as of version 5.7.14.0, we've made available a Zapier integration. This is a web service that facilitates the interaction of your help desk with more than a thousand apps!
This means that the range of actions and workflows that you can run with InvGate Service Desk is now much larger, since your help desk will be empowered with a host of applications that you might be already using: Slack, HubSpot, Jira, Google Suite, Office 365, Zoom, MailChimp, LinkedIn, and many more.
How does the InvGate Service Desk Zapier integration work?
It's about connecting the applications that you use in your day to day role so that they exchange information and you can automate more processes. By enabling the integration, you can capture events at one end and decide what happens as a consequence at the other end – to save time and avoid repetitive tasks.
The logic is similar to that of InvGate Service Desk workflows, but involving the different web services that you use. The best part is that the configuration engine is very easy to use, so you can build your integrations without asking for help from a developer.
For example, you can choose that upon a request creation in InvGate Service Desk, a message is sent via Slack or an email is sent from your Gmail account, or to create a task in Asana or a meeting in GoToMeeting – just to mention a few possibilities.
What types of actions trigger events?
There are two types of triggers in InvGate Service Desk that can prompt an action:
The creation of a new request in the system
The execution of an automated action configured in the system
After these triggers, the universe of actions that you can execute is immense, as we anticipated above.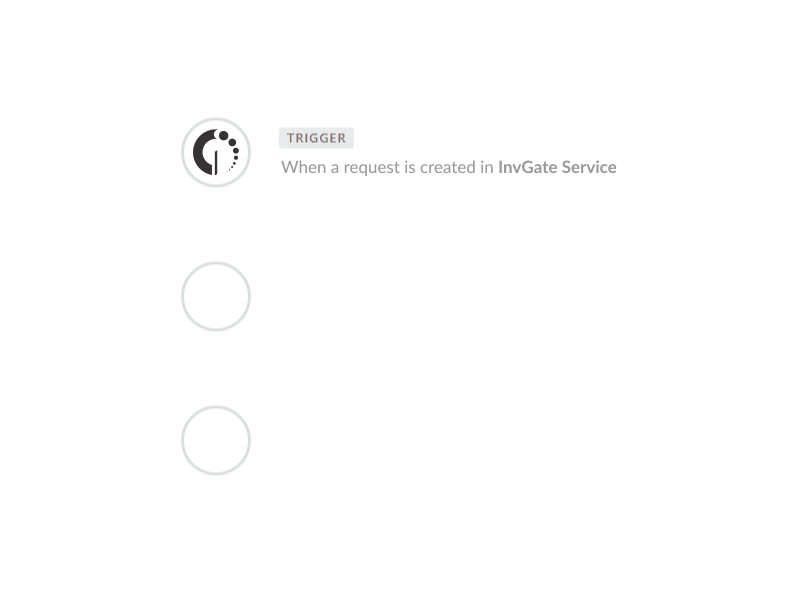 How do you to configure the InvGate Service Desk Zapier integration?
The InvGate team developed a specific application for Zapier, which you can access with this link. Keep in mind that, for the moment, this is the only way to configure the integration; that means it can't be configured from the InvGate Service Desk interface.
Once you access the invitation link you can create your first zap (this is what Zapier calls a specific integration), providing the information requested by the system. In this video below we show you an example of how to integrate InvGate Service Desk with Slack.
The amount of zaps that you can configure will depend on the Zapier plan you have; with the free plan you can do a simple integration like the one in the video, but for more complex integrations, for example with conditionals and more stages, there is a price scheme that you can find on their website.
Another feature designed to make your life easier
We know that every day you use several applications to get your work done, and we thought it was about time that you could easily make them interact with your help desk to continue automating tasks and processes.
The InvGate Service Desk Zapier integration allows you to enhance automation by combining the capabilities of your different tools. This way you can do much more with your help desk, without having to invest too much time in configuration or manual tasks.
As you've seen, creating a zap is very easy, so we encourage you to explore the Zapier marketplace and connect InvGate Service Desk with all your web services, to help make your day to day activities that much easier. What are you waiting for?