As organizations seek a dependable Jira Asset Management alternative, the importance of selecting an IT Asset Management (ITAM) software that can truly address critical pain points cannot be overstated. Managing assets efficiently is paramount to operational success in this ever-evolving digital landscape.
Amidst various contenders, one solution stands out as a formidable option, promising to transform ITAM processes and drive enhanced operational efficiency: InvGate Insight.
If you're currently doing an ITAM software comparison and aiming to take your Asset Management practices to new heights, read on!
What is Jira Service Management?
Jira Service Management, created by Atlassian, is an IT Service Management platform with a user-friendly interface and powerful features that help businesses enhance service delivery. Currently, Jira Service Management is available as a cloud-based service, allowing organizations to leverage the advantages of cloud computing for their Service Management requirements.
Atlassian, the company responsible for creating Jira, was established in 2002 by Mike Cannon-Brookes and Scott Farquhar in Sydney, Australia. Over time, Atlassian has experienced substantial growth and expanded its global reach by opening offices in various countries.
Atlassian specializes in developing software and tools designed for developers and project managers. These tools include Confluence, Bitbucket, and Trello, catering to diverse needs like project management, issue tracking, content collaboration, code management, and team facilitation.
What is Jira Assets?
Jira Assets is an IT Asset Management tool available in Premium and Enterprise plans. However, it has certain limitations. A significant drawback is its inability to maintain real-time inventory updates for assets beyond the network, which can impact the accuracy of the Asset Management process.
The Total Cost of Ownership (TCO) for Jira is also a significant factor due to additional costs in the Atlassian ecosystem associated with basic configurations, such as provisioning users to establish relationships between assets and their owners.
InvGate Insight as a Jira Asset Management alternative
InvGate Insight, developed by InvGate, is an IT Asset Management solution that empowers organizations with comprehensive control and visibility over their IT assets. This tool offers two deployment options: cloud-based and on-premises, enabling organizations to create a detailed inventory of all their IT assets, including physical, virtual, and cloud-based assets connected to the network.
InvGate Insight includes a range of features and functionalities that support various aspects of IT Asset Management, such as IT asset discovery, Inventory Management, and Software License Management. Notable features encompass:
By adopting InvGate Insight, organizations can achieve enhanced control, visibility, and streamlined processes within their IT environment. This empowers them to make well-informed decisions based on accurate asset information and optimize their IT Asset Management practices.
Software License Management
InvGate Insight offers Software License Management capabilities, allowing for better monitoring and management of software licenses, reducing the risk of non-compliance.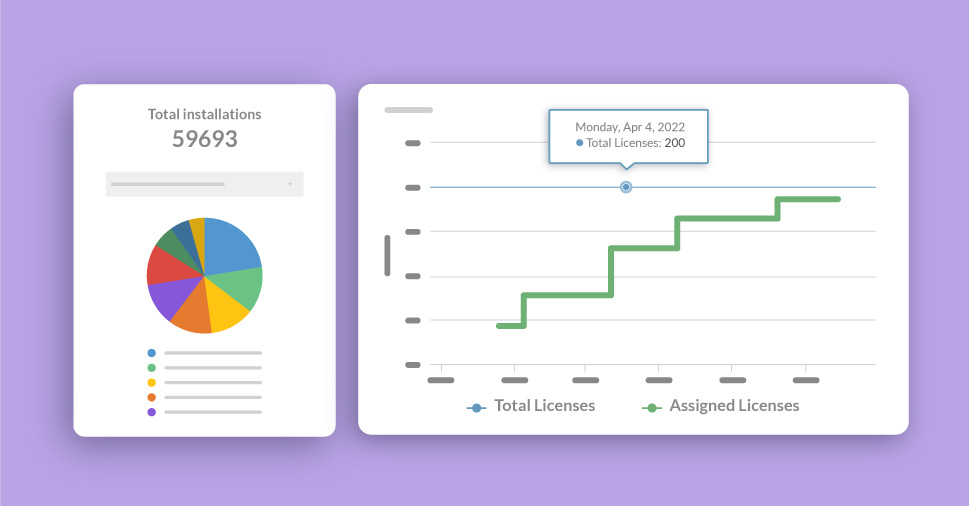 On the other hand, Jira Assets lacks metering capabilities to monitor software usage effectively. This could lead to challenges in tracking software licenses and potential compliance issues.
Inventory accuracy
InvGate Insight offers IT asset inventory features, ensuring a more precise and real-time view of assets, regardless of location, enhancing the overall Asset Management process.
Conversely, in Jira Assets, keeping the inventory up-to-date can be compromised without an Agent, especially for changes occurring outside the network. This limitation might impact the accuracy of asset records and hinder effective Asset Management.
Compliance rules and alerts
InvGate Insight provides robust compliance rules and alerts capabilities, enabling users to define and enforce rules to ensure assets adhere to organizational policies and regulations, with automated alerts for any violations.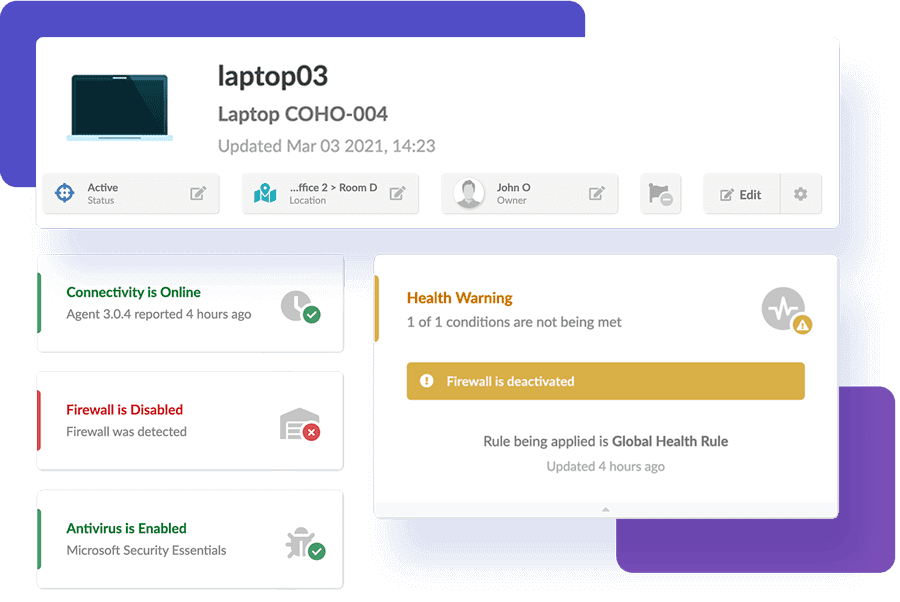 Jira Assets lacks health rules and smart asset tagging, making it challenging to implement comprehensive compliance rules and automate alerts for compliance violations.
Software and configuration deployment
InvGate Insight offers automated software deployment capabilities, streamlining the process of efficiently deploying software and configurations to assets.
In contrast, Jira Assets does not support software and configuration deployment. This means you may need to rely on other tools or manual processes for deploying software and configurations, which could be time-consuming and prone to errors.
In conclusion
When seeking a robust Jira Asset Management alternative, it is essential to assess the key aspects of features and configuration carefully.
After a thorough evaluation, InvGate Insight emerges as a top choice, providing a comprehensive solution to manage IT assets efficiently. Explore our live demo and see firsthand how this powerful tool can transform your Asset Management practices.