Microsoft teams is one of the most popular communication tools used by companies, organizations, and educational institutions across the world. Its simple and sleek interface is easy to use and optimized for productivity. As organizations shifted to remote work, there was an immediate search for collaboration platforms for employees and managers. As a tried and proven collaboration tool, companies across industries were quick to adopt Microsoft Teams.
While MS Teams has a lot of features and collaboration tools for smooth communication with your teammates, to get the most out of it, you can bring in added functionality with Microsoft Teams apps. Teams has a wide range of apps, for everything from attendance management and productivity to team building and event management. These apps are specifically designed for different tasks and with them, you can exploit the complete potential of Microsoft Teams.
In this article, we explore some of the top Microsoft Teams apps used and loved by organizations around the world.
The importance of collaboration tools
Collaboration tools are important whether you're working in-office or from home. For employers and managers, tools like Microsoft Teams and Slack make it easier to handle and communicate to their entire workforce. They help avoid complex email threads for every discussion and organize the communication for the entire organization in a single place.
Ideas flow smoothly when communication happens easily in an organization. When you're not worried about CCing everyone on a mail thread, when you see a funny meme and send it to your colleague through the platform, when you don't hesitate to talk to a colleague, that's where ideas are made and developed. And that's what a collaboration platform does; it creates a space for teammates to communicate as if they're standing next to the water cooler.
A good collaboration also brings together a single workspace for the individual employee. Nobody wants to open 10 Chrome tabs or 15 applications just to get their tasks done. Imagine marking your attendance in one application, opening another for checking your tickets, and opening another for looking at your employee insurance policy? But what if you can mark your attendance, or request a service from the IT service desk through Teams itself? You'll be way more productive.
Microsoft Teams apps do this, and a lot more.
How can Microsoft Teams help you work and collaborate better?
Picture Google Meet, Calendar, and workplace version of WhatsApp all brought together in one single interface, and you get Microsoft Teams. MS Teams is an app designed to make collaboration easier and efficient. You can use Teams to chat to your colleagues, talk over voice and video calls, have detailed discussions, conduct presentations, and do just about everything you need to communicate effectively with your teammates.
Even HR organizations can take advantage of the flexibility of Microsoft Teams. There are many potential uses for Microsoft Teams for HR.
As discussed before, Teams comes with a whole set of in-built and third-party apps. You can use these MS Teams add ons to improve the productivity within your organization. And if these aren't enough for you, Teams also has a set of app templates with which you can build your own apps and bots. For example, you can easily manage the huge influx of queries that will hit the IT support teams as employees return to the office by integrating your service desk into your Teams app.
Best apps for Microsoft Teams to Improve Collaboration
Apps for Microsoft Teams apps can be broadly classified into must-haves and nice-to-haves. Some of these apps, such as the attendance apps and task management apps are the first thing that employees look at before beginning their day, and are often used many times a day. Some apps are often integrated into the Teams by the organization, but many in the organizations don't even know they exist until they're needed. Your organization will function without a problem even if these apps don't work for a day or two. The apps for taking a poll, or for giving feedback to employees, or for supporting mentorship programs belong to this category.
Whether they're must-haves or nice-to-haves, these apps are great at what they do and will aid you in your quest to make your and your organization's work more efficient, and in some cases, more fun.
---
Trello
Trello is one of the top free apps for MS Teams. It's a kanban style planner app enabled by default for Teams. It consists of a set of boards and lists which you can use for planning events, assigning tasks, creating a content calendar, or making a to-do list. Trello has its own separate Android and iOS apps for when you want to check off tasks on the go. The app is fairly straightforward to use with a short and smooth learning curve.
While the free version is enough for most users, business and enterprise versions with additional features are available.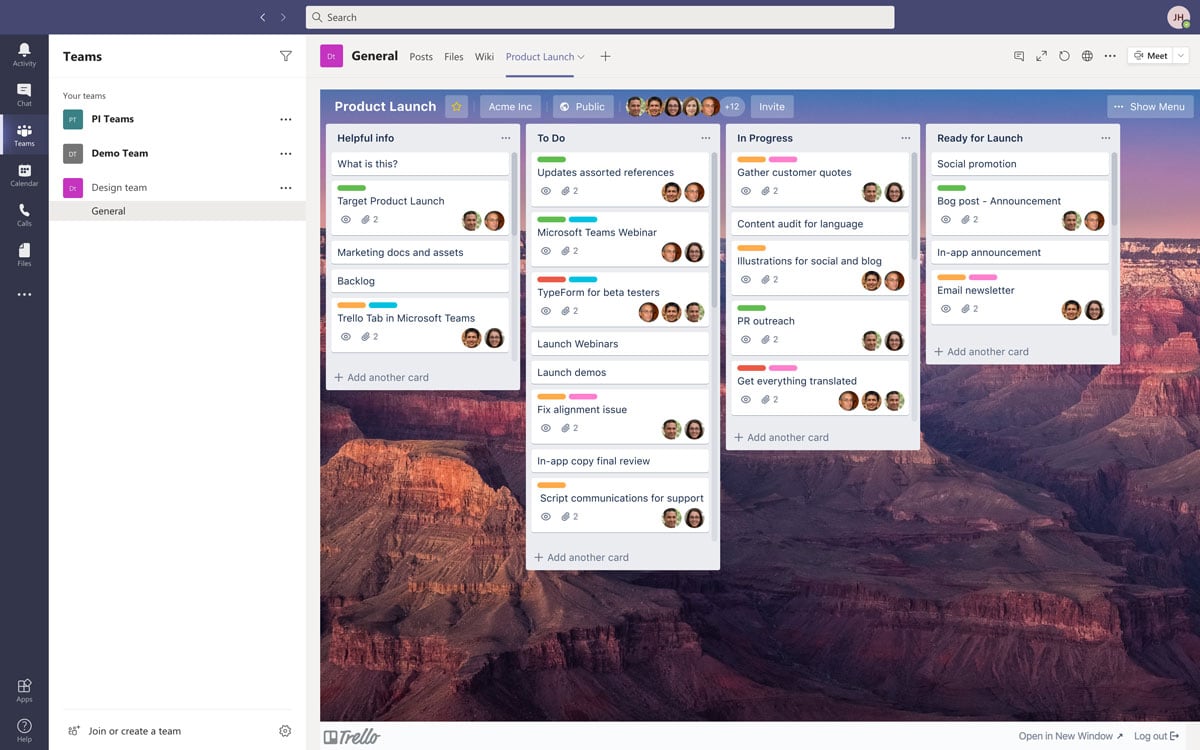 ---

AttendanceBot
AttendanceBot simplifies attendance tracking in your organization. The app integrates right into Microsoft Teams and employees can mark their attendance simply by typing in or out. You can set shift timings for your team and the app will remind them in Teams to log in at the beginning of their shift. Your team can also request time-off directly within Teams using the AttendanceBot. Even if your team is distributed across different time zones or working remotely, the app's robust features will make your life easier.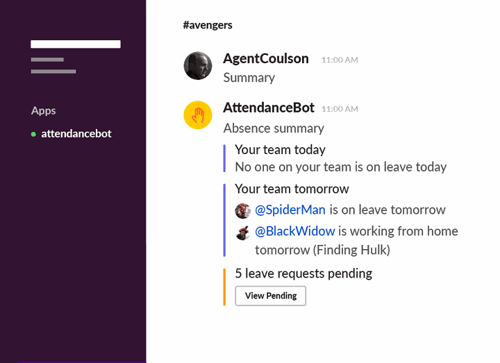 The app also has a simple interface through which you can view the attendance statistics of your team. You'll also get detailed timesheets and reports from the app.
AttendanceBot also integrates with most calendar apps and takes care of letting everyone in the team know who all are working on a day. The app is free for teams with less than 5 members, beyond which you can opt for a standard or a pro plan.


---

Polly
Polly makes surveys simple. Polly is a Microsoft Teams app for conducting surveys and getting feedback from your team. Making a survey in Google forms or Microsoft Forms, sending it to your team, and waiting for their responses is not easy. With Polly, you can send surveys straight to your teammates' chats or channels without interrupting their workflow.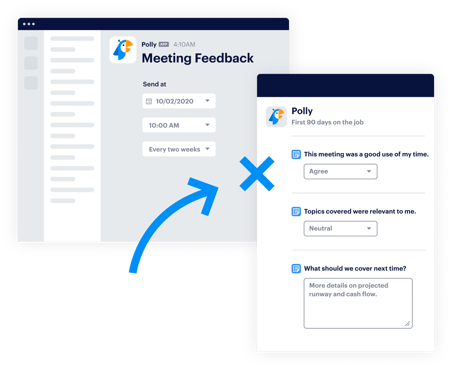 The app has a set of templates for many occasions which you can use, or you can create your own custom surveys. The app covers all types of surveys (optional, anonymous, etc) and questions(multiple-choice, open-ended, etc). The app supports integrations with tools like Jira and Zapier and can automate your work through custom triggers. You can also track the results of your surveys using real-time visualizations and separate them based on the demographics of the respondents.

As you can imagine, you're more likely to get quick responses when you send questions in the chat through Polly than through other platforms.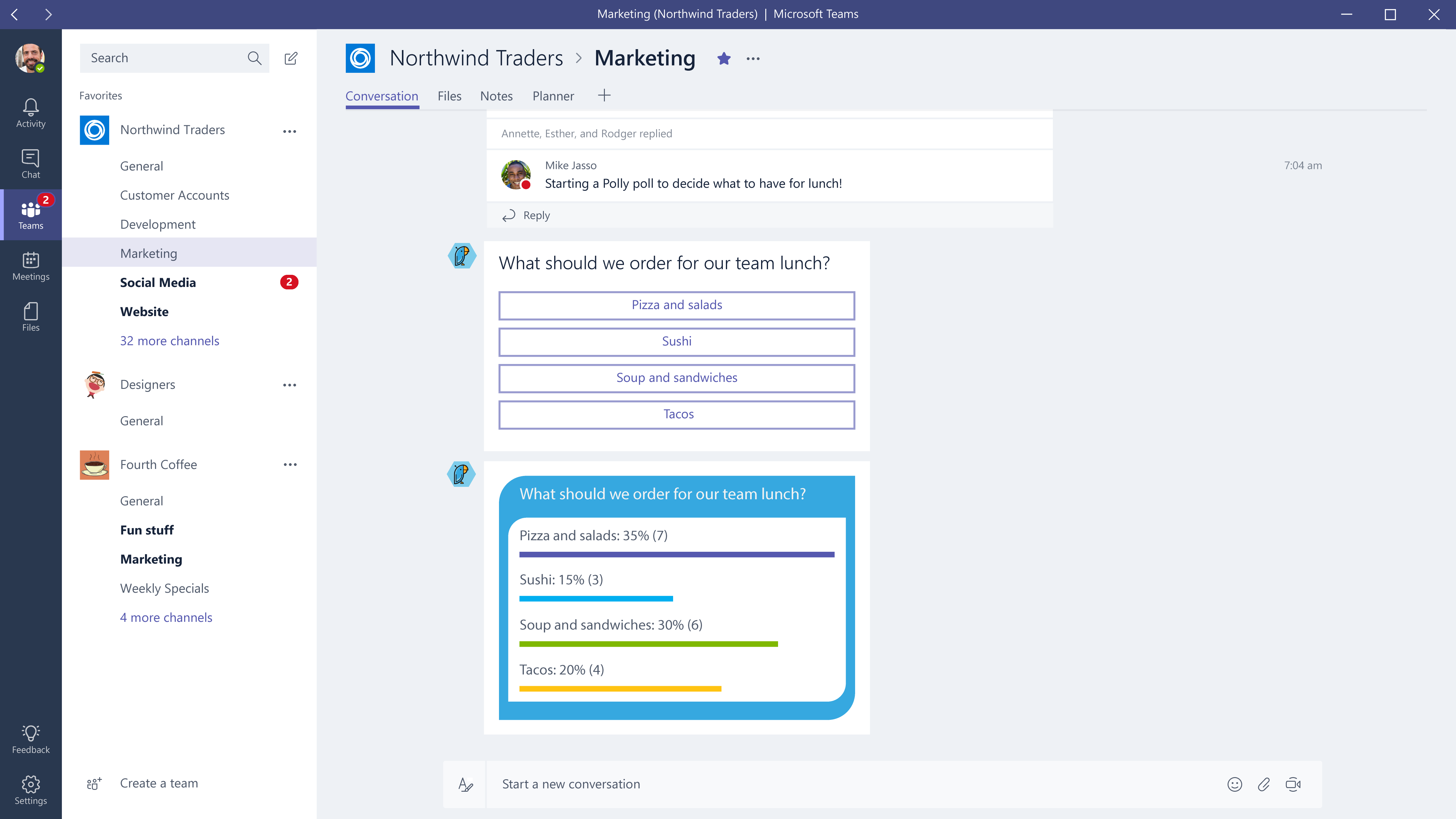 ---

Power BI
Power BI is a powerful app developed by Microsoft for connecting and bringing together data from multiple sources and visualizing it for business insights. Different people use Power BI for different purposes; from creating interactive reports to building custom visualizations for apps.
By integrating Power BI into your Teams app, you can add interactive reports into your channels for your colleagues to view and discuss. You can use the Teams search bar to find your Power BI reports and get notifications about the latest Power BI event in your Teams activity feed. Once you open a Power BI report in Teams, you also get the 'Chat in Teams' within the Power BI app. With this, you can talk about the report or even a specific visual in the report in a Teams channel.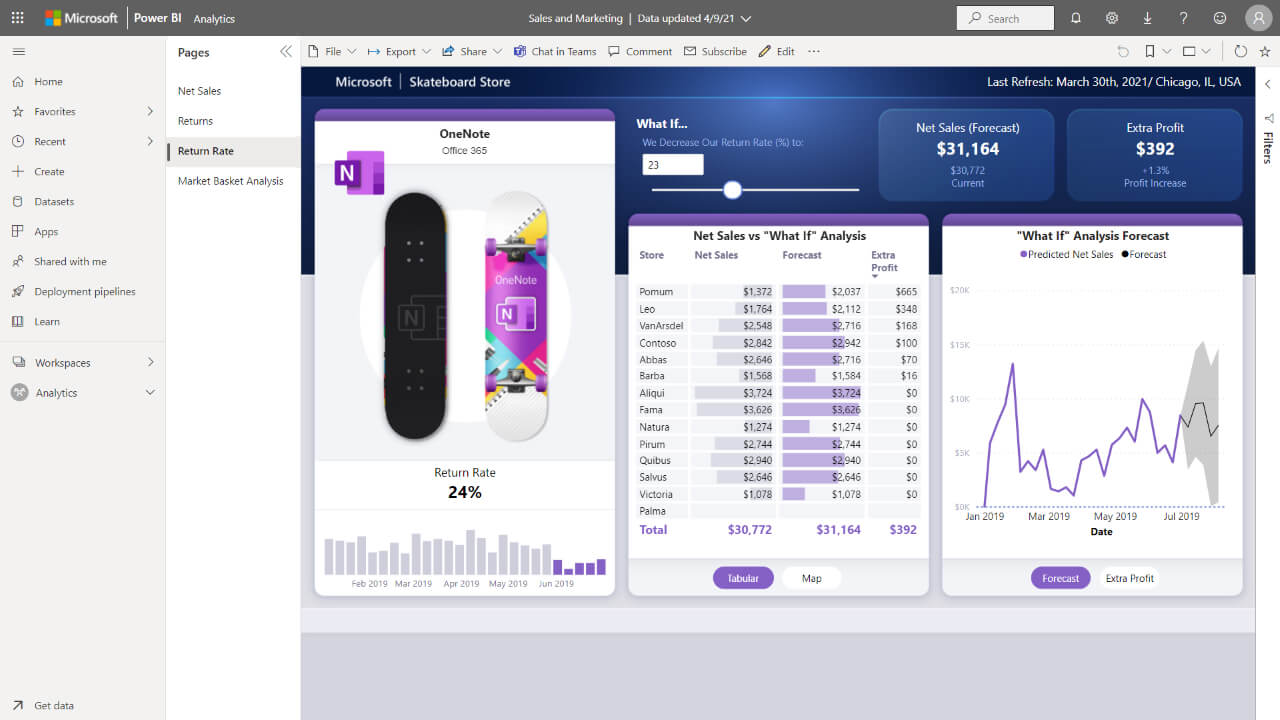 While the Power BI desktop is a free tool for connecting to data sources, creating and analyzing data, Power BI Pro is a subscription service for collaborating with other users in the organization.


---

MeisterTask
MeisterTask is one of the top MS Teams management apps. It's a popular tool for project and task management that can be added as a tab inside Teams. The app lets you collaborate with your team through work boards and lists, and keep track of your team's activities. MeisterTask has a central dashboard to view everything at once, a board showing all of the tasks, as well as a personal board for individual users. On the personal board (Agenda)you can view just the tasks that need your attention.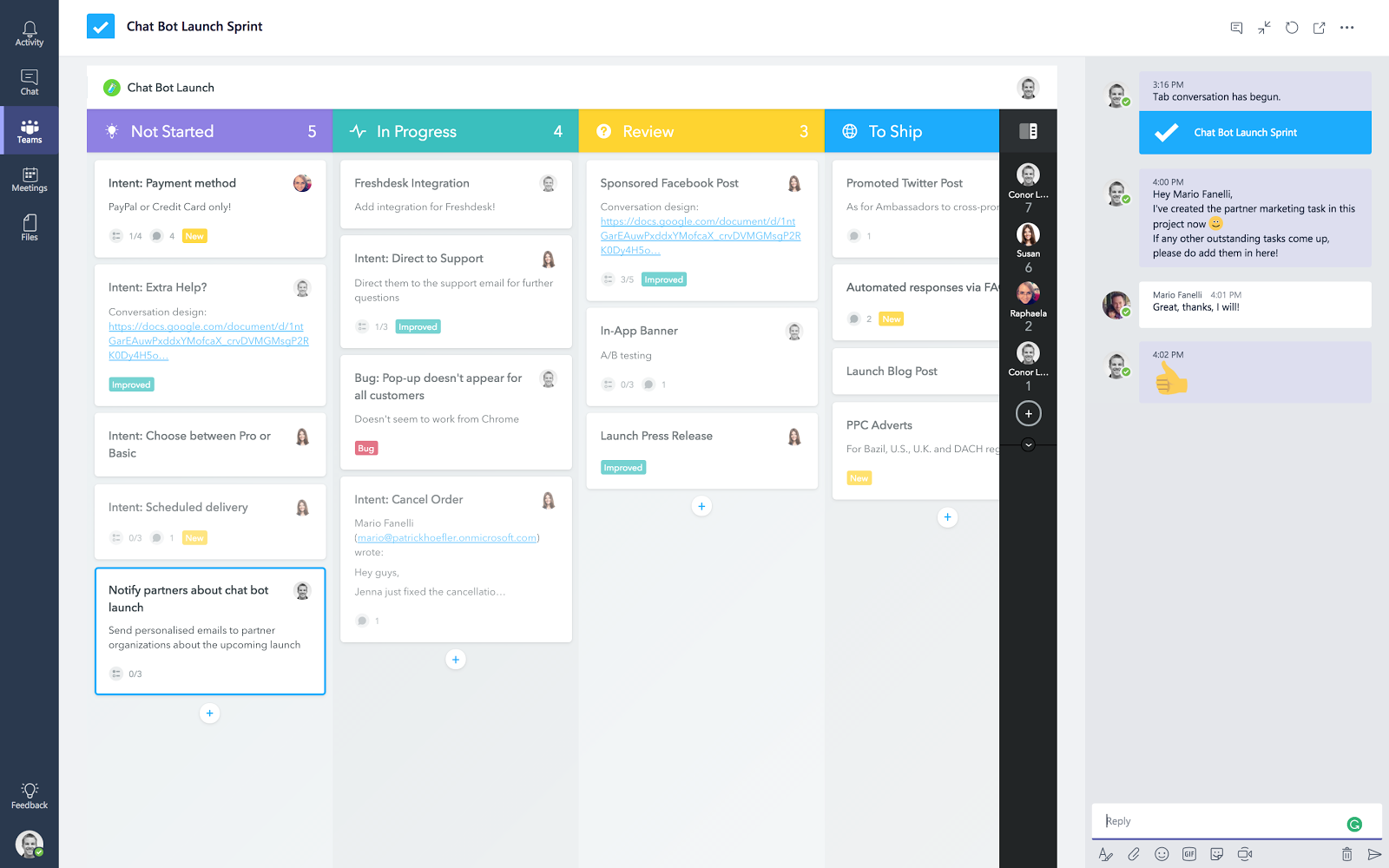 The app has a ton of simple but very useful automation features you can use to make your work more efficient. For example, you can set an automation to assign a task to your boss once you've moved it to the "Review" list. If you find yourself creating a similar task every week, for example, sending an invoice to a client, you can set up a recurring task for it. Recurring tasks are simple automations that create similar tasks at a predetermined frequency.


---

Mural
Mural is a visual collaboration tool for MS Teams. The app works more or less like a virtual whiteboard where your team can draw, add notes, or put up sticky notes. The app integrates right into your Teams channels and lets you convey ideas and thoughts easily through diagrams, flowcharts, sticky notes, and more. You can make your remote meetings, seminars, brainstorming sessions, and presentations more lively and engaging using Mural. More than just making comments, Mural lets your teammates actively take part and contribute their ideas to a project even while working remotely.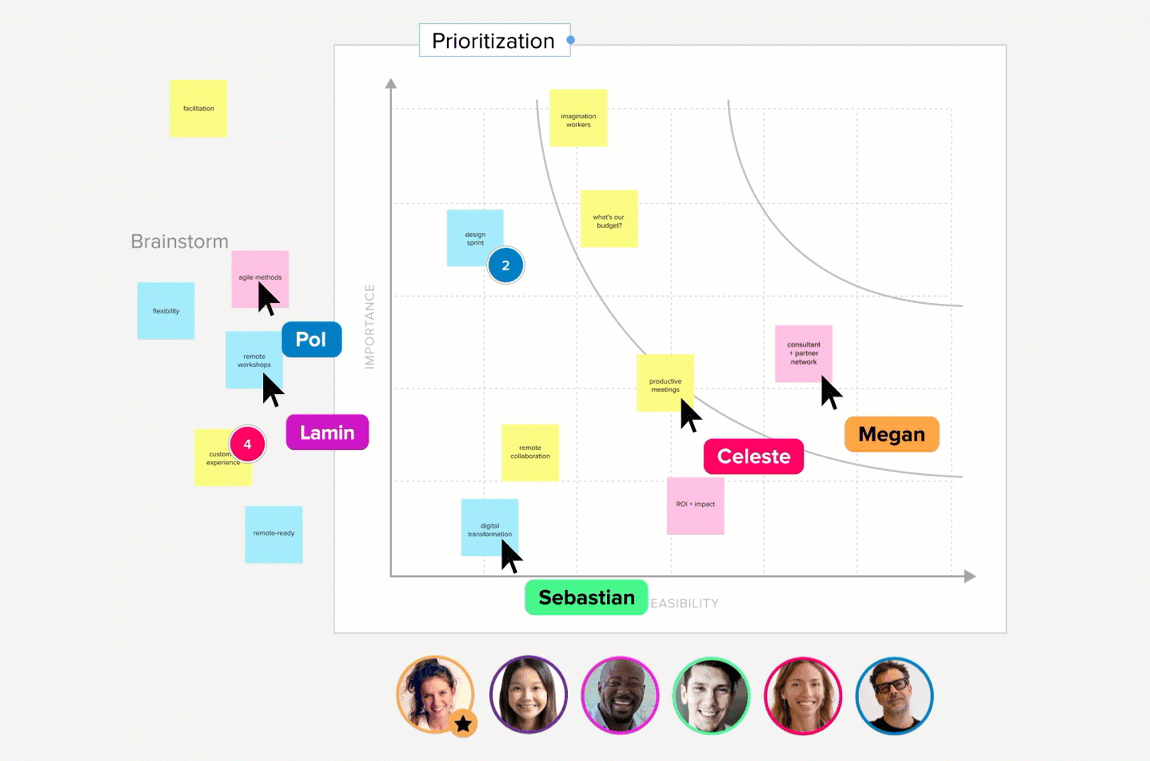 The app has more than 150 templates your team can access without ever leaving the Teams app. Once you've added the app to your Teams, you can get all the updates from Mural right in your Teams Activity feed. Mural also has separate apps for Android, iPad, and iOS when you want to collaborate on the go or leverage the touchscreen for easy sketches.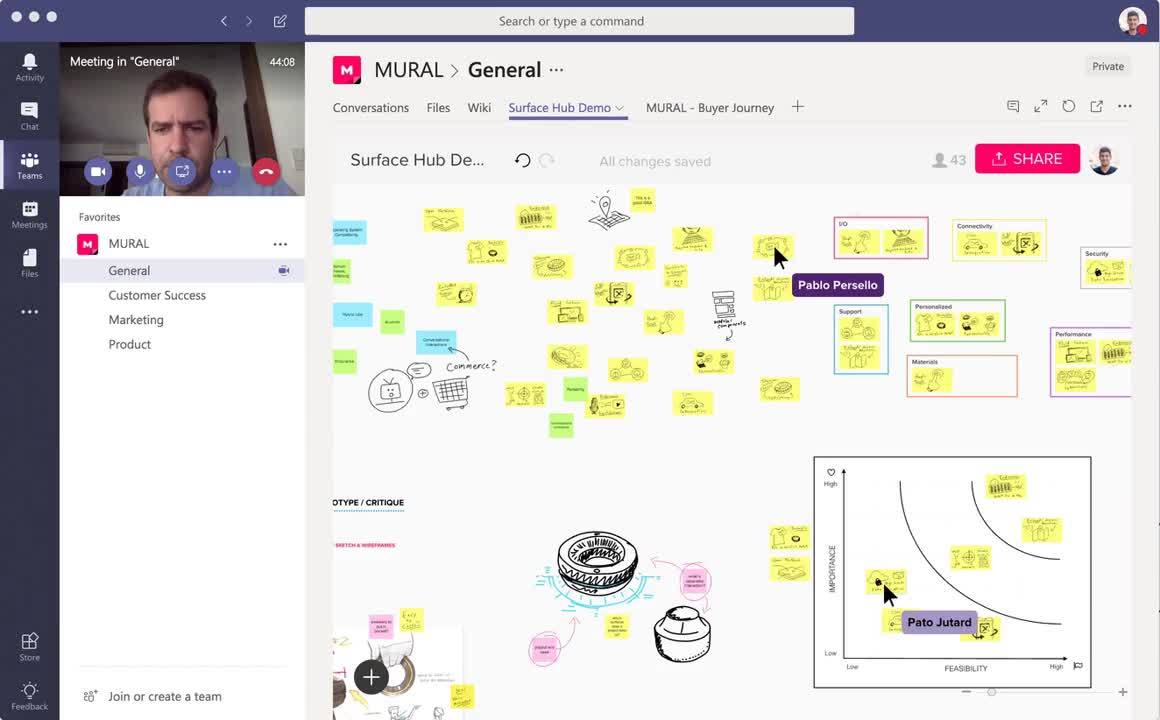 ---

Best practices for Microsoft Teams apps
Apps for Microsoft Teams can radically improve the way your team works and lets you use Teams to its fullest potential. But apps are only as good as the people who use them. While most of these apps are designed to integrate smoothly into your team's workflow, without sufficient awareness or motivation, they may remain unused.
To ensure effective utilization, it's best to have an introductory session every time you add a new app to the organization. Make these sessions part of the employee onboarding program so that everyone in the organization is familiar with all the tools used.
Another good practice is to avoid using too many apps for the same task. Microsoft Teams has a ton of apps that do the same thing, albeit with slight differences. When multiple apps are used for the same purpose, it could be counterproductive, with all the files and documents all over the place. And it will be difficult to train everyone in the team to use all these apps.
If you're developing apps for your team, you can incentivize the app to ensure your team is using it well. For example, by gamifying your service desk, you can provide incentives to your support team when they resolve 50 or so tickets, thereby improving their productivity.
Frequently asked questions
What is the difference between an app and a plugin?
In Microsoft Teams, apps are fully-fledged applications you can deploy within your organizations. Employees interact with them regularly in many different ways. Power BI, Mural, and Trello are good examples of these.
Plugins in MS Teams are in the form of bots. These are used for performing short and specific actions, such as clocking the time, or for getting updates about something. They may have additional functionality, but they're usually set up once and rarely changed. AttendanceBot and Polly are two of the best Microsoft Teams plugins.
What are the best Microsoft Teams apps for managers?
Trello and AttendanceBot are two Microsoft Teams apps every manager will love. As we discussed above, Trello is a project/task management app. It helps you visualize, assign, and manage a project easily. AttendanceBot helps managers track their employees' attendance records and leave requests.
Besides these two, there are plenty of apps for MS Teams that will make a manager's life easier. Karma is a great app for rewarding and appreciating your employees, ScrumGenius helps you automate your daily stand-ups, and Health Hero helps you keep track of your employees' health while working remotely.
What are the best Microsoft Teams apps for end-users?
Apps like Mural and Power BI are great apps for end-users. Mural is great for collaborating and conveying ideas while working remotely. Power BI is a great app for a lot of different things, from making reports to creating custom visualizations for your app.
How to use Microsoft Teams apps to improve productivity?
Workbot is one of the best Microsoft Teams productivity app. The app lets you collect information from and interact with many other apps through chatbots in Microsoft Teams. You can also further automate your workflow by connecting two or more apps using Workbot.
How to keep teams engaged while collaborating remotely?
Microsoft Teams has plenty of apps and features to keep employees engaged while working remotely. To build a good team, managers can conduct weekly quizzes or games using Teams. They can keep the team engaged and active through monthly company-wide townhalls and seminars.