Over the last two decades, we have seen companies move to the cloud in hordes and presently, the cloud is often the default option for almost all new enterprises. Only companies in a very narrow niche are sticking to on-premise solutions. And the trend is expected to continue. In 2021 alone, the end-user spending in cloud computing was around 482 bn USD. The diverse and flexible cloud solutions offered by vendors as well as the long-term benefits have played a significant role in the widespread adoption of the cloud.
But as an enterprise embarking on its digital transformation journey, choosing the right provider may be confusing. In this article, we explore the benefits of switching to the cloud, choosing the right cloud provider, and the three popular cloud service providers along with their pros and cons.
Why should you switch to cloud over on-premise solutions?
The best way to explain the benefits of the cloud is to compare it with an on-premise solution. Traditionally, enterprise applications were hosted in on-premise hardware. Companies maintained their own servers as well as networking equipment. As you can imagine, one of the main problems with on-premise solutions was that there was a significant initial investment.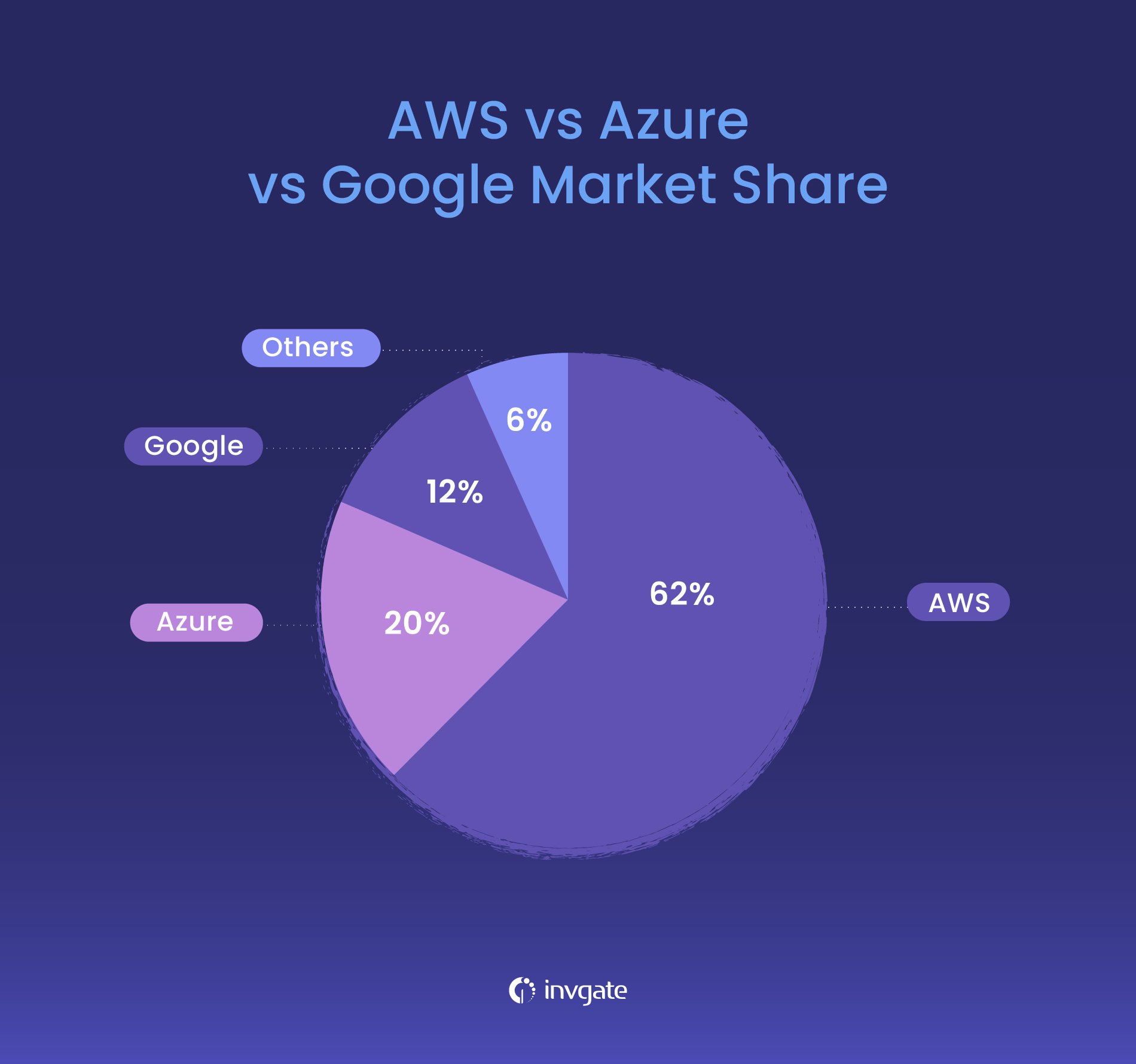 There are also expenses worthy of attention, in the long run, to maintain this hardware, keep them secure, and upgrade them regularly. Even if you weren't using all the resources, they'll still cost you. And if you wanted to scale up your services, you have to make even more investment.
Besides the cost, you can't just get your applications up and running in a day with on-premise.
With the cloud, your applications and services are more flexible. There's no initial investment involved here and you don't have to worry about maintenance, security, or hardware upgrades. Cloud systems are easy to scale up as the demand grows. And you don't have to worry about overheads if the demands go down; most vendors offer a pay-as-you-go model, charging you only according to your usage.
In short, cloud solutions reduce your overall expenditure and keep your applications and services robust and flexible.
How to choose a cloud provider
When it comes to picking a cloud solution, there are plenty of options available and you have to make hardly any compromises. Most vendors offer highly tailored cloud solutions; here are some of the factors you have to consider before making a decision.
Security management: Different cloud models solutions offer different levels of security. Consider your Gmail inbox and Google Workspace. Both are secure, but with Google Workspace, companies get enterprise-grade security and can even opt for an advanced protection program. Similarly, each cloud solution will have its own levels of security. For example, Amazon Web Services have a shared responsibility model where both Amazon and the customer take care of the security. In such situations, you have to explore how involved you want to be.
Architecture: Here also vendors offer different options tailored for specific applications and you have to carefully examine which one suits your unique case. If you're already using services or solutions from a vendor, it may make sense to go with the same vendor; this can help you avoid compatibility and integration problems.
Pricing: AWS, Google Cloud, and Azure offer models in which you'll be billed per usage. But there are differences between them too; some of them charge hourly, some of them per second, and some of them on how much bandwidth you've used. They also offer other pricing models in which you reserve some machines for you, essentially like a lease.
Level of support: Some cloud solutions offer 24/7 phone support, some may offer support through live chat, and with some models, you'll only get email support. You'll have to decide the level of support your organization will be comfortable with.
What you'll get from the vendor and what you'll have to manage: This varies with the cloud model you're opting for; in a software-as-a-service (SaaS) model, everything will be handled by the provider, while in an infrastructure-as-a-service model, you'll be handling everything from the virtualization software. There are other models which let you configure options even when the vendor carries the workload.
AWS vs. Azure vs. Google Cloud: a breakdown of the top cloud service providers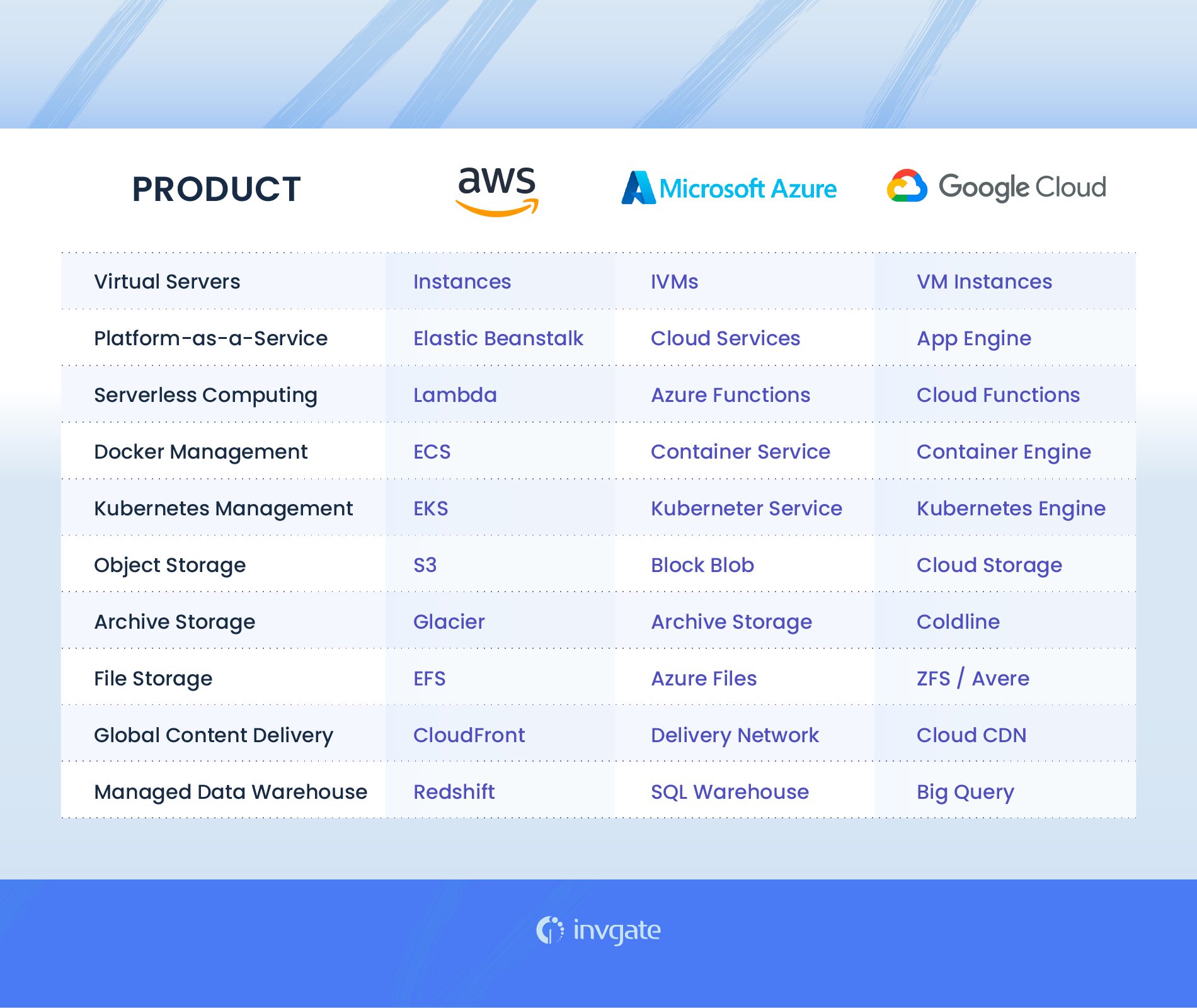 Amazon Web Services or AWS
Amazon Web Services is the subsidiary of Amazon offering a wide range of cloud products. They have cloud servers all over the world and offer a wide range of products for running applications, machine learning, IoT, blockchain apps, AR, VR, and more. Through Amazon Elastic Compute 2, they offer virtual machines on demand that support a wide range of operations and customized CPU configurations.
EC2 servers are split into regions and availability zones, and each availability zones are insulated from failures in others. Regions are composed of one or more geographically dispersed availability zones and their SLA assures 99.99% availability for each region.
Specialized services and specs
As mentioned above, they offer a wide range of cloud products which simplifies the resources or the work you need to do as the user. For example, Amazon's natural language processing service called Amazon Comprehend lets you collect insights and understand sentiments from text and call records. Their Amazon Augmented AI service offers a human review of predictions produced by AI systems. They offer similar solutions for mobile application development, blockchain, IoT, and more.
Amazon's EC2 solution offers smooth autoscaling that ensures your applications get the exact amount of computing it needs. It constantly monitors instances and replaces unhealthy instances and lets you scale up or down according to conditions you've set.
MNCs like Cathay Pacific, Snapchat, and the Volkswagen Group use Amazon Web Services.
Pros of Amazon Web Services (AWS)
Wide range of services: AWS has one of the widest range of services, offering more than 200 services.
Free trial on a lot of services:

Amazon Web Services offers a lot of their cloud products,

including EC2 on a free trial. For some products, they guarantee a 12-month free trial.
Easily scalable: Amazon is easy to scale up or down, helping you quickly build robust applications without huge investments. And their server locations are available around the globe, so you can get assured vendor support if you decide to go global.
Multiple payment models:

Besides the pay-as-you-go model, AWS also offers a savings-when-you-commit model

. With this, you can go for one or two years of commitment in return for lower prices. And for some services, they offer tiered pricing, which means your cost per usage goes down as you use more.
Cons of Amazon Web Services (AWS)
Azure
Azure is the cloud computing solution from Microsoft and offers a catalog of more than 200 services. Their solution is designed to work on-premise, hybrid, cloud, or even edge and places a huge emphasis on security. According to Microsoft, Azure spends around 1 billion USD every year to deter threats against their customer data.
They offer cloud services for AI/ML, IoT, storage, analytics, DevOps, and more. Their customers include Daimler, NBA, Bosch, General Electric, and more. They're known for their hybrid cloud offerings; enterprises can get the scalability of public cloud and the security of on-premise with Windows Azure.
Specialized services and specs
Azure cloud has one of the most comprehensive compliance certifications making it ideal for highly regulated industries. They comply with various standards from the US government, as well as for various sectors like healthcare, financial, automotive, education, and more.
Pros of Azure Cloud
Support for hybrid cloud:

Microsoft Azure is the leader in hybrid cloud solutions. They let you take advantage of your existing infrastructure and combine it with the scalability offered by Azure. They also offer solutions to bring cloud intelligence to the edge for IoT devices.

Wide catalog of services:

Azure offers cloud services for everything from chatbots to analyzing genome sequences. Besides IoT, ML, storage, and Windows virtual desktops, they also have an extensive range of tools for developers and DevOps activities.

Highly secure:

As discussed earlier, Azure invests a lot in building secure products and ensuring security and privacy for its customers. They follow industry best practices and make customer permissions mandatory for an employee to access customer data.

Highly scalable:

While all cloud platforms are scalable, this is one of the standout features of Azure mentioned in customer reviews.
Cons of Azure cloud
Requires expertise:

Azure needs skilled experts to manage your cloud since Microsoft Azure doesn't offer a lot of help in that department.

Complaints about customer service:

Unlike AWS, Microsoft Azure offers basic customer support with every service (you have to pay for advanced support options), but there have been complaints about the quality of customer service.
Google Cloud
While they have a smaller catalog compared to the other two, Google Cloud Platform is known for its wide range of SaaS offerings familiar to everyday users. Plus, as we pointed out earlier, they have enterprise versions of their products with advanced security and customizations for business customers, along with other productivity and collaboration tools.
Furthermore, they have a diverse range of prepackaged cloud and analytics solutions for different industries, as well as support for digital transformation and infrastructure modernization.
Google Cloud Platform also works with companies like Cisco, MongoDB, Dell, and others to bring more services and products to customers.
Specialized services and specs
Besides the SaaS products, if you're looking for Infrastructure-as-a-service (IaaS), Google's compute engine (GCE) offers virtual machines. Meanwhile, if it's a platform to develop apps what you need, Google cloud has the App Engine.
Google Cloud Platform also offers functions-as-a-service through its Cloud functions service. Developers can use these functions to automate processes and set them to trigger as required. And with its pay-per-use model, you don't have to pay when these functions are not used.
Pros of Google Cloud Platform
Easy to get started with the free options:

Google Cloud offers more than 20 free products. Aside from this, they also offer 300USD credits to completely test out the entire Google Cloud platform.

Detailed and transparent pricing:

This is a huge pro over other providers. They offer a pay-as-you-go model and give more savings when you commit. They also provide tools to help you manage and limit your spending and send you alerts on time.

Based on the same infrastructure for Google products:

The Google Cloud Platform works on the same infrastructure that delivers all the consumer products from Google. This guarantees a high level of reliability and uptime. And their SLA guarantees more than 99.5% of uptime for most of its services.

Extensive analytics tools:

Google has significant experience building analytics products and this is reflected in their cloud offerings as well. They bring a lot of state-of-the-art cloud analytics solutions in their product catalog.
Cons of Google Cloud Platform
They don't have the widest range of services:

Of the three major players in cloud computing, Google has the smallest catalog of products and services.

Not the most experienced:

Once again, Google appears to be the least experienced in delivering enterprise cloud services. But they are one of the leaders in consumer SaaS products.
So how do you pick?
It doesn't look like there are major differences in the quality of services among all three. And essentially the choice comes down to what you're looking for. For example, if you're looking for a hybrid cloud, Azure may be the best choice, but AWS takes the lead when it comes to the range of services. If you're worried about confusing pricing and being presented with a huge bill at the end of the month, or your focus is on analytics, Google Cloud Platform may be your best bet. And if your organization has already invested in Microsoft or Google products, Azure or GCP may work well with your existing solutions.
Even though there is no initial investment, choosing a cloud solution will have impacts in the long run. Even with the most flexible options, vendor lock-in is likely, and migration will be tricky. Make sure you do extensive research before you make a move.