If you use InvGate Service Desk, you might have come across a request that was reporting an incident, service request, or change request related to an asset. Say for example, "My desktop PC is not working", or "I need VPN access on my Lenovo laptop". Most of the time, the assigned agent will do some research to identify the device in question, but what if it wasn't necessary because that device is directly linked to the request? What if the agent could see its details right there on the request and have a faster way to help the customer?
This is something that many InvGate Service Desk users find extremely useful. In case you're not taking advantage of this feature, keep reading, because our SCCM integration could really benefit you.
SCCM stands for System Center Configuration Manager, which is Microsoft's assets management tool. By integrating it with InvGate Service Desk, our software retrieves data from SCCM to relate assets to requests. This is real time data retrieval, so everything you see listed by this feature is accurate and always up to date information.
InvGate Service Desk SCCM Integration in practice
Enabling the integration means you can have multiple asset sources and limit the service catalog categories in which they may be linked. For example, you might not want to relate assets for HR or other people-related requests, so you can exclude those categories and they won't show suggested devices.
For the categories included, when a user is creating a request, they'll see suggested assets on the right side of the screen. They can relate them to the request by clicking "Link", or see their details, depending on the role they have in the system (more on this below).
As you can see in the following screenshot, when user Nancy reports an incident with her PC, she searches for it on the right side and links it to the request. This way, the agent will have a better understanding of what's going on.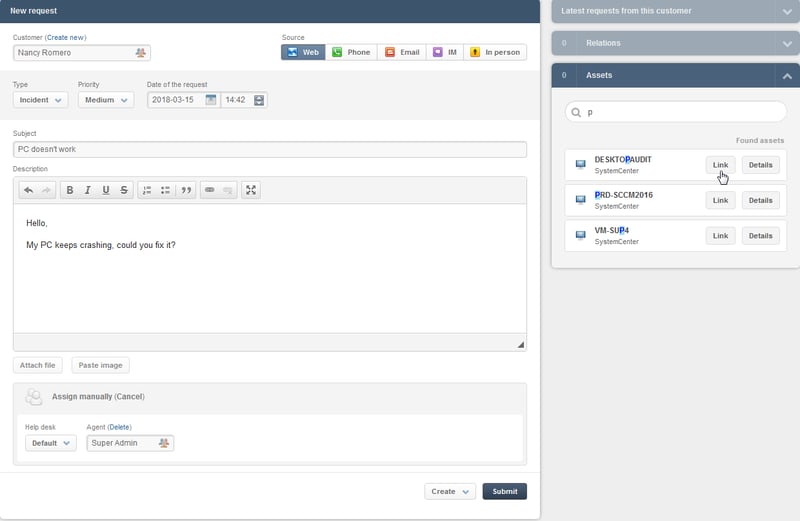 Furthermore, Nancy's profile shows all the assets she owns:
How does the SCCM integration work?
Searches are conducted by matching the data for the "Name" and "Owner" fields. The first assets to appear as suggestions will be the ones owned by the user, since it's highly probable that they'll be reporting issues on their own assets. If that's not the case, the user will be able to search for any other asset included in the integration and relate it to the request.
Apart from relating found assets to the request, it's also possible to explore some of its details, namely:
Software installed

Hardware configuration

Network attributes

Storage details

Owner
Who can do this? All Agents, Help Desk Managers, and Administrators are able to search for assets, link them to requests, and access their details. End users can search and link, if these options are enabled for them in the integration configuration: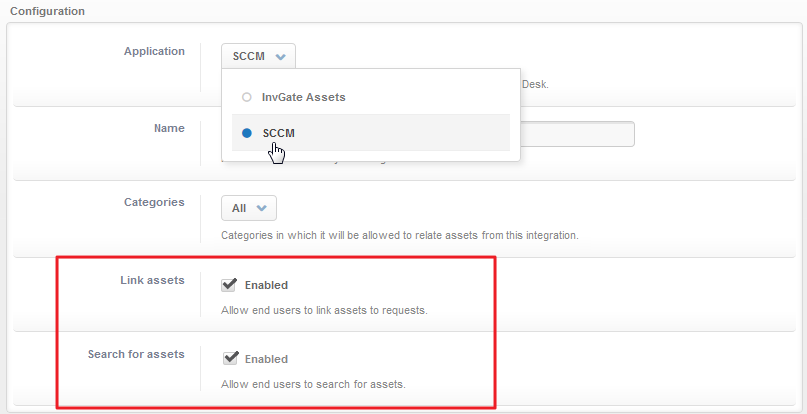 Speaking of configuration, here's a comprehensive guide that explains how to enable this feature.
But wait, there's more! Create reports and filter assets data
All of the asset data can be analyzed and included in reports, so you have an overview of what's going on with the devices in your network.
There are three elements that you'll find interesting on this topic:
XLS Export – Every XLS export option available in the system (Custom views, Reports, and Requests) allows you to export the data of the assets-related requests.
Reports – In the OLAP cube under Reports, the Requests cube includes a dimension for Linked assets managers. It shows the name of the integration by which the asset was retrieved.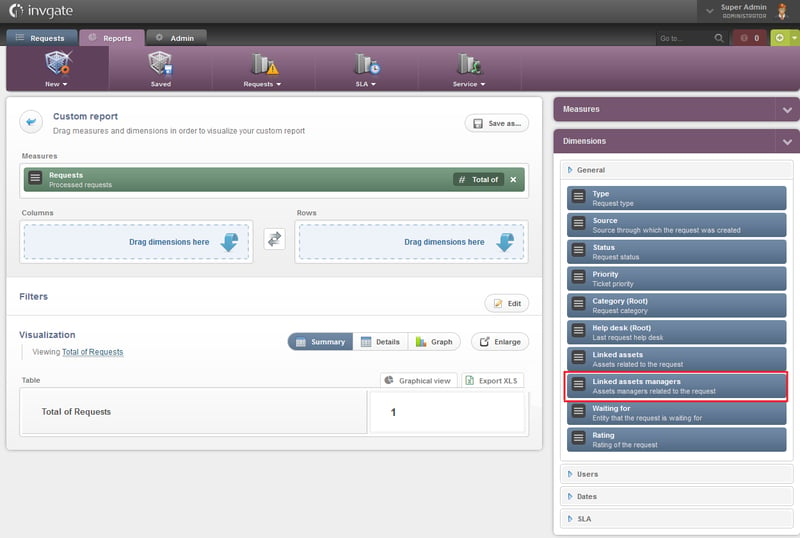 Filters – The filter engines included in the Requests cube, in the custom views, and in the dashboards, include the filters "Related asset name" and "Related asset source".
Another feature designed to make your life easier
InvGate Service Desk SCCM integration benefits agents and administrators, as they access detailed metrics on requests that involve devices, and track those requests for a better understanding on the most common network issues.
The integration allows them to find out which types of assets have the most incidents reported, or, for example, which is the software that raises more questions. Overall, improving resolution times and accuracy in responses.
However, that's not all: We will continue to develop features aimed at expanding the integration with ITAM tools, so stay tuned to our product news in the coming months.
If you're not using the SCCM integration yet, try it out now. You won't regret it!