If you are looking for a way to optimize your IT Service Management (ITSM), InvGate Service Desk and Microsoft SCCM integration might be what you need.
By combining these powerful tools, you can use the potential of the data located in your Microsoft SCCM instance to boost your Service Management.
Join us as we delve into the benefits and step-by-step setup process of integrating InvGate Service Desk and Microsoft SCCM to revolutionize your IT support services.
Why integrate InvGate Service Desk and Microsoft SCCM?
Microsoft SCCM (or System Center Configuration Manager) is a Systems Management tool designed to help IT administrators manage large-scale deployments of applications, devices, and updates in enterprise environments.
Integrating it with InvGate Service Desk will save your team a significant amount of time as agents won't need to move back and forth from one instance to another. Plus, it pulls information from your SCCM platform into Service Desk, optimizing your IT operations and empowering your agents.
Combining ITSM and ITAM solutions
Integrating InvGate Service Desk and Microsoft SCCM brings together IT Service Management and IT Asset Management (ITAM) capabilities. Both practices work hand-in-hand for you to have comprehensive visibility and control over the entire IT infrastructure.
Let's see what combining ITSM and ITAM will bring you:
Streamlined Incident and Request Management - You can use ITSM capabilities to efficiently receive, track, and manage incidents and service requests. The integration enables communication and coordination between the agents and your ITAM tool allowing for quick resolution of incidents and fulfillment of service requests.


Centralized knowledge base - Your

knowledge base

can be enriched with Asset Management information, such as troubleshooting guides and configuration tips.


Improved collaboration and communication - ITSM tools serve as a central hub for communication, enabling IT support agents, ITAM administrators, and other stakeholders to easily collaborate. On it, they can share information, exchange updates, and work together seamlessly within the integrated environment.
The benefits of combining InvGate Service Desk and Microsoft SCCM
Particularly, the integration of InvGate Service Desk and Microsoft SCCM will help you boost your support operations through these combined actions:
See the assets related to each user - Whenever someone opens a new request on InvGate Service Desk, agents can have easy access to the assets that person owns. This helps them track and manage the issue faster.


Relate assets to your requests - The same as before works both ways. Users can link the asset from the Microsoft SCCM database that needs to be repaired or an update in the related ticket to facilitate that data to the agents.


Run integrated reports and dashboards - Now you can apply filters in your tickets, and create dashboards that include the linked assets from your InvGate Service Desk instance.
InvGate Service Desk and Microsoft SCCM integration setup
To set up this ITAM and ITSM integration you just have to follow these steps:
Log into InvGate Service Desk as an Administrator and go to the "Admin" section.
Select "Integrations," and then move to the "Assets" tab.
Click on the "Add" button to create a new integration.
In the Configuration section, choose "SCCM" from the drop-down list.
Provide a name to identify the integration and select the categories affected by it from your

service catalog

.
Decide if you want to allow end-users to link assets to requests by enabling the "Link assets" option.
Move to the Connection section and fill in the following details:
IP/Host of the SQL Server where the SCCM database is located.
Port used to communicate with the SQL Server (default is 1433).
Database Name for the SCCM database.
Database user and password to connect to the SCCM database.
Once the connection details are entered, click on the "Test" button to verify the connection.
If the connection is successful, you will receive a confirmation message.
Save the integration and return to the main Assets integrations screen, where you will see your new integration listed.
InvGate Service Desk migration: 6 features to boost IT support
But these integration benefits don't stand alone. InvGate Service Desk is a Service Management tool with a complete set of capabilities designed to streamline IT support services. Let's explore some of them.
Ticket Management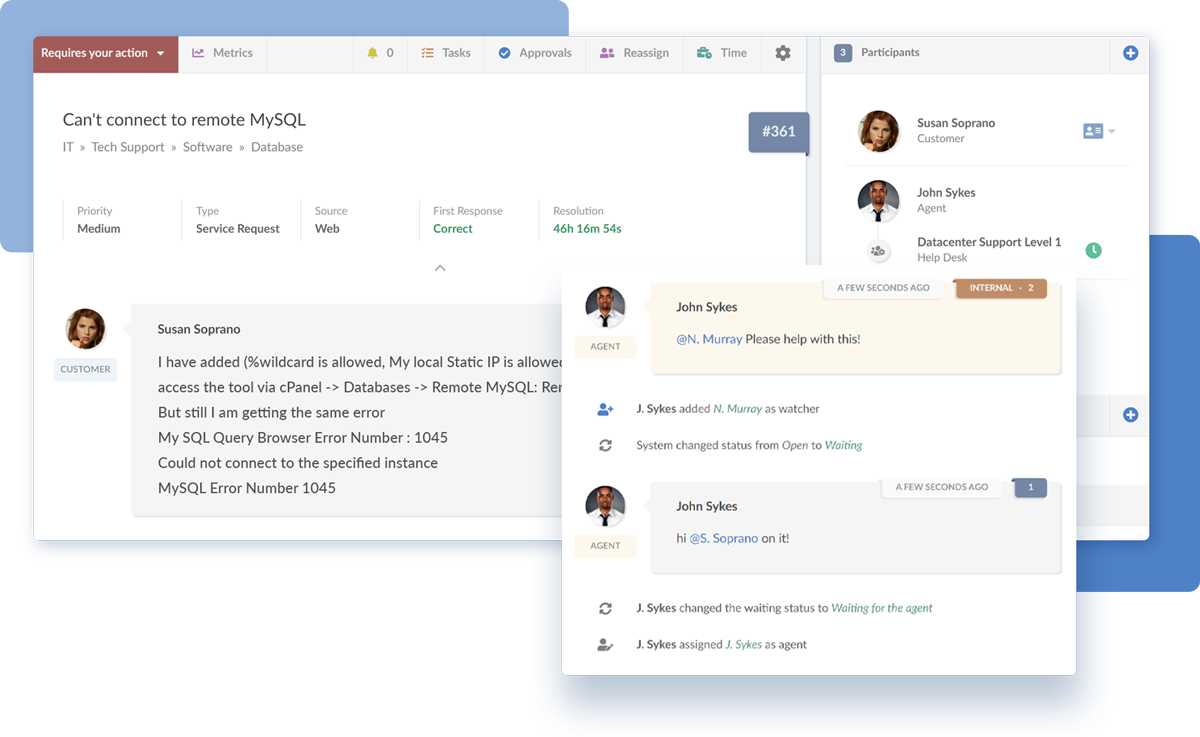 InvGate Service Desks's Ticket Management module is designed to empower your agents. With it, your team will be able to manage their requests, escalate them to other agents or help desks, create major incidents, and much more! The key here is in how it allows agents to administer their work and tasks, so they can make the most of their capabilities.
Custom dashboards and reports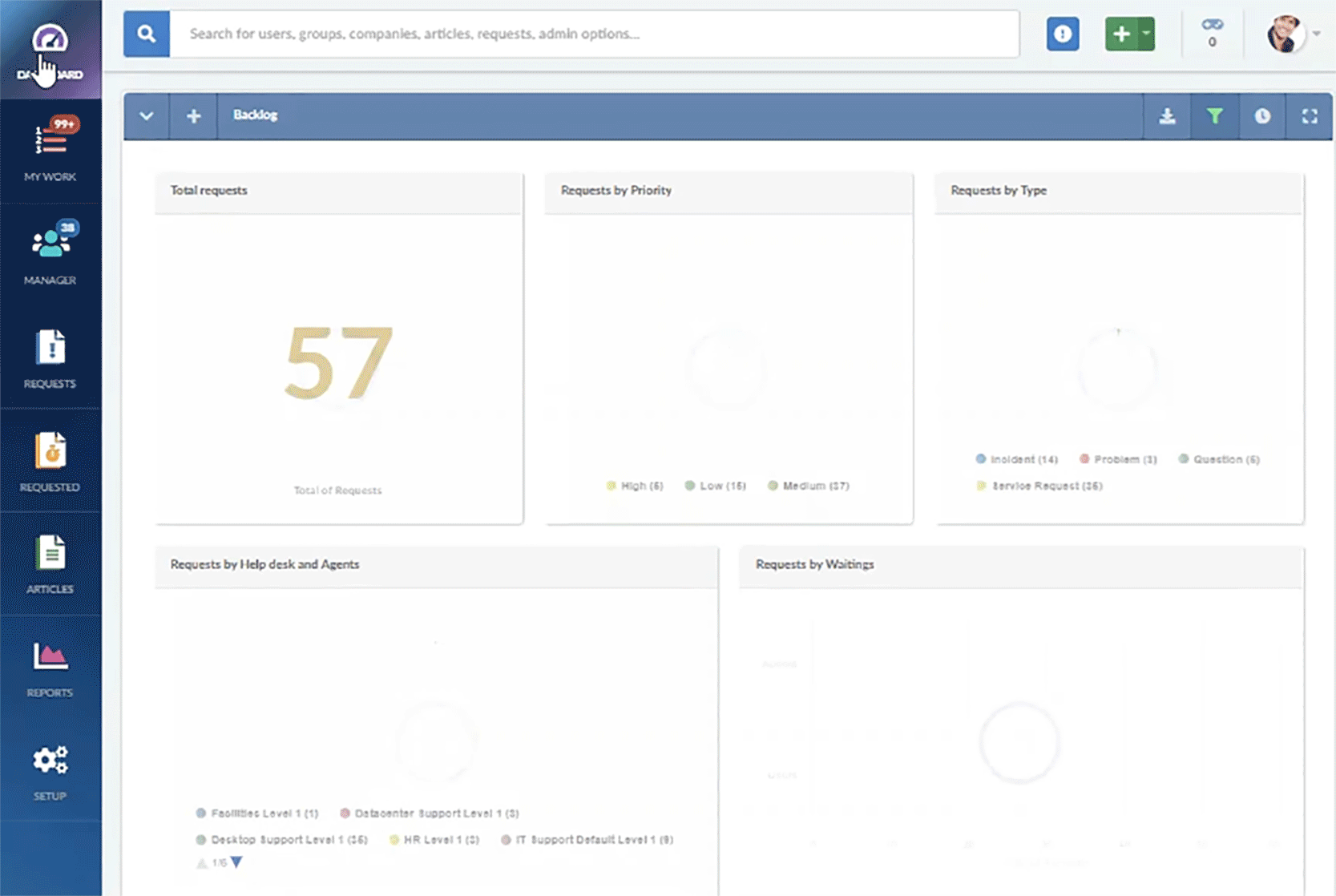 Having a solid and accurate reporting feature allows you to make smarter decisions about your support operation. With InvGate Service Desk, you can customize your dashboards to have an at-a-glance view of the current state of your help desks, opened tickets, and team's work. You can even export and share these dashboards with other stakeholders.
On the other hand, our reporting capabilities are ideal to track help desk metrics and see how things performed in a period of time. This way, you can compare different moments in time and do a finer data analysis.
Streamlined workflows
Workflows are designed to automate those complex request categories from your service catalog. They are a great tool for those organizations that are looking to streamline Enterprise Service Management (ESM) and need to include multiple areas in one single process.
Self-service portal with an easy-to-use interface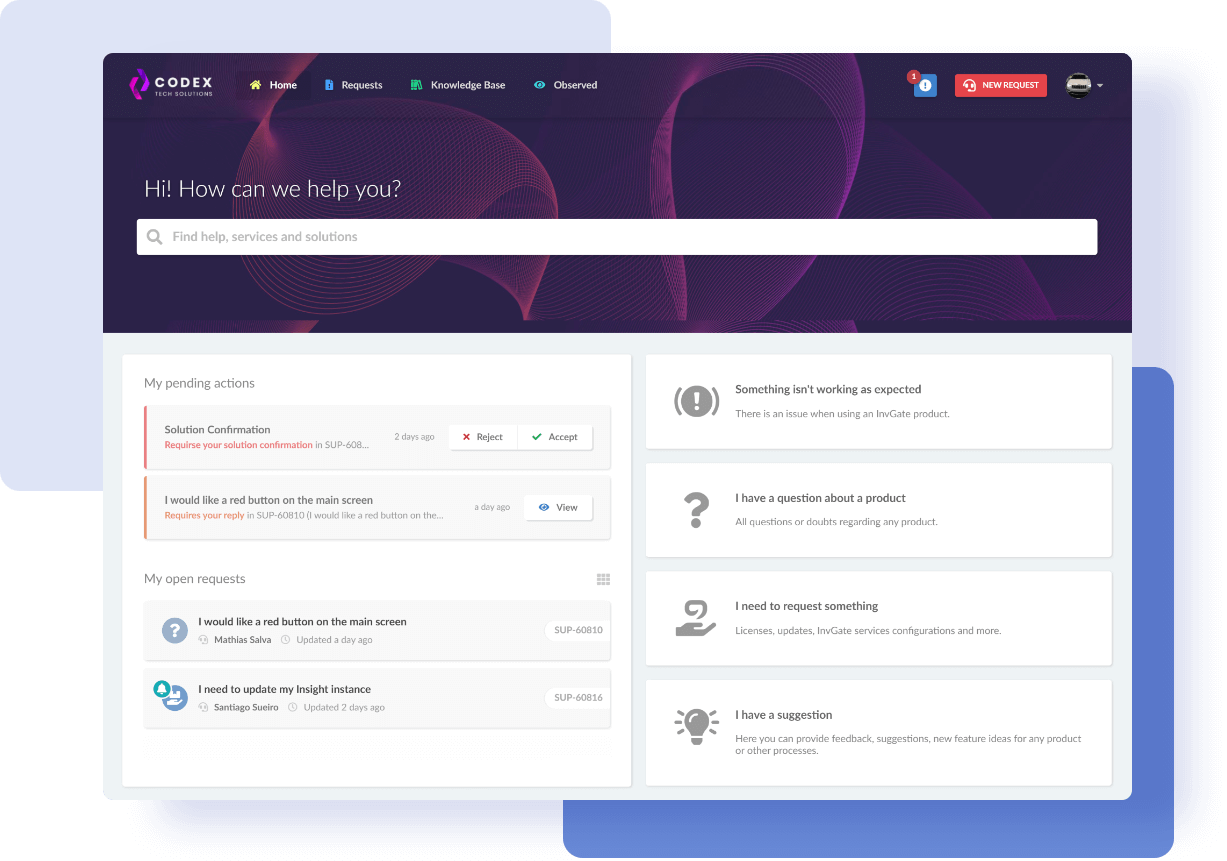 Our friendly interface allows end-users to quickly adapt to the self-service portal. They will be able to find knowledge articles to solve issues on their own, create requests, and follow them all in one single platform. You can even brand the portal and link the most common request types to their homepage, so they can have easy access to them.
AI capabilities
Artificial Intelligence (AI) can become a great ally in many aspects, and Service Management is not an exception. Thanks to machine learning, InvGate Service Desk can suggest your agents actions to take when solving requests (i.e., escalate the issue or create a major incident) as it learns from what agents do in your instance. It can also help you respond to your customers in their tickets in the best way possible.
Ready to expand Microsoft SCCM capabilities with this integration?
The integration of InvGate Service Desk and Microsoft SCCM will enhance your IT support operations by unifying your asset data within your ITSM solution. This allows you to have easy access to the asset data related to the requests, and create unified reports. At the end of the day, this will help you gain visibility, save time, and improve your support operations.
If you want to integrate your Microsoft SCCM instance with InvGate Service Desk, book a call with our experts so they can help you out. And don't forget that you can start exploring InvGate Service Desk right now with our 30-day free trial!